9 Best Agency Client Management Software for 2023
May 31, 2023
9 min read
Faith
Poor client management is every agency's nightmare. It leads to scope creep, misaligned expectations, and lots of time and resources wasted. Every hour spent on tasks outside the project scope is literally eroding your profit, slowing down your agency's growth.
To improve client management, you need a client management system — a central place where you can manage workflows and interactions with your clients from a project's beginning to end. The right client management system for a small-sized agency is easy to use and has the core features needed for streamlining your agency's internal and external workflows. Based on these factors, we've highlighted nine different client management systems plus their specific use cases for small-sized agencies.
What is Agency Client Management Software?
Agency client management software, often referred to as agency management software, is a platform designed to streamline the daily operations of running service-based businesses like marketing agencies, advertising agencies, and digital marketing agencies alike. It's a project management tool specifically tailored to meet the unique needs of agencies, ensuring seamless project planning, efficient execution, and robust client interaction.
From client portals to automatic subscription billing, the best agency management software gives teams the flexibility and accessibility they need. It often includes a variety of features designed for creative teams, such as task assignments, notifications for deadlines or updates, drag-and-drop functionality for easy task management, and an intuitive interface for effortless navigation.
A robust agency client management software serves as a comprehensive project management software. It offers integrated tools for tracking project timelines and budgets, generating reports, managing resources, and more. It also facilitates collaboration through features like shared docs, enabling teams to work together more efficiently.
These tools offer a built-in timesheet functionality, allowing agencies to accurately track and manage billable hours, essential for profitability and productivity. Additionally, many agency management systems offer API capabilities, enabling them to integrate with other software solutions that an agency might be using, further enhancing their functionality and usefulness.
In summary, an agency client management software is an all-encompassing solution to meet agency needs, providing the infrastructure required for effective project management, collaboration, and client interaction. With such a tool, agencies can operate more efficiently, deliver superior service to their clients, and drive their success forward.
9 Best Agency Client Management Software in 2023
Here are our top picks for the best agency client management software:
Let's dive deeper into each one.
1. Copilot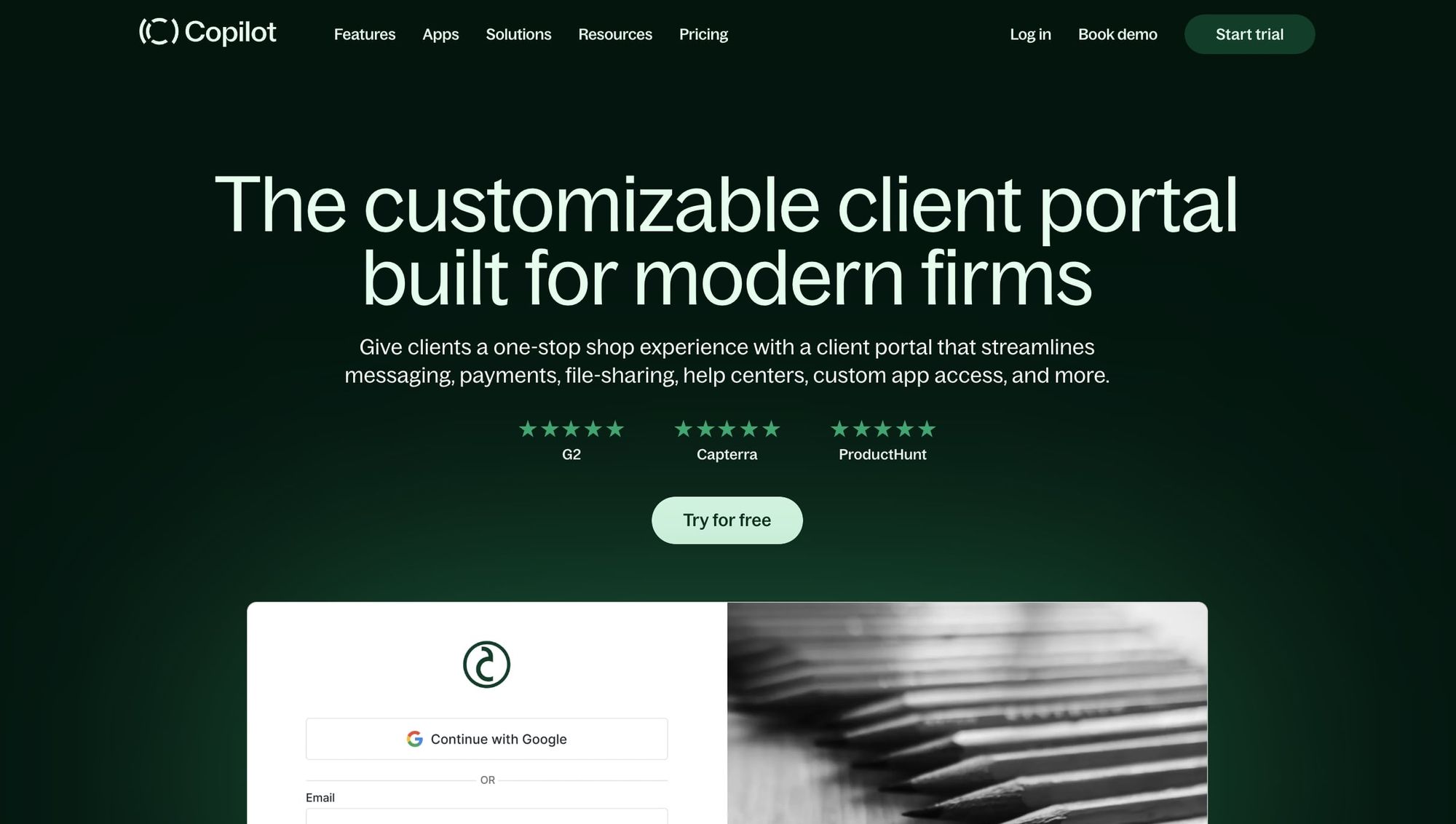 Best for: Building customizable client portals and workflows
Pricing: Starts from $29 per month (billed annually)
Copilot eliminates the need for multiple client management tools by providing a central hub for managing projects, collaborating with clients, and automating time-consuming routine tasks like invoicing, file sharing, and sending receipts.
After closing a new client, you can add them to your client collaboration portal and share your contract, invoice, and onboarding documents right in the application. Likewise, your client can complete the necessary documentation and make the required payment without leaving the client management system.
When the actual project kicks off, the client can track its progress via embedded Asana and ClickUp Kanban boards for real-time updates, limiting the number of work hours that your team spends on providing manual day-to-day project information. This improves collaboration, which strengthens your client-agency relationship.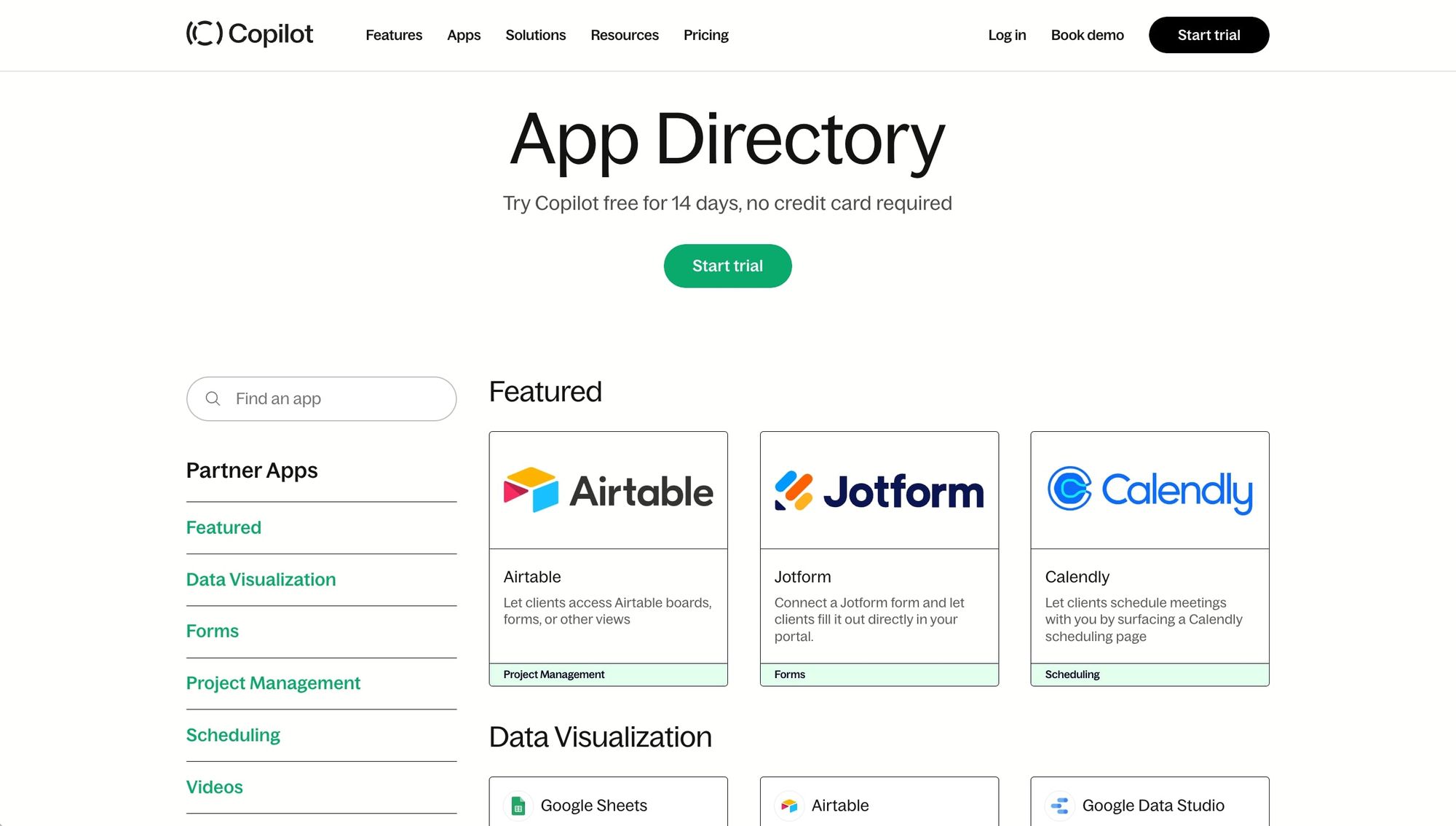 If your clients have any questions or require clarification, they can send a message via the in-app chat or schedule a meeting using Copilot's Calendly extension.
Core Features:
In-app messenger
File manager
Form builder
Extensions for third-party apps, including Asana, Databox, Calendly, etc.
2. Monday.com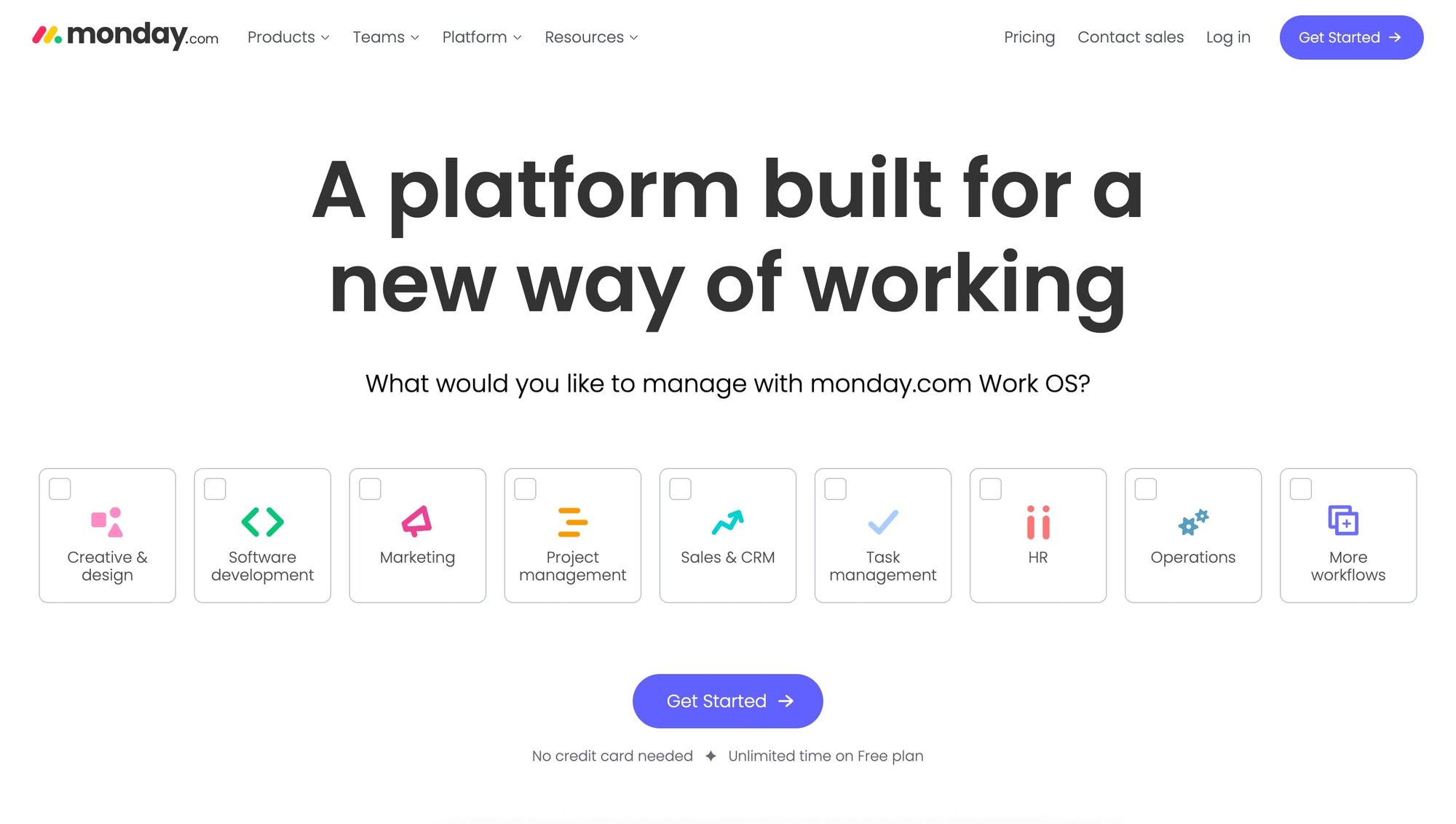 Best for: Agency client task management
Pricing: The team plan starts at $18 per month (billed annually)
Monday.com connects all the moving parts of your business operations — from teams and tools to processes — to a central workspace.
Once you set up your agency's Monday.com workspace, you can seamlessly integrate all the tools used for running your agency, including Slack, Zoom, Google Drive, Trello, and Salesforce, for easy access. After this, you can add new projects to your workspace using the fully customizable templates and assign project sub-tasks to your team members automatically.
In addition, Monday.com has user-friendly project dashboards and Gantt charts that enable you to track the status of different tasks and monitor the overall project execution in real time.
Core Features:
Project templates
Team collaboration features like in-app messengers, file sharing, and activity logs
Dashboards for reporting
Extensions for third-party integrations
Task automation
3. HoneyBook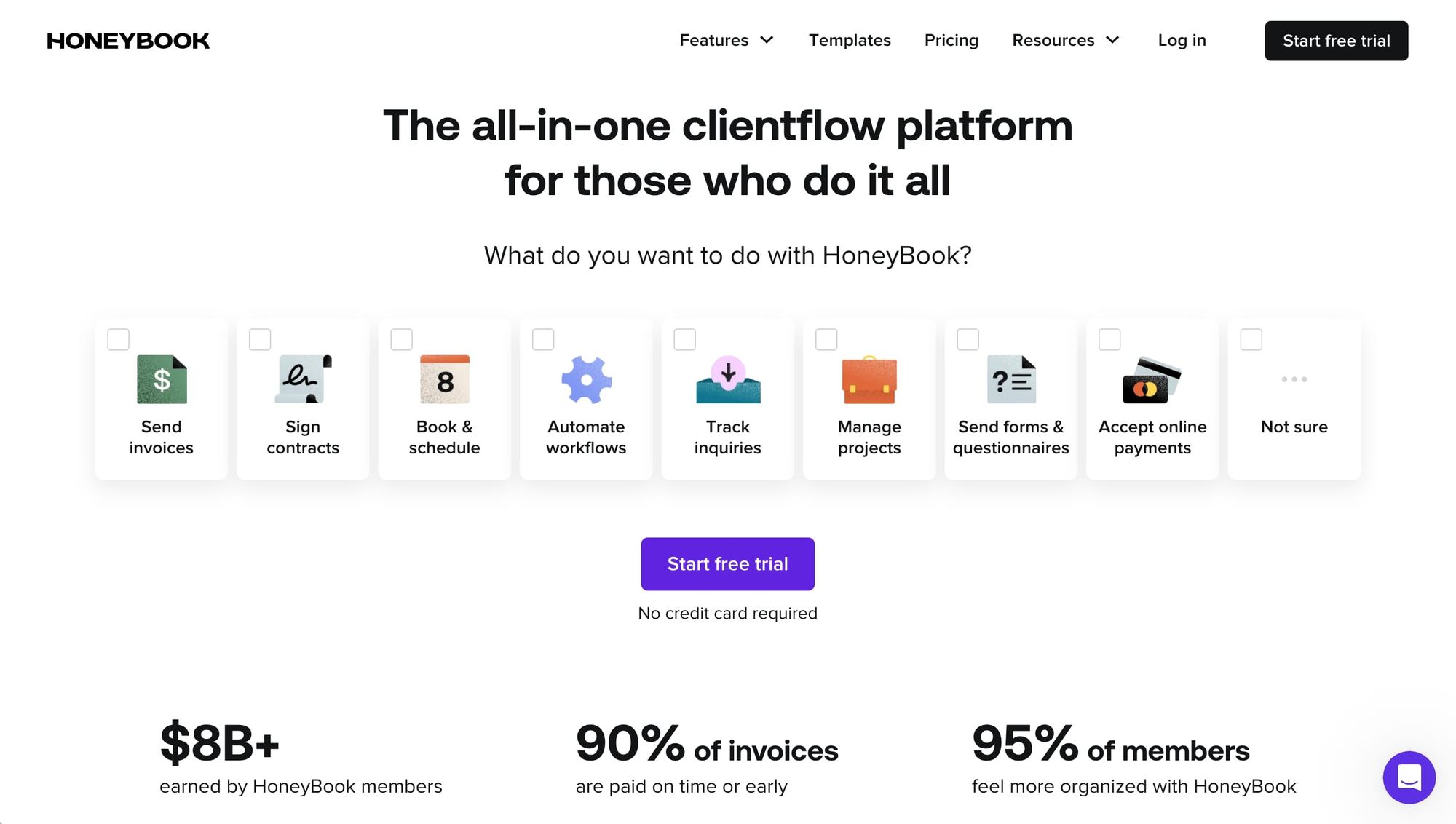 Best for: Easy client management
Pricing: Starts at $39 per month or $390 per annum
HoneyBook provides all the tools you need to close more leads and convert them into paying customers for your business, including proposal templates and invoicing software. You can complete your entire sales cycle right in the software — from sending proposals and contracts to receiving payments.
After adding a new lead or prospect to the CRM, you can customize the HoneyBook proposal and brochure templates and share them with your prospective clients, so they will have a better idea of your expertise, services, and the results you've helped other clients achieve. If the prospect is ready to work with you, you can immediately send your contract and invoice for payment without leaving your client management system. Once payment is made, your business financial records will be updated automatically.
HoneyBook also allows you to add clients to a personal project portal where they will receive automatic updates regarding the project's progress — including task statuses and timelines. This improves collaboration and project management.
Related Reads: Best HoneyBook Alternatives You Need To Try
Core Features:
Contact and lead management
Third-party integrations (QuickBooks)
Automatic payment reminders
File management
Templates
In-app scheduling tool
Related Read: HoneyBook vs Dubsado: The Ultimate Showdown
4. Service Provider Pro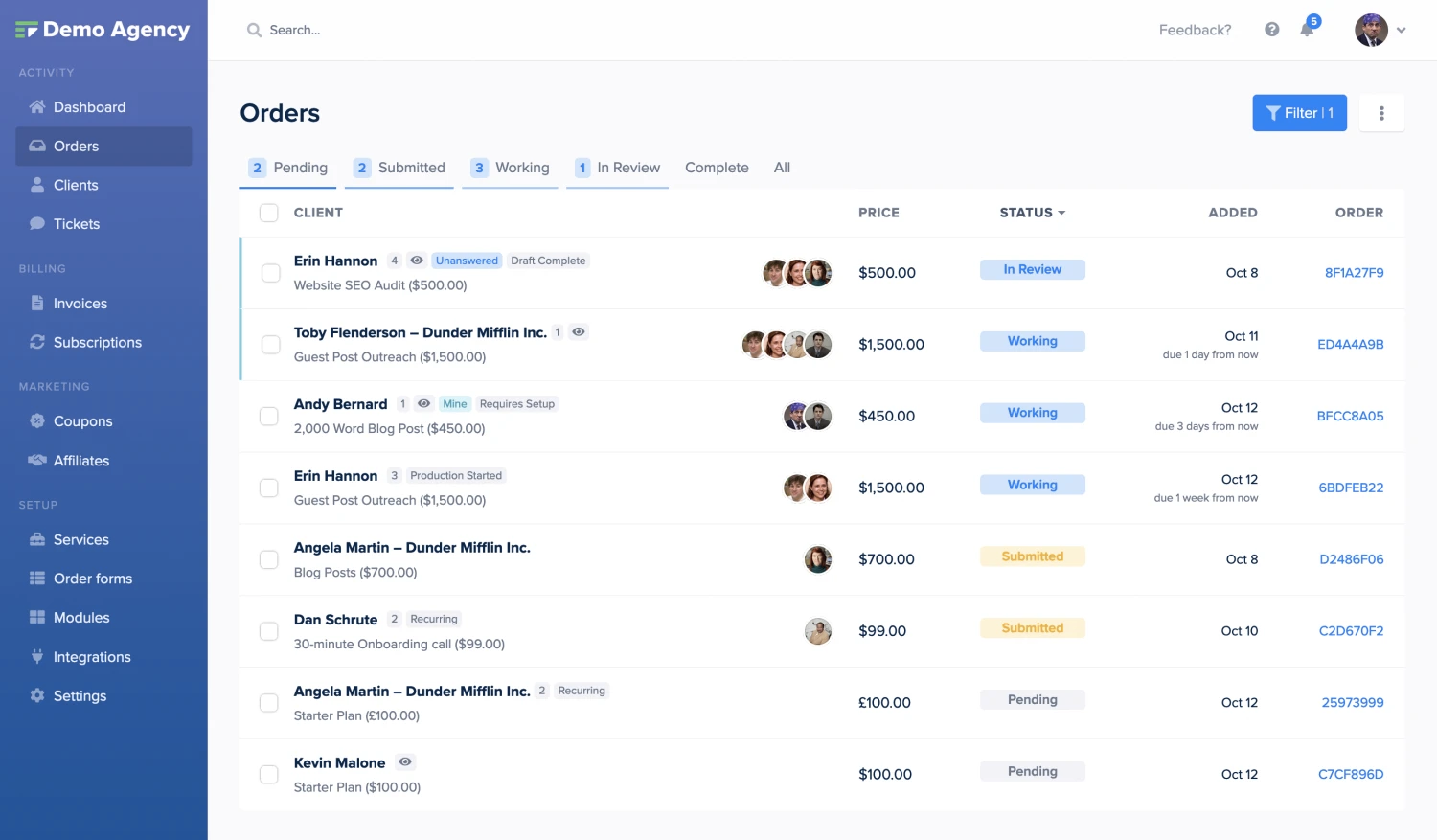 Best for: Small marketing agencies
Pricing: Starts from $99 per month
Service Provider Pro (SPP) streamlines your sales funnel so you can organize and scale your agency's productized services efficiently.
SPP automates your agency's sales process. For example, your clients can directly purchase your service packages or subscription plans at any time using the one-click checkout button embedded in your website. After completing payment, they'll fill out an intake form as part of the onboarding process. The information in the intake form is used to automatically generate a profile for the client in your SPP-powered customer portal.
When clients log into the customer-facing part of your portal, they'll access the full history of their orders, reports, and payments. And they can also modify the information on their profiles, including adding a new payment method or updating their billing address.
Core Features:
In-app client messenger
Google Analytics integration
Built-in referral system
Billing and order management
Helpdesk tool
5. Wrike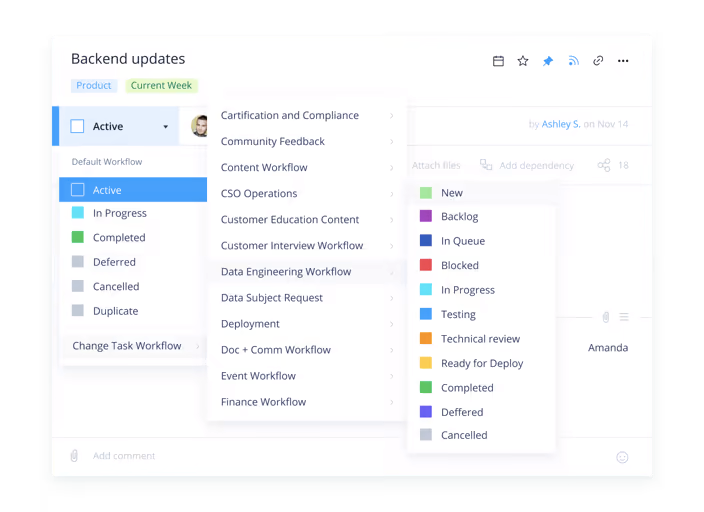 Best for: Team collaboration for larger agencies
Pricing: Wrike has a free plan suitable for a small teams
Wrike simplifies task management, making it easier for your team to work together to execute projects successfully.
Wrike has several templates, view options, and integrations that you can use to customize your team's workspace as you deem fit. For example, you can view tasks on a Kanban board, calendar, or Gantt chart, depending on your preferences. You can also use the multiple views feature to track project updates across your entire team.
Wrike allows you to automate your agency's approval processes, eliminating the back and forth, and improves team productivity. Team members can request a review of their project deliverables right in the collaboration workspace, and you can provide feedback via live editing, so everyone stays in the loop. You can also mention stakeholders in these documents directly and assign sub-tasks to them.
Core Features:
Project templates and forms
Customized dashboards
File sharing
Project management Kanban boards and Gantt charts
Scheduling and time tracking
Live editing
6. Capsule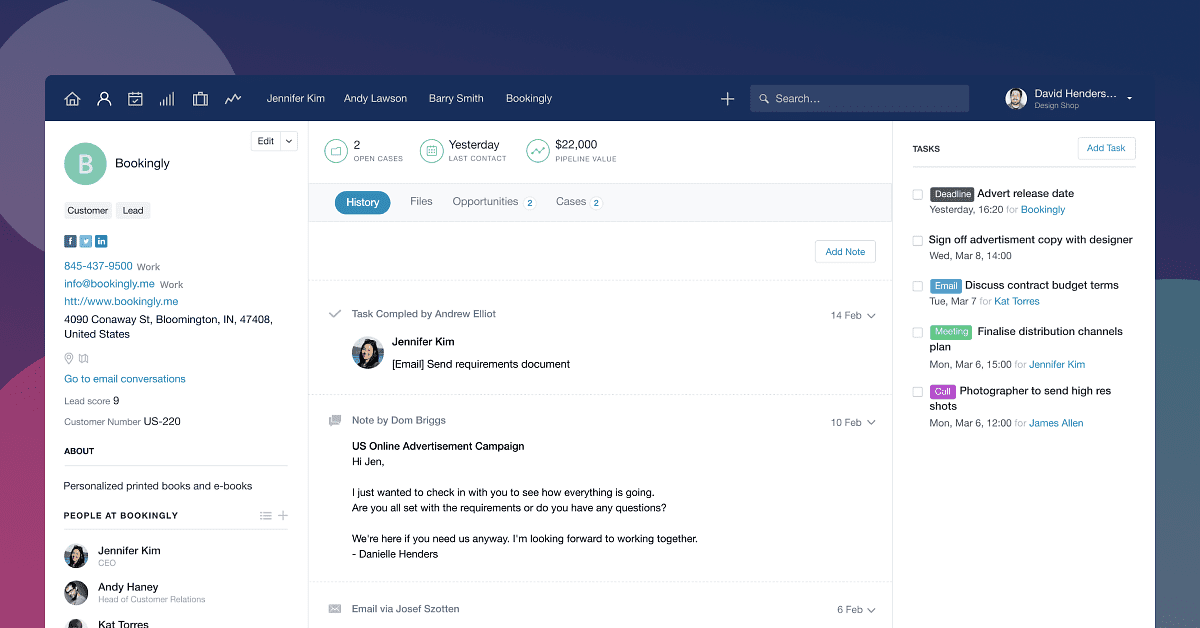 Best for: Agencies that just need a CRM
Pricing: Starts at $18 per user (per month)
Capsule simplifies contact management by providing a central workspace for tracking sales opportunities. You can import new contact information into this workspace from Outlook, VCard, and Google Sheets. You can also integrate third-party apps like Zapier and use this tool to connect your CRM to your phone answering services — allowing you to see the entire history of your customer interactions, including email, calls, files, and notes, in one place.
It also has a sales pipeline dashboard that enables you to track your monthly sales performance and identify new opportunities.
Core Features:
Sales pipeline dashboard
Calendar and task management tools
Integrations to Outlook, Mailchimp, Google Workspace, etc.
Sales analytics and reporting
Two-factor verification
7. Productive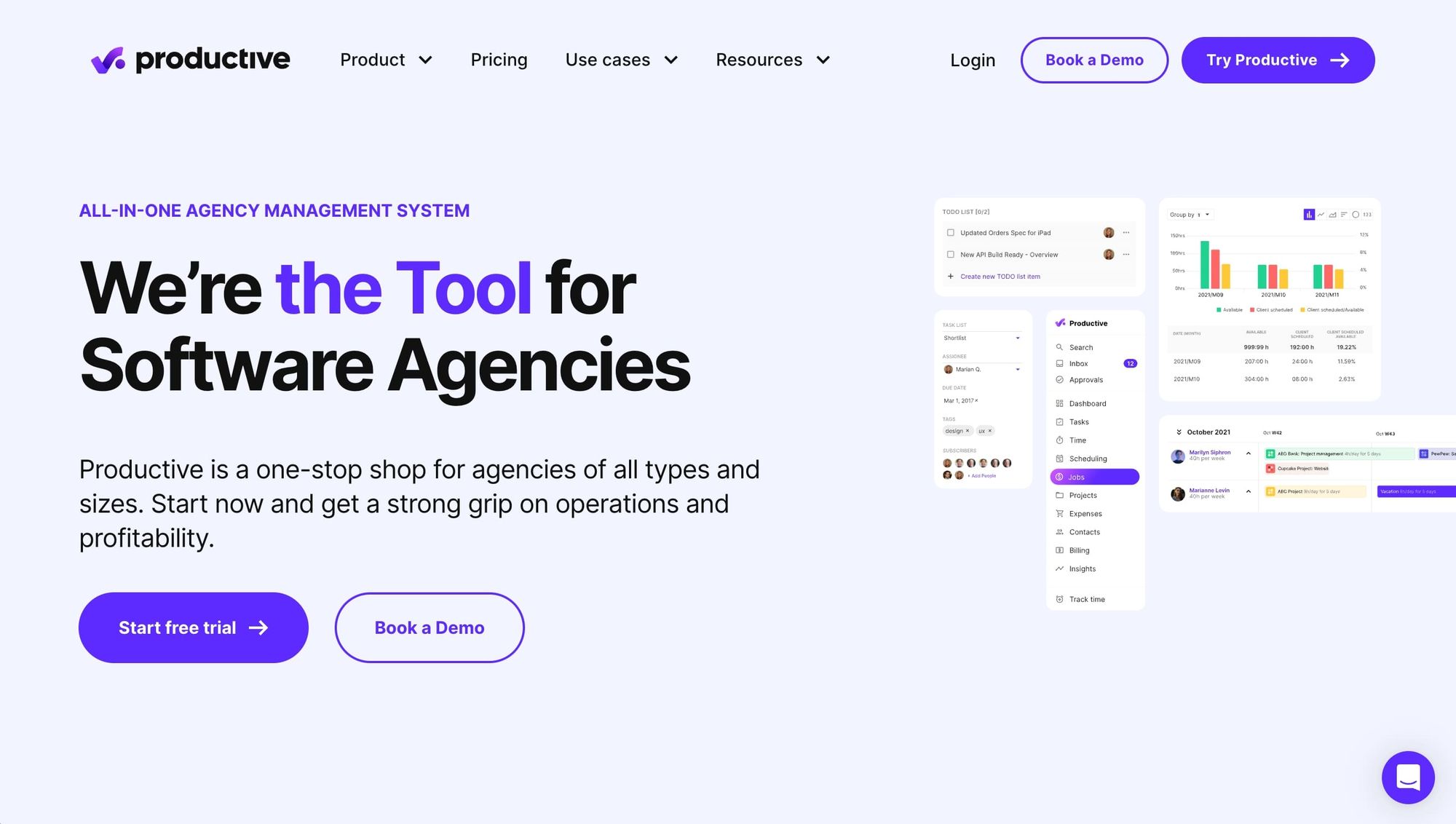 Best for: Consultants and agencies
Pricing: Starts at $15 a month for 1 user
Productive allows you to manage each of your projects like separate entities — improving budget forecasting and resource planning. When you're setting up a new project to Productive's client portal, you can add the budget and the total number of billable hours — whether you're billing by the hour, adopting a fixed rate, or retainer pricing.
As the project progresses, Productive tracks billable and non-billable time against services, so you're sure that you're not overspending or underspending your budget. In addition, you'll get an automatic warning when you're at risk of overrunning your budget. With this, you'd know how profitable your project is from day one and plan to minimize losses on time.
In addition to profit tracking, Productive allows you to schedule tasks in different views, including a calendar view, board view, and Kanban view. You can add clients to their projects so they can monitor the project's progress directly, and you don't have to spend time on routine updates.
Core Features:
Time tracker
Insights library
Budget planner
Task manager
8. Hive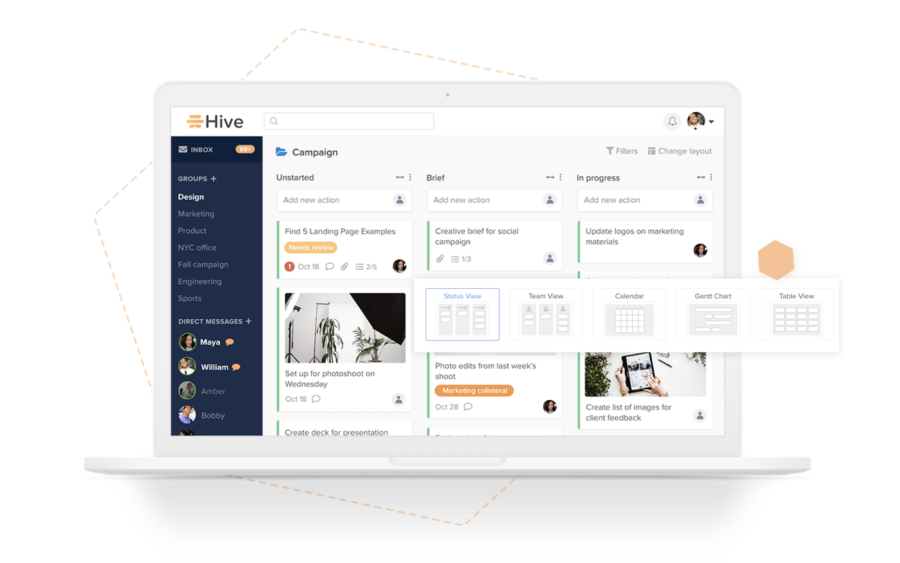 Best for: Project management
Pricing: Free, and there's also a $16 per month plan
In Hive, you can create subtasks within each task to help you stay on top of ongoing tasks and deadlines. You can add updates as comments to your task to make it easier for your team leads to follow up asynchronously. There's also the option of switching between multiple project-tracking layouts, including Kanban boards and calendar view, to make it easier to view project progress.
Hive provides project templates to simplify your workflows and improve efficiency. It also reduces back and forth with clients, allowing you to achieve one-time client approvals.
Core Features:
In-app messenger for team collaboration
In-app email feature
Third-party app integrations (Google Drive, Teams, Slack, Salesforce)
Time tracker
Recycle bin
9. Keap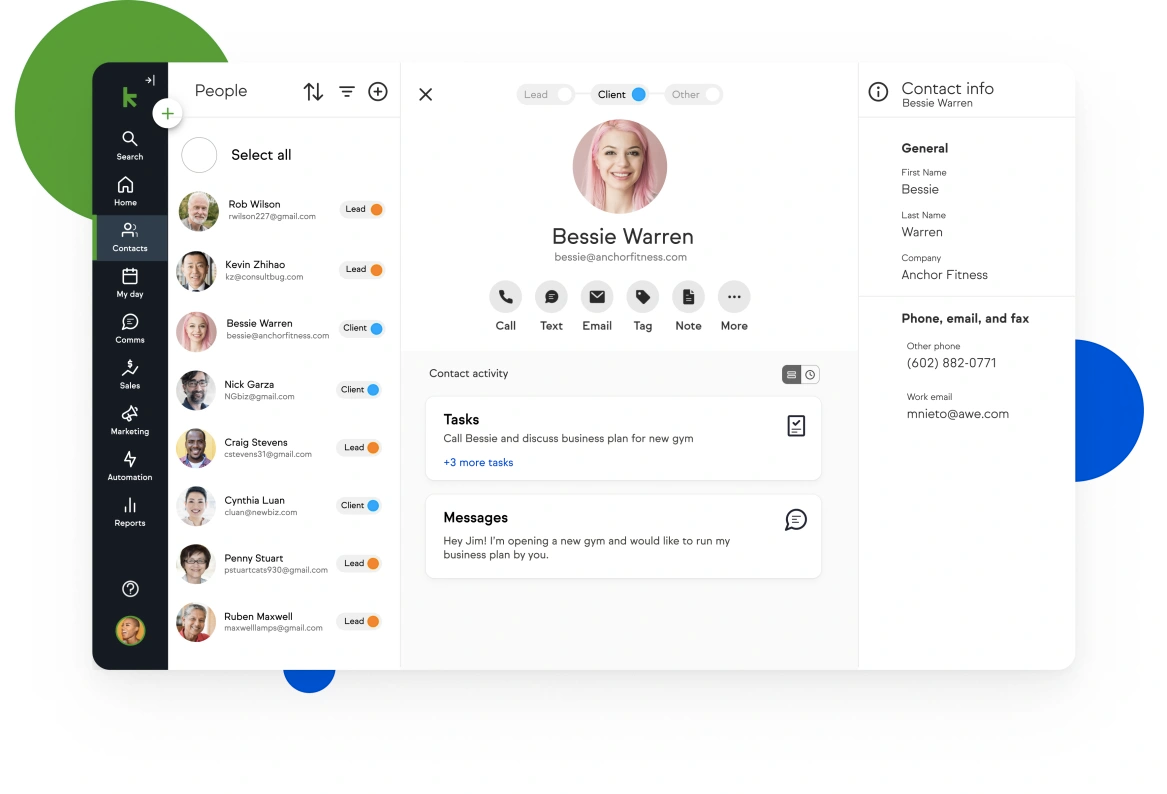 Best for: Lead automations
Pricing: Starts at $79 per month with a free two-week trial
Keap helps you to automate routine tasks like lead capture and lead nurturing, so you can focus on your core business operations. Prospects who wish to learn more about your services can fill out the simple lead capture form on your website, landing pages, or social media platform. Once their contact information is registered in your client management system, Keap automatically sends follow-up emails to nurture their interest in your services and convert them into paying customers.
You can also set up marketing automation for existing customers to drive repeat business for your agency. For example, you can send promotional emails regarding discounts and send automatic invoice reminders or referral requests.
Core Features:
Text and email marketing
Automatic lead capture
Contact management
Lead nurturing
Marketing analytics and reporting
How To Choose the Best Client Management System for Your Agency
The right client management system is the key to building a high-performing agency. It will help you take care of bottlenecks that can reduce your agency's performance and make it harder for you to scale your productized services. High performance is crucial for small agencies that need to get the maximum benefits from their business spend.
The most important things to consider when choosing a client management system are your business goals and needs. For example, if you want to better utilize your budget and improve profitability, then investing in a client management software like Productive might be a good idea. On the other hand, software like HoneyBook and Capsule can help smooth your sales process so you can close clients faster.
If boosting client collaboration is your priority — and it should be because great collaboration improves client retention — then Copilot is the best client management system for your agency. Copilot helps you to streamline your agency's processes and deliver a unified client experience to your customers — all in one place. And you can create a client portal in just five minutes.
See how Copilot can improve your agency's client experience here.

Sign up for our newsletter
Subscribe below to receive our newsletter. We'll email you about important announcements, product updates, and guides relevant to your industry