7 Best Invoicing Software to Send and Receive Payments
May 24, 2023
9 min read
Yolande Yip
If you are a freelancer or a small business owner, chances are you're both sending and receiving invoices regularly. After a point, tracking whether you've been paid and whether you owe vendors money becomes too much of a headache to keep in a spreadsheet. Enter invoicing software.
We're going to discuss our top 7 picks for invoicing software and the features to look for when comparing invoicing software options.
What to Look For in Invoicing Software?
If you have no idea how to begin evaluating invoicing software, here are the most helpful features we think you absolutely need.
Time-Tracking
Time-tracking allows you to assign rates based on the project, employee type, or billing cycle. You can track your billable time and export your timesheets to Excel (usually) to create client invoices.
Creating Invoices
Invoice customization is a core functionality that most applications will have. What you want to look for when comparing software is which customization options are available. Not every software allows invoice customization with branding, payment terms and conditions, and client information.
Sending Invoices
For sending invoices, the ability to send both one-time and recurring invoices is critical. It's also nice when there read notifications are available, so you can confirm the recipient has seen and opened your invoice.
Online Payment
Helpful online payment features include the ability to send payment reminders and add a late fee to overdue invoices. Having several options for payment is also very useful.
Reporting
Reporting is another handy feature. Depending on your needs, you will want to generate financial statements and reports on expenses, profit/loss, payments collection, and accounts aging.
Top 7 Best Invoicing Software for Small Businesses in 2023
Here is the shortlist of our top seven invoicing software for independent contractors and small businesses:
Okay, let's dive deeper into each one.
1. Copilot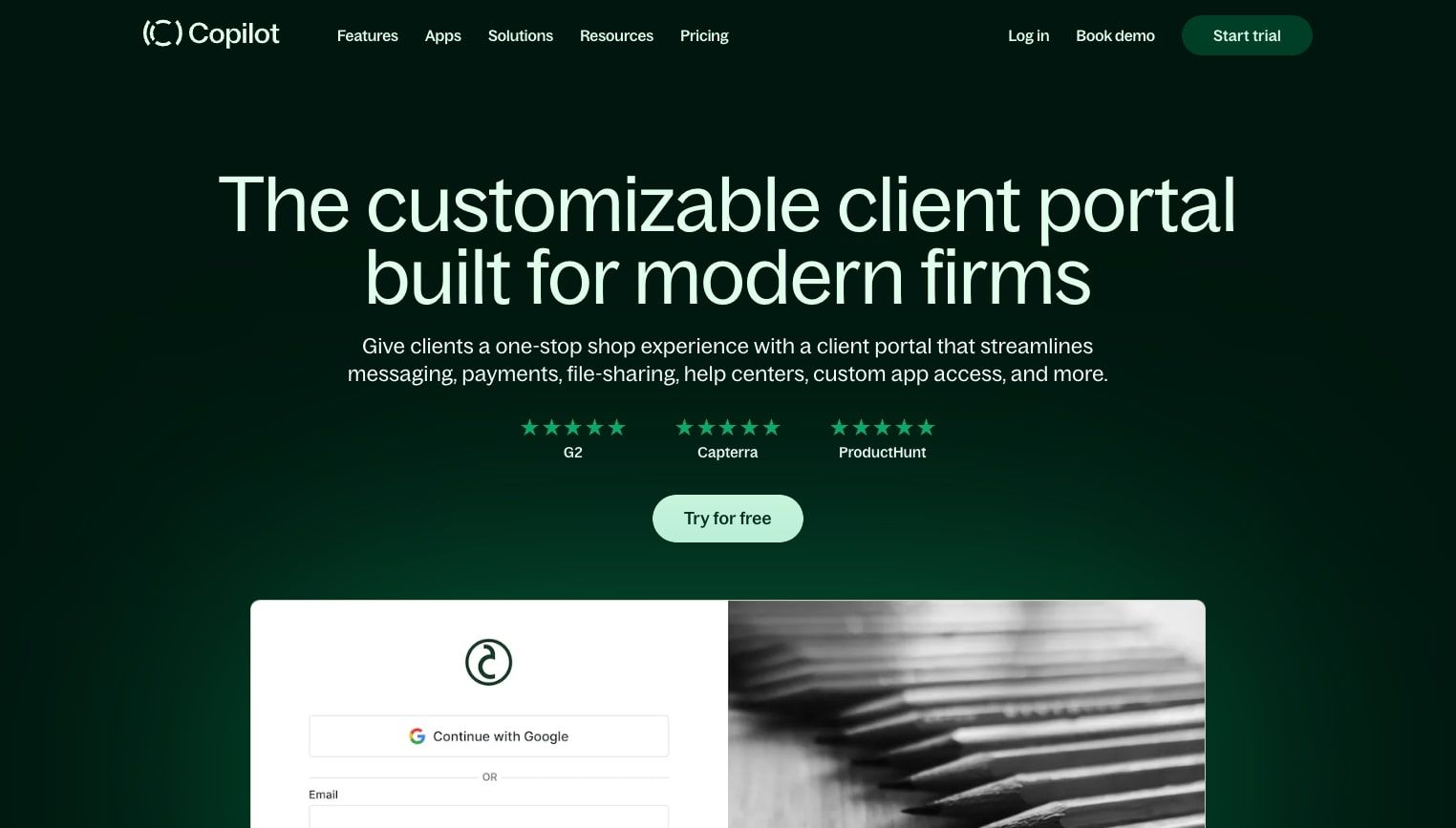 Best for: Service businesses, consultants, and freelancers
Pricing: Free trial, then $29/month (paid annually)
Copilot is a client portal application that goes beyond just simple invoice messaging. It combines billing, client intake, eSignature collection, knowledge base creation, and contact management.
In terms of invoicing, Copilot allows you to set up one-time and recurring invoices and grants credit card and ACH payment options. It offers customization to create branded professional invoices with your logo and custom colors.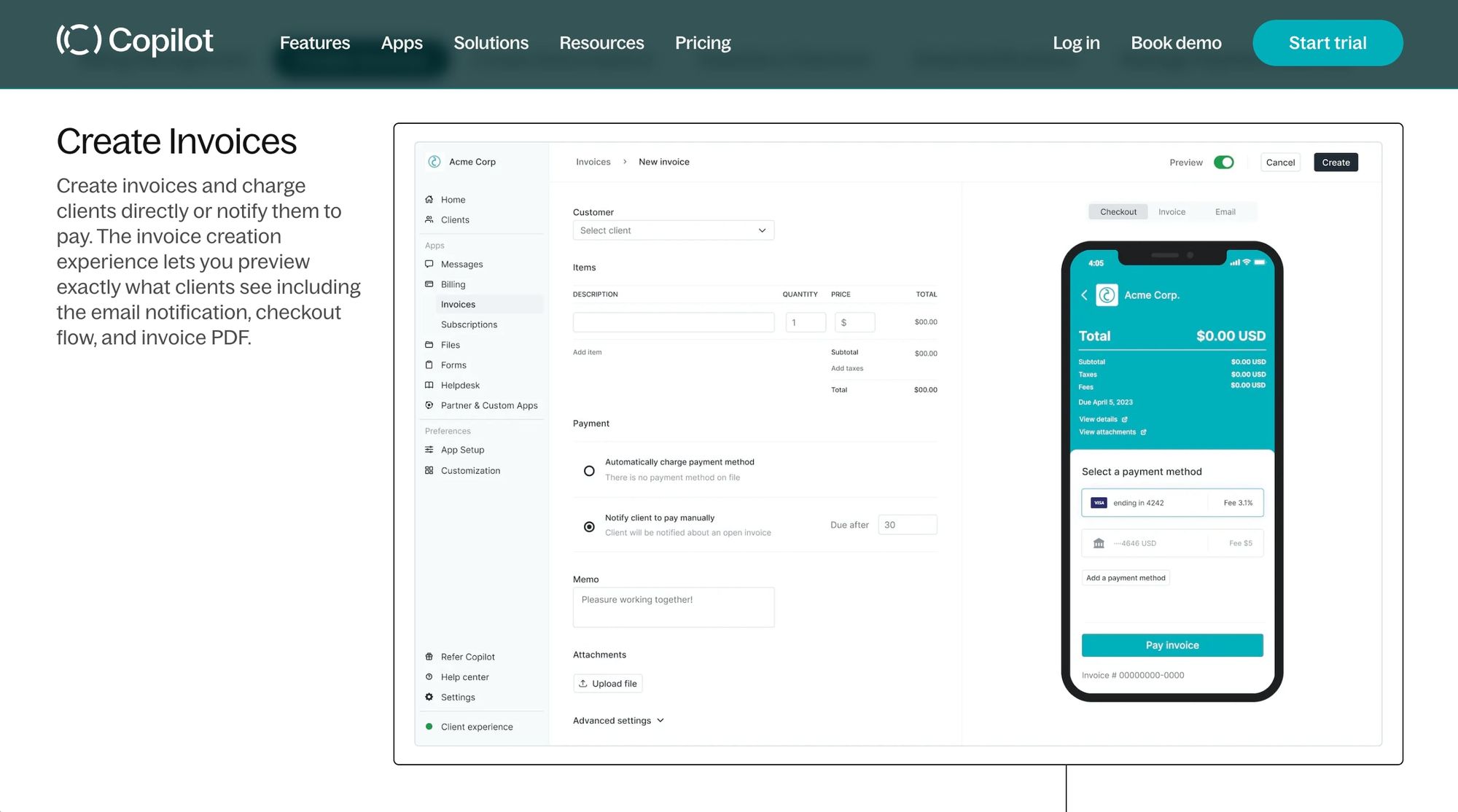 Additionally, because Copilot delivers custom client portal features, your clients can view invoice history and update payment methods by themselves.
The pay-as-you-go monthly fee offers maximum flexibility, making Copilot an excellent choice for businesses looking for basic invoicing functionality as part of a more comprehensive all-in-one commerce solution.
2. Freshbooks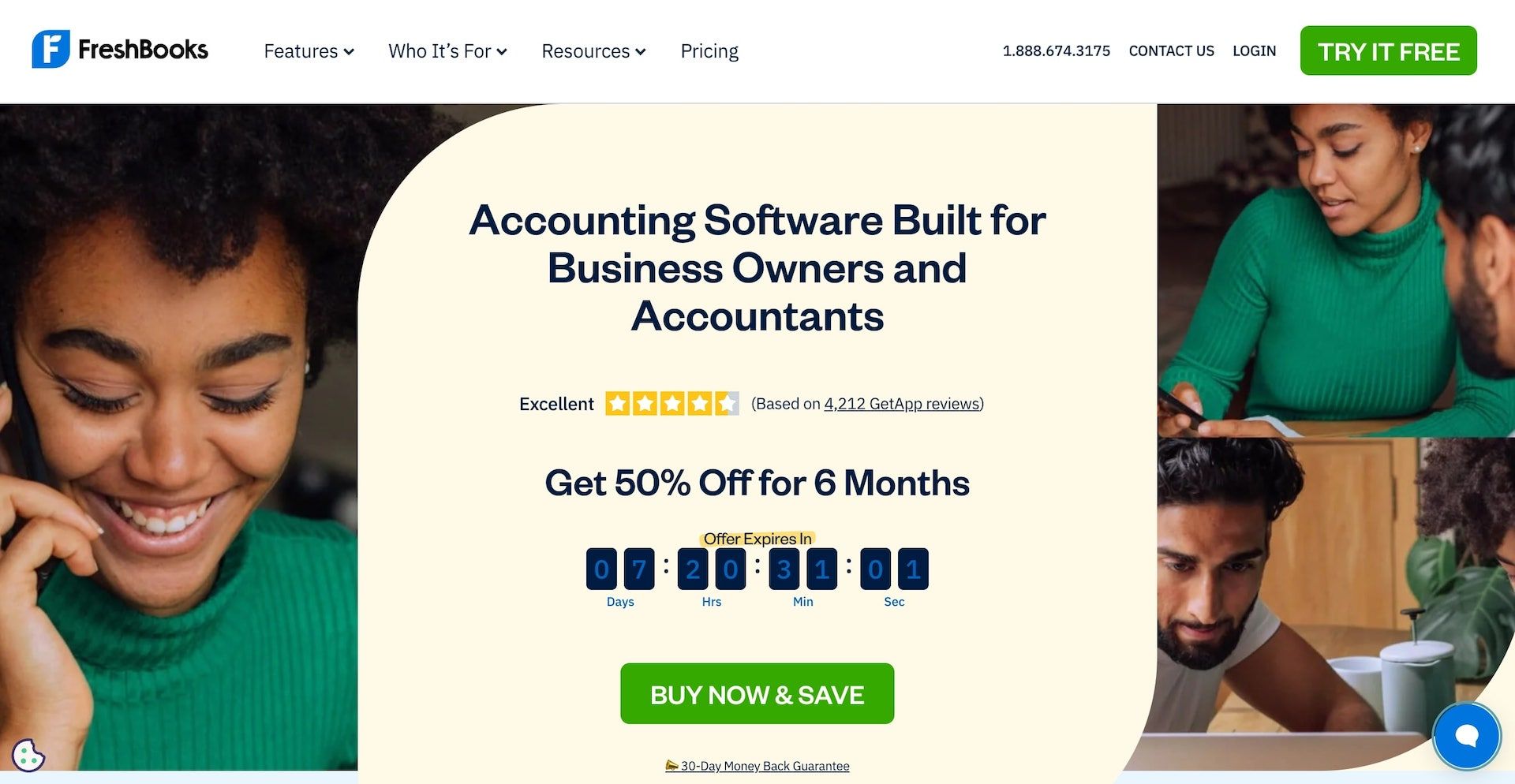 Best for: Time tracking and accounting features
Pricing: Starts at $132/year
Across the board, Freshbooks consistently ranks the highest in terms of value for the price, for small business owners wanting an all-in-one bookkeeping and invoice management solution. Freshbooks offers multiple plans to fit your budget and feature needs. The lowest-cost plan offers bare-bones invoice tracking with unlimited invoices. In contrast, higher-level plans provide helpful features like double-entry accounting, time management, bank reconciliation, reports, and expense management. Users also express great satisfaction with customer service and support in fourteen languages.
For all these reasons, Freshbooks is widely used and loved by small businesses. Larger businesses that need more sophisticated account features will not find a happy match in Freshbooks. Another caveat to Freshbooks is that each plan only allows one singular user. Freshbooks does support multiple third-party integrations, but it has only two payment gateways.
3. Square Invoices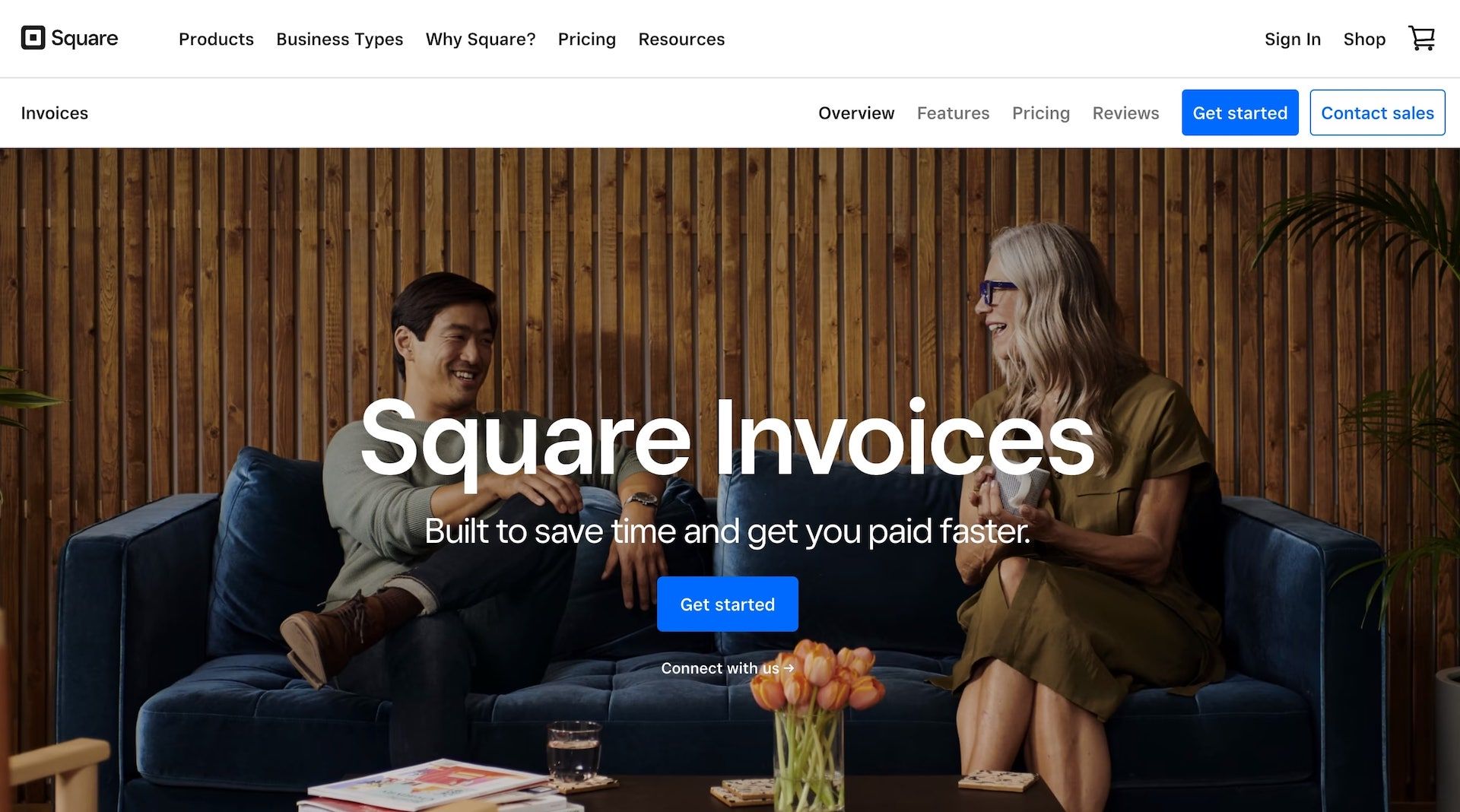 Best for: Local businesses
Pricing: Free version, then $20/month for upgraded features
Square is ubiquitous when it comes to payment processing services. Anyone who has a Square account has access to Square Invoices, so it's one of the most familiar software. Square's most significant selling point is that it doesn't charge a fee for sending invoices.
Square also has features that help you offer estimates and track inventory. It allows custom branding, but you are limited to a single invoice template. Specifically for invoicing, you can use both the standard Square point of sale app or the Square Invoices app. This flexibility makes Square Invoices one of the most convenient options for on-the-go merchants like farmers who want to send invoices and receipts while out and about.
Square Invoice's feature set is best suited for small to medium-sized businesses that sell products (as opposed to services). It's not a good fit for users looking for software for a project or service-based business.
4. Invoice2Go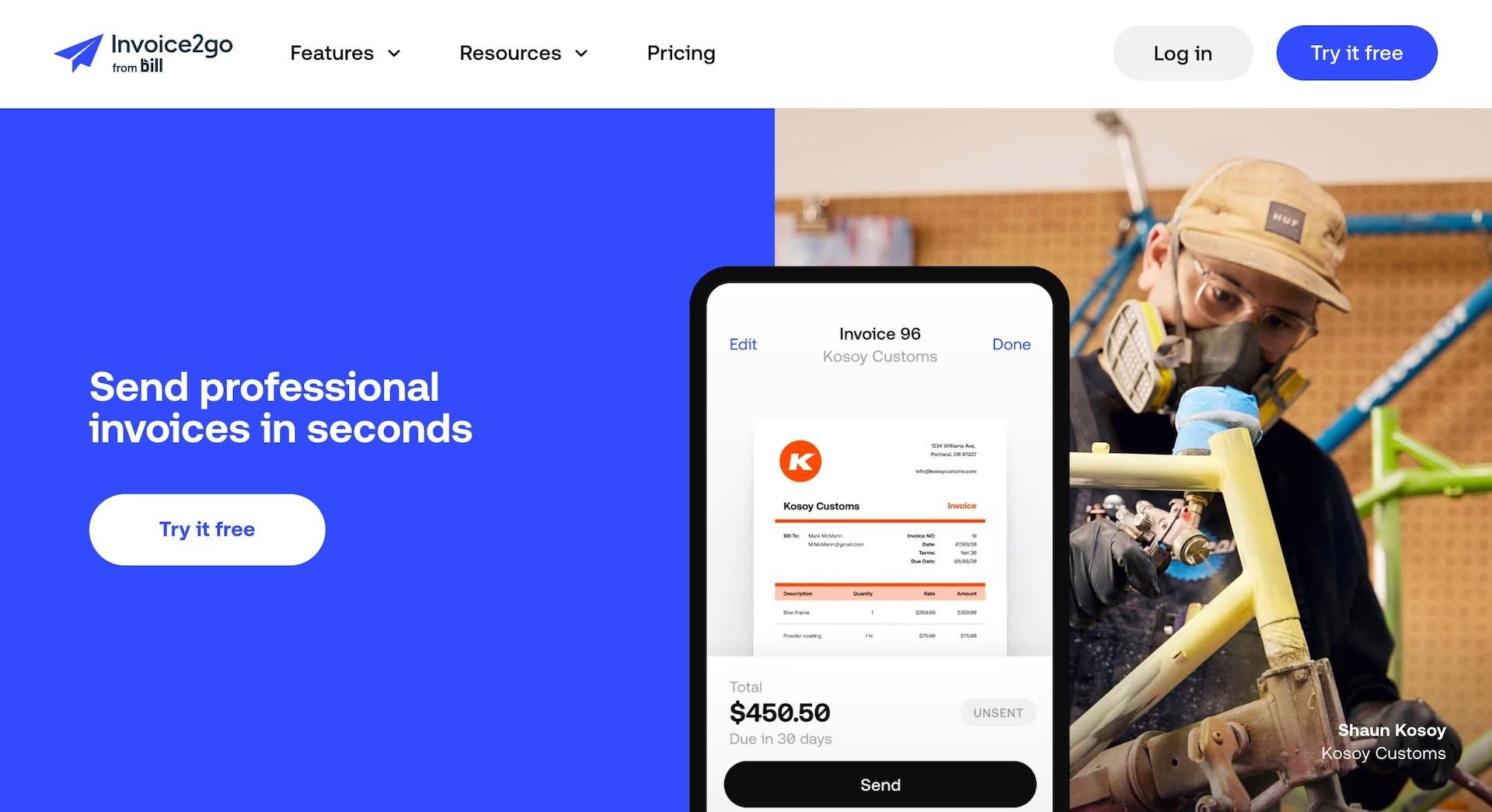 Best for: Reports and payroll
Pricing: Starts at $59.99/year
If you prefer conducting your business entirely through mobile apps instead of on desktop or laptop computers, Invoice2Go could be a good option for you. Invoice2Go foregoes more sophisticated accounting and bookkeeping features for pure online invoicing. Although its features are limited, Invoice2Go manages invoicing well and has the best experience from all other Android apps and iPhone iOS apps.
5. Invoice Ninja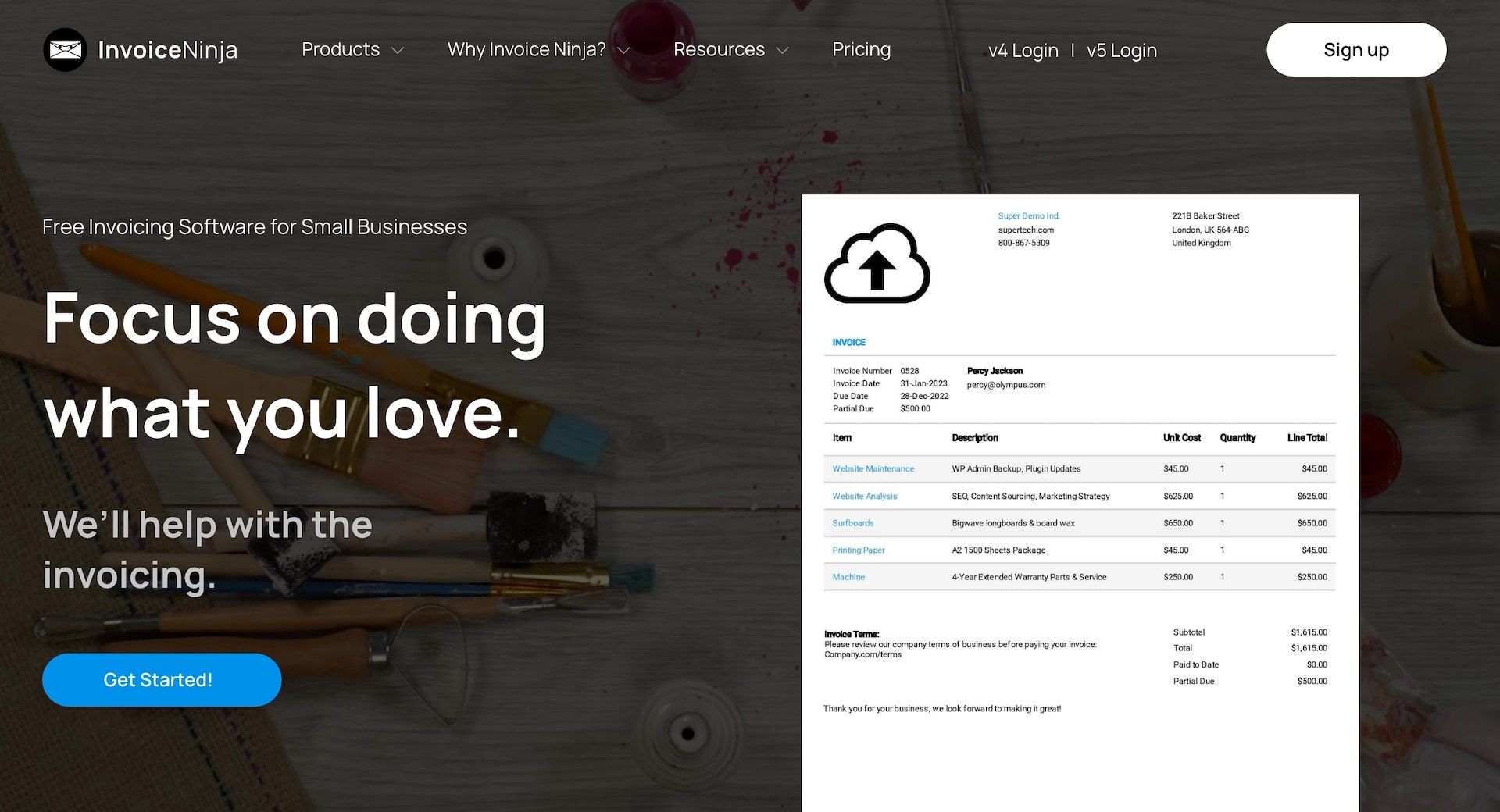 Best for: Sending invoices and quotes
Pricing: Includes a free plan, premium plans start at $100/year
Invoice Ninja is extremely popular because it is one of the best free invoicing software. Yes, you read that right; it's entirely free — forever (for up to 100 clients). It offers typical features like invoicing, estimates, time and expense tracking, and primary contact and project management features. For users who don't need frills and are budget-conscious, Invoice Ninja should work great.
If it appeals to you, Invoice Ninja also works with voice commands, offers over forty payment gateways, and supports thirty languages.
6. Bill.com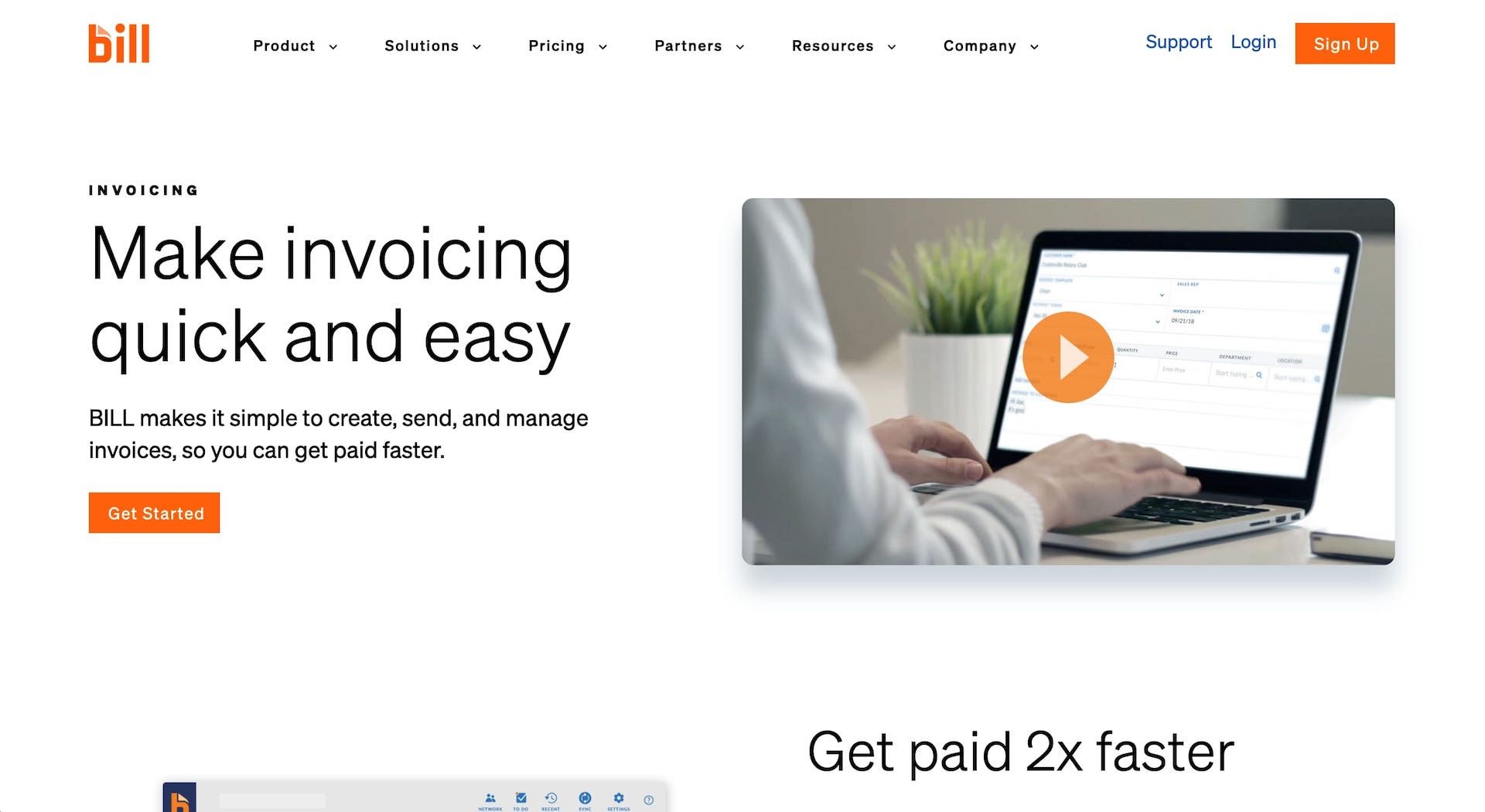 Best for: Processing invoices from consultants and service providers
Pricing: Starts at $79/month per user
Bill.com is known for its flexibility, which makes it easier to wrangle your accounts receivable and payable. You can review and approve bills and invoices from any device. Bill.com also makes it easy to send international payments to vendors and suppliers. Bill.com also excels in automation, making it easy to set up auto-billing and payment reminders. Bill.com offers a variety of payment options like ACH bank transfers, credit card payments, debit cards, and even PayPal.
Because of its rich feature set and corresponding higher pricing, Bill.com is better suited for businesses on the cusp of becoming medium-sized.
7. Harvest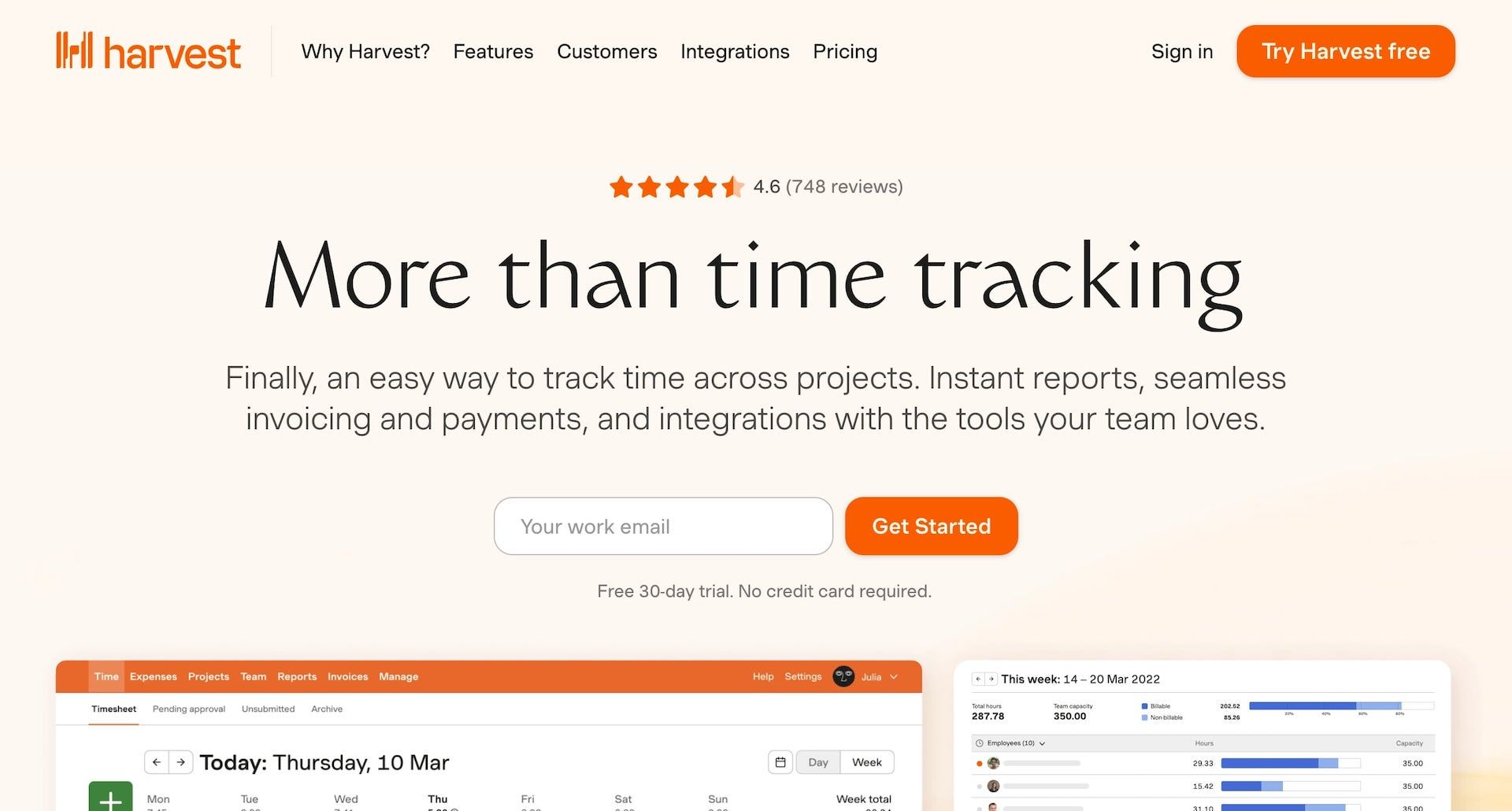 Best for: Invoices with time tracking
Pricing: Free for up to two projects
Harvest is an option for users who need essential invoicing management and more sophisticated time-tracking, which is where Harvest especially excels. Beyond invoice management, Harvest offers project management workflow tools for service-based or project-based businesses. For this reason, it's a popular choice for small agencies or service providers.
Runners-Up
These two options didn't quite make the cut, but they are still good options, especially for budget-conscious users. They're worth checking out for those A+ students who want to compare features for extra credit.
Stax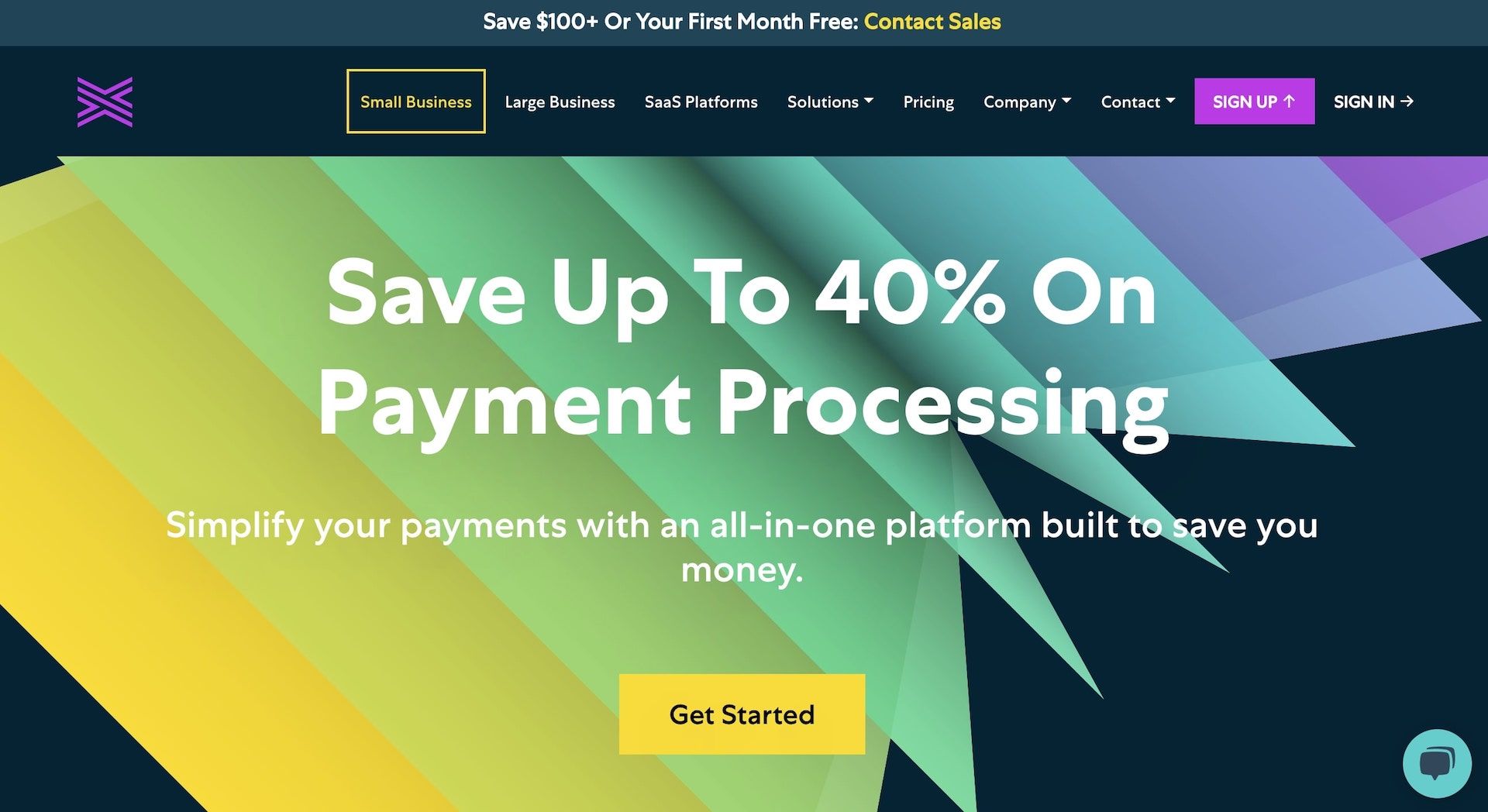 Stax (formerly Fattmerchant) is a cloud-based application that works for businesses from small to large across various industries from ecommerce to healthcare. Aside from typical invoicing features, Stax lets users set tipping options and offers personalized receipts and invoices customized with a logo.
For reporting, Stax offers detailed batch reports from their data analysis platform. It's available on a monthly subscription basis.
Tipalti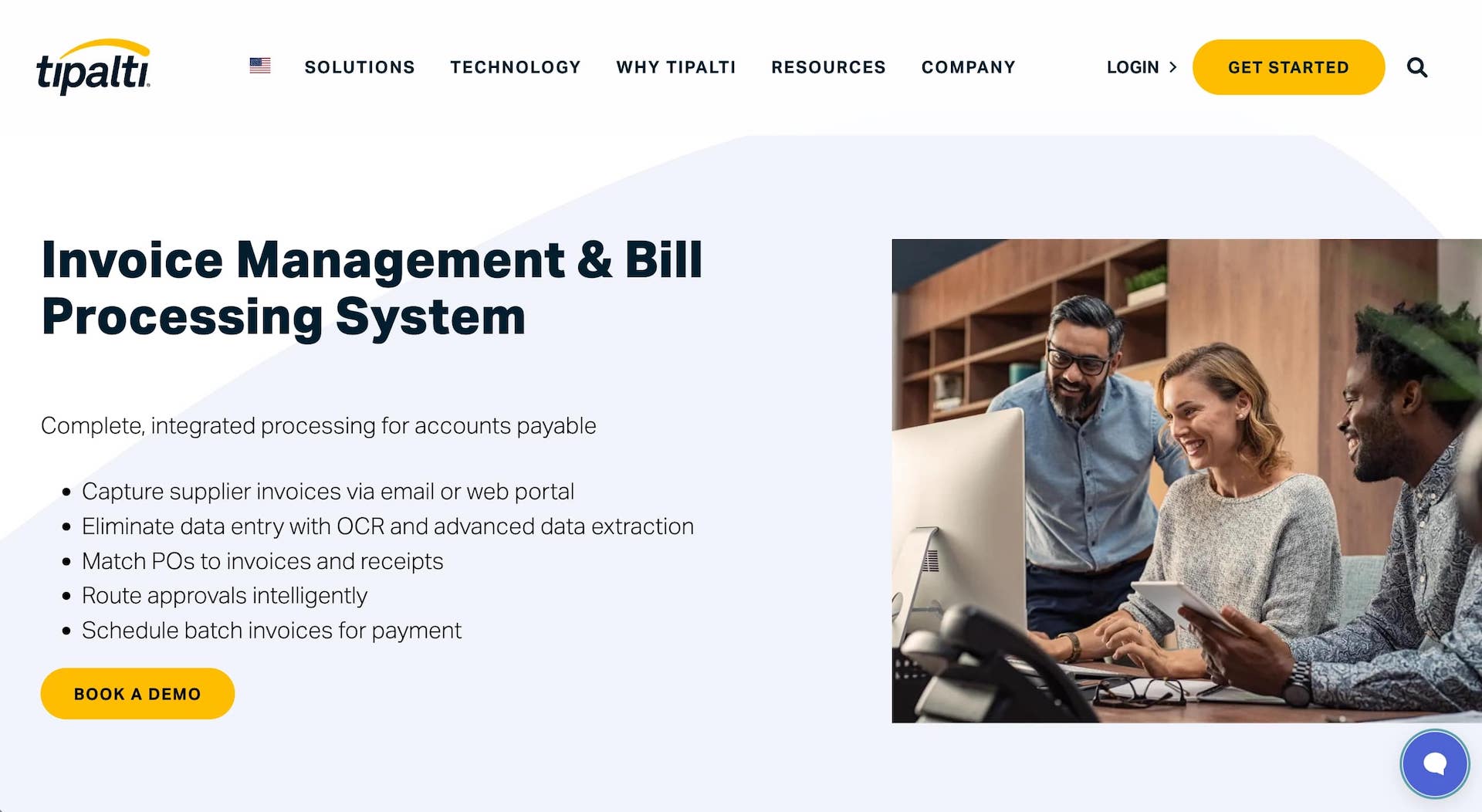 Tipalti is also a cloud-based application that is mainly for automating accounts payable. It offers invoice automation, payment remittance, regulatory compliance management, tax calculations, supplier management, reporting, and payment reconciliation.
Users say the web portal is easy to navigate, and they enjoy the compliance management support that automatically checks payment information.
Tipalti integrates with leading ERP and performance management systems such NetSuite, Oracle, and CAKE.
Notables That Didn't Make The Cut
Looking for familiar faces like QuickBooks Online, Wave, Zoho Invoice, or Xero? While businesses of every size widely use these applications, we don't recommend them because they are full-fledged, sophisticated accounting software.
Although they will undoubtedly be able to handle your needs in terms of capability, for most small business owners, these heavy hitters are overkill. They are unnecessarily expensive for a small business' (and especially independent contractor's) needs.
Invoice Simple is another well-known choice, and we don't recommend it for the opposite reason — it's too basic. For most business owners, the lack of customization won't cut it.
Tips For Choosing The Right Invoicing Software
Even though we've done the legwork for you, it's still a good idea to research on your own. Here are some tips on approaching the research process when comparing invoicing software so that you can make an intelligent purchase.
Decide your budget
The first step you need to go through is deciding your budget. Although some software vendors will likely negotiate pricing with you, you still need to go in with a ballpark figure. That way, you can quickly eliminate the software that is clearly out of your price range.
Understand your needs
Next, you must understand the features that are non-negotiable must-haves and which ones are just nice-to-haves. If you have extensive accounting or bookkeeping experience, you may already have real-world knowledge of what's most important.
If not, take stock of your business' entire accounting process. Imagine which tasks are the most repetitive that could benefit from time-saving automation. Also, talk to friends and colleagues who might have more experience.
Know industry-specific requirements
Depending on your industry, you may need industry-specific features. You can use these specific features to narrow down your search more efficiently.
Compare package features
The easiest way to compare features when shopping around is to create a spreadsheet with all of your must-have and nice-to-have features. It's not fun, but unfortunately, it's the best way to stay organized and make sure you're keeping everything straight.
Check integration compatibility
Your business may have essential third-party integrations that are necessary. If you're not willing to build custom integrations, you will need to make sure the software you choose already has developed the integrations you need.
Ask colleagues
Don't forget to ask colleagues about their favorite software to use. Even if they are not willing to discuss the nitty-gritty of features with you, most people want to help and will at least let you know off the cuff what they are using and what they like and dislike about it.
Ask the right questions
Don't forget that sales associates are there to help you through the process, as they're incentivized to do so. To make your time with them valuable to you as well, prepare your questions beforehand. Also, give them the list of your feature needs. It's much faster to have a human validate capabilities than if you troll the website by yourself.
Copilot: The Best Invoicing Platform for Service Businesses
The effort invested in meticulously choosing the right invoicing solution, one that caters specifically to your business needs, is unquestionably worthwhile. Through this process, you'll gain a firm handle on your cash flow, ensure that no invoice deadline is overlooked, and establish the structure your business requires to sustain and expand.
As you navigate this journey, consider the robust features offered by Copilot's billing software. This platform not only facilitates the sending and receiving of invoices from clients or customers but also offers an intuitive interface and highly customizable invoices. This feature-rich platform caters to your specific billing needs, granting you greater control and streamlining your billing process.
Copilot's billing software allows you to manage multiple currencies and link directly to your Stripe or bank account, providing a seamless connection between your invoicing and your finances. This flexibility simplifies transactions, particularly for businesses operating internationally. The real-time tracking feature enables you to keep a close watch on the status of your payments and invoices, thereby minimizing surprises and enhancing your financial planning.
Moreover, Copilot's customized invoices feature supports you in presenting a professional image to your clients, with invoices that reflect your branding and design preferences. This feature, coupled with the platform's overall ease of use and intuitive design, makes it an ideal choice for any business seeking a comprehensive, user-friendly invoicing solution.
In conclusion, regardless of the size or nature of your business, an effective invoicing software system is essential. By doing your homework and choosing wisely, you'll build a more organized and efficient operation, one that's fully prepared for growth and success.
Sign up for our newsletter
Subscribe below to receive our newsletter. We'll email you about important announcements, product updates, and guides relevant to your industry