10 Best Canopy Alternatives You Have to Check Out in 2023
Jul 20, 2023
12 min read
Omid G
In an industry that thrives on numbers, data, and accurate information, it's only natural that accountants would want to find the best software solution to manage their practices. Canopy is a strong player in the market, offering a range of features tailored to meet the needs of accounting firms. However, as technology advances, new and innovative alternatives to Canopy are emerging.
In fact, the number of Canopy alternatives is growing year over year, with the accounting practice management software market size reaching a value of $620.6 million in 2022. By 2030, the market is expected to hit $1.2 billion.
That's a lot of software to sift through when you're looking for ways to streamline your client management, document sharing, client support, and other key areas of your business. To help you narrow down your choices, we've compiled the top 10 Canopy alternatives for accounting firms in 2023. Whether you're looking for advanced features, user-friendly interfaces, or competitive pricing, these alternatives are worth exploring. Let's dive in and find an option you love.
What to Look For in a Canopy Alternative?
Before you consider Canopy alternatives, it's important to understand what to look for when evaluating accounting software. Here are some crucial factors to keep in mind.
Functionality
Ensure that the Canopy alternative offers the essential features required to manage your accounting tasks effectively. Look for capabilities such as invoicing, automated reminders, client management, secure document storage and sharing, time tracking, and messaging.
User Interface
A user-friendly interface is vital for maximizing productivity and minimizing the learning curve. Intuitive navigation and well-designed workflows contribute to a seamless experience and help you get up and running without a lot of headaches.
Integration
Investigate whether the platform integrates with other tools you currently use, such as CRM systems or project management software.
Data Security
Protecting sensitive financial data is paramount. Look for alternatives that prioritize data encryption, regular backups, and security to safeguard your information and your clients'.
Customer Support
Consider the level of customer support provided by the Canopy alternative. Responsive and knowledgeable support teams ensure smooth operations and quick issue resolution.
Top 10 Canopy Alternatives For Accounting Firms in 2023
Here are our picks for the best Canopy alternatives for accounting firms in 2023:
Let's dive deeper into each one.
1. Copilot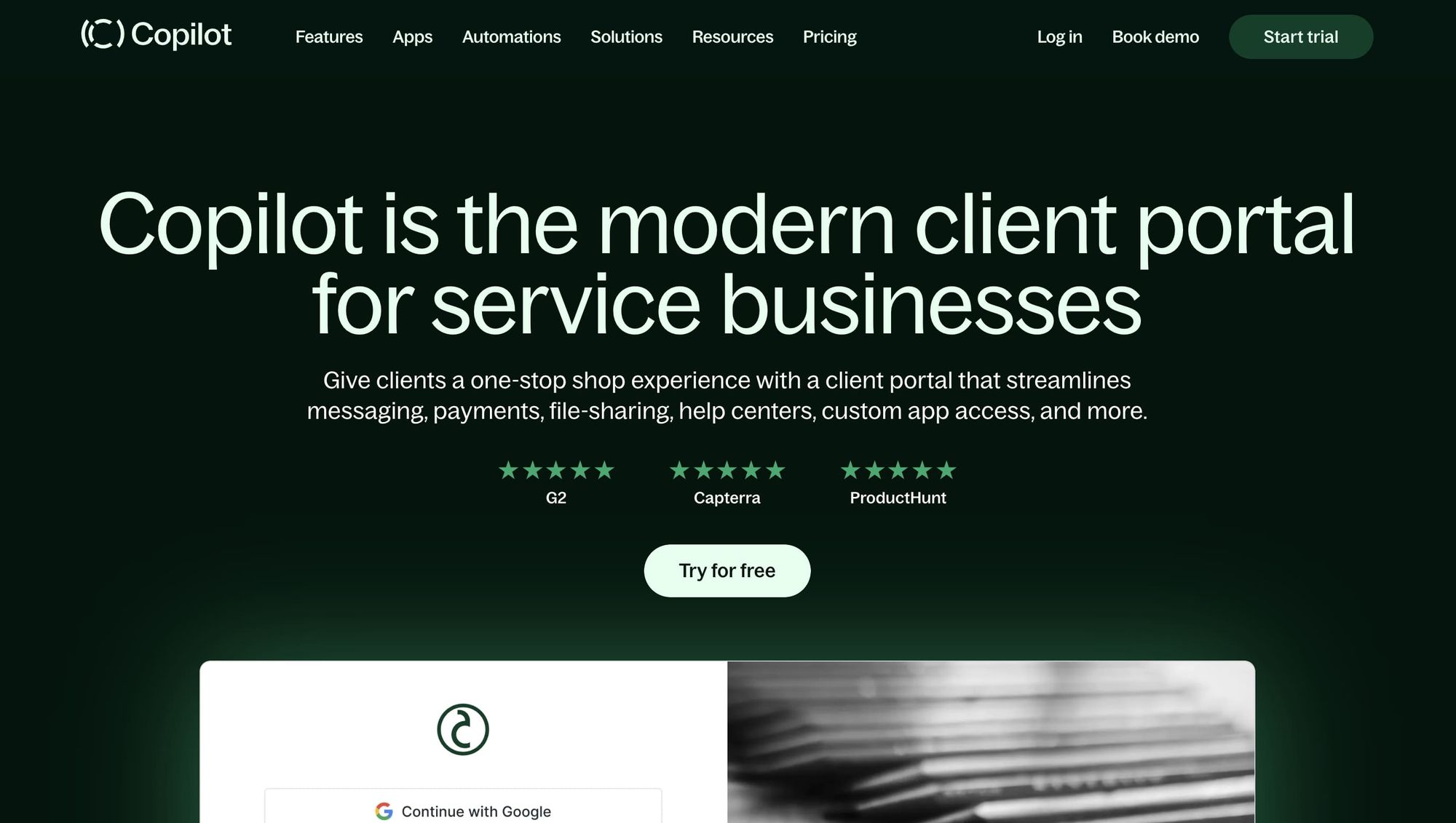 Copilot is a powerhouse platform designed for modern accounting firms, offering a wealth of features and functionalities. This robust solution equips accounting professionals with the tools they need for client relationship management, streamlined workflows, and automation of repetitive tasks.
Copilot excels in its client communications, with convenient client portals that act as secure hubs for engaging with clients. Through these dedicated portals, you can effortlessly communicate with clients and access their files in one spot.
Document management is also seamless with Copilot, enabling efficient organization, storage, and sharing of important documents. The system keeps information securely stored yet easy to retrieve at a moment's notice.
Benefits of Copilot
Billing features make it easy to generate professional invoices, track payments, generate subscriptions, and send automated reminders.
Using automation, the platform handles document collection, data entry, and other repetitive tasks freeing up your time to focus on client work.
Keep using the apps you love; simply integrate your project management, scheduling, and accounting apps to streamline workflows.
Sensitive data stays under lock and key, instilling trust in your firm and building a positive brand reputation.
With Help Desk and knowledge base features, you can customize visibility rules and share relevant content tailored to each client's needs.
Copilot Pricing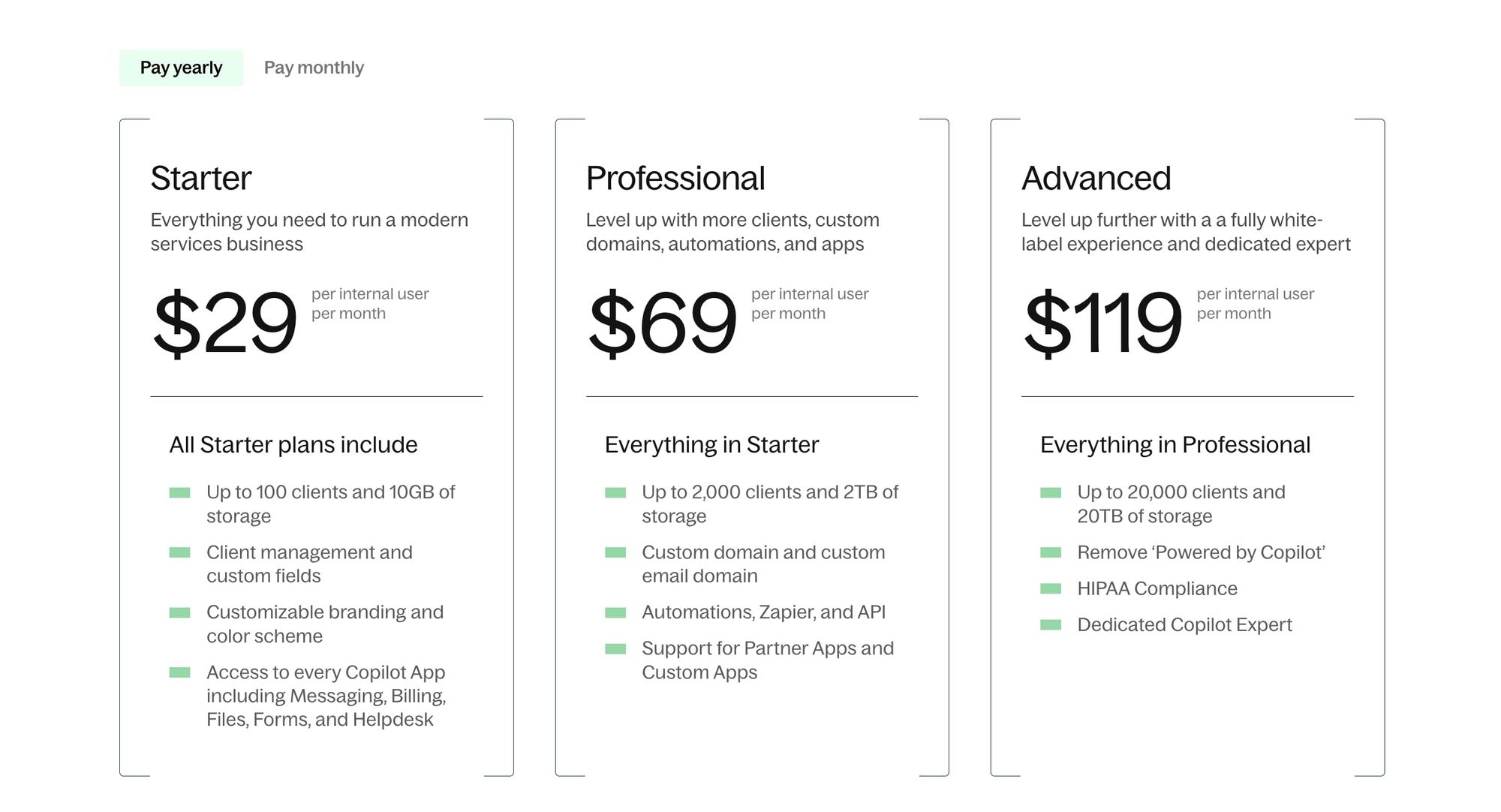 Following a free trial, paid plans start at $29 per user per month, paid annually, or $39 monthly.
2. Karbon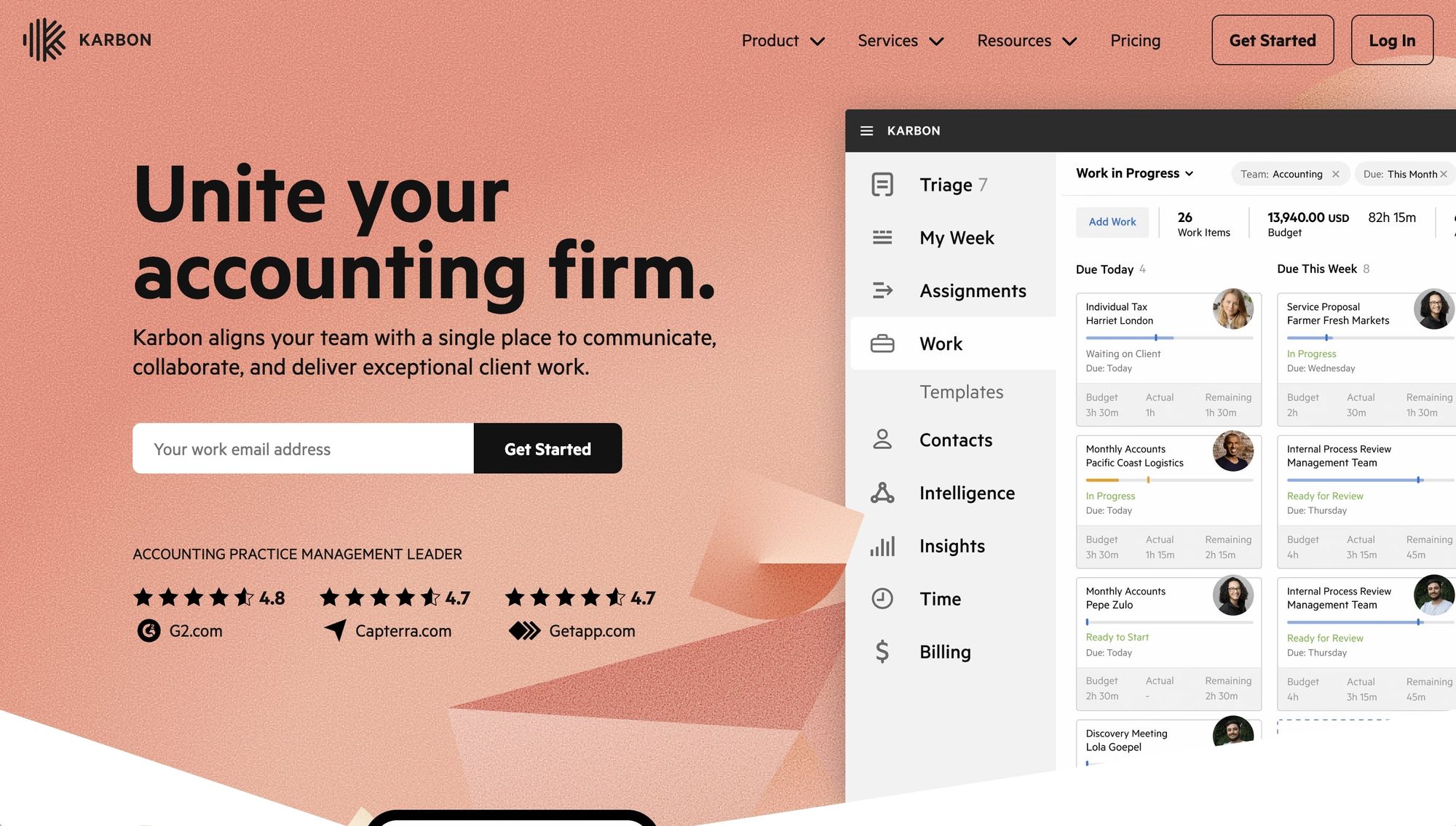 As a collaborative practice management solution designed especially for accounting firms, Karbon brings together your team, clients, systems, and data in one central platform. Both in-house and remote talent can stay connected and gain visibility into deadlines, responsibilities, rationales, and methodologies. You're also able to integrate your email and other apps, such as Zapier, Hubspot CRM (discussed below), Dropbox, and QuickBooks.
Karbon's practice intelligence provides actionable insights that boost your ability to gauge the performance and productivity of your firm. You can proactively identify and address any blind spots — before they become major problems.
Benefits of Karbon
Search functionality makes it easy to locate historical information, while client management tools enable seamless, secure communications.
One reliable source of knowledge lives in the cloud so any team member can pop into the platform from anywhere to view the status of projects.
Document management tools allow you to connect your document management system and store, manage, and track documents from a single source of truth.
Automated workflows and AI tools handle repetitive, mundane tasks, including email management, so your team can focus on value-added activities.
Robust analytics tools give you transparency into key metrics that you translate into decision-making and action.
Karbon Pricing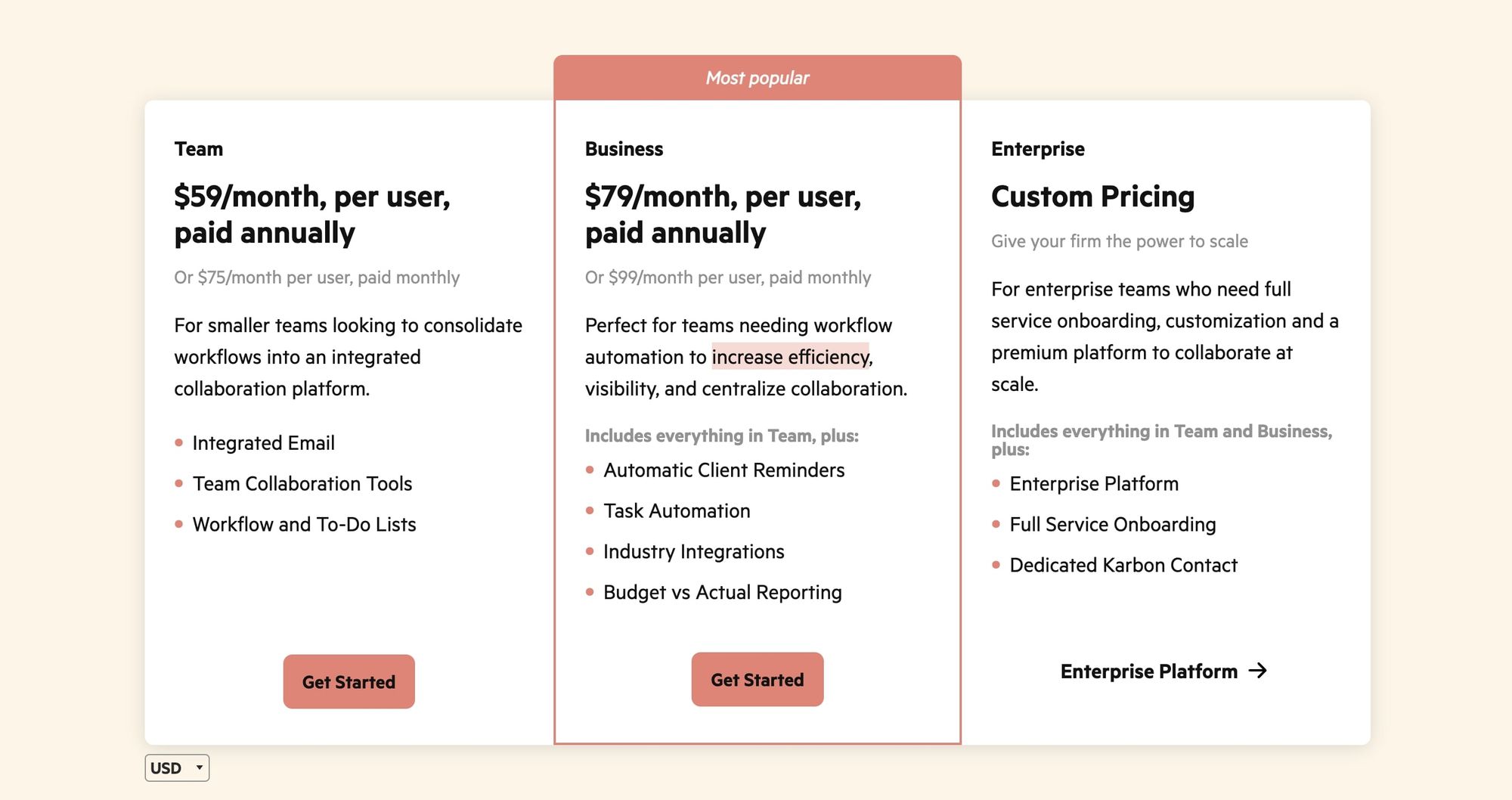 Pricing starts at $59 per user per month, paid annually, or $75 monthly.
3. TaxDome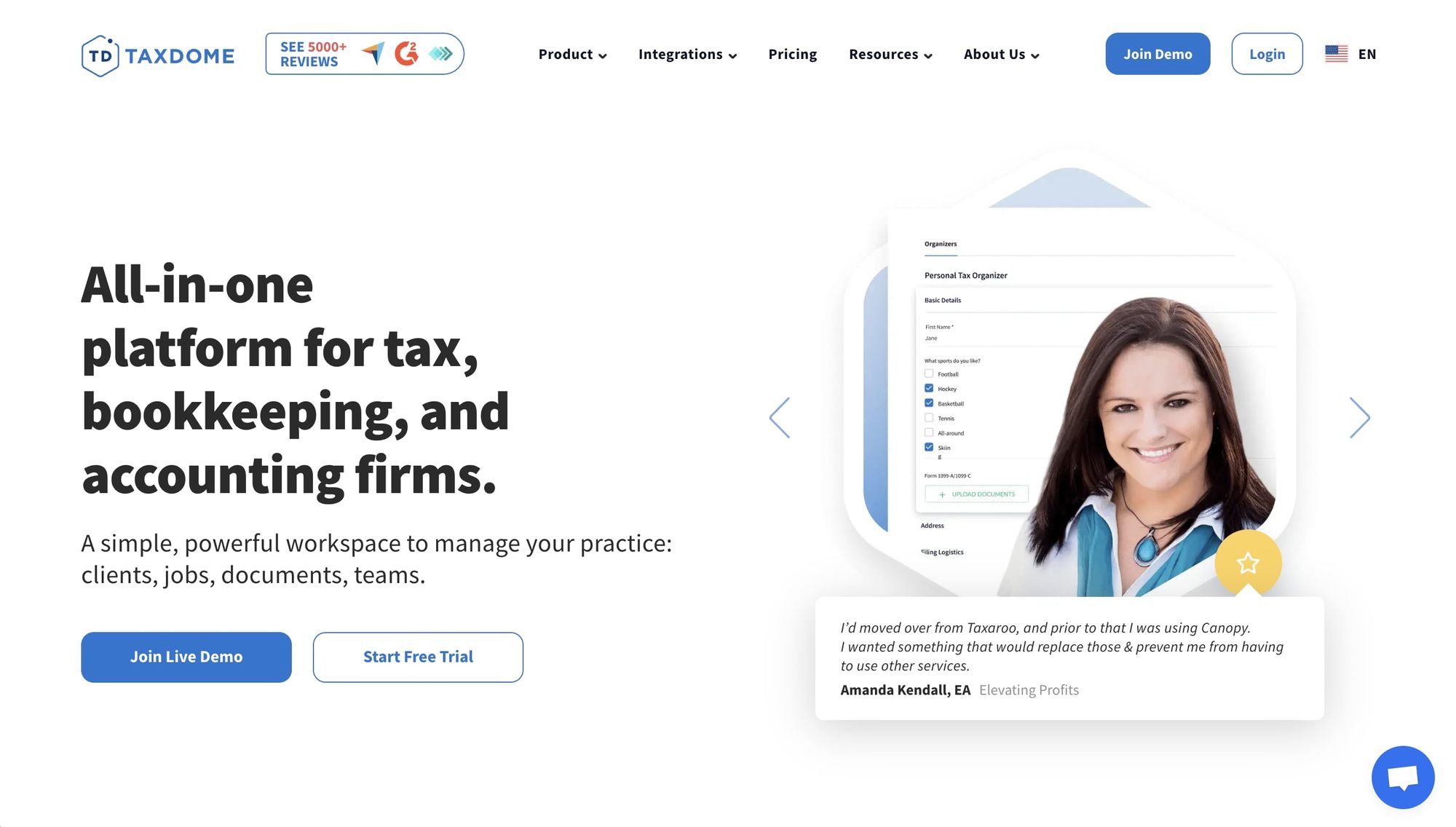 No discussion of Canopy alternatives would be complete without mention of TaxDome, an all-in-one platform for managing accounting clients, jobs, documents, and teams. TaxDome sets itself apart with its specialized workflow automation tools tailored specifically for the tax and accounting industry.
The platform offers a diverse selection of pre-designed templates that cater to various needs, including tax returns, bookkeeping, payroll, and more. These ready-made templates streamline processes and enhance efficiency, allowing accounting firms to focus on delivering top-notch services to their clients.
Benefits of TaxDome
In addition to its workflow automation, TaxDome provides comprehensive CRM tools designed to enhance communication between accounting firms and their clients.
The platform offers a dedicated, brandable client portal, ensuring seamless interaction, collaboration, and document sharing from anywhere.
TaxDome's client portal enables firms to assign tasks to clients, track progress in real-time, and receive timely updates, ensuring efficient project management.
TaxDome prioritizes the security and compliance of client data. With encryption and secure data storage measures in place, client information remains protected and confidential.
TaxDome's mobile functionality enables clients to access their accounting information and documents on the go, enhancing convenience and flexibility.
TaxDome Pricing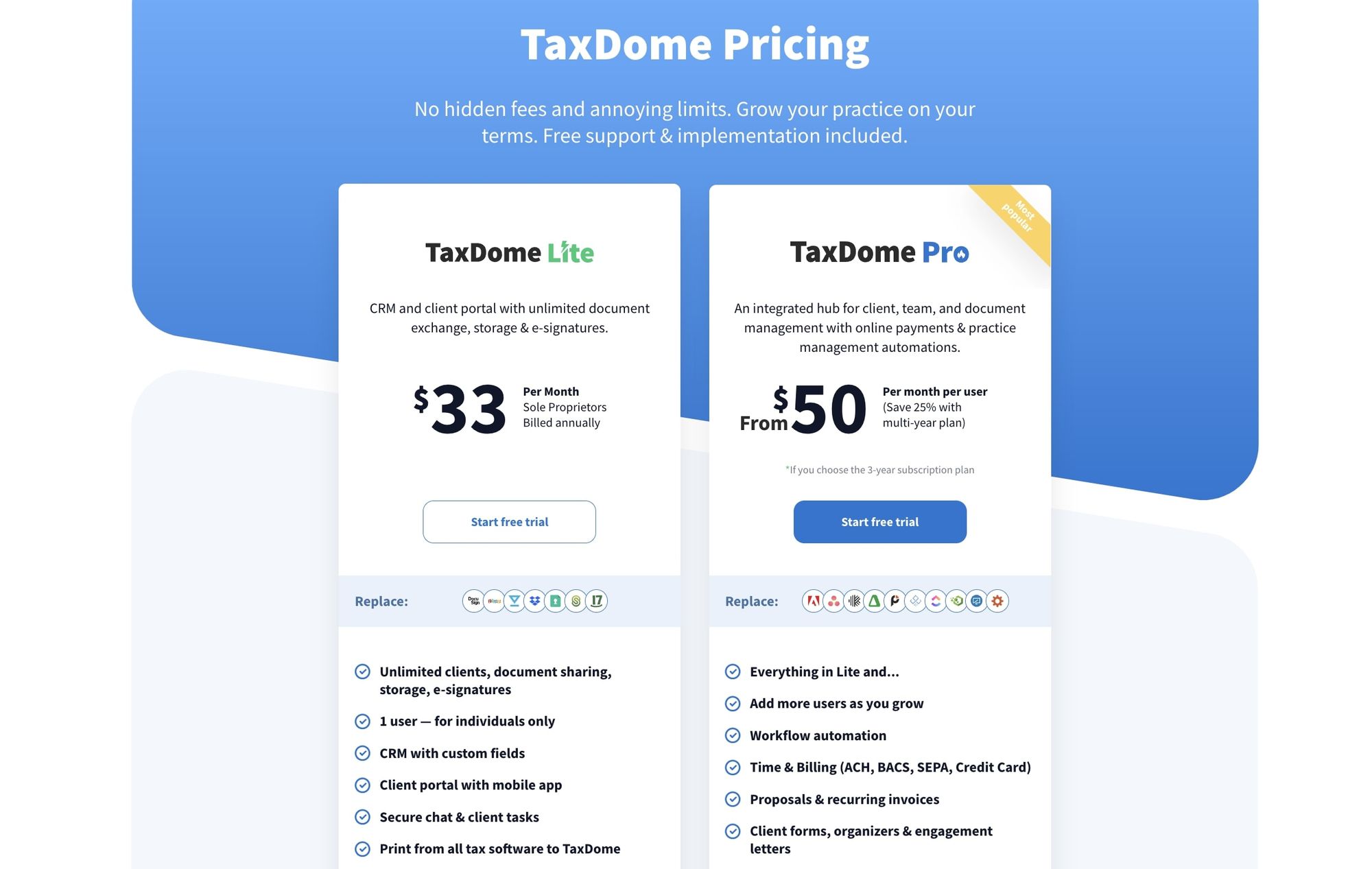 After a free trial, paid plans start at $33 per month, billed annually.
4. Dubsado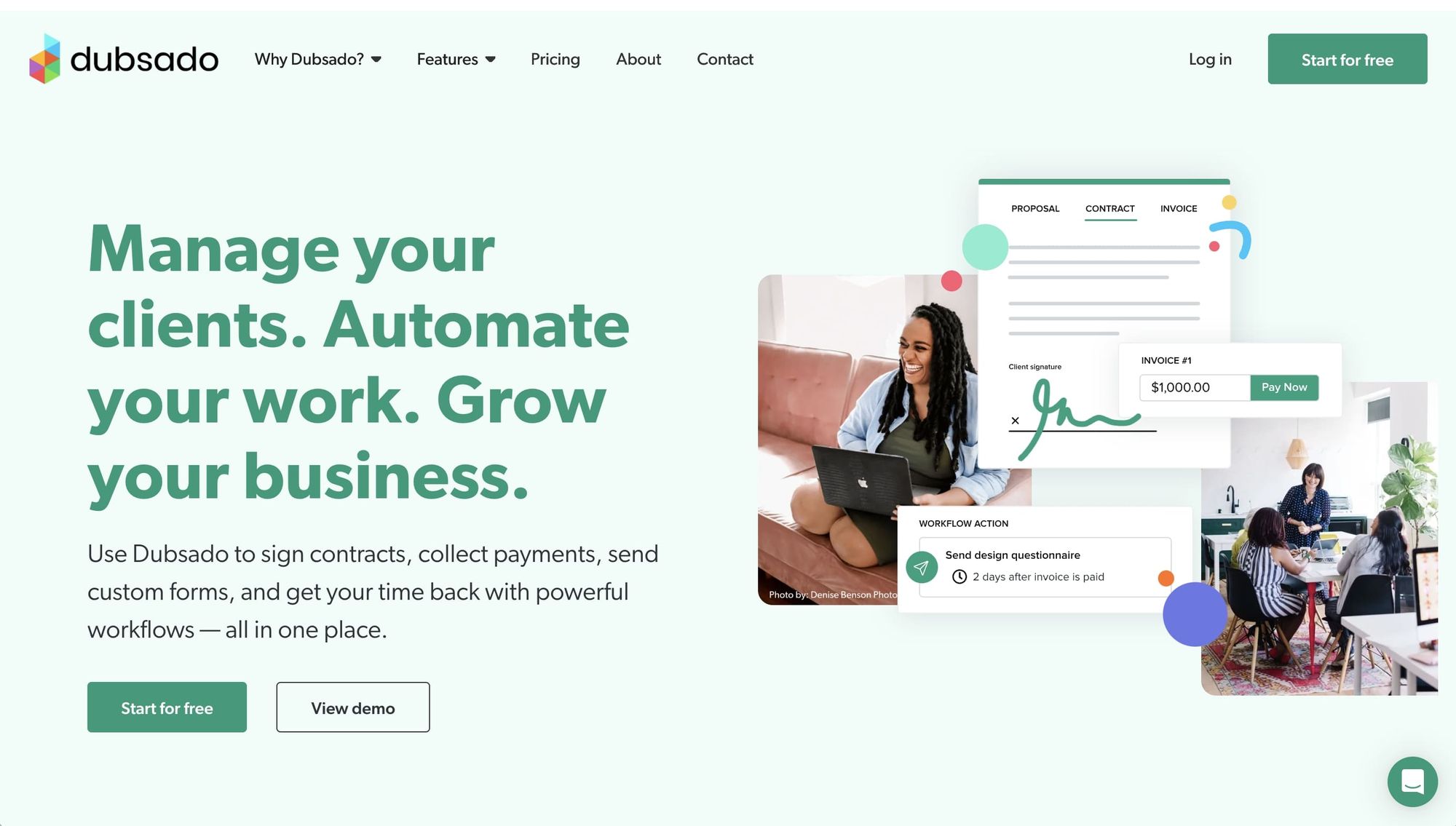 Dubsado is an all-inclusive platform with a wide array of client management tools, including CRM capabilities, forms, contracts, and invoices. Among its notable features are client portals that offer convenient project access and streamlined payment submission for clients.
With its automation tools, liberates users from mundane and repetitive tasks, allowing them to focus on more critical aspects of their business. Moreover, Dubsado's customizable form templates empower users to create visually appealing and branded documents, ranging from lead capture forms and questionnaires to professional proposals.
Benefits of Dubsado
Dubsado streamlines the onboarding process through automation, simplifying the conversion of opportunities and leads into satisfied customers.
Customizable form templates align perfectly with your website's look and feel.
Online invoicing and automated reminders guarantee timely payments, enhancing cash flow management.
Scheduling tools seamlessly integrate with your website, providing a smooth booking experience that enhances appointment bookings.
Automated onboarding processes streamline lead-to-customer conversion and foster strong relationships from the start.
Dubsado Pricing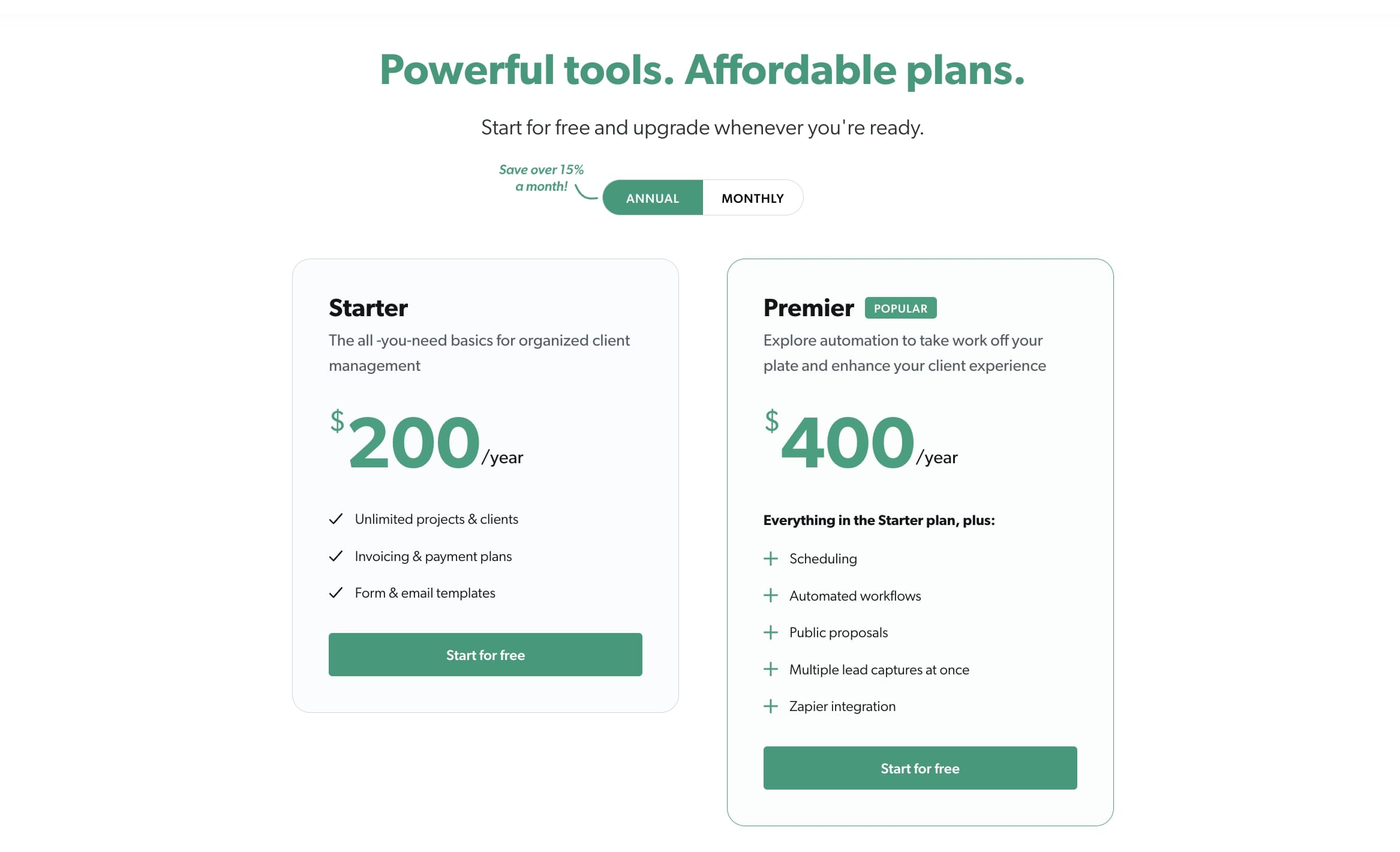 Begin with a free trial; paid plans start at $200 per year or $20 monthly.
5. HubSpot CRM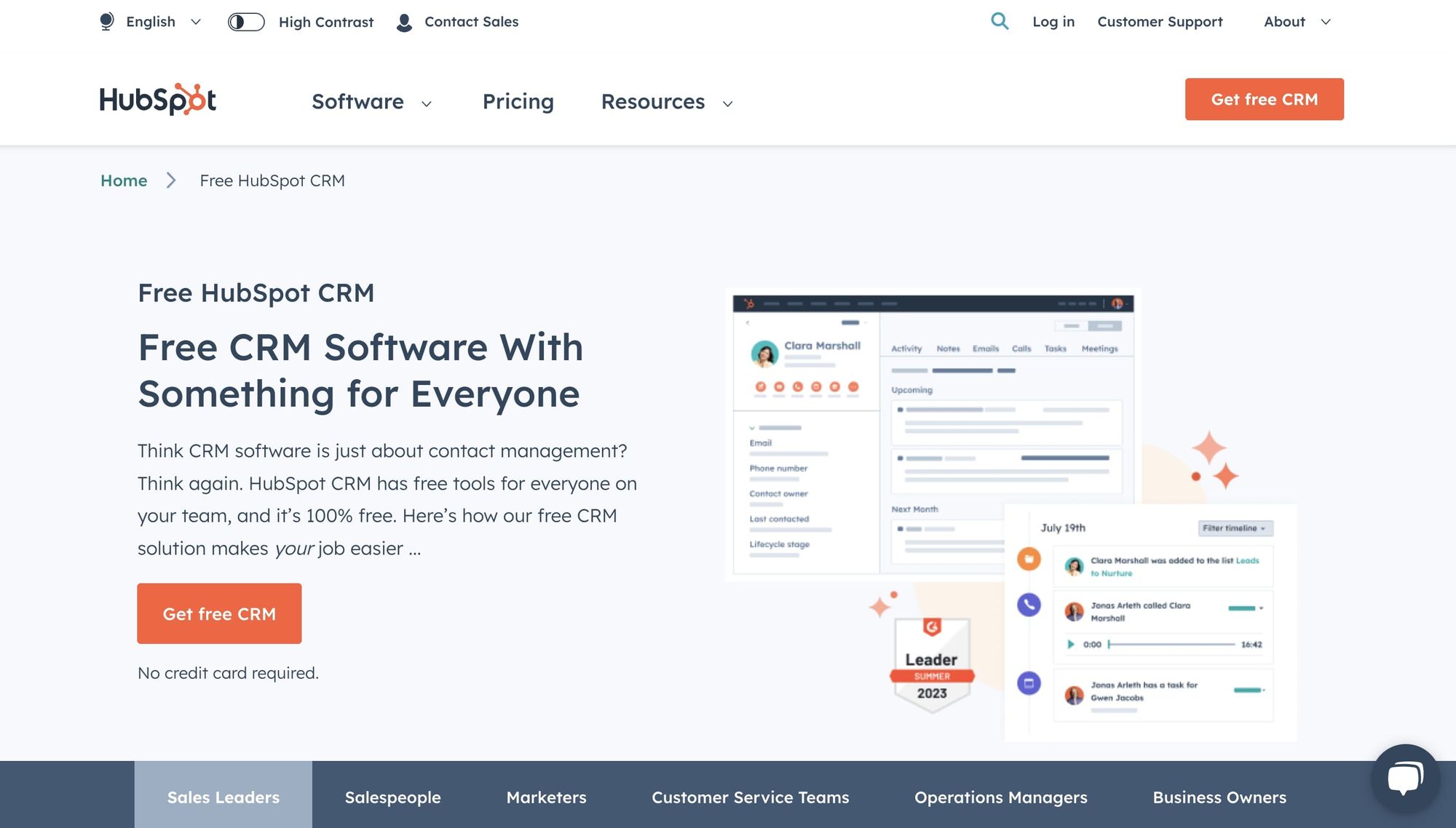 In the world of Canopy alternatives, you can't overlook HubSpot CRM. The marketing automation tool unlocks a world of possibilities for enhancing your marketing strategy by leveraging email marketing, social media scheduling, lead tracking, and other strategies.
One of the standout advantages of HubSpot lies in its free version of CRM tools, offering a cost-effective way for sales teams to track and analyze the sales pipeline. The all-in-one dashboard provides a comprehensive view of individual contributors' performance, conversions, productivity, and other crucial metrics.
Benefits of HubSpot
Generate comprehensive reports that offer an in-depth view of your sales and marketing efforts. Analyze campaign performance, track progress toward goals, and measure key performance indicators to make data-driven decisions.
HubSpot's free CRM tools are accessible to businesses of all sizes, providing a powerful option for small teams to get started without incurring additional costs.
As your business grows, HubSpot scales with you, unlocking more advanced features and capabilities that align with your evolving needs and keep your marketing strategy agile.
Specialized "Hubs" are tailored to meet your specific needs, such as a Marketing Hub that equips you with marketing software designed to drive traffic, convert visitors, and execute successful inbound marketing campaigns.
HubSpot Pricing
In addition to its free version, HubSpot offers tiered plans with more advanced features starting at $20 per month.
6. Hello Bonsai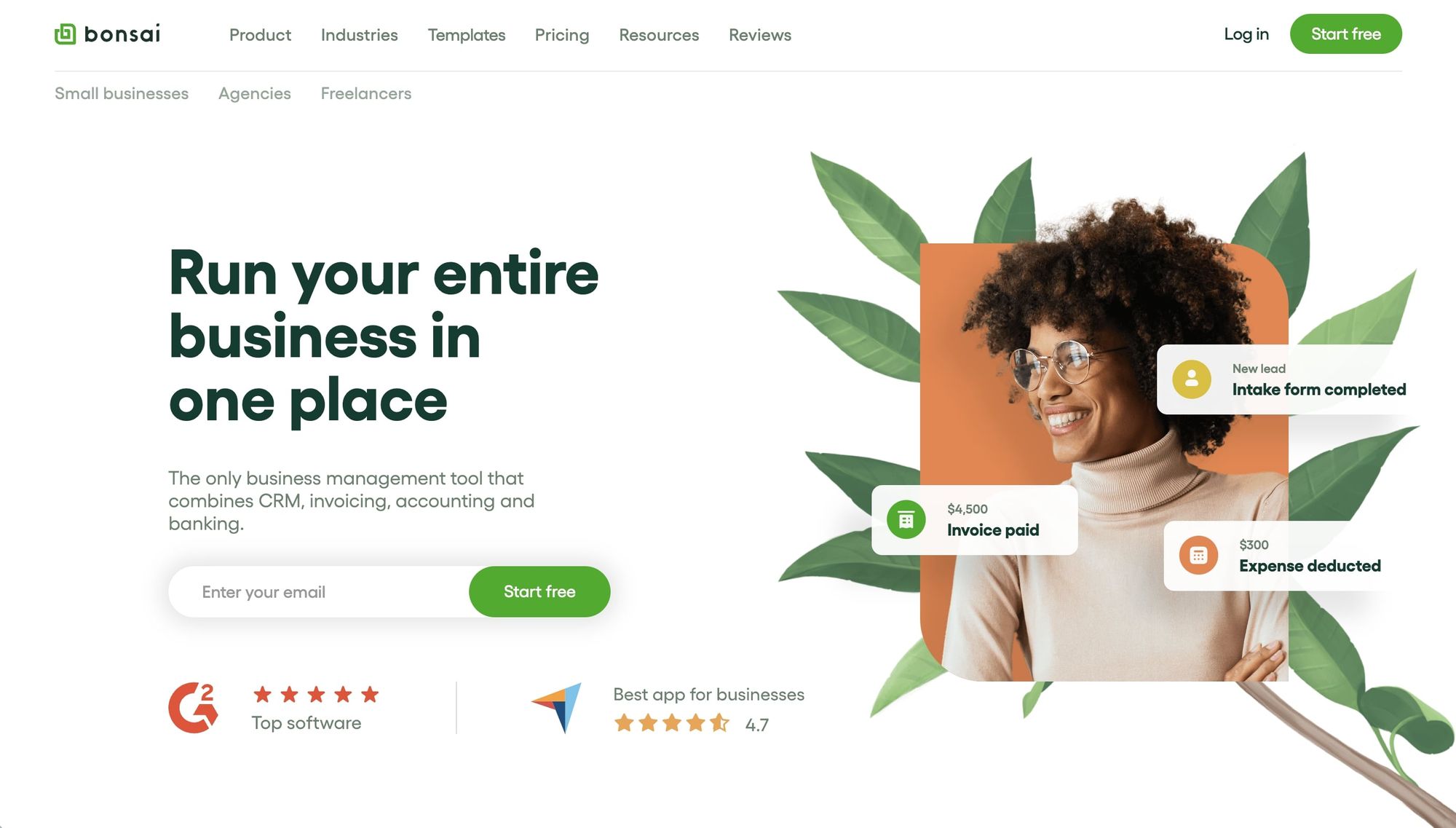 Hello Bonsai has gained significant traction among freelancers, agencies, and independent professionals, but it can also serve as a viable alternative for small accounting firms. The platform offers seamless integration of project management, invoicing, and contract generation features, streamlining the accounting processes and enhancing overall efficiency.
At an affordable price point starting at $17 per month, Hello Bonsai provides a comprehensive suite of client management and business tools. These include CRM capabilities, scheduling, invoicing, time tracking, client portals, as well as collaboration tools that improve overall project efficiency.
Benefits of Hello Bonsai
Hello Bonsai makes it easy to book appointments, generate contracts and proposals, and manage leads, enhancing client relationship management.
The platform's project management functions simplify time tracking, streamline the invoicing process, and centralize project details, ensuring organization and efficiency.
Hello Bonsai offers robust financial management tools for invoicing, payments, expense tracking, and accounting.
With editable templates, users can create professional-looking documents such as proposals, briefs, and forms.
Hello Bonsai Pricing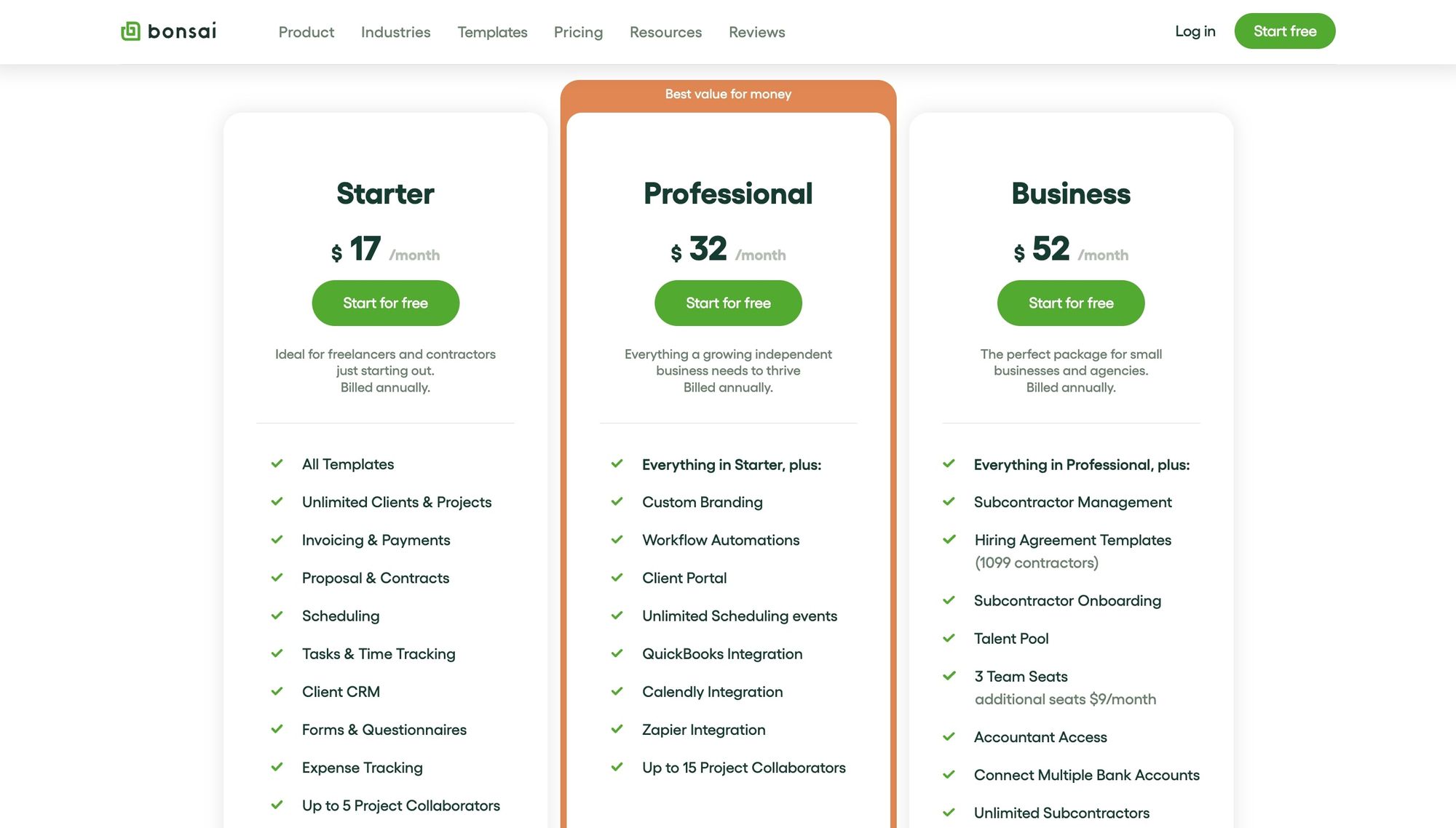 After a free trial, paid plans begin at $17 per month with annual billing (giving you two months free) or $24 monthly.
7. PandaDoc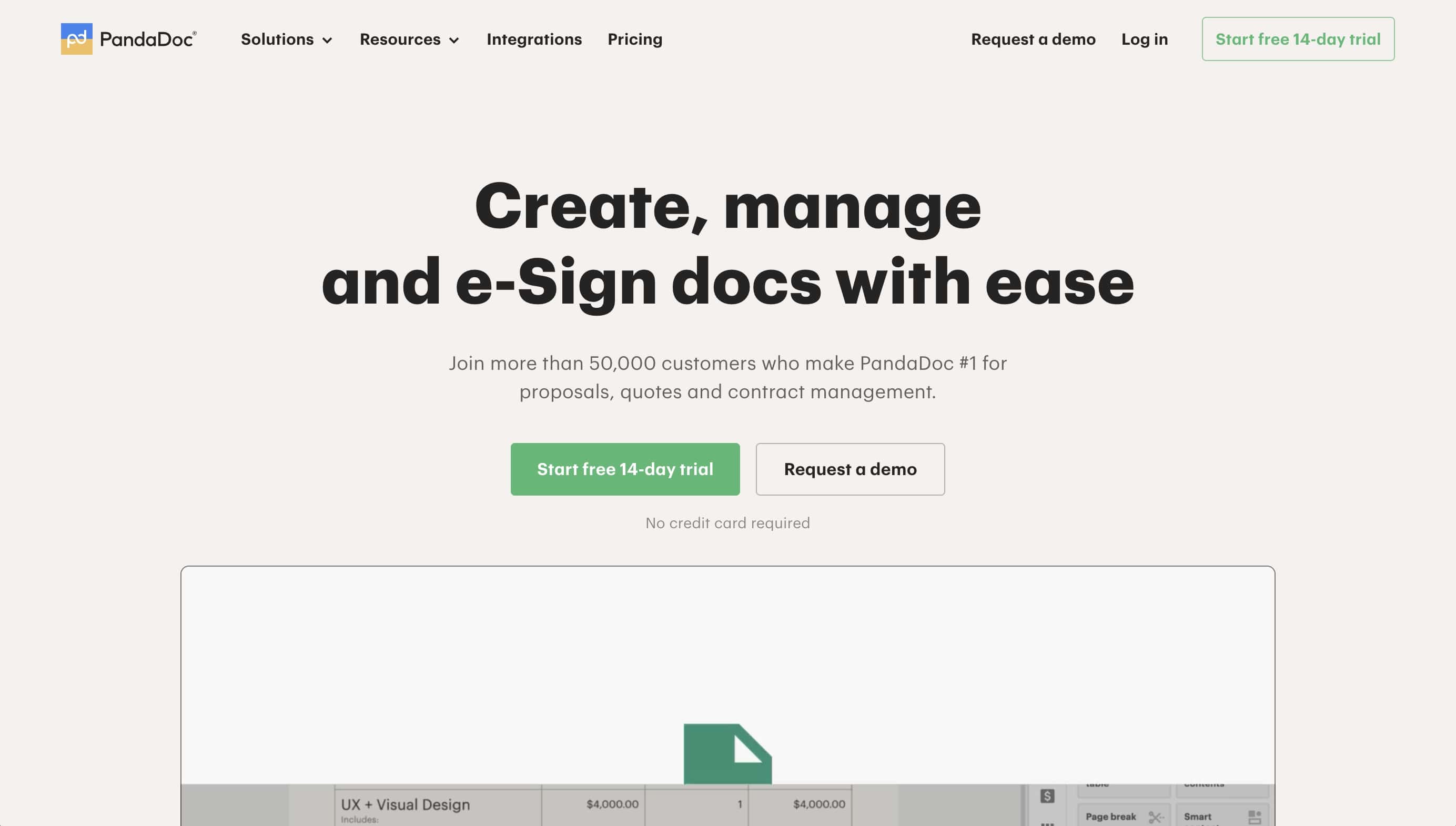 While already a favorite with freelancers and small businesses, PandaDoc proves to be a strong contender as an alternative to Canopy, specifically tailored to meet the needs of accounting professionals.
PandaDoc boasts an impressive range of features designed to streamline proposal creation, invoicing, form generation, and contract management. With its blend of simplicity and powerful functionality, PandaDoc empowers users with a user-friendly interface and robust tools. Notably, PandaDoc stands out with its seamless integration and contract management capabilities, enabling smooth collaborations with tools such as Copilot and DocuSign. The platform also offers payment processing, document sharing, and CRM integrations.
Benefits of PandaDoc
Generate, approve, and track proposals, invoices, forms, and contracts.
The platform provides user-friendly tools that expedite the process of obtaining digital signatures, saving time and accelerating your overall business processes.
PandaDoc provides a wide range of customizable contract templates for different industries. This feature ensures that you can easily manage the legal aspects of your accounting firm while aligning with industry-specific requirements.
PandaDoc includes notary tools that allow users to create, edit, e-sign, and notarize documents seamlessly.
PandaDoc Pricing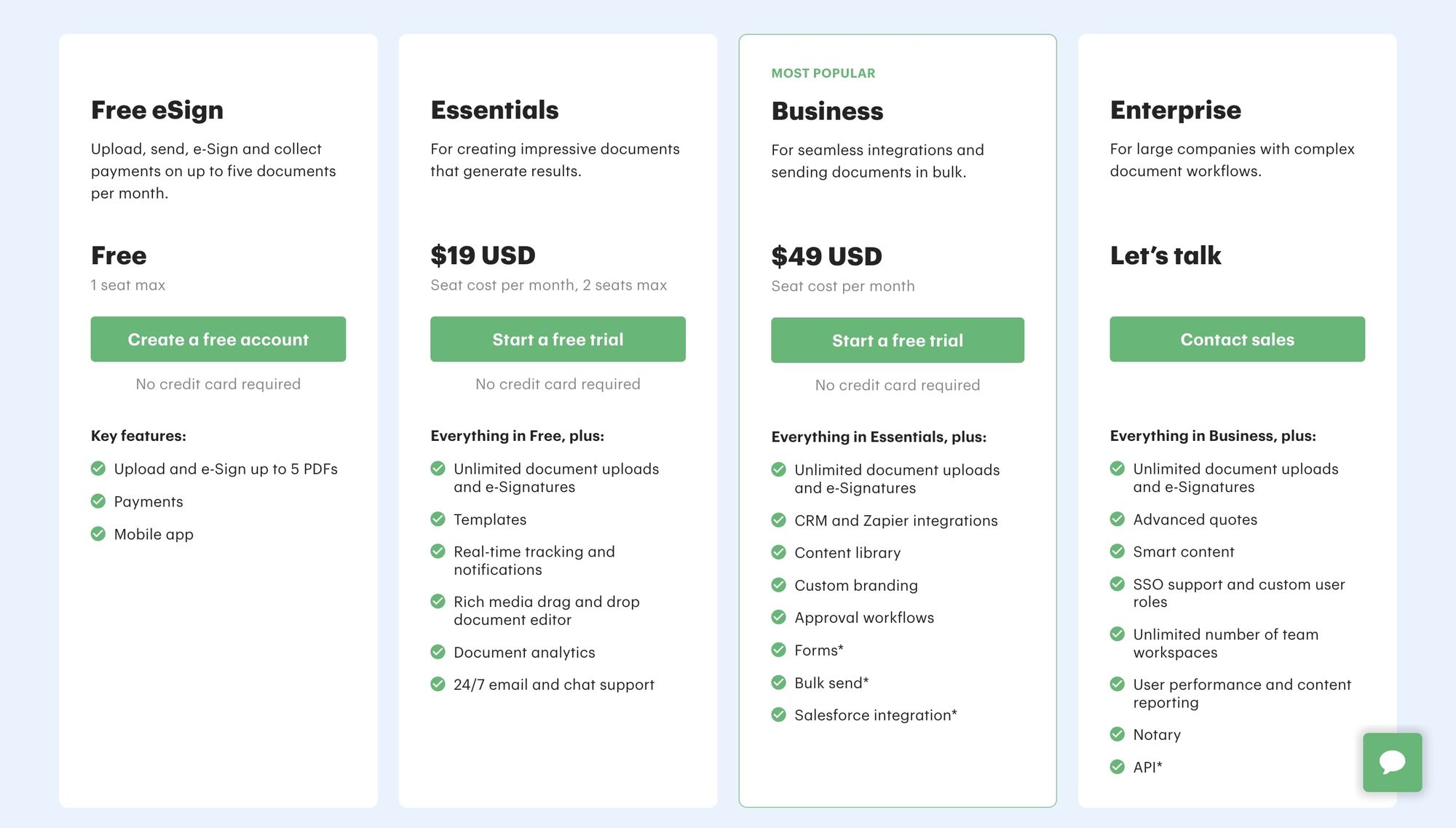 With a free account, users get unlimited legally binding signatures. The Essentials plan, which provides access to templates and more advanced features, starts at $19 per user per month, billed annually, or $35 monthly.
8. Financial Cents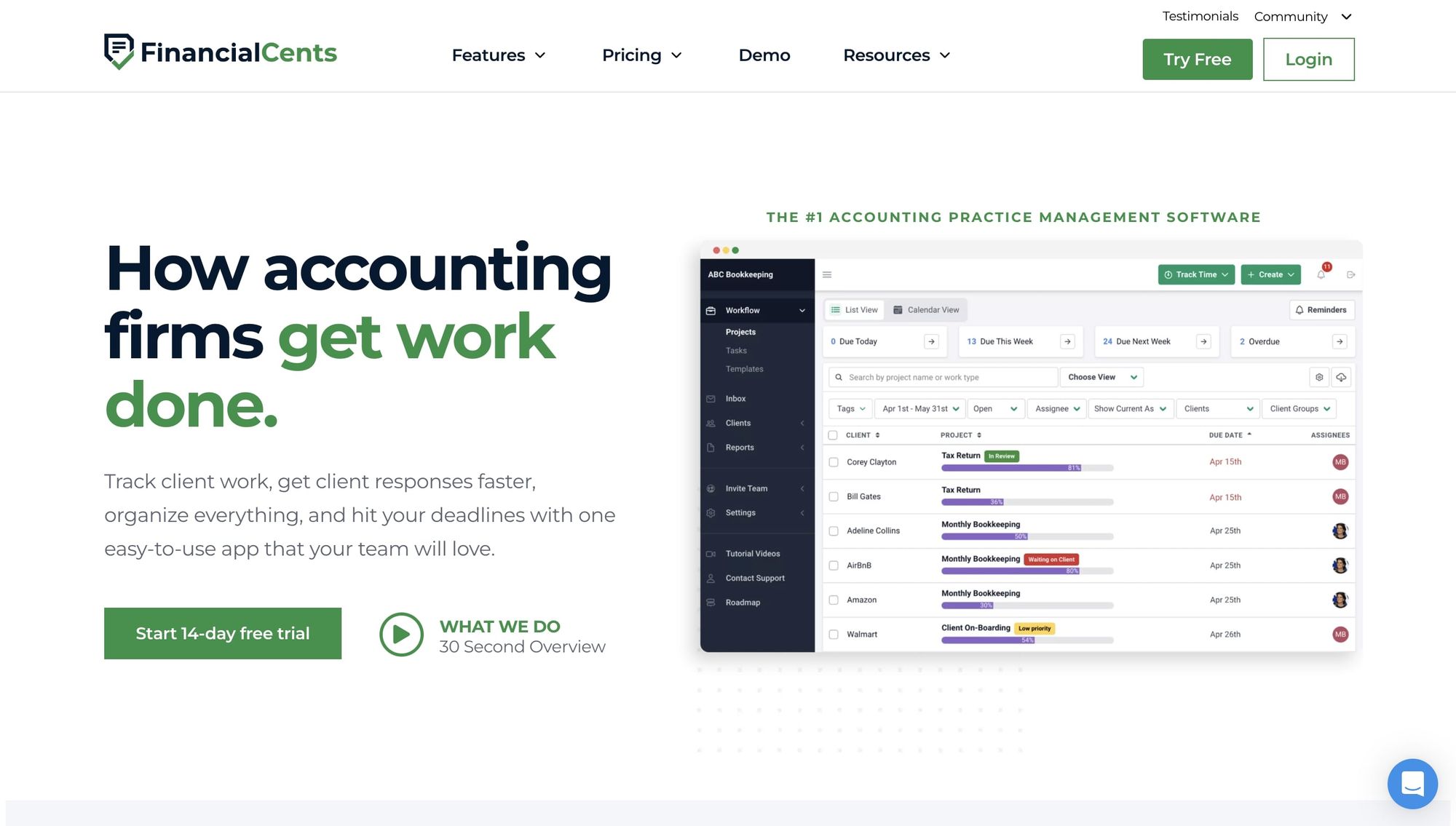 Financial Cents stands as a dedicated practice management solution that aims to streamline operations for accounting firms. From managing client relationships to sharing documents securely, the platform equips accounting professionals with a suite of powerful tools.
The platform simplifies the billing and invoicing processes, empowering accounting firms to get paid more quickly. From generating invoices to tracking payment statuses, Financial Cents keeps you and your clients on track. The time tracking functionality also ensures accurate recording of billable hours, facilitating precise invoicing and optimal time management.
Benefits of Financial Cents
Financial Cents provides capacity management tools that offer a complete view of your team's workload to help you decide how best to manage your resources.
Save time with automated document collection, text and email reminders, and more — all backed by encryption technology.
Financial Cents incorporates workflow management tools that enable the creation of recurring tasks and provide updates on project statuses.
The platform integrates with popular email providers such as Gmail or Outlook to facilitate visibility, communication, and collaboration.
Financial Cents Pricing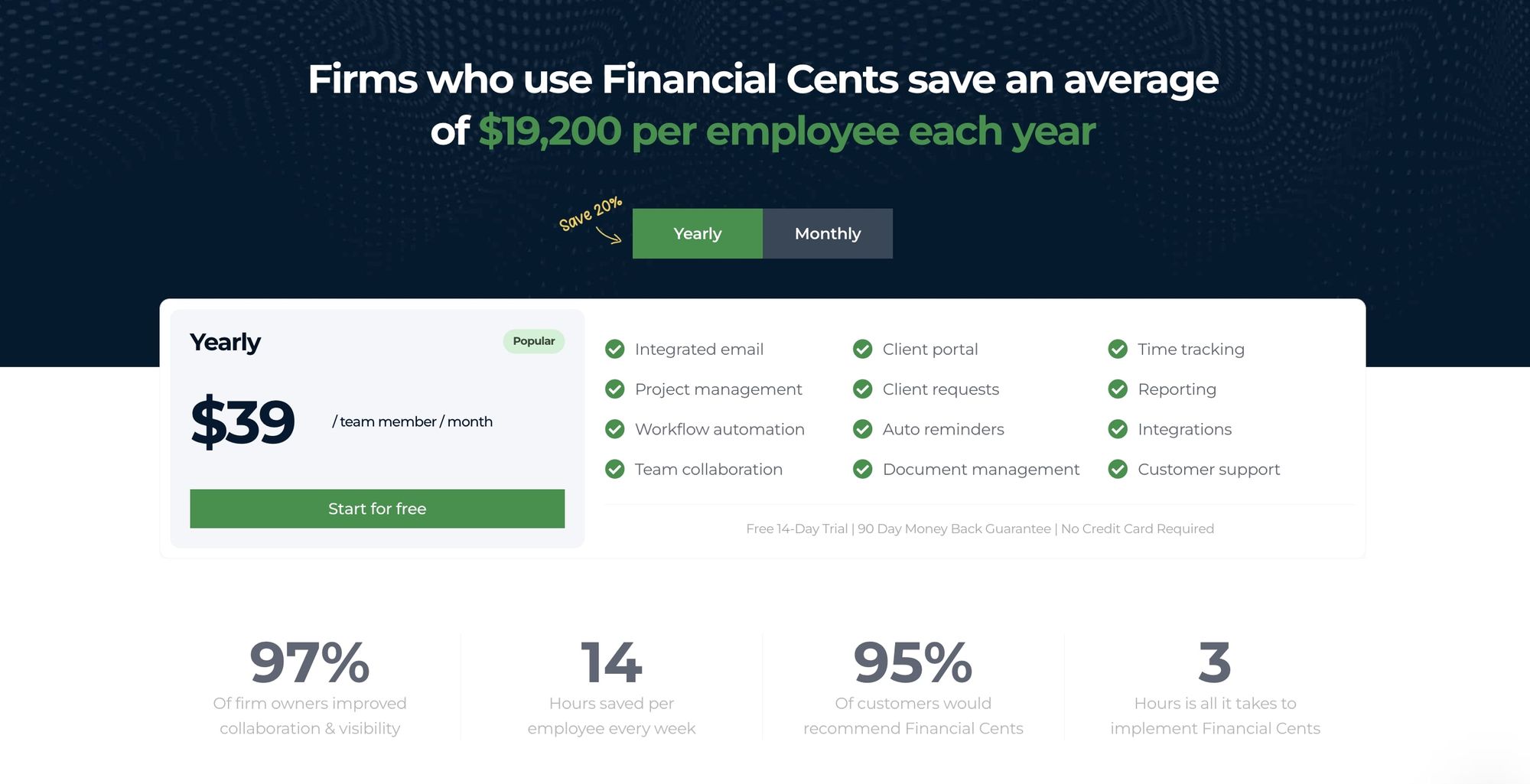 Start with a free trial; paid plans start at $39 per user per month when paid annually, or $49 monthly.
9. QuickBooks Online Accountant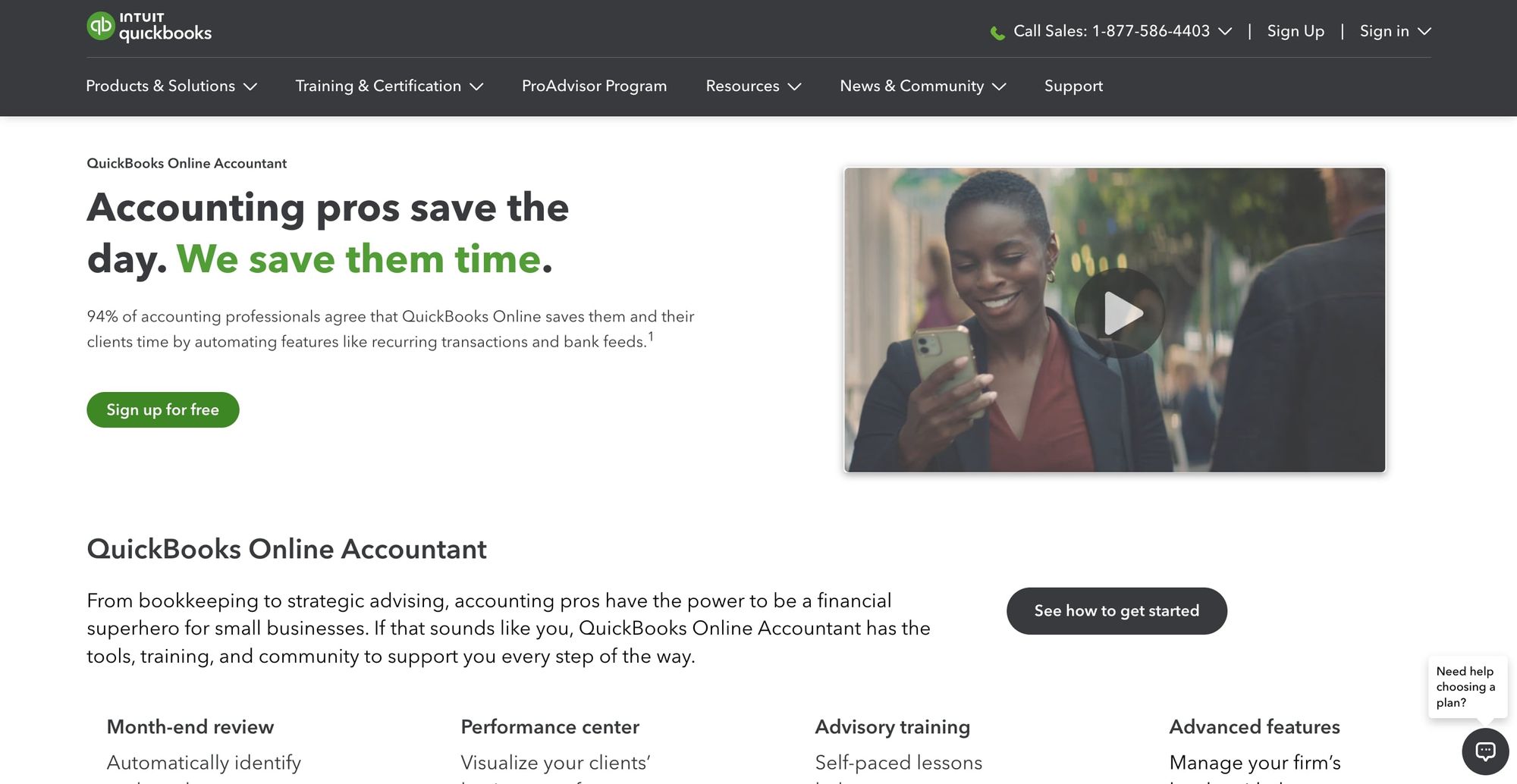 QuickBooks Online Accountant by Intuit presents a wide range of features and benefits that contribute to its popularity within the accounting industry. With QuickBooks Online Accountant, managing clients, streamlining workflows, and staying organized with all accounting tasks becomes effortless within one centralized platform.
QuickBooks Online Accountant handles a variety of financial management tasks, including income and expense tracking, invoicing, billing, bank account reconciliation, and more. The software seamlessly integrates with other Intuit products, allowing for streamlined workflows and access to additional functionalities. Furthermore, QuickBooks Online Accountant provides access to a network of certified professionals, ensuring access to expert support and guidance.
Benefits of QuickBooks Online Accountant
Manage all your clients within one unified platform, with easy access to their financial data, seamless communication, and collaboration on their accounting needs.
Automation of repetitive tasks like invoicing saves time and reduces errors.
Collaborate with clients in real-time, simplifying the process of reviewing and making changes to their financial data. It facilitates providing feedback, answering questions, and fostering productive communication.
The platform offers a wide range of customizable financial reports, from balance sheets to profit and loss statements, providing valuable insights into your clients' financial health.
QuickBooks Online Accountant Pricing
QuickBooks Online Accountant offers different pricing plans and subscription bundles tailored to the features and functionality you need. Sign up for free to test the features and decide what you need the most.
10. Zoho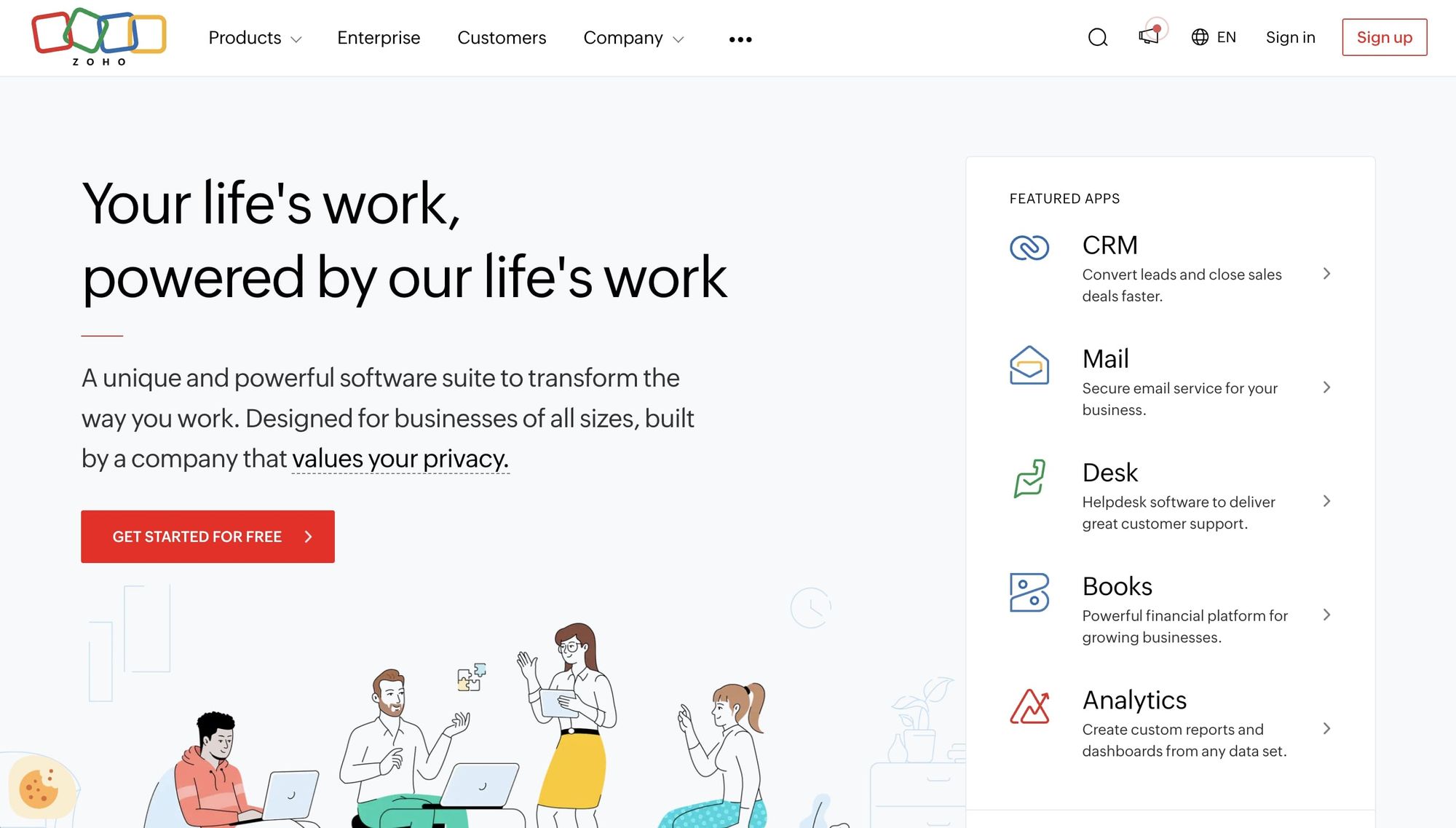 If you're looking for bells and whistles, you'll find them with Zoho, which presents an all-encompassing suite of tools unified under a cloud-based dashboard. It offers a range of functionalities, including CRM, project management, human resources, recruitment, appointment bookings, and pipeline management. With its user-friendly interface and robust features, Zoho proves to be an excellent choice for larger firms seeking to enhance productivity, efficiency, and collaboration.
At the heart of Zoho's suite lies Zoho CRM, a powerful tool designed to assist businesses in managing customer interactions, tracking leads, and streamlining sales processes. It provides valuable insights into customer behavior, strengthens customer relationships, and drives sales growth.
Benefits of Zoho
The Zoho One Operating System connects different departments in the cloud, offering a Google Drive-like hub for file management and sharing.
Zoho offers interconnected suites, including accounting and finance management, project planning and collaboration, client support and communications, human resources management, and more.
Extensions galore in the Zoho Marketplace span 40 categories so users can integrate Zoho with tools they already use.
Customization and workflow capabilities empower businesses to tailor the user experience for themselves and their clients.
Zoho Pricing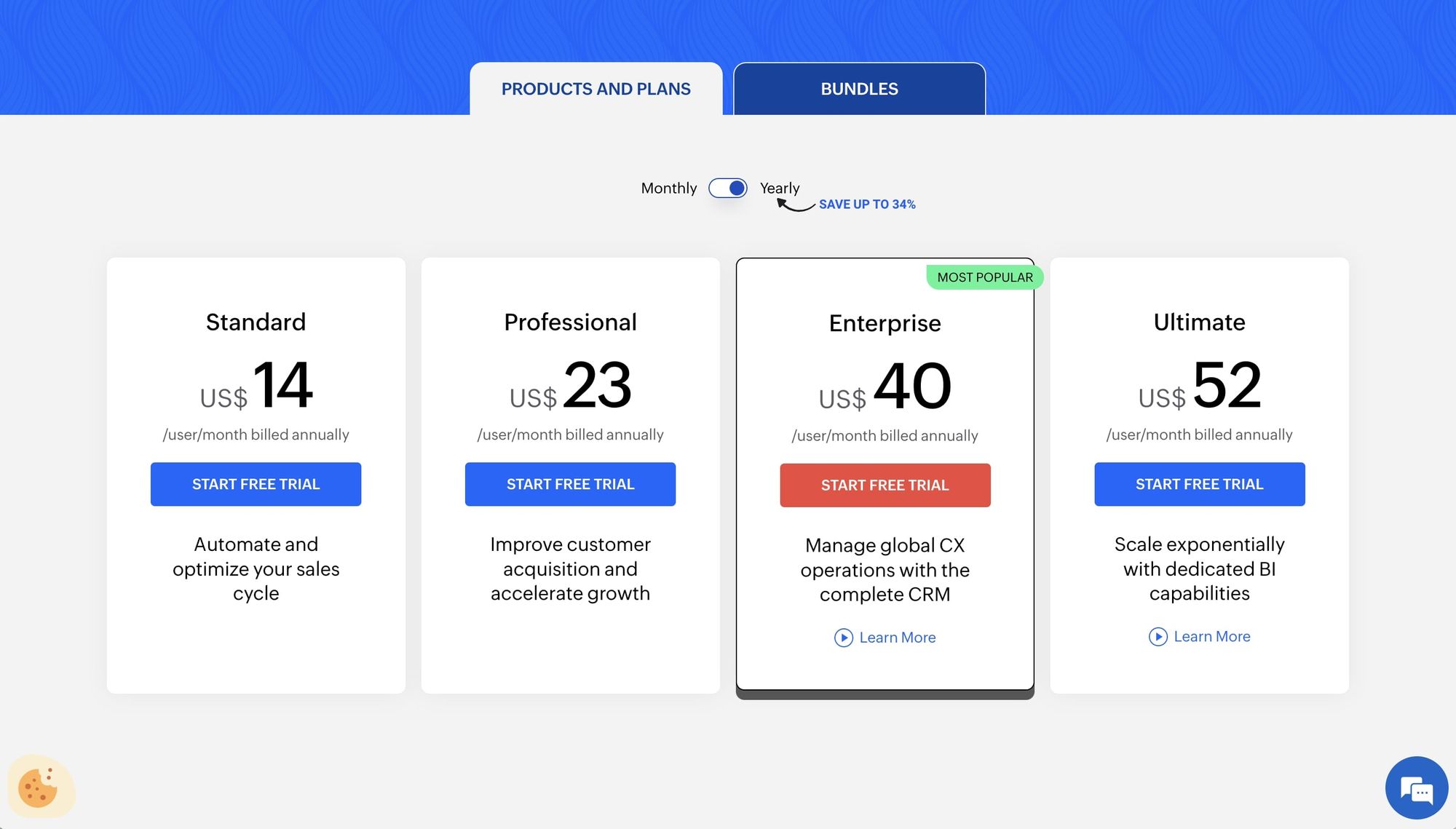 Begin with a free trial; paid plans start at $14 per user per month, billed annually.
Conclusion
The accounting industry is evolving, and there are numerous Canopy alternatives that cater to the specific needs of accounting firms. Whether you're looking for advanced functionality, user-friendly interfaces, or competitive pricing, the 10 alternatives mentioned in this article provide excellent options to consider. Remember to evaluate each option based on factors like functionality, user interface, integration capabilities, data security, and customer support.
By exploring these Canopy alternatives, you can find a software solution that suits your accounting firm's requirements both now and in the future. Ultimately, if it solves your biggest headaches and makes your life easier, that's a clear winner in any book.
When considering the top 10 Canopy alternatives, however, you may find Copilot to be the top choice. With its feature-rich platform specifically designed to cater to the needs of accounting professionals, Copilot offers a comprehensive suite of tools for effective client management, streamlined workflows, and automation, making it the best option to enhance productivity and efficiency in the accounting business.
Sign up for our newsletter
Subscribe below to receive our newsletter. We'll email you about important announcements, product updates, and guides relevant to your industry