300+ unique consulting business names to inspire yours
Nov 08, 2023
10 min read
Omid G
When I first started my consulting business, I didn't even have a name for it.
I had the expertise, the passion, and the drive, but finding the right brand name was as challenging as landing my first client.
Your business name is more than just a label — it's the first impression, the opening handshake, and the initial smile. It sets the stage for every interaction you have with your clients.
So, let's dive into a sea of over 300 unique consulting business names to spark inspiration and ignite the perfect choice for your business venture.
But first…
Before you use a business name generator
Before using a business name generator to start your consulting business, it's important to recognize the significance of selecting a name for your consulting business. It goes beyond being a label — it serves as the point of contact for potential clients and forms the core of your brand identity.
To make sure that the chosen name aligns with your consulting firm's ethos, market position, and long-term vision, there are a few factors to consider.
Here are some key points to keep in mind:
Reflect on your niche
Your business name should clearly indicate the type of services you offer. Whether it's in finance, healthcare, environmental consulting, or any other field, incorporating elements that reflect your expertise helps potential clients quickly understand what you specialize in.
Convey your brand's personality
Decide whether you want an authoritative name or something approachable and creative to align with your brand's personality. The tone conveyed by your business name can set expectations. Attract clients who resonate with that vibe.
To help you with this, you can follow Jake Knapp's (former Designer at Google) 3-hour brand sprint exercise. In part 5 of the exercise, Jake goes over the "personality sliders" that can help you identify the personality of your brand.
Strive for memorability
A memorable name can be a major asset in a crowded market. It should be easy to pronounce, spell, and recall. Remember these considerations before resorting to a business name generator. The more unique your name is, the easier it will be for clients to remember you compared to your competitors.
Also, as a rule of thumb, ask a friend if they can spell out your name when you say it over the phone. If they can spell it correctly, you're on the right track.
Consider the future
When choosing a name for your consulting group, think about how it can adapt as your business grows. Avoid names that might restrict your business to a location, niche, or target audience — unless you are certain that's what you want to specialize in.
Legal aspects
Before finalizing a name, make sure it is legally available. Check for trademarks and make sure that the domain name for your consulting website is also available. It's wise to steer off names that are too similar to existing businesses to avoid confusion and potential legal issues in the future.
Language considerations
If you plan on providing consulting services, it's important to verify that your business name doesn't have unintended meanings or connotations in languages.
Balancing simplicity and creativity
While being creative can make you stand out, be cautious not to choose a name that's overly complex or obscure as it may confuse your audience. Striking the balance between uniqueness and straightforwardness is crucial.
Social media presence
Before finalizing the name for your consulting firm it's essential to check if the social media handles are available. This will make sure that you can have consistency across all of your online profiles.
By considering these factors before using a business name generator, you can create a memorable name that aligns perfectly with the identity and goals of your consulting business.
Now, let's get into our list of consulting company name ideas.
300+ consulting business name ideas and examples
Here are over 300 consulting business names, categorized by industry, that you can use to inspire your own:
Let's take a look at each industry.
Financial services consulting names
When it comes to financial services consulting, the best consulting firm names often strike a balance between professionalism and approachability. Aim for catchy consulting business names that embody a sense of trust and expertise, while also making sure that they are easy to remember and pronounce — keeping it simple can be your key to memorability.
Creative consulting business names in the financial sector should evoke a positive connotation, suggesting reliability and strategic insight. The right name can act as a firm handshake, welcoming new clients to your roster and setting the stage for successful financial guidance and growth.
Note that these names are for inspiration only. You should double-check to make sure they are not already taken or infringe on any trademarks in your area.
Creative names
Here are a few creative financial services consulting names:
WealthNest Strategies
CashCrafter Advisory
Fiscality Forge
EconoMingle Consulting
ProsperoCraft Advisors
MoneySage Matrix
WealthWave Makers
FiscalFrontier Advisors
CapitalCatalyst Crew
PinnacleProfit Pioneers
Modern & minimalistic names
Here are a few modern & minimal financial consulting names:
FinEssence
WealthSync
CapitalCore
NexaFinance
PuraFunds
ZenithCapital
ModFolio
PivotWealth
QuantFunds
LedgerLogic
Catchy, rhyme, & alliteration names
Here are a few financial consulting names that are catchy:
FiscalFinesse
MoneyMingle
CashClarity
BalanceBounce
WealthWaves
ProfitPulse
CapitalCadence
FundFluent
AssetAvenue
BudgetBuddies
Marketing & PR services consulting names
In the world of marketing consulting, where innovation intersects with influence, it's crucial for your business name to capture the essence of creativity and strategy. It goes beyond being a label — it's a representation of your brand's story and an insight into the narrative you'll craft on behalf of your clients.
A name that has the power to resonate with clients sets you apart from competitors and showcases the mindset that drives your work. Below are customized name suggestions intended to inspire and spark ideas as you brainstorm for your marketing & PR consulting firm name.
As you go through these names, make sure to verify if they have already been claimed or if there are any trademarks associated with them. These names should serve as inspiration only and should not be copied directly. Alright, now let's dive into the categories of marketing & PR consulting names.
Creative names
Here are a few creative marketing & PR consulting name ideas:
InsightCatalyst Consulting
ConceptCurators
BrandAlchemy Advisory
MaverickMagnet Media
AuraIdea Agency
NovelNarratives
PlotTwist Promotions
MetaMuse Marketing
ParadigmPunch Consulting
VisionVanguard Ventures
Modern & minimalistic names
Here are a few minimal and modern marketing & PR consulting name ideas:
Clarity
The Narrative
Blueprint Branding
BoldBase
Sync Strategies
Echo Advisors
Modish Mark
TrendTruth
PurePitch
Prime Publicity
Catchy, rhyme, & alliteration names
Here are a few catchy marketing & PR consulting name ideas:
BuzzBuilders
BrandBandwidth
PitchPatch
PropelPromos
Marketers & Mavens
ProsePros
BrandBridges
PrestigePress
MediaMerge
PraisePlays Consulting
Environmental & energy consulting names
In a world where sustainability and innovation meet, companies that specialize in energy consulting play a key role in driving change. Choosing a name for such a business is important as it should reflect a commitment to responsibility and the pursuit of a cleaner and more efficient future. The name should evoke feelings of optimism, transformation, and expertise in navigating the complexities of regulations and energy management.
Below is a curated collection of names that capture the essence of the green revolution. Each name has been carefully crafted to convey respect for our planet and an understanding of the changing landscape of the energy sector.
As always, make sure to verify that these names are available. Use them for inspiration only.
Creative names
Here are a few creative environmental consulting name ideas:
GreenGauge Advisory
EcoEthos Innovations
TerraTactics Consulting
VitalVertex Energy
SustainSphere Solutions
RenewRationale
BioBalance Strategists
Earthwise Endeavors
NatureNest Consulting
PurePower Pioneers
Modern & minimalistic names
Here are a few modern environmental consulting name ideas:
EcoEdge
GreenSync
PureFlow
Vitality Ventures
NatureNex
RenewRoot
Elementum Energy
TerraTrend
ClearCurrent
Pristine Power
Catchy, rhyme, & alliteration names
Here are a few catchy environmental consulting name ideas:
GreenGrowth Guild
PlanetPulse Partners
EcoEfforts Advisors
BrightBiomass
RenewableRally
SustainStream
EcoEquity Experts
EnergyEnsemble
GreenGuardians Group
TerraTribe Consulting
Management consulting names
In management consulting, there is an intersection where strategy and structure come together. Companies and professionals operating in this field need a brand name that reflects professionalism, deep insights, and the ability to navigate through hurdles toward optimal efficiency.
Whether it's supporting startups or revitalizing established businesses, choosing the right name is crucial for a consultancy to establish its identity and showcase its track record of projects.
Listed below are some names carefully crafted to inspire confidence and convey the expertise that clients look for when seeking guidance from industry experts. Make sure to use these names as inspiration only and double-check to see if they are available.
Creative names
Stratagem Sphere
Nexus Navigation Consulting
Apex Ascent Advisors
Blueprint Bastion
Pinnacle Progress Partners
Catalyst Consulting Co.
Zenith Strategy Solutions
Keystone Clarity
Synergy Surge Consulting
Paradigm Pioneer Advisors
Modern & minimalistic names
Stratify
Optivise
ModuManage
CoreCounsel
SyncStrat
PivotPoint
MetricMind
ClarityQuest
NavigateNode
RatioRise
Catchy, rhyme, & alliteration names
ManageMomentum
StrategyStream
ConsultCrafters
MethodMindset
PlanPros
GuideGlide Consulting
SteerSphere
BalanceBrigade
PrimePulse Partners
InsightIgnite
Healthcare consulting names
Healthcare consulting companies have a role in shaping the path of patient care, embracing new technologies, and ensuring compliance with policies. Choosing a brand name for a consulting business in this field requires capturing the essence of innovation, trustworthiness, and expertise.
The name should be distinctive, serving as a guiding light in the healthcare landscape by providing solutions that combine compassion with effectiveness. The following suggestions are carefully crafted to encompass the nature of healthcare consultancy harmonizing precision with the art of caring.
Creative names
Medivance Advisors
Wellness Wave Consultants
Care Continuum Strategies
VitalPoint Visions
Health Harmony Hub
MedMatch Innovations
LifeStream Logistics
PulsePoint Planning
EchoCare Consulting
ThriveSight Solutions
Modern & minimalistic names
Medwise
HealNet
CareAlign
VitalAxis
CliniCore
Pathwell
SyncHealth
BiomeBrick
NurtureNexus
GenHeal
Catchy, rhyme, & alliteration names
Wellness Whisperers
CareCompare Consultants
MediMatch Makers
HealthHive
PulsePioneers
BetterBridges Healthcare
VitalVista Ventures
HarmonyHealth Hub
CureConnect
TrustTrend Trainers
Legal consulting names
In the world of law, where the rules and regulations shape our society, legal consulting firms play a vital role in upholding fairness and due process. When it comes to naming a consulting firm, it is crucial to choose a name that reflects authority, expertise, and integrity.
The name should attract potential clients who not only appreciate knowledge of the law, but also the wisdom required to apply it wisely. Below are some name suggestions that aim to capture the strategic nature of consulting. Each name has been carefully crafted to inspire confidence and demonstrate a commitment to achieving excellence.
Creative names
Gavel Grow Consulting
Scales of Strategy Advisors
BluePrint Law Consulting
Justice Journey Experts
Pinnacle Law Partners
Insight Legal Innovators
Advocate Allies Consulting
Rule & Resolve Advisors
Accord Apex Consultancy
Verdict Visionaries
Modern & minimalistic names
Legality
JustConsult
CaseClose
LawLead
RuleRun
PactPoint
StatuSync
BriefBound
LexLogic
ClarityCode
Catchy, rhyme, & alliteration names
LegalEagle Consulting
LawLift Leaders
CaseCrusaders Consultancy
BriefBridges
JustJudges
Plead & Proceed Partners
CounselCorner
LitigateLegends
BriefBriefers
StatuteSquad
Tech & IT consulting names
Technology and IT consulting companies have played a large role in guiding companies through best practices since the beginning of the Internet. The perfect name in this field should not only reflect expertise in technology but also convey a sense of futuristic thinking and strategic understanding.
Whether you specialize in cybersecurity solutions, software development, or providing advice on IT infrastructure, the name of your consulting business should make a great first impression.
Creative names
CyberCraft Consultants
CodeCatalyst Advisors
PixelPinnacle Partners
DataDynamo Strategies
SyncSage Services
Algorithm Architects
TechTonic Trends
InfraInnovate Insights
QuantumQuarry Consulting
Virtuality Vanguards
Modern & minimalistic names
NetNucleus
CodeCore
SyncStack
ByteBound
PixelPoint
ScriptSphere
DataDash
TechTrim
CloudKey Consulting
CyberCrest
Catchy, rhyme, & alliteration names
Digital Dream Drivers
CodeCraze Consulting
BitByBit Brigade
SyncSquad Solutions
DataDance
PixelPals
CacheCatch Consultants
ByteBuddies
TechTrek Tribe
CloudQuest Crew
HR consulting names
Human resources (HR) consulting plays a role in all types of businesses — regardless of their size. It involves comprehending the factors within the workplace and offering assistance on matters like company culture, adherence to regulations, employee relationships, and performance management.
When selecting a name for an HR consulting firm, it is important to choose one that conveys reliability, trustworthiness, expertise, and the ability to handle the intricacies of resources and the contemporary work environment.
Here are a few HR consulting names you can gain inspiration from:
Creative names
TalentHarbor Advisors
PeopleFluent Partners
CultureCraft Consultants
WorkforceWise
HarmonyHuman Hub
PinnaclePeople Group
NexusTalent Networks
HumanElement Experts
PulsePeople Strategies
EchoEmployee Innovations
Modern & minimalistic names
StaffSync
TalentTier
PeoplePivot
CultureCube
HRHive
Equipoise
MeritMatch
WorkWard
TalentTrove
PulsePoint Consulting
Catchy, rhyme, & alliteration names
PeoplePeaks Partners
TeamTune Advisors
StaffSync Solutions
TalentTally
WorkforceWave
CultureCurrent Consulting
BenefitBuddies
EmployeeEcho
MotiveMingle HR
CareerCrest Crew
Supply chain consulting names
In a world where everything is connected, the seamless functioning of supply chains plays a role in the success of any business. Supply chain experts are instrumental in crafting adaptable and robust networks that can handle the challenges posed by demands.
When selecting a name for a consulting firm, specializing in supply chain management, it is important to choose one that conveys a sense of effectiveness and the international reach of the company.
Here are a few supply chain consulting names you can gain inspiration from:
Creative names
CargoCatalyst Consulting
NexusNavigators
StreamlineStrategists
ChainChampions Advisory
FluxFlow Facilitators
VelocityVantage Consulting
SupplySage Solutions
OrbitOps Optimization
AgileAxis Advisors
ProcurePath Professionals
Modern & minimalistic names
ChainClear
SyncStream
FlowForte
PivotPoint Logistics
VectorVision
NexusNote
OptiChain Consulting
CargoCore
SupplySimplicity
StreamlineStudios
Catchy, rhyme, & alliteration names
FlowFlair Facilitators
StockSync Solutions
PalletPals Consulting
CargoCadence
FreightFinesse
ProcurePro Partners
StockSpot Strategists
LogisticLeaders
ChannelChamps
TransitTrendsetters
Real estate consulting names
A name for your real estate consulting business should showcase your proficiency in property management, investment tactics, market evaluation, and development. It should convey stability, growth opportunities, and a profound comprehension of the real estate terrain. For experts who assist clients in navigating the intricacies of real estate deals and investments, selecting a name is the stride toward establishing a robust and reliable brand.
Here are a few real estate consulting names you can gain inspiration from:
Creative names
EstateEnvision Advisors
BlueprintBridges Consulting
PropertyPulse Strategists
MarketMatrix Management
TerrainTactics
VistaValor Ventures
Habitateer Consultants
RealmRecon Advisors
SpaceSculpt Solutions
DwellingDynamics
Modern & minimalistic names
UrbanEdge Consulting
Structura
RealtyRoot
Propertiq
Landmark Logic
NestNexa
TerraTrend Advisors
EstateElle
SpaceSphere
UrbanUptake
Catchy, rhyme, & alliteration names
RealtyRally Advisors
PropertyPros Partners
MarketMingle Consulting
HabitatHarmony
EstatesElite
PlotPals
DwellingDrift Consulting
BuildingBonds
ConstructConvo
TerrainTrailblazers
Conclusion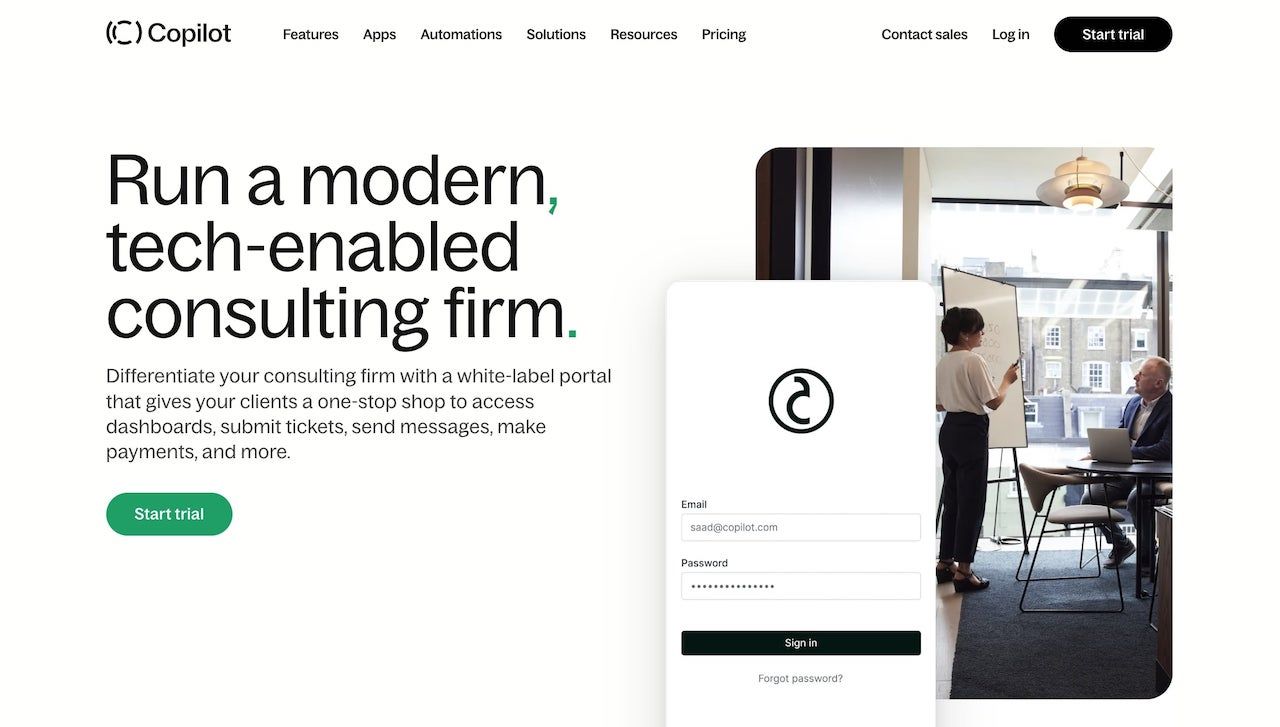 In conclusion, entrepreneurs in the consulting industry now have a roadmap to selecting a great name that resonates with the vibe of their brand and the clients they wish to attract.
Whether you're a small business just starting or looking to rebrand, remember to verify domain availability and not infringe on any trademarks. As you go through the consulting life of bringing your business ideas to fruition, remember that a proactive approach is key to not just starting but also managing and growing your consulting business. One tool that many consultants use to run their business is Copilot.
Copilot has become an essential tool for consultants who are serious about their success. It's designed to streamline the complexities of consultancy management, from invoicing to client reporting. Take the first step towards building your consultancy's future and sign up for a free 14-day trial of Copilot today.
Sign up for our newsletter
Subscribe to our newsletter to receive emails about important announcements, product updates, and guides relevant to your industry.