Virtual Accounting Firms: What are they and how do you start one?
Nov 10, 2020
5 min read
Marlon Misra
With the world still adapting to the coronavirus and remote work accelerating, CPAs and accounting firms across the world are increasingly looking to become "online-first" or "virtual-first". In this post we cover what it means to be a virtual accounting firm, what the benefits are, and how a firm can adapt or transition to being a virtual firm.
What are virtual accounting firms?
At a high level, virtual accounting firms are accounting firms that embrace new technology, prioritize automation, and deliver service digitally. Below we break down some of the advantages virtual accounting firms can benefit from.
Virtual accounting firms are more secure
Virtual CPA firms tend to use secure client portals or secure file-sharing solutions. These services use technology from tech giants like Amazon AWS or Microsoft Azure, and provide bank-level encryption. Compared to traditional filing cabinets with servers stored in a physical office, information is simply more secure.
Virtual accounting firms can grow faster
Traditional accounting firms usually deploy traditional methods for growth. For example, they may get referrals from existing clients and grow via word-of-mouth in their community. On the other hand, virtual accounting firms prioritize growth via paid acquisition (Facebook Ads and Google ads in particular) and often have landing pages with sign up flows that can convert website visitors to paying clients with little or client interaction.
Virtual accounting firms automate all mindless work
Accountants that embrace technology understand that they need to focus on work that requires high-level thinking and can automate everything else. Automation is something that be deployed everywhere. For example, when it comes to converting leads to customers, virtual accounting firms deploy AI-powered chatbots on their website and use automatic client intake forms. When it comes to billing, virtual accounting firms use auto-pay subscriptions whenever possible. And finally, when it comes to marketing, virtual accounting firms setup Facebook conversion campaigns with automatic target expansion so that advertisements are always shown to the people that are most likely to convert.  
Virtual accounting firms minimize expenses
The coronavirus pandemic has resulted in many accounting firms to close their offices. But now, as some accountants are opening their offices again, many are wondering if it is still necessary. There is no right answer but there is no doubt that each year, more and more accounting firms will be 100% online. The tools get better each year and new accounting firms should seriously consider whether a modern client portal solution can replace some of the benefits that offices have provided in the past. At the very least, going fully digital means that one of the largest monthly expenses (rent) goes to $0.
Virtual accounting firms benefit employees
When you deliver services virtually to clients, it is also easier to run your firm virtually. Working from home provides employees with more flexibility, no commutes, and more location independence. It also gives employers the ability to hire accounting professionals from a wider geographic area.
How do you start a virtual accounting firm?
To start or transition to being a virtual accounting firm, below we listed some of the important decisions you need to make. There are of course many other steps you need to take to start a new business, but for the purpose of this blog post, we're going to focus on the decisions that are most important  for virtual accounting firms that aim to differentiate themselves.
Landing Page
For virtual accounting firms, your landing page is extraordinarily important because it tells the world who you are, what services you offer, and how to get in touch with you. Today, the vast majority of accounting websites still look like they were made in the the 1990s. To stand out, you need a website that looks modern, works just as well on mobile as it does on desktop, and that represents your brand in an exciting way.
It is also important to choose a landing page builder that ensures the content you create is SEO optimized. You can think of content as one of your growth channels. It doesn't cost anything to make content (except the time cost of writing it) so a well-executed content strategy can help you stand out.
Client Portal
Modern client portal software aims to recreate your office online. You can think about your client portal as a place where your clients login once to access everything they need. This includes the ability to communicate with you, securely share files with you, schedule appointments with you, attend virtual meetings, access your knowledge base, pay you, and more.
Today, too many online accounting firms decide to stitch together various B2B services. They might use one service for file-sharing, another service for billing, another for secure messaging, etc. The problem with this is that it's expensive to pay so many SaaS fees and it's a terrible experience for clients who now have to manage multiple logins.
Choose Portal as your virtual accounting firm technology partner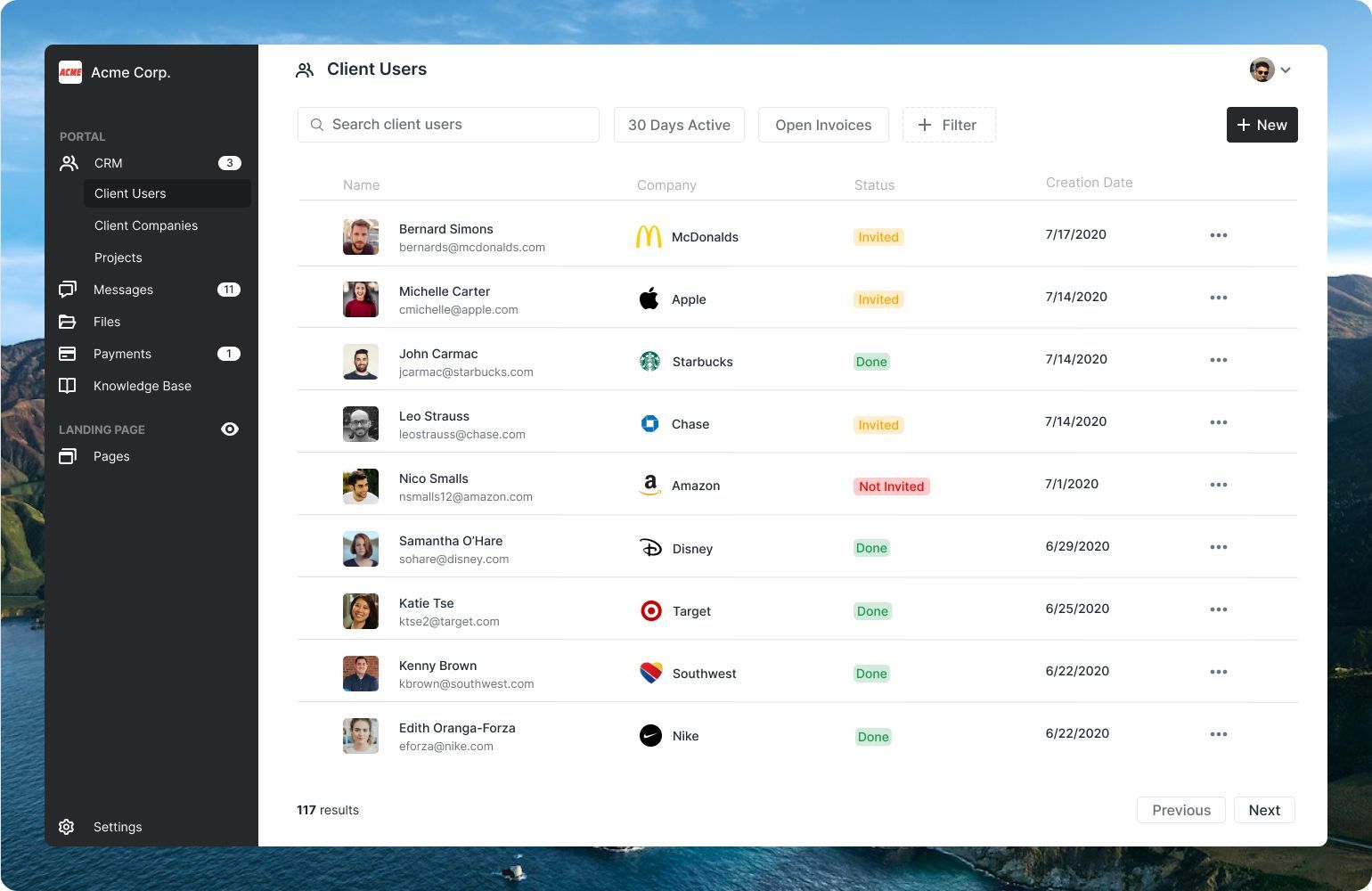 We started Portal with the belief that working with a professional service firm should be delightful. Clients should have one place to login, and everything they need should be directly accessible to them. With hundreds of firms now choosing Portal as their technology partner, we believe we have the best all-in-one solution.
Portal employs a modular system which means that you can decide which functionality to turn on and which to turn off. We have modules for file-sharing, messaging, billing and invoicing, and knowledge base. Each of these modules work together in concert. For example, if a client send a message via the messaging module, the file is automatically added to their shared folder.
Portal is also completely white-label. We put our customers front and center and provide the ability to customize everything (logos, colors, workflows, etc.) and host on your own domain. This gives you authority as a service provider and helps reinforce your brand and build trust.
Portal is made for professional services companies, but has paid extra attention to the needs of accounting firms, which represent our largest customer segment. Because of that, we've made sure that it integrated with accounting software, QuickBooks, Xero, and the other tools you use on a daily basis.
Get the best client portal solution for your virtual CPA firm with Portal today!
Sign up for our newsletter
Subscribe below to receive our newsletter. We'll email you about important announcements, product updates, and guides relevant to your industry