What is a B2B customer portal? 5 examples and tools in 2023
Sep 25, 2023
10 min read
Omid G
In the past few years, we've seen a shift in almost every industry imaginable — giving way to a host of new business models, technologies, and customer service expectations.
Among those shifts is the rise of B2B customer portals catering to various needs, a trend that shows no signs of slowing down as we near the final months of 2023 and look toward the new year ahead.
According to a McKinsey & Company survey of nearly 3,500 decision-makers in 12 markets, customers want an omnichannel experience from B2B companies — the kind that lets them interact with their B2B provider any way they want. They're seeking more convenience, more personalized experiences, and more options for self-service. It's a trend impacting every industry, country, and customer relationship stage.
Essentially, B2B customers want to engage with providers by any means possible and at every step throughout the purchasing journey. That means giving B2B customers every option under the sun, from videoconferencing capabilities to digital self-service tools and everything in between. When customers don't get those options, they will take their business to a different provider that has what they want.
Given the new paradigm of B2B customer expectations, companies can no longer afford not to keep up with the changing times. B2B customer portals are essential in not only delivering an excellent customer experience but also ensuring retention beyond the initial sale.
To help you create the kinds of omnichannel experiences your B2B customers desire, we've created the following guide to B2B customer portals. Read on to learn how to implement this technology into your operations and amaze your customers.
What is a B2B customer portal?
With B2B customer portals, the primary concern is nurturing customer relationships throughout the buying process and after the sale and ensuring seamless, ongoing relationships. Whereas a B2C customer portal caters to an individual — say, a customer managing their billing information or subscription with their cellular service provider — a B2B customer portal may have multiple users who share access.
B2B customer portals also involve complex products tailored to unique use cases, requirements, industries, and pain points. The average order value per transaction will typically be higher than in a B2C transaction, often involving different partnerships, vendors, and evolving needs based on the growth of the business.
For example, a company might start with a basic B2B customer portal and upgrade to a higher tier with more features as the business grows. As such, the buying process for B2B customer portals can be longer than in B2C transactions as decision-makers evaluate whether a portal can scale with them as they become more well-established.
What is the purpose of a B2B customer portal?
Most B2B customers seek out a B2B customer portal out of necessity. As a business grows, it may need a centralized platform to handle billing, invoicing, onboarding, file sharing, e-signatures, customer communications, project timelines, and other essential tasks.
Without such a platform, businesses and their customers must rely on disparate systems, email threads, and phone calls to manage day-to-day operations. The result is often customer frustration, missed deadlines, project delays, and other issues.
With a B2B customer portal, it's much easier to facilitate communications between businesses and keep track of essential details. Although each customer portal functions differently, they typically include some or all of the following features:
Secure access to shared resources such as documents, invoices, and project boards with transparent views of progress and results project timelines)
Help-desk features with self-service options, hands-on support, knowledge base articles, or a combination of support resources
Access to billing and payment information, subscription details, and other account management tools
Reporting tools to view results over time
Web and mobile accessibility
Automations that help in creating workflows, assisting customers, and reducing manual errors
It's essential for any business considering a B2B customer portal to make a laundry list of its needs and compare that list with a platform's features, benefits, and pricing options. From there, they can take advantage of any free trials to test the platform and evaluate how well it meets the business's requirements.
Why B2B customer portals are essential in today's business landscape
Heightened customer expectations are a crucial driver of the need for B2B customer portals. Deloitte reports that B2B buyers are 34% more likely to buy and 32% more likely to renew a contract with B2B suppliers that master the customer experience — further highlighting the need for customer portals that deliver seamless customer engagement, robust features, and more value for the money.
Even before the sale, buyers are more in control of the buying experience than ever before — and they're willing to take their time and shop around until they find a perfect fit. According to research from Content Considered, 55% of buyers will consider more vendors before making a buying decision to allow for a thorough vetting of each supplier and product.
With buyers taking the reins, it's imperative that B2B companies are dressed to impress from the moment a prospect signs up for a free trial — and that they continue nurturing relationships every step of the way. With a B2B customer portal equipped with automation, onboarding tools, easy access to support, and other important features, it becomes much easier to impress B2B customers and keep them engaged throughout the life of the account.
Here's a closer look at why a B2B customer portal is indispensable to doing business today.
Improved operational efficiency
A customer portal provides a branded, unified platform customers can access on web and mobile devices. From customer messaging and billing to automated workflows that streamline welcome messages, onboarding, and ongoing communication, customer portals have built-in features that save time and resources.
Enhanced customer experience
You can't afford even one negative customer experience in B2B relationships. Not only can you lose the customer this way, but you may also experience reputation damage that follows you around from one sales call to the next.
A B2B customer portal makes it easy to provide exceptional service in a format that today's technology-driven decision-makers want to see. Rather than turnover, you'll get customer loyalty with happy customers who have access to all the tools they need at their fingertips.
Strengthened business relationships
With customer portals, you can communicate regularly and provide greater transparency into project progress, potential issues or delays, and results. Your consistency can help prevent miscommunications and misunderstandings, building trust and confidence in your brand.
5 key examples of B2B customer portals in 2023
Businesses of all kinds can benefit from a B2B customer portal, but a few industries provide excellent use cases for the use of a centralized customer platform. Below are five key examples of B2B customer portals from Copilot to consider in 2023.
1. Marketing agency customer portals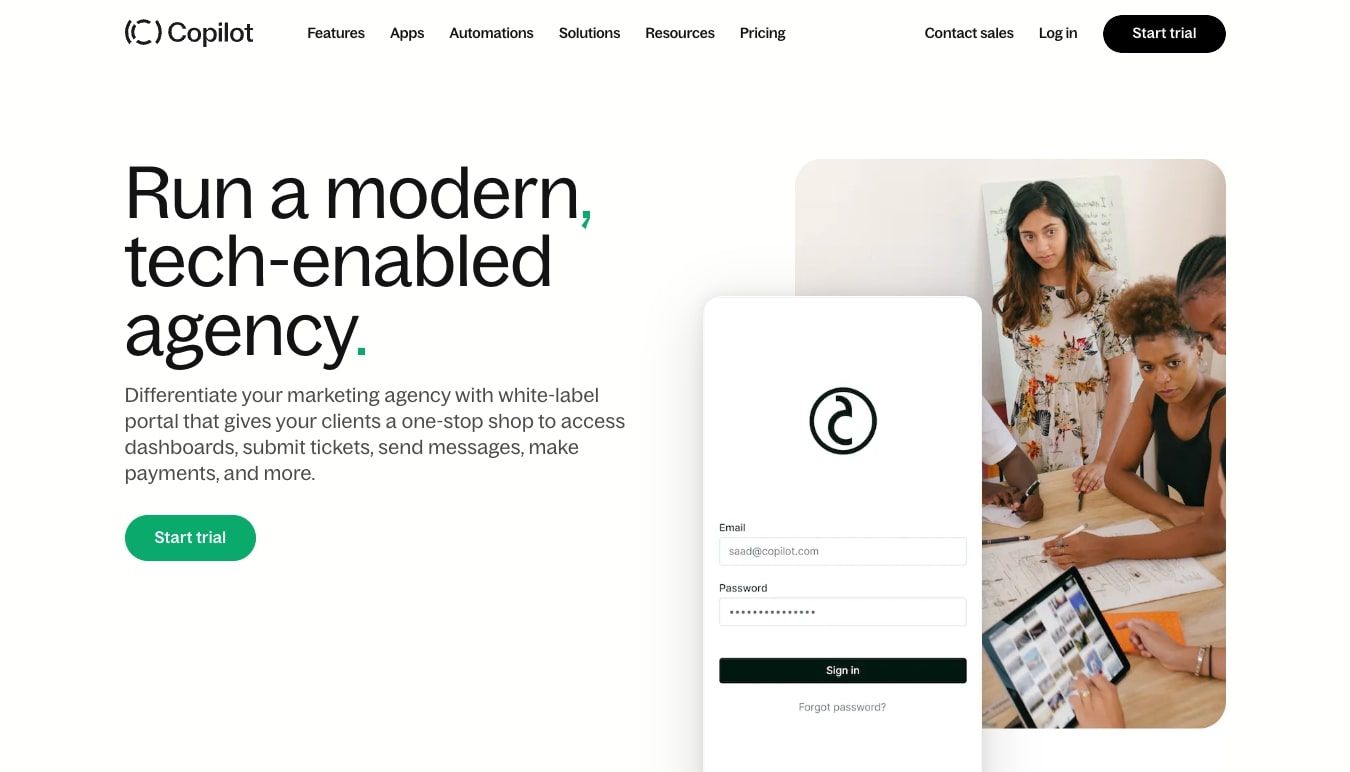 View marketing agency demo portal
A marketing agency customer portal can be a godsend for agencies that need a better way to manage client relationships, projects, and timelines. Without such a portal, it would be easy for details to slip through the cracks. However, with a modern, tech-enabled platform, marketing agencies can provide a one-stop shop where clients can access personalized dashboards, communicate back and forth, submit payments, and track progress.
Unique features of Copilot's marketing agency customer portals
White labeling with your unique branding creates a cohesive client experience and builds confidence in your brand.
Custom and partner apps integrate with the portal, tailored to your marketing agency's services. Link with your calendar, project management apps, CRM system, and more, and connect with clients and prospects easily from the platform.
Automated data collection reduces errors and ensures seamless client communications. It also frees up time you can spend on high-impact marketing activities and creative campaigns instead of administrative tasks.
Branded notifications in your marketing portal and via email ensure nobody misses a beat throughout the development of marketing initiatives.
2. Financial service customer portal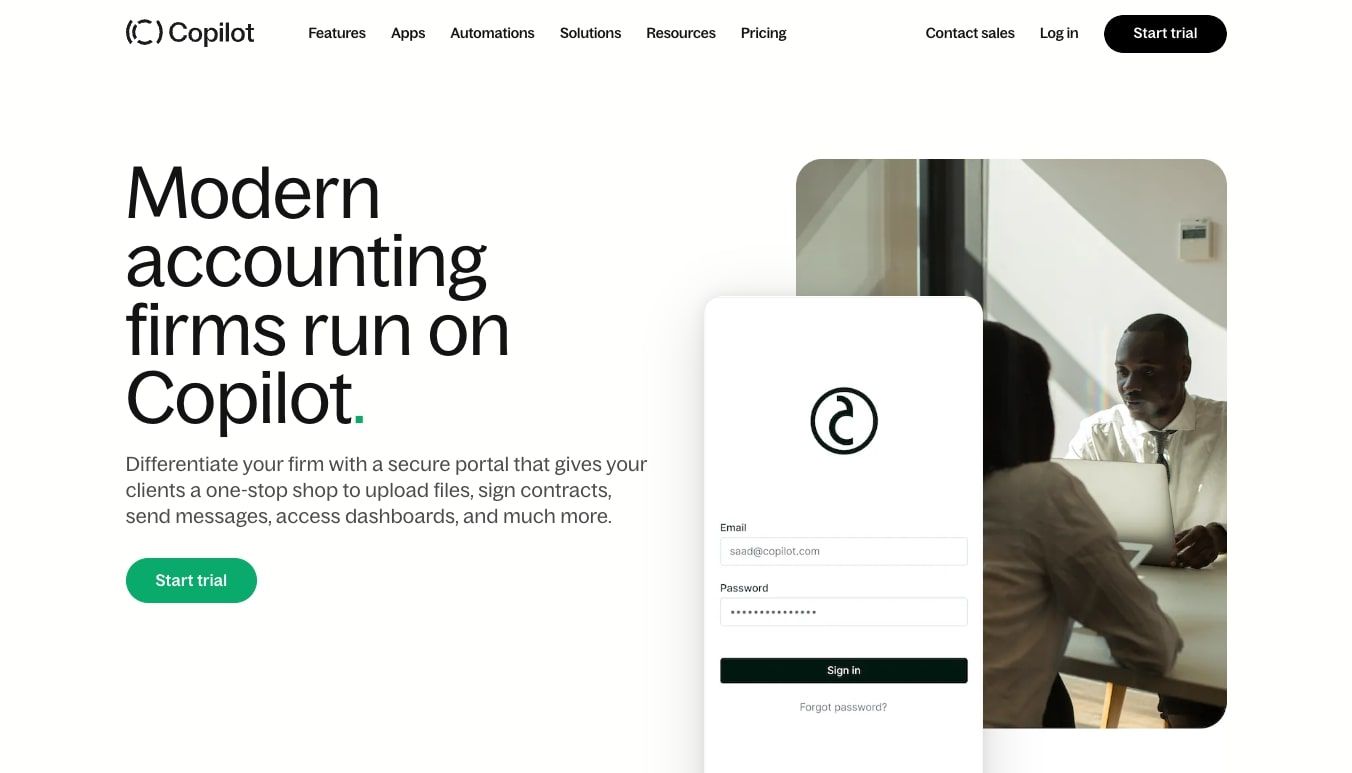 View financial services demo portal
Financial services firms deal with various contracts, forms, e-signatures, and other documents. With a financial service customer portal, you can give clients one central hub for sharing files, messages, and client data — all in a secure online location that safeguards sensitive information, including banking information, personally identifiable information, and more.
Unique features of Copilot's financial service customer portal
It's easy for clients to approve and sign contracts with Copilot's integrated e-signature tools.
Clients can pay invoices from the portal, making it easier and faster to get paid on time.
If you need clients to fill out and submit financial forms such as loan applications, they can do so directly in your client portal.
Access to rich text articles from your Helpdesk ensures clients can get answers to questions quickly and conveniently.
3. Consulting customer portal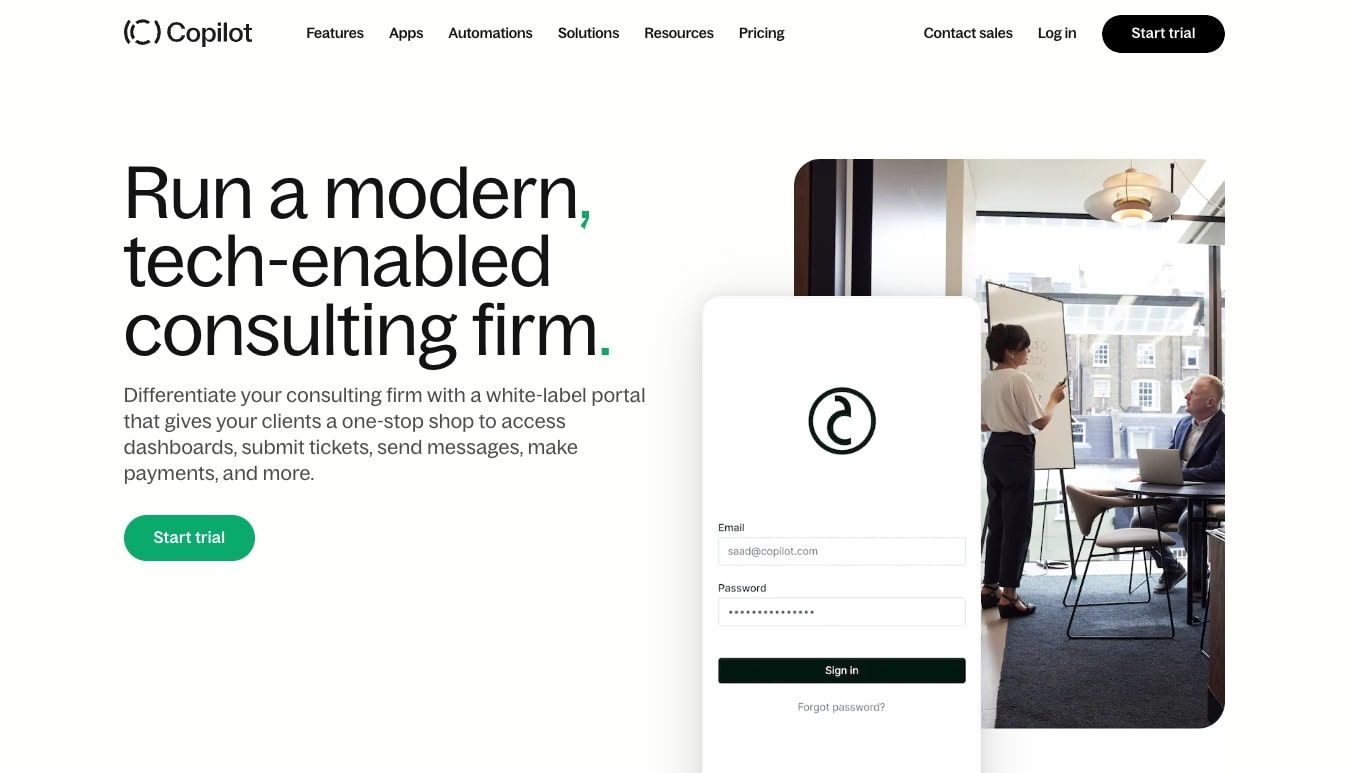 Like marketing agencies, consulting firms must present themselves as expert resources to build confidence in their brands. A tech-enabled consulting customer portal can help your firm create a stellar customer experience that engages clients and encourages retention, referrals, and upgrades to higher service tiers.
Unique features of Copilot's consulting customer portal
Integrations with project management tools like Airtable, ClickUp, and Monday ensure you can keep using the apps you love and streamline client communications.
Rich text articles from your Helpdesk encourage clients to find answers to common questions while providing a positive customer experience.
Integrated payment capabilities let clients pay for services directly in the portal.
Client intakes and form submissions are easy and automated, reducing errors and speeding up onboarding.
4. Law firm customer portal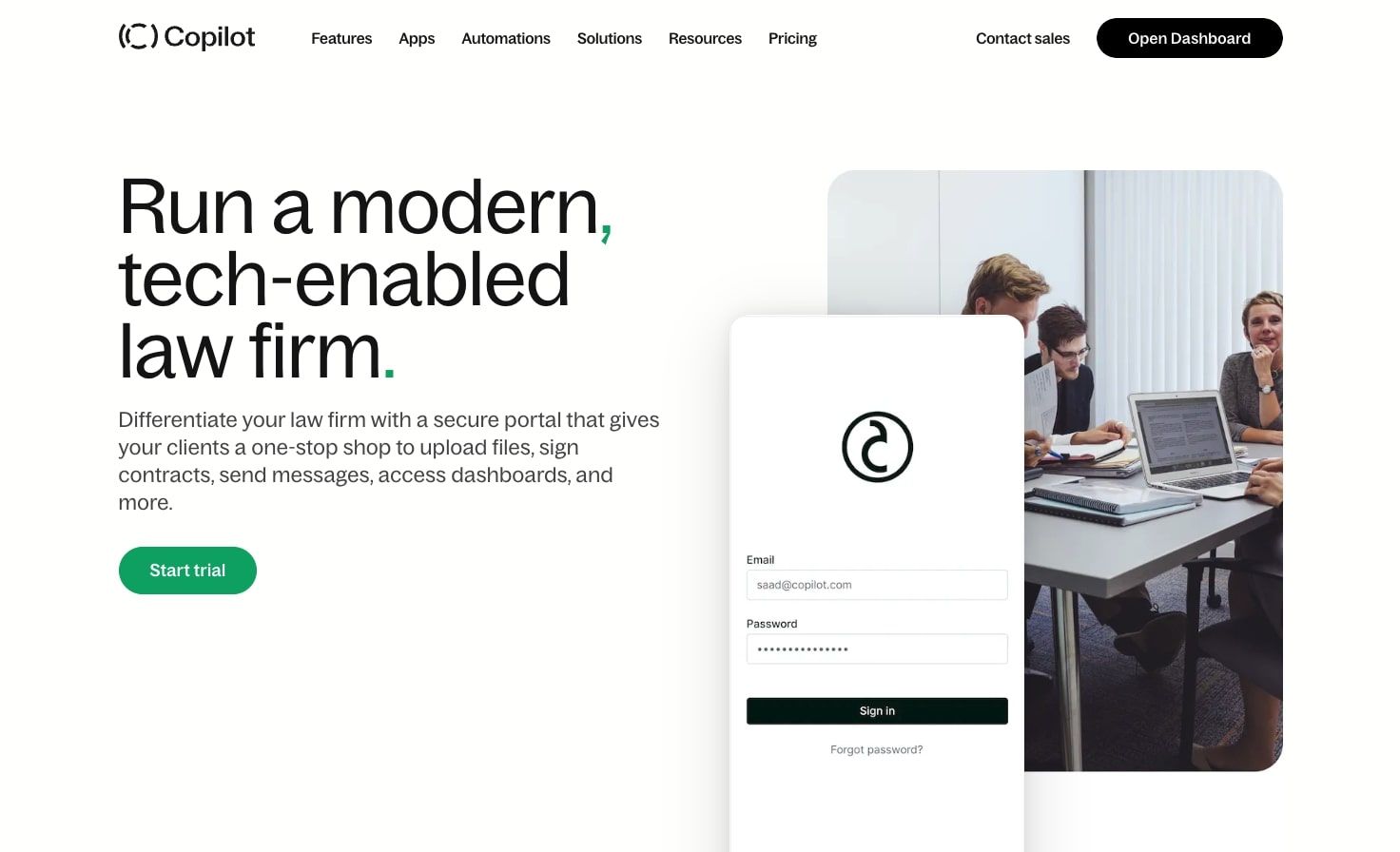 Law firms run on billable hours, making it vital that attorneys spend less time on administrative tasks and more time on client work. Law firm customer portals automate many tasks previously done manually — including document collection, e-signatures, and form submissions — freeing up time for higher-value activities.
Unique features of Copilot's law firm customer portal
The client portal facilitates e-signature collection in a secure, compliant environment.
Clients may also make payments directly in the portal and keep track of payment histories.
Automations reduce errors and save time, enabling an exceptional customer experience.
White labeling allows law firms to present themselves professionally and build client trust.
5. Small business customer portal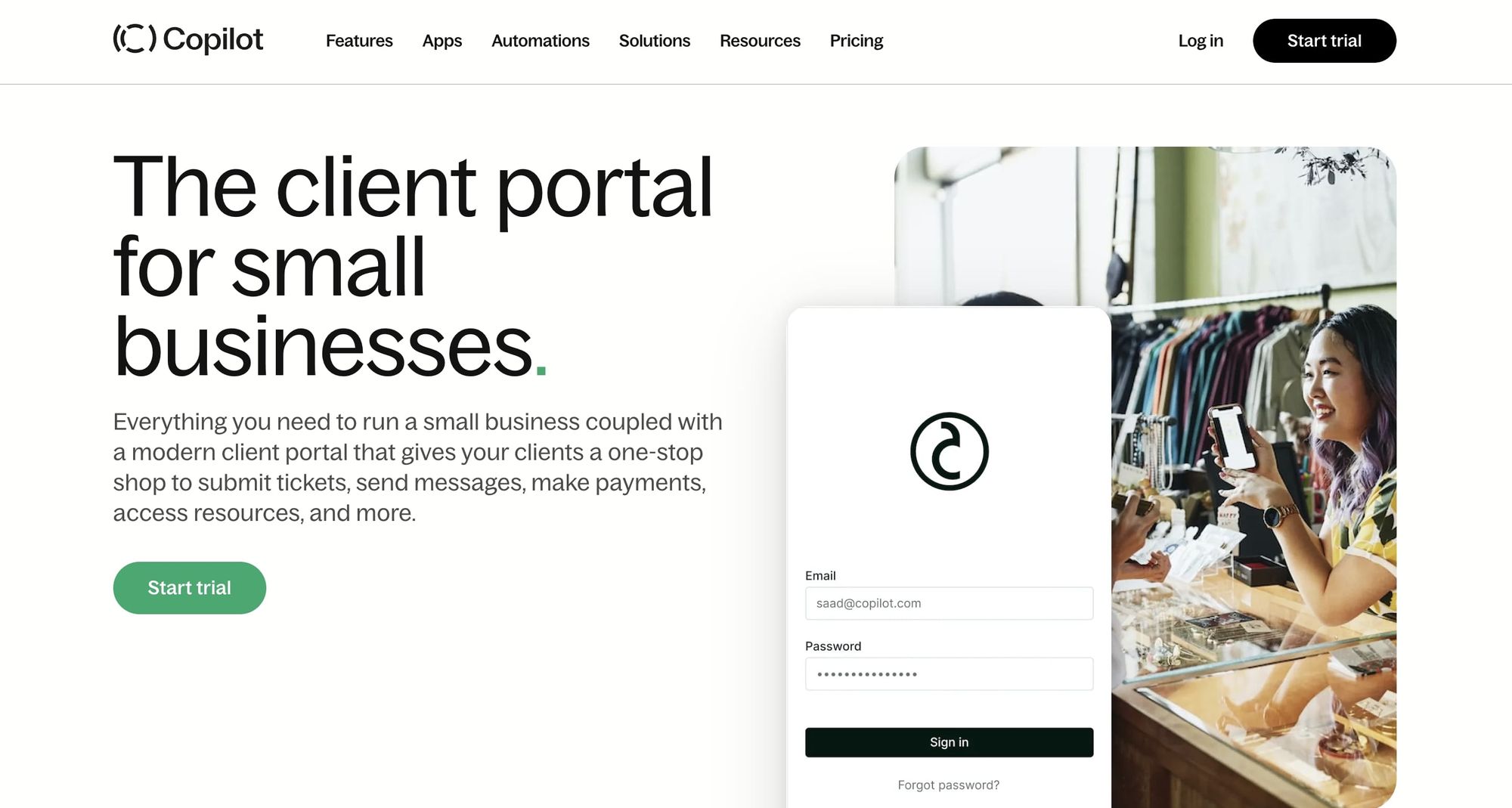 View small business demo portal
First impressions count for any business, but especially for small businesses trying to make their mark. A small business customer portal can give SMBs the edge they need over the competition. With smooth, consistent communication and easy-to-use collaboration tools, small businesses can stay organized and on track as they grow.
Unique features of Copilot's small business customer portal
A branded platform provides one central location for messages, appointment scheduling, payments, and more, reducing friction in the customer journey.
The platform allows for easy file uploads, proposals, estimates, and contract signatures, all in one dashboard.
Automations save time and reduce errors, allowing business owners to spend less time on admin work and more time nurturing client relationships.
Integrations with Calendly, Airtable, and other apps mean you don't have to give up any apps you already know and love.
Top tools to set up your B2B customer portal
With all the available options for B2B customer portals, it can be challenging to choose the best one for your B2B business. We've narrowed it down to the top three tools we recommend for setting up your portal in 2023. Read on.
1. Copilot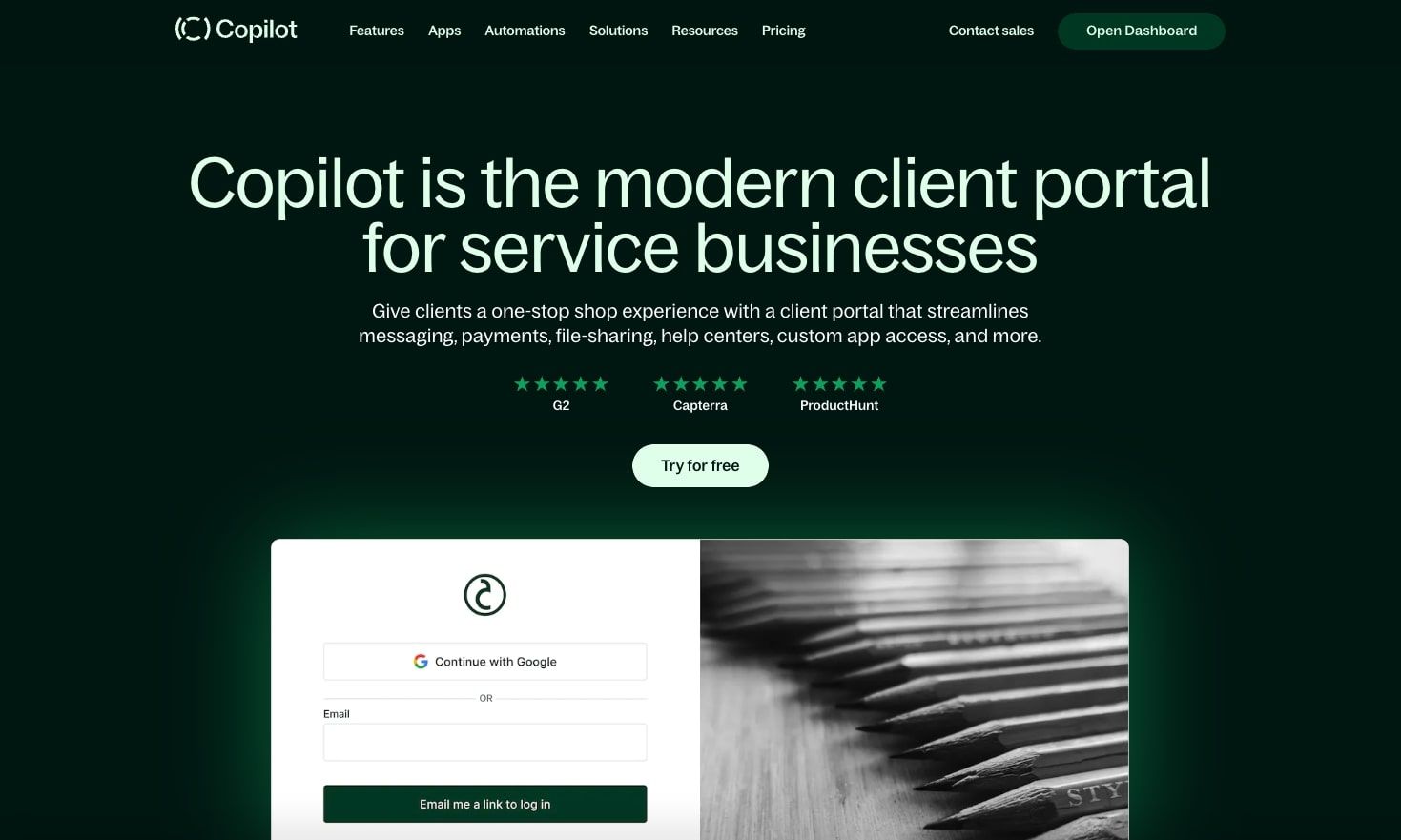 Thousands of modern service businesses run on Copilot. As an all-in-one solution for running your services business, Copilot brings everything from client communication, file-sharing, contracts, e-signatures, help desks, payments, and more into a white-label customer portal for your clients. White labeling ensures a consistent, unified experience for clients, while businesses of all sizes have the tools they need to automate, scale, and grow.
Key features of Copilot
Secure messaging
Billing, invoicing, and recurring payments
Analytics
Messaging app and email notifications
Project management
Workflow automations
Copilot pricing
Try Copilot free for 14 days; paid plans start at $29 per user per month (paid annually) or $39 monthly.
2. Dubsado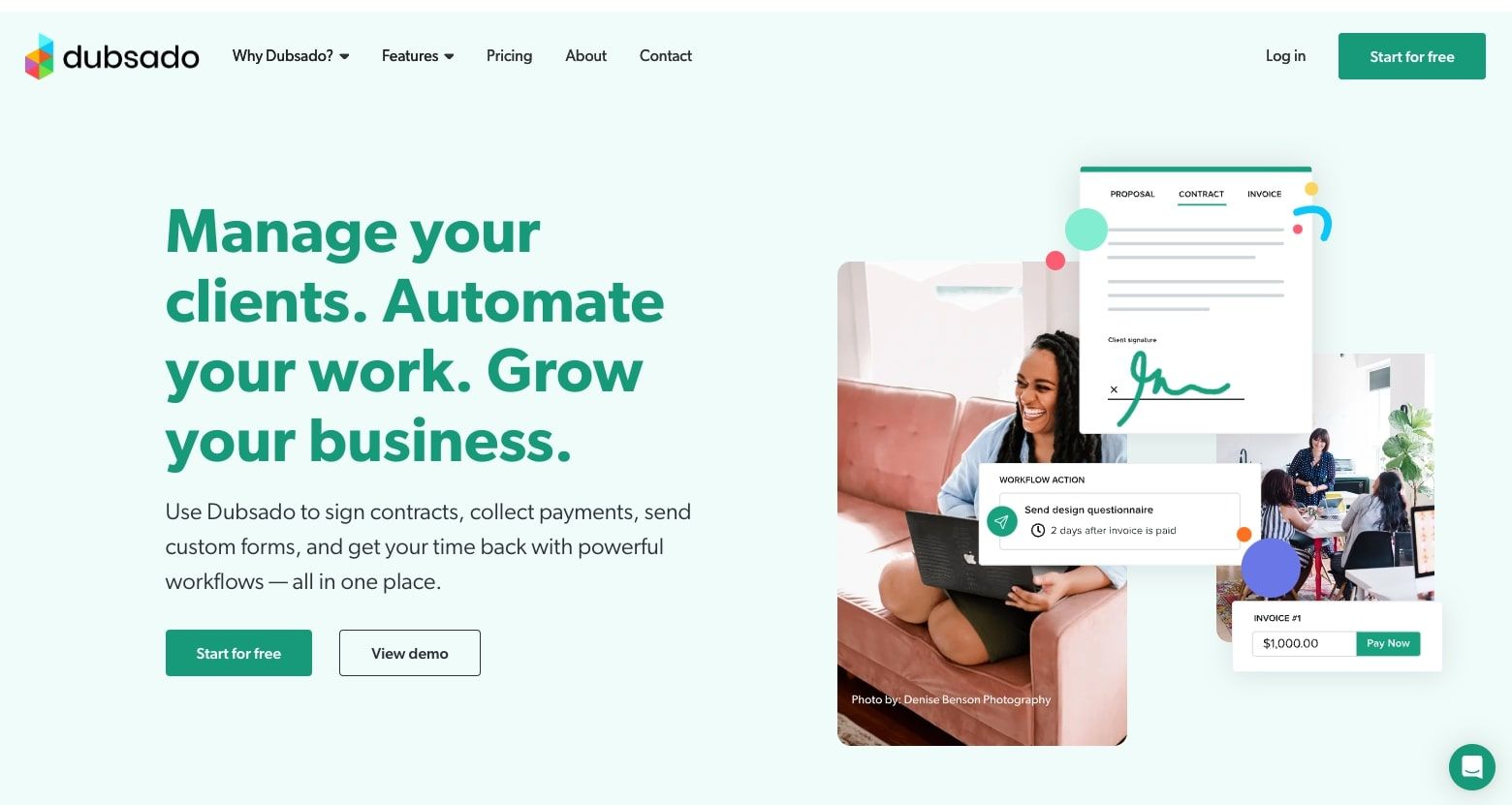 Dubsado is another customer portal solution that caters to various service-based businesses, including law firms, copywriters, accountants, and more. While Dubsado may work well for single users, it's not necessarily built for teams, as it lacks certain project management tools and third-party integrations.
Key features of Dubsado
Templates
Invoicing and reporting
Customizable, embeddable forms for lead capture, proposals, e-signatures, and more
Workflow automations
Scheduling tools
Dubsado pricing
Start for free; paid plans start at $200 per year or $20 per month.
3. Moxo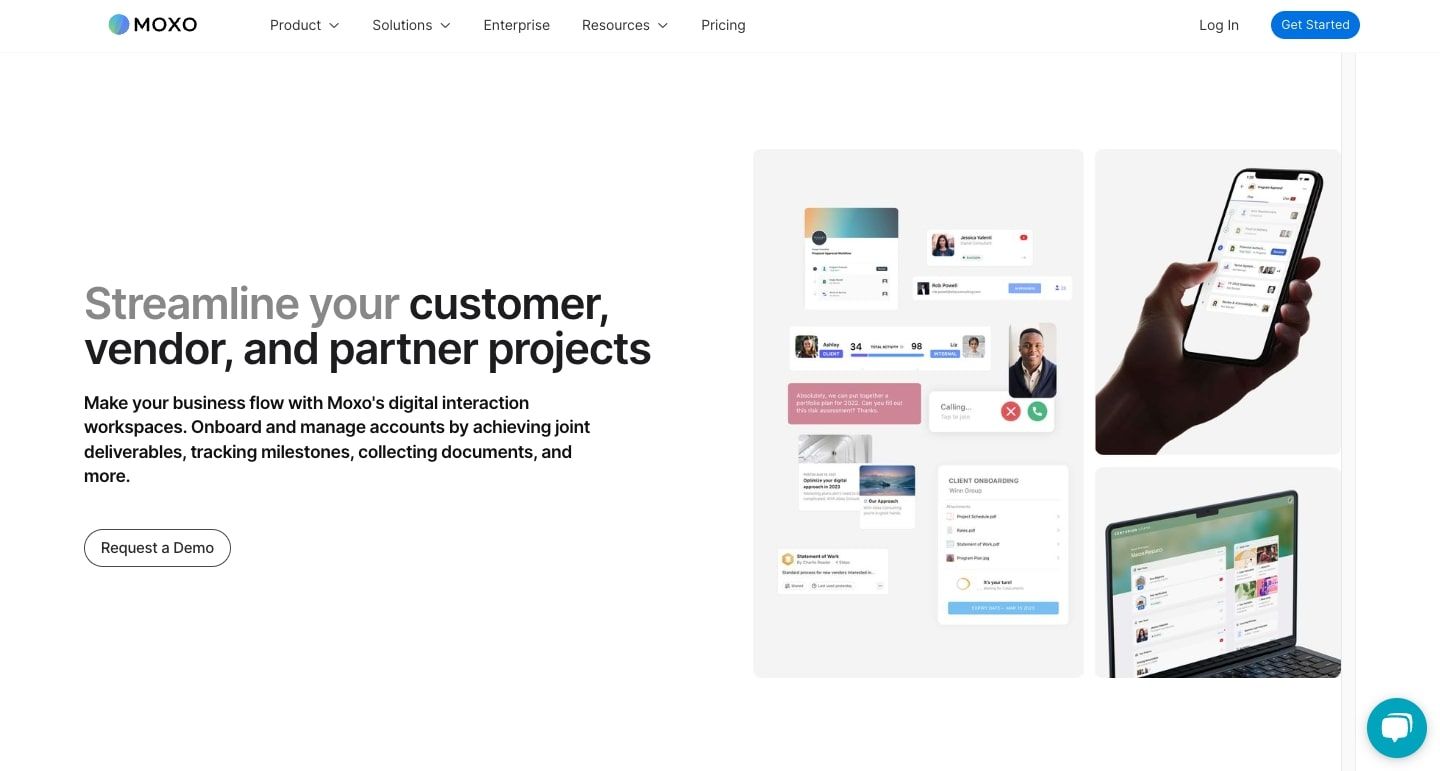 Our final customer portal solution is Moxo, which enables project management, document collection, custom workflows, and more. It provides a centralized hub for client interactions, project management, onboarding, account servicing, document collection, and a variety of other client-facing tasks.
Key features of Moxo
Tailored workflows with repeatable, sequence-able steps
White labeling
Messaging, screen sharing, virtual data rooms, and other interactive features
Customizable permissions
E-signatures and file sharing
Moxo pricing
$100 monthly or $900 annually, with a $250 one-time setup fee
Don't get left behind: Invest in a B2B customer portal
We live in a world where B2B customers of all kinds have come to expect delightful experiences when they interact with brands. Customer loyalty only goes so far; B2B clients won't stick with a platform if it isn't giving them that "wow" factor and meeting all their needs.
As you consider B2B customer portals in 2023 and beyond, remember that the only way to evaluate a customer portal is to step into the sandbox and play around with the different features. We encourage you to sign up for Copilot's free trial and create a client account in our demo portal to take the platform for a test drive for 14 days, with no credit card required at signup.
By the time you end your free trial, we think you'll agree that Copilot is the ultimate solution for B2B companies looking to foster growth and strengthen B2B relationships. To learn more and get started, click here.
Sign up for our newsletter
Subscribe to our newsletter to receive emails about important announcements, product updates, and guides relevant to your industry.