7 Best File Sharing Software of 2023 (Features + Pricing)
Jul 06, 2023
10 min read
Yolande Yip
Collaboration across companies is becoming more and more prevalent. The ability to make safe, encrypted file transfers is something that many companies across sectors now use daily. Finding a secure file transfer platform for your company and its needs is an integral part of working in the current digitally-focused business environment.
Luckily, as the need for this technology has grown, so too has the capabilities of these programs. Consider many features when looking for file-sharing services, from cloud server backup functionality to integrations with your existing software. To help you find what works best for your company and its workflow, we have compiled a list of the top file-sharing software of 2021 and the unique features that may make them the right fit for you.
What is File Sharing Software?
File sharing software is a digital solution that enables users to distribute or receive digital files through the internet or within a specific network. This technology has become increasingly important as more businesses shift towards remote and distributed work models, where sharing resources in a secure, efficient, and organized manner is a necessity.
A file sharing solution typically encompasses a range of features that extend beyond just the sharing of files. For instance, it often includes messaging or communication features to facilitate collaboration and discussions around shared files. File sharing platforms often also provide advanced access control, allowing administrators to define who can view, edit, or distribute specific files. This not only maintains the integrity of shared files but also ensures that sensitive data is only accessible to authorized individuals.
Moreover, file sharing software often includes robust file management capabilities. This might mean the ability to organize files in folders or categories, track changes and versions of documents, or even view previews of files without having to download them. These features enhance the usability and efficiency of the platform, making it easier for users to find and work with the files they need.I
In essence, a file sharing platform is a critical tool for businesses of all sizes. It streamlines the sharing and collaboration process, ensuring that files can be easily and securely distributed among team members, regardless of their geographical location. With the right solution, businesses can foster better collaboration, improve productivity, and safeguard their valuable data.
Top 7 File Sharing Software in 2023
Here are our top picks for the best file sharing software available right now:
Google Drive
Box
Okay, let's dive deeper into each one.
1. Dropbox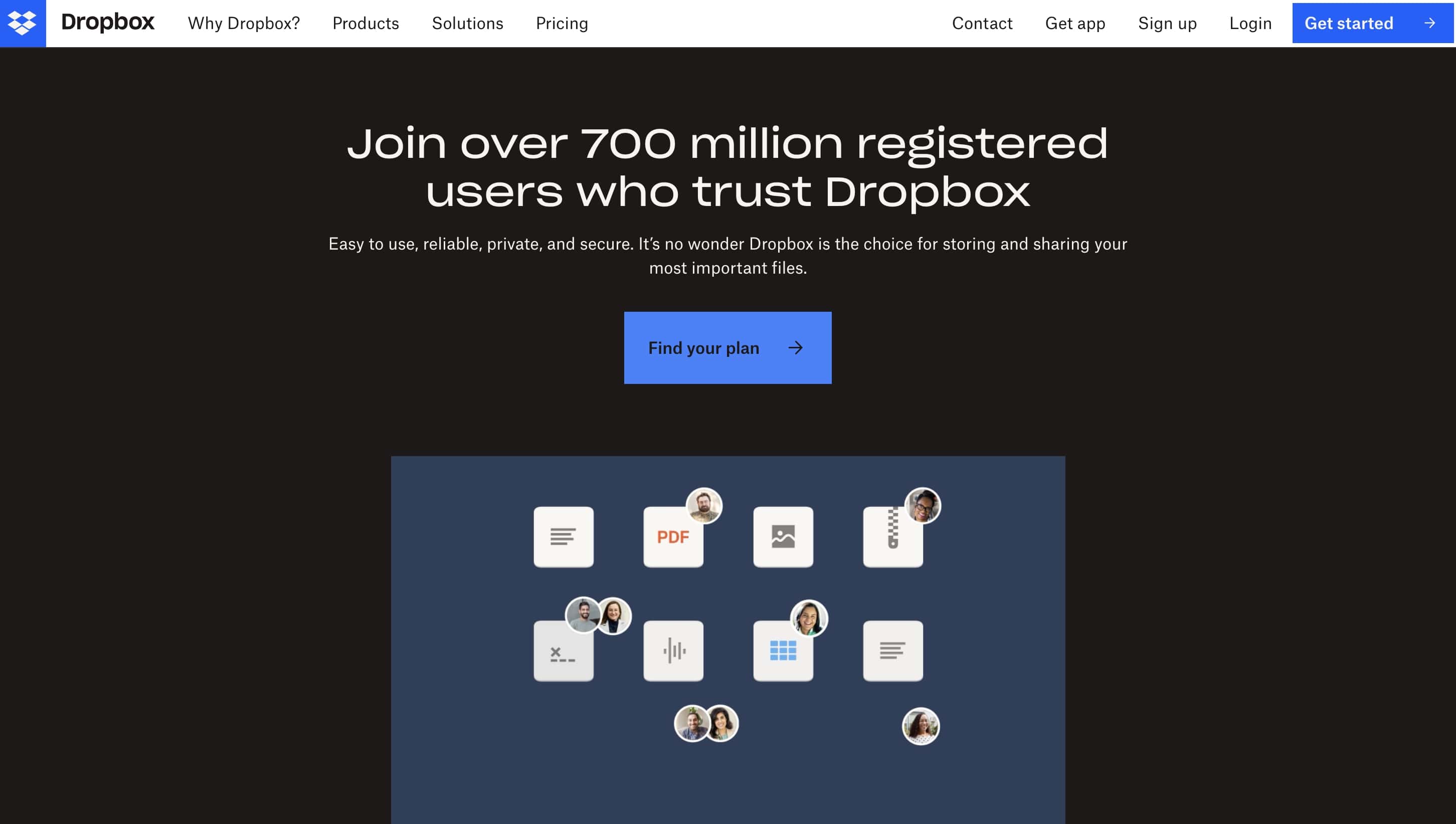 Dropbox provides cloud storage services as well as a multi-device collaboration platform. With browser, tablet, desktop, and mobile device support (both android and iOS), Dropbox boasts easy usability regardless of how you prefer to connect. Dropbox has direct integration with many programs and platforms, including the Google Suite, Microsoft Office, Slack, and Zoom. The program also has significant security features, including passwords, expiration dates, delivery confirmations, download notifications, and admin tools.
Pricing
Dropbox's standard package gives you 5 TB (5,000 GB) of space for $15 per user per month. At the same time, the advanced package has unlimited storage space for you and includes sophisticated control and security features.
Special Features
Serious Security: With both SSL encryption and 256-bit AES protection, Dropbox provides significant security precautions. They also have plenty of sharing security settings, including passwords that expire and download notifications. Remote wiping features protect you and your team if a device like a smartphone gets stolen as well.
Significant Storage: Dropbox has a pretty hefty amount of storage offered for cheap, with unlimited storage being not much more. Even the free account gets 2 TB of space!
Mobility: Accessing Dropbox from any PC, through a mobile app, or through a web browser makes it convenient for all collaborators to access the files they need on the fly. You even can access files without an internet connection through Dropbox's ability to sync files offline.
2. Google Drive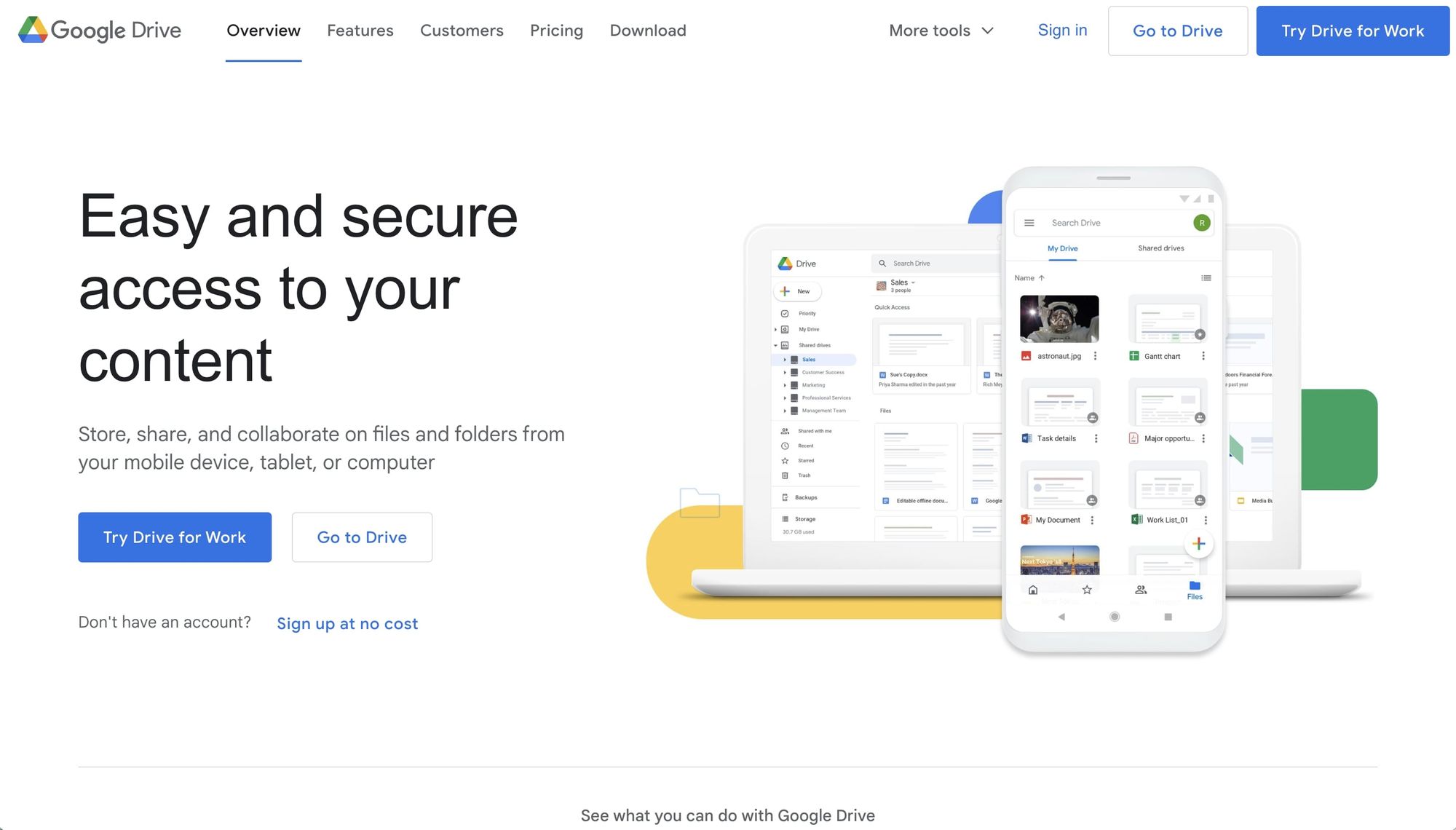 Another cloud-based file storage option, Google Drive, allows for live collaborative work across all Google Suite. Google has a host of integrations with its products, such as Google Docs, Sheets, and Slides. It also integrates with Microsoft Office, Adobe, Atlassian, DocuSign, Salesforce, and Slack and supports over 100 file types within its interface. File uploads are easy, supporting even basic drag and drop functionality. You can create folders with special permissions for easy security and set different permissions levels per user.
Pricing
Google Drive comes with Google Workspace, which gives you access to Google Meet video conferencing and 100GB/user with 2TB pooled storage for your team, all for $8 per user per month. For individuals, 15GB comes free, and you can add 100 GB for $1.99 a month.
Special Features
Data Loss Prevention: Along with permissions security settings, Google Drive stops people from sharing sensitive data outside your team. Drive can detect sensitive information within documents and block those outside your company from accessing that file.
Access Online or Offline: You can edit and view your Drive files even offline, and they sync your changes the moment you are connected to the internet again to keep you able to work no matter where you are.
Extensive History and Autosaving: Google Drive saves your changes as you make them, meaning that you won't lose your data while working away on your documents. Along with that autosave feature, the program also lets you go back to any phase of the document editing process within the last 30 days to restore old versions or compare your changes if needed.
3. Box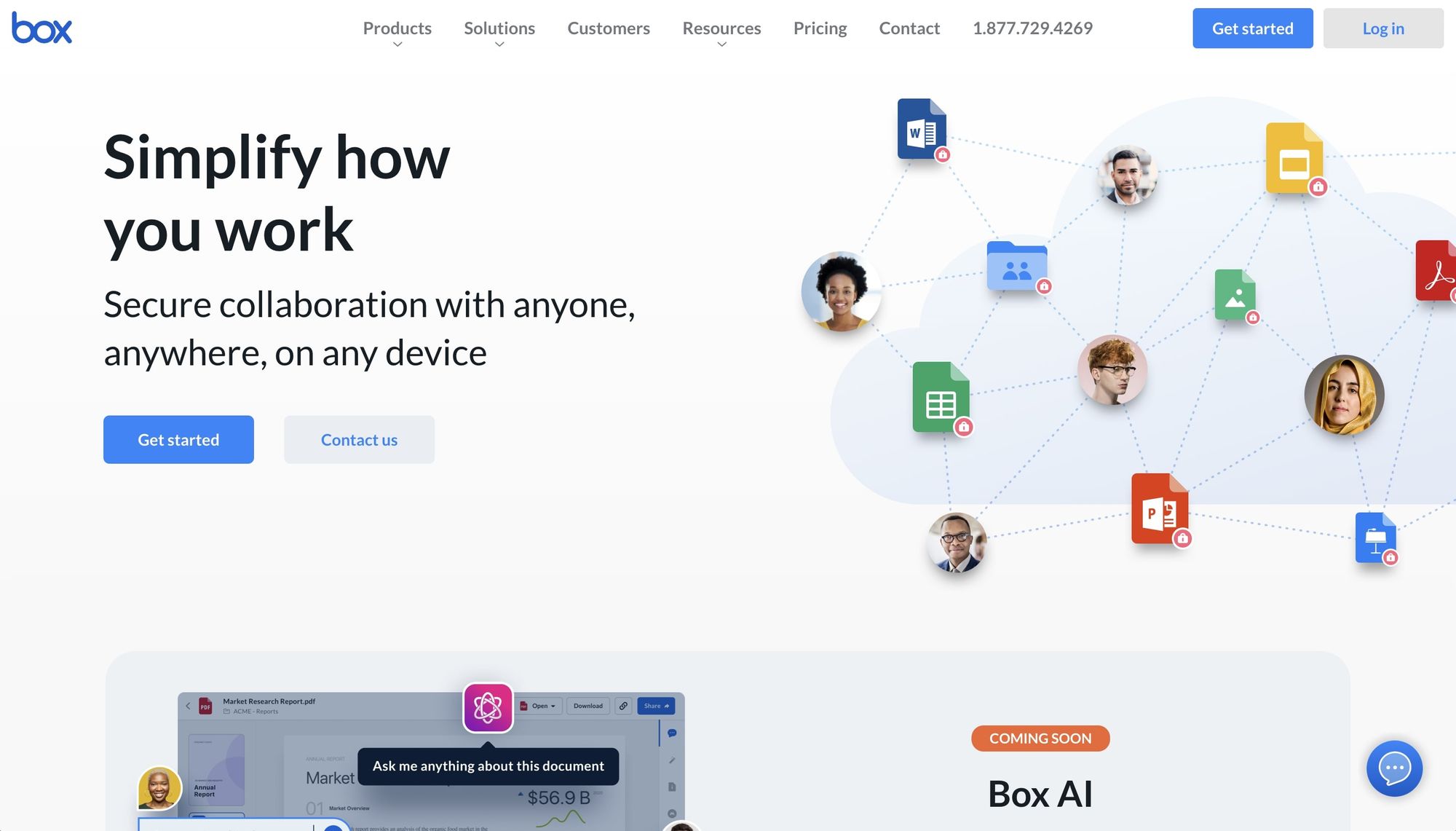 Box is a file-sharing and cloud storage program that has significant security benefits. Customizable security controls, threat detection, and information governance are just a few of the security benefits they offer. The Box platform also has collaboration tools, including central workspaces where you can edit, review, share, and assign files while also providing Box Notes, a place for your team to share ideas and see others' changes and comments in real-time. Like many other programs, many seamless integrations are built-in, including Zoom, Office 365, Slack, the Google Suite, and Okta. Box has a user-friendly interface that works across different devices to make your workflow smooth and easy.
Pricing
The business plan for Box is $15 per user per month and allows you to upload file sizes up to 5 GB. Along with that, there is unlimited storage, Box Sign integration, access to one additional enterprise app integration, and access to all collaboration tools. Business Plus is $25 per user per month. It lets you upload files up to 15 GB, gives you access to unlimited external collaborators, allows for ten additional enterprise app integrations, and adds advanced search filters and metadata templates. There is even a premium enterprise option if needed with additional features.
Special Features
Top-Notch Security: Box has strict data privacy, with all files encrypted using AES 256-bit encryption. You can monitor precisely how work happens inside and outside of your company with complete audit trails. The company also has unique machine learning that helps detect and protect against threats. Box enables you to align with even the most demanding global compliance and privacy rules if your business needs top-tier security.
Project Management Features: Beyond file-sharing, Box gives you many project management tools, including task assignment and approval workflows. Status updates, live meeting outlines, and simple status updates make this a tremendous multi-functional tool.
Automation: A huge topic in technology, automation saves time on manual tasks for your team. Box lets you automatically assign approval tasks as new documents are created or added to the site and also provides automatic notifications throughout the process as needed.
4. OneDrive for Business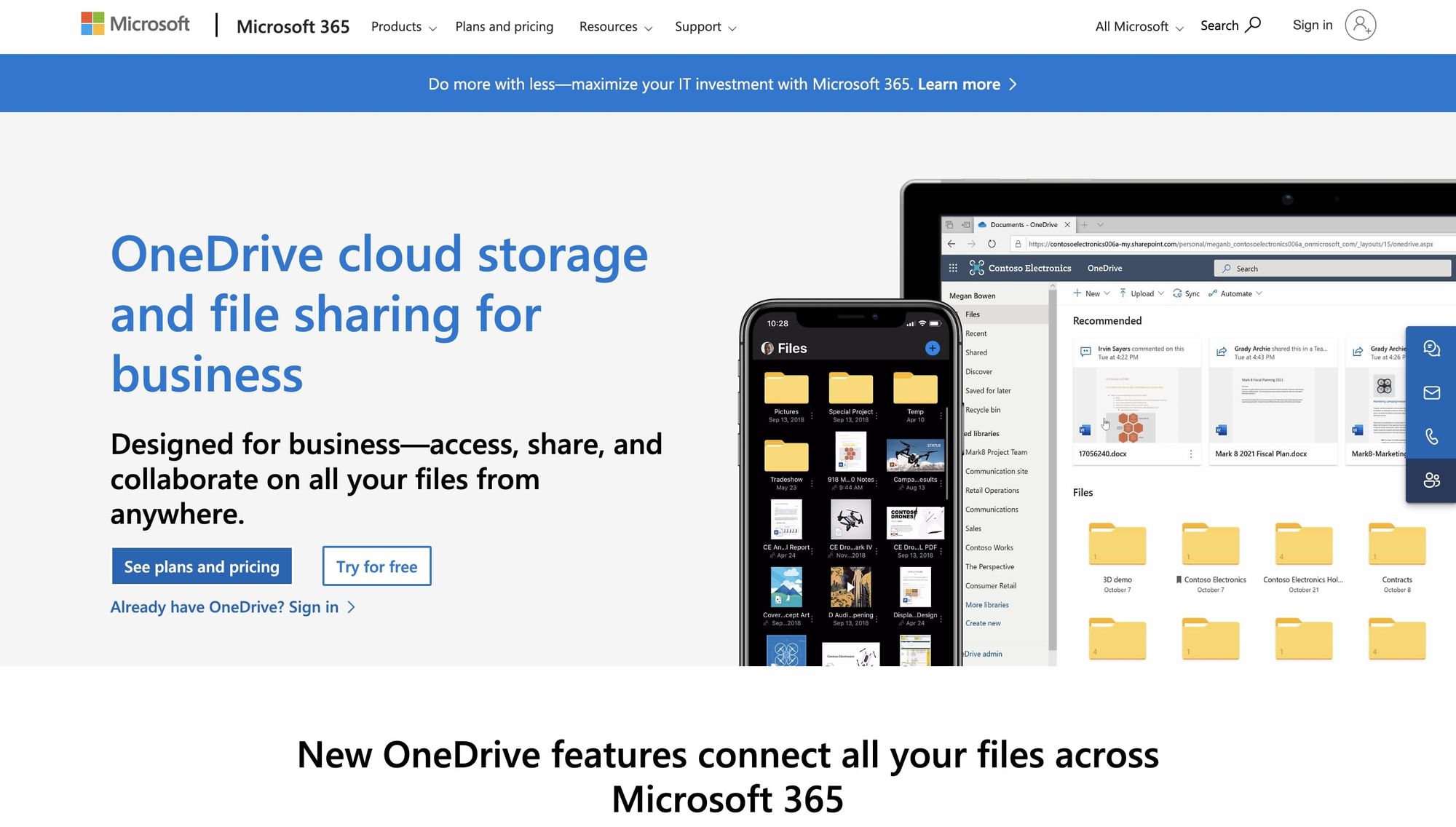 OneDrive is a Microsoft product, meaning it has great integrations with any of your Microsoft Office Suite items such as Teams and SharePoint. You can upload files up to 100GB, create sharable links, create expiring access, and configure policies. The OneDrive platform also lets admins sync reports, create sensitivity labels, and control migration. Your offline edits from any device upload the next time you connect to the internet, and you can securely collaborate on files together. OneDrive has a dedicated app for working, helping you stay productive even when you can't be in front of your computer.
Pricing
You can pay $5.00 per month per user for OneDrive tools, or you can pay the same amount for Microsoft 365 Business Basic, which includes Teams, Exchange, and Sharepoint, plus allows for the web and mobile versions of Word, Excel, and Powerpoint. The $10 per user per month OneDrive plan includes advanced security and compliance capabilities.
Special Features
Tight Security: OneDrive has full encryption powered by Microsoft but also keeps a detailed version history of every document so you can restore files. You can set barriers to prevent teams from sharing files, and you can also generate secure links to collect files from anyone.
Microsoft Integration: Many companies already run on a Microsoft ecosystem, so integrating smoothly with Word, Teams, and Office 365 can be a huge positive for many teams. The smooth workflows and onboarding when already using the Microsoft environment is a prominent feature.
Specialized Integration: With a mobile OCR scanner, Teams chat features, and supporting over 320 filetypes, OneDrive can connect to most workflows and improve them with their tools.
5. FileCloud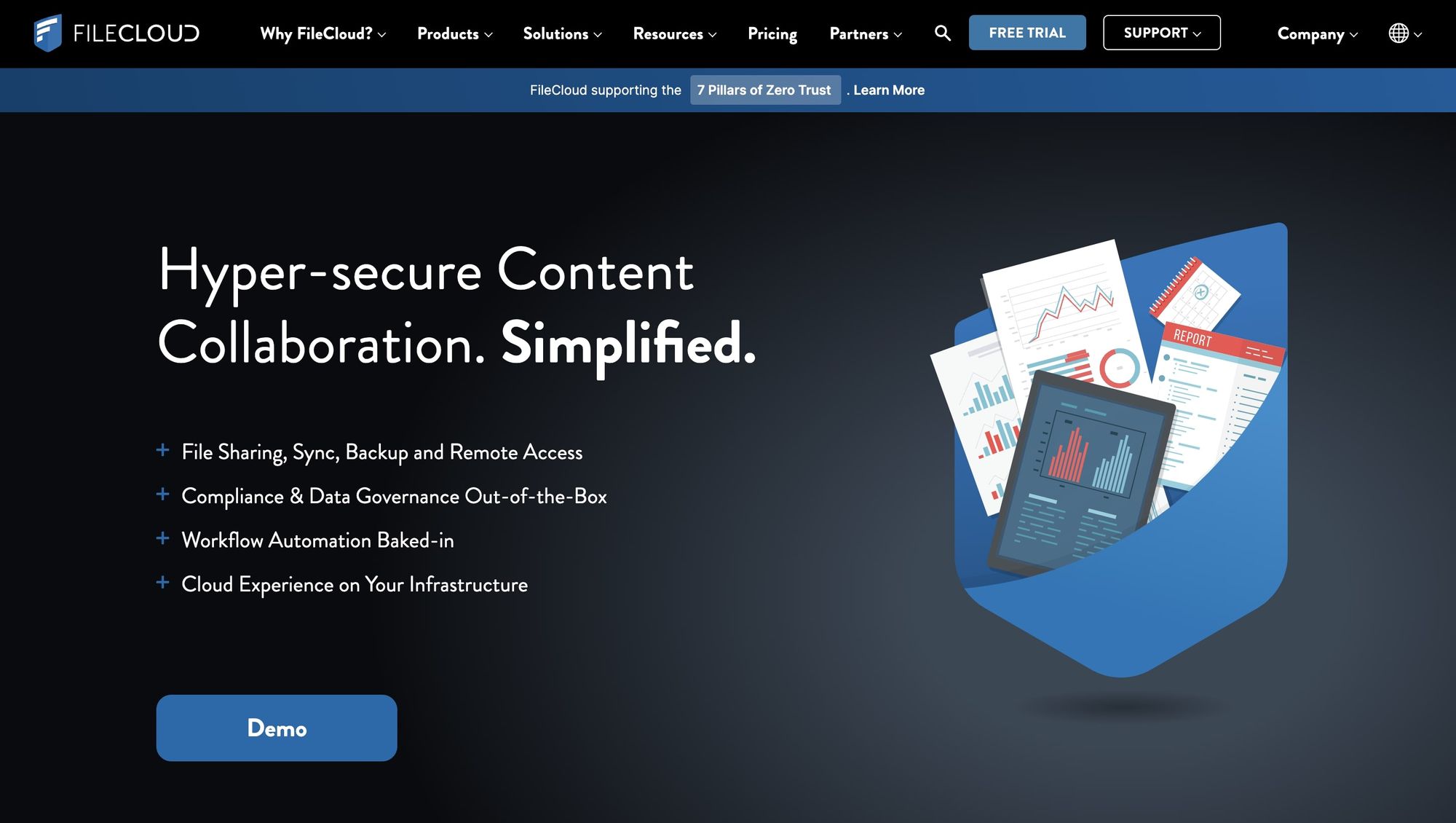 All of our suggestions have focused on cloud-based infrastructure, but FileCloud allows for on-prem, hybrid, or cloud services. Like many of our other listed options, this platform provides enterprise file storage and collaboration for your company with secure sharing features both internally and externally. FileCloud is compliant with ITAR, HIPPA, GDPR, and even other regulations and provides secure file backup with automatic syncing. Client accounts are unlimited and completely free, and it comes with unlimited API access. It has
Pricing
At $4.20 per user per month, you can securely share files, sync them, and backup information; however, you don't get storage functionality. The standard price-point at $10 per user per month can be cloud-based, gives you 1 TB of storage for the first five users (with 100 GB for additional users), and custom branding. FileCloud's enterprise plan for $15 per user per month includes server syncing, increased governance, digital rights management, custom domains, 200 GB for every additional user, and premium support.
Special Features
Compliance: FileCloud, with its AES 256-bit encryption and SSL/TLS secure file sharing, two-factor authentication, anti-virus scanning functions, ransomware detection, data leak prevention, and security policies, is already impressive. On top of those security features, it is ITAR, HIPPA, GDPR, CCPA, FINRA, and other data security regulation-compliant!
Robust Admin Tools: You can easily manage all of your users and files with the admin dashboard, which also shows you usage trends, access by geographical location, and update alerts. You can even customize your UX and create custom workflows.
Branding: FileCloud lets you use a custom domain, logo, background image, and fonts to make your experience feel more seamless for users.
6. Egnyte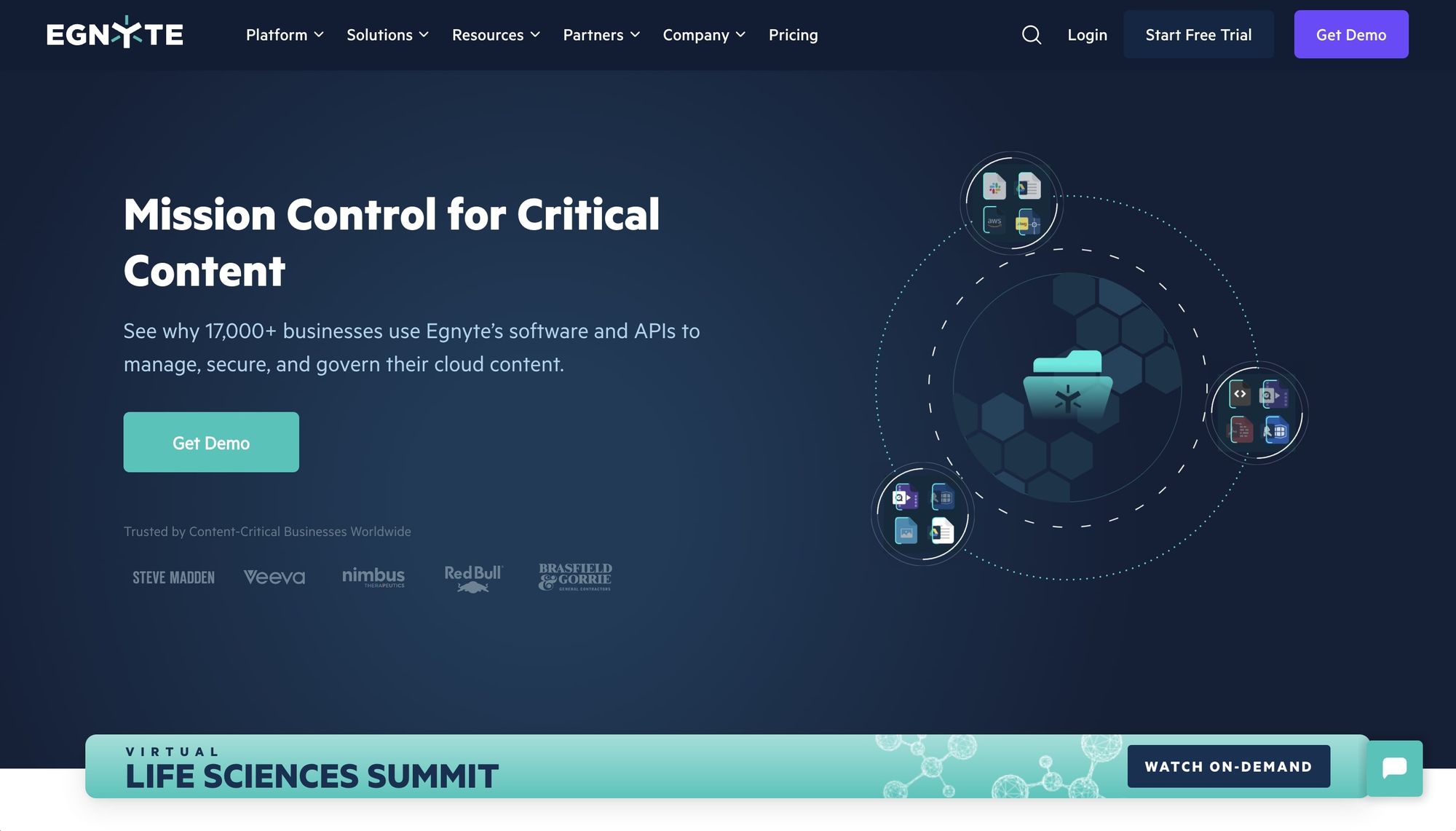 Egnyte is a cloud-based platform that manages and secures your files cross-device. The program has significant information security and governance focuses, tracking insider threats, preventing data breaches, and stopping potential ransomware attacks. An exciting feature that Egnyte offers is its intelligent file cache, which automatically caches your most frequently access files and conserves bandwidth by syncing only the edited parts of your files to the cloud. Large file collaboration is also accessible through password-protected links that get rid of file size limitations.
Pricing
The business plan for Egnyte is $20 per user per month, allowing for up to 100 users and giving you access to secure collaboration, large file sync, and share and audit reporting. The platform also offers Enterprise and Enterprise Lite plans that include AI-based content classification, behavior-based ransomware detection, breach reporting, and content lifecycle management.
Special Features
Data Protection: Egnyte lets you set policies and get notified of any unusual file-sharing or access. You can mark sensitive files, restrict permissions, and limit the ability to share sensitive or at-risk files externally. You can also recover files if they are deleted or in the case of ransomware attacks.
Automatic Data Management: The Egnyte platform lets you automate your archiving and deletion processes to help lower your storage costs and helps your company get rid of old, outdated files.
Machine Learning: The Content Intelligence Engine is Egnyte's machine learning technology that allows you to get content insights and use powerful automation tools. You can create content classification policies to categorize your files and use machine learning-powered security suggestions automatically.
7. ProofHub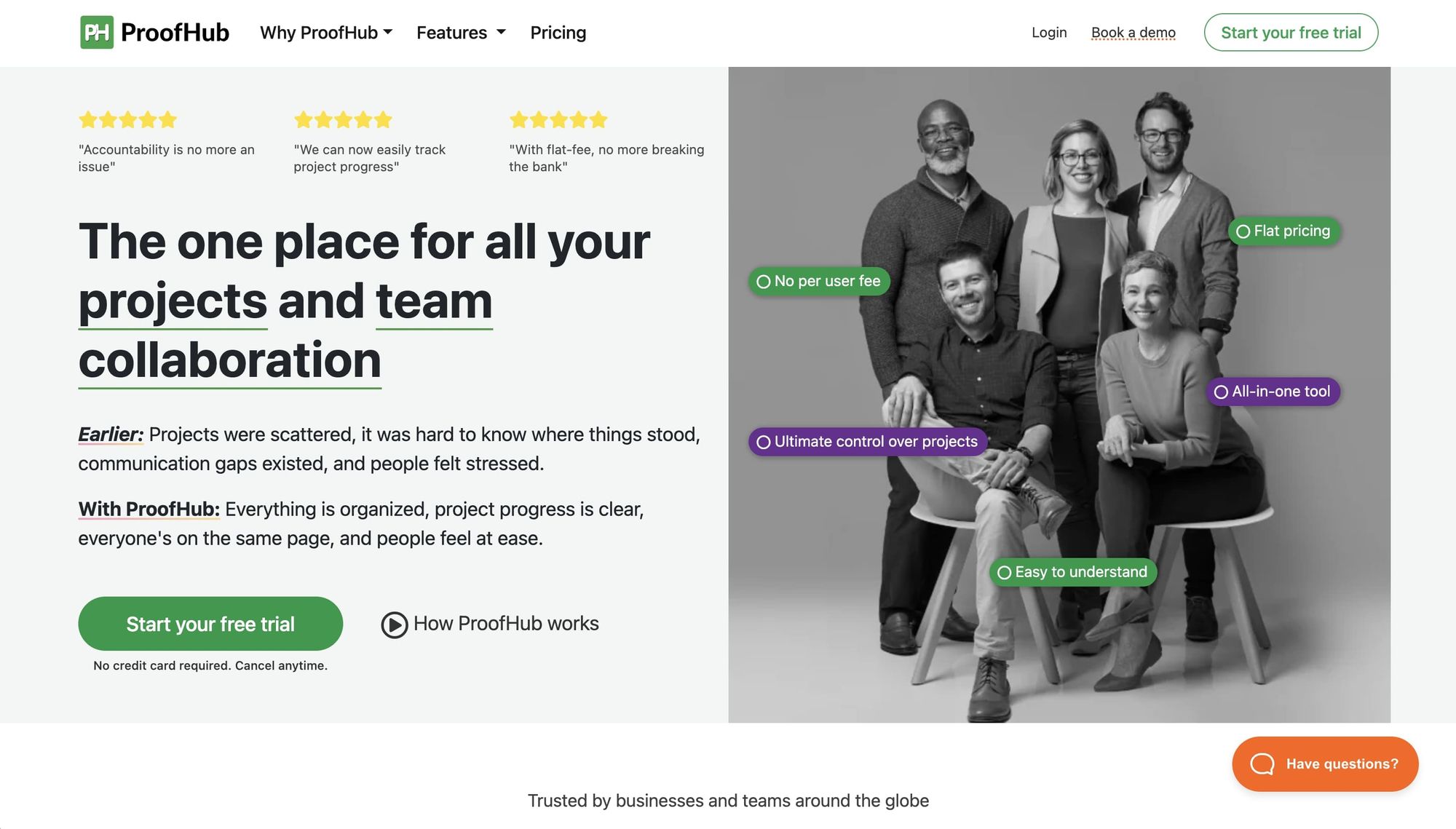 Focusing on collaboration and organization, ProofHub has a host of tools to help teams work together. Posting chat topics and using the live chat features allows you to easily communicate and share documents without long, convoluted email threads. You can easily assign and organize tasks in a customizable dashboard. ProofHub includes Kanban Boards to help you manage your workflow and Gantt Charts to help you visualize the project lifecycle. The platform lets you share files by uploading documents from a host of integrated programs like Dropbox and Google Drive, attach them to tasks, and makes sharing files with guests easy through secure links.
Pricing
Rather than a per-user price point, ProofHub charges a flat rate per month. Their Essential plan is $45 per month, allowing for 40 projects, unlimited users, and 15 GB of storage. The $89 per month Ultimate Control plan includes unlimited projects, 100 GB of storage, as well as custom roles and workflows, management of trashed items, and advanced activity logs.
Special Features
Email-based File Upload: You can easily upload files through your email account without ever having to log into ProofHub, saving you time when you are mobile.
Project Management Tools: With Kanban Boards, Gantt Charts, and a project calendar view, there are plenty of high-quality project management tools that ProofHub comes with to help your team work more efficiently.
Built-in Communication: Whether using the live chat features or starting a discussion post for a project, the ProofHub platform helps your team do more without having to leave the program.
Conclusion
There are many different secure file-sharing software options out there for you to explore. Consider your team's workflow and what features are going to meet their collaboration needs best. While many of these programs are great and can integrate with your current environment, consider larger program suites that can cut down on your ever-growing software stack while solving your file-sharing needs.
Streamline Client Management with Copilot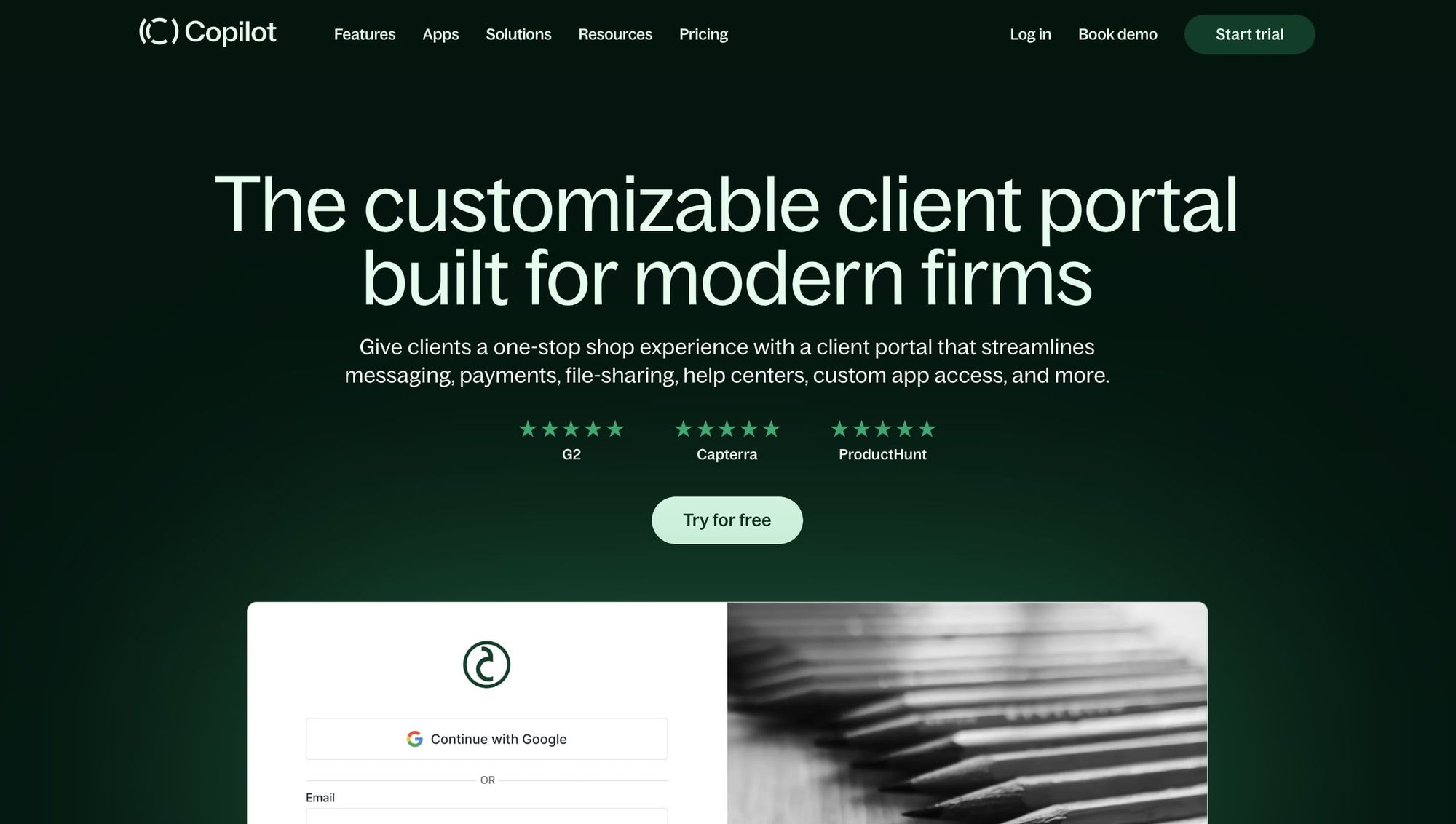 Copilot is a modern all-in-one commerce solution designed for the modern business. By combining CRM, billing and accounting, eSignature and data collection, file-sharing and knowledge base creation, Copilot bridges the communication gap between you and your clients, so you can focus on what matters - building meaningful and authentic connections. Try Copilot for free or request a demo today!

Sign up for our newsletter
Subscribe below to receive our newsletter. We'll email you about important announcements, product updates, and guides relevant to your industry