20 Best Freelance Writing Sites for Serious Writers
Apr 26, 2023
16 min read
Omid G
As a freelance writer, finding the right platform to showcase your skills and connect with potential clients can be a daunting task. With so many options available, it's important to know which sites are worth your time and effort.
Whether you're just starting out or looking to expand your client base, we've rounded up the 20 best freelance writing sites for serious writers. From job boards to content marketplaces, these platforms offer a range of opportunities for writers to find high-quality, paying gigs. So, grab your laptop and get ready to take your writing career to the next level!
Tips to Land Writing Gigs on Freelance Websites
Certain platforms will be easier than others to jump into and begin making money, as some are more competitive than others or have a more rigorous vetting process for freelancers. Here are some tips to help you land writing gigs as you get started:
Create a strong profile. Your profile is often the first thing potential clients will see, so make sure it showcases your skills and experience. Include a clear and concise bio, relevant writing samples, and any relevant certifications or education.
Be selective with the freelance jobs you apply for. It's important to apply for gigs that align with your skills and interests. Don't waste your time on low-paying or irrelevant jobs. Instead, focus on applying for gigs that you're qualified for and genuinely interested in.
Customize your proposals. Don't send the same generic proposal to every job. Take the time to read the job description and tailor your proposal to the specific project and client. Show that you've done your research and understand what the client needs.
Highlight your unique selling points. What sets you apart from other writers? Maybe you specialize in a specific niche, have extensive experience in a certain industry, or have won writing awards. Whatever it is, make sure to highlight it in your proposals and on your profile.
Follow up. Don't be afraid to follow up on proposals or applications. A polite email or message can show that you're serious about the job and can help you stand out from other candidates.
Deliver quality work. Once you land a gig, make sure to deliver high-quality work that meets or exceeds the client's expectations. This can lead to repeat business and positive reviews, which can help you land more gigs in the future.
By following these tips, you can increase your chances of landing high-quality writing gigs on the best freelance writing sites. Remember to stay patient and persistent, and don't be afraid to put yourself out there!
20 best freelance writing sites in 2023
It's possible to create a full-time income with freelance writing if you're dedicated to creating high-quality work and willing to put in some upfront work. Our advice is to get started with one or two platforms to feel out which ones will work best for you, and don't get discouraged if any particular platform or project doesn't work out.
Here are our picks for the best freelance writing sites in 2023:
1. Upwork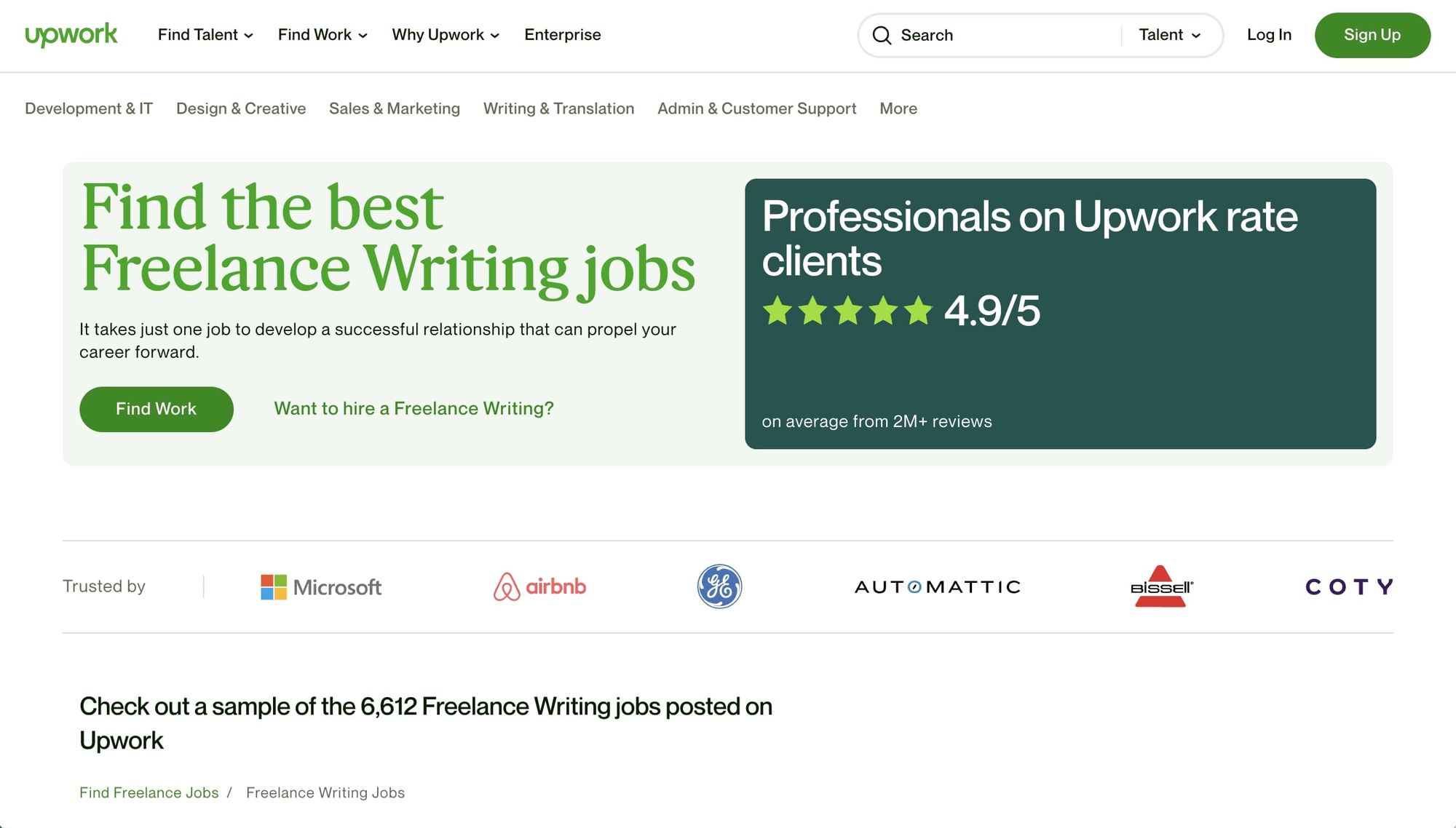 Upwork is a marketplace that connects freelancers with companies and individuals looking for freelance talent. From writing and translation to design and creative, there are many types of jobs available for hire. You simply bid on the jobs you're interested in working on, complete with a proposal where you describe why you're the best person for the job and set your desired rate. If you're selected, you then complete the work according to the client's specifications and get paid through the platform.
To get started on Upwork, create a profile where you highlight your skills, your portfolio of work, and your ideal pay rate. Search for jobs in the Talent Marketplace, submit proposals, get a contract on winning bids, and check off the steps to complete the work. Clients may choose to pay you for reaching certain milestones during the course of the project, or they pay you when the job is done. They can also submit feedback, which helps you secure future jobs and build lasting relationships with new clients. A word of advice as you get started: Get your feet wet with a few simple jobs where you earn positive feedback before demanding higher rates, as Upwork is a highly competitive platform with thousands of skilled writers and other professionals.
Pricing: It's free to join Upwork, build a profile, search for work, and post your own projects. Upwork charges a service fee based on your earnings, with a sliding scale that rewards long-term client relationships. The Freelancer Plus upgrade gives you more advanced tools to market your services and submit attention-grabbing proposals.
2. Best Writing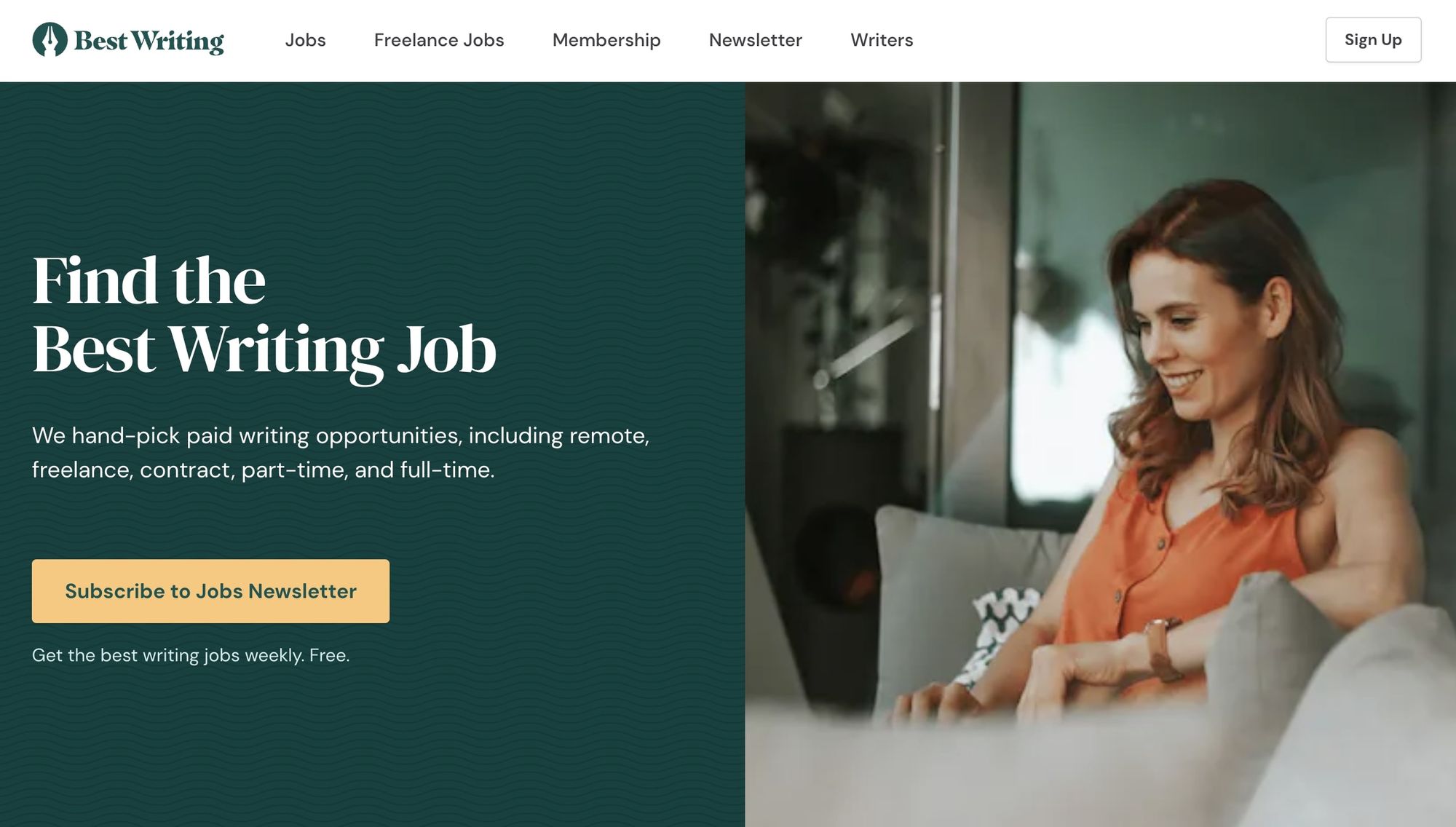 A relatively new platform, Best Writing got its start in 2020 when two friends decided writers needed a better way to find great work. Subscribe to the Best Writing newsletter, and you'll receive weekly emails packed with hand-picked writing opportunities. The site aggregates writing jobs from online job portals, social media, newsletters, and selected partners, serving up everything from remote freelance gigs to full-time positions.
Best Writing is also a talent marketplace; for a small fee, you can gain access to a daily newsletter with the latest writing jobs and create a public writer profile. If you're looking to be more proactive and make sure you don't miss out on an opportunity, the Writer Membership might be the way to go. Because Best Writing is a newer platform, there may be less competition, although that could change as the platform grows — so get in while the getting's good.
Pricing: Free to subscribe to the weekly newsletter, browse jobs, and apply on external sites; Writer Membership is $9 per month or $90 annually.
3. Superpath Jobs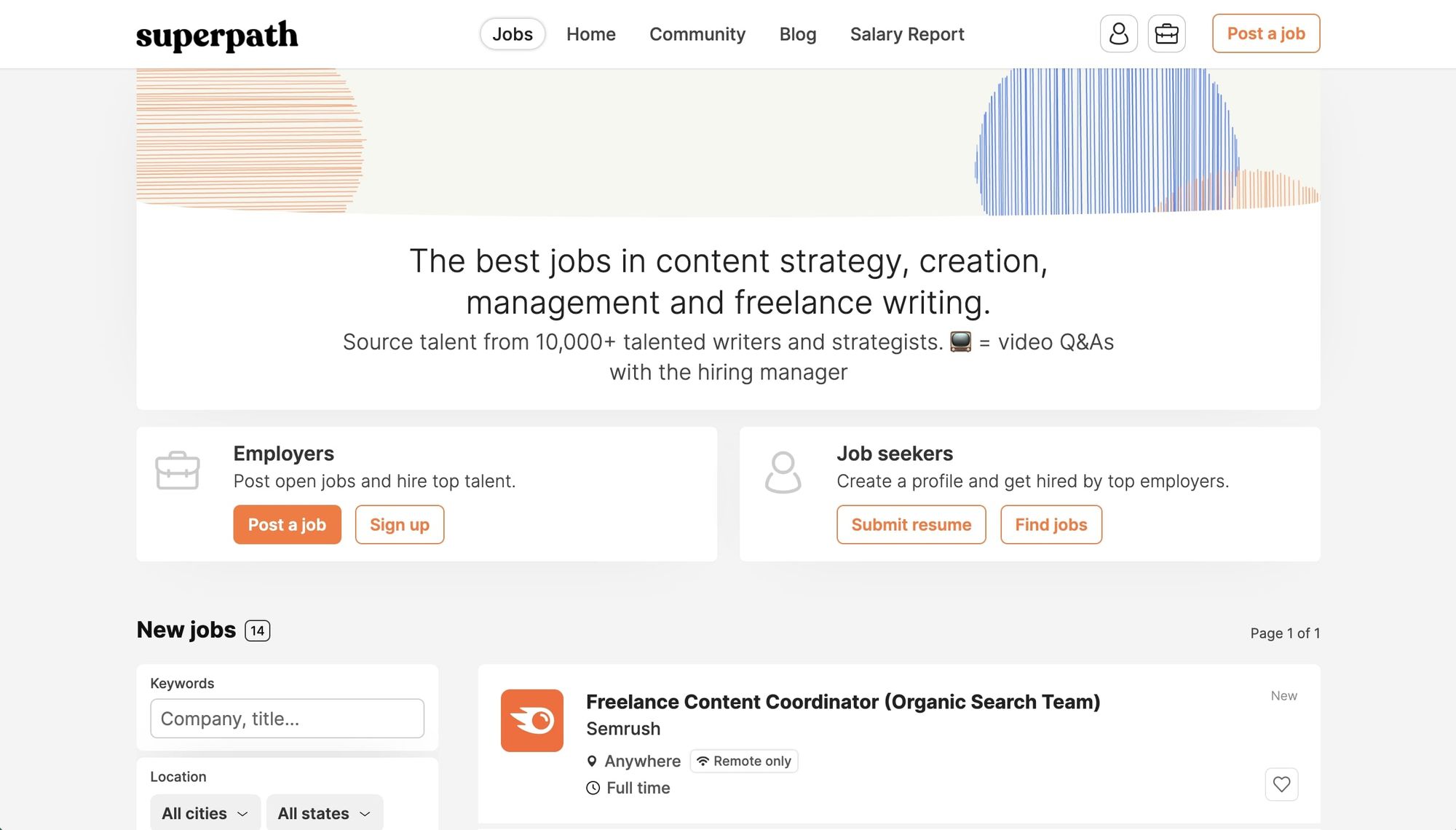 Another larger platform with thousands of writers, Superpath Jobs is an online jobs aggregator that caters to content strategists, creators, editors, and freelance writers. Browse jobs by category, location, company, and more — and apply externally to any positions of interest.
While Superpath may look like just another job site, there's more to it: Not only are you only seeing jobs in your desired field, but the platform also has a Slack community to which writers can apply to join. Once approved, you can connect with other like-minded creators, share tips and tricks, and support one another on your writing journeys. Additional tools like a blog, a podcast, and a regularly updated salary report keep you in the know.
Pricing: Free to create a profile and post your resume. You decide whether to make your profile visible to employers.
4. Draft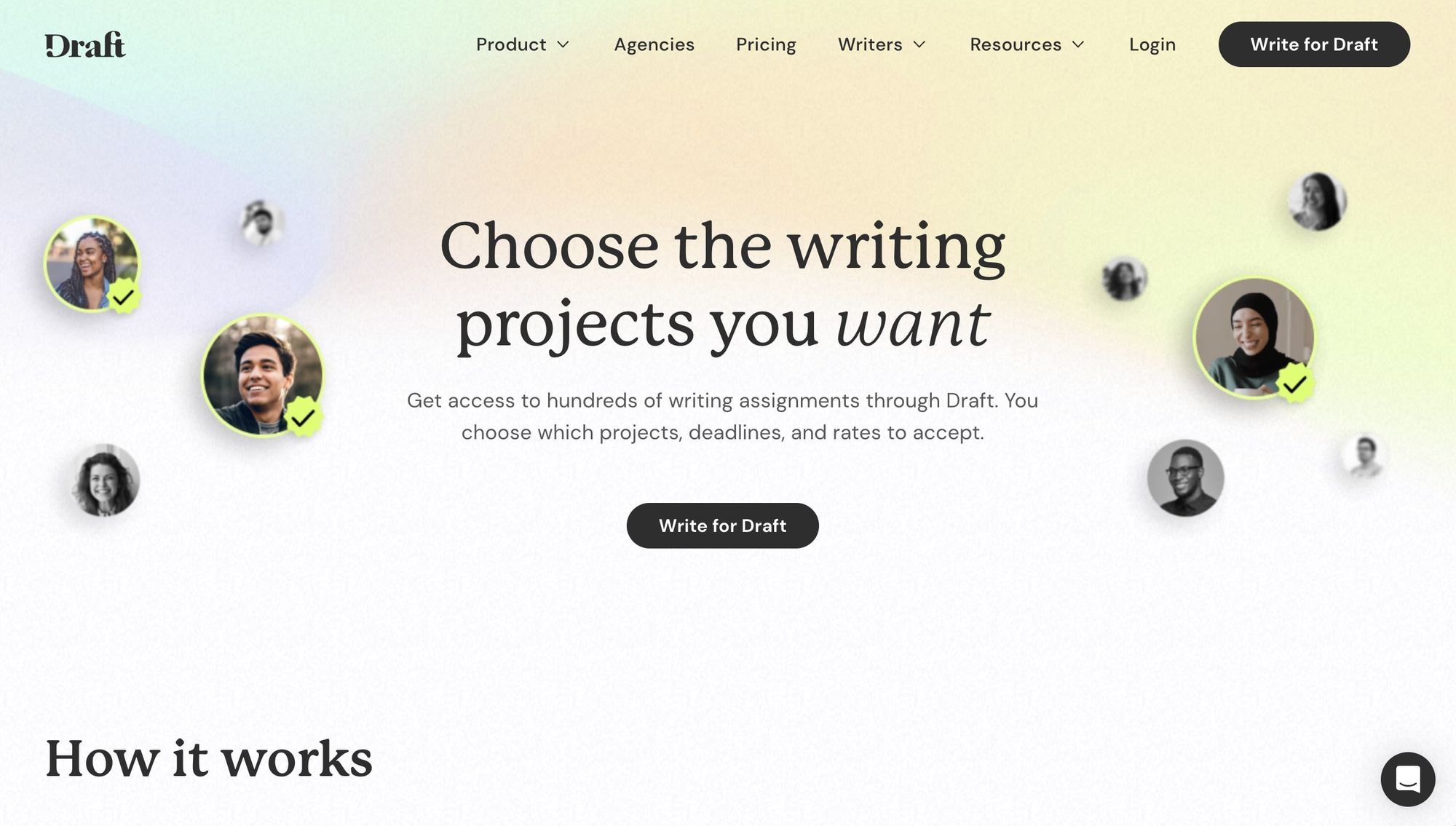 Draft offers clients quality content writers on demand; for you as a freelancer, it offers you unlimited work that matches your interests, availability, and skills. Once you're approved to write for Draft, you can view available projects on your dashboard, claim anything you want to work on, complete the work, and upload it onto the project portal. Clients can then submit feedback or request revisions, as well as set people as preferred writers if they like their work (this is what you want, so you can get first dibs on projects).
To get started as a writer, you'll need to apply on the Draft site and complete a test writing project. If you pass, you'll have access to the project dashboard, where you can not only claim projects but also track any projects you've claimed and completed. Writers get paid weekly via direct deposit and can track their payments through the platform.
Pricing: Free to join as a writer once you're approved; Draft charges a small payment processing fee that gets subtracted from your weekly payment.
5. ProBlogger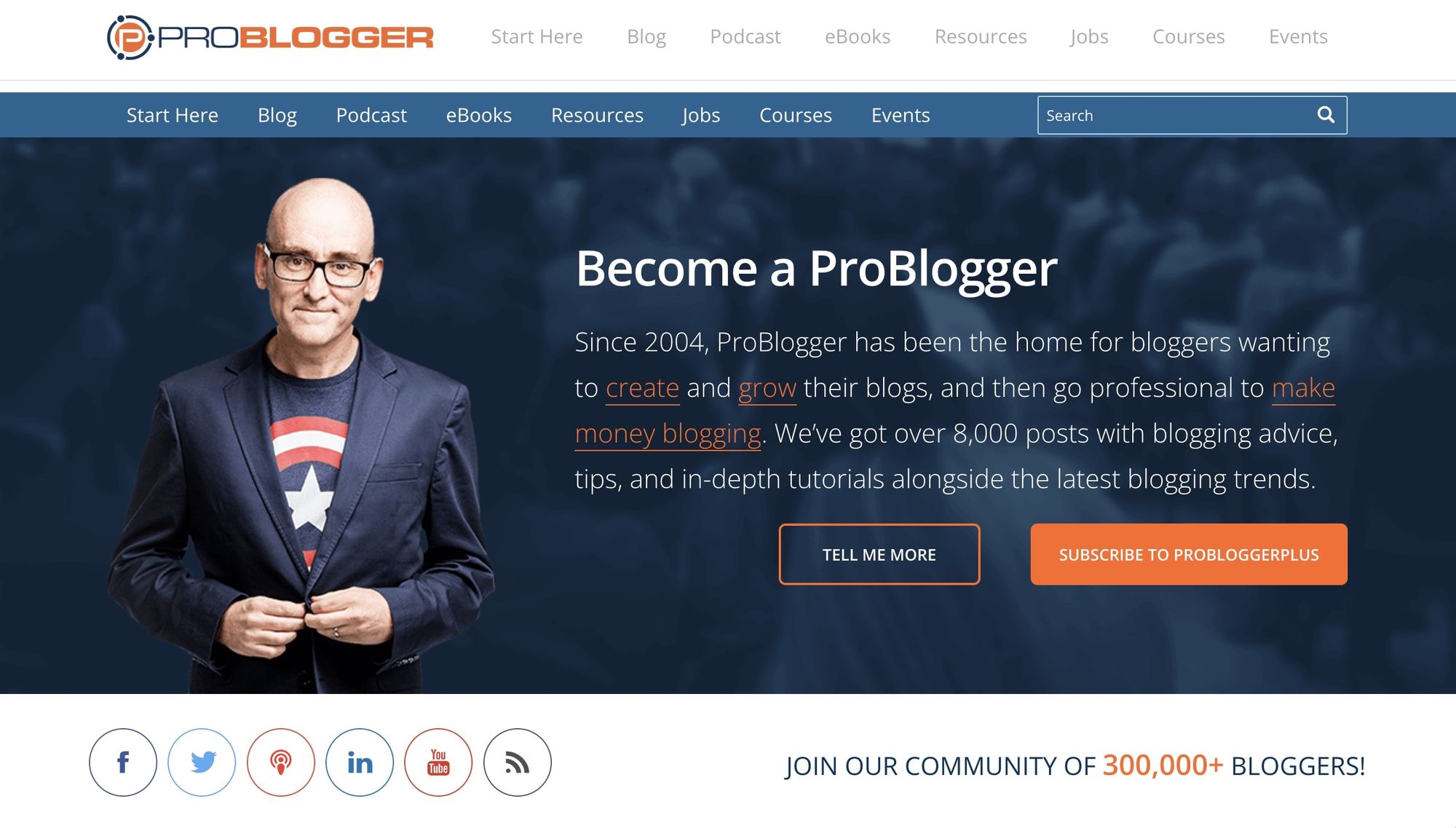 Over 300,000 bloggers rely on ProBlogger as their go-to resource for blogging education and resources, from blog posts and podcasts to courses in blog creation and growth. Blogger Darren Rowse launched the site after turning his blogging hobby into a paying profession, and now he's paying it forward in an effort to help other bloggers make money doing what they love.
If you're serious about starting a blog and turning it into a money maker, ProBlogger is the place to go for blogging advice, trends, and in-depth tutorials. There's also a Facebook community where you can connect with fellow bloggers. To get started with ProBlogger, add your email to their subscriber list to receive blogging hacks right in your inbox.
Pricing: Free to join; only pay for additional courses and other resources you want.
6. Textbroker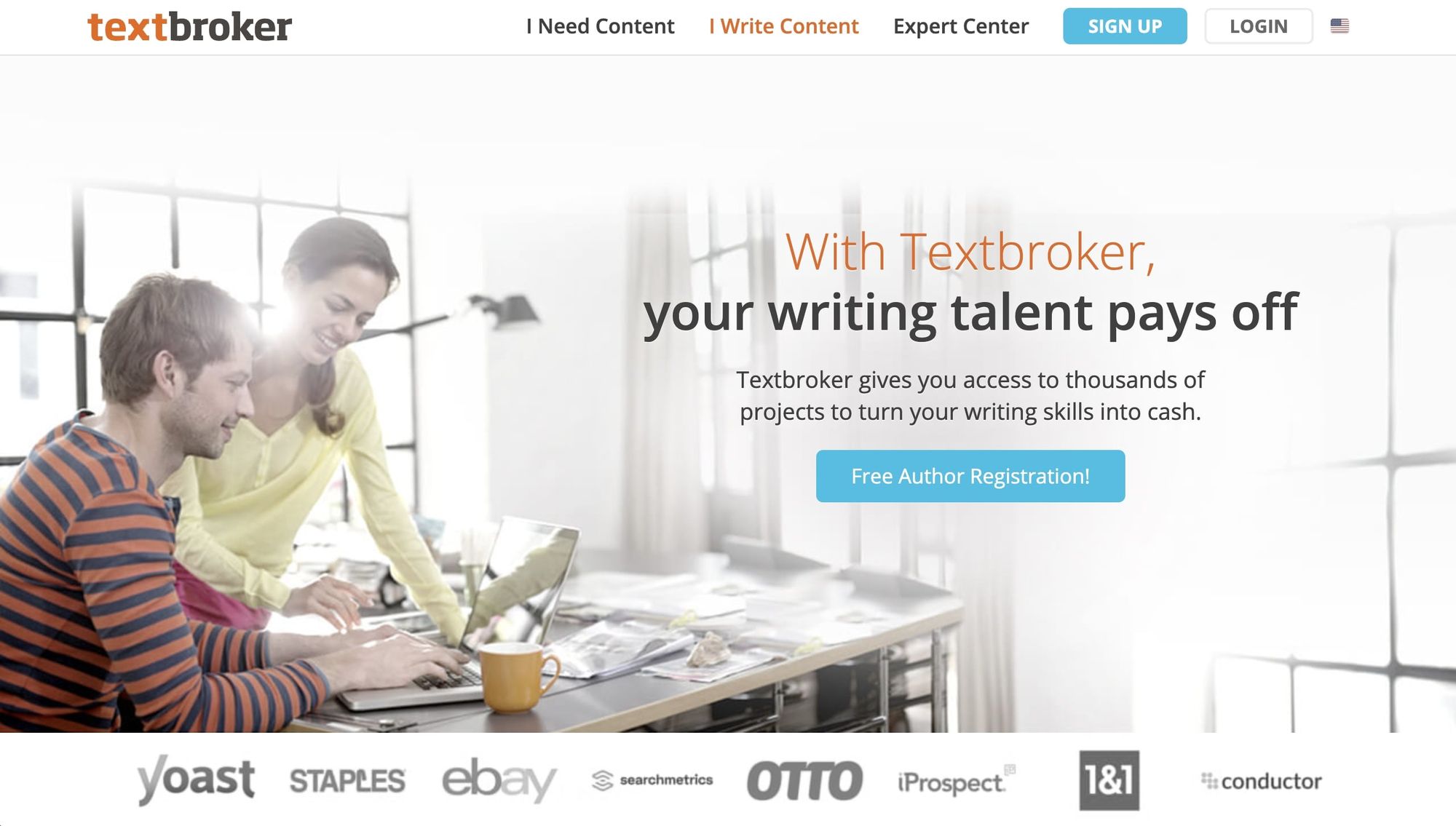 Like Draft, Textbroker provides quality, SEO-driven content of all kinds, including blog articles, product descriptions, advertising copy, translation services, and more. Clients include small businesses, e-commerce websites, publishing houses, publicly traded companies, and more. As a writer, you'll be part of an established community connecting authors and clients where you can showcase your talents and expertise in your niche. You choose when and how much to write based on your interests and needs.
It's free to register as an author on Textbroker, and you can earn more on projects based on the quality of your work, and the helpful Textbroker team provides feedback to help you hone your skills. Weekly payouts make it easy to access your earnings. To get started, complete your author registration and activate your account; you will then need to submit a short writing sample and connect your payment method.
Pricing: Free to register
7. Contena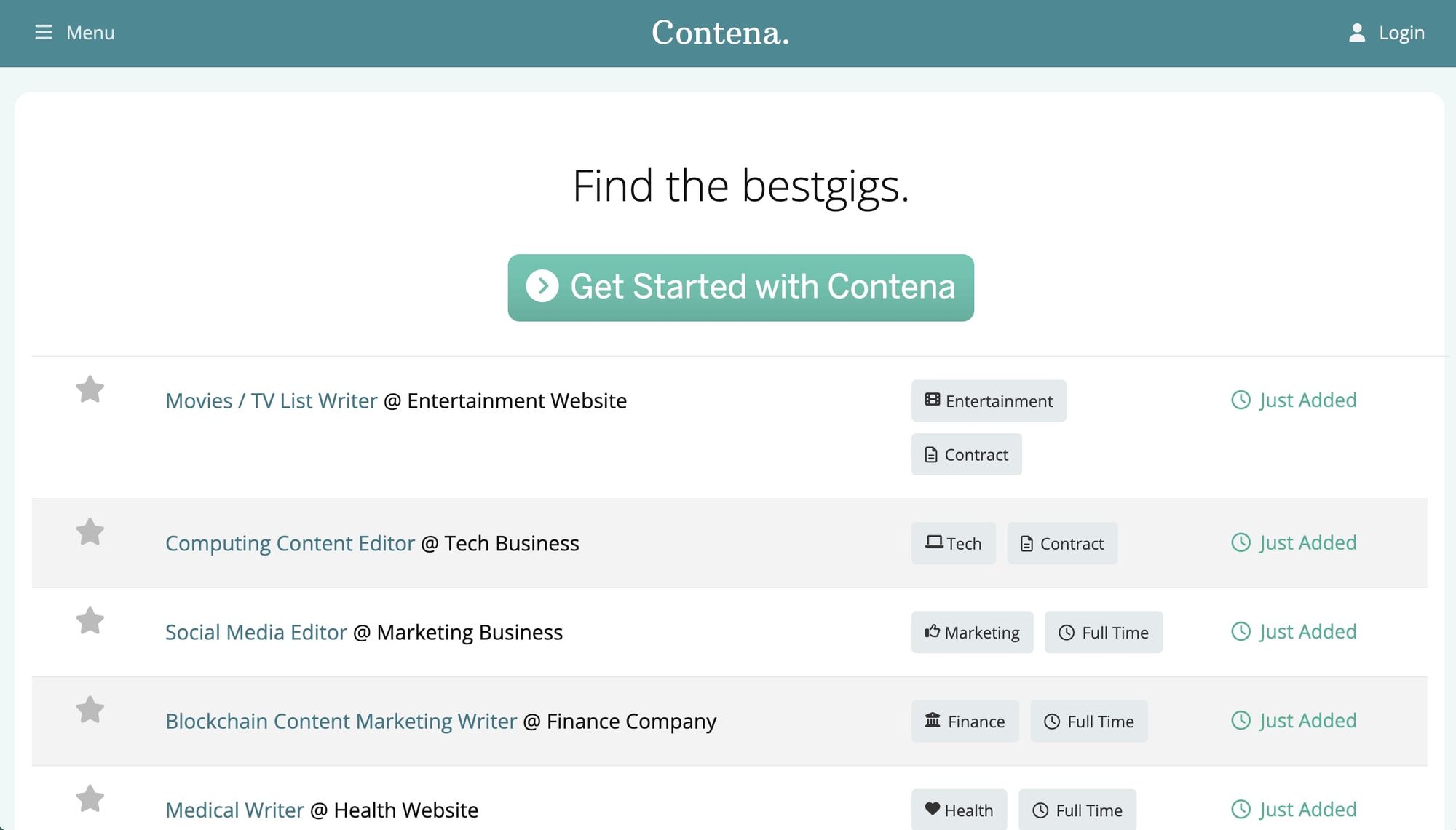 Contena is an invite-only online program and a suite of job-search tools aimed at helping budding writers land freelance writing and remote work. The site says that its self-paced program has helped its members earn millions from remote writing. Yes, it's a membership, so the program isn't free; pricing isn't readily available on the site, but this review — based on the writer's experience in trying out the onboarding process — states that membership costs $497 for one year or $997 for two years.
While there are many positive reviews of Contena, the same writer above states these reviews are driven by affiliate income. However, the site offers a 30-day guarantee that should put your mind at ease, and the online course could be worthwhile if you're just getting started with freelance writing. Our best advice? Do some thorough vetting before shelling out any money, but don't be afraid to invest in your education if the material is worthwhile.
Pricing: Reportedly $497 per year
8. LinkedIn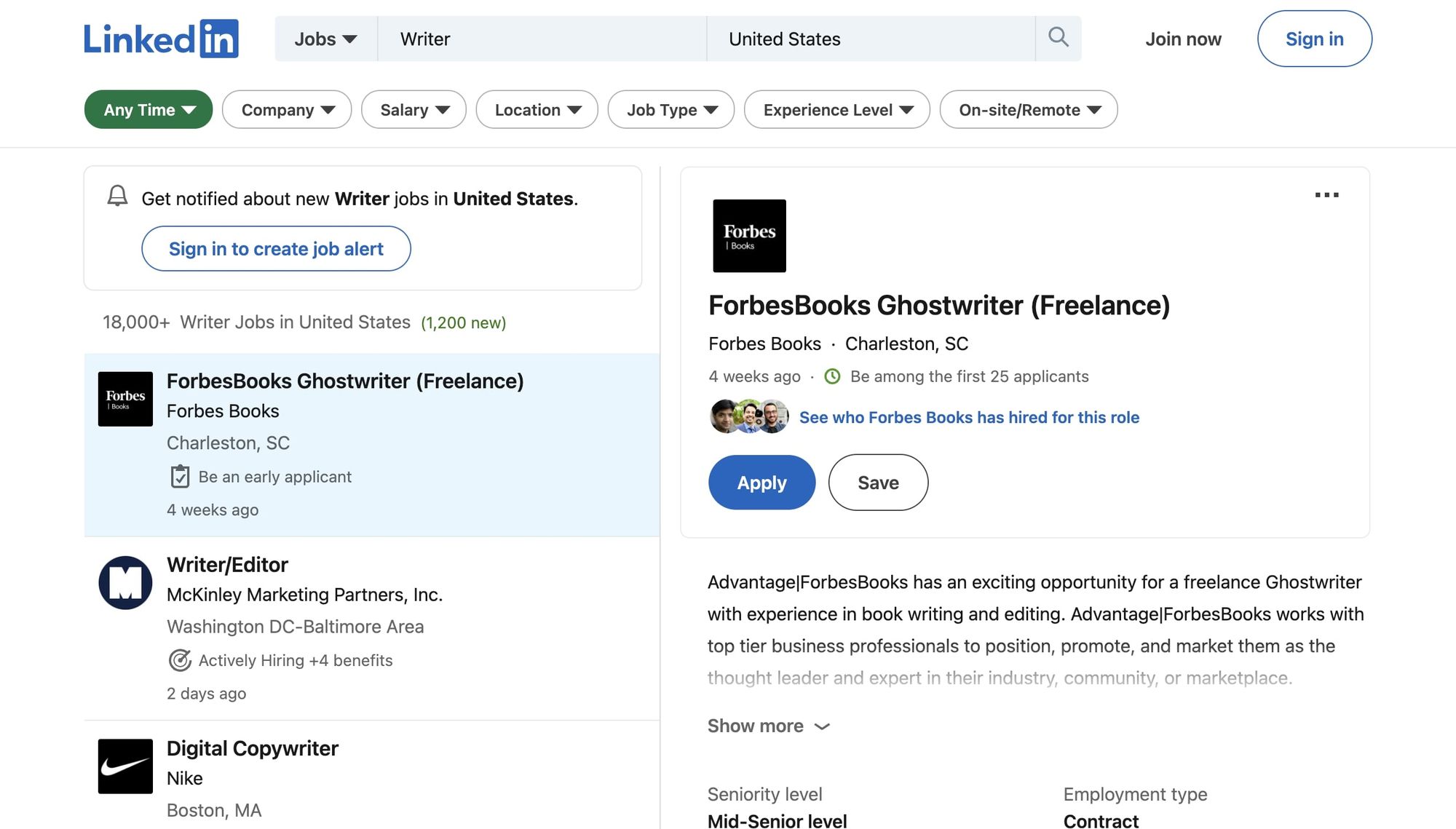 You may be familiar with LinkedIn as a place to create a professional profile and connect with colleagues in your industry. However, it's also a job marketplace where you can upload your resume and browse job listings. As you apply to roles of interest, LinkedIn may recommend adding certain skills to your profile, such as search engine optimization or WordPress. You can also take quizzes to have skills badges added to your profile, helping you stand out from the crowd.
Having your resume ready to send can be helpful when you're applying to multiple jobs at once; jobs marked as "EasyApply" let you apply directly on the platform. Be sure to build out your LinkedIn profile to highlight your achievements, request recommendations from people you know, and showcase your best professional self.
Pricing: Free; Premium membership starts at $29.99 per month, with access to more advanced career tools.
9. Writer Access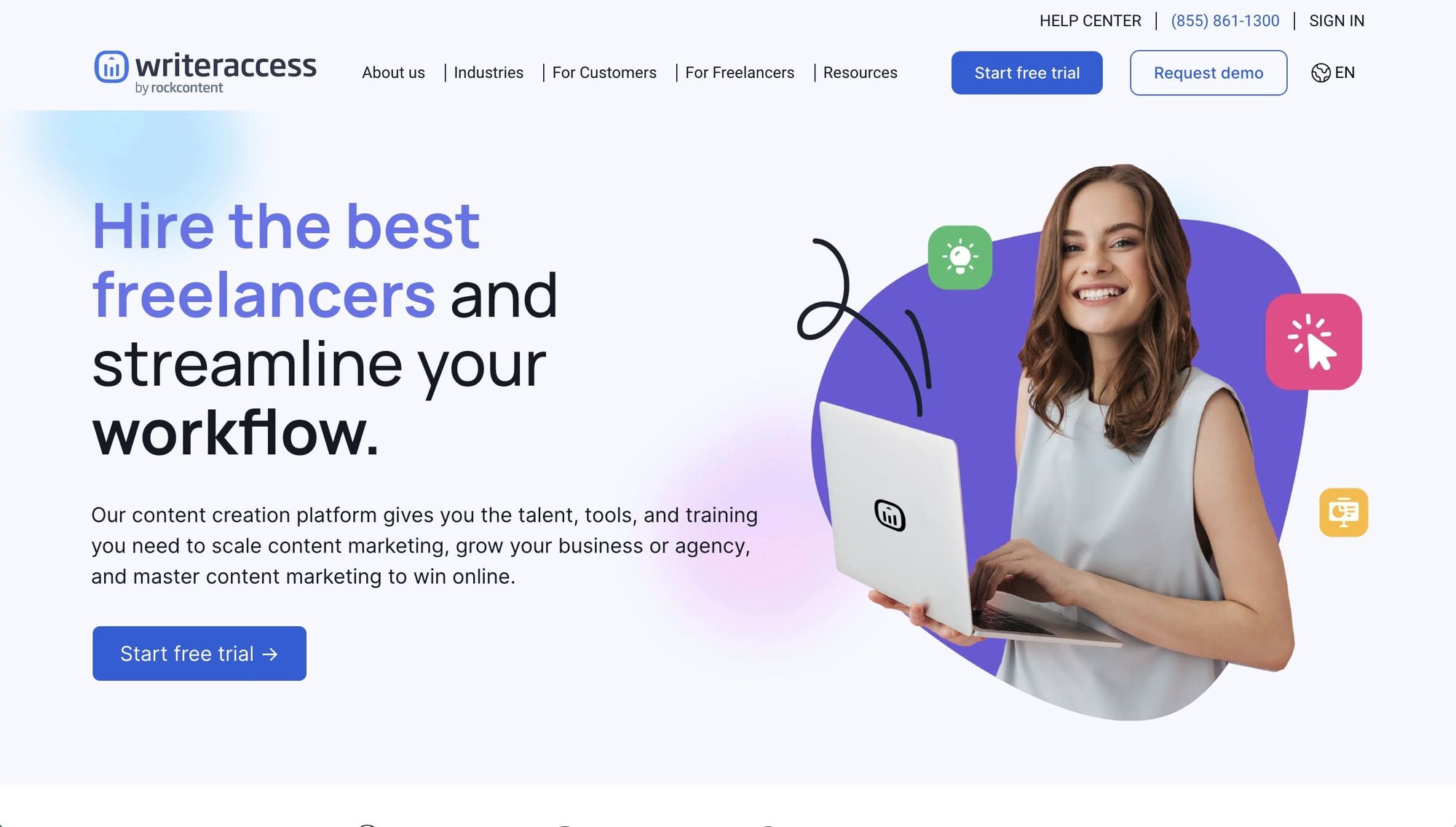 More than 40,000 brands use Writer Access to connect with freelancers and scale their content marketing. That means as a writer, you have access to a vast array of companies looking for quality content of all kinds, from technical writing to presentations and white papers.
When you apply to write for Writer Access, expect a thorough vetting, as the site hand-reviews your work and experience and only invites the best freelancers to move through the screening process. Once you're approved, you'll go through an onboarding program in which you'll develop your CV and profile alongside the Writer Access team. From there, you can start taking advantage of cool perks like free stock images, portfolio promotion, content marketing tools, and a ticket to their annual content marketing conference.
10. FlexJobs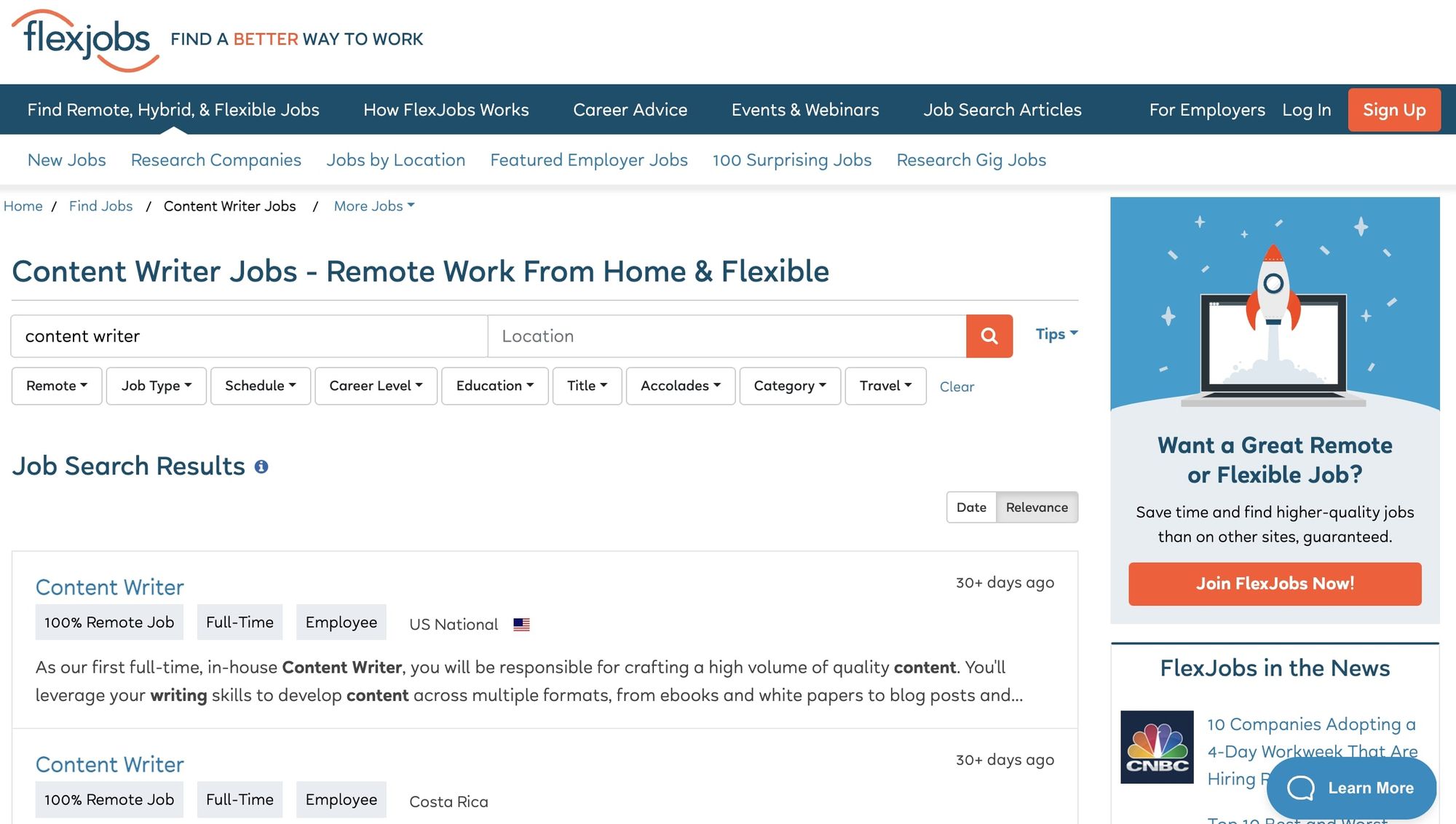 FlexJobs is a jobs marketplace aimed at helping people find flexible work that aligns with their lives. If you're seeking a work-from-home role, flexible working hours, or the ability to dictate your own schedule, this site can help you find such jobs and apply. You can also utilize skills tests, expert content, checklists, and courses to uplevel your search.
While there are many job sites out there, FlexJobs appears to be one of the most helpful as far as weeding out any scams. The site offers a 30-day satisfaction guarantee and helpful customer support reps, ensuring you'll have a great user experience. Be sure to check out the career coaching services, webinars, and other resources to put your best foot forward with potential employers.
Pricing: $9.95 for a week; $59.95 for a year.
11. Compose.ly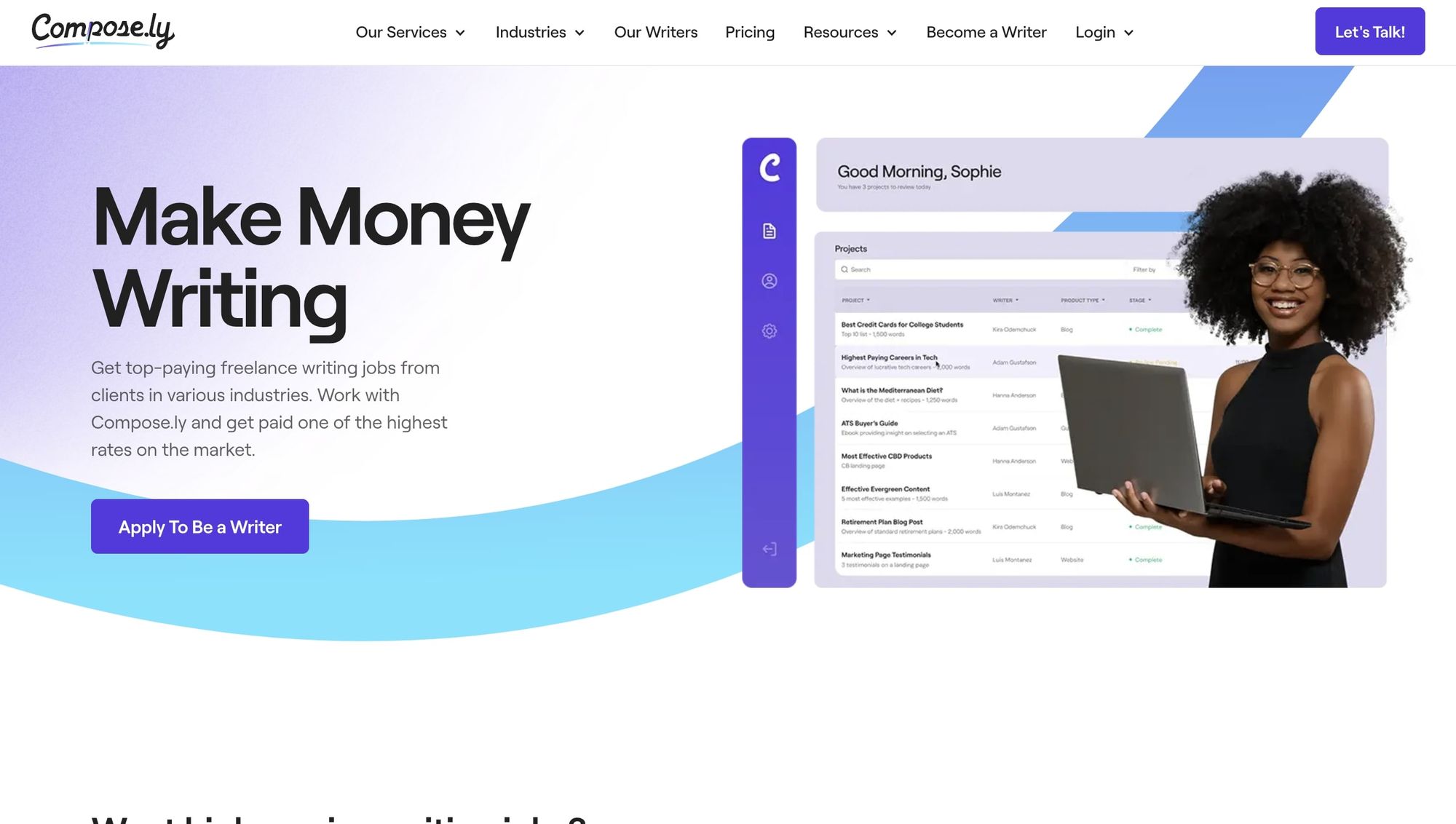 Compose.ly touts itself as being one of the highest-paying platforms in the market, with writers averaging 10 to 14 cents per word. With no membership fees, a sleek user interface, consistent payments, and a supportive writer community at your fingertips, Compose.ly can be a great source of regular income. Work as much or as little as you like, and only choose projects that sound like a great fit.
Compose.ly's rigorous selection process could mean you will have less competition for jobs. However, you'll need to pass the application process, which includes a brief assessment, to begin accepting jobs on the platform. Compose.ly pays bimonthly, so while not as regular as some of the other platforms on our list, it's still a great source of income. To get started, create an account and apply to be a writer.
12. Scribly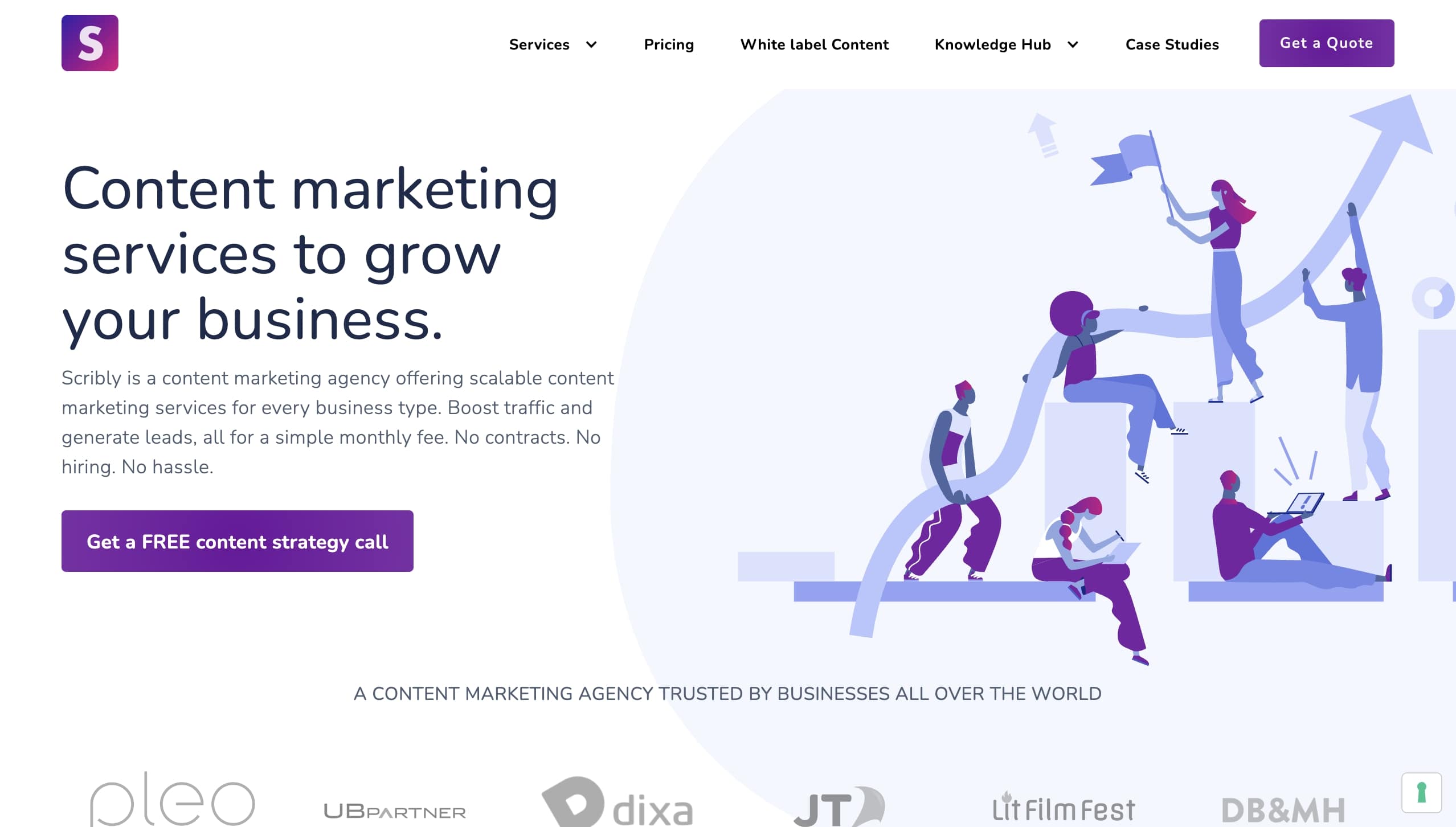 Founded by ex-copywriters, Scribly is a content marketing agency whose team knows what it's like to work as freelancers. That's why they've created a platform designed to empower freelancers to do the work they love while getting paid fairly and on time. Clients pay a monthly fee to tap into content creation, content strategy, and social media management services from a pool of quality, native-English writers.
To get started as a writer, you'll need to send a message to the Scribly team telling them a little about yourself. Once you take that step, you'll get a message letting you know they've received your message — so you may not have the instant gratification of knowing where you stand with Scribly. However, should you make it through the initial hiring steps, you'll have access to flexible, scalable income you can earn whenever and wherever you want.
Pricing: No pricing information is listed but appears to be free for freelancers.
13. Blogging Pro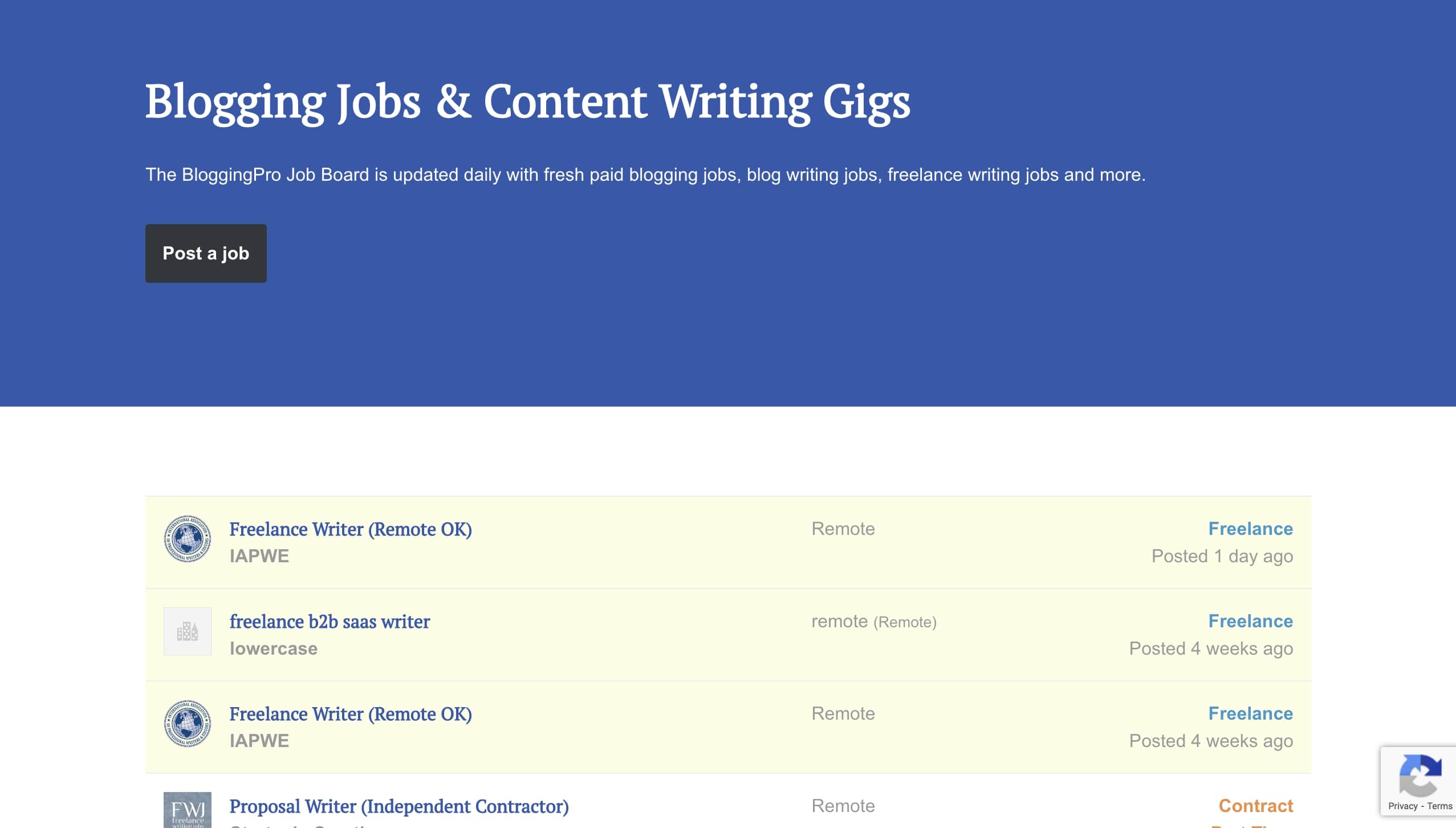 Blogging Pro features a job board that's updated daily with new blogging jobs, freelance writing jobs, and other writing positions. You can also subscribe to the newsletter to get jobs delivered to your inbox weekly. In a nutshell, Blogging Pro does the heavy lifting to locate hand-picked writing opportunities that let you work how and where you want. Search for remote, freelance, part-time, full-time, and contract opportunities, and apply externally to any jobs of interest.
If you're looking for aggregated job opportunities with a side of blogging tips and advice, Blogging Pro could be a useful resource. The site has been around since 2006, making it one of the longest-standing resources for bloggers. The site also has an array of educational articles to help you get up and running as a blogger and hone your craft.
14. The Urban Writers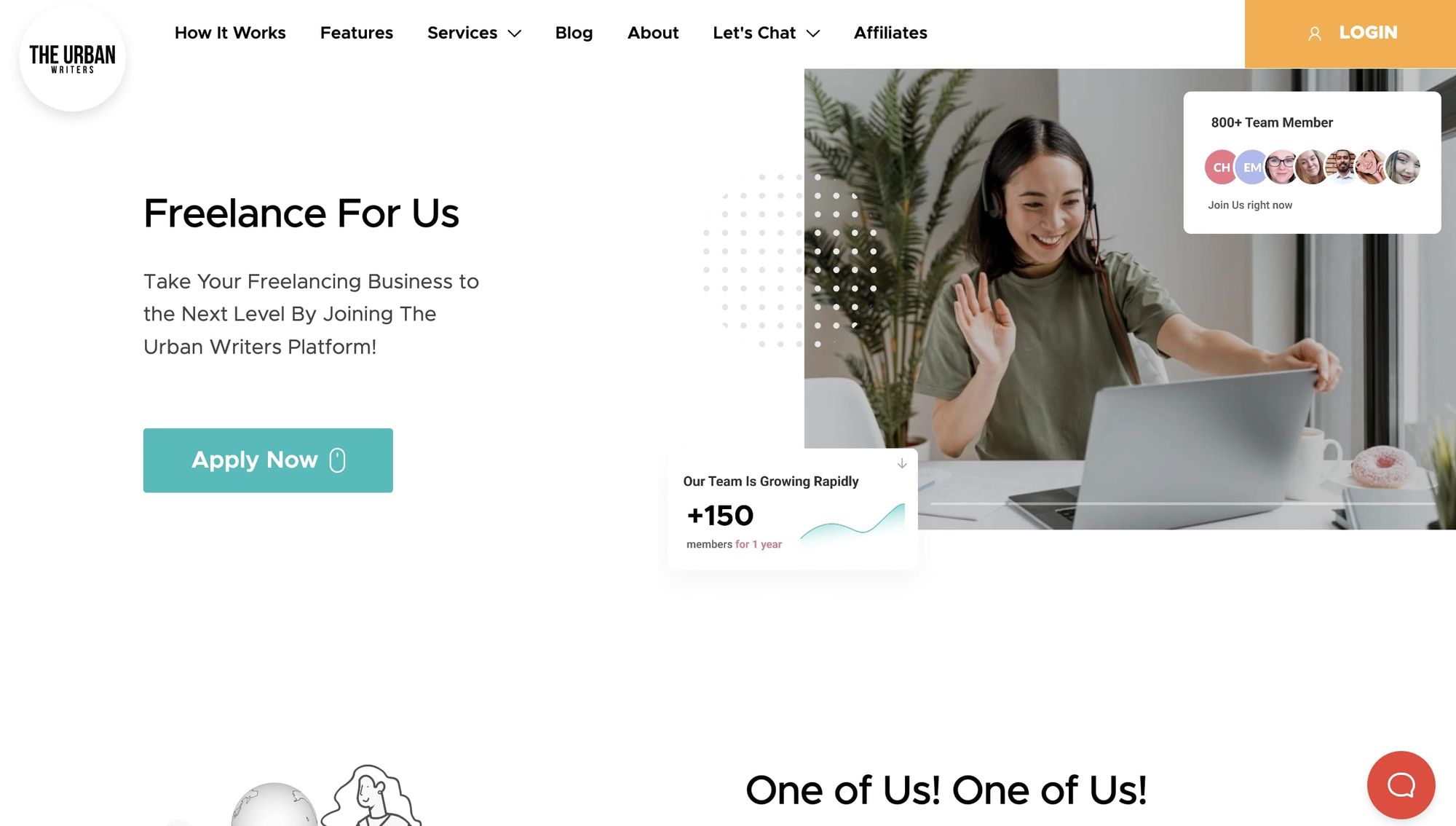 The Urban Writers platform connects authors with high-quality writers and editors capable of working on a variety of writing projects, including e-books, fiction and nonfiction books, SEO articles, content translation, and more. There's something for every kind of writer, editor, illustrator, and designer on the platform, making it one of the most versatile freelance opportunities on our list.
You can apply to be a writer or editor on the platform, and should you make it through the selection process, you will then complete an assessment to determine if you're a good fit. The Urban Writers then allows approved creatives to submit proposals on posted jobs. If you're new to the platform, it could be more challenging to get assignments; however, the platform is supportive and includes a Slack community where you can pick up tips and advice from seasoned writers.
15. Crowd Content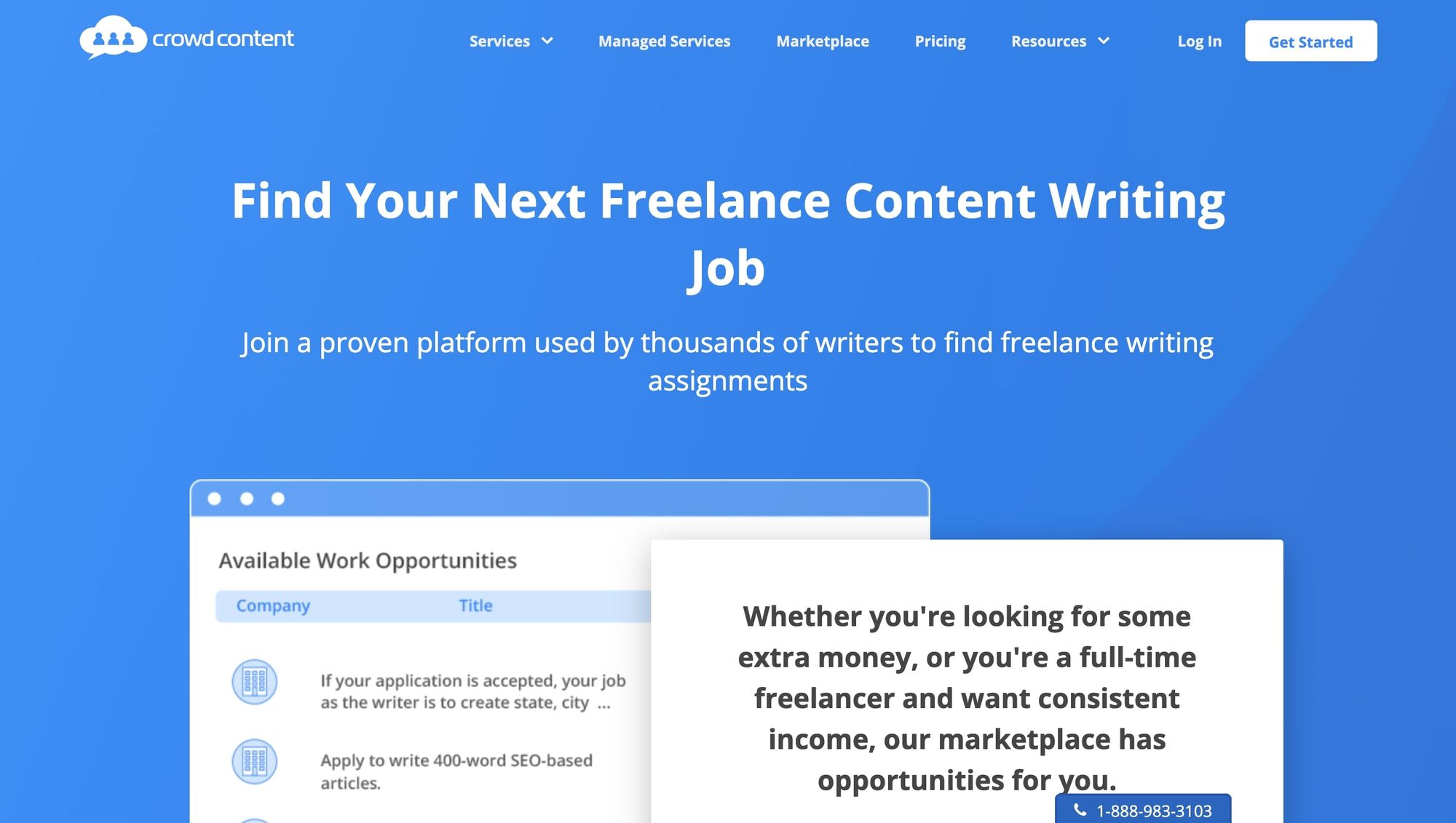 If you're a native English speaker from the United States, United Kingdom, Canada, Australia, or New Zealand, you can create an account on Crowd Content and seek out a variety of writing and editing roles. Clients seek content marketing at all skill levels, so whether you're a full-time freelancer looking for more work or a novice getting started, you're likely to find roles that are a good fit. You choose the jobs you want and work at your own pace on a variety of assignments.
As you work with clients, you have a chance to earn feedback and get added to their list of favorite writers, leading to more future assignments. Easy access to the Crowd Content staff and a user forum ensures you always can get answers to your questions and tap into additional resources like coaching and exposure to managed services clients. To get started, create a Crowd Content account, pass the writing assessment, start applying for jobs, and do great work to access higher-paying projects. Payments go out twice a week.
16. iWriter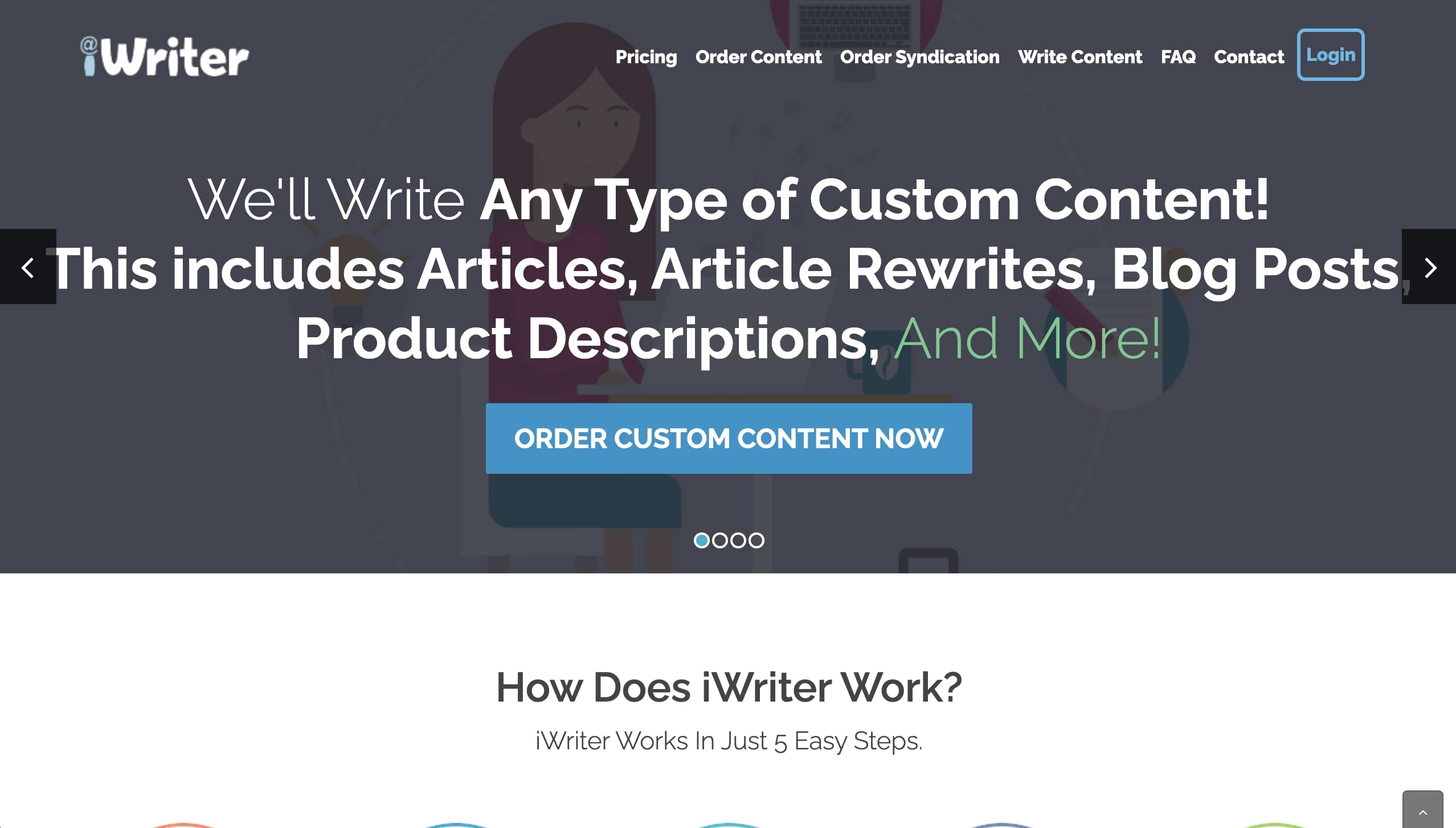 Clients pay iWriter for quality content at different tiers, from AI-driven to expert-level content with native-English writers. Once approved as a writer, you can earn up to $40 per 500 words as you produce high-quality work and promote up the ranks. You can write as much or as little as you want, build a client base, and choose the topics that best fit your background and interests.
To get started on iWriter, complete the writer application, which includes writing prompts that ask you to write a brief writing assignment. If you pass the assessment, you'll get an email with next steps within five to seven business days. As with any similar platforms, patience, persistence, and attention to detail will get you far.
17. Freelancer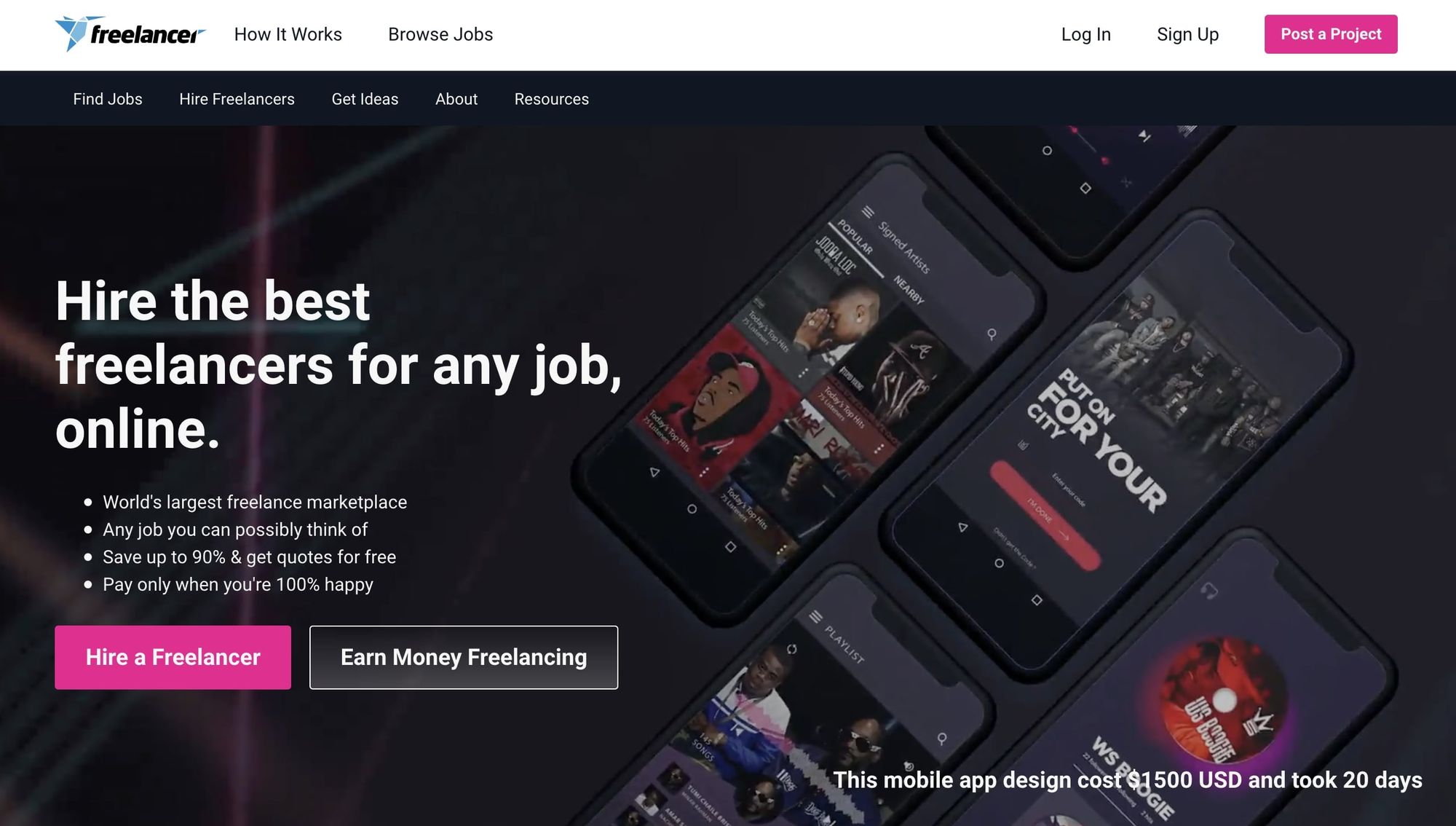 Freelancer aggregates a wide range of writing jobs, including content writing, brand development, copywriting, and script writing. The platform allows writers to bid on jobs that clients post and set their rates, giving them control over how much they earn. It also has a user-friendly interface that makes it easy to create a writer profile and navigate and find jobs that match your skills and interests.
Freelancer.com offers a secure payment system that ensures writers get paid for their work, providing peace of mind and financial security. Overall, Freelancer.com is a great option for freelance writers looking for a flexible and reliable platform to find writing jobs at the rates you want. To get started, create a freelancer account, set up your profile, and start bidding away. As with Upwork, keep in mind that you may find a hefty amount of competition; stick with it and try to get those first few jobs under your belt.
18. People Per Hour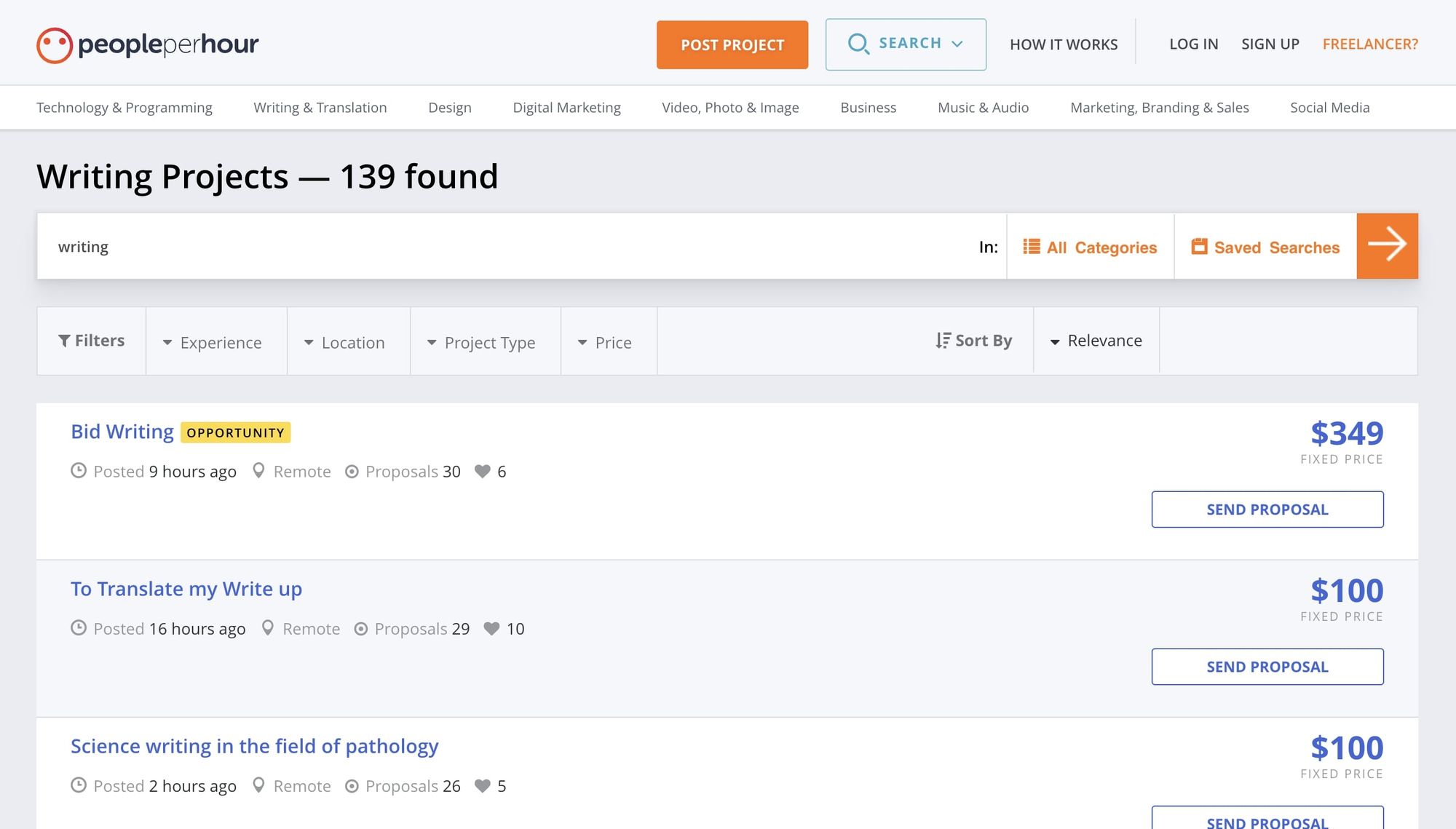 Over 1 million businesses worldwide use People Per Hour to access freelancers in a variety of categories, including content writing, SEO, website development, and more. Clients can build relationships with trusted, expert-level freelancers who deliver quality work on demand. As a freelancer, you can create a profile and set your rates and areas of expertise, then work with the clients that best match your requirements.
Once you create an account, you can browse jobs and submit proposals. Take your time as you create proposals to make yourself stand out and start accessing the work you want to do, whenever you want. People Per Hour handles the logistics like payment processing and managing communications, so you can focus on doing what you do best: creating great content.
19. Fiverr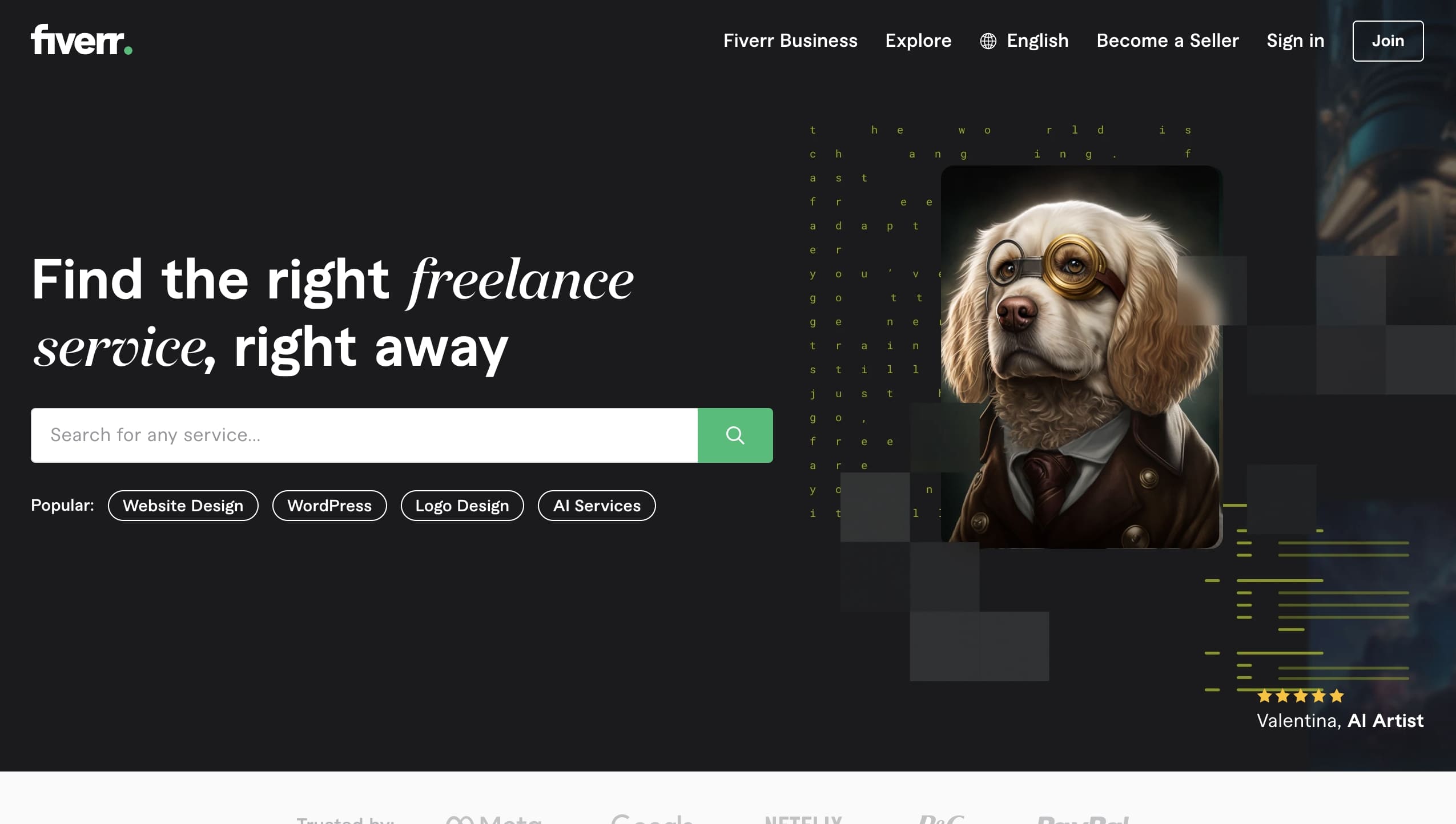 Similar to People Per Hour and some of the other platforms on our list, Fiverr connects clients with freelancers in all different disciplines. You can create a writer profile, set your rates, and start selling your services and bidding on writing jobs. With work ranging from blog posts to product descriptions, you're able to find work that best matches your skills and interests. The platform is easy to use and allows writers to set their own rates, work on their own terms, and get paid as soon as you complete a job.
Fiverr.com provides a secure payment system that ensures writers get paid for their work. It's a large and active community, providing opportunities for writers to network, collaborate, and develop their skills. The more projects you complete and great feedback you earn, the easier it is to get new jobs.
20. Writers Work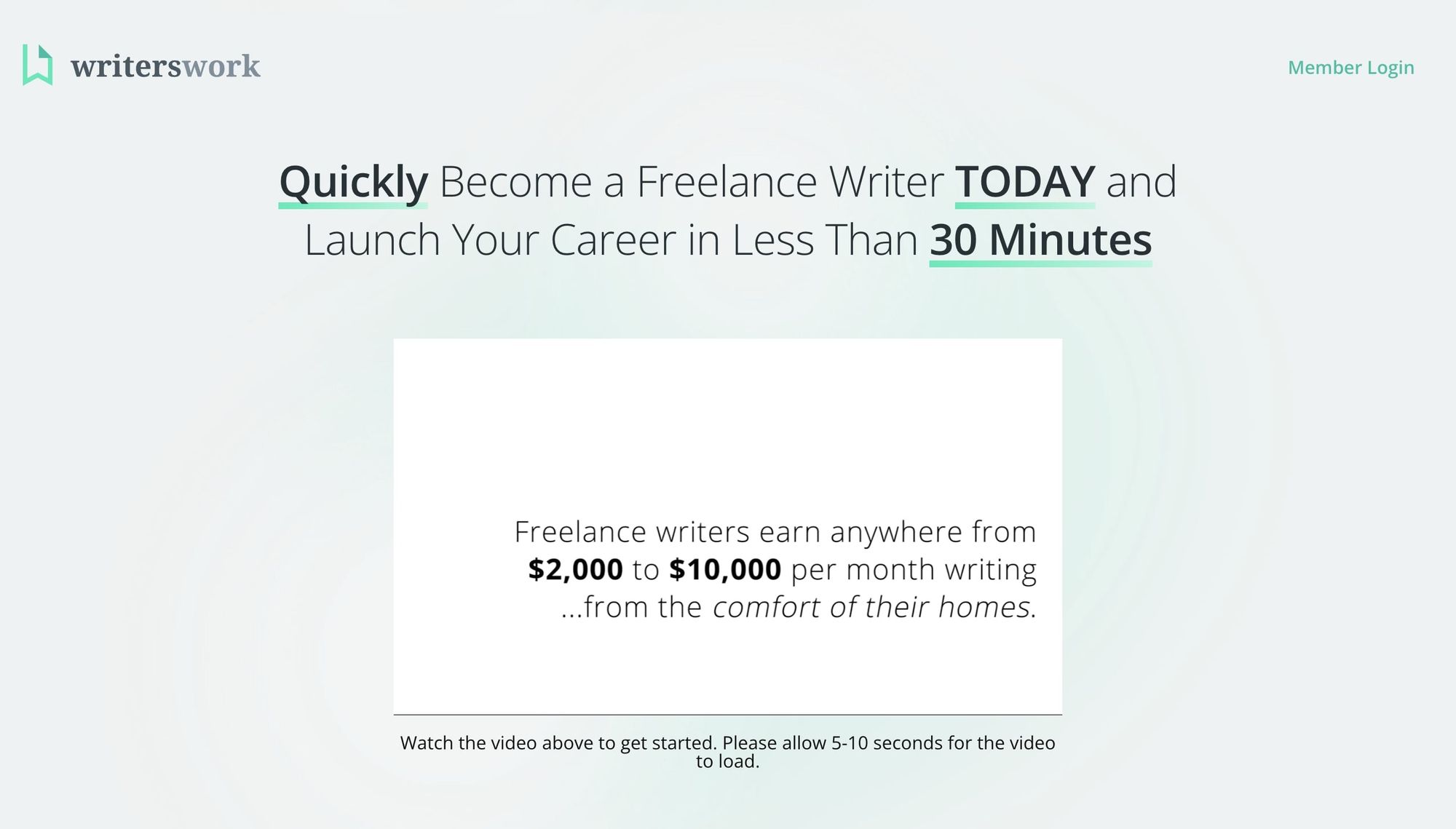 Writers Work connects writers with the companies that need them the most, with thousands of writing jobs available on the platform. You can also access training, tools, and support to help you land the writing jobs you want, set your own hours, and work remotely on your schedule. From general content such as website content to copywriting and blog writing, there's something for everyone on the platform.
The Writers Work platform is designed to help freelancers succeed, with built-in writing tools that check your documents for grammar and spelling. Even writers with no experience can join, as Writers Work will train you via live support, video training, and course. Earn $20 to $65 per hour, and continue building your skills to earn money as a writer. To get started, create an account and get up and running within 30 minutes.
Pricing: Free to create an account
Conclusion
As you can see, there are numerous freelance writing websites available for serious writers to find high-quality and lucrative gigs — and we think the 20 freelance writing sites above are an excellent place to get started. Whether you're just starting out or looking to expand your client base, these platforms offer a range of opportunities for writers to showcase their skills and connect with potential clients. Remember to create a strong profile, be selective with the jobs you apply for, customize your proposals, highlight your unique selling points, follow up, and deliver quality work.
With these tips in mind, you can maximize your chances of landing great writing gigs and building a successful freelance writing career. As you get up and running, be sure to create a Copilot account to access all the tools you need to run your business like a pro, complete with a professional-looking client portal to manage tickets, messages, payment processing, and more. It's free for 14 days, with paid plans starting at just $29 per month. The platform grows with you, so as you scale, you can access even more advanced tools and dedicated expertise.
Sign up for our newsletter
Subscribe below to receive our newsletter. We'll email you about important announcements, product updates, and guides relevant to your industry