How to Create a Client Portal in WordPress
May 31, 2023
6 min read
Neil Raina
If you're operating a business with a WordPress site, you've probably wondered how you can create a client portal. This guide is designed to provide you with a comprehensive understanding of what client portals are, how they differ from landing pages, and the incredible benefits they can bring to your business. We're also going to explore how setting up a WordPress client portal can truly elevate your client engagement. So, let's dive in!
What Is the Best WordPress Client Portal Plugin?
Most professional service firms have some form of an online presence that they set up with tools like WordPress. But from our research, the vast majority of these firms - accounting firms, law firms, consulting firms, etc - have still not paired their WordPress website with a WordPress client portal. In this post, we're going to discuss the differences between landing pages and client portals, the benefits of adding client portals, and why setting up a WordPress client portal can accelerate your business.
If you're running any type of business, you need a landing page. Even if you're not a trained web designer, it's still possible to put together a web page with design platforms like WordPress and other landing page builders that are out there. With ready to go templates and premade elements, all it takes is swapping out the placeholder content with images and text of your own.
Your Website and Landing Pages
Landing pages let you make a good first impression on potential customers. A landing page should communicate all of the main details about a brand in a design that looks good, is easy to navigate through, and provides an engaging user experience.
Along with being an important first contact point between new customers and a company, landing pages also help generate new leads. Through calls to action, contact forms, and newsletter sign-ups, they help companies build up email lists of people interested in what they do and get more information out to them. Whether it's through a registration form or custom fields put together in a contact form there should be a way for people to input this valuable information.
Having a landing page up can bring in new customers in several ways. There's the bump in traffic that comes from having it search engine optimized. Content like blogs, Youtube videos, and ebooks, also have an important role in generating new organic traffic. Paid ad campaigns are another focused way of bringing people in.
Landing pages give people the chance to further engage with a business and become long-term customers.
Landing Page Vs Client Portal
A landing page may be the first step someone takes in their customer journey. But what happens after they sign up? Can you still use your website to keep the client engaged? The solution to this problem is a WordPress client portal. You can think of a WordPress client portal plugin as an extension to your website or your online virtual office. Your client logs in once and everything they need to interact with your business is in one place. Client portals provide private pages for your clients that are only securely viewable by them.
Clients now have one place where they can view invoices, make payments, and contact you and your team. There shouldn't be a lot that they have to do to get up and running, with all that's required is creating their client account. Portal makes all of this possible.
How To Create a Client Portal With WordPress
The best client portals make it easy to connect with a WordPress website. While there are approved WordPress plugins, you do not need to restrict yourself to just those client portal solutions. The reason for this is that you can link from your WordPress website to any client portal experience. By selecting a client portal solution that supports custom domains, the entire journey the user takes will appear to happen on your own website.
When connecting a WordPress website with a client portal, you usually have to complete these quick steps.
1. Setup Your Copilot Portal and Connect Your Domain (5 Minutes)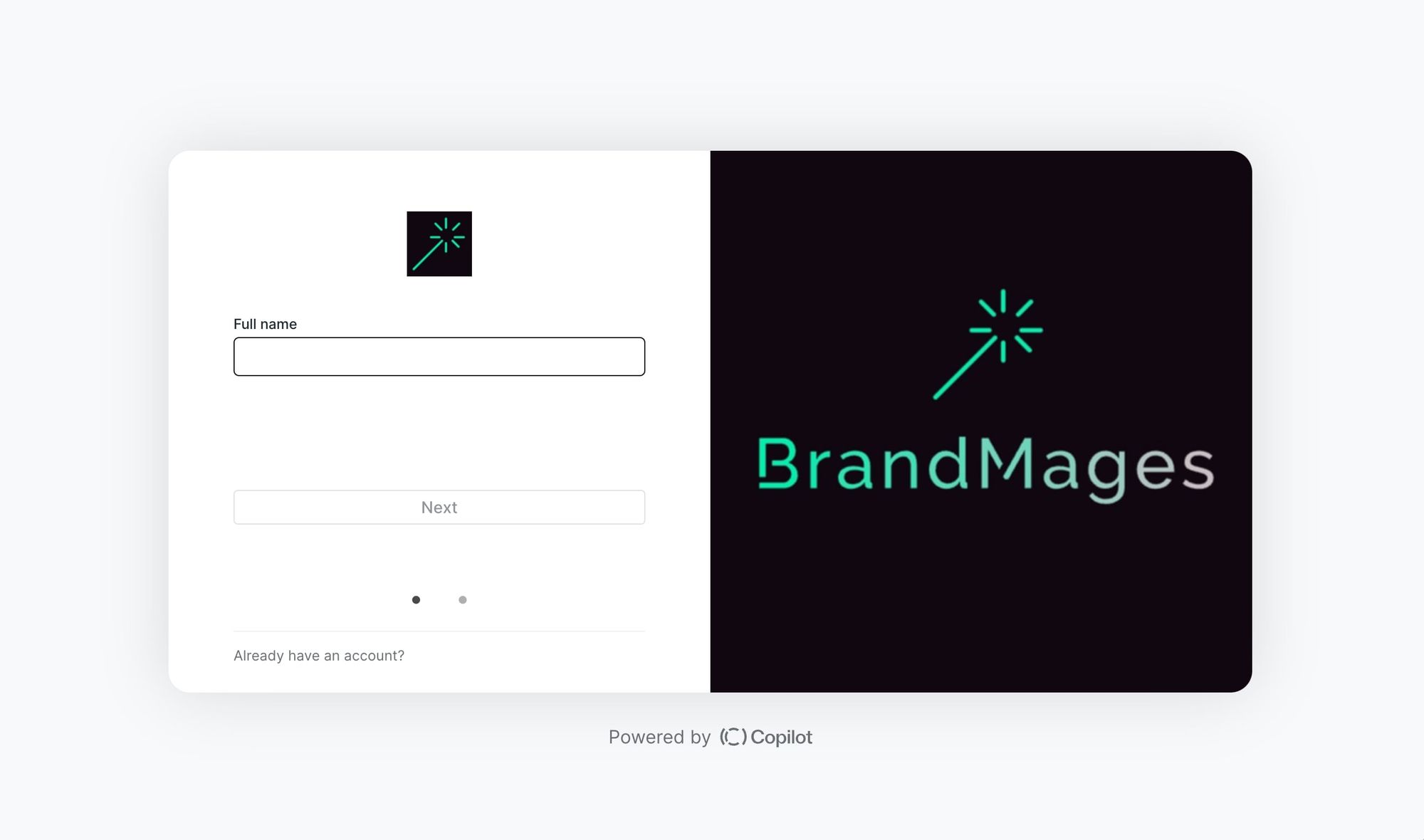 Create your client portal and connect your custom domain. Typically, you would host your portal on a subdomain. So if your website is example.com, the client portal would be on portal.example.com
2. Link to the Client Portal From Your Landing Page (5 Minutes)
Add a button on your WordPress website called "Sign Up" that links to the client portal sign-up screen and a button called "Client Login" that links to the client portal login screen.
That's it. Your client portal will be ready to go and fully functional for you and your clients.
Client Portal Solutions Offer a Better Customer Experience
A customer's experience, whether in a retail or digital space, affects how that brand is perceived. We've all walked into a brick and mortar shops, only to bolt after not being able to find anything. And we've all bounced from websites that lack any sort of sensible organization. A client portal is an extension of a business. Every element needs to work together in letting customers take the actions they need to take and to build their trust with a brand. There should be no confusion or lack of structure.
Client portals are great for your clients, but they are also a big value-add for you and your team. For internal users or admins, a dashboard lets you get a unified 10,000-foot view of how your business is operating. By centralizing all client interaction your team will save time and money.
Share Files All Through a Central Space
Whether you're a law firm, an accounting service, marketing agency, business consulting company, you often need your clients to upload and share important documents. Client portals allow for easy file sharing, eliminating the confusion and time it takes by emailing files as attachments or sharing in Google Docs. Whether you or your client needs to upload files or download files, client portals make it possible without having to dive into overly complicated menu options.
Manage Subscriptions, Invoice Clients, and Take Care of Payments
Finance related interactions like billing, invoicing, as well as putting into your customers' hands an easy way to pay, are some of the most essential integrations that are a part of client portals. In addition, client portals should also make makes it possible to provide clients with subscriptions.
Communicate With Customers Through Secure Messaging
It can be tough to juggle a whole roster of clients who all have their own workflows and methods of communicating. With so many options out there, from email to Slack, it's easy to miss an important message or query leaving a client waiting for a response that may never come. Client portals eliminate all of these separate lines of communication, providing a single way to ask questions, get information, and communicate with a company.
With great client portals, companies get an interface that looks and functions more like a live chat, with a responsive design that works well on mobiles, making for a more immediate way to stay connected with customers.
Copilot Is the Leading Client Portal Add-on for WordPress Websites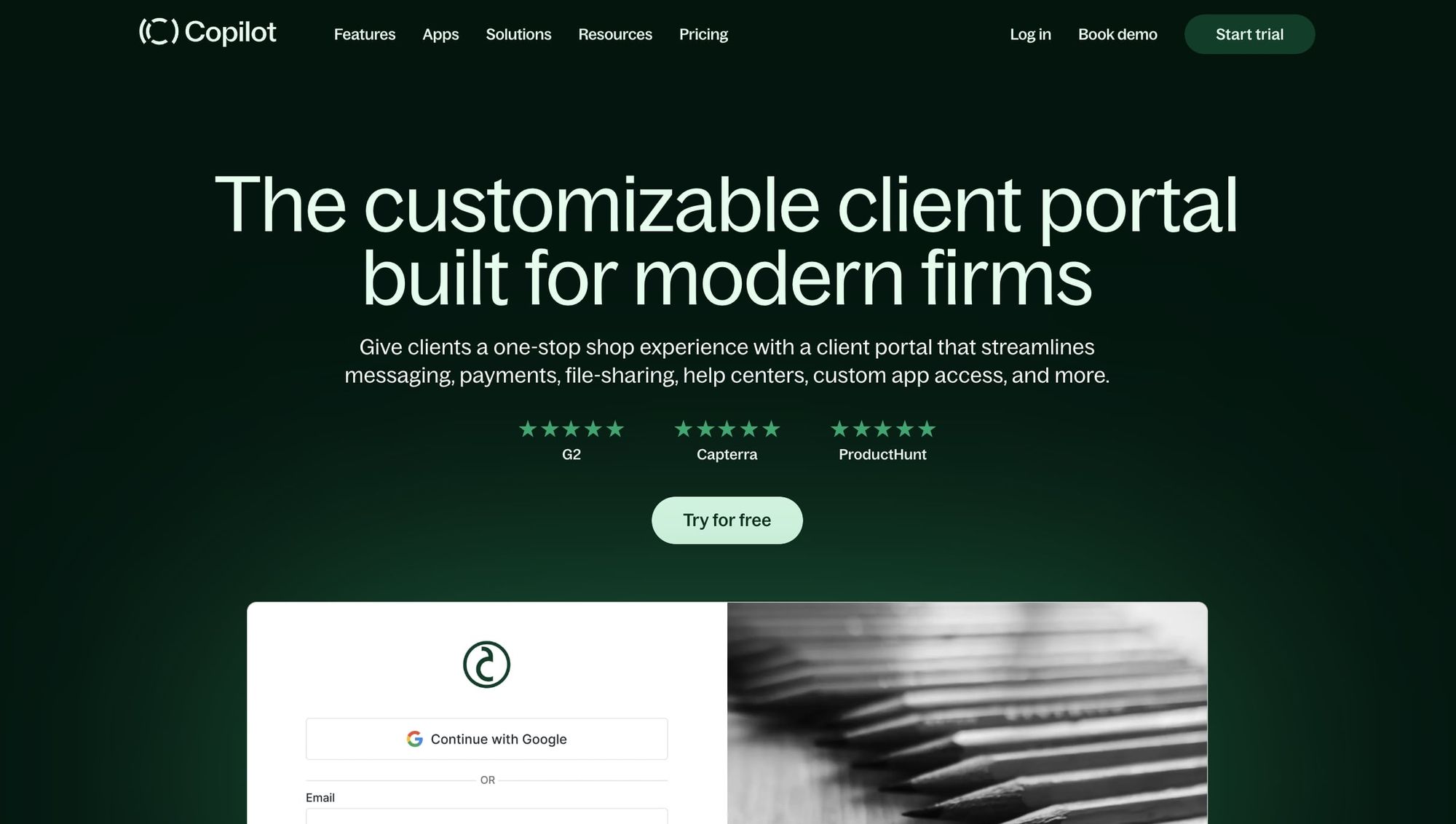 Copilot is a modern client portal solution, designed from scratch for professional services firms that want to create an online office for their clients.
Copilot Offers a Modular Design
At Copilot, we understand that every company has different client portal needs. That is why we describe each of our features as modules:
You can decide which modules to turn on and which to turn off. This is why many of our customers set up portals just for customer support (with the Messaging module) or for billing (with the Billing Module). As your business grows, you can decide which modules to turn on. But if and when you turn on a new module, you can be assured that your customers only have to worry about one single login with all the modules working well together.
Copilot Gives You Complete Control
With Coplit, you get the capabilities to deliver to clients a user experience consistent with a brand's identity. Apply your brand's color palette, place in logos, point to a custom domain, and even send out personalized customer emails. With Copilot, you don't get stuck with anything that doesn't look or feel like your brand. Since everything is white labeled, it looks like everything was built by your company. And with everything we provide, there's a focus on usability.
Copilot gives your clients a great onboarding experience
Bringing on new clients is always a huge and important step. From the moment they complete their registration, they want to feel like they're valued and that they made the right choice in using your company.
At Copilot this is handled with multiple modules. First, you can setup a Welcome Message in the Messaging module. Immediately after a client user signs up, they can be greeted with a message that you define and immediately engage with your business. Second, you can use the Knowledge Base to create content for your client users. This way, when a new client user signs up, they can immediately navigate to the Knowledge Base which you can use as a help desk and answer common questions.
For you and your clients, Copilot makes managing the intricacies of running a business much easier.
Sign up for our newsletter
Subscribe below to receive our newsletter. We'll email you about important announcements, product updates, and guides relevant to your industry