How to Hold an Effective International Off-site as a Series A Startup
Sep 03, 2022
6 min read
Marlon Misra
Introduction
In July 2022, we held the first offsite with our team of 15. A month has passed and we've now had enough time to reflect and collect feedback on what we did right, what we did wrong, and what we'll do differently next time.
The main takeaway: off-sites take a lot of time to plan well but they are incredibly important, and doubly so for remote teams. If you are just starting with off-sites, you'll likely make several easy-to-avoid mistakes so we thought we'd highlight what we've learned.
What we learned
Go somewhere incredible where your team hasn't been before
We did our offsite in Istanbul, a beautiful Turkish city that spreads over Europe and Asia. Because we picked a city that no one on the team knew well, it was fun to explore together. As a team we saw the Hagia Sofia, the Blue Mosque, Taksim square, many local markets… and on top of that we did boat tours, food tours, and a team scavenger hunt. Looking back, we all agree that going somewhere completely new, where everyone was at least a little bit uncomfortable, made for a much stronger bonding effect than gathering in a place we all knew well.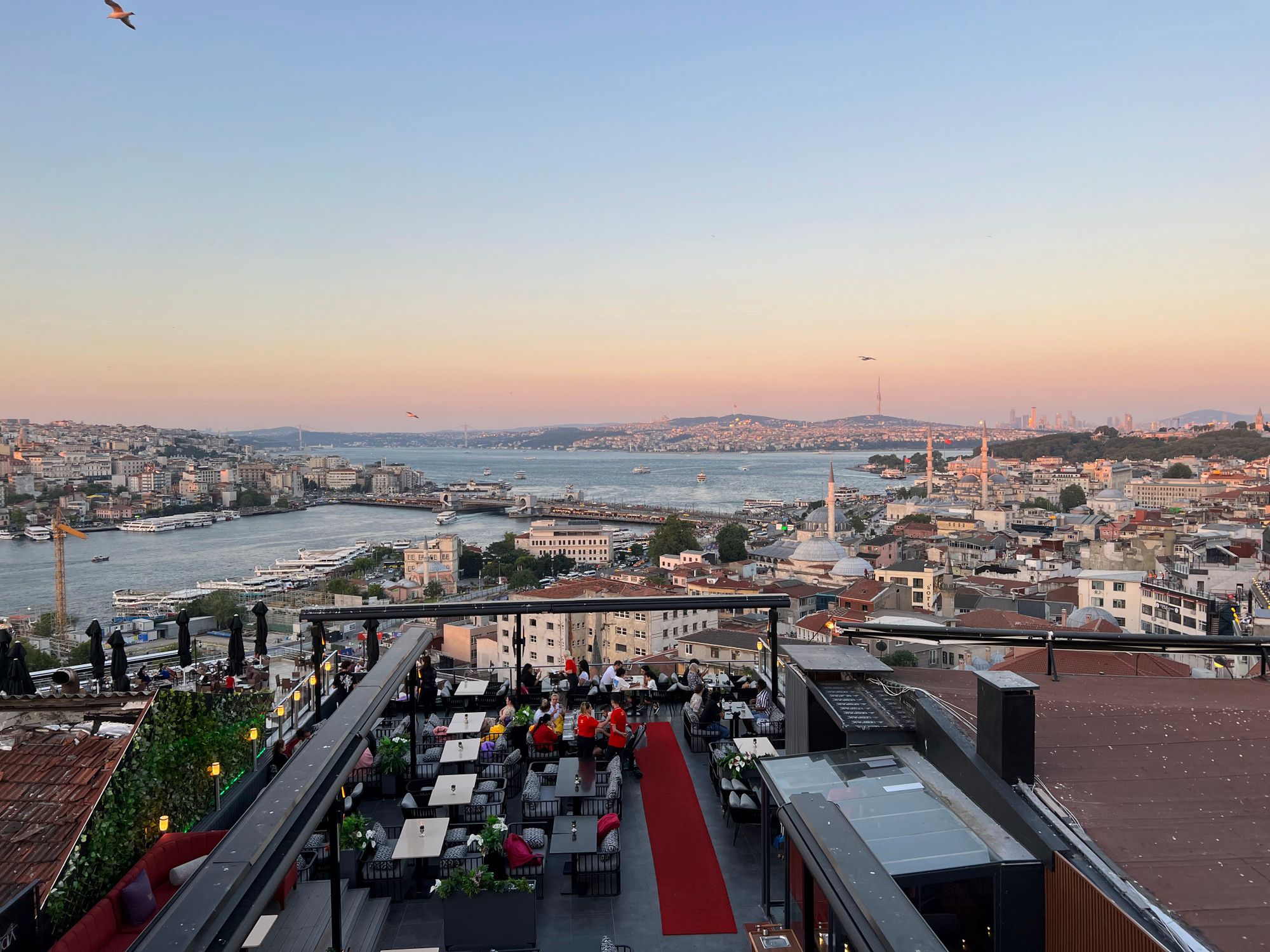 Going far away might be more affordable than you think
For many on the team, the flights to Istanbul were admittedly expensive (~$1,100 for people flying out of the US). On the other hand, because we stayed for a full week and because the Airbnb, food, and activities were much less expensive, on the whole it was a more affordable offsite than flying the non-NYC team to NYC (where half of our team is based). Our takeaway here is to do the math upfront, because it very well might turn out that a trip to an exciting far-away location might be more affordable that you realize.
You probably don't need a trip planner if you distribute the work
Planning an entire offsite is a lot of work, but not if you find ways to distribute it. We found that a few things worked particularly well:
Issue everyone on the team a credit card (easy to do with Brex/Ramp, and you can set limits and even timed limits). Give everyone autonomy and make them responsible for their own expenses.
Ask everyone to book their own flight and their own accommodation (if they choose not to stay in the group Airbnb). Tell people about the offsite early and give everyone a date by which they have to book, so that you're not paying extra for booking late.
For fun/evening activities, give each person responsibility to figure out the schedule for one day of the trip.
Do a 50/50 mix of work & fun events, but leave enough free time
We tried to have a mix of work events and fun events each day. Our biggest mistake was making the schedule too packed — the most productive sessions took much longer than expected (which was a good thing!) but we should have allowed for more free time. In a survey we sent out after the offsite, people voted that the best socializing was self-organized vs. the events we had planned.
if you go far, make the offsite long and invite +1s
Since the destination was far away for many (with a big time difference to adjust to) and because flights were expensive, we decided to do a longer 1-week offsite. When we polled the team after, everyone said the duration was just right. We also decided to let everyone bring their +1s (this felt particularly important since we were gone for a full week). When we polled people about this after, half said it was important or extremely important to do that.
Our approach for +1s was to include them for all evening/social activities, and looking back this felt like the right move. We paid for social activities for +1s but didn't pay for other things (flights etc.). Overall letting the team bring partners added ~5% to the total cost of the trip.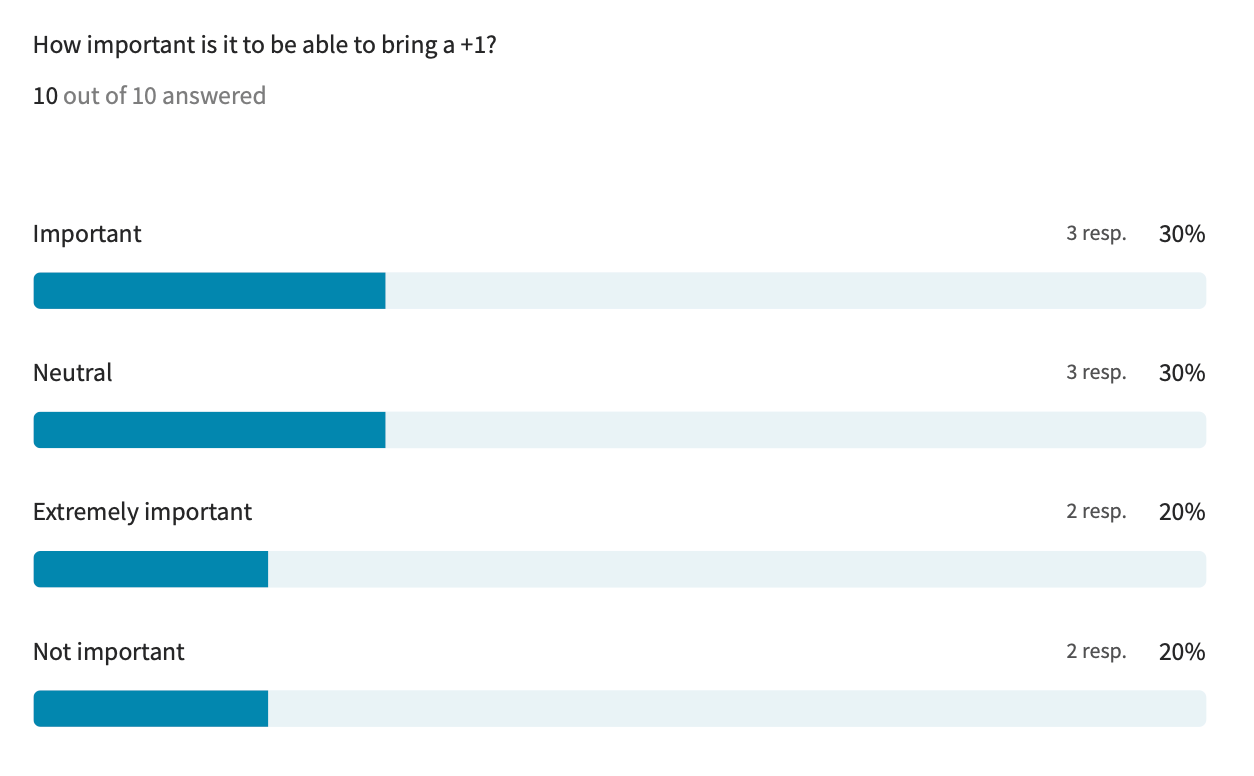 The most important session at the offsite was the "Story of my life" session
Before the offsite we asked everyone to fill out a page called "Story of my life" with answers to the questions below. We asked everyone to answer the questions in a way that was as visual as possible with images and videos. Then, for the very first session at the offsite, we asked everyone to present.  This was the highest-rated session and a wonderful way for everyone to get to really know each other and discover surprising connections.
"Story of my life" template
What was it like for you growing up?
What are some things people should know about you? What are some surprising facts about you that people probably don't yet know?
What are some of your favorite things — hobbies, animals, cities, books, cuisines, movies, etc?
What are some pictures that show what life is like in your area?
What's a question you want to ask everyone else on the team? What's your answer to that question?
Mistakes we made
We didn't anticipate visa/travel issues
One member of our team was not able to make the offsite because they were not able to get a visa on time. The visa landscape is very complicated and this is the one area where you sometimes have to plan many months ahead of time. For us, because we anticipate some members on the team visiting the NYC office in 6+ months from now, we've already kicked off their US visa process for them. If you plan to do an offsite in the next year, we recommend that you already do an audit of everyone's passports, likely offsite locations, and list any visa conflicts that might arise.
A bad IT setup made the offsite a bad experience for anyone that joined remotely
We had 2 team members that attended the offsite remotely and they unfortunately had a bad experience attending. The biggest mistake we made is that we assumed a laptop was sufficient as a microphone. The problem is that if you have a large number of people in a large room where everyone is participating, that laptop is not going to pick up everyones voice clearly. We learned the hard way that you need to bring a quality conference microphone and camera that works in a large group setting. Even if you anticipate that everyone will join in person, there is always the possibility of visa issues and other unexpected situations.
Bonus tips
Finally, here's a list of other tips that didn't neatly fit into a category:
Record all sessions so that you can share them later and/or with people that join your team after the offsite. The recordings will also serve as great memories when you look back a decade later.
Get a photographer to take some team pics and use them on your careers page.
We did a mix of Airbnb experiences and TripAdvisor events, and the Airbnb experiences were all exceptional while the TripAdvisor events were not.
Confirm with you Airbnb host that WiFi download/upload speeds are stable. Even in cases where Airbnb listing shows the speed, still confirm that speeds are stable over time. While we had very fast speeds when WiFi did work, we lost connectivity completely multiple times.
If you're sharing an Airbnb with a large group, make sure you can get enough keys.
The best way to make work sessions productive is to give everyone reading materials beforehand. That way you can focus most or all your time on useful brainstorming, instead of spending valuable time on bringing people up to speed.
After the offsite, send out a survey and ask everyone to rate each session. You'll get great feedback to share with each session leader.
Sign up for our newsletter
Subscribe below to receive our newsletter. We'll email you about important announcements, product updates, and guides relevant to your industry