Best Legal Document Management System in 2023
Aug 02, 2023
14 min read
Omid G
You haven't seen paperwork until you've worked in the legal industry. As you're tripping over boxes and sifting through an endless maze of documentation, you may find yourself questioning whether you made the right move going into the legal profession.
As with all professions today, however, there are digital solutions replacing manual methods of conducting day-to-day operations. In the legal realm, legal document management systems are taking the place of paper stacks — stacks that are often piled so high, you can barely see your assistant peering over them, asking what you'd like to order for lunch.
If it sounds too good to be true, you're going to want to continue reading. We have your complete guide to the best legal document management systems in 2023. We also think Copilot is ultimately the top all-in-one solution for law firms looking to ditch their paperwork and go digital. Let's turn the digital page and dig right into the list.
What Is a Legal Document Management System?
A legal document management system (DMS) is a modern software solution designed to transform the way law firms manage, organize, and access their vast collection of legal documents and files. Fueled in part by the pandemic, the shift to digital everything hasn't passed by the legal industry, where traditional paper-based systems are becoming obsolete. Indeed, legal professionals are turning to DMS platforms to streamline their workflows, enhance productivity, and improve client relations.
At its core, a legal DMS serves as a centralized repository where law firms can securely store, categorize, and index various types of legal documents, such as contracts, pleadings, discovery materials, court filings, and correspondence. Gone are the days of laborious manual searches through piles of paper; with a DMS, attorneys and legal teams can retrieve critical information with just a few clicks.
Benefits of a Legal Document Management Software
Most legal document management systems share some common characteristics, but not all of them are created equal. It's important to review the features and benefits of each system to be sure it will keep pace with your firm's volume of work while also allowing you to scale. The following key benefits are typically standard in most systems, however.
Secure Cloud Storage
Leading DMS platforms leverage secure cloud-based storage, offering law firms the convenience of accessing documents from any internet-enabled device, be it a desktop, laptop, tablet, or smartphone. This level of accessibility facilitates collaboration among legal teams, even when members are distributed across different locations.
Document Organization and Version Control
A DMS allows law firms to organize documents into structured folders and subfolders, ensuring a logical and intuitive filing system. Version control features enable tracking and managing document revisions, making it easy to identify the most up-to-date version and track changes made by various collaborators.
Advanced Search Capabilities
When you're dealing with vast repositories of legal documents, a powerful search function is essential. DMS platforms employ advanced search algorithms, enabling users to locate specific documents based on keywords, metadata, dates, or other relevant criteria, significantly reducing the time spent on searching.
Document Collaboration and Sharing
Legal cases often involve teamwork, requiring seamless collaboration among attorneys, paralegals, and support staff. A DMS facilitates real-time collaboration from a single source of truth, allowing multiple users to work on the documents simultaneously and share updates instantly.
Document Security and Permissions
Protecting sensitive client information is paramount for law firms. DMS platforms implement robust security measures, including encryption, access controls, and user permissions, ensuring that only authorized personnel can access specific documents.
Integration with Other Legal Tools
A well-designed DMS integrates seamlessly with other essential legal tools, such as practice management software, billing systems, and e-discovery platforms, creating a comprehensive ecosystem that enhances overall efficiency.
9 Best Legal Document Management Systems in 2023
Imagine having your entire legal arsenal at your fingertips — securely stored in the cloud and accessible anytime, anywhere. Picture a world where collaborating with your legal dream team is seamless and synchronized. Who knows? You might actually leave the office in time for dinner.
Here are our top picks for the best legal document management systems to make it happen:
Okay, let's dive deeper into each one.
1. Copilot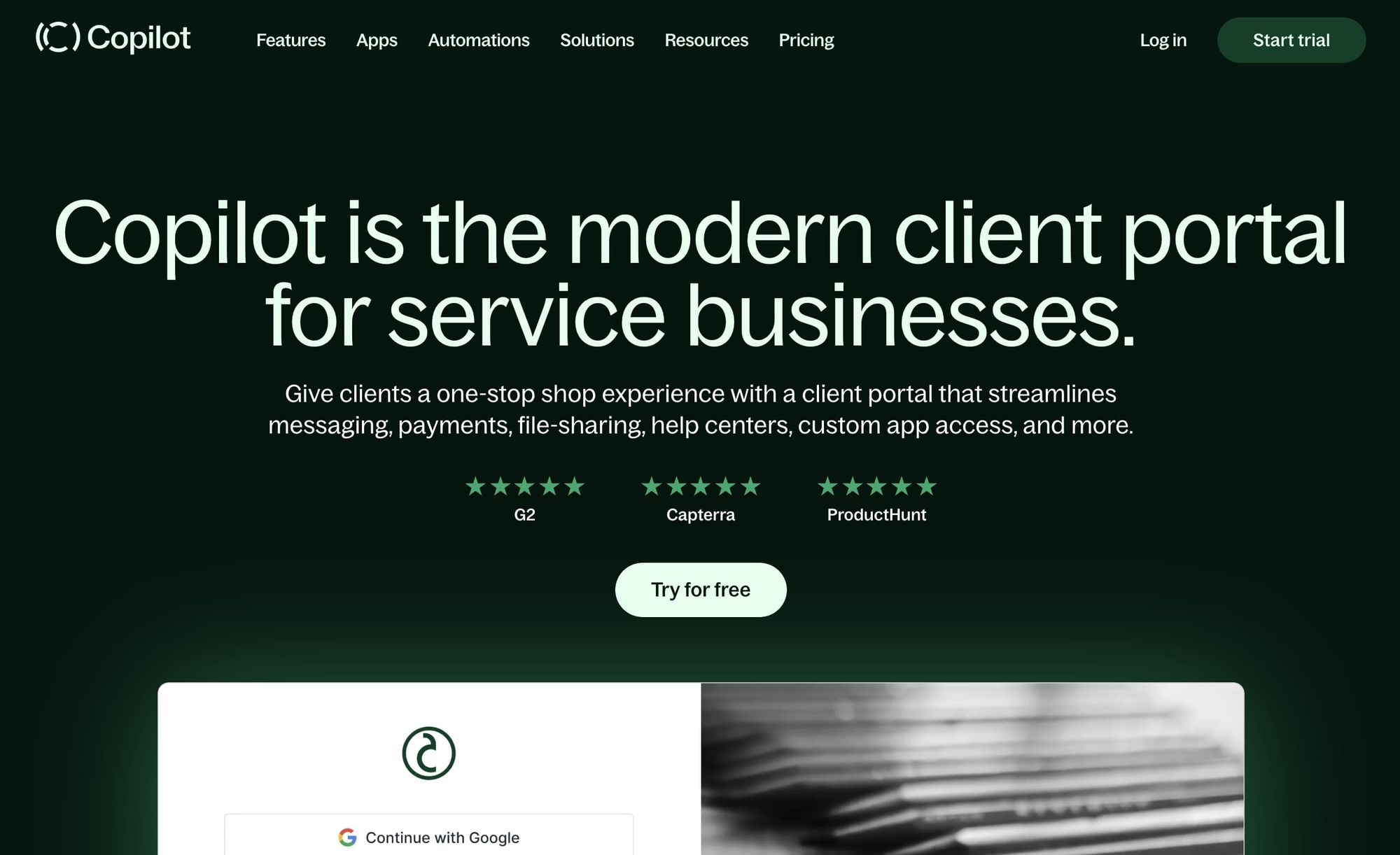 Copilot caters to the unique needs of legal professionals, with an impressive array of tools that empower law firms to take charge of their document management, client relationships, and overall workflow. Exceptional client communication capabilities live in dedicated white-label client portals that mimic the real-world experience of clients sitting across from you at your desk.
Within these dedicated portals, legal professionals can effortlessly share documents, exchange messages, and collaborate in real-time. Transparency is the name of the game, as clients are always in the loop on where their legal proceedings stand.
Benefits of Copilot
Copilot excels in document management, making it easier than ever to organize and access vital client files. Its intuitive document organization and storage system allow you to effortlessly retrieve critical information, putting an end to the frustration of searching through endless stacks of paperwork. With Copilot, legal professionals have virtual paper trails that enable them to stay on top of every detail in their case files and legal documents.
Copilot understands that part of legal paperwork includes invoicing, and we've simplified the billing process from start to finish. Easily generate professional-looking invoices, track payments, and send automated reminders to be promptly compensated for your hard work.
The platform boasts automation features that take care of repetitive tasks, such as document collection and data entry. By automating these time-consuming processes, Copilot liberates your time, allowing you to focus on high-value legal activities and providing a more consistent and efficient experience for both you and your clients.
Enjoy the convenience of integrating Copilot with popular scheduling, project management, and accounting apps, streamlining your workflows.
Rest easy knowing that Copilot employs robust security measures to protect sensitive client data, building trust and confidence in your firm.
Utilize Help Desk and knowledge base features to empower your clients with text, images, and videos, sharing the right content using custom visibility rules.
Copilot Pricing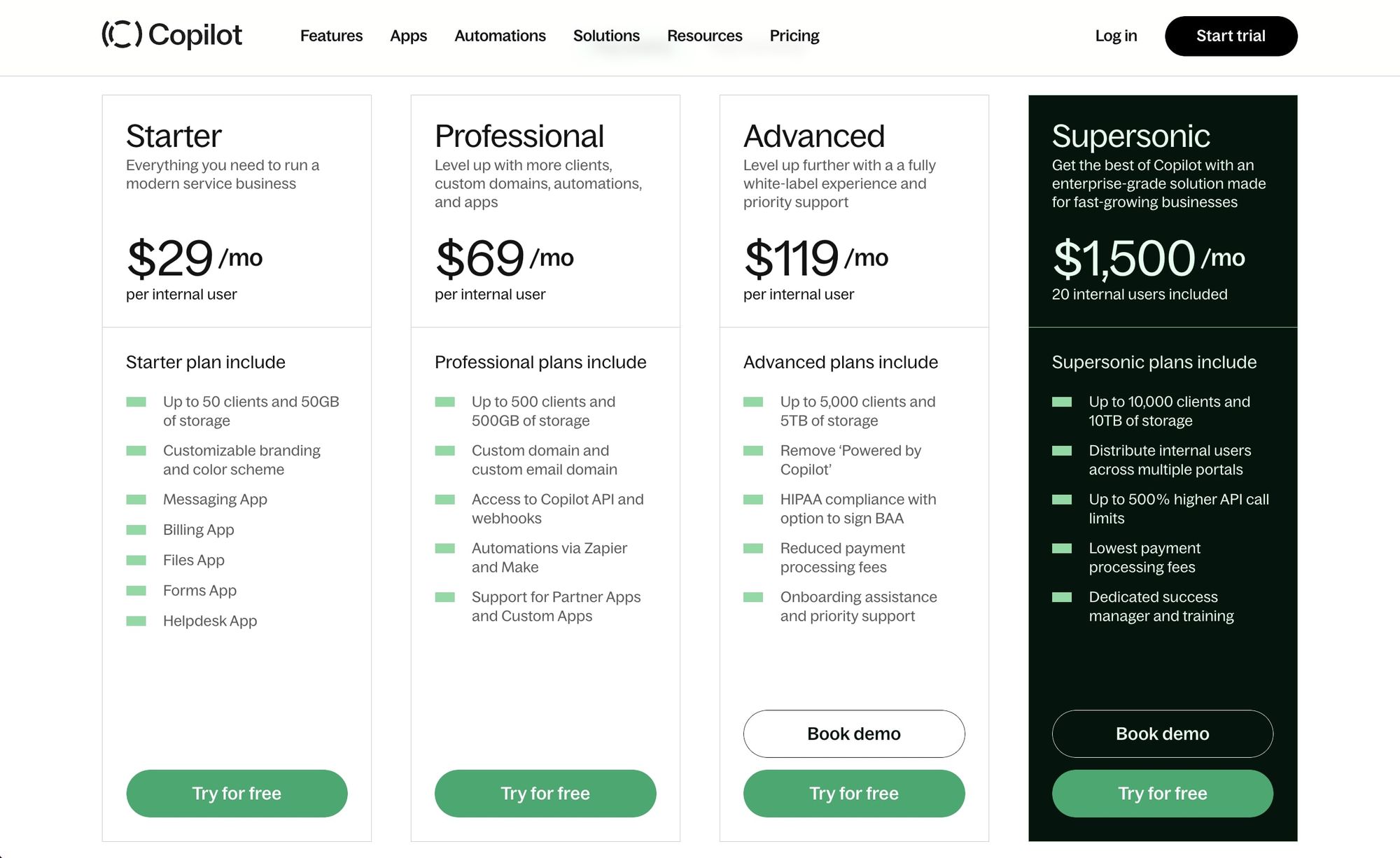 After a free trial, plans start at $29 per user per month, paid annually, or $39 monthly.
2. MyCase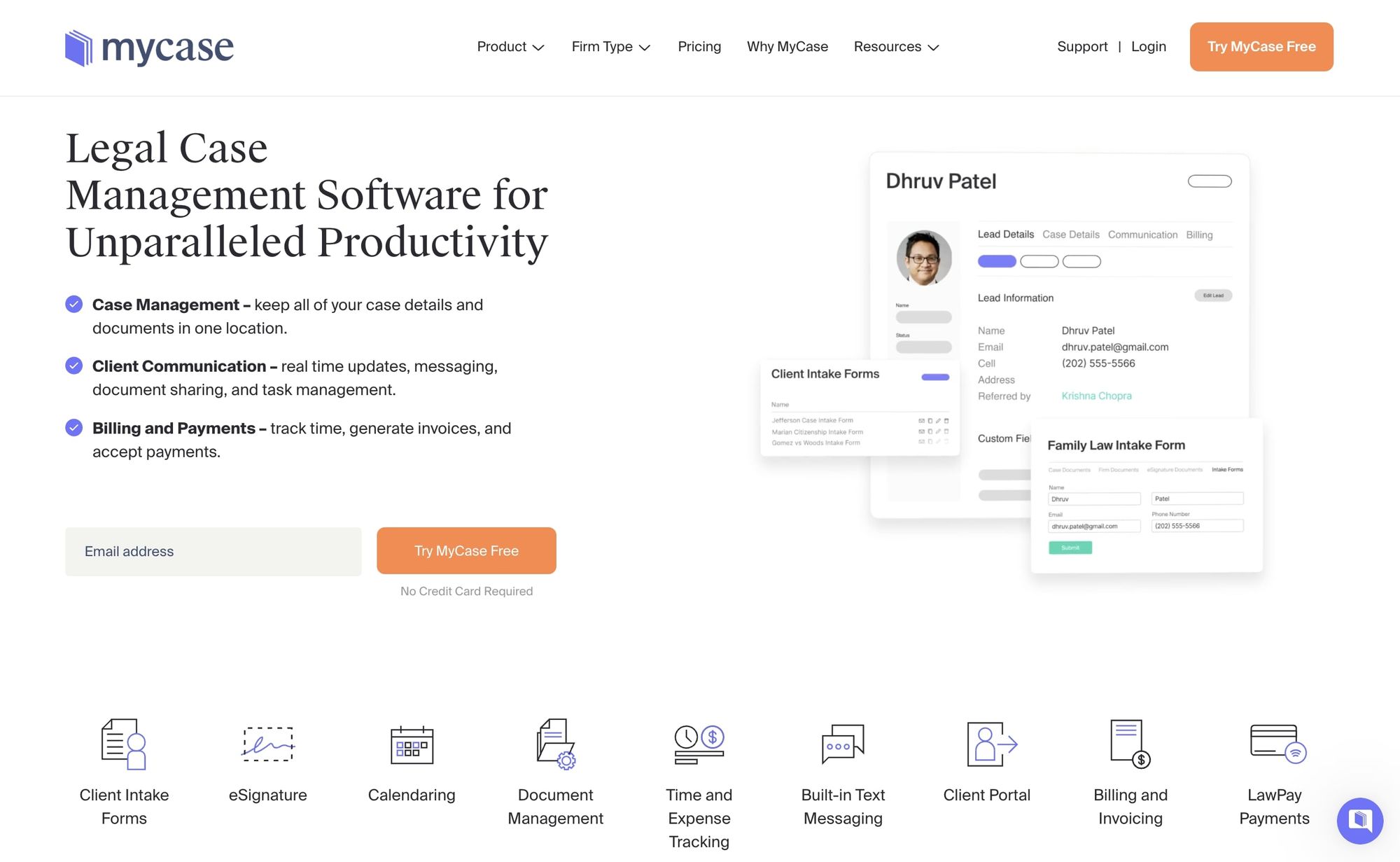 MyCase is a versatile legal document management system designed to streamline your firm's document processes and enhance productivity. With a host of robust features, MyCase provides an excellent option for efficient legal document management.
Case management, client communication, billing, payments, time tracking, and other capabilities live in one centralized platform, resulting in a gain of three hours per day in billable hours. Access MyCase's Woodpecker feature, which automates the process of filling out Word-based legal documents, saving time and ensuring accuracy.
Benefits of MyCase
Access all your case files and legal documents through MyCase's cloud database. Store, edit, sign, and share case documents, and collaborate securely with your team without the need for additional logins.
MyCase offers ample space with unlimited data storage, allowing you to efficiently manage your case files. Share, tag, and comment on documents in real time, streamlining your workflows.
Quickly find specific documents and relevant information with MyCase's customizable filtering system. Save time by effortlessly locating essential documents.
Collaborate on documents with colleagues or clients using MyCase's File Sync feature. Stay informed with real-time updates on mobile and desktop devices.
Simplify document execution with MyCase's seamless e-signature feature. Electronically sign important case documents from any device, reducing paper usage and saving time.
MyCase integrates with your existing document tools, creating a cohesive workflow. Access case documents directly from MyCase with Dropbox integration and work seamlessly with Microsoft Word, Adobe, and other desktop software.
MyCase Pricing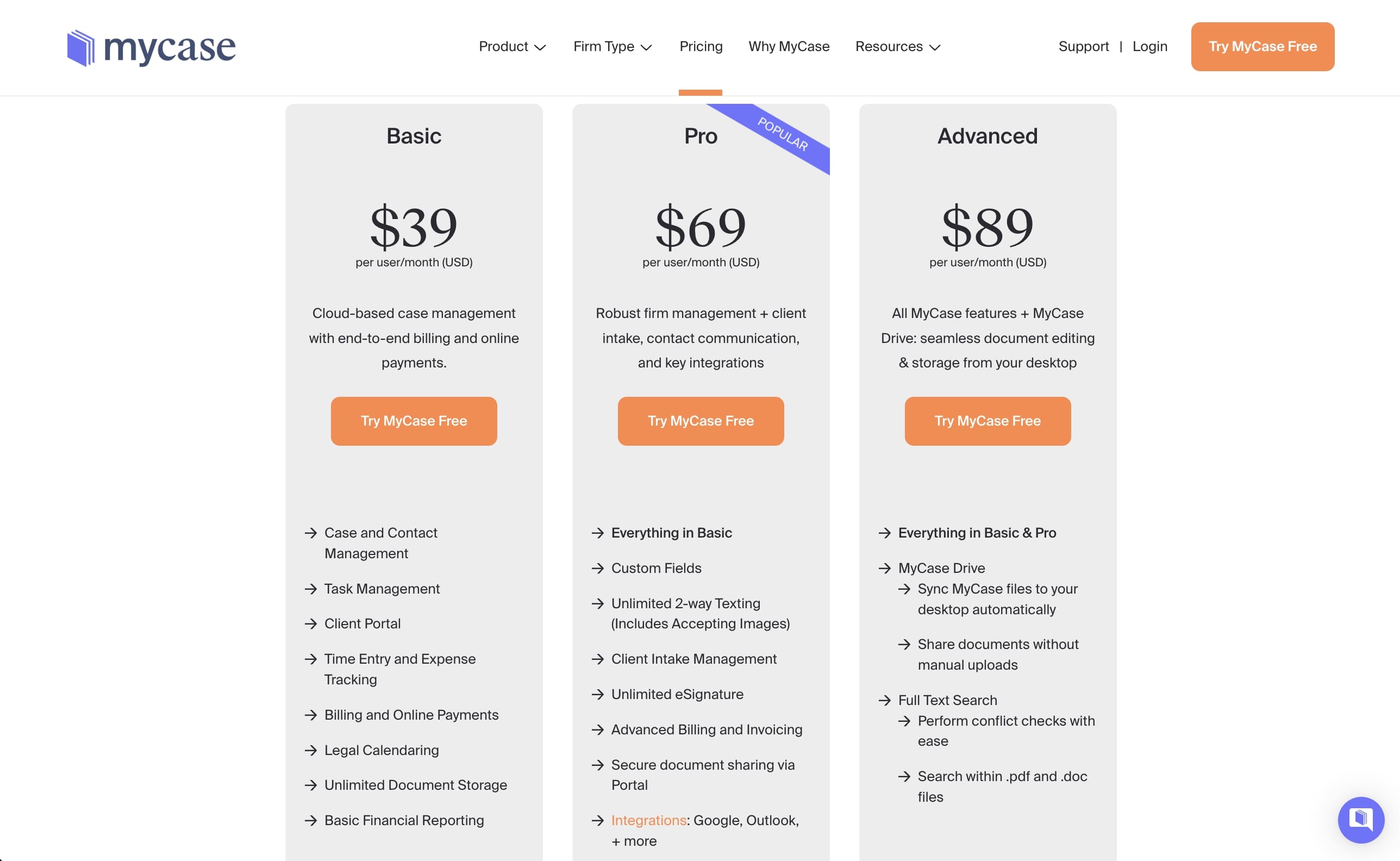 Start with a free trial; paid plans start at $39 per user per month when paid annually or $49 monthly.
3. Microsoft OneDrive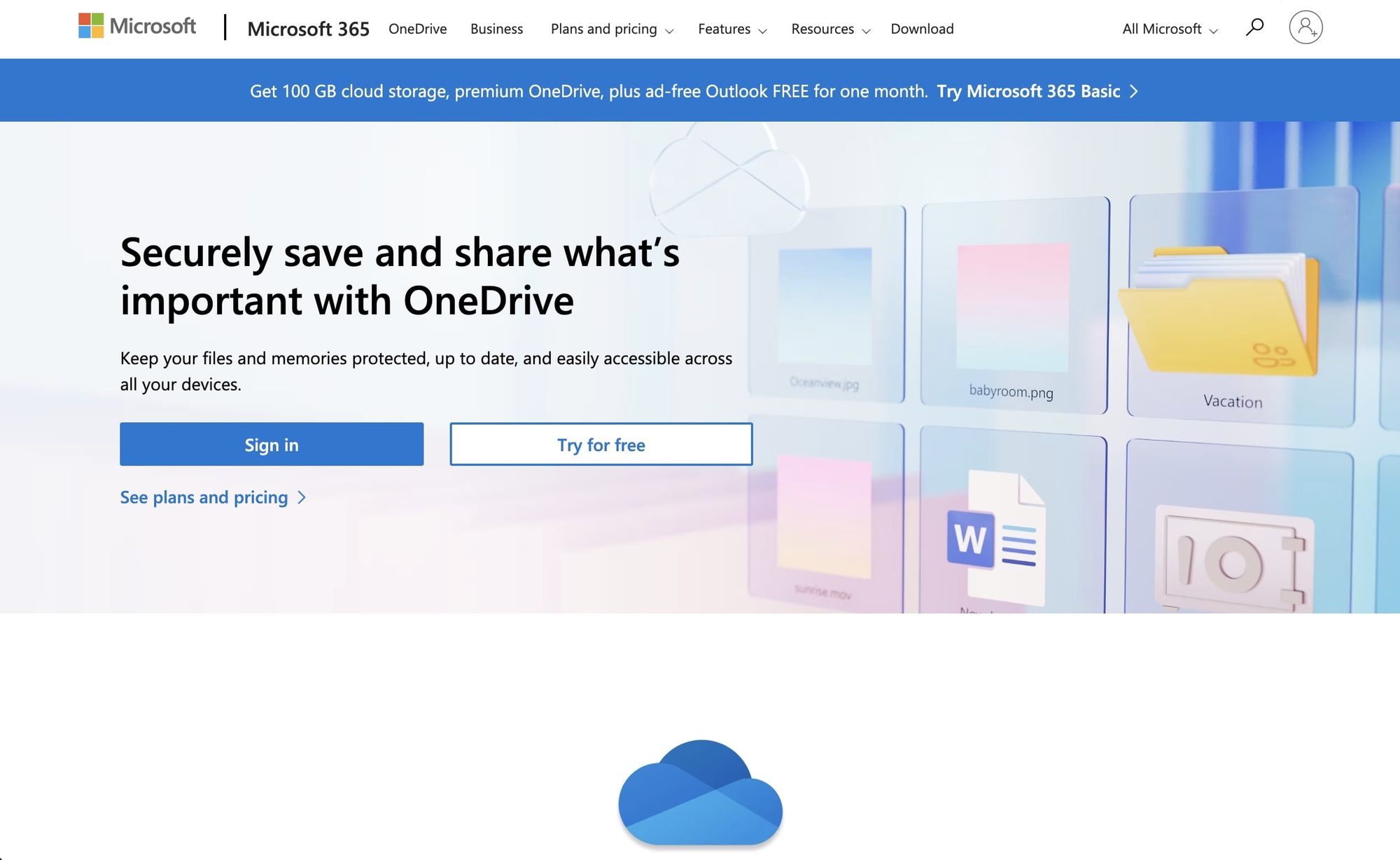 For a simple legal document management system, Microsoft OneDrive is a solid option that you can tailor to meet your legal document needs. With OneDrive, you can keep all your important files safe and accessible in one secure cloud-based location, providing peace of mind and enhanced productivity for your law firm.
Benefits of OneDrive
Get started with 5 GB of free cloud storage, or opt for a Microsoft 365 subscription to unlock even more space. Rest easy knowing you have plenty of room to save hundreds of thousands of legal documents.
OneDrive backs up your PC and phone files wherever you go. Access your legal documents on the fly, no matter where you are.
OneDrive's advanced security features detect ransomware or malicious attacks, providing added protection for your valuable legal data.
Access, edit, and organize your legal files seamlessly from all your devices, ensuring you stay productive on the move. Any changes made to your files and folders are automatically updated across devices, guaranteeing you and your legal team have the latest version of documents at all times.
Take your digital life along wherever real life takes you with the OneDrive mobile app. Save, edit, and share legal documents; scan important documents; and securely store them in the cloud.
OneDrive Pricing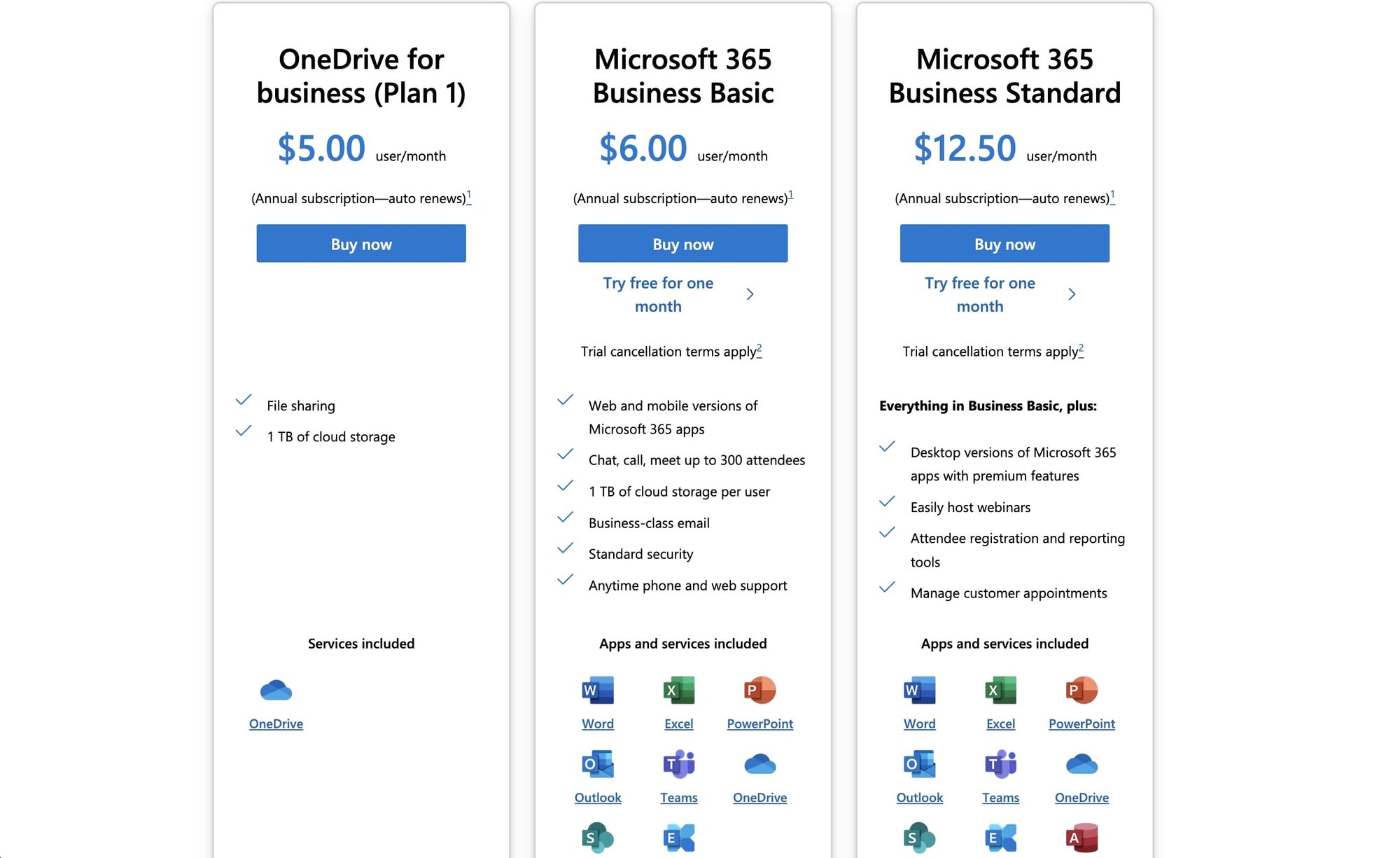 Business plans start at $5 per user per month with an annual subscription and a hefty 1 TB of storage. Scale up in storage, features, and integrated apps and services from $10 to $12.50 per user per month, also paid annually.
4. NetDocuments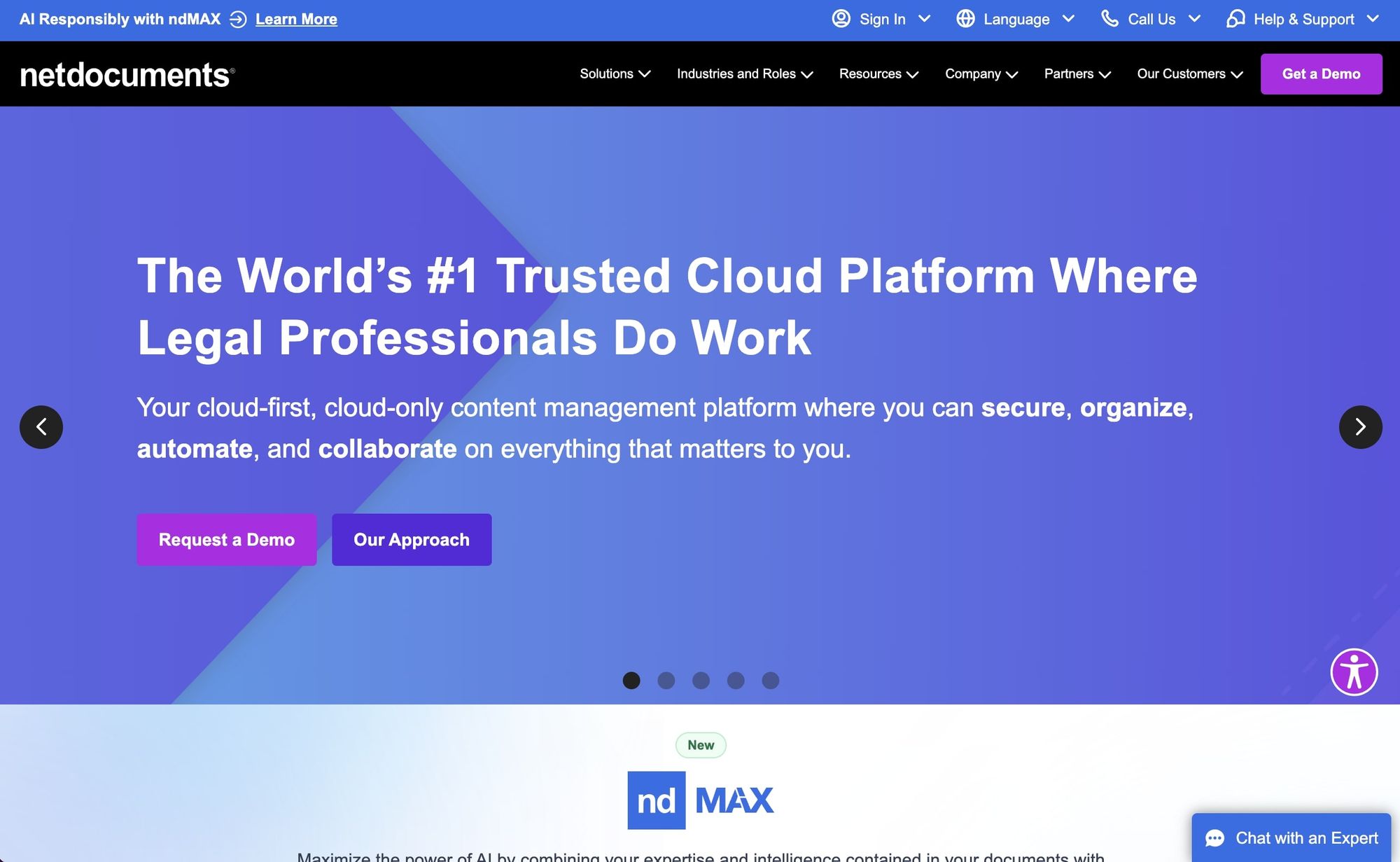 NetDocuments is a cloud-first, cloud-only content management platform designed to cater to the unique needs of legal professionals. As a trusted cloud platform, NetDocuments offers a comprehensive suite of features that allow legal teams to securely store, organize, automate, and collaborate on everything that matters to them.
Benefits of NetDocuments
With award-winning security measures, NetDocuments ensures that your sensitive legal information remains safe and protected from internal and external threats. Data stays secure, compliant, and accessible only to authorized personnel, no matter the device or location.
NetDocuments streamlines your workflow by automating monotonous administrative tasks, making document organization effortless for your team. Free up valuable time for strategic initiatives, such as building stronger business relationships and providing top-notch legal services.
Take full control of document accessibility and prevent risky behavior using simple and straightforward tools. NetDocuments empowers you to manage document permissions, ensuring that sensitive information remains protected and compliance requirements are met.
Remove the burden of tedious administrative tasks, allowing your legal team to collaborate seamlessly. Enhance communication, coordination, and knowledge sharing within your firm.
NetDocuments offers secure extranets, ensuring that your clients' information remains locked up while enabling smooth digital interactions with your legal services.
NetDocuments Pricing
Request a demo to determine pricing and learn more.
5. iManage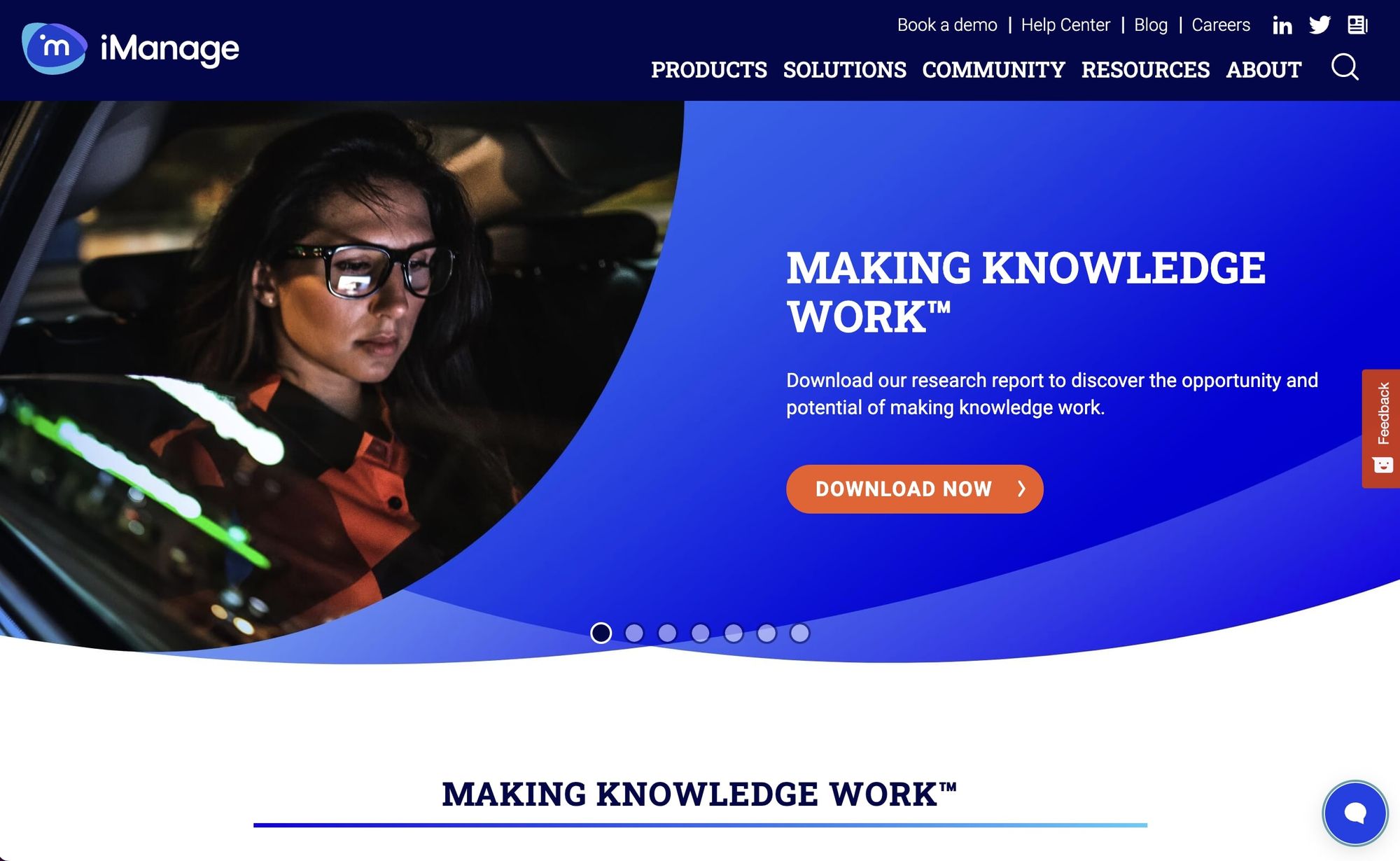 Fifth on our list is iManage, a knowledge work platform capable of redefining any law firm's approach to legal document management. Benefit from a 360-degree view of information, AI-powered issue identification, and comprehensive audit history.
This powerful platform connects documents and emails, consolidating them into a unified folder categorized by clients, projects, or legal matters. By providing a contextual and accessible repository of relevant information, iManage empowers legal professionals to concentrate on delivering exceptional value to their clients while streamlining their document-handling processes.
Benefits of iManage
The knowledge work platform allows law firms to create, collaborate, search, and share information swiftly, eliminating technology barriers that can hinder progress.
As law firms rely on knowledge, iManage's platform empowers them to work intelligently and securely while mitigating risk, improving compliance, and ensuring robust security and governance.
The platform integrates with Microsoft 365, Teams, Gmail, Google Workspace, and other productivity suite tools, streamlining systemwide document and email management.
Capture, organize, and share information from documents and emails, converting it into institutional knowledge that drives better outcomes for your firm and clients.
iManage removes data silos and empowers knowledge workers to quickly access the information they need to be productive, removing impediments that hinder efficiency.
Safeguard your information assets with comprehensive security and governance measures. iManage's industry-leading global cloud platform incorporates advanced access controls, active threat detection, state-of-the-art encryption, and a Zero Trust architecture.
Stay agile and responsive with intuitive client intakes that maintain regulatory and internal policy compliance.
iManage Pricing
Book a demo to learn more about iManage and discover pricing for your particular needs.
6. eFileCabinet (now Revver)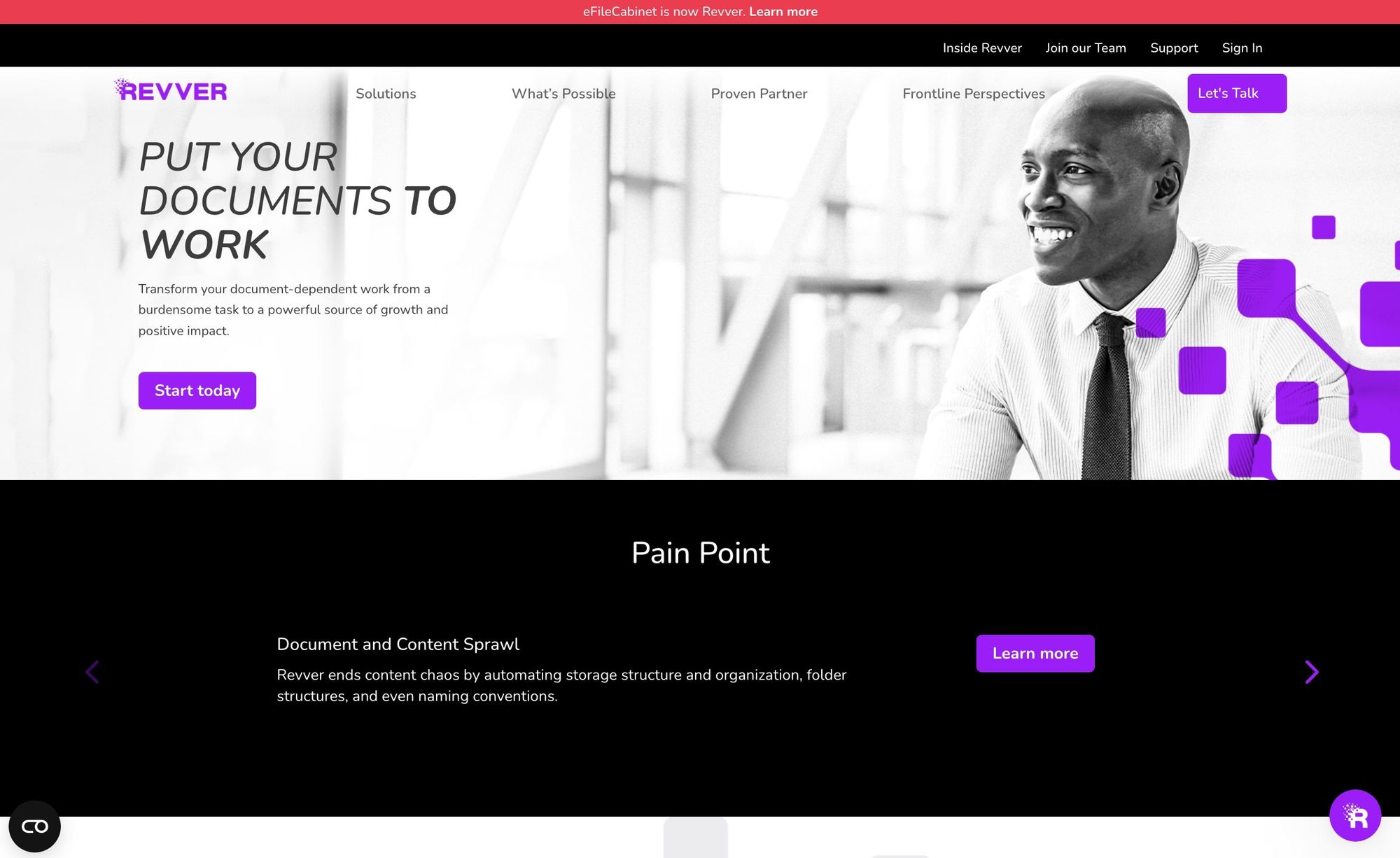 Formerly eFileCabinet, Revver elevates document-dependent work from a burden to a catalyst for growth and positive impact across organizations of all sizes, including the legal sector. This powerful platform unifies documents and processes, enabling seamless collaboration among teams and driving efficiency through workflow automation.
Revver surpasses traditional document management solutions by automating every aspect of document workflows — from storage structure and organization to data extraction, security, access controls, governance, retention, and complex document-based business processes. Plus, Revver empowers users to automate document workflows and complex business processes, with automation embedded in every feature to fuel efficiency and reduce human error — and that should be music to any busy legal professional's ears.
Benefits of Revver
Going beyond mere document storage and management, Revver facilitates stronger business outcomes and accelerated growth. By improving efficiency, improving cycle times, ensuring compliance and governance, and reclaiming capacity for human-centric work, legal teams can focus on growing their businesses.
Revver securely stores and organizes content in intuitive folders to promote ease of use and create scalable structures.
The platform strives to make every stored document instantly accessible. Through various search options, including keyword search, full-text OCR search, metadata, profile groupings, missing item searches, and custom saved searches, users can save time and effort.
Revver enables document-dependent collaboration across the organization. Through multiple communication channels, document sharing, request mechanisms, integrated e-signature, and collaboration tools, stakeholders can work together seamlessly.
Revver prioritizes file protection against internal and external threats, offering extensive security, governance, and retention tools. Revver assists in meeting security and compliance requirements, reducing risks, and providing peace of mind.
Revver Pricing
Book a call to discuss pricing and features based on your specific needs.
7. DocuWare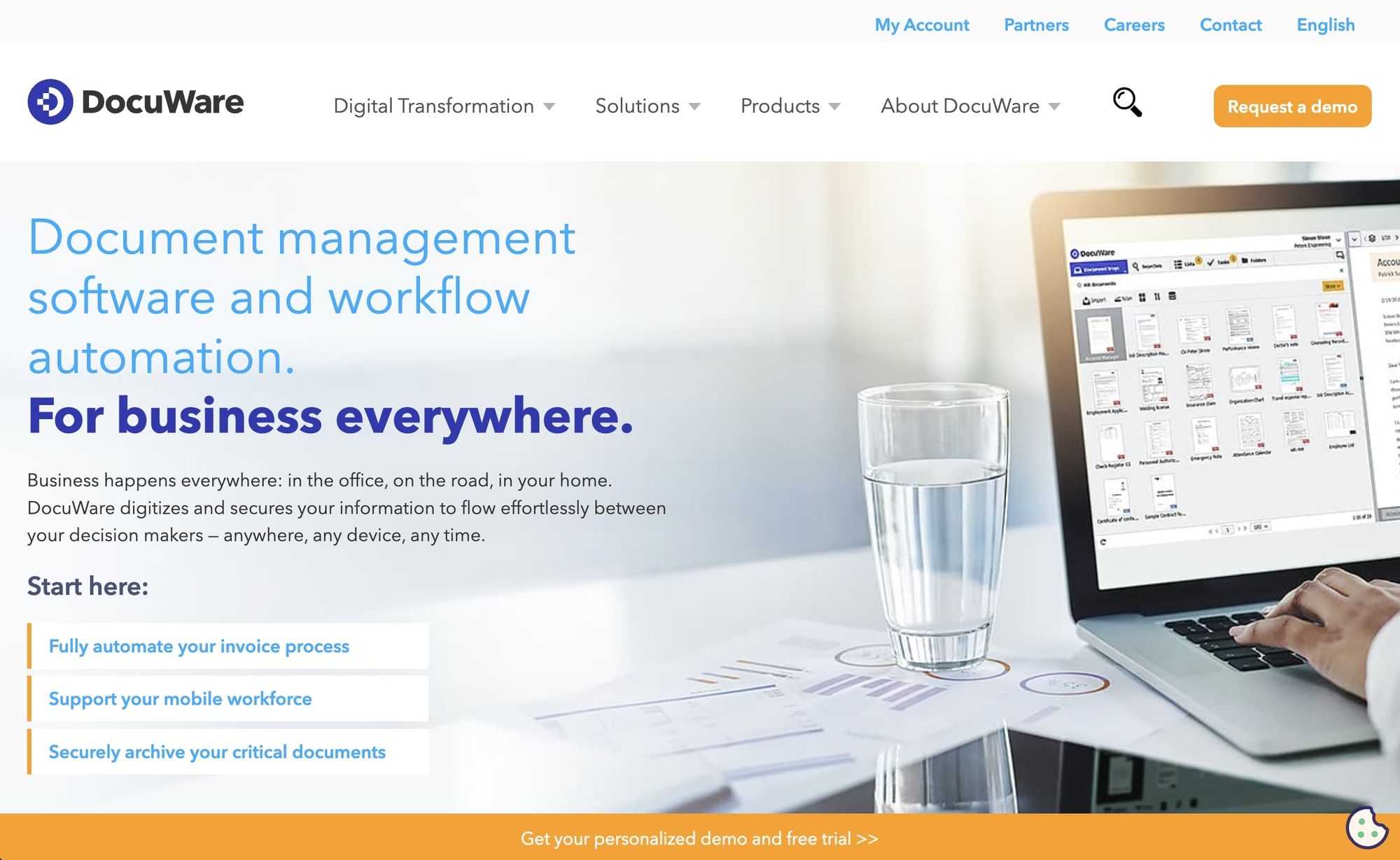 Undeniably, the need for a safe and secure repository for critical documents is more crucial than ever for legal organizations. DocuWare locks away vital information such as employee records, financial documents, contracts, and more in an organized and protected storage solution that safeguards against loss, theft, or compromise. Document archiving plays a pivotal role in achieving this feat, involving the placement of inactive documents into long-term storage in a data medium, ensuring easy retrieval, and providing legal protection and security.
With digitized information stored in secure digital archives, legal organizations can eliminate paper-based woes, lost documents, and overflowing file cabinets. Embracing paperless practices not only boosts efficiency but also minimizes the risk of document mismanagement.
Benefits of DocuWare
Secure archiving goes beyond just knowing where documents are; it ensures they are well-organized, easily findable, and accessible for smooth audit preparation and delivery. Legal professionals can confidently respond to compliance audits with speed and accuracy.
Regulatory compliance standards are paramount in the legal industry. By organizing and securing documents, legal firms can expedite the process of meeting strict compliance initiatives, such as GDPR, HIPAA, and Sarbanes-Oxley.
Natural disasters or malicious attacks can pose significant threats to organizations. Secure archiving supports disaster recovery processes, ensuring critical documents remain intact, even in the face of unforeseen catastrophes.
DocuWare accommodates various document types, including scanned documents, PDFs, emails, Microsoft Office files, images, and more, ensuring comprehensive data storage. All data transmissions are encrypted via HTTPS, while documents are protected with AES encryption. A robust access rights system ensures that only authorized personnel can access sensitive documents.
With triple data mirroring and off-site redundancy in dedicated EU and U.S. Microsoft Azure data centers, DocuWare ensures data is never lost, simplifying disaster recovery and business continuity planning.
Every document capture, version, and annotation is logged for complete traceability, while workflow steps are recorded for process transparency, facilitating faster and more complete auditing.
DocuWare Pricing
Book a demo to discuss pricing and features based on your specific needs.
8. PandaDoc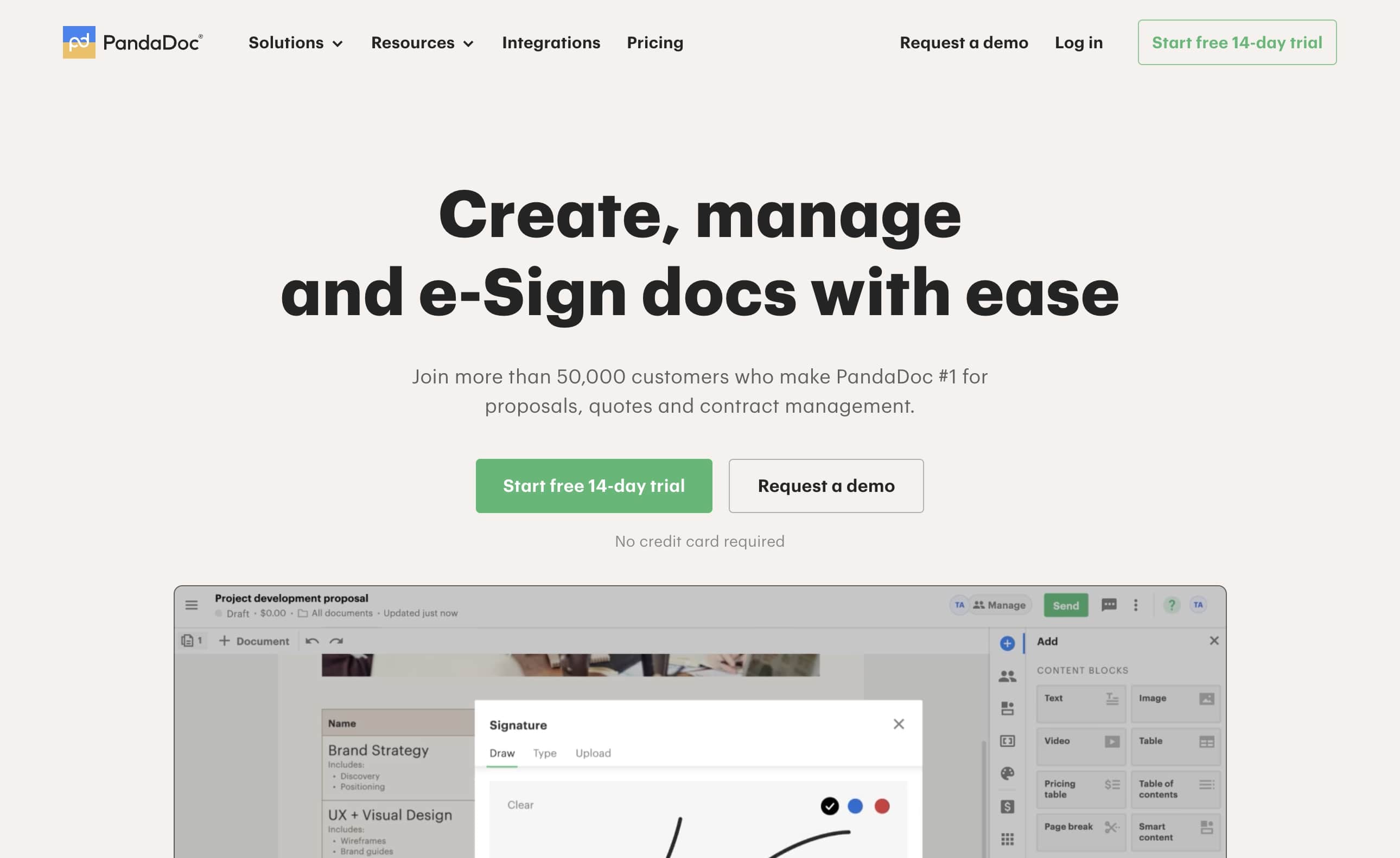 PandaDoc is a versatile and powerful solution specifically crafted to streamline every aspect of your law firm's document processes. From client proposals to contracts and beyond, PandaDoc empowers legal professionals to work smarter, faster.
PandaDoc boasts a comprehensive suite of features designed to simplify your document management and automation needs. Seamlessly streamline client proposals, invoicing, form creation, and contract management, all with a blend of simplicity and powerful functionality. PandaDoc's user-friendly tools expedite the process of generating, approving, and tracking proposals, invoices, forms, and contracts, revolutionizing the way you handle legal documents.
Benefits of PandaDoc
One of the key highlights of PandaDoc is its seamless integration with tools like Copilot and DocuSign, making it easy to manage e-signatures within client portals.
PandaDoc goes beyond e-signatures, offering a range of additional features that cater to your firm's specific requirements. Enjoy document-sharing capabilities, CRM integrations, and payment options through trusted services like Stripe and PayPal.
PandaDoc also provides customizable contract templates tailored to various industries, guaranteeing that your legal documents align perfectly with industry-specific requirements.
With included notary tools, you can easily create, edit, e-sign, and notarize documents, all from within the same powerful platform.
PandaDoc Pricing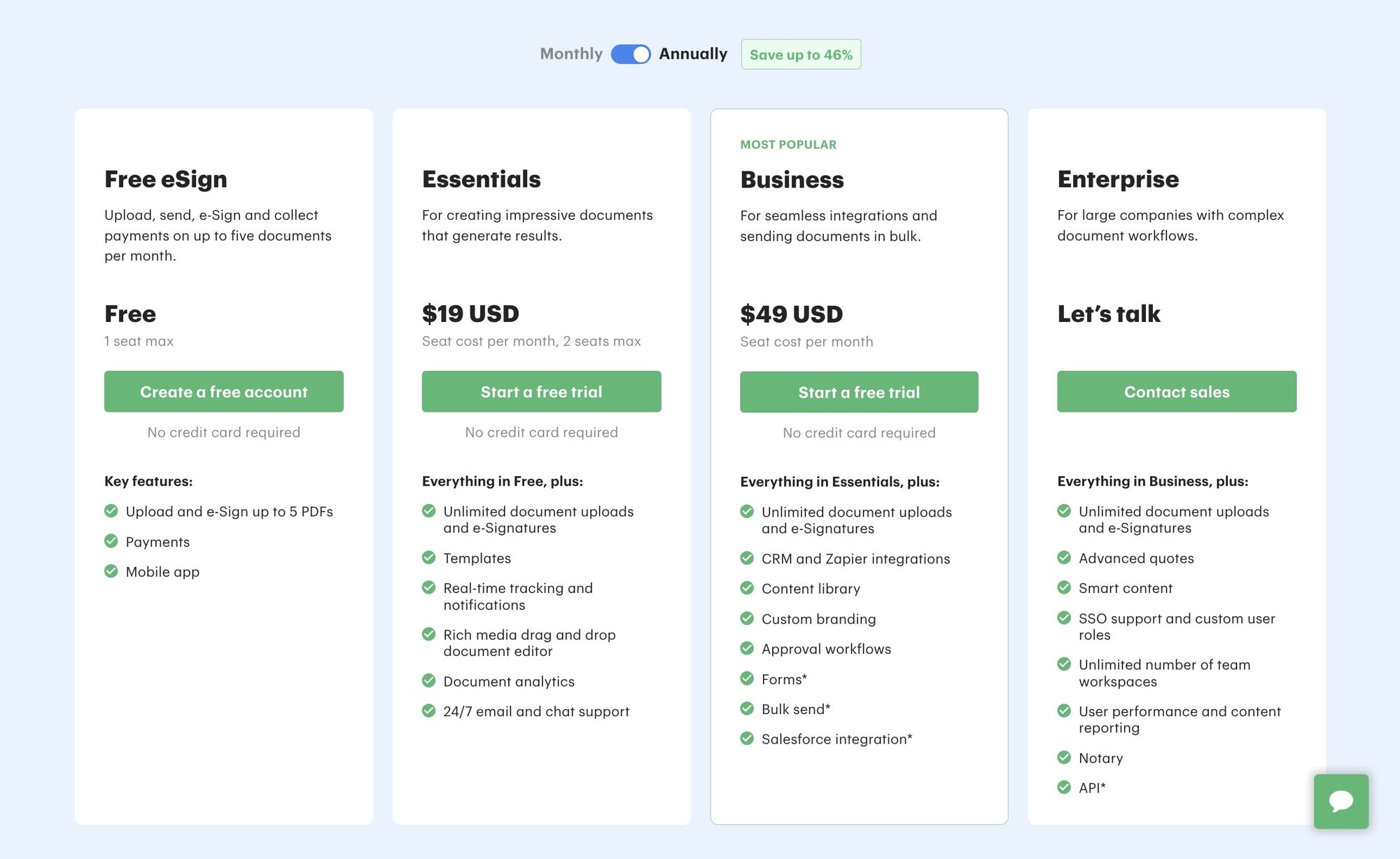 With a free account, you get unlimited legally binding signatures. If you require access to templates and more advanced features, you can start with the Essentials plan at $19 per user per month, billed annually, or $35 monthly.
9. Clio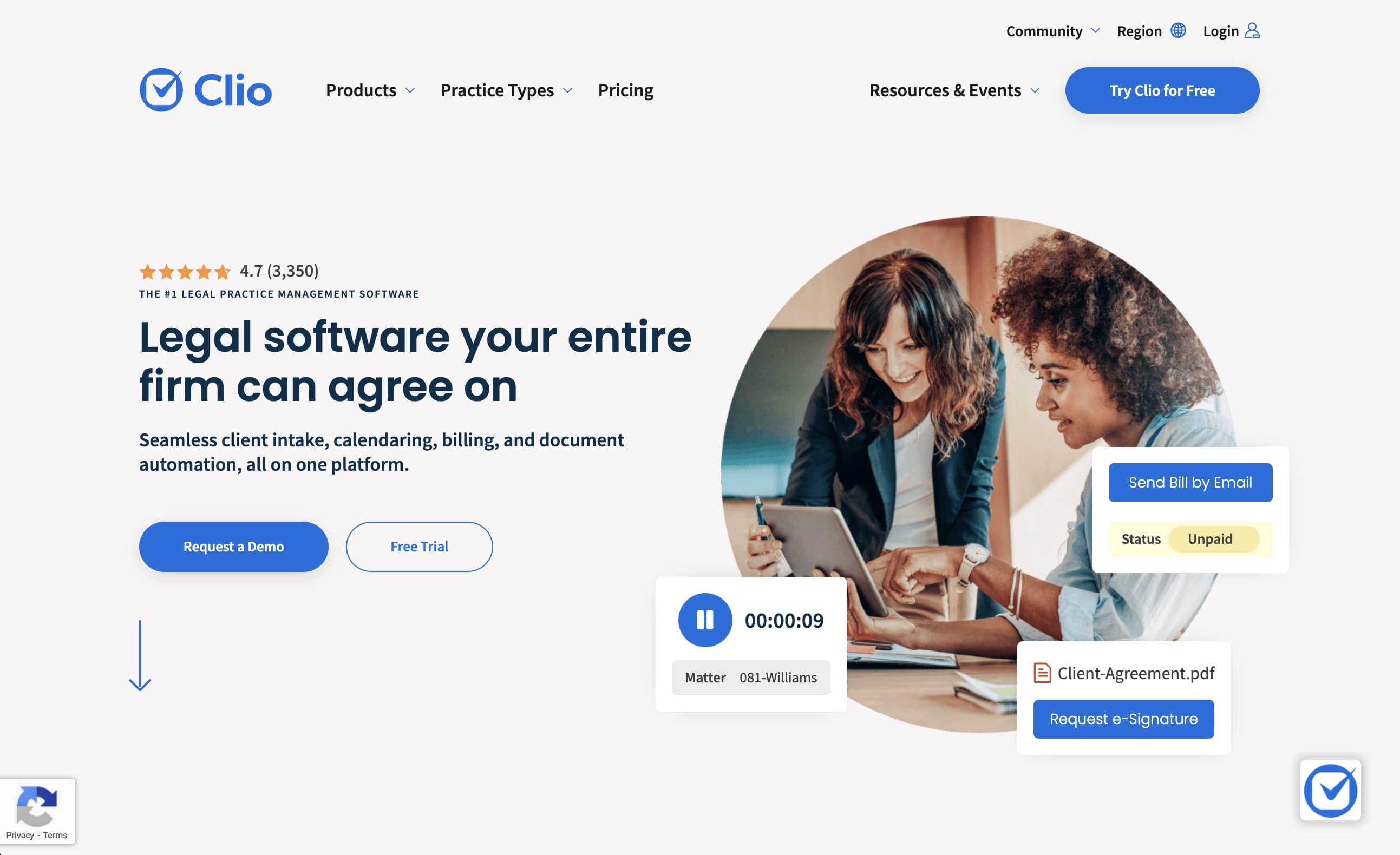 The complexities of law firm admin tasks become quite a bit easier with Clio, the legal case management software designed to simplify your practice. Secure, reliable, and scalable, the platform grows with your firm and gives you intuitive tools and resources to tap into along the way.
Enhance billing efficiency, impress clients with a seamless onboarding process, organize your documents in the cloud, and stay on top of crucial events with Clio's intuitive legal case management solution. Clio is approved by over 90 bar associations and law societies worldwide, so they must be on to something. And because you can integrate Clio with other tools you're already using, including QuickBooks and Google apps, it's easy to get up and running quickly.
Benefits of Clio
With Clio, creating accurate and professional invoices becomes a breeze, capturing every detail of billable work and ensuring accurate and timely payment processing. Offer clients various payment options for added convenience.
Meet changing client expectations with custom online intake forms that deliver a seamless onboarding experience. Automated follow-up emails and reminders ensure timely responses and foster strong client relationships.
Embrace the efficiency of cloud-based storage, bidding farewell to filing cabinets. Securely store all documents in the cloud, seamlessly linked to the appropriate matter. Advanced search functionalities enable swift retrieval, and documents can be sent for e-signature with ease.
Clio helps you stay connected to every case, client meeting, and court date. It automatically creates events based on court rules, ensuring you file on time and avoid malpractice claims.
Clio ensures the utmost security for every byte of data, both yours and your clients'. With a dedicated security team available 'round the clock and continuous vulnerability monitoring, information remains protected. Clio also complies with essential regulations, including HIPAA, SOC2, PCI, and more, giving you peace of mind.
Clio Pricing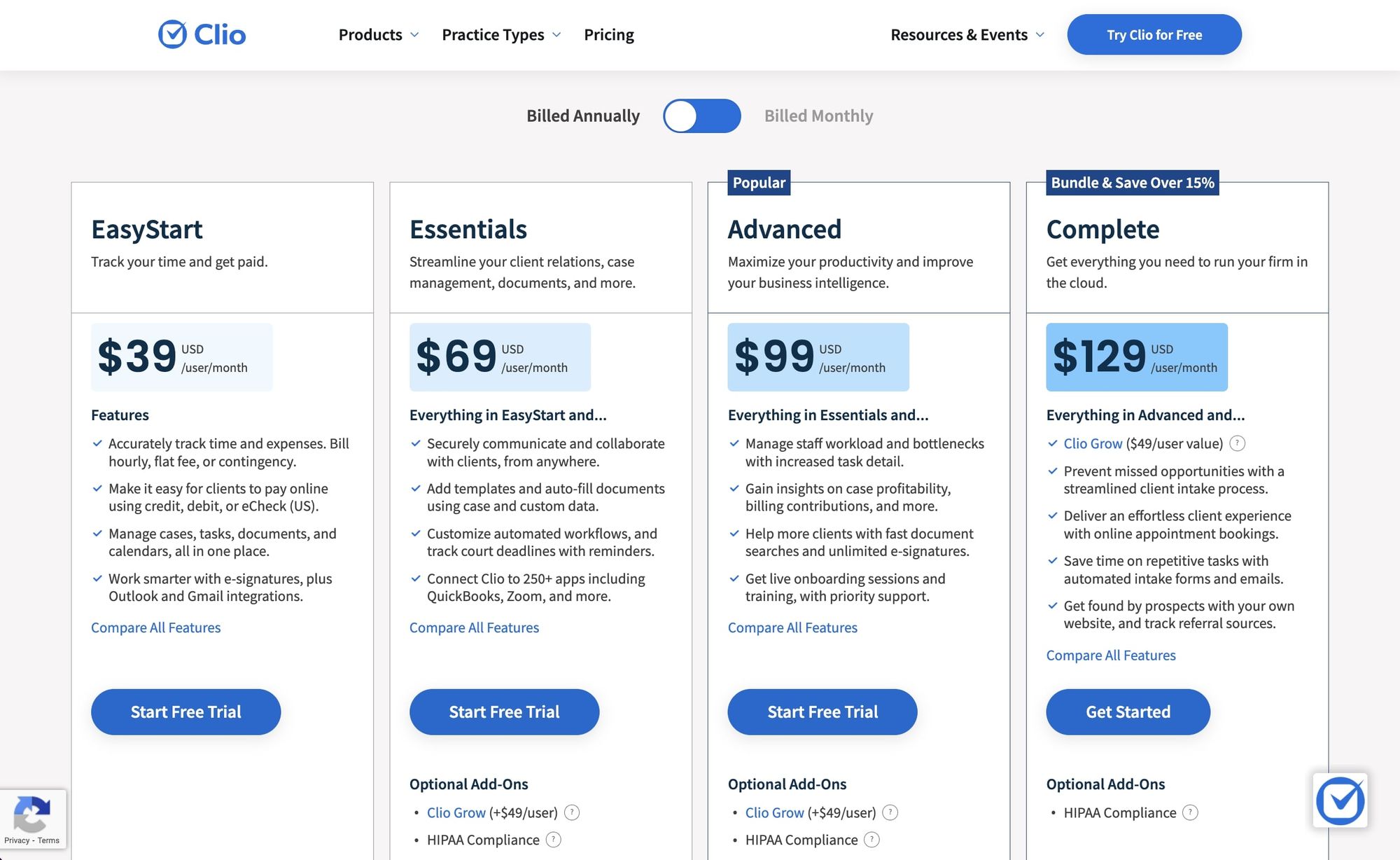 Try Clio for free, and then choose from tiered plans starting at $39 per user per month when billed annually or $49 monthly.
Conclusion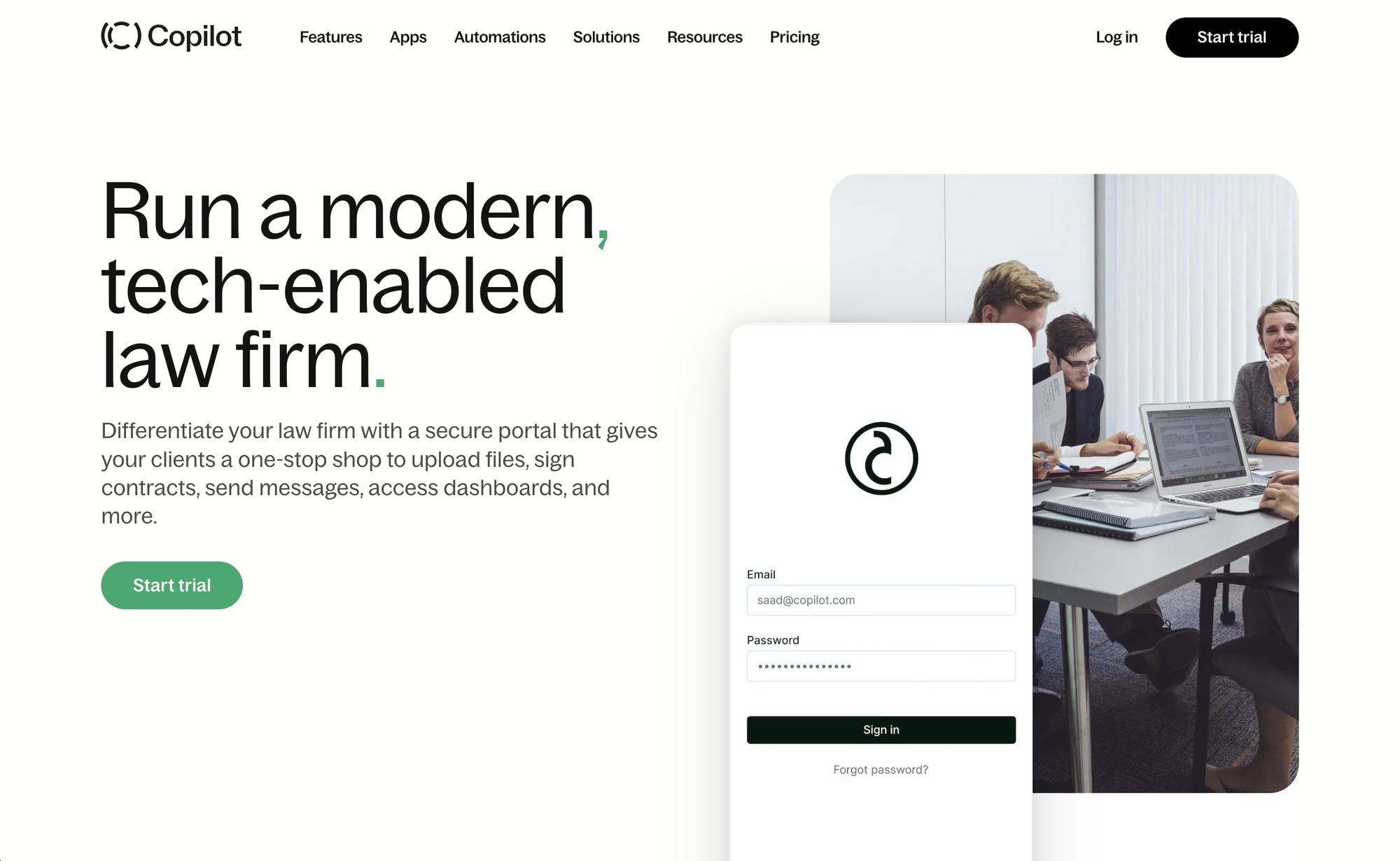 A legal document management system is quickly becoming the backbone of modern law firms, offering a technologically advanced approach to managing the ever-increasing volume of legal documents. By centralizing and optimizing document storage, retrieval, and collaboration, DMS empowers legal professionals to work more efficiently, make better-informed decisions, and deliver superior client service. As we move further into the digital age, embracing a legal DMS is not only a choice but a strategic imperative for law firms seeking to stay competitive and relevant in 2023 and beyond.
Not just any legal DMS will do, however. Among the choices above, Copilot offers the most feature-rich experience at a price point that works for growing law firms. It's easy to start small and scale as your firm grows, and with digital document management, you can focus on high-impact activities instead of hunting down critical information.
Throughout the research process, it can be helpful to test out a legal document management system for yourself. Copilot's free trial gives you ample opportunity to apply your use case to our platform and determine how it can best serve your needs. To learn more and get started, sign up for your free trial today.
Sign up for our newsletter
Subscribe below to receive our newsletter. We'll email you about important announcements, product updates, and guides relevant to your industry