February Highlights: Intake forms & Google Analytics
Feb 28, 2021
3 min read
Marlon Misra
February was a really busy month for all of us at Portal. In addition to a whole new module (Intake Forms), we also shipped Google Analytics, and dozens of improvements.
Intake forms
With client intake forms, collecting information from clients becomes quick and streamlined. With this release, we support multiple choice questions, short answer questions, long answer questions, and file uploads. Watch the video to see how it all comes together.
Just like our other modules (file-sharing, messaging, billing, and knowledge base), intake forms is also modular. That means you can use Portal just for intake forms, or you can use it in combination with any of the other modules.
Images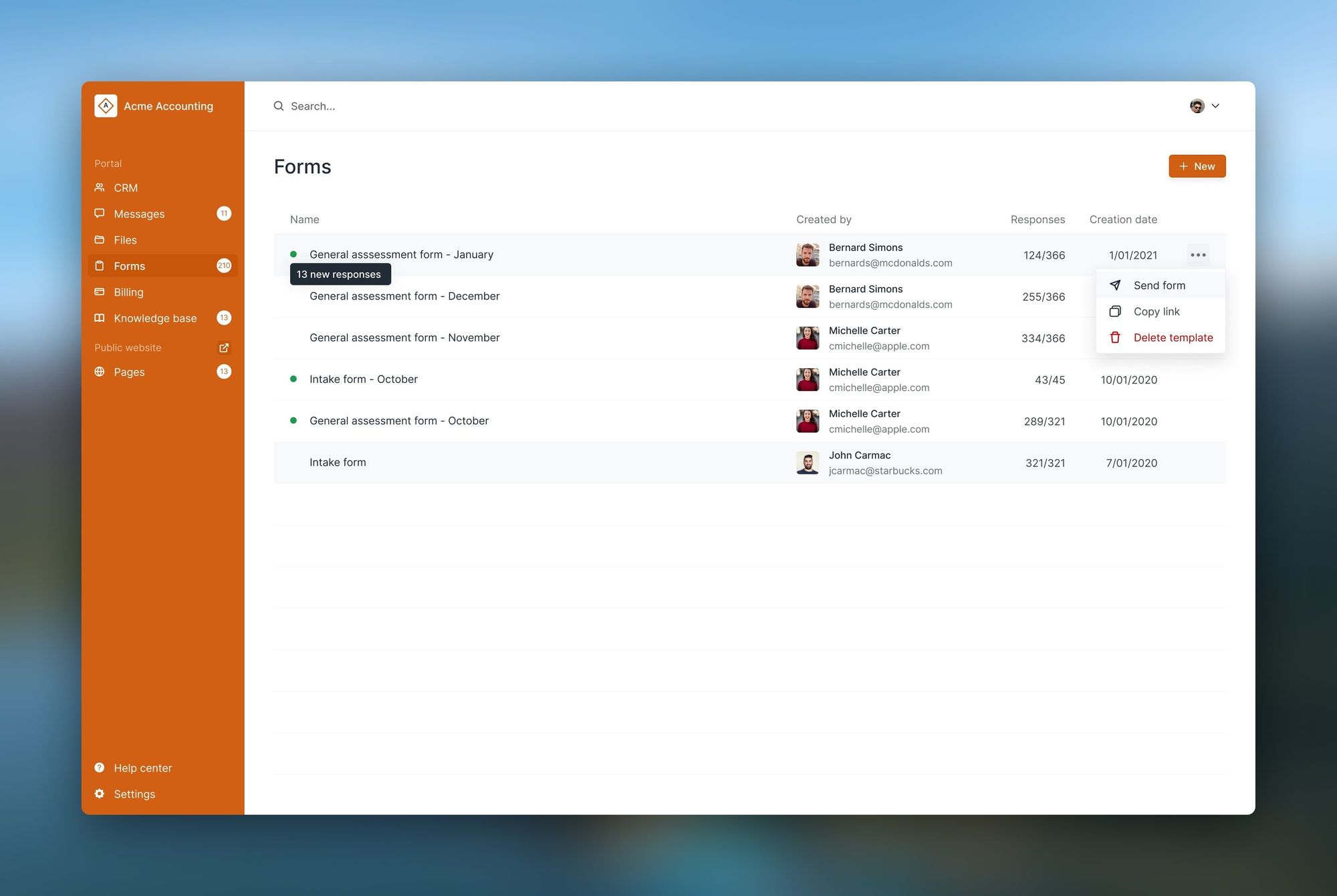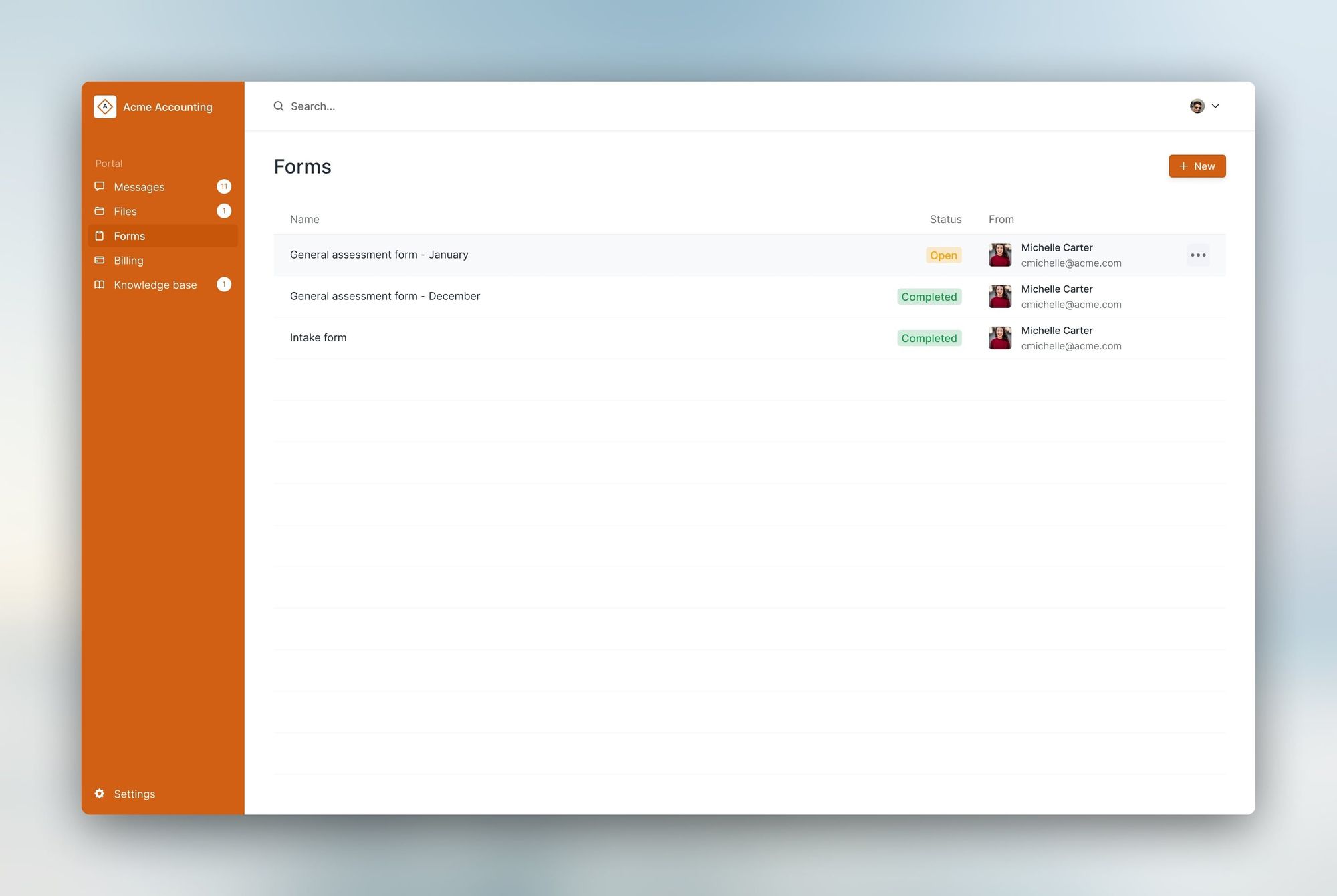 Google Analytics
You can now connect Google Analytics in a few seconds and immediately see data on your Google dashboard.

Improvements and fixes
Added the ability to set the role (admin or staff) of a team member at the time of invitation.
Added a send button to the Messaging channel page.
Added an icon on the invoices table that tells you which invoices are generated by subscriptions.
Added a video walkthrough to the tips card (you won't see it if you are fully setup already!).
Added a plans page where you can choose between monthly and annual plans and upgrade/downgrade.
Added a Pay button for clients on open invoices that is much more prominent.
Added empty state pages to all modules so the experience is better for internal users and client users when a module has no content (for example, no invoices or knowledge base articles).
Improved the dragging experience for blocks in the eSignature flow.
Improved the alignment of eSignature blocks when they are added to the page.
Improved the intake form creation flow so that it is easier to add lots of questions.
Improved how quickly custom domains get connected.
Improved the drag & drop experience in the files module.
Improved the look of headers on mobile screens.
Improved several small UX details in the Forms module.
Improved the rendering process on the messaging page; improving stability.
Improved the experience of connecting a custom domain with real-time checks that tell if you setup was successful.
Redesigned the Settings page so that it shows in a modal.
Redesigned tables with better sizing, animations, action buttons, hover states, and more.
Redesigned tags, toggles, spinners, tooltips, and drop downs.
Redesigned the invoice & subscription creation flows.
Fixed a bug where client users saw billing settings even when the Billing module is disabled.
Fixed a bug that broke search on the Knowledge base module.
Fixed a bug that caused some typed messages to disappear in rare circumstances.
Fixed a bug where double clicking on a signed eSignature document showed the original version instead of the signed version.
Fixed spelling mistakes for intake forms email notifications.
Fixed a bug where in-product messaging notifications didn't go away real-time.
Switched to an infinite scroll paradigm for tables so that you no longer have to go through multiple pages if you have a lot of rows. Just scroll down and new items appear!
Sign up for our newsletter
Subscribe below to receive our newsletter. We'll email you about important announcements, product updates, and guides relevant to your industry