July 14, 2021
Global Extensions
A few weeks ago we released Local Extensions which let you embed products you already use. Local Extensions are great if each clients needs to see something different. For example, you would use a Local Extension to show clients project tracking boards, performance dashboards, etc. Global Extensions are great if you want to embed one product and give all clients access to it. For example, you would use a Global Extensions to connect a Calendly scheduling tool or a Loom intro video. You can see examples of Extension use cases here.
Shortcuts
This is release includes our initial set of keyboard shortcuts. They let you control all of the common functionality of Portal and makes the application much faster to use. You can press ? to bring up the shortcuts window, or you can click on the Help center section at the bottom of your sidebar and then select Keyboard shortcuts. We're going to continue to improve the shortcuts interface, so if you have any requests please let us know.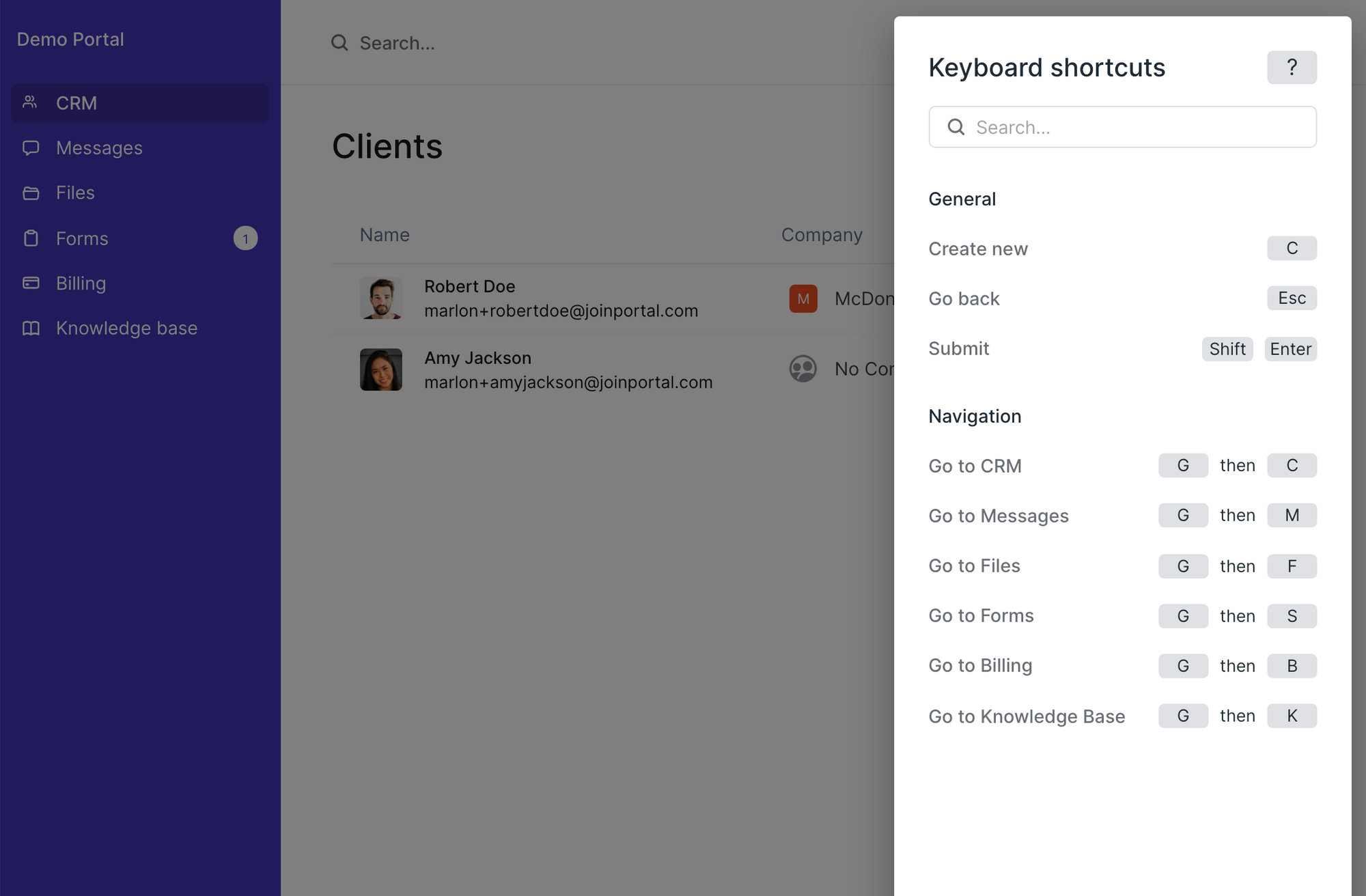 Improvements and fixes
Added the ability to sort columns on the CRM. To sort the columns, simply click on the filter button beside the New button in the top-right and then click and drag to reorder the available columns.
Added support for more Extensions. We now automatically look at the embed type and connection mechanism (link, snippet, etc.), and automatically make use of the best setup.
Improved Extension rendering. When you add an extension there is now a check box called "Auto size embed" and if you leave it checked we automatically render the embed at a height and width that is optimal to the user's screen.
Improved the design of line items on invoices and subscriptions and made it easier to delete them.
Updated the icons use on module management page.
Fixed a bug where the default lead was not always used for client direct sign ups.
Fixed a bug where File channels occasionally refreshed twice before fully loading.