How to collect money from clients who won't pay (6 ways)
Sep 21, 2023
7 min read
Yolande Yip
According to QuickBooks, businesses in the US are owed an average of $304,066 in overdue payments. The good news is if your agency is dealing with outstanding payments from clients, you don't have to write off unpaid invoices. Debt recovery allows you to get money from clients who have refused to pay. In this article, we'll show you six ways to efficiently collect past-due invoices.
6 ways to collect money from late paying clients
Here are six ways you can collect overdue payments:
Send Email Reminders as Soon as Possible
Call the Client Directly
Stop Future Work and Deny Requests
Hire a Collection Agency
Send a Nonpayment Letter of Demand
Take Legal Action
Okay, let's dive deeper into each one.
1. Send email reminders as soon as possible
Sometimes, a simple reminder email is all that's needed for customers to pay their bills. In the event someone is particularly forgetful, you may need to send a series of email reminders.

Every email should include the invoice number, the amount owed, the due date, and relevant payment terms — like a late payment clause. It's also a good idea to establish a maximum number of follow-up attempts before you move on to harsher debt recovery measures.

Shane McEvoy, managing director at Flycast Media, says, "For debt recovery, I generally start with a sequence of emails and slowly turn up the volume on the type of language that I use in subsequent emails."

We recommend having a payment reminder email template on standby just in case.
Payment reminder email template
Hi [name of client],

I'm reaching out to you regarding (invoice number), which was due on (include due date). Our records show that we haven't received your payment of [include amount] yet. Please provide an update regarding the payment status.

Regards,
[your name]
2. Call the client directly
Never underestimate the power of a phone call. In an age of anonymity on the internet, having a person-to-person interaction can effectively remind someone they're dealing with an actual person. Courtesy and a friendly reminder of payment expectations, including a payment timeline, can convey a great deal of information, including your professionalism and willingness to manage disputes maturely.

Remind the client of different payment methods available to them, like credit cards, check, or PayPal, and see if you can solve the issue by streamlining potential holdups in the payment process. As a small business owner, the last thing you need is cash flow issues, so if something as simple as a phone call can avoid financial woes, consider this approach.
3. Stop future work and deny requests
Robert Johansson, CEO of Imgkits, says, "From my experience, it probably goes without saying, but if a client has a late invoice, don't do anything else for them. Whether you have more work for that customer or the client wants you to perform something else, don't do any more work until you get paid."

This tactic may seem abrupt, but it's an effective way to convey that your business is valuable and demands payment. Your livelihood depends on your ability to collect fees, which is simple economics. If the client respects you and your business, a pause in service will get their attention, hopefully resolving the issue before anything more drastic is needed.
4. Hire a collection agency
Collection agencies specialize in all manners of debt collection for a fee — which can be up to 35% of the total amount owed. Before hiring a collections agency:
Make sure they have experience with your niche and business.
Ask for clarification regarding fees and contingency costs. Some agencies will ask you to pay a fee even if they couldn't don't recover the debt.
Make sure they have a valid license from the regulators in your state/country.
Make sure the agency has commercial general liability insurance.
Kent Lewis, chief marketing officer at Anvil Media, says, "I have sent half a dozen clients to collections with a 90% success rate. The collections agencies take 30-40% of the balance, but that is often worth the peace of mind. In one case, a client wanted to settle for .30 on the dollar for work completed months prior. I sent them to collections (with accrued interest) and ended up getting paid .50 on the dollar. Not ideal, but I felt it was a moral victory."
5. Send a nonpayment letter of demand
A nonpayment letter of demand is a pre-litigation document that communicates your intent to resolve a payment dispute before filing a lawsuit. Paula Glynn, director of search marketing and digital strategy at Pixelstorm, used this method to recover outstanding payments. She says, "In the early days of our agency, we didn't include information about any additional charges for overdue payments in our invoices, and we've had a few clients that delayed payments for a long time. We followed up via email many times and then moved on to calling them. Eventually, we ended up sending them a letter of demand, and that finally made them settle the outstanding invoices."

A nonpayment letter of demand should state how much the client owes you, for what, and when they need to pay the invoice. It may also include a warning that you'll consider legal action if the debt is not paid by a particular date. You can write a demand letter on your own, but it's always best to seek legal advice before going ahead with it.
6. Take legal action
If you still have trouble collecting client debt, you may need to consider legal action as a last resort. This should be weighed carefully. You don't want to spend more on court fees than what the client owes.

You have three options:
1. File a claim in small claims court
A small claims court helps people who do not have attorneys resolve their disputes quickly and without breaking the bank. It is also called a conciliation court.

To file a suit in small claims court, you need to fill out and submit a Statement of Claim in the district where your client's business is based. First, you'll pay a $15–$100 fee, and then a summons will be dispatched to your client. Once they've been served, they'll have the opportunity to settle with you or appear with you before a judge to resolve the dispute.
2. Take the client to Superior Court
Superior Court often involves a jury to arbitrate a final decision. There are two primary reasons to escalate debt recovery to Superior Court:
If you and the client couldn't reach an agreement in small claims court.
If the amount owed is greater than $25,000.
To sue your client in Superior Court, you need to hire an attorney. An attorney can advise you on the court's complex processes, possible outcomes of your case, and the amount of time and costs involved.
3. Try arbitration
Arbitration is an alternative dispute resolution method in which an independent third party, called an arbitrator, settles your payment dispute out of court. To settle via arbitration, your lawyer will send a "Request for Arbitration" or "Notice to Arbitrate" to your client. Once accepted, the case will be presented outside of court to the arbitrator, who will review the evidence presented by both parties before making a decision.

Arbitration can help you avoid the lengthy processes of small claims and superior courts and help reduce steep attorney fees.
Copilot helps minimize outstanding payments from clients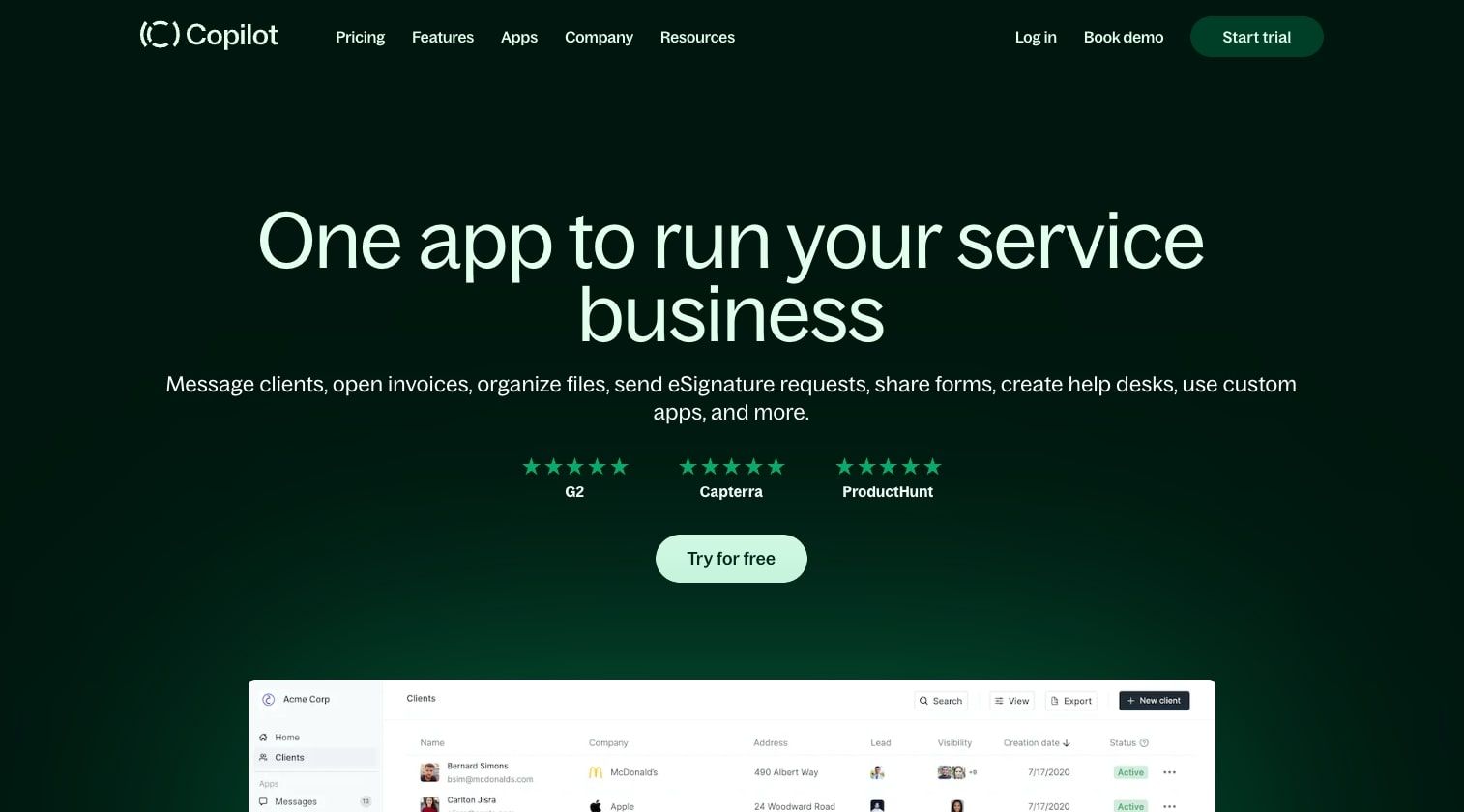 Copilot provides a central client collaboration platform where you can easily manage your clients' projects from start to finish. There are several things you can do in Copilot so that your clients pay what you're owed in full and when due.
1. Send contracts to clients
With Copilot, you can send a contract to your client before the project kicks off. To do this, you only have to initiate an e-signature request for the contract, and your client can sign the document without logging out of the collaboration portal. Once you receive the signed document, you can add it to a shared document folder for easy access and reference.

This is especially helpful when it comes to enforcing clear payment terms. For instance, if you include late or nonpayment penalties in your contract, you can leverage these clauses to recover debt from non-paying clients easily.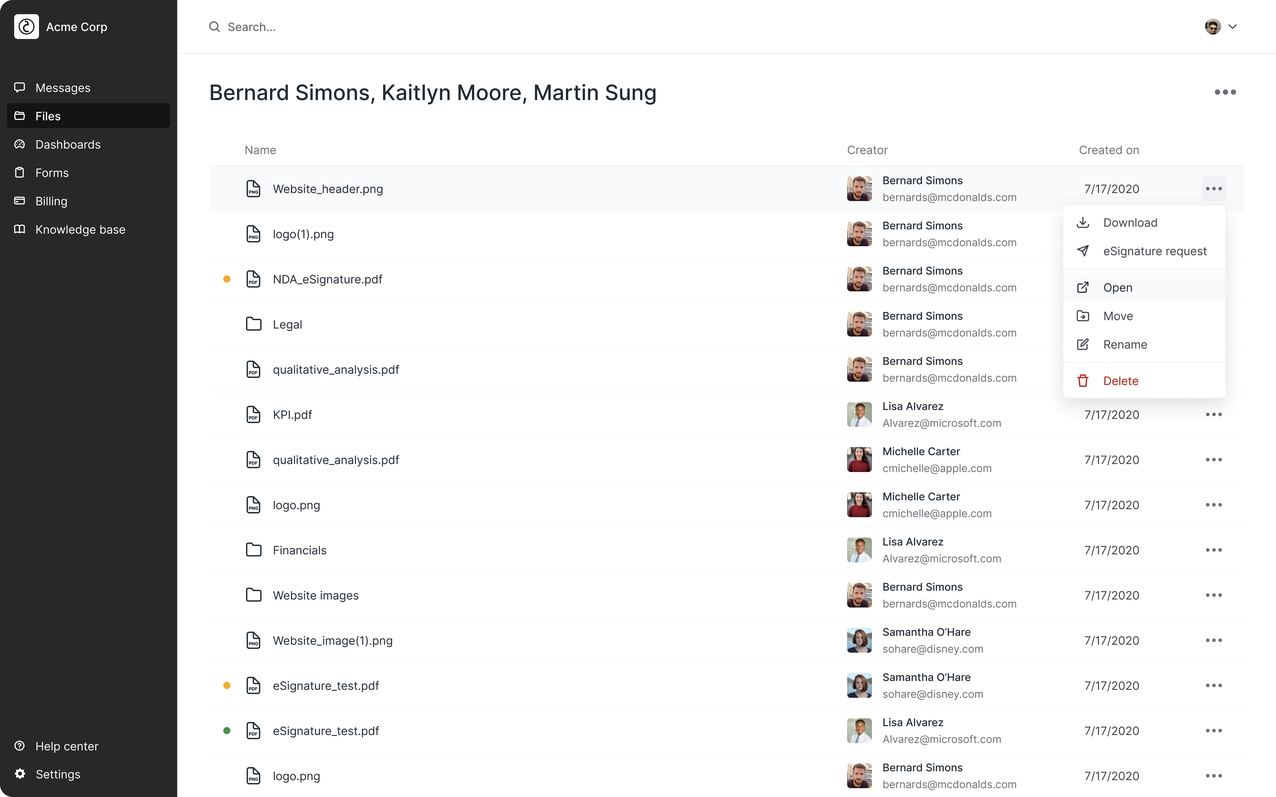 2. Set up recurring billing
If you offer retainer or ongoing services, you can set up recurring billing in Copilot using the subscriptions feature. Recurring billing means your client is automatically charged a fixed amount at a specific time throughout the billing period. When you add a new client to your client portal, go to the subscriptions tab under "invoices" and fill in the requested information, like the billing period, due date, charge type, and services. The client will receive an automated invoice and receipt on the payment due date.

Recurring billing reduces the chances of a missed payment, which can happen either because you forgot to send the client an invoice on time or the client failed to initiate a manual transaction when due.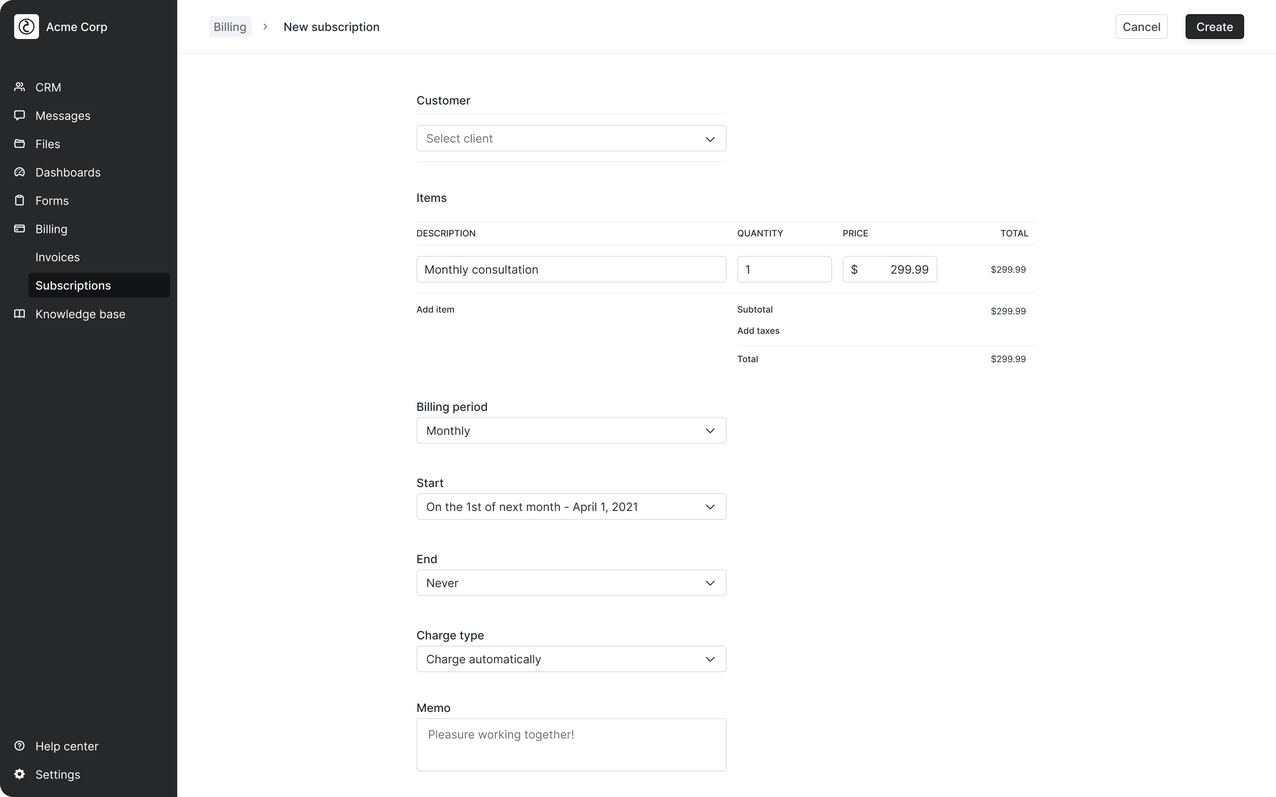 3. Track invoices
Copilot allows you to manage all of your invoices from one place. In the billing dashboard, you can see due dates, payment methods, invoice status, and billing periods for every client. Tracking invoices on a central platform allows you to catch and resolve any missed payments.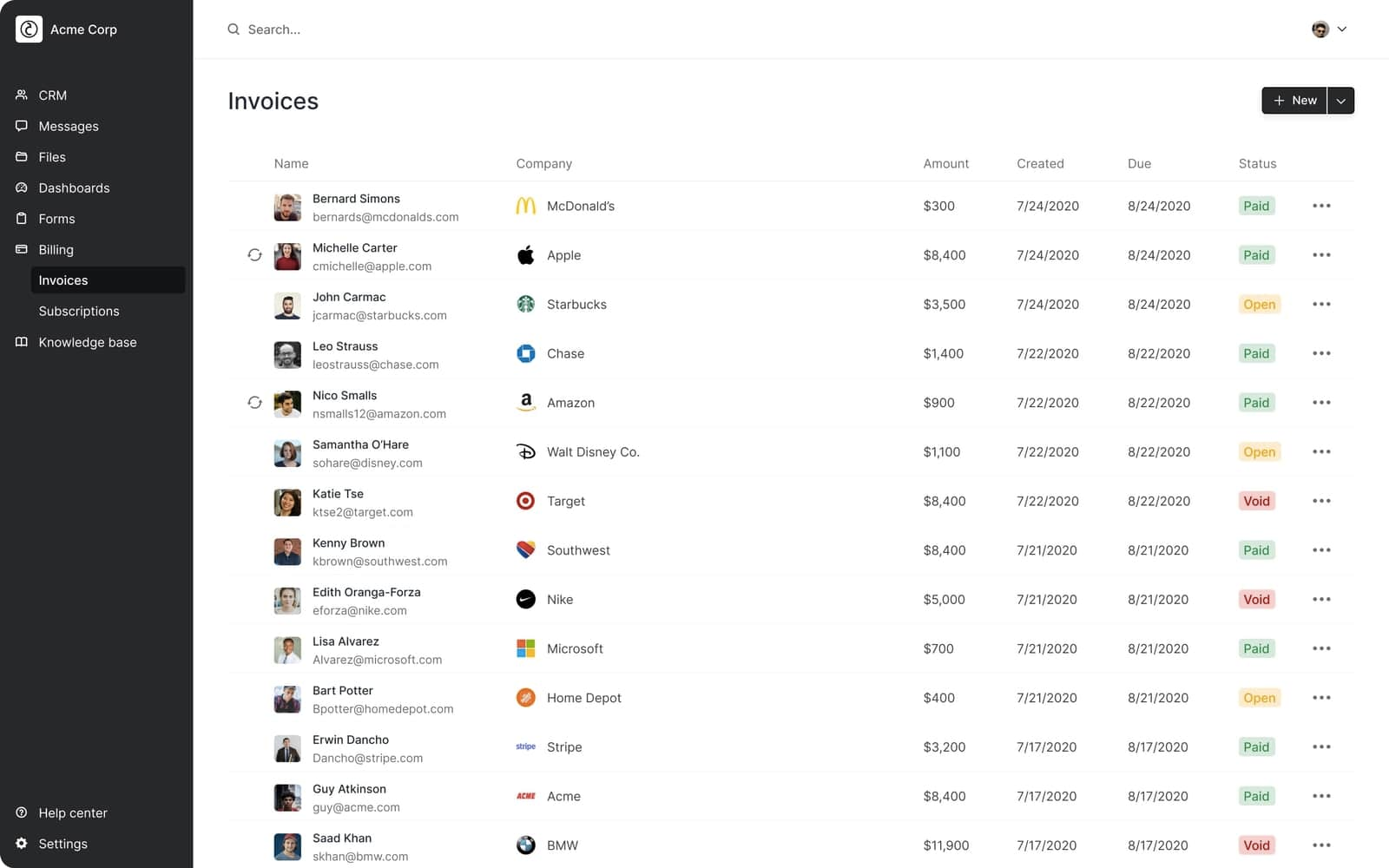 4. Offer an easy way to pay
Clients want easy ways to pay their invoices. In fact, 16% of freelancers say they suffered nonpayment because their clients couldn't use the payment methods they accept. Portal can help you streamline the payment process for your clients. You can create and send invoices to them right from the client collaboration portal. And the client can pay your invoice via ACH or credit card without leaving your portal.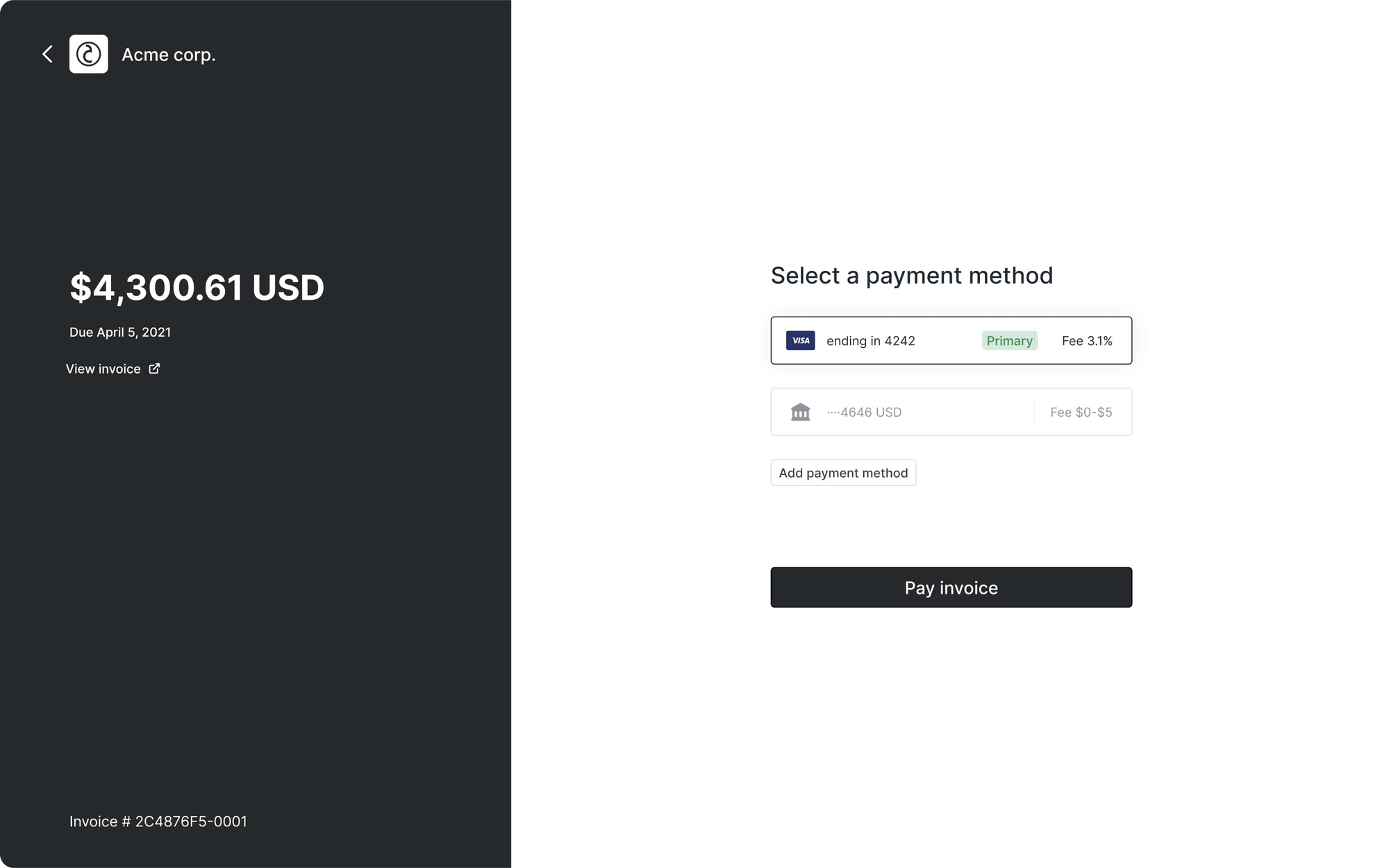 Connect with your clients
Copilot is a no-code customer portal solution that lets you offer clients a unified hub for messaging, file-sharing, eSignatures, payments, forms, and self-serve support. Learn more about how Portal can help you deliver integrated customer experiences to your clients.
Sign up for our newsletter
Subscribe below to receive our newsletter. We'll email you about important announcements, product updates, and guides relevant to your industry