How To Set Up A Home Or Remote Office
Jul 06, 2021
11 min read
Yolande Yip
During the COVID-19 pandemic, the move to remote work was sudden. To keep employees safe, companies sent them off with laptops and devices to set up home offices. Little did business and remote workers know that this stop-gap would end up being a longer-term arrangement. As weeks turned to months, many workers got used to their no-commute workplace.
Some employees found that a remote work environment was healthier for them even outside of lockdown. Now, as offices are trying to revert to a more typical setup, employees are pushing for continued hybrid office/remote work. JLL's Human Experience survey saw that 70% of employees want a hybrid remote work model post-pandemic.
As more employees further commit to remote work, setting up a comfortable and productive space is vital. Ensuring you have the essentials to complete your job with your home office setup is also crucial. To help those making this remote move a more permanent part of their living space, we have put together some tips and suggestions for you on how you can make sure your home office space will inspire creativity and productivity.
Choosing a Space
The first step in making a home workplace is to choose where it is in your home. While it may seem easiest to throw a desk and PC in the corner of your bedroom, there are a few reasons you should put some thought into the placement of your office. Even in a smaller apartment, there are ways you can make the space better for work.
Benefits of a dedicated space
In an ideal situation, you will dedicate a room or space to a home office. There are a few benefits to a carefully picked space, such as privacy from your family members or roommates. Remote employees with children especially can struggle with interruptions throughout the day. Having an area that can be off-limits can help you focus and stay on task when needed. Also, the psychological separation of work and living space can make it easier to establish healthy work/life boundaries.
Light considerations
Lighting can make or break a home workspace. If a window gets bright sunlight and is behind or adjacent to your screen, you can suffer from glare throughout the day. To counter this, you can invest in darker curtains or blinds to block out some light during the brightest parts of the day. Rather than relying on window lighting, the most comfortable lighting for both you and your eyes is often overhead lighting. Consider different types of bulbs for warmer or cooler lighting depending on your preference.
Noise levels
Loud, distracting noises can be a problem during your workday, especially if you live with other people. Sound concerns are more of a problem if you are often on video calls for meetings or commonly need to be on your cell phone with clients. If you can't have an isolated, dedicated space, one solution is to invest in acoustic panels. By using sound-canceling materials, acoustic panels can be put up similar to a privacy screen to help block out noise. Sound-canceling headphones are another great option to keep you focused and to block out environmental noise.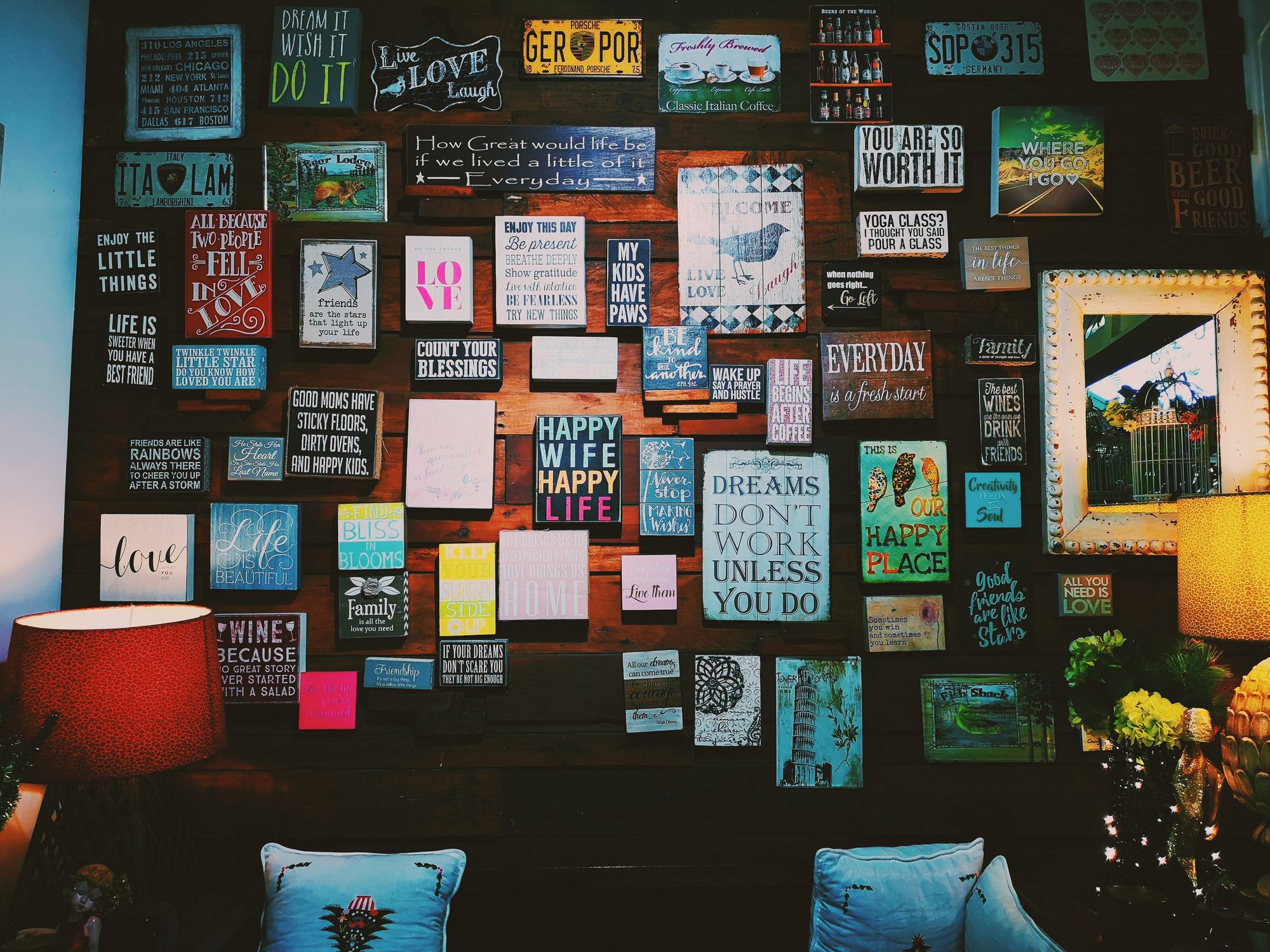 Surround yourself with inspiration
Creativity and inspiration are essential to problem-solving and innovation. It can be challenging for employees to harness their imagination consistently, so surround yourself with things that inspire you to affect your mood and productivity positively. If you have wall space, hang artwork that resonates with you. You can include items that spark inventiveness on your shelves or desk to change the feel of your workspace completely. By creating an environment that pushes you toward creativity, you will be happier in your home office while also making more innovative answers to your problems.
Make it your own
Customization can help you make a home office setup feel comfortable. For some workers, adding specific tablets, notepads, or pens can help make the space feel familiar. Other remote employees may prefer to customize their space with office furniture, such as a filing cabinet to keep things neat or a secondary sitting space for taking calls. Find ways to make the office space fit your workflow needs while also being inviting and comfortable.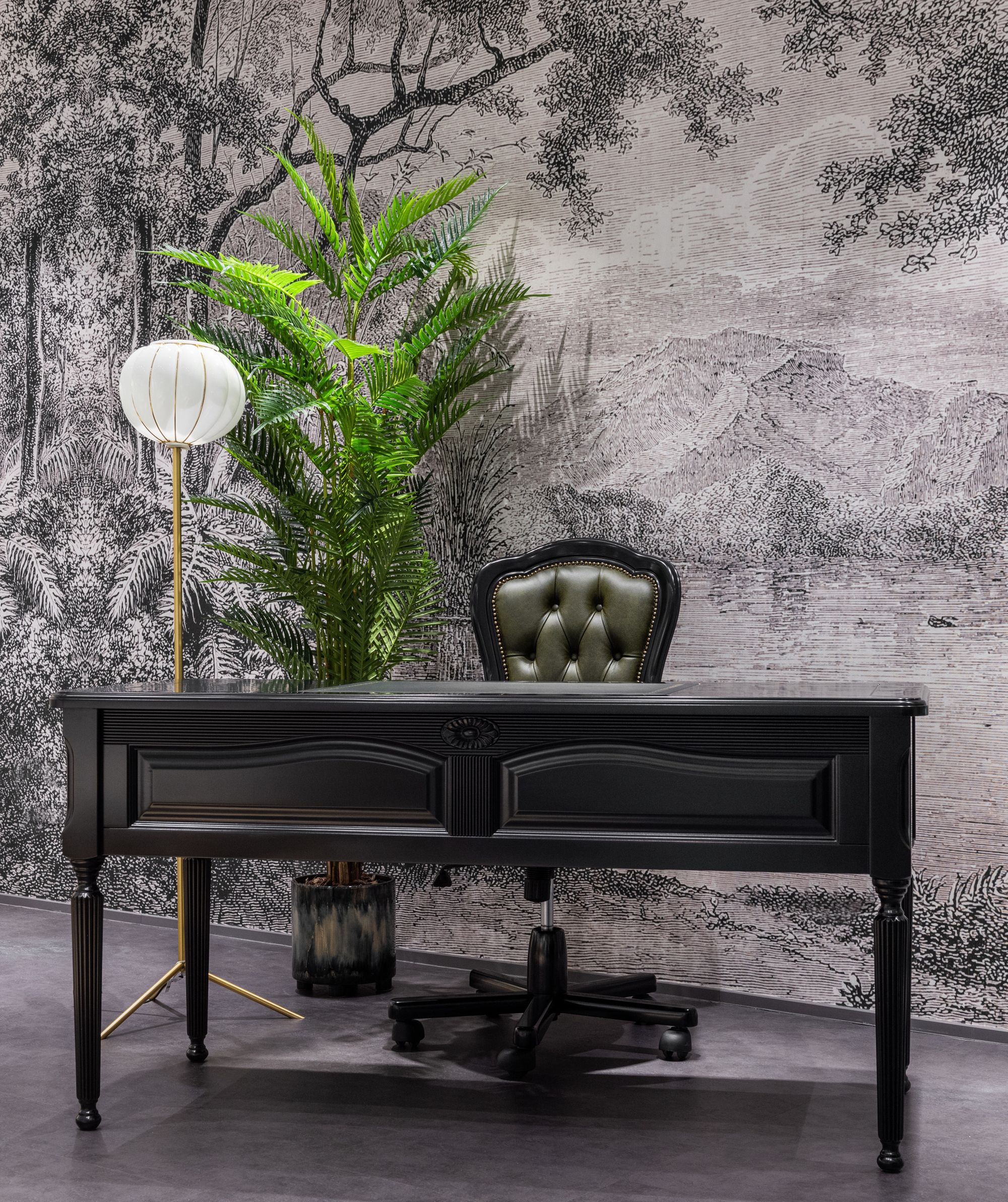 Benefits of Office Plants
Green spaces in offices have become more popular, with companies investing in pieces like green walls or plant gifts for employees. While greenery is universally a great gift, these choices aren't arbitrary. Researchers have found that plants in our office spaces make us more productive and happier. One study by the University of Exeter found that adding plants to a sparse office space can increase productivity by up to 15%!
Productivity isn't the only reason that plants are a great addition to your home office. Multiple studies, such as one published in HortTechnology and another in the Journal of Physiological Anthropology, have shown that caring for plants can reduce stress. Along with providing a natural environment that can spark innovation, greenery can help us de-stress and help improve our mental health! Adding plants to your home office is a great idea to help liven up your space while benefitting from these positive effects.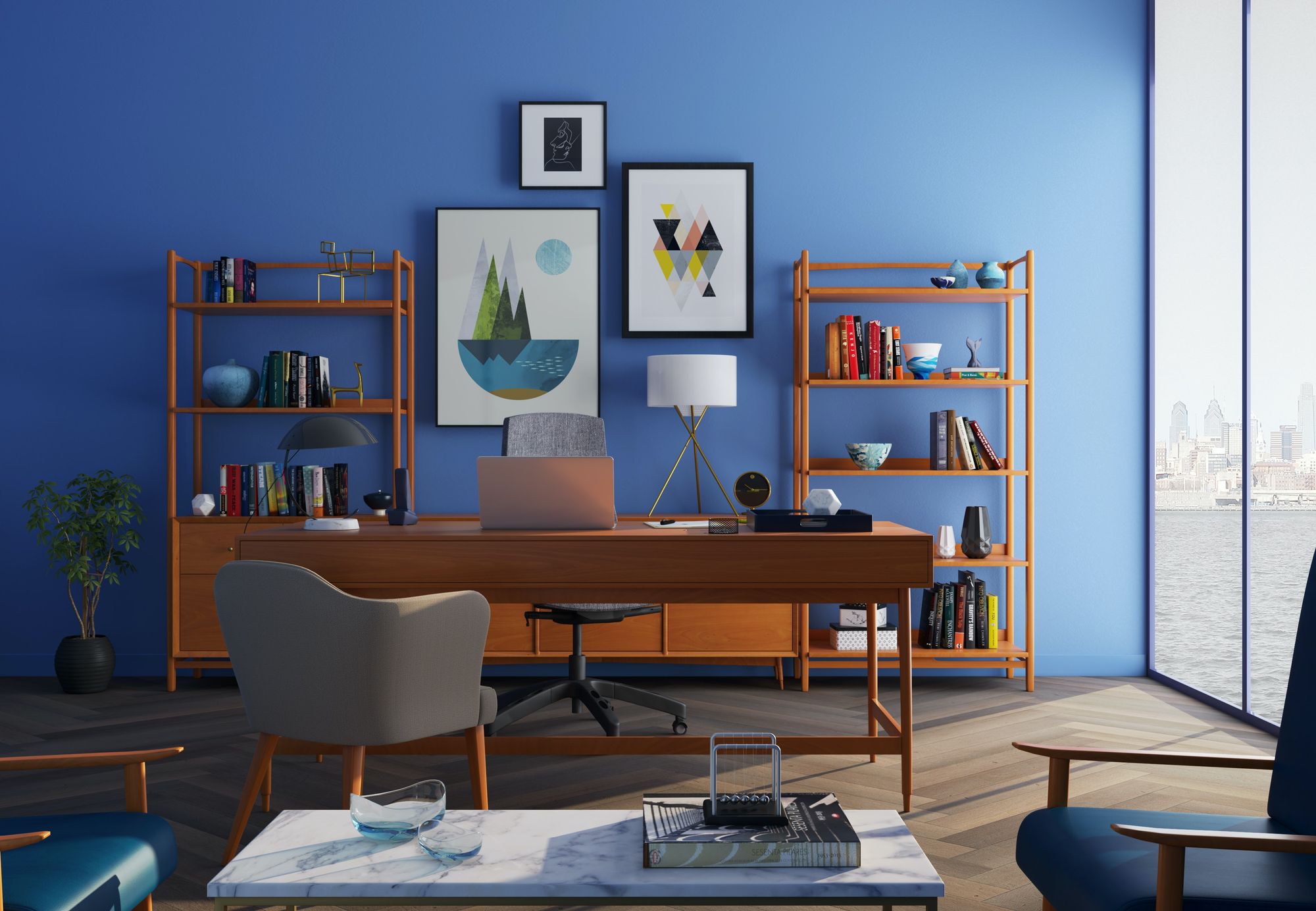 Setting Up Your Desk Space
Most remote workers spend most of their time in an office chair. Spending eight or more hours a day in a cheap, non-ergonomic setup can cause poor posture and spine pain over long periods. For that reason, making sure that your desk space has the equipment to keep you physically comfortable is crucial.
Ergonomic equipment
Ergonomic equipment takes many forms beyond proper office chairs and lumbar support. Even small changes like the positioning of your screen and your chair height can revolutionize how comfortable a workstation is. Changes to your office setup will positively affect you and your body now and long term.
Ergonomic keyboard
Special, ergonomic keyboards often split the letters of a keyboard into two halves, rotating the sections so that they better fit your natural resting wrist position. Having an ergonomically designed keyboard can help prevent hand and wrist fatigue and even more severe problems like carpal tunnel. Also, consider investing in a wrist rest, which can help further reduce strain.
Determine proper desk and chair height
Setting your desk and chair to the proper height can alleviate many posture problems. First, make sure that your feet can firmly sit on the ground. Ideally, your knees should be at a ninety-degree angle. To achieve having your feet in the proper position, you may need to get a footstool. Second, you want to make sure that your arms are in the correct position. When your arms are resting at your keyboard, you want your elbows to create a ninety-degree angle, with your lower arms parallel to the top of the desk. Chair adjustments and wrist rests can help you if your setup does not currently allow for this position.
The best height for your screen
Adjusting for screen height can be tricky. Not all monitors have good customization options, so achieving a perfect screen height can be difficult. Ideally, your eye level should hit the top of your monitor when sitting straight. You should then tilt the monitor slightly up to encourage proper posture. If possible, you want the screen to be about 18-24 inches away from your face to reduce eye strain. For laptop users, a laptop stand can help reach these goals.
Other Equipment Considerations
Besides the apparent desk materials, here are some other equipment considerations for your remote office that are no less important.
Good internet service
Finding quality internet services can be complicated depending on where your home is. It isn't uncommon to find fiber and gigabyte speeds in metro areas, but your options can become very limited in more rural areas. Since having a reliable internet connection is a vital part of working remotely, you will want to do some thorough research on what is available in your area. Here are some standard providers that you can consider:
Comcast Xfinity: Xfinity is known for being one of the more common options throughout the US. While some customers complain of poor customer service, they often are the best option for many regions that do not have an abundance of options.
Google Fiber: Google was at the forefront of the fiber movement. Fiber is consistent and extremely fast. If you have access to fiber either from Google or another provider, it can be a great option.
Verizon Fios Home Internet: Verizon is another fiber contender, mainly on the East Coast. If you use Verizon as your smartphone or phone line provider, consider trying to bundle these features to get a discount, something this company has done in the past.
Centurylink: Centurylink is another standard option with benefits such as not raising prices over time and not requiring contracts or data caps. Features like this can be highly appealing, especially if they have fiber in your area.
Viasat: All of these options are great, but many aren't available in rural areas. If you struggle to find good choices in your area, consider satellite internet options like Viasat. Viasat is available nationwide with unlimited data and includes home wi-fi for your other devices.
Good routers or mesh networks
When looking at internet connectivity for your desktop computer or devices, you have a few options to consider. You can get a traditional router for a pretty reasonable price that will often cover most of your needs. An internet company often provides routers for rent, but you can also purchase your own. Many router companies tout extreme speeds for streaming and gaming, but a traditional router is sufficient for most users. Wi-fi 6 is another buzzword surrounding routers, and this feature is often only necessary if you are going to be connecting dozens of devices to one network. Unless you have a coworking space, just a high-quality traditional router should fit your needs. Some popular recommendations are:
Linksys Dual Band AC1200+ Smart wi-fi Wireless Router: $68.88 at Walmart
TP-Link wi-fi 6 AX1500 Smart wi-fi Router: $69.99 at Amazon
TP-Link wi-fi 6 AX3000 Smart wi-fi Router: $109.00 at Amazon
Another option to consider is a mesh network. Rather than having one connectivity point, you have a hub and multiple wi-fi nodes around the house. Mesh networks are great if you plan to work far from where your wi-fi router would otherwise be. The primary bonus to a mesh network is better coverage and better reliability. However, mesh networks often cost more, require multiple power outlets to function, and aren't usually as fast as high-quality routers. Here are some suggestions if you want to take the step to mesh networking:
TP-Link Deco Mesh wi-fi, 5,500 Sq. Ft. Coverage: $120.00 at Amazon
Google Nest wi-fi AC2200, 4,400 Sq. Ft. Coverage: $239.00 at Amazon
ASUS ZenWifi AX6600 Tri-Band Wifi 6 System, 5,500 Sq. Ft. Coverage: $449.99 at Amazon
High-quality headset
Having a good headset can make a big difference, especially if you take calls often or do video meetings during the day. When looking at a headset, consider how comfortable it is to wear during a day of work. Think about if you want it to connect to your computer only, in which case just a USB connection is fine, or also to your phone Bluetooth. Once those bases are covered, you can start comparing factors like battery life (if wireless) and audio quality. Some workers prefer to have a headset with a high microphone quality, which can be especially helpful if you take client calls. Here are our picks:
Best overall: Bose Noise Cancelling Headphones 700 at Amazon
Best lightweight: Apple AirPods Pro at Amazon
Best option under $50: Sound Blaster JAM V2 at Amazon
Good webcam
If video calls with clients will be a daily event, investing in a high-quality webcam will be essential for you. When picking a webcam, a clear picture is by far the most crucial feature. Some webcams have mics, so you can bundle these devices together rather than purchase them separately. Here are our top choices:
Whiteboard for notes
Keeping on track can be tricky, especially when your office is in your home. One way to track your progress and your to-do list is to purchase a whiteboard. Having your notes and upcoming tasks in an easy-to-see place can help you stay focused and engaged throughout the day.
External monitor
An external monitor or secondary monitor can help you keep track of everything you need to simultaneously. Using a second monitor means that you can quickly check emails or task lists on a second screen throughout the day and it makes working on projects requiring multiple software platforms easier. Laptop users often benefit from an external monitor that is larger to help prevent eye fatigue.
Focused task lamp
When working, having a task desk lamp can help reduce eye strain as you read paper documents or write notes. Purchasing a task lamp can be particularly helpful for those who have offices in windowless rooms or often work into the evening. Picking an easily adjustable lamp can be beneficial if you plan to use it for multiple purposes.
Cord organization
Keeping the cords under your desk organized prevents accidentally kicking or pulling at them throughout the day. The last thing you want is to accidentally unplug your computer during a crucial meeting or a close deadline. Buying cord organization tools like cord clips and cable boxes can prevent any mishaps and clean up your cord clutter.
Also, from a visual standpoint, tangles of messy cords can be distracting for those who prefer to work in neat spaces.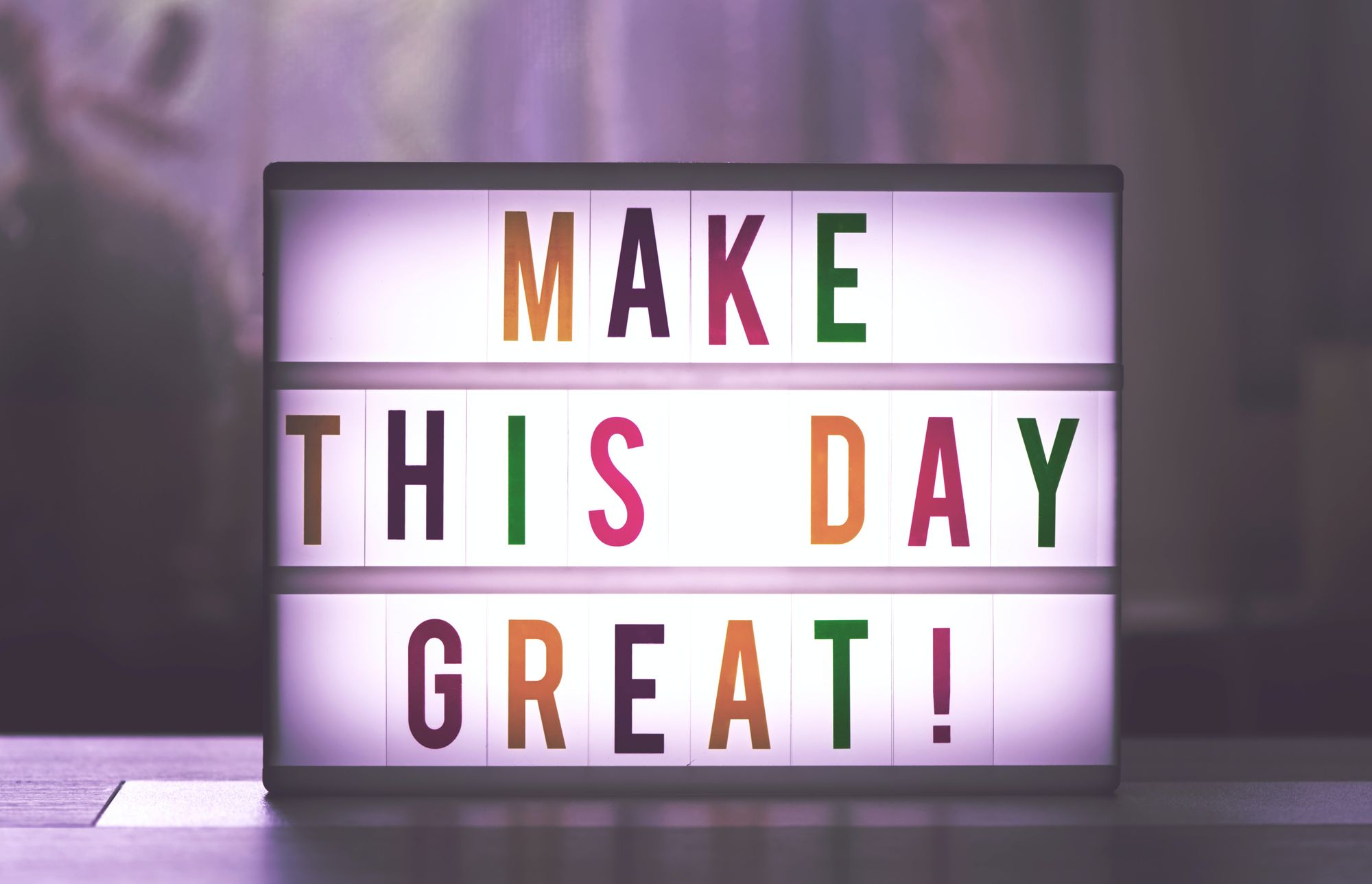 Creating a Routine for Success
The key to success in a home office is to prevent getting pulled away and unfocused. One of the best ways to combat problems like distractions is to create a routine. Creating a schedule that helps support your workflow and productivity will allow for consistent success when working remotely.
Start and end at the same time every day
Start by creating a consistent start and end time for every day. Waking up at the same time daily to work can help you create a consistent rhythm that puts you in the right headspace to begin being productive. Making a cut-off time for your workday prevents you from overworking, which remote workers often do.
Block calendar time for deep focused work
Doing deep, focused work can be challenging. Blocking off specific time for concentrated work will prevent co-workers from pulling you into meetings at the expense of your productivity. Keeping roommates and family connected to these calendar events can also help avoid interruptions or distractions if you live with others.
Genuinely turn off at the end of the day
Once you finish working, indeed be done working. Don't respond to that one last email, and don't log back in to finish up a project later that night. Scheduling time for yourself at the end of every day is vital to your work-life balance and mental health.
Summary
Working from home has many benefits, but it can be difficult to focus or work comfortably without a proper workplace. To set yourself up for success, set up a specific place for your workspace. Provide yourself with all the tools needed to be physically comfortable and mentally focused. Create a routine that keeps you on schedule every day, and make sure to unplug at the end of the day. By preparing for your transition to remote working with the proper mindset and equipment, you will set yourself up for success.
Simplify Client Management
You have enough things to work about while working from home. Client management shouldn't be one of them. With Portal, it's easy to track all your client-related assets, intake forms, messaging, and more in an all-in-one commerce solution that combines CRM and accounting tracking as well. Free yourself from the minutiae of client management, so you can focus on building genuine, authentic relationships that charge your business.
Sign up for our newsletter
Subscribe to our newsletter to receive emails about important announcements, product updates, and guides relevant to your industry.