7 Best Knowledge Base Software Platforms for 2023
May 09, 2023
12 min read
Omid G
The world runs on information. But if that information isn't organized and presented in a way that's helpful, it can leave us feeling overwhelmed and confused. And without the right tools, it can seem like a daunting task to document and organize information that can be easily accessible to both your customers and team members.
This is where knowledge base software comes in. In this article, we're going to go over seven of the best knowledge base software solutions of 2023 — perfect for creating FAQ pages, streamlining project management, and offering self-help resources to your customers and employees.
You'll discover software solutions that offer fantastic features like WYSIWYG editors, self-help options, and seamless integration with your existing project management stack. So, let's dive into the world of knowledge base platforms.
What Is Knowledge Base Software?
Knowledge base software is a specialized tool designed to help businesses create, manage, and maintain a centralized repository of information. It's like a digital library for your business, where you can neatly store all your valuable information — think of it as your company's help desk.
This information can be anything from your company's policies to product guides, FAQs, and even tips for fixing common issues. The idea here is to make life easier for both your team and your customers, so they can quickly find the answers they're looking for — great for reducing customer support inquiries.
When you use knowledge base software, it's like having a friendly helper that streamlines communication and support, making sure everyone has the right information at their fingertips. Plus, it saves time on training since your team can access all the details they need in one organized place.
What To Look For in a Knowledge Base Platform
Choosing the right knowledge base platform can feel a bit overwhelming given there are so many options out there. Let's chat about the key features you should look for to find the perfect fit for your business.
Third-Party Integrations
First, you'll want a platform that allows third-party integrations. This way, you can easily connect any other tools you may already be using, like CRM, docs, and content management systems to your knowledge management solution.
Self-Service Option
Next, prioritize a platform that promotes self-service. Your customers and team members will love having the power to find answers on their own, without having to wait for assistance. It's like empowering them with their own personal assistant! This also helps you reduce the number of support questions that come from customers or can help your customer support team easily find answers to questions in your internal knowledge base.
Customizable: Staying On Brand
You also want to make sure the platform you choose is customizable. Meaning, you want a solution that lets you tailor the look and feel to match your brand's style. This way, your knowledge base will blend in seamlessly with your company's overall style guidelines. Many times, knowledge bases live on a subdomain. So, you want to have the ability to make it feel like your main website.
Content Management
A solid knowledge base platform should also have robust content management and search capabilities. This means you can easily create, update, and organize your information without breaking a sweat. Plus, having the ability to track content performance helps you understand what works best for your audience.
User-Friendly Interface
Having a user-friendly interface is crucial when choosing a knowledge base platform. You want a platform that allows users to effortlessly navigate and find what they're looking for without feeling overwhelmed or confused. The easier you make it for customers or clients to find the information they're looking for, the more trust you build in your brand.
In summary, when searching for the perfect knowledge base solution, focus on integrations, self-service, customization, content management, and an intuitive interface. With these features in mind, you'll be well on your way to finding a platform that supports your business's success.
Types of Knowledge Bases
When it comes to knowledge bases, there are primarily two types that organizations use to manage and share information — internal and external knowledge bases. Within these two formats, there are many different types of knowledge bases.
Internal Knowledge Base
An internal knowledge base is designed to be used by internal employees of a company. It's like a centralized repository of information that helps employees access company information and documents, resources, and best practices. Internal knowledge bases can include documentation on company policies, standard operating procedures, troubleshooting guides, and more.
Some use cases for internal knowledge bases include:
IT Knowledge Base: A technical knowledge base often used internally by IT departments to manage and share information related to troubleshooting, system configurations, and IT policies and procedures.
Product Knowledge Base: A comprehensive resource containing detailed information about a company's products, including user manuals, specifications, compatibility information, and more, typically aimed at customers or support teams. (This can also be used as an external knowledge base.)
Training Knowledge Base: A knowledge base designed to support employee training and onboarding, containing materials such as training manuals, video tutorials, and quizzes.
Sales Knowledge Base: A resource center for sales teams, including information about products, services, pricing, customer testimonials, and sales strategies to improve overall sales performance.
Human Resources Knowledge Base: A centralized repository of HR-related information, including company policies, benefits information, employee handbooks, and other essential documents for employees.
External Knowledge Base
While an internal knowledge base is used for employees, an external knowledge base is designed for customers, clients, or users outside of your organization. It typically contains self-service resources, such as FAQs, product guides, troubleshooting tips, and how-to articles. The aim is to empower customers to find answers to their questions or resolve issues independently, without the need for direct assistance from customer support teams.
Some use cases for internal knowledge bases include:
Customer Support Knowledge Base: A specialized external knowledge base specifically focused on providing support and assistance for customers experiencing issues or seeking help with products or services. This can also be a self-serve knowledge base where customers can directly find answers to questions without submitting a support ticket — helping you reduce the number of support inquiries your customer service team needs to handle.
Developer Knowledge Base: A resource for software developers, providing documentation, API references, code samples, and other technical information needed to build and maintain applications or integrations.
Community Knowledge Base: A knowledge base created and maintained by users or members of a community, often containing user-generated content, including tips, tricks, and solutions to common issues.
Example of a Knowledge Base
To help you visualize what a knowledge base might look like, here are three examples from different domains — an FAQ knowledge base by Copilot, Instagram's Product Help Center, and AWS Developer Knowledge Center.
Copilot's FAQ Knowledge Base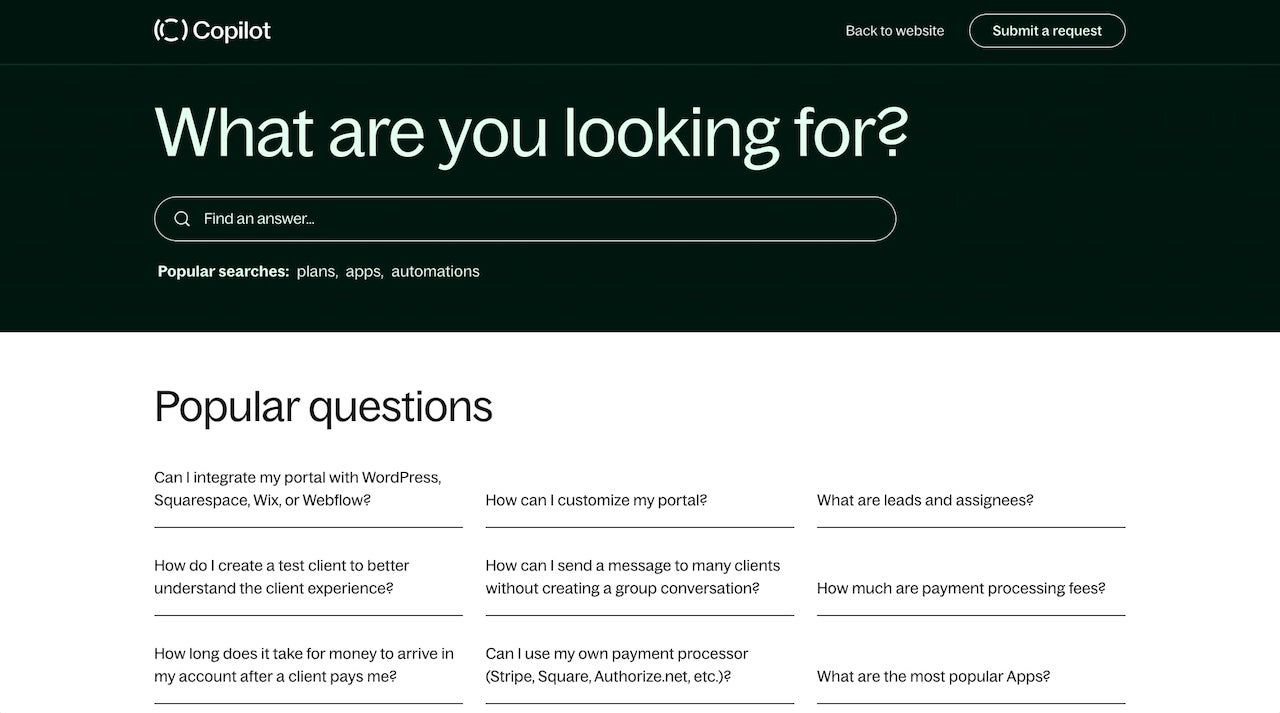 Copilot's FAQ center is designed to help users understand and effectively use the Copilot platform. This knowledge base covers topics such as how to use different features, billing and pricing, integrations, and troubleshooting common issues. The information is organized into categories, making it easy for users to find the answers they need quickly.
Instagram's Product Help Center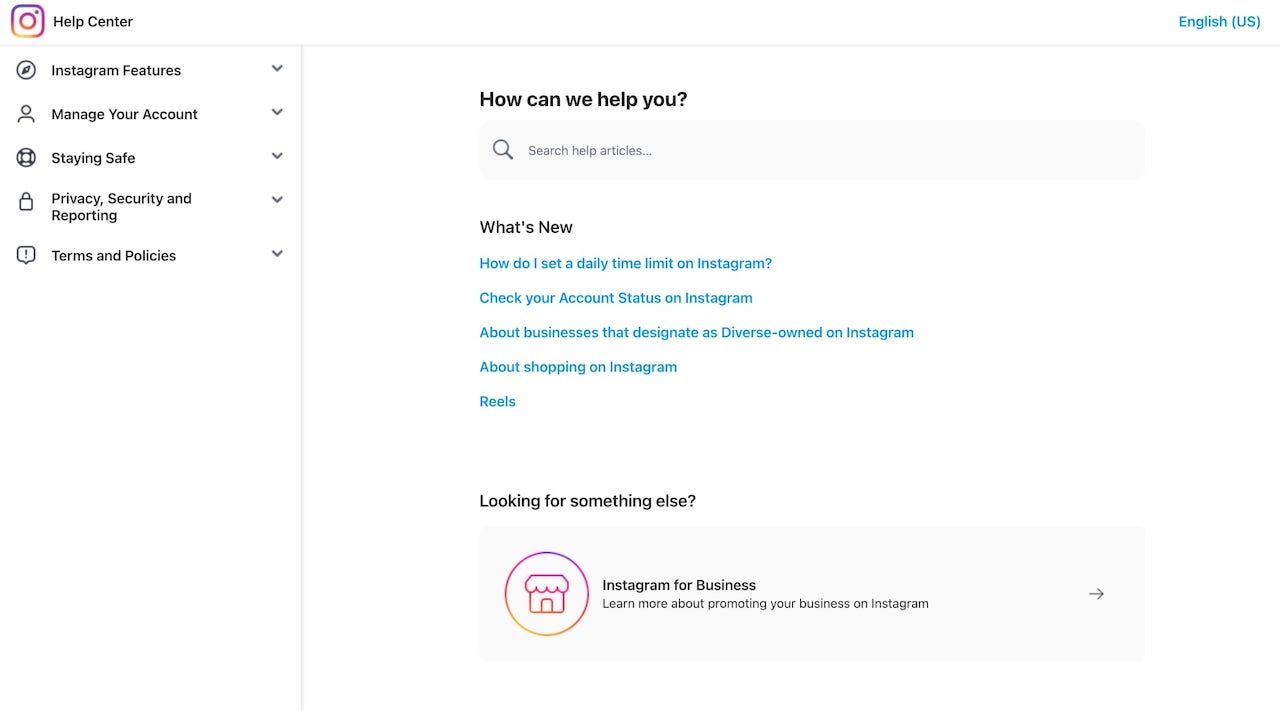 Instagram's Product Help Center is an external knowledge base aimed at helping users navigate the platform and troubleshoot any issues they may encounter. The Help Center covers topics such as account management, privacy settings, how to post content, and how to use the various features of the platform. The information is organized into easy-to-navigate sections, and users can also search for specific topics using the search bar.
AWS Developer Knowledge Center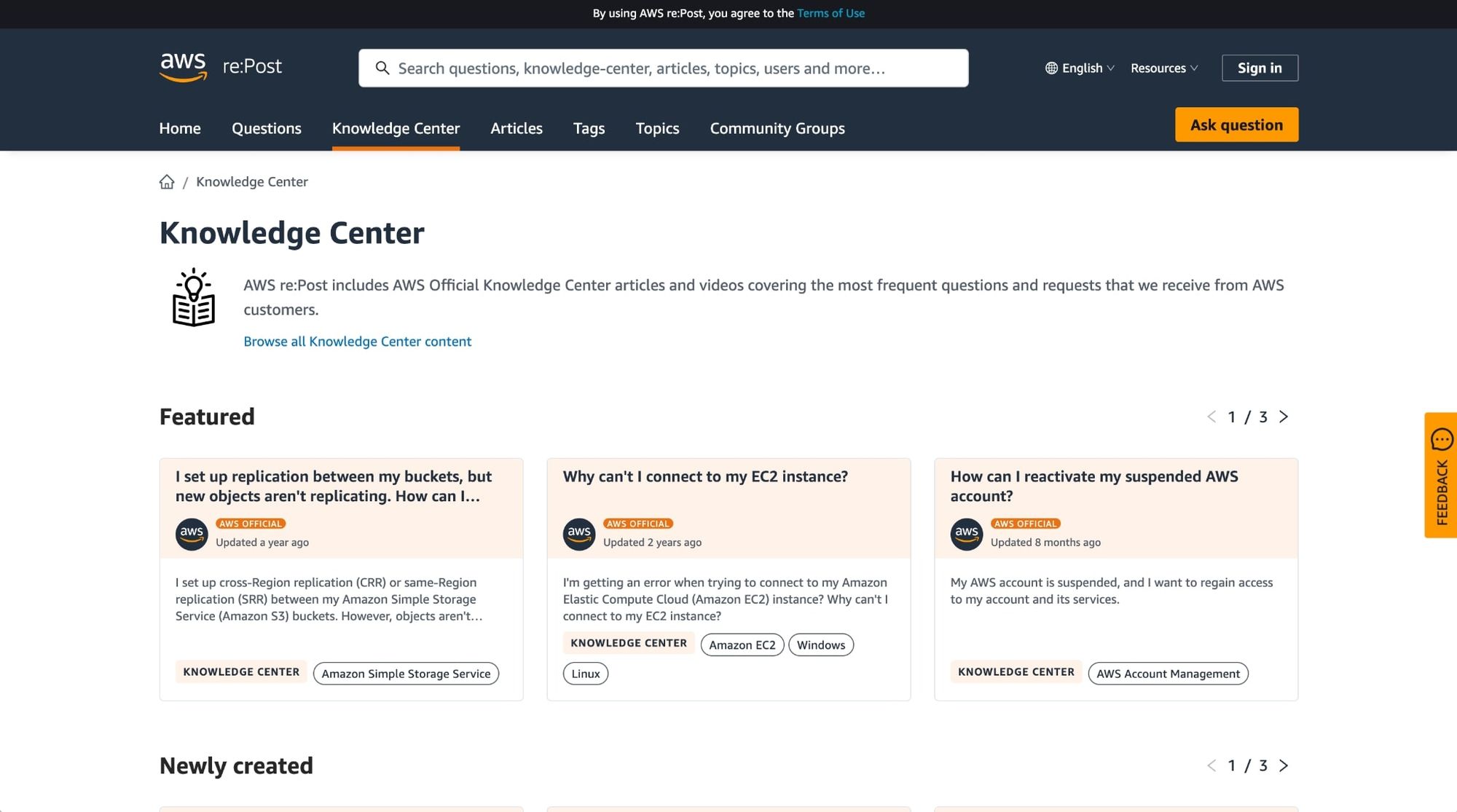 The AWS Developer Knowledge Center is a comprehensive resource designed for software developers working with Amazon Web Services. This knowledge base includes documentation, API references, code samples, best practices, and other technical information needed to build and maintain applications using AWS services.
7 Best Knowledge Base Software You Need To Try
Here are our top picks for the best knowledge base software:
Okay, let's dive in!
1. Copilot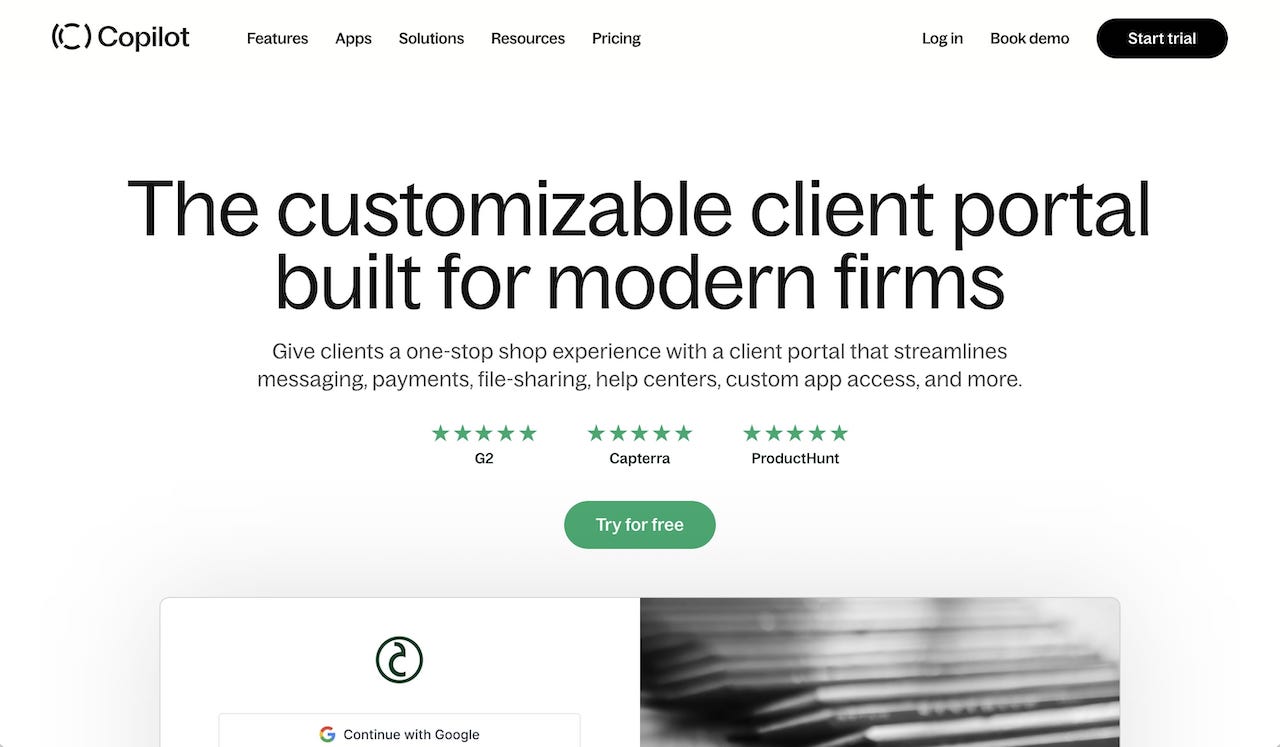 Founded in 2020, Copilot has quickly become one of the most popular platforms for service businesses looking to automate their customer experience using a client portal. The platform allows modern service business to productize their services and offer a wide range of features for their clients, such as file sharing, billing, knowledge bases, and more.
Copilot Notable Features
Copilot has the ability to integrate with third-party apps to help you create unique and custom client experiences. Besides having a Helpdesk App built into the platform, Copilot also has: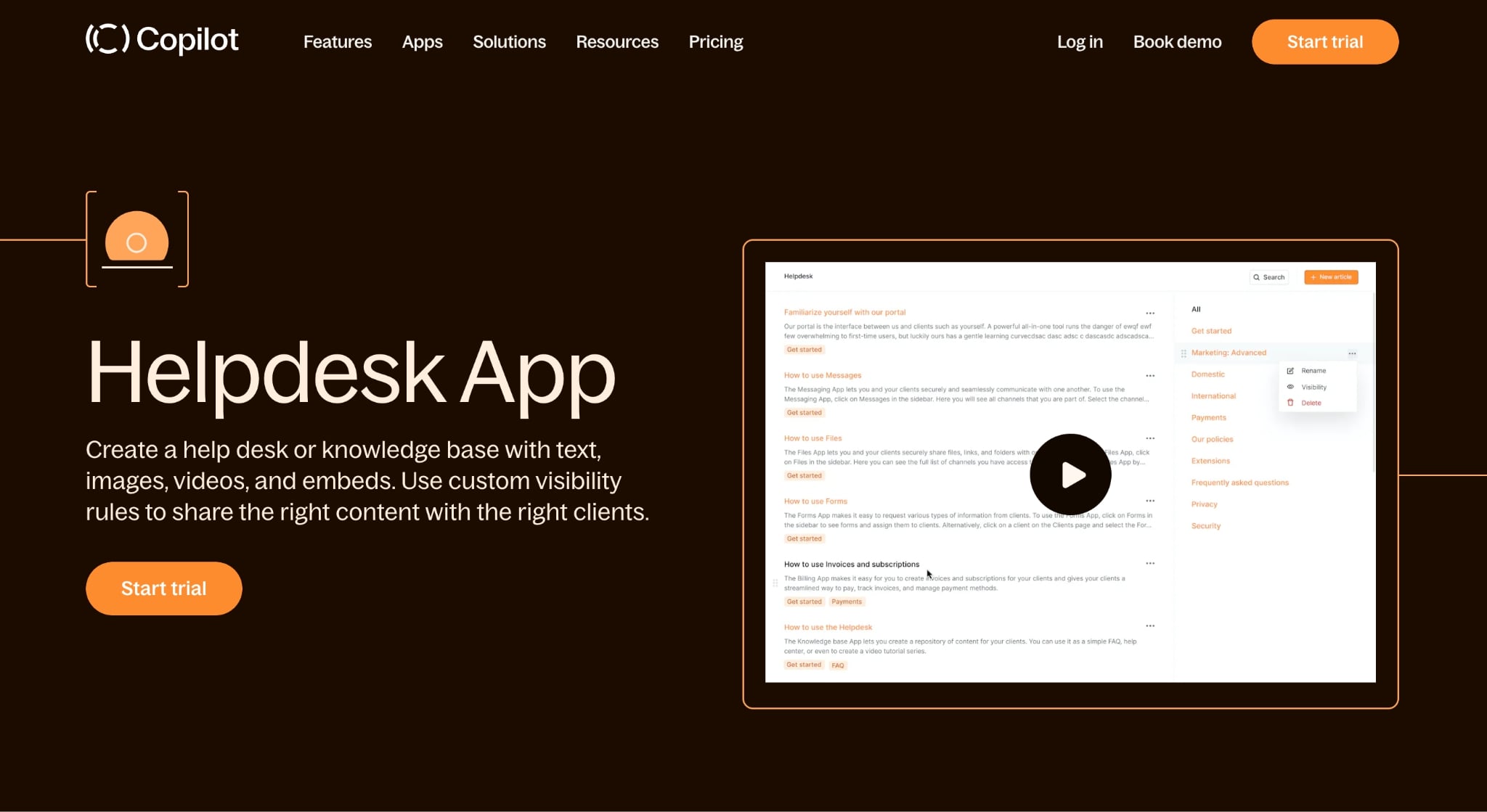 "Copilot is the ultimate sidekick for Trulytell - it lets us streamline our client communication, manage projects, and create a special on-brand experience for our clients. " — Joshua Brueckner, Founder at Trulytell
Copilot Pricing
Copilot offers a range of pricing plans, starting at $29/month (paid annually).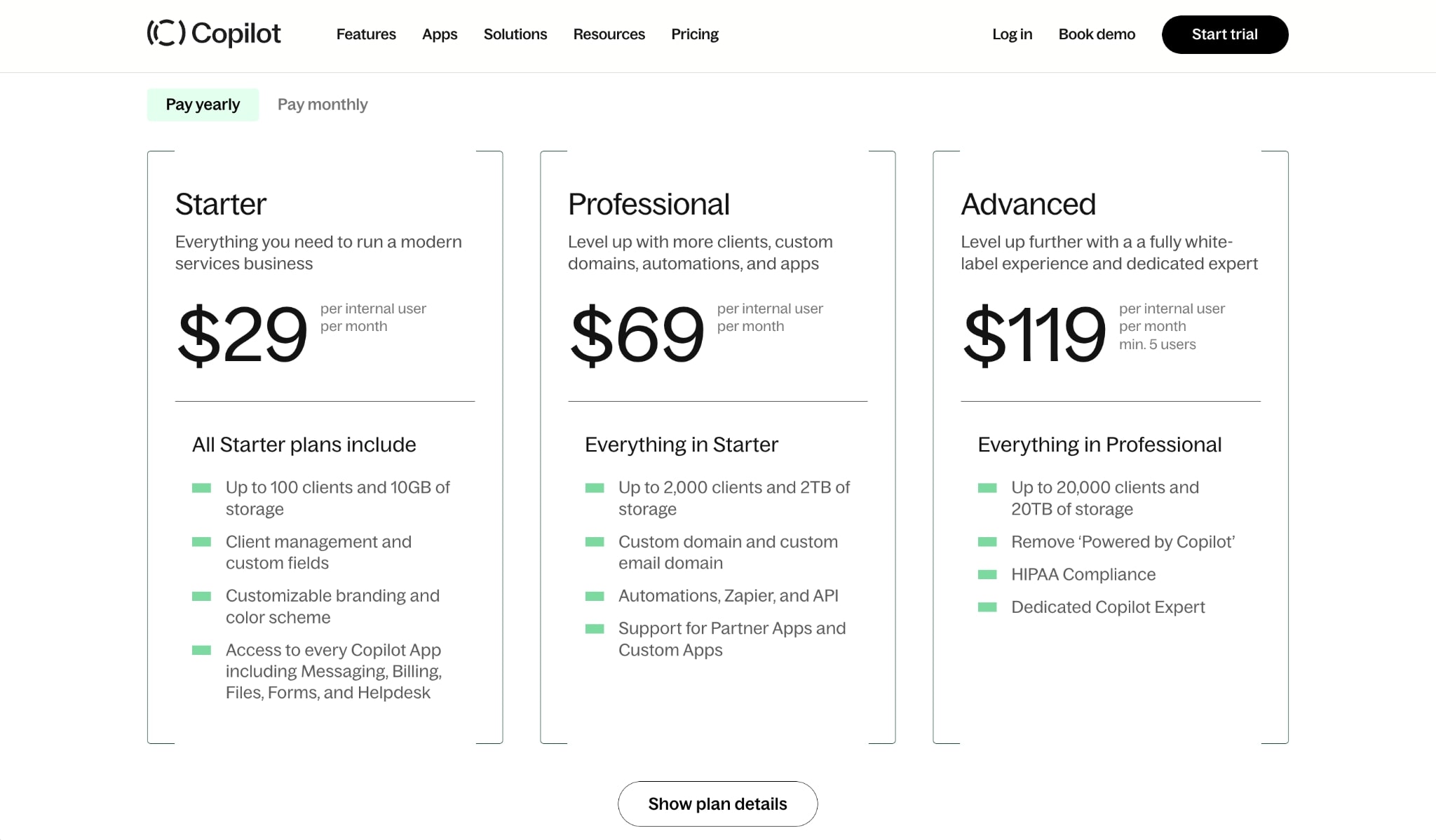 If you want to explore what each plan has to offer, be sure to check out the pricing page.
2. Stonly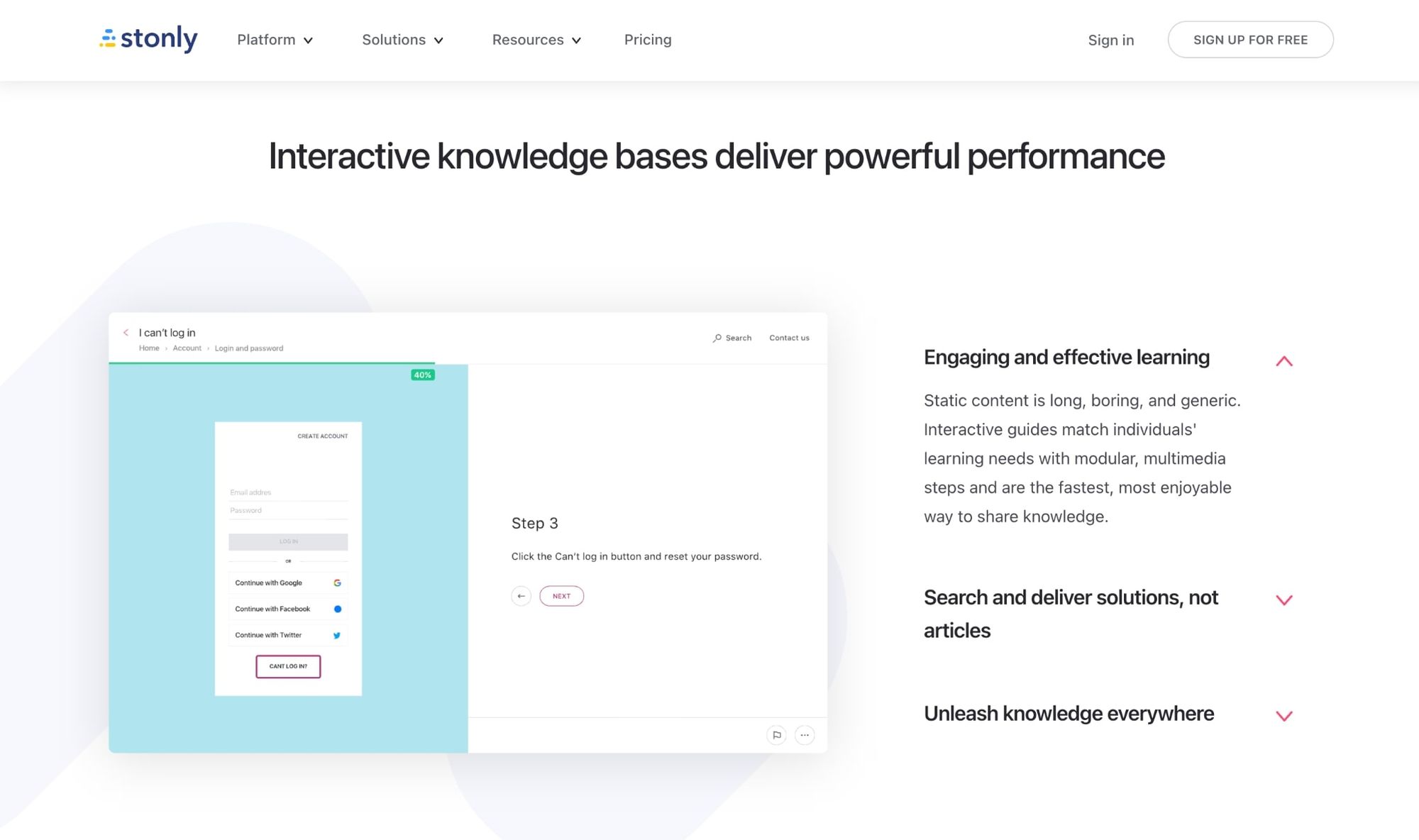 Stonly is a knowledge base platform that focuses on creating interactive step-by-step guides and articles to help users and employees solve problems and find answers. It's a great choice for businesses that want to offer a more engaging and user-friendly experience when it comes to their knowledge base. This platform is especially great for companies looking to create a self-service support helpdesk.
Stonly Notable Features
Used by some large brands like Calendly, AngelList, Dashlane, and more, Stonly has some impressive features that can make it a viable option to build your knowledge base.
Some notable features include:
A self-service support platform
Interactive guides and guided tours
NPS surveys
If all you need is a knowledge base, then Stonly can be a good option to look into. However, it is important to note that pricing leans more on the premium side.
Stonly Pricing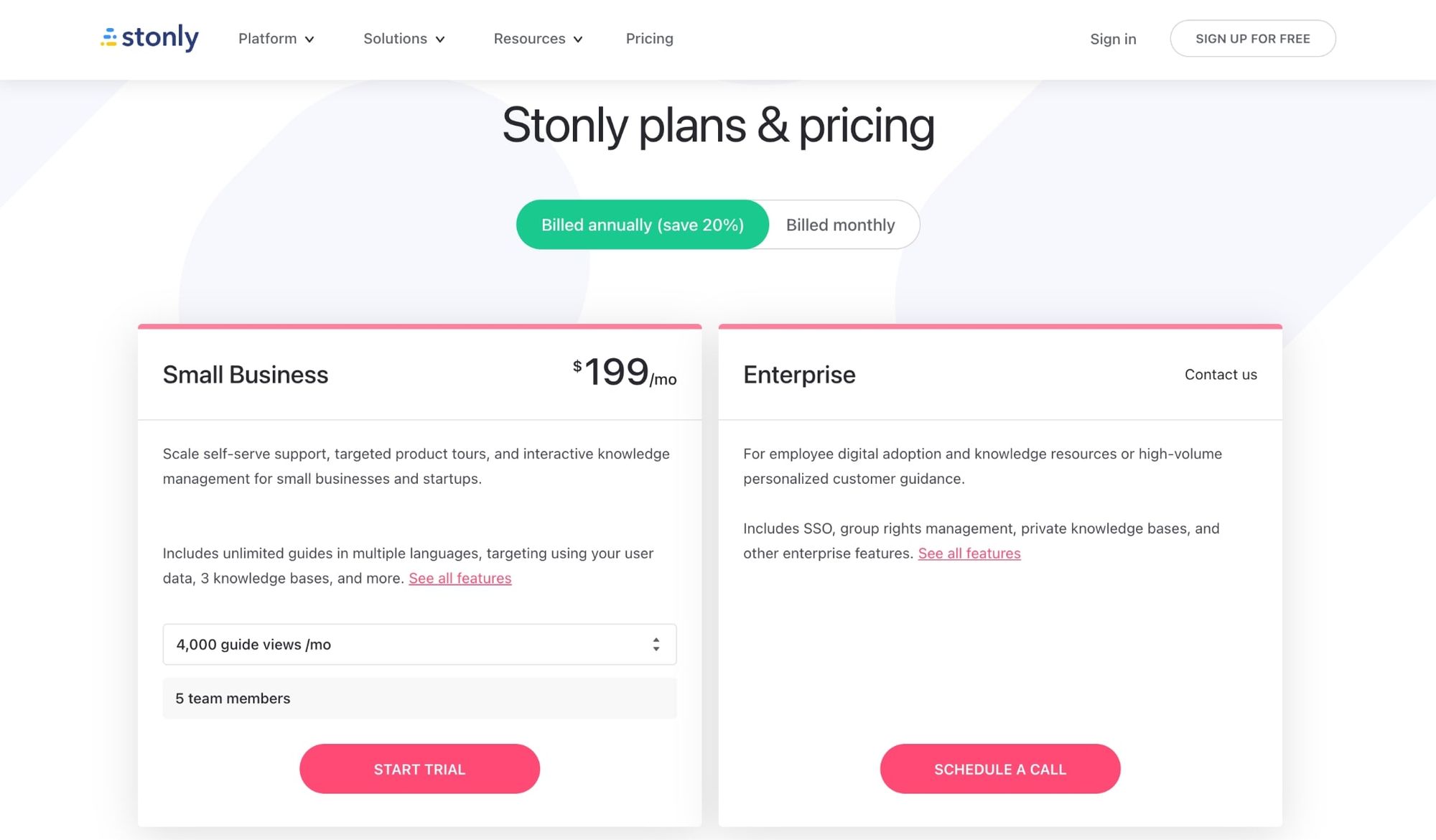 While there are some other platforms on this list that may be better for certain use cases, Stonly is a viable option for enterprise companies looking for a knowledge base solution. Because of its premium features, Stonly starts at $199/month and increases based on usage requirements.
3. Help Scout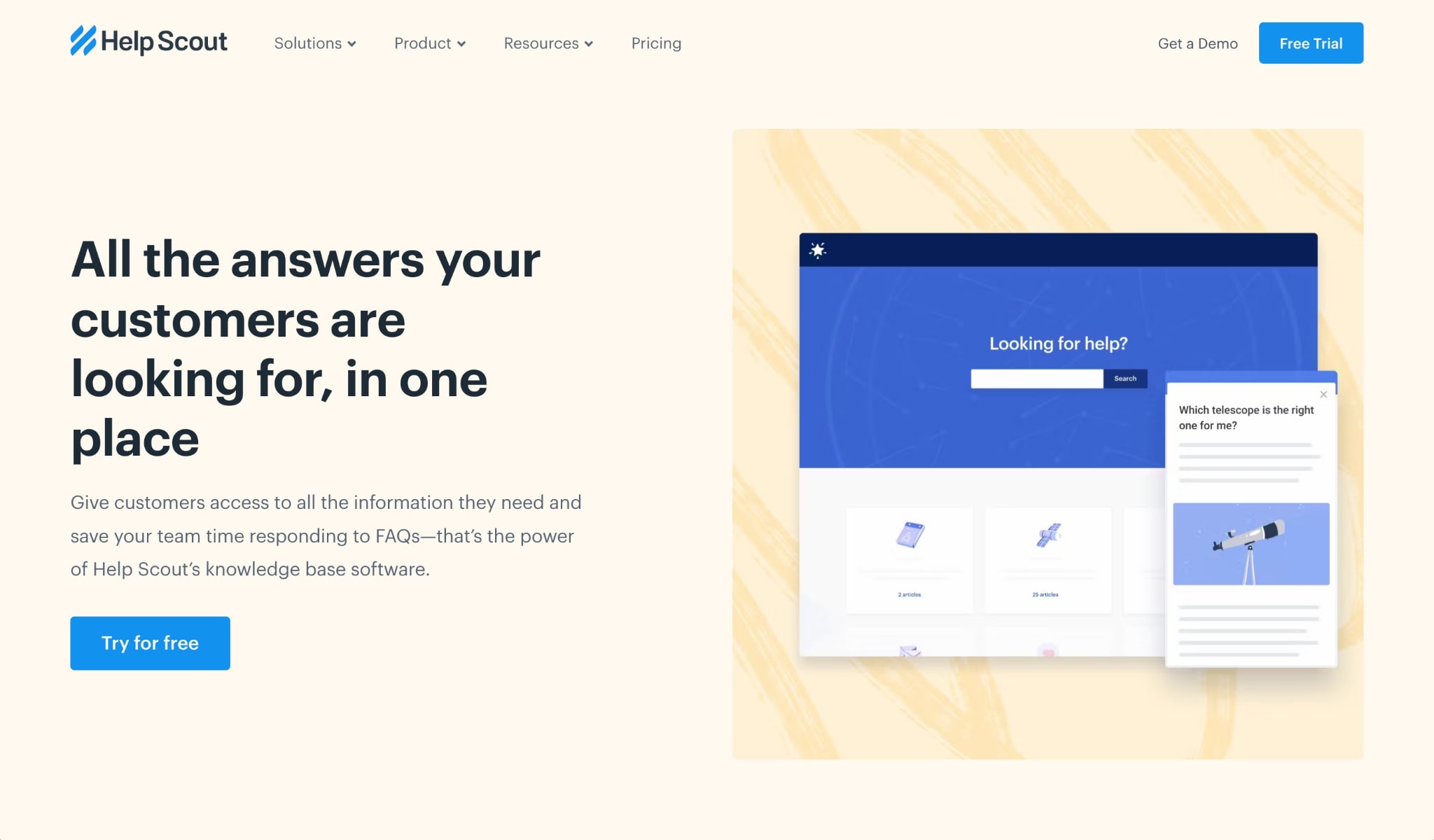 Help Scout is a reputable customer service platform that offers a comprehensive suite of customer support tools like live chat, support email marketing, and a knowledge base platform. It's designed to help businesses create a seamless and efficient customer support experience that empowers customers to find the answers they need quickly.
Help Scout Notable Features
If you're looking for a knowledge base designed specifically to help with customer support, Help Scout is a strong choice. Some notable features of Help Scout include:
Docs: Designed for helping you publish and share help articles.
Shared Customer Support Inbox: Designed to help you and your customer service team assign support requests to the right team members.
Live chat and in-app messaging: Designed to help customers find answers to questions on their own.
Again, if you're looking for just a knowledge base platform, Help Scout can help but it does act more as a customer service suite, so you may be paying a premium for features you may not need.
Help Scout Pricing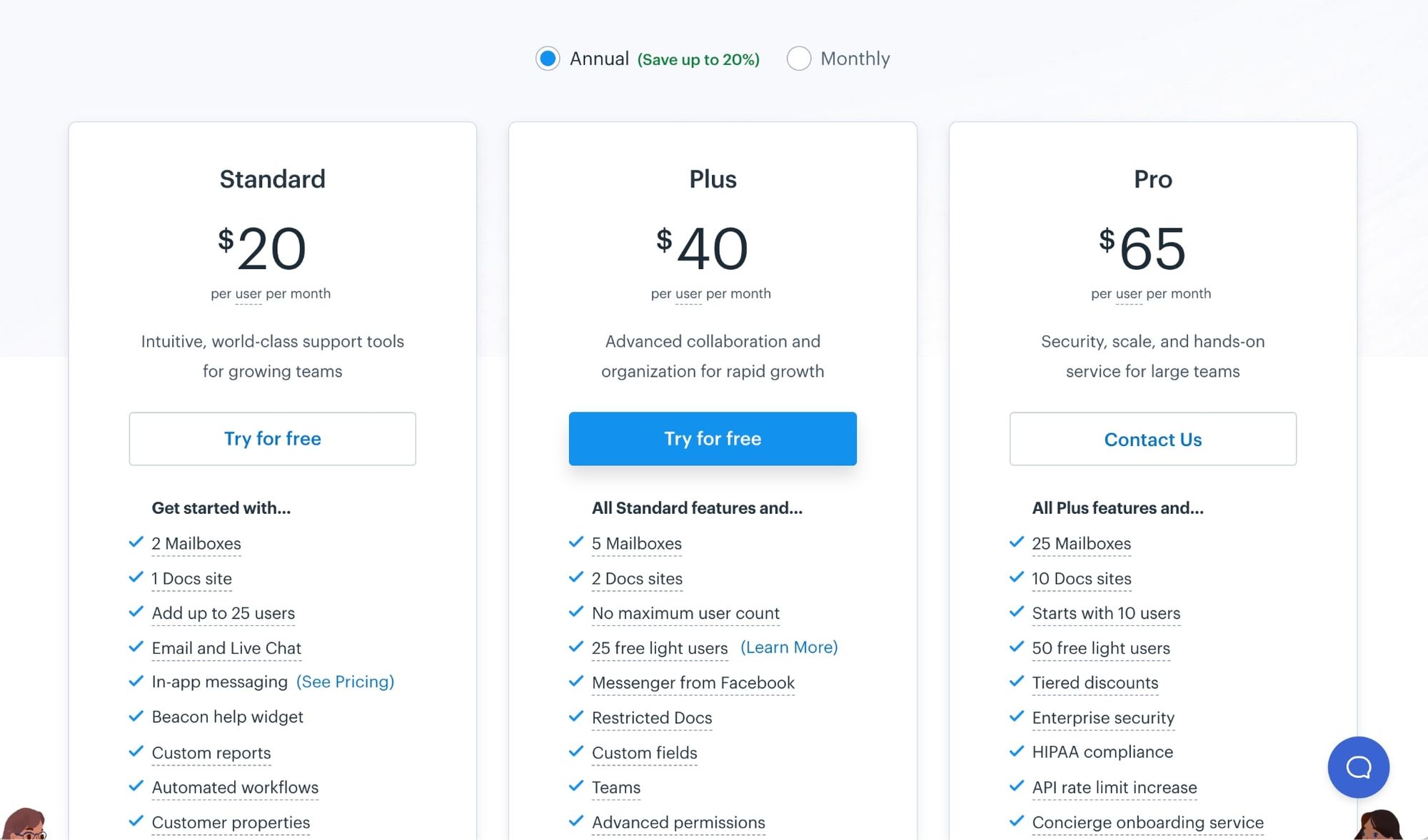 Help Scout offers multiple pricing options that work on a per-user basis. Their starting plan starts at $20/month per user (paid annually). If you want to learn more about what each plan has to offer, be sure to check out their pricing page.
4. Guru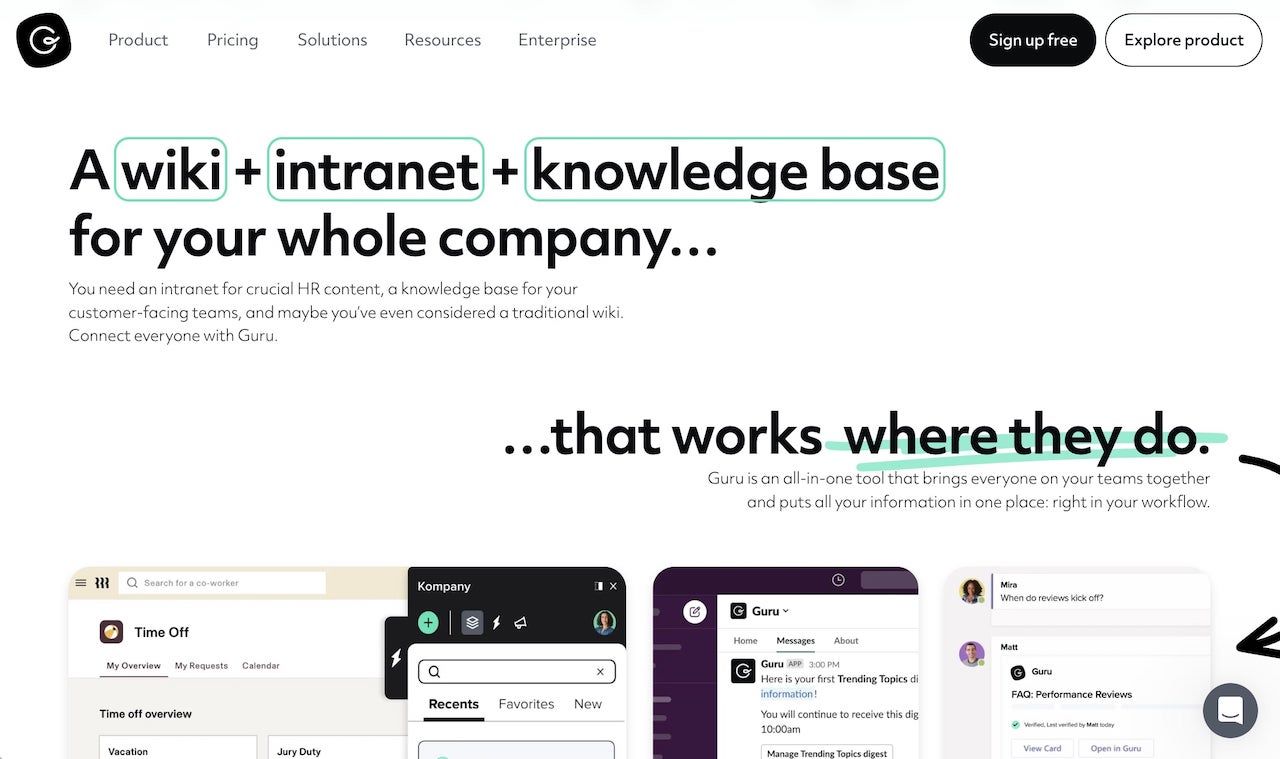 Guru is a knowledge management platform that focuses on making company knowledge accessible and actionable for teams. Designed to integrate with the tools your team already uses, Guru helps ensure that employees have the information they need at their fingertips, enabling them to work more efficiently and make better decisions.
Guru Notable Features
If you're looking for an internal knowledge management platform for your company, Guru is a platform you should look into. Some notable features include:
Integrations with Slack, Chrome, Gmail, and more
Employee Org Charts
AI-powered search
Guru Pricing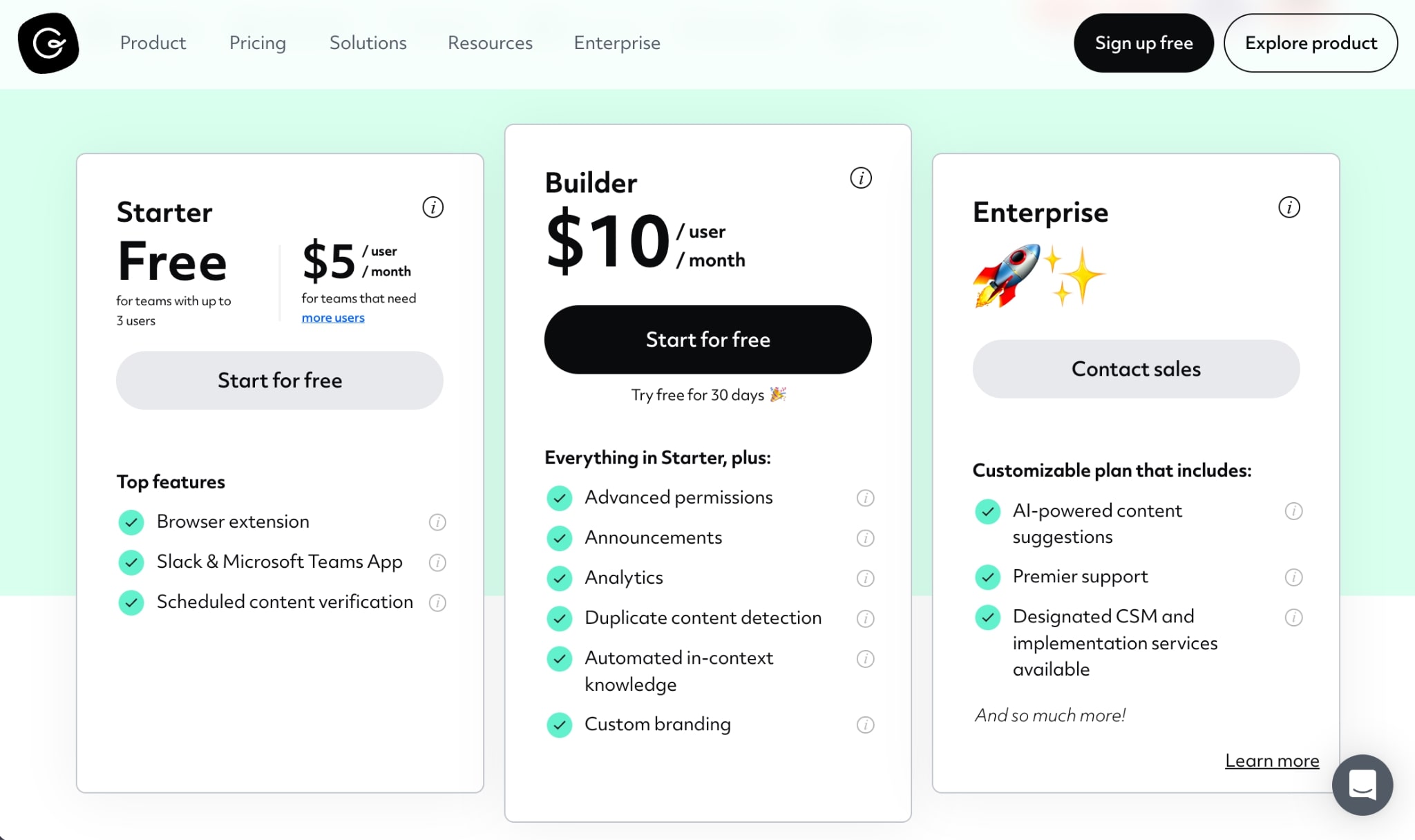 Guru's pricing works on a pay-per-user basis. Their Starter plan is free (up to 3 users) and will run you about $5 per extra user a month. If you want extra features like advanced permissions and analytics, you'll need to upgrade to the Builder plan which will run you $10/month per user.
5. Zoho Desk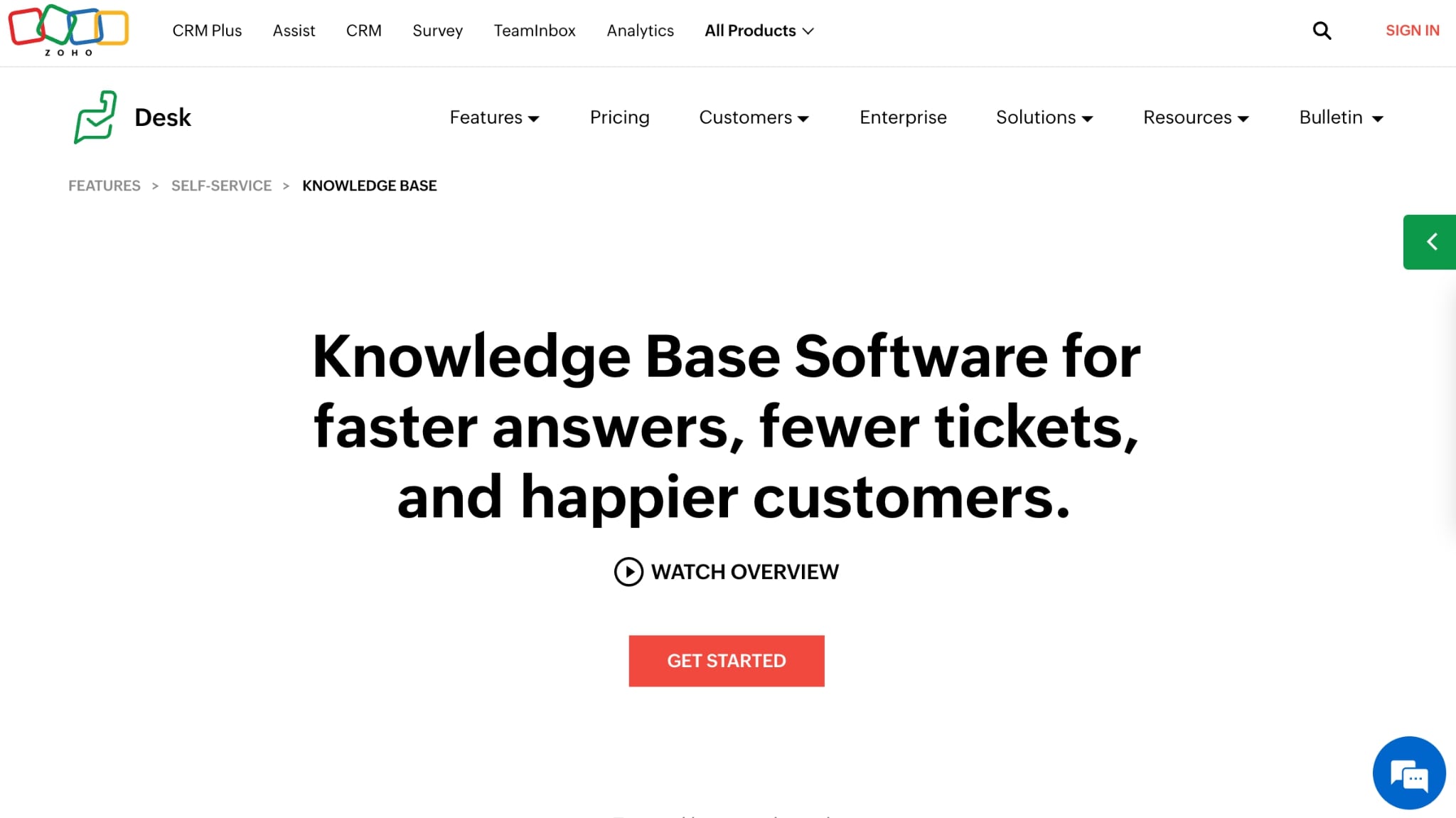 Zoho Desk is a comprehensive customer support and knowledge base software from the Zoho Suite of products. With a focus on user-friendly design and powerful features, Zoho Desk allows businesses to create and manage both internal and external knowledge bases to improve customer service and employee productivity.
Zoho Notable Features
Zoho Desk includes features like advanced search capabilities, customizable templates, and multi-channel support, making it easy for your customers and team members to find the answers they need.
Some of Zoho's notable features include:
A custom portal, just like Copilot
Self-service knowledge base articles
Forms and communities
AI-powered chatbot
Zoho Pricing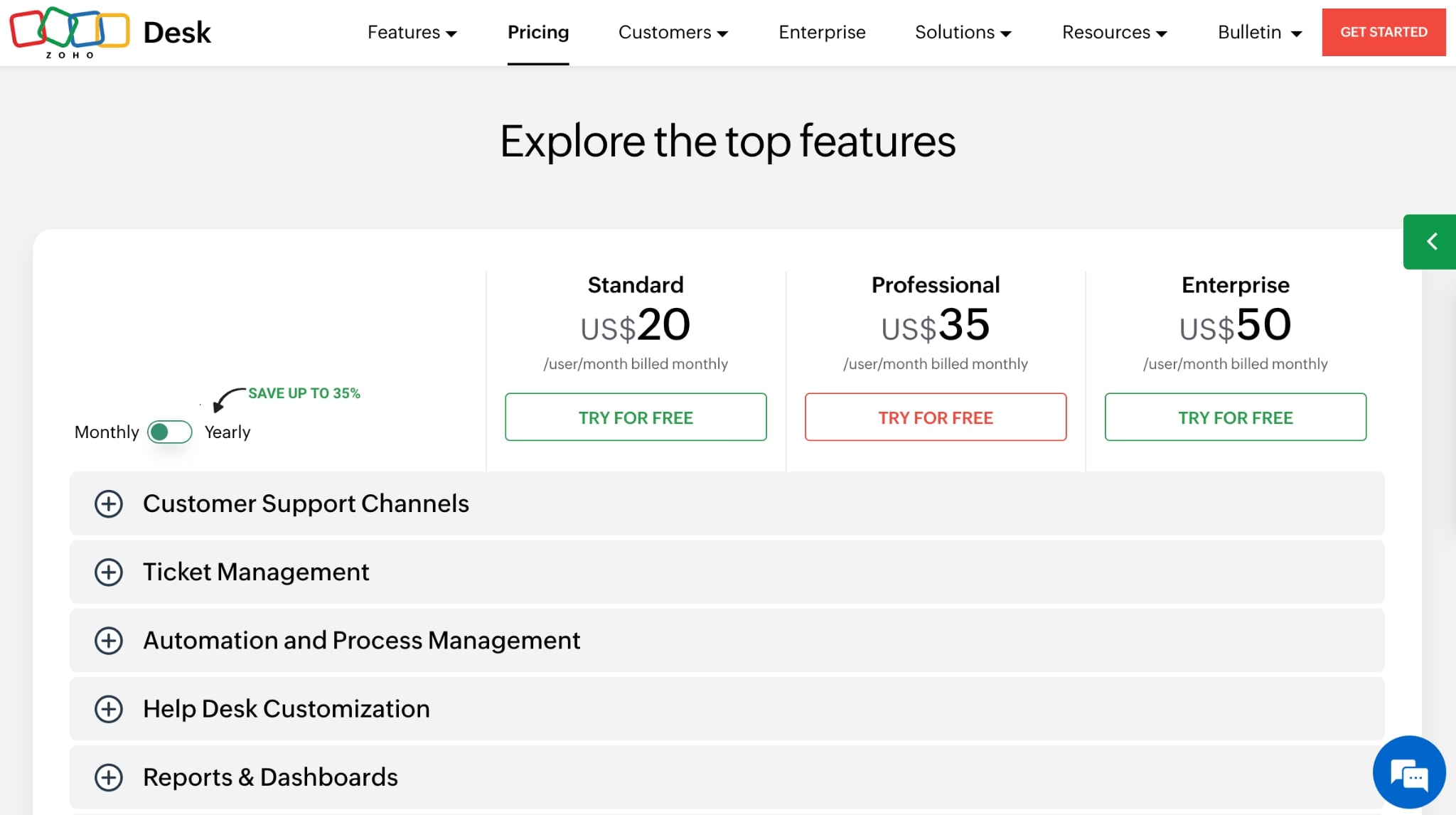 Zoho Desk does lean more on the premium side when it comes to pricing. Their standard plan comes in at $20/month per user — making it the most expensive on our list so far. To be fair, with Zoho, you are getting more than just a knowledge base. So if you don't need all the extra features, it might be worth looking into an alternative.
6. Zendesk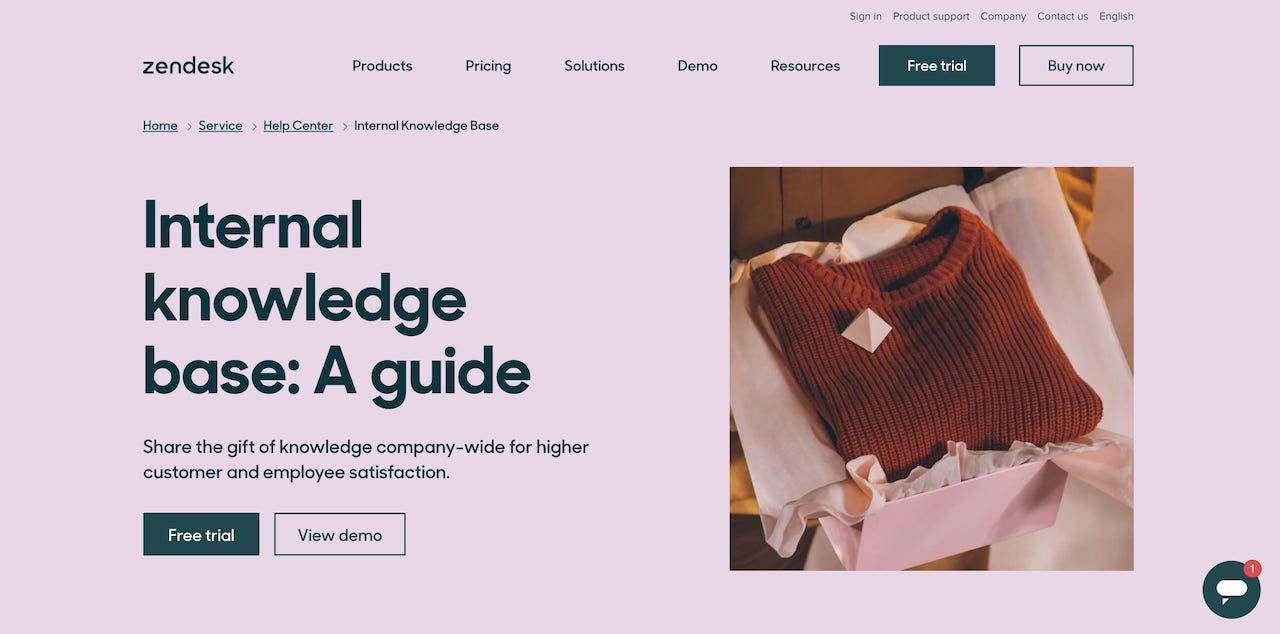 If you're in the customer service space, then there's a good chance you've heard of Zendesk. Zendesk's knowledge base solution is designed to improve your customers' experience and reduce support tickets. It's part of their larger suite of customer service tools, making it a fantastic option for businesses that want a seamless, integrated solution.
Zendesk Notable Features
Zendesk offers a wide range of support tools. However, their knowledge base also has a wide range of features, such as:
A self-service portal
Full-text search capabilities
Forums and discussions
Templated responses
SEO (search engine optimization) features
If you're looking for an all-around suite of customer service tools, Zendesk is a platform worth looking into.
Zendesk Pricing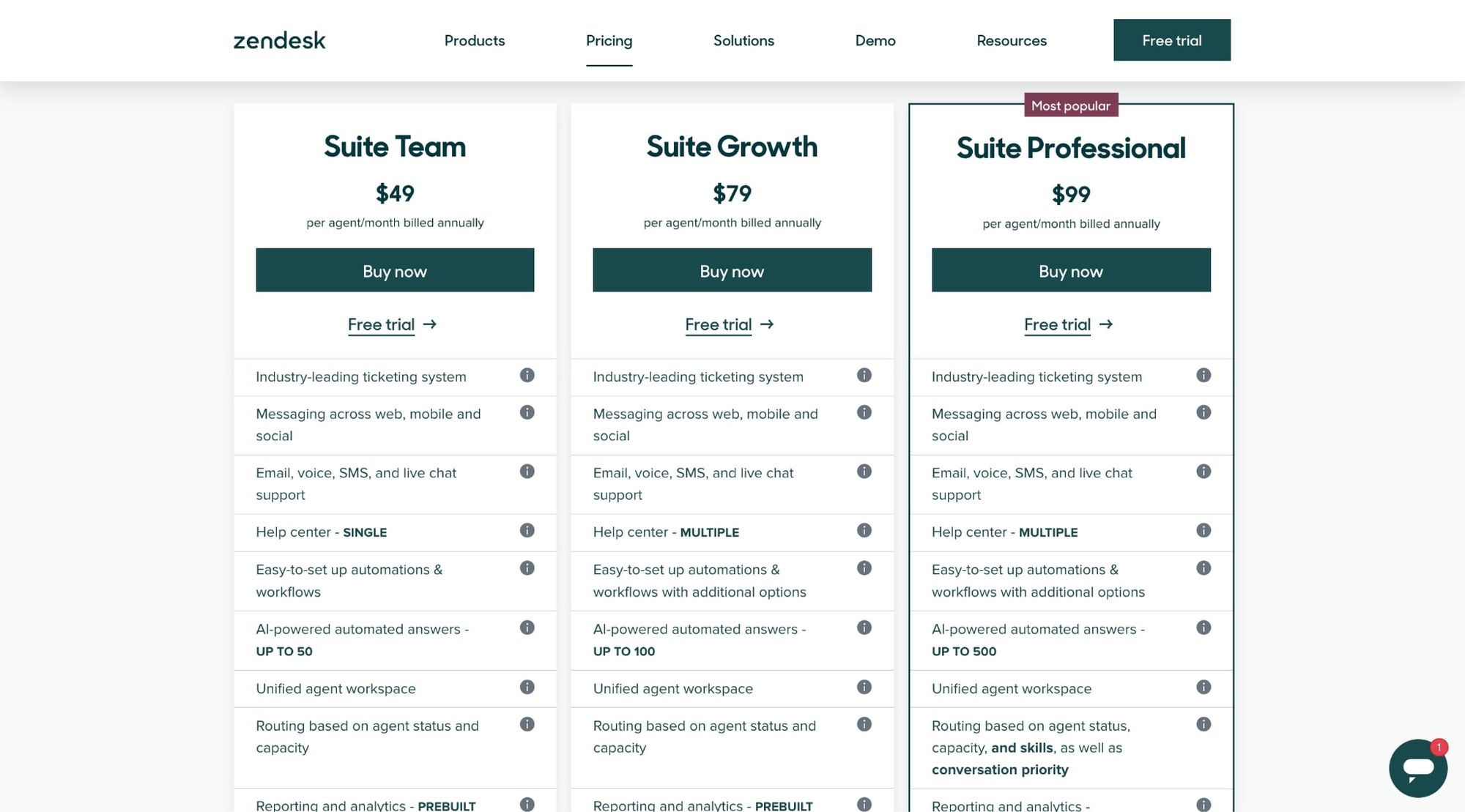 Zendesk's pricing works on a per-agent model, with their Suite Team plan starting at $49/month (billed annually).
7. Document360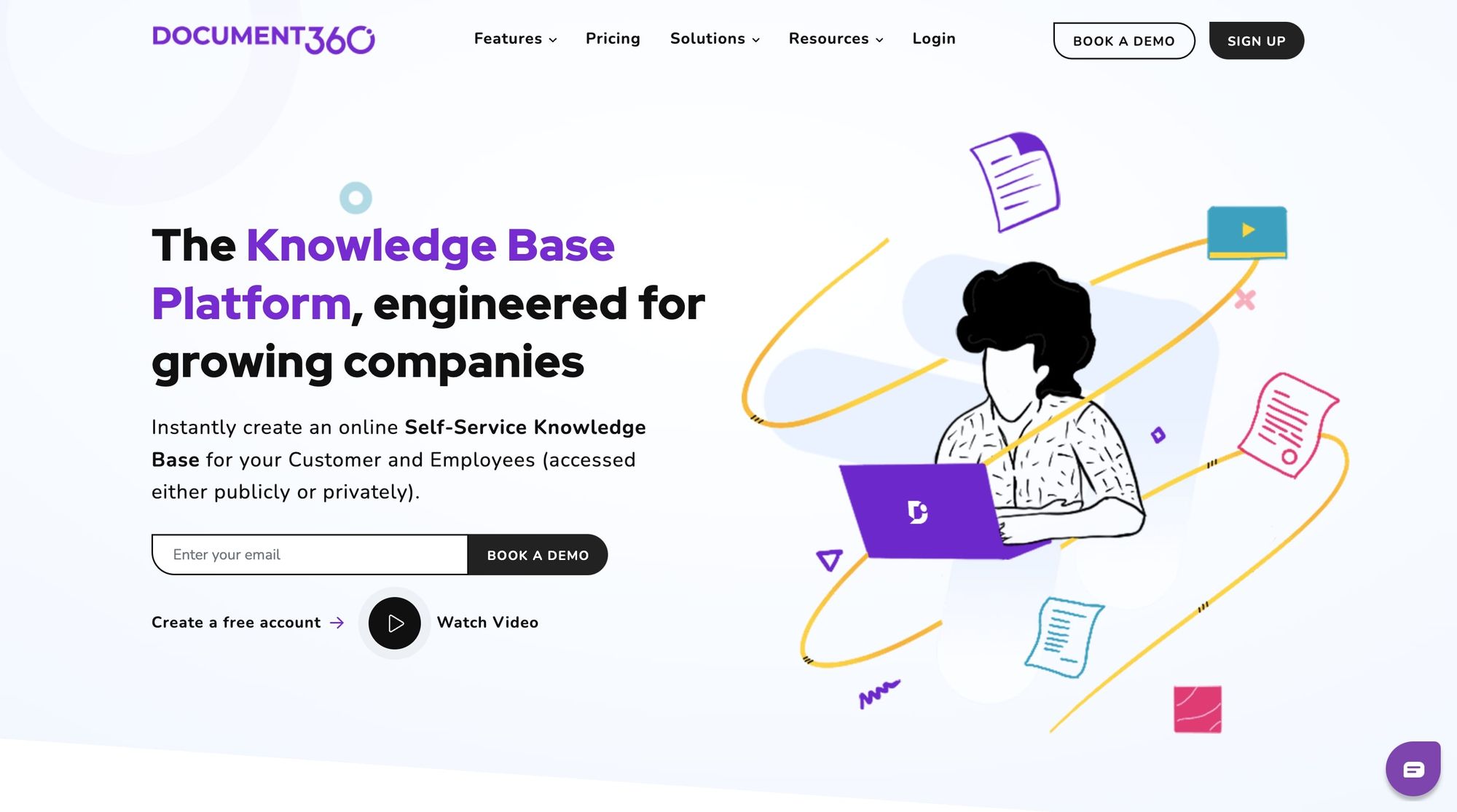 Document360 is a versatile knowledge base software platform that's designed to make it easy for businesses to create, collaborate on, and manage documentation. It's a popular choice for teams looking to create both internal and external knowledge bases.
Document360 Notable Features
Some of the standout features of Document360 include versioning and rollback capabilities, powerful search functionality, and a wide range of customization options. Some other notable features include:
A knowledge base assistant
Integrations and extensions
A knowledge base portal
Workflow automation (with the Enterprise plan)
Document360 Pricing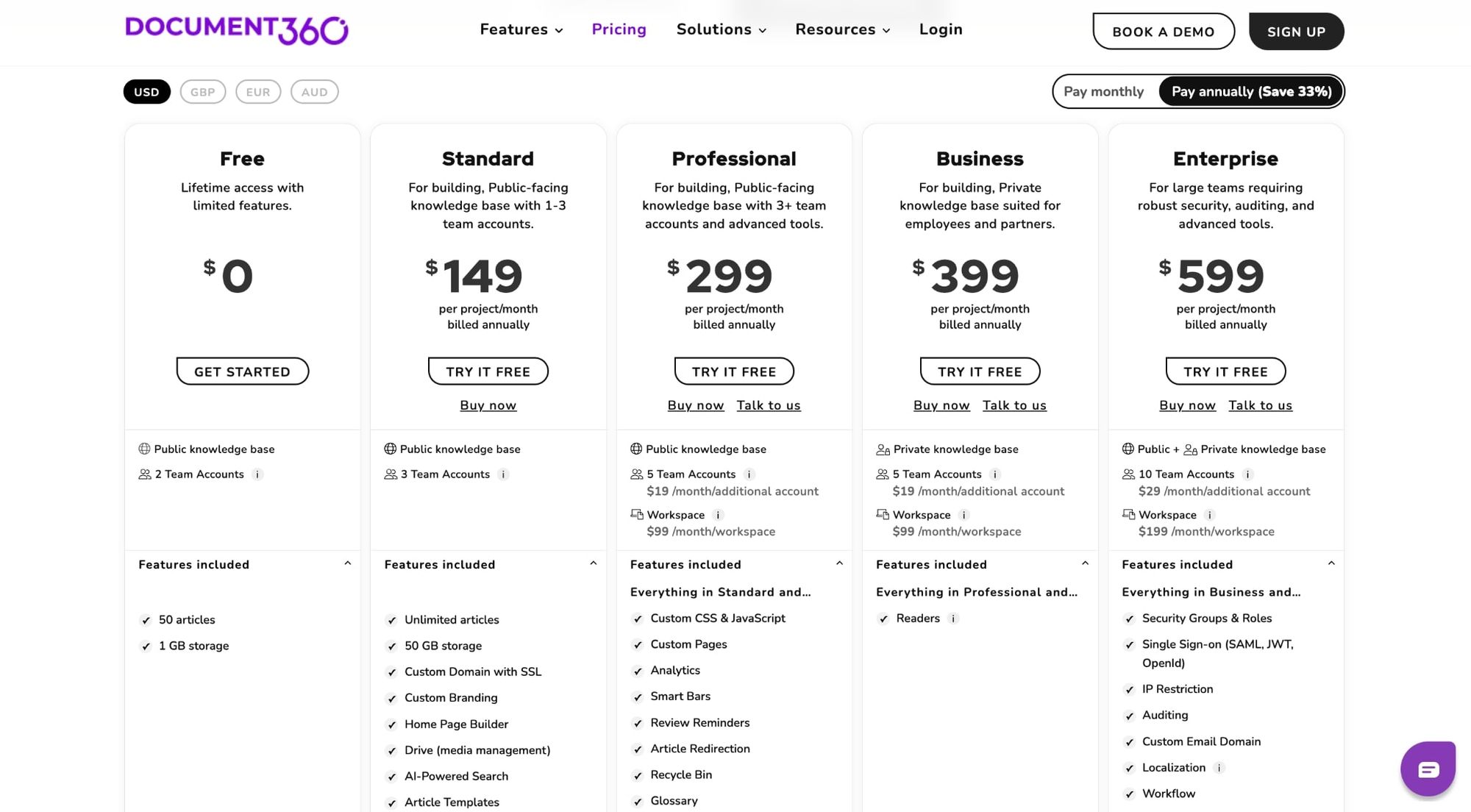 Document360 has multiple pricing plans, with its basic plan starting at $0. Their free plan will give you 2 team accounts, but features are quite limited. If you want to get more out of Document360, you'll probably want to upgrade to their Standard plan which starts at $149/month per project (billed annually).
Copilot: More Than Just a Knowledge Base
In conclusion, selecting the right knowledge base software for your business is crucial for streamlining your knowledge management processes and providing a great experience for both your customers and employees. With so many excellent knowledge base tools available, from cloud-based solutions to powerful collaboration tools, make sure to do your research to find the right one for your use case.
The seven platforms mentioned in this article offer a range of features for businesses of all sizes, including wikis, SaaS options, real-time collaboration, and robust knowledge-sharing capabilities. These platforms are designed for companies of all sizes — from small businesses to large enterprises.
As you explore your options, don't forget to check out Copilot's knowledge base platform. Not only does it offer a comprehensive set of features for creating and managing your knowledge base, but it also integrates seamlessly with other Copilot services, like customizable client portal software, making it the perfect all-in-one solution for your business.
With its powerful capabilities and user-friendly interface, Copilot is an excellent choice for any organization looking to improve its knowledge-sharing and collaboration efforts. If you're ready to take your business to the next level, be sure to start your free trial today!
Sign up for our newsletter
Subscribe below to receive our newsletter. We'll email you about important announcements, product updates, and guides relevant to your industry