10 Best Client Portal + Customer Portal Software (Ranked)
Aug 31, 2023
11 min read
Omid G
When I first started freelancing, I didn't realize how important it was to create a great client experience.
I thought it was all about the work and the service I was providing. But I soon realized that communication, organization, and project visibility were things clients cared deeply about.
Not only that, but I also struggled with project management — managing a bunch of clients with each one having a slightly different process and set of tools.
It was a mess.
I knew if I wanted to scale my freelancing business, find order in the chaos I created for myself, and retain my clients by giving them a jaw-dropping experience, I had to treat my business more like a software startup.
This started my search for a way to allow clients to log into my website and view invoices, reporting dashboards, project timelines, and communication all in one place.
This eventually led me down the path of customer and client portal software.
In this article, we'll go over what the best client portal software and tools have to offer, what you need to look out for, and the best tools on the market right now.
What is Client Portal Software?
A client portal software is a platform that allows service-based businesses to create a central place for their clients to manage contracts, create invoices, upload files, manage tasks, and oversee projects.
Client portals make your business look and feel more professional because they generally give your clients a self-service option when working with you.
Instead of constantly having to reach out to you to view project timelines and tasks, or to check files and contracts, clients can log in to their own dashboard and view important information on their own time. It makes your service-based business feel more like a SaaS (software as a service) product — helping you productize your services and smoothly scale your business in the long run.
How Customer Portals Impress Clients
The main reason why you'd want to create a client portal is to offer a great customer experience for your clients. When clients have a great experience working with you, client retention will be strong and customers will be more willing to refer you to new business.
A client portal gives the feeling that you're a software business and that you care deeply about operational excellence.
Some clients also want to be more hands-on and get updates frequently. So if you can create reporting dashboards within your client portals, it will put clients at ease knowing they can check the status of their relationship with you at any time — without actually having to reach out to you.
This, in turn, makes the client feel more in control of their working relationship with you — helping them feel comfortable in their decision to work with you over someone else.
And if you can do a great job of providing a service better than other businesses, while having a modern client portal, it can greatly improve your chances of maintaining and acquiring new clients.
What to Look For in Client Portal Software
Not every customer portal software is created equal. Finding the right client portal tool is going to look different for each business.
Are you a freelancer, agency, startup, or all of the above? Knowing the type of business you operate, and the business model (hourly billing, project billing, monthly subscription, etc.) you have, is going to help you determine which platform to use.
Let's go over a few things you should consider before choosing a customer portal software.
Collaboration Tools
Communication is everything in service-based businesses. Besides just a way to message and email clients, you need to also communicate with reporting dashboards, task statuses, and a few other things.
Here are some key client portal features you should look for:
Messaging platform
Forms (to gather information from your client)
Options to embed reporting dashboards
File sharing and access
The best client portal software will include all of these key features.
Flexibility With Your Tech Stack
Some client portal tools limit the number of integrations you can have because they want you to use their own built-in tools.
While this may not be too much of a concern for businesses just starting out, or with clients who are flexible, this can become a problem when you are trying to scale your clientele and work with larger clients that have their own way of doing business.
The main thing to look out for here is to find a platform that allows you to integrate with multiple apps. All-in-one platforms are great, but a tool that lets you plug everything into one central place will give you more flexibility in the types of client experiences you can create.
So, bottom line, find a tool that can integrate with your existing tech stack.
Invoicing and Subscription Options
Every business needs a way to bill its customers. Every client portal software should have the option to invoice and bill clients.
However, there are different ways service-based businesses bill their clients. Some businesses bill per hour, some bill by project, and some create monthly subscriptions.
You want to find a tool that reflects the type of business model you have.
However, it might also be good to find a tool that can support all types of payment structures. This way, you can be flexible in the future if you decide to change the way you bill a particular client.
Secure Logins
When interacting with a client, chances are that confidential information will be passed back and forth between you two. This is why you should always look for client portal tools that have secure authentication and logins for user accounts.
This is especially important for landing those larger clients. Large companies with IT teams will most likely want your client portal to be SOC 2 compliant and give key stakeholders peace of mind knowing that no sensitive data or information will be leaked.
Not only that, but you also want your own business information to be secure. So finding a tool that you can verify has strong security when it comes to user accounts and permissions is key.
Okay, now that we've gone over a few important features to look out for, let's get into our list of the best client and customer portal software.
10 Best Client Portal Software And Tools For 2023
Here are our top picks for the best client portal software in 2023:
Okay, let's dive deeper into each one.
1. Copilot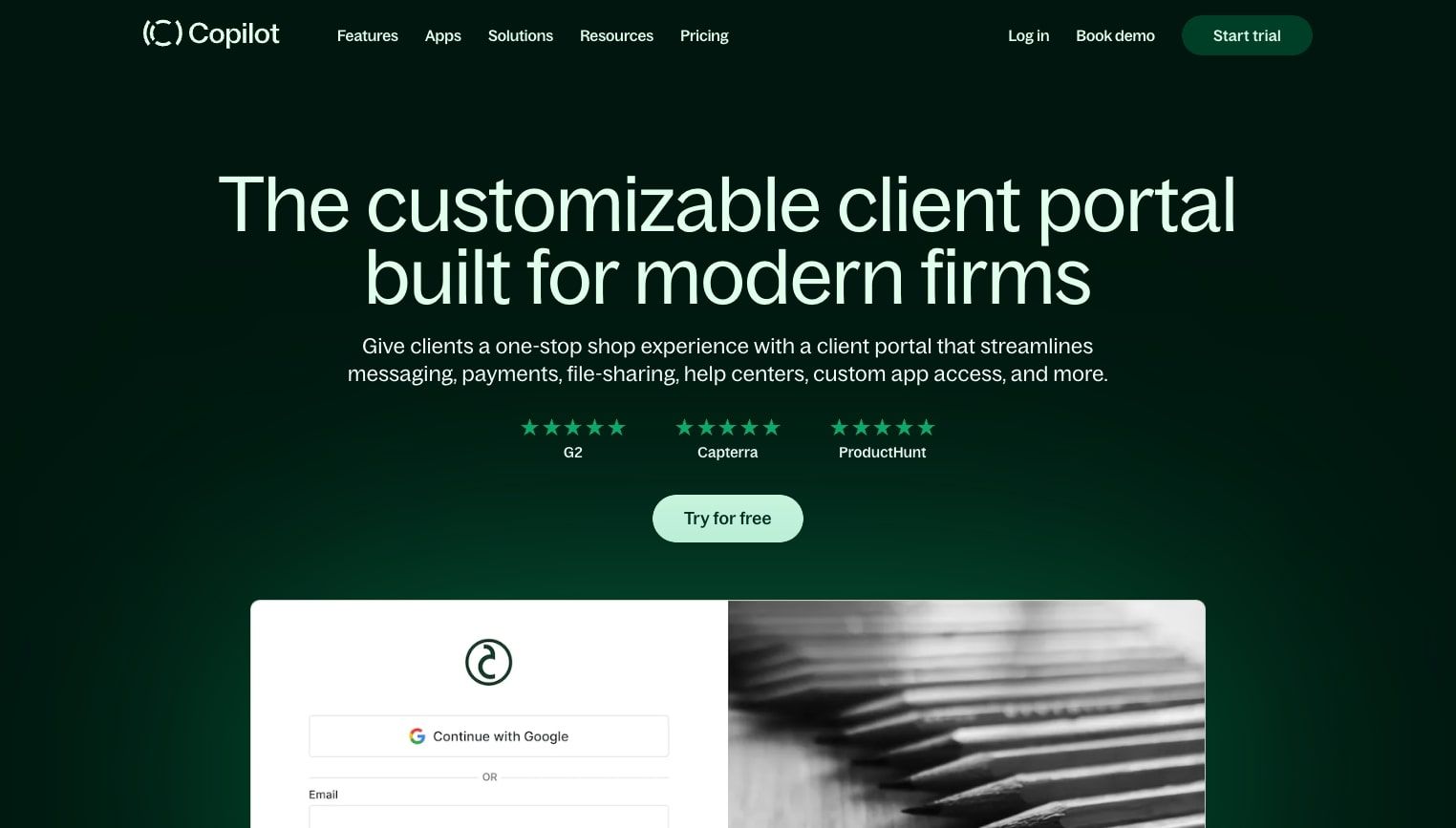 Best for: Modern service-based businesses
Pricing: Starts at $29/month (billed annually)
Copilot is a no-code client portal builder that makes it easy for freelancers, agencies, and startups to create customized customer portals.
Copilot's core mission is to help service-based businesses provide a great customer experience for their clients. So, naturally, many of the features Copilot has reflects that of customization and flexibility.
From dedicated login pages for clients to fully customized, real-time client dashboards, Copilot has everything you need to create a memorable client experience.
Copilot also has an app marketplace that allows you to integrate any existing tools you may already be using. For example, you can easily integrate DocuSign for contracts, Stripe for invoicing and subscriptions, and Airtable for task management.
Core features:
No-code client portal builder
Integrations with your favorite apps
Form intakes and onboarding flows
Messaging and file sharing
Helpdesk/FAQs/Knowledge base management
If you're a freelancer, agency, or client-based business that wants to create dedicated client portals with a clean and modern user interface (UI), you should definitely take Copilot for a spin and check it out for yourself.
2. Notion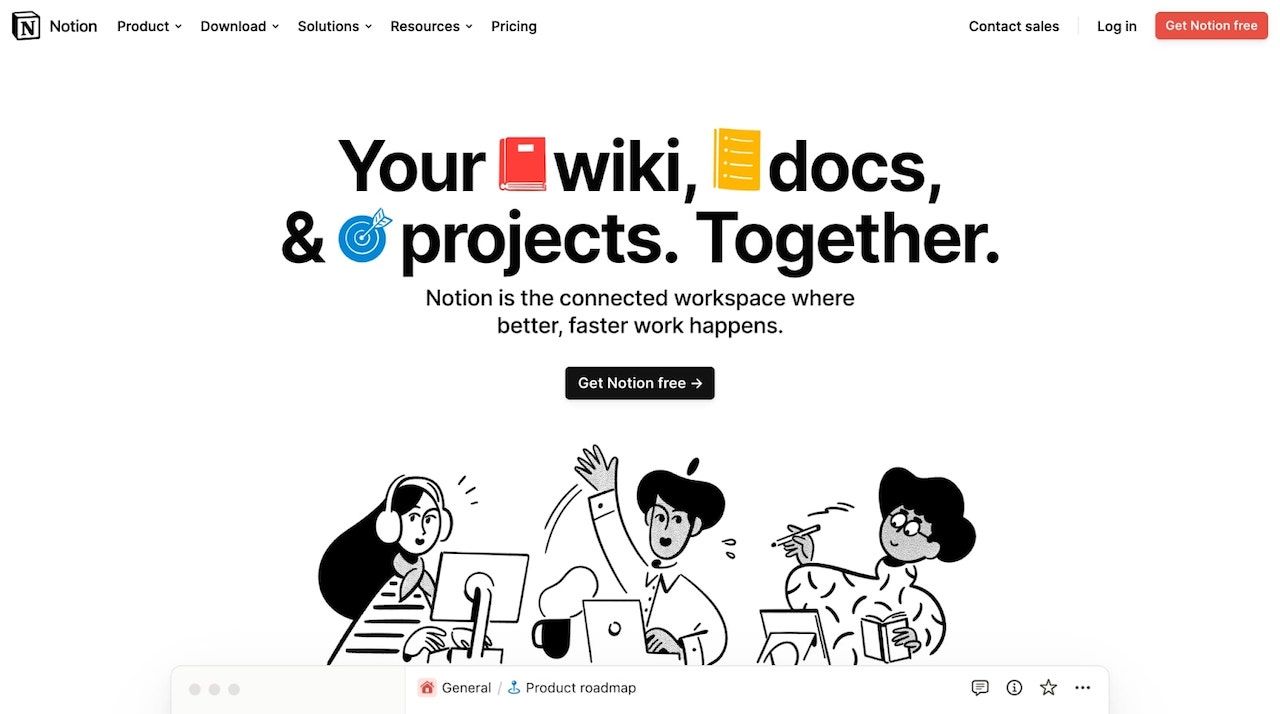 Best for: Project management
Pricing: Free plan, $8/month (per user) billed annually for business features
Founded in 2016, Notion has become one of the largest productivity tools on the market. At first glance, Notion may not seem like your typical client portal tool. However, because of the versatile no-code nature of this platform, Notion has plenty of templates that allow you to build out whatever productivity tool you need.
For example, Notion's client portal template gives you a lightweight way to manage your agency or freelance clients. You can track your project tasks and timelines, create knowledge base articles, and store any client assets.
The only downside is that, while Notion is great for you (the freelancer or agency), it may not be the best tool for your clients. The tool is great for managing the daily workflow of your tasks, but it is limited in things like invoicing, custom login pages, contract signing, and messaging or communication.
Nevertheless, if you're just starting out as a service-based business, and you're tight on a budget, Notion is definitely a tool you should check out.
3. Bonsai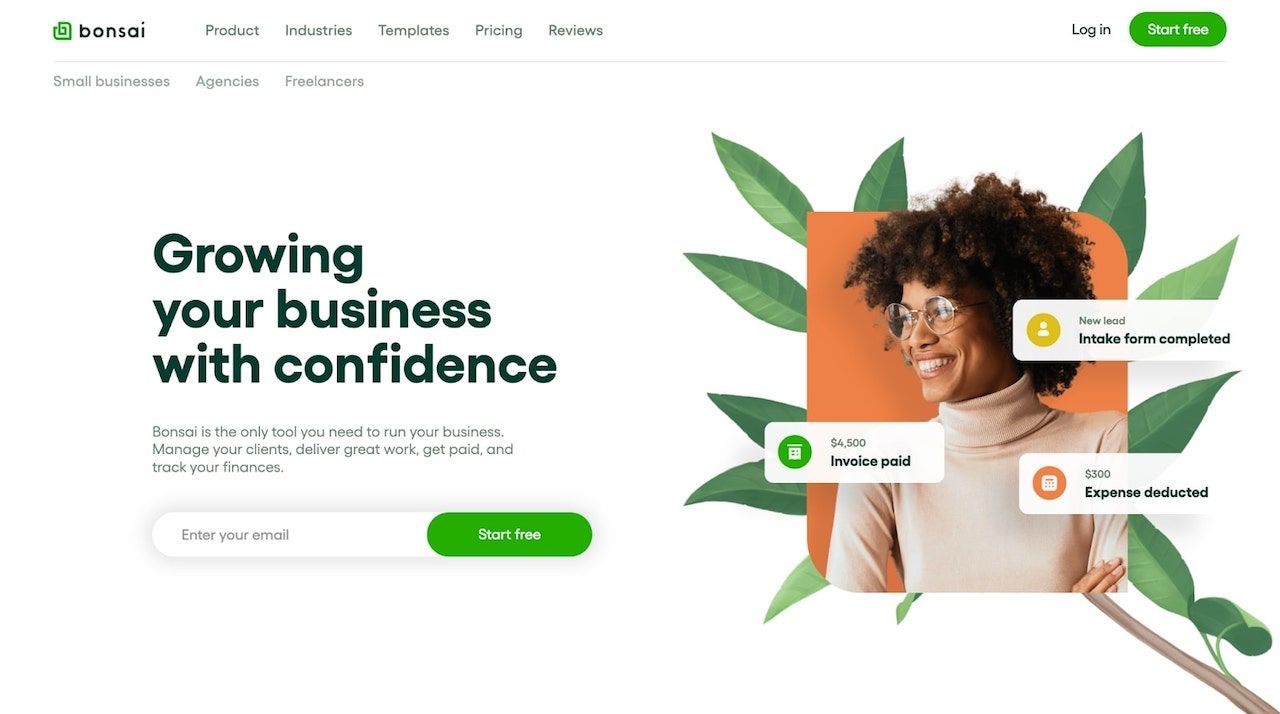 Best for: Absolute beginner freelancers
Pricing: Starts at $17/month billed annually
Also founded in 2016, Bonsai is an online freelancing platform that lets you manage your client relationships.
The great thing about Bonsai is how many templates they offer — from contract templates to intake form templates. If you're a freelancer just starting out, it can be a great tool to get up and running with.
Bonsai also has a client portal feature where you can track client projects, tasks, and invoices. However, it is limited in the way you can customize your client portals. It's a bit hard to integrate with any existing tools you may already be using.
If you don't have existing tools that you love using, Bonsai may be worth checking out. But if you want to have a more flexible option over integrations and how you can structure your client portals, it might be worth looking for an alternative.
4. Moxo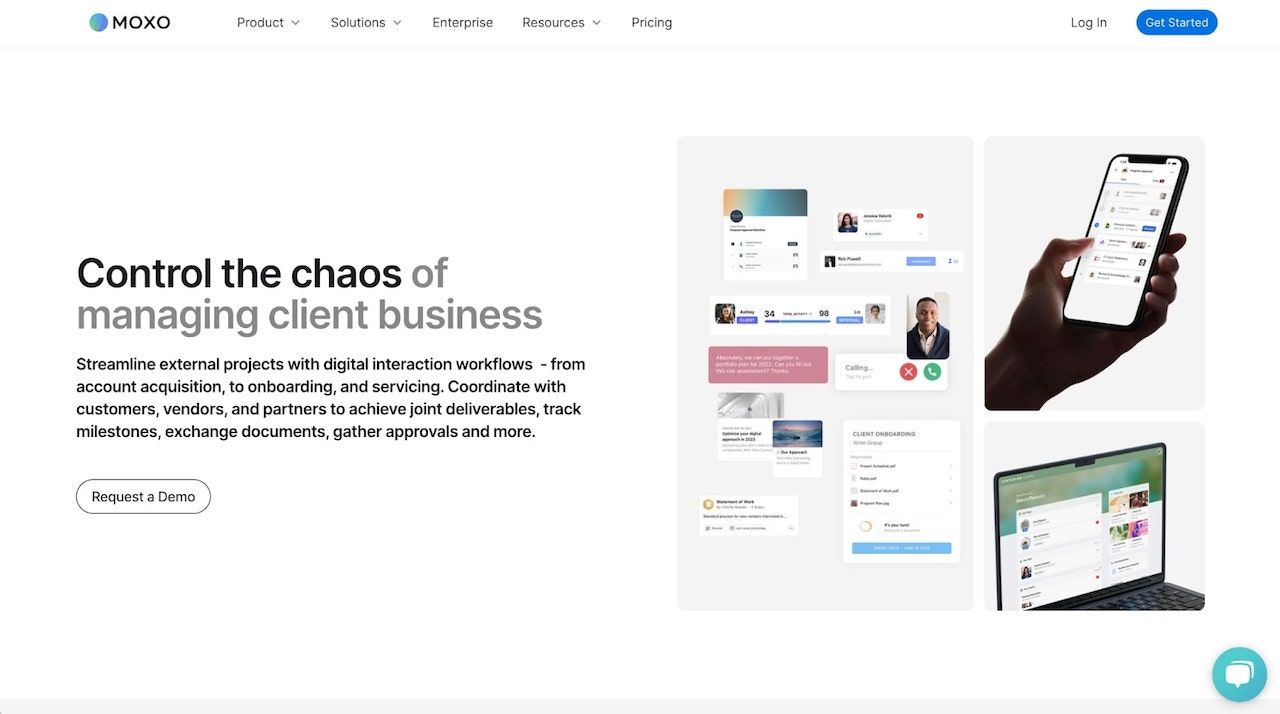 Best for: Enterprise service providers
Pricing: $1,080 per year
Founded in 2012, Moxo is a client management platform that helps service providers of all sizes streamline all of their client operations.
From client onboarding to managing projects, Moxo is an all-in-one solution for client businesses.
It is important to note, however, that Moxo does lean more on the enterprise side. If you're a freelancer or a small agency, this tool may not make the most sense for you. But if you're a large accounting firm, healthcare provider, consulting company, or real estate company, this platform may be worth checking out.
5. Client Portal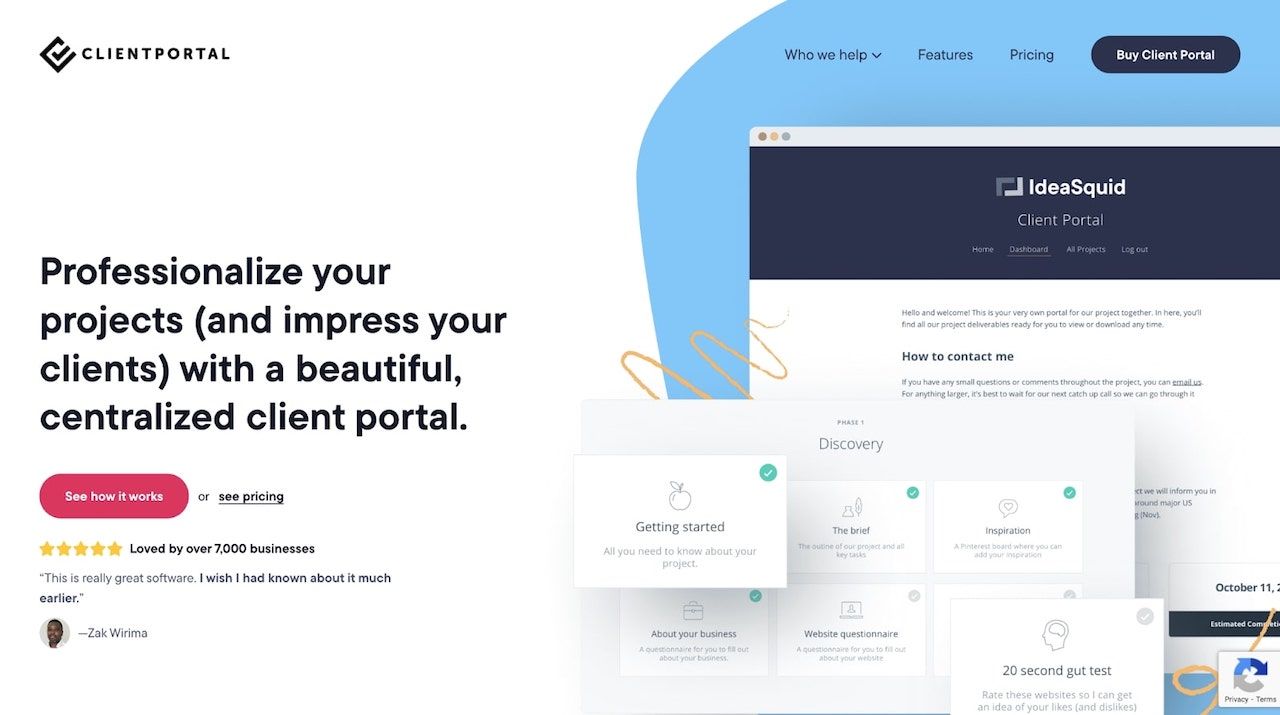 Best for: Simple client portals
Price: $249 single site license
Client Portal, as the name suggests, is a customer client portal designed for agencies, schools, law firms, and coaching businesses.
Just like Copilot, Client Portal is one of the few client portal tools on this list that offer customization features for your clients.
If you have clients that constantly message you with questions or need access to review documents, Client Portal is a great tool to check out. They offer things like notifications and integrations as well — giving you the flexibility to use existing tools in your tech stack.
6. Onehub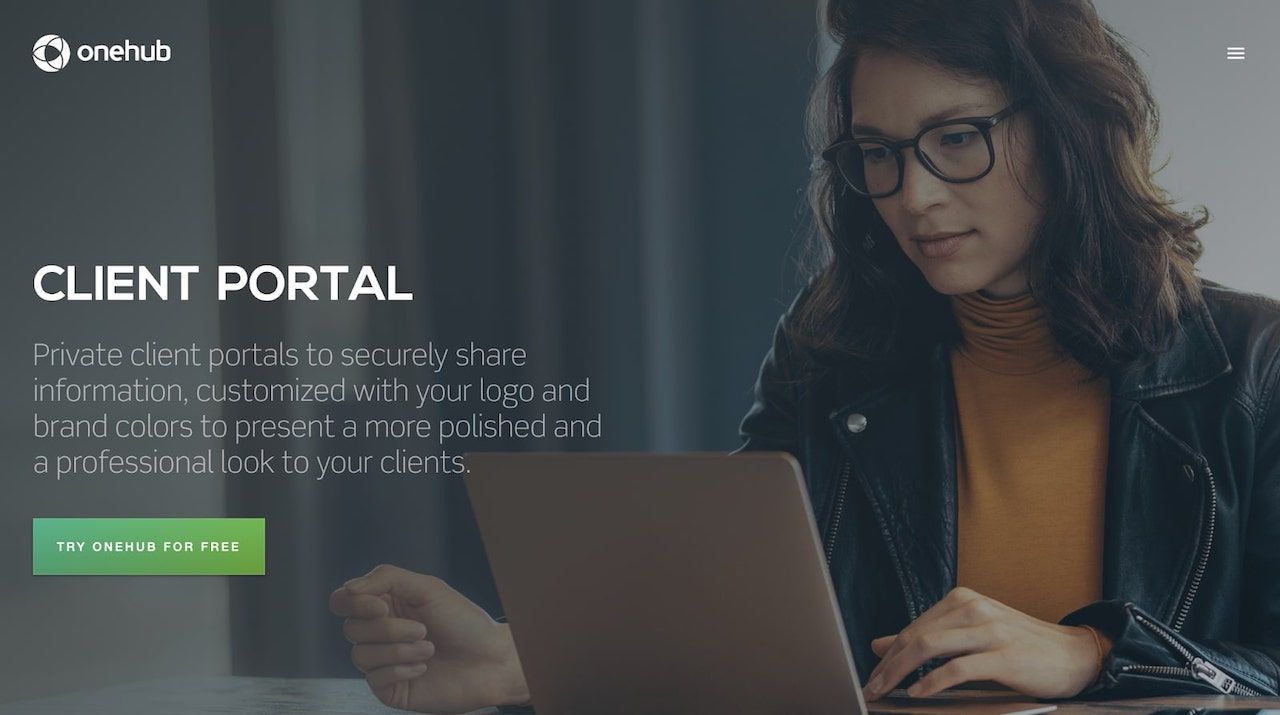 Best for: Large organizations
Pricing: Starts at $12.50/month per user (billed annually)
Onehub is a platform that lets you securely store and share business documents in the cloud. However, they have a feature that lets you create private, secure client portals that are customized to fit your logo and brand.
Onehub has a lot of the same core functionality seen in other client portals, such as:
File uploading
Advanced activity tracking
Messaging and task features
With customers from companies like Philips, Starbucks, and Dell, Onehub does lean more on the enterprise side. So, this tool may not be ideal if you're a small business. However, if you are a larger organization, this is definitely a tool to check out.
7. Zoho Creator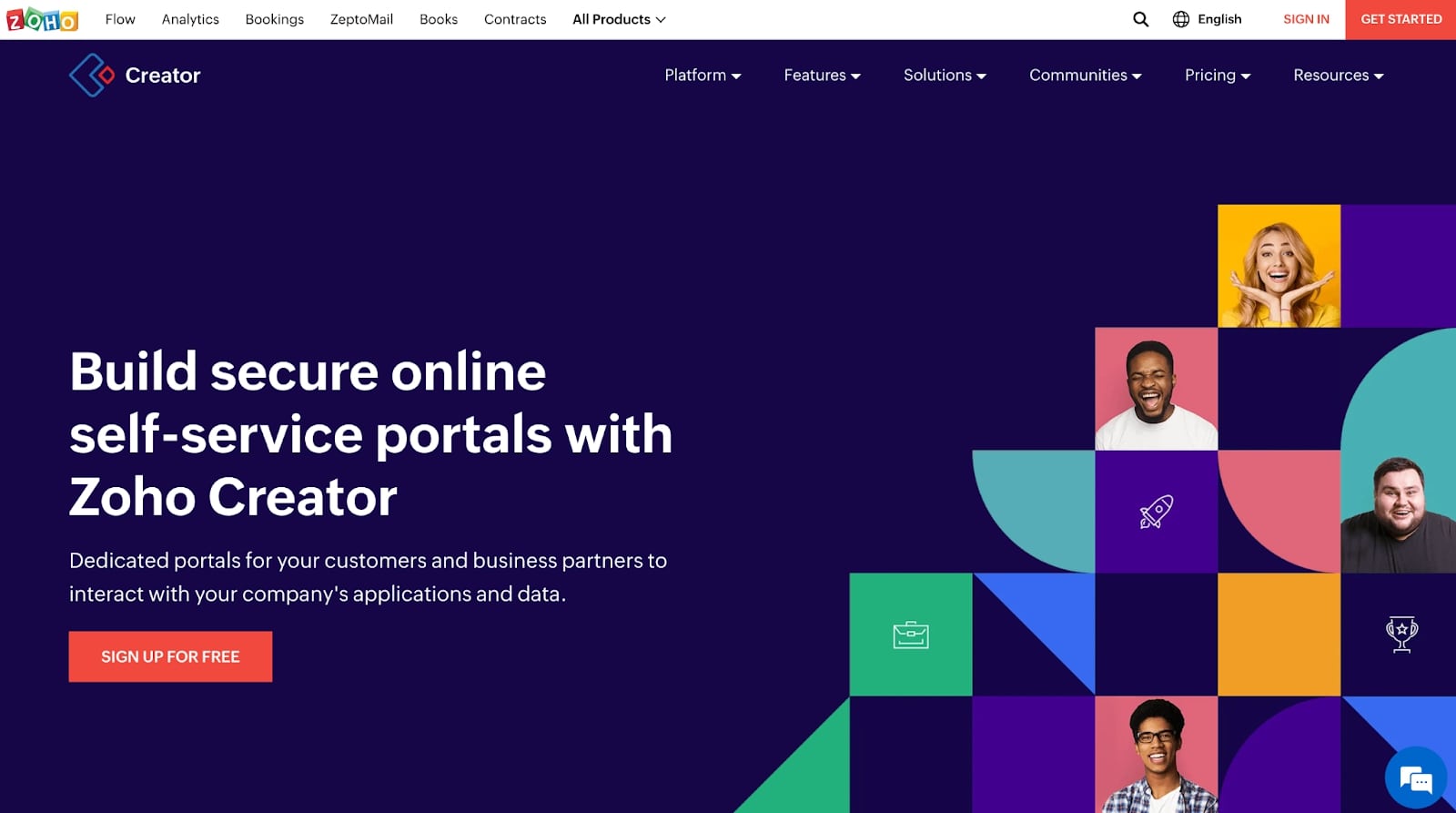 Founded in 1996, Zoho has established itself as a popular CRM that includes a suite of business collaboration tools.
Zoho has a ton of different tools, including a self-service client portal solution that allows you to create dedicated portals for your customers and business partners.
Like most client portals, Zoho makes it easy to share information, manage contracts and invoices, and let customers submit support tickets.
Some key features include:
Portals designed for progressive web apps (PWAs) and mobile apps
Granular access control and permissions
Help desk for clients
If you're a small to medium-sized business, Zoho Creator is definitely a tool you should check out as it has authentication features that make it a secure client portal software.
8. SuiteDash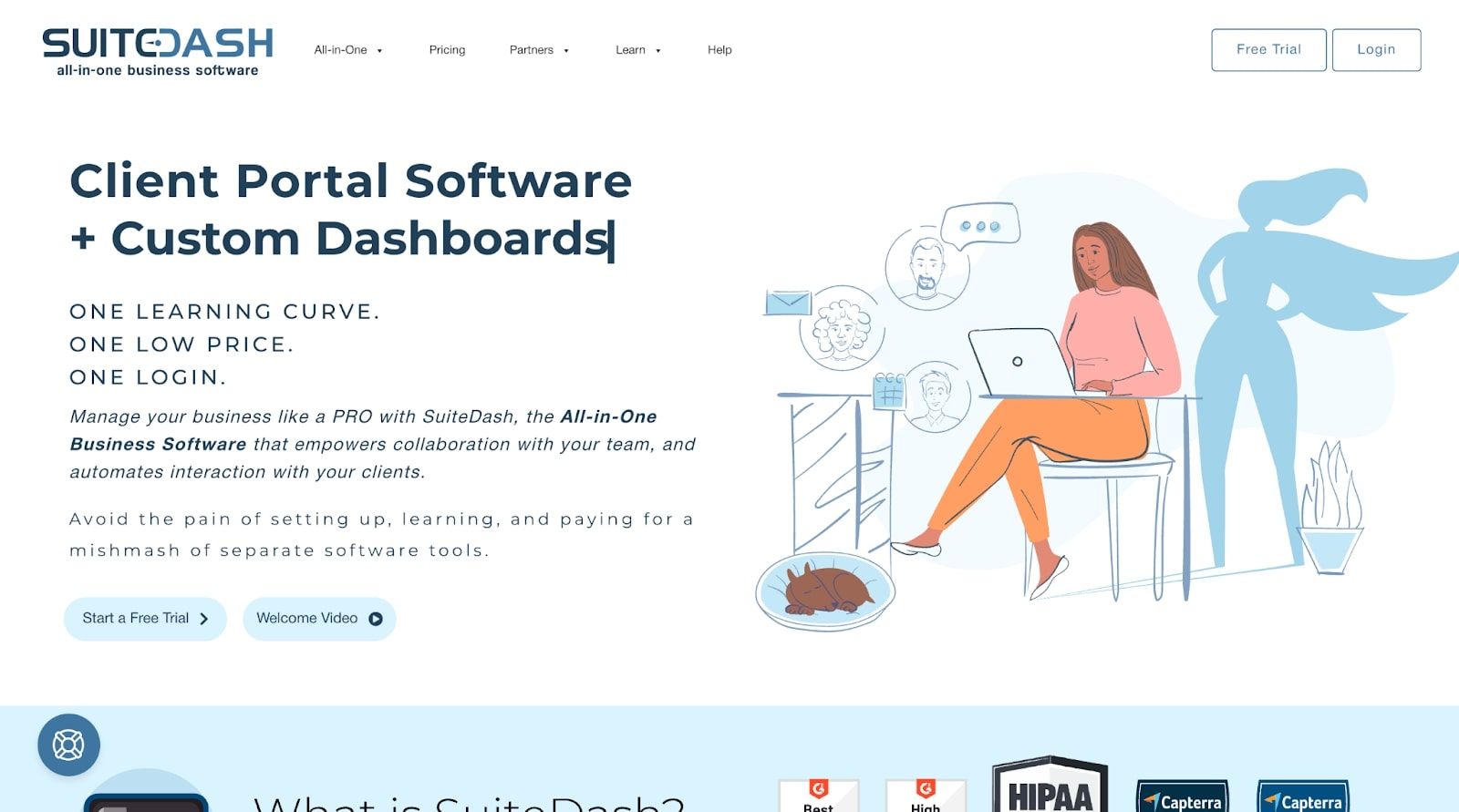 Best for: Local client businesses
Pricing: $180 per year
SuiteDash is a client portal software that includes a suite of different business management tools. From task management to appointment scheduling, SuiteDash makes it easy for small businesses to create a white-label portal and mobile app.
Some notable features of SuiteDash include:
Built-in LMS
Invoicing & Subscriptions
Client CRM and onboarding process
If you're looking for a client portal tool that lets you manage the entire process of communicating, billing, and managing your tasks, SuiteDash is a tool you should check out.
9. Zendesk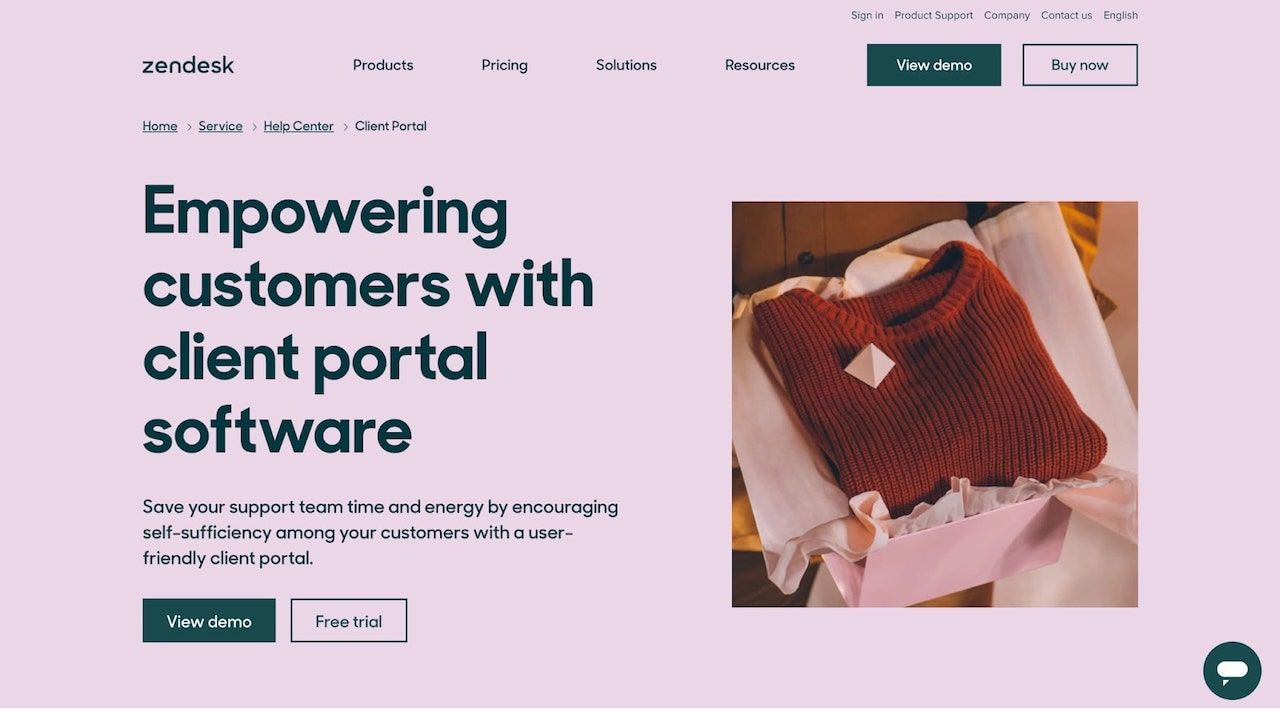 Best for: Customer support teams
Pricing: Contact sales
When you think of Zendesk, you might think of support teams and customer service software. However, Zendesk also has a client portal solution that can be used for sales teams and those who run service-based businesses.
If you're looking for something more robust and customizable, you might want to consider some of the other tools on this list.
But if you're looking for an effective client CRM that is focused on reducing the number of support tickets your customer service team receives, you should consider using Zendesk.
This customer portal acts more like a help desk. So if you want to create secure logins and have a customizable client portal, you should consider something like Copilot or Client Portal.
10. Clinked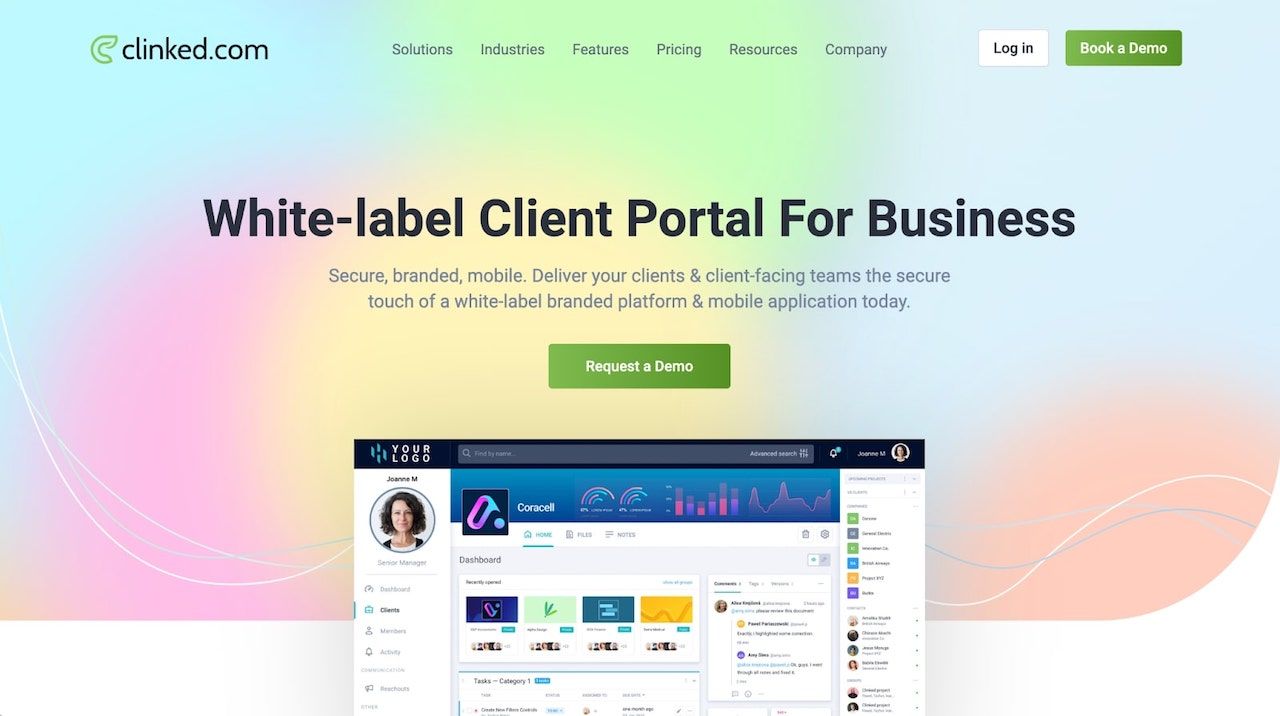 Best for: Medium to large client businesses
Pricing: Starts at $83/month (billed annually)
Last but not least, we have Clinked. Founded in 2008, this is a white-label client portal designed for client-facing teams who are looking for an integrated solution.
Just like Copilot, Clinked allows users to integrate with any existing tools, create automations using Zapier, and create branded client portals.
Some notable features include:
Project management tools
Partner portals for B2B companies
If you're looking for a well-rounded customer portal software, and you are a medium to large-sized business, Clinked is a tool you should definitely check out.
Conclusion
Finding the right client portal software is an important decision when it comes to building a great client experience for your customers.
The more flexible and customizable your client portal can be, the more likely you'll be able to fit the needs of different clients. And this, in turn, can help you with client retention and help you find more clients through positive reviews and referrals.
If you're looking for a no-code solution to create a modern client portal that can integrate with many of the tools you may be already using, Copilot is definitely a platform you should check out.
If you need something more simple, are on a tight budget, and just want to manage client projects and tasks, you should definitely check out Notion.
Sign up for our newsletter
Subscribe below to receive our newsletter. We'll email you about important announcements, product updates, and guides relevant to your industry