5 Best Client Portal Examples You Need to Check Out
Sep 06, 2023
10 min read
Omid G
If you had three wishes for your business, what would they be? Would you wish for more money? More time? Assuming you can't wish for more wishes, it can be helpful to sit down and create a laundry list of things you need to make your business run smarter, more efficiently, and more profitably.
As you ponder the possibilities, a number of things might come up — one of those being client portal software. With the ability to streamline communication, improve collaboration, and provide outstanding client experiences, customer portals have become central to many service businesses' operations.
From branding and automation to document sharing and secure communication, client portals offer distinct benefits to businesses of all kinds. At Copilot, we work with a variety of businesses that have found success with integrating client portals into their operations — replacing manual tasks and clunky emails with sleek interfaces and improved communications.
The following article explores client portal examples for businesses in different industries, highlighting the features that make them instrumental in shaping relationships in the near and long term.
What Features Should a Client Portal Have?
A well-designed client portal benefits businesses across various industries, facilitating seamless interactions, enhancing collaboration, solidifying client relationships, and giving your business a self-service touch. To make the most of a client portal, it should incorporate key features that address the specific needs of the business and its clientele.
Whether you're a freelancer who is just getting started or an established law firm with multiple clients, look for the following features in a client portal such as Copilot.
Personalized branding: Can you customize the portal with your brand's colors, logo, and messaging? Adding your own branding establishes and reinforces your brand identity so that clients think of you the next time they're seeking services like yours.
Efficient communications: Centralized messaging and communication tools are essential to reduce communication clutter, enhance transparency, and foster real-time collaboration between clients and teams.
Document management and sharing: Secure document storage, sharing capabilities, e-signature capabilities, and knowledge base functionality are a must for anyone who deals with file management. Keeping documents centralized in one secure spot reduces organizational clutter.
Automation and workflows: Automated processes that free up your time are critical to your ability to direct your attention to high-impact activities. These processes also reduce manual errors and keep teams focused on the work that matters most to business growth.
Data security: Robust security protocols, including compliance with industry standards, should be in place to protect you and your clients. Doing so also instills confidence and trust in your brand.
Project management: You and your clients need detailed views of project progress to ensure everyone is hitting their milestones. Clients can also see the progress over time and know where everything is at in the process.
Integrations: You'll want to be able to integrate with apps you already use or incorporate custom apps for specific use cases.
Mobile compatibility: Make sure you're able to give clients access to their client portals while they're on the go to ensure projects don't fall behind, even when they're away from their desks.
With the features above in your client portal, you can provide the best possible service, keep clients engaged, get paid in a timely manner, and continue growing your business without the weight of administrative work on your shoulders.
5 Client Portal Examples Doing It Right
Give yourself a competitive edge and get inspired to incorporate client portals of your own by checking out the client portal examples below.
1. Marketing Agency Client Portals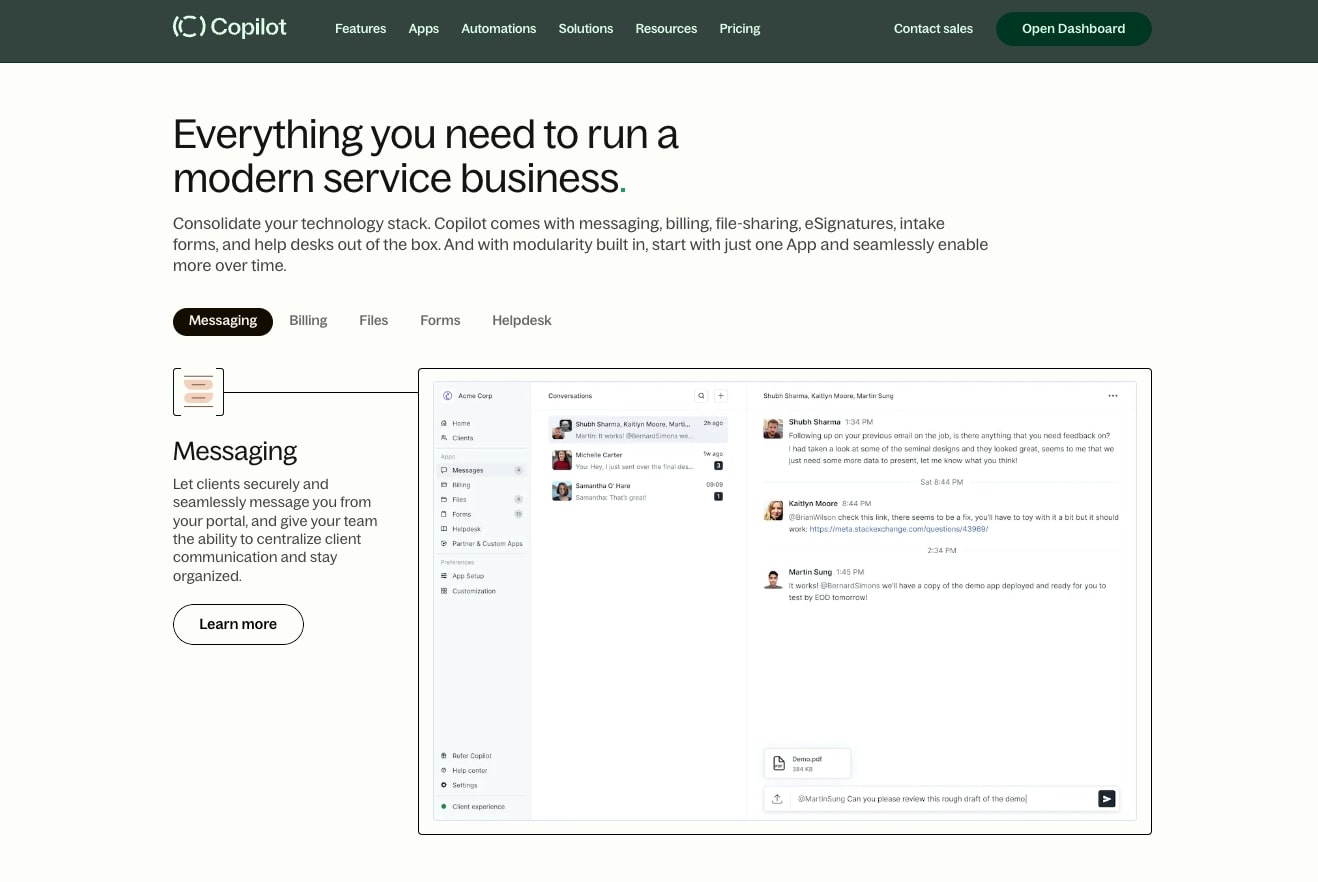 If you run a marketing agency, you have a lot of back-and-forth with clients. Between client approvals and reporting, there are a lot of moving parts, and it's easy for messages to get lost in email or verbal conversations. When that happens, it's more likely that clients will frustrated with your services, even in situations where you're waiting on them to move projects forward.
With a sleek marketing agency client portal like Copilot that works on web and mobile devices, you can modernize your agency, keep communications in one spot, and make sure nothing slips through the cracks.
The following use cases highlight some of the most impactful ways you can incorporate client portals into your marketing agency operations and wow your customers every time.
White Labeling
A white-label portal empowers marketers to create a one-stop shop for client interactions, elevating the customer experience and demonstrating the agency's commitment to streamlined service delivery.
Client dashboards make it easy to track project progress, communicate with their agency partners, upload assets, and submit payments securely. Notifications on the dashboard and via email keep all parties in the loop.
Custom and Partner Apps Integration
Marketing agencies can build their own custom apps that integrate with their customer portal software, tailoring it to their specific services. Furthermore, integrations with partner apps like Airtable and Calendly allow marketers to continue using their favorite apps without disrupting their current processes.
Integrations go beyond scheduling and project management, however. With Copilot, you can link to your accounting software, CRM system, and many other supported apps within the client portal. With automation and improved data, there's less likelihood for errors — and more opportunities to connect with clients and prospects when it matters most.
Unified Branding
With a client portal, agencies can add their own branding to put on a professional face and create a cohesive client experience. When clients log in, they see your logo, colors, and messaging, helping to build confidence and trust in your brand.
Automations
Taking manual tasks off your plate with automation frees up marketers to focus on high-impact client work. Offload administrative tasks and reduce manual errors while doing the work that you best.
Security
Client portals offer a secure spot to store sensitive client information such as billing details, while adhering to SOC2 and HIPAA rules.
Client portal example: Joshua Brueckner, founder of Trulytell, calls Copilot the "ultimate sidekick" for his agency, a creator of investor pitch decks — helping the company streamline communications, manage projects, and create on-brand client experiences. And for a company that's all about great first impressions, that says a lot.
2. Accounting Firm Client Portal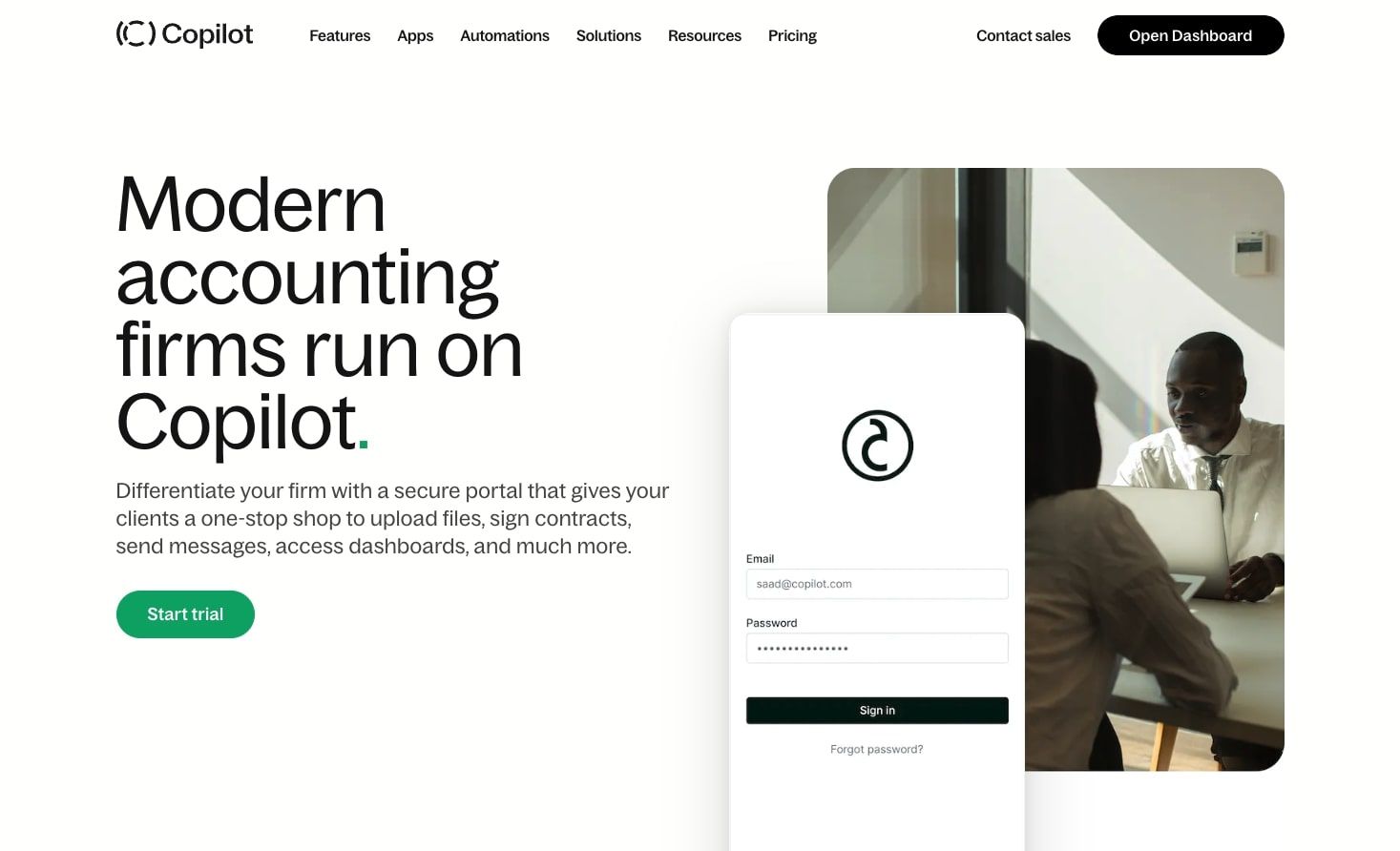 Accounting firms run on efficiency and clarity, and a client portal built for accountants provides just that. With built-in client communications, e-signature technology, and a unified client experience, client portals enable accounting firms to offload tedious daily tasks and focus on client work.
Among the major benefits of client portals for accounting firms are automation, security, and building trust, as outlined below.
Secure Uploads
A client portal creates a unified hub where clients can securely upload files, submit e-signatures, and exchange messages. Underscore your commitment to privacy and confidentiality while creating a delightful user experience — not always an easy feat when you're dealing with taxes, bookkeeping, and other financial information. With built-in SOC2 and HIPAA compliance, you can upload security protocols and build client trust.
Automations
No accountant wants to make mistakes in their work, and yet manual data entry carries the risk of human error. With automated data collection and other automations, client portals reduce manual missteps while enhancing efficiency for accountants.
Integrations
Custom and partner app integrations enable accountants to connect with Airtable, Calendly, and other apps. Clients can easily book time on their accountant's calendar, track project progress, and stay informed about the progress of requests.
E-Signatures
Expedite signatures on important documents with integrated e-signing capabilities. Save time and reduce bottlenecks while keeping information securely stored in one central dashboard.
Client portal example: The integration of e-signatures is one of the most valuable features of a client portal for accounting firms. As you can see in the image below, Copilot's clean user interface shows where to sign, with the document displayed prominently next to the e-signature. This feature is likely to be frequently used, and clients will appreciate the white space as they make their way through documents.
3. Law Firm Client Portal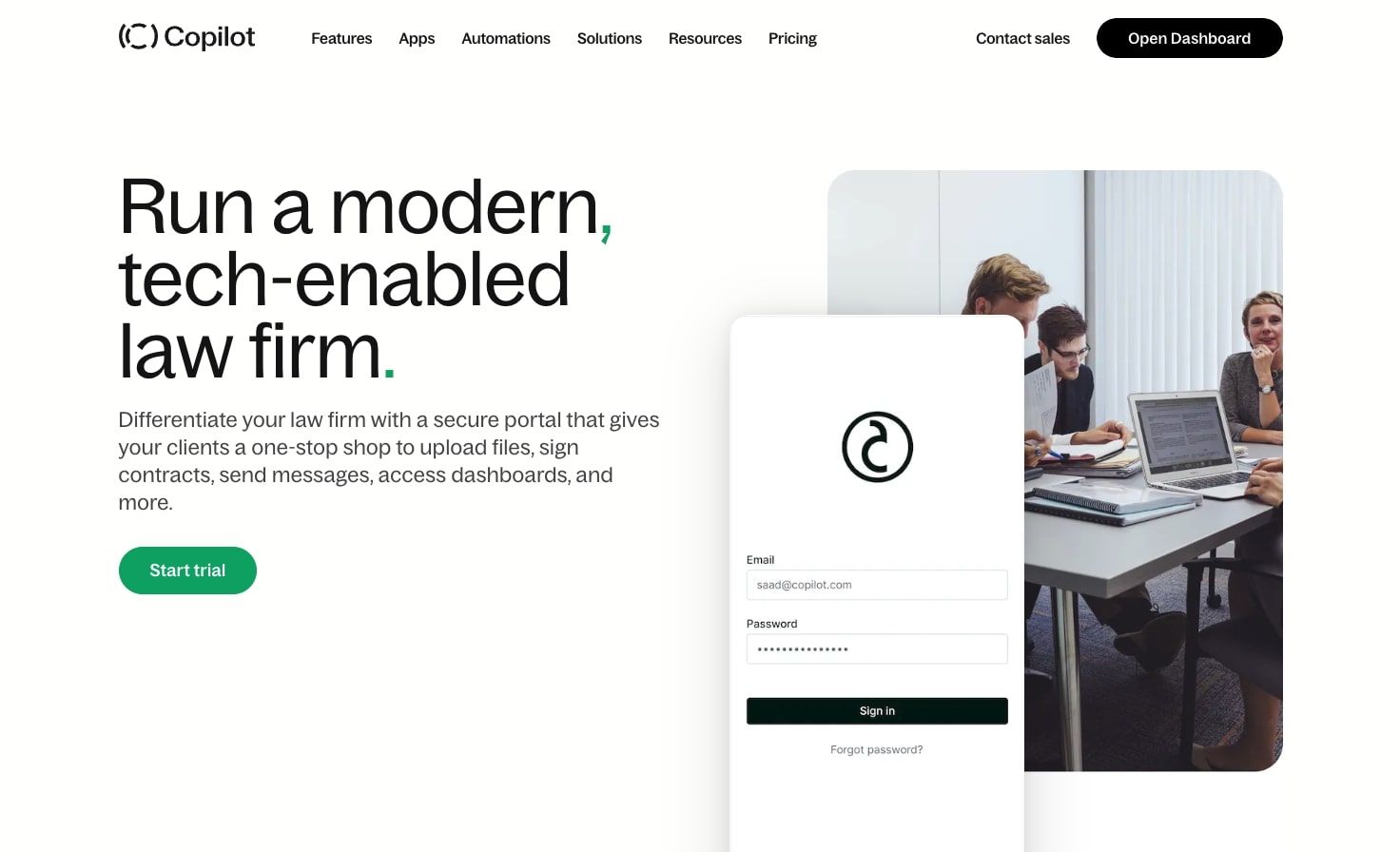 Like accounting firms, law firms rely on confidentiality, security, and streamlined client communications to run efficiently. Yet many attorneys spend much of their time doing non-billable work, with the average American lawyer spending just 2.6 hours each day on billable hours, according to the 2022 Legal Trends Report.
For attorneys who would rather spend their time doing billable client work, client portals for law firms provide an excellent solution. From automating the collection of data to communicating with clients, law firm client portals can transform the client experience and increase law firm efficiencies. Here are some of the ways client portals can enhance law firm operations.
All-In-One Experience
With one platform for communications, e-signatures, and confidential file uploads, client portals create a unified client experience across web and mobile devices. Client information stays secure and complies with SOC2 and HIPAA rules.
Automations
Streamlined data collection, reminders, and notifications eliminate the burden of manual work and reduce the risk of errors.
Branding
Customize the portal with your branding to solidify your law firm in the minds of clients and prospects.
App Integrations
Custom and partner app integrations enable law firms to connect with the apps they use the most or introduce custom apps for specific needs.
Client portal example: Among the client portal examples in our list, one law firm client mentions that Copilot saves the firm 120 hours per week and has streamlined onboarding for the 10-person firm.
As Lawyerist puts it, every attorney has unique needs when it comes to client communications and law firm operations. Having a customizable portal that can suit your law firm's needs is paramount, as is seamless document sharing between clients and attorneys. For these reasons, it's important to explore the capabilities of any client portal to ensure it's flexible enough to be tailored to your needs.
4. Freelancer Client Portal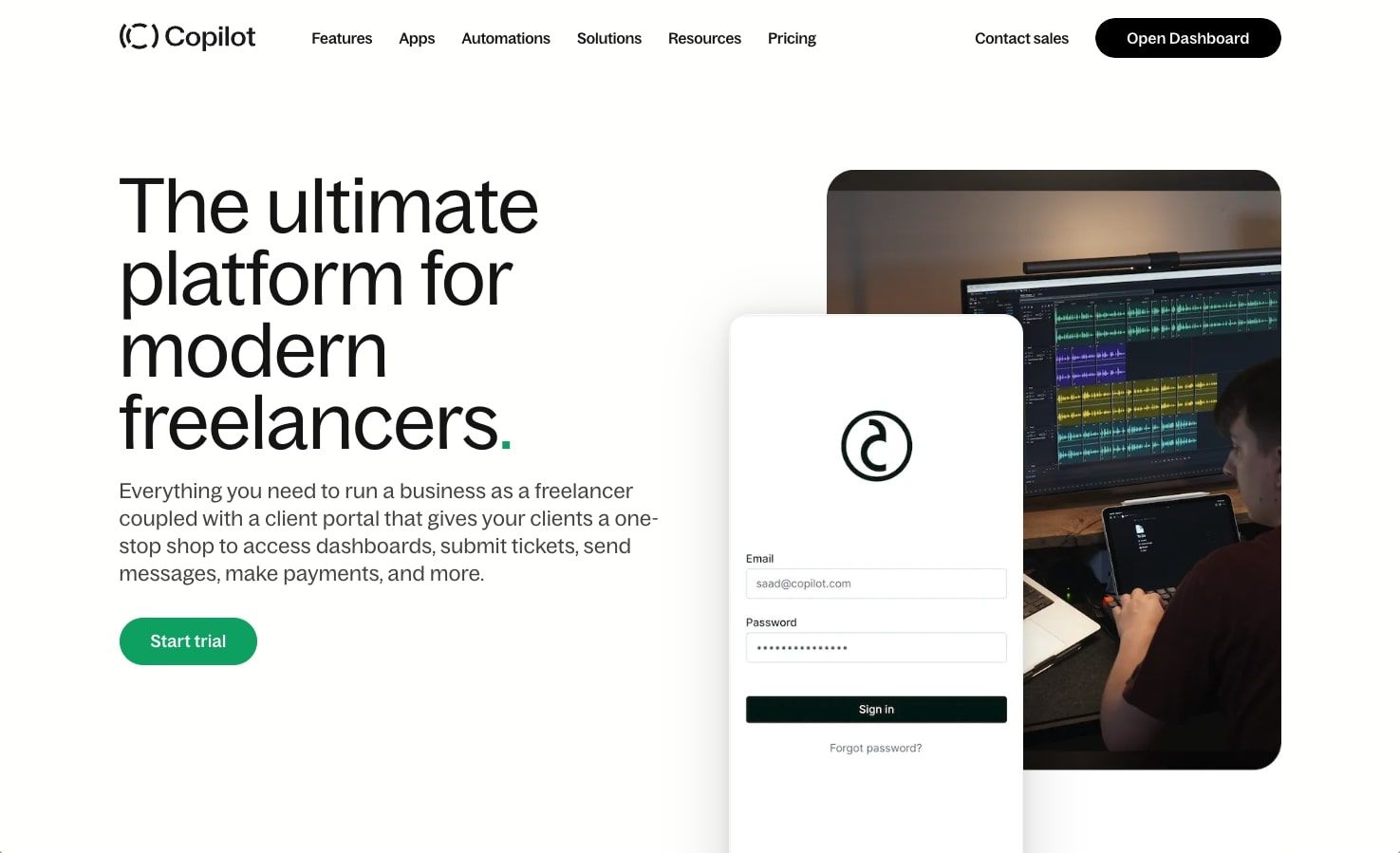 As a freelancer, you might be used to communicating with clients over email, phone, and even text messages. But you also probably know how easy it is for projects to get behind or for information to get lost when you don't have a unified way of managing client interactions and projects.
A freelancer client portal solves these problems by pulling together projects, tasks, and communications under one roof. Let's take a closer look at how a client portal system can improve the client experience while keeping freelancers organized and on track.
Outstanding Client Experiences
A personalized client portal provides a dedicated space for sharing project files, tracking progress, communicating back and forth, and accessing project insights. This client-first approach demonstrates freelancers' commitment to professionalism and on-time delivery.
Branding
The client portal enables freelancers to show off the colors, messaging, and imagery that represent their work. Infuse portals with personality, and communicate your mission and vision to existing and prospective clients.
Facilitate Critical Tasks
Send estimates, collect data, send and receive payments, and more. Client portals allow freelancers to get more done faster with the help of automation and streamlined communication.
Pulse Checks
Providing clients with access to project progress, timelines, and milestones fosters transparency and helps freelancers gauge client happiness as they check in with clients.
Client portal example: Copilot's client portal for freelancers makes it easy to see project statuses at a glance. As you can see in the image below, the interface is well-organized and easy to understand. Task organization and assignee capabilities enable transparency at any point in a project; you can also see where the workload is falling to ensure nobody is getting the brunt of all the work at any one time.
5. Small Business Client Portal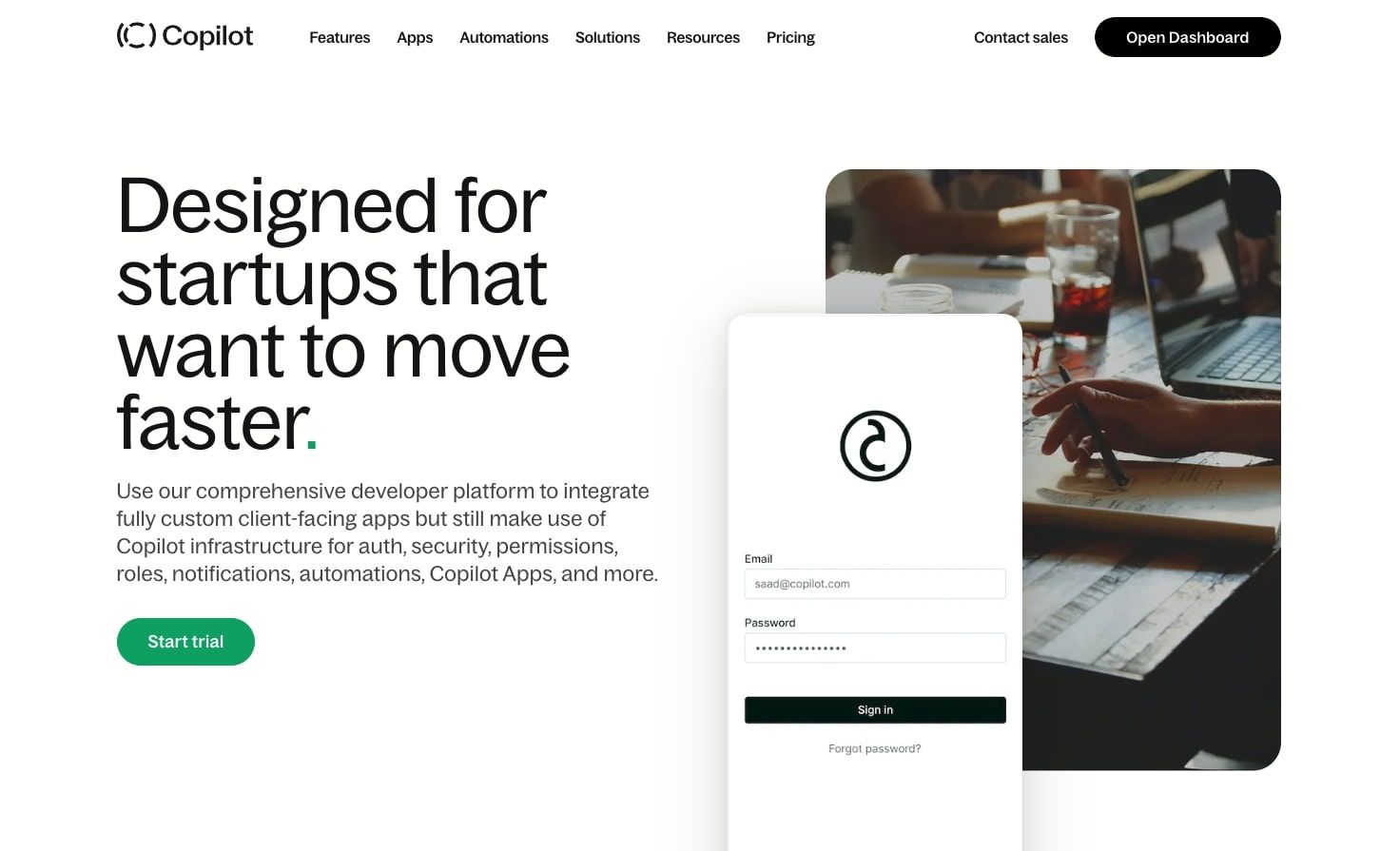 Nurturing client relationships is vital for any business, especially for small businesses trying to carve out their path. Adopting client portal technology can help young enterprises get a strong start with seamless communication, collaboration, and organization.
As you explore client portal examples, consider some of the ways a client portal can benefit small businesses not only as they get started but as they scale.
Dedicated Platform
There's nothing like a unified, branded platform to elevate the client experience and underscore small businesses' commitment to timely service delivery. Clients can easily get in touch with their service provider, book appointments, pay for services, and more, all from a centralized hub.
Branding Consistency
Showcase your unique brand identity and desired aesthetic. Create a professional, branded client experience that shows off your personality.
Document Sharing
Exchange files, proposals, and drafts right from the dashboard. Keep crucial assets in one location for easy access anywhere, from mobile or desktop devices.
Automation
Among our client portal examples, the use case for small businesses is evident.
Small and medium businesses spend 120 working days a year on admin work, according to CPA Practice Advisor. That's time that could be better spent on growing the business.
Client portal example: As with the freelancer client portal, a startup or small business client portal focuses on efficiency and transparency. Even if you are a small operation, it's important to get everyone on the same page with projects and tasks.
Launch Your Client Portal With Copilot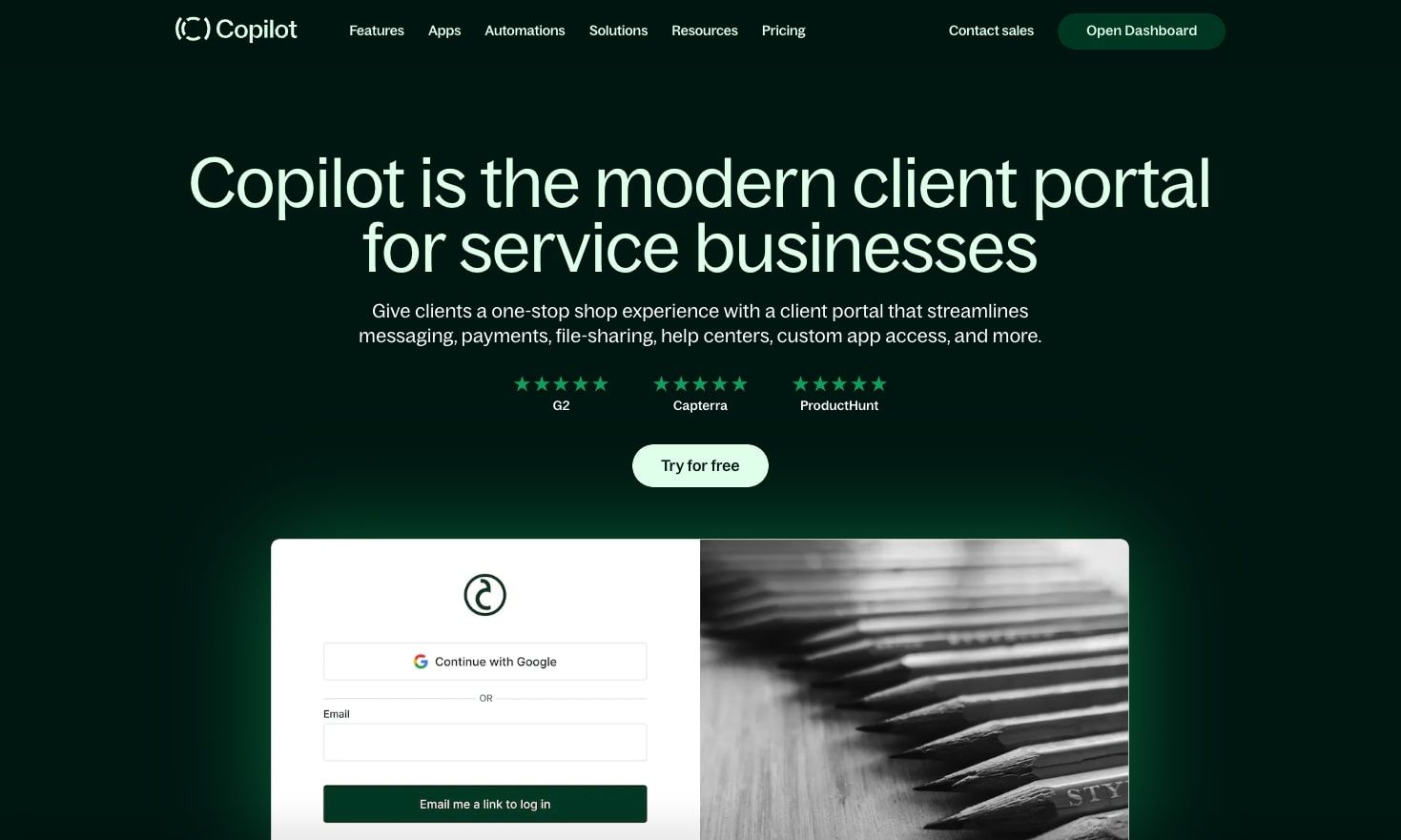 No matter what type or size of business you have, client portal solutions can give your company a sophisticated edge over the competition. With the client portal examples we've outlined above, it's easy to see why client portals have grown in popularity, doing the work of humans and replacing real-world offices with virtual experiences.
Those experiences are anything but impersonal, too. Modern client portals create a relationship-driven environment where clients and professionals can collaborate, share information and ideas, and eliminate the limitations of analog communications.
Are you curious about what kind of user experiences you can create using Copilot? Try our demo portal to create a client account and test-drive the features for marketing agencies. We also encourage you to sign up for a free trial to try out all of the features and determine how a client portal can best serve your needs.
Sign up for our newsletter
Subscribe below to receive our newsletter. We'll email you about important announcements, product updates, and guides relevant to your industry