What is a Client Portal and what features to look for?
Aug 09, 2023
4 min read
Neil Raina
Client Portal solutions have become popular because in many ways they have replaced the traditional office. In the past, if you were an accounting firm or law firm, your experiences with clients were likely very relationship-based and in-person. But over time, more and more interactions started to happen via phone calls, video calls, and various tools for communication. In other words, things started to get fragmented and impersonal.
The benefit of Clients Portals is that they become your online office - a place, with your own branding, where clients can speak with you, share docs with you, pay you, and more.  
What Is a Client Portal?
A Client Portal is a secure web-based electronic platform for data sharing and collaboration between an organization and its clients. It lets internal users (professionals) and client users login to the same place and gives both parties a single place for communication and collaboration. Client Portals also allow for multiple permission levels and roles; so that a firm owner can invite her or his team.
Benefits of a Client Portal
Thanks to Client Portals, customers no longer have to contact company representatives directly for every little thing. A Client Portal is designed to empower your clients, giving them greater transparency into your business operations. Moreover, this frees your team up to focus on more pressing matters.
Message Your Clients From One Location
Client Portals come equipped with messaging capabilities, allowing professionals and their clients to communicate conveniently and efficiently. The messaging module is also a much more secure means of communication compared to email. Client Portals encourage quick feedback and chats that go a long way in improving your customers' experience and keeping projects in sync.
Share and Store Documents
What distinguishes a client portal from other means of file sharing, like email, for instance, is high or unlimited storage limits, increased security for data-sharing, and more flexibility in storage options. The self-service features let the clients access the data and information themselves, making for a more client-centric experience.
Create Invoices and Subscription Payments
Client Portals are integrated with invoice and subscription payment services and let you set up reminders and notifications for payments. This eliminates the need for employing a separate service for billing, providing both professionals and their clients with a smoother user experience. Many private Client Portals also allow clients to keep track of their transaction history with your business, and directly obtain their statements.
Manage Your Portal Without Coding
The best Client Portals are white-label and have maximum flexibility when it comes to customization. Some Client Portals even let you host the portal on your own domain which is important because it makes the experience for clients more professional.
Copilot: The Best Client Portal Software
Copilot is the modern Client Portal for service businesses. Copilot gives clients a one-stop shop experience with a portal that streamlines messaging, payments, file-sharing, help centers, etc.  With modularity built-in, you can decide which features to turn on and which to turn off. Start with just one App and enable more over time. Tech-enabled service businesses choose Copilot to streamline their business and client experience.
Messaging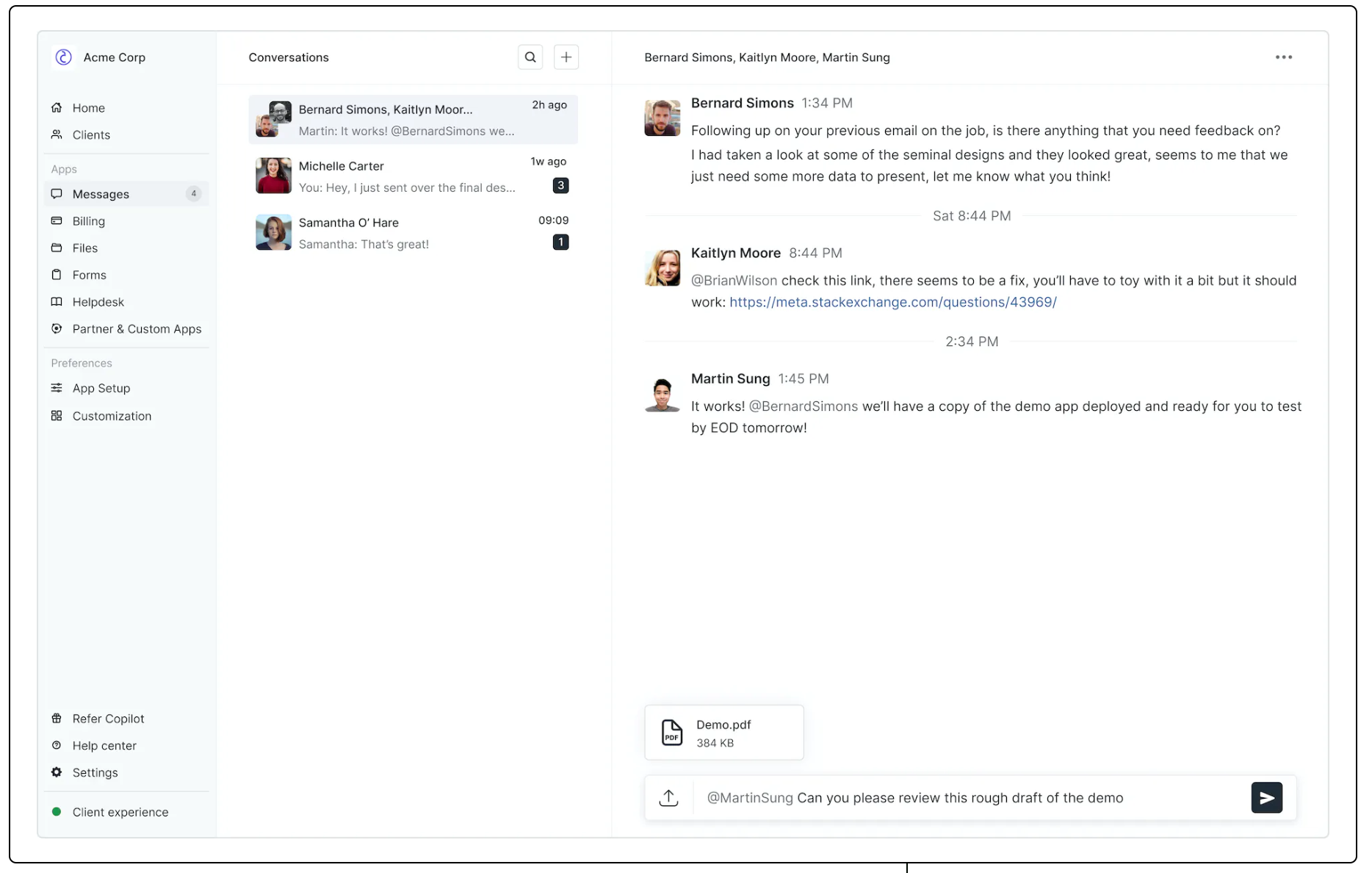 With Messaging, Copilot enables a streamlined way to communicate securely with your team and clients. Read more about the Messaging module here.
Billing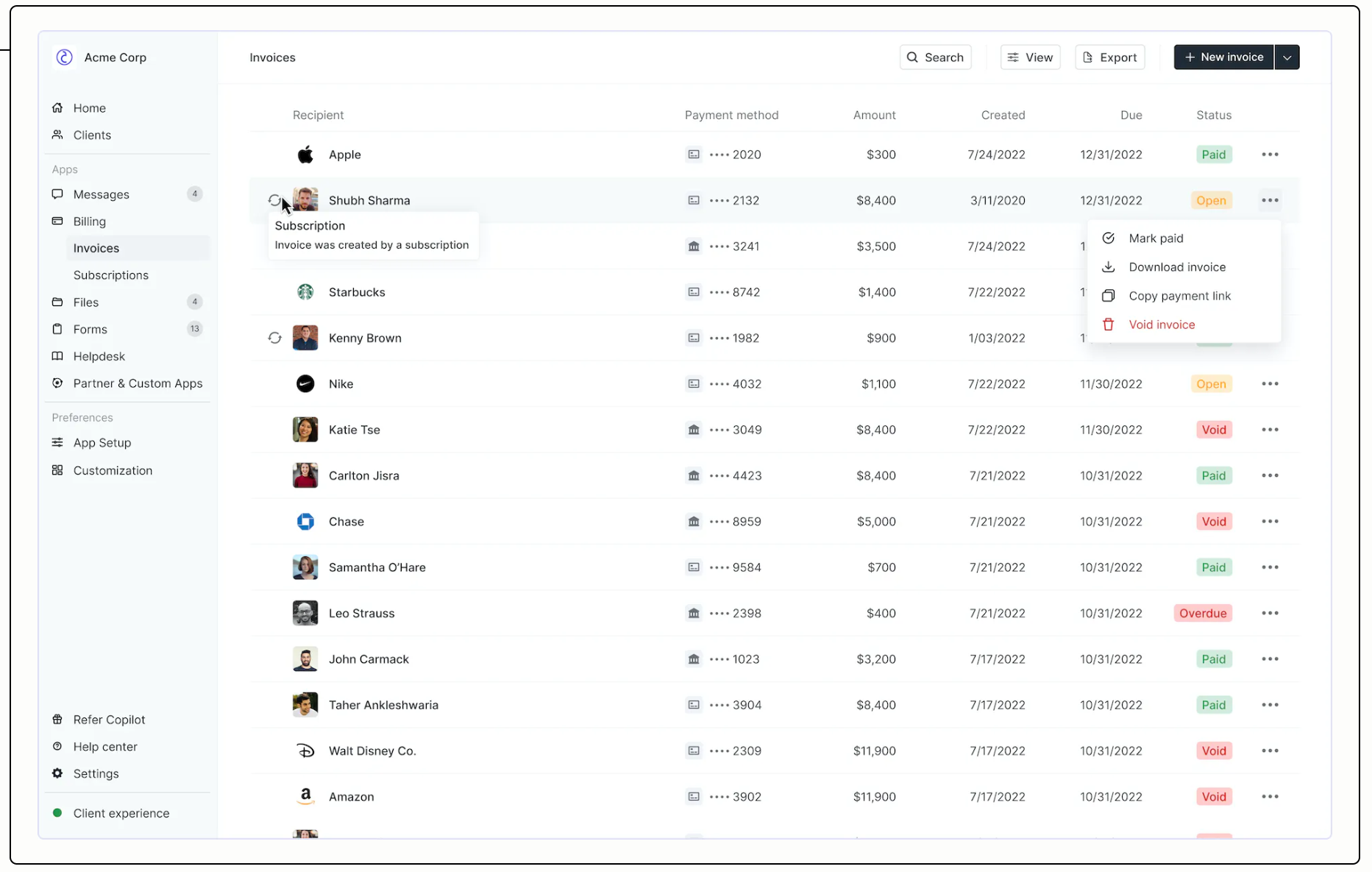 Copilot lets you create invoices and subscriptions through its Payments module and relieves you of the hassle of managing an extra billing service. You can view everything billing-related in a single place and take action on invoices. Read more about the Billing module here.
Files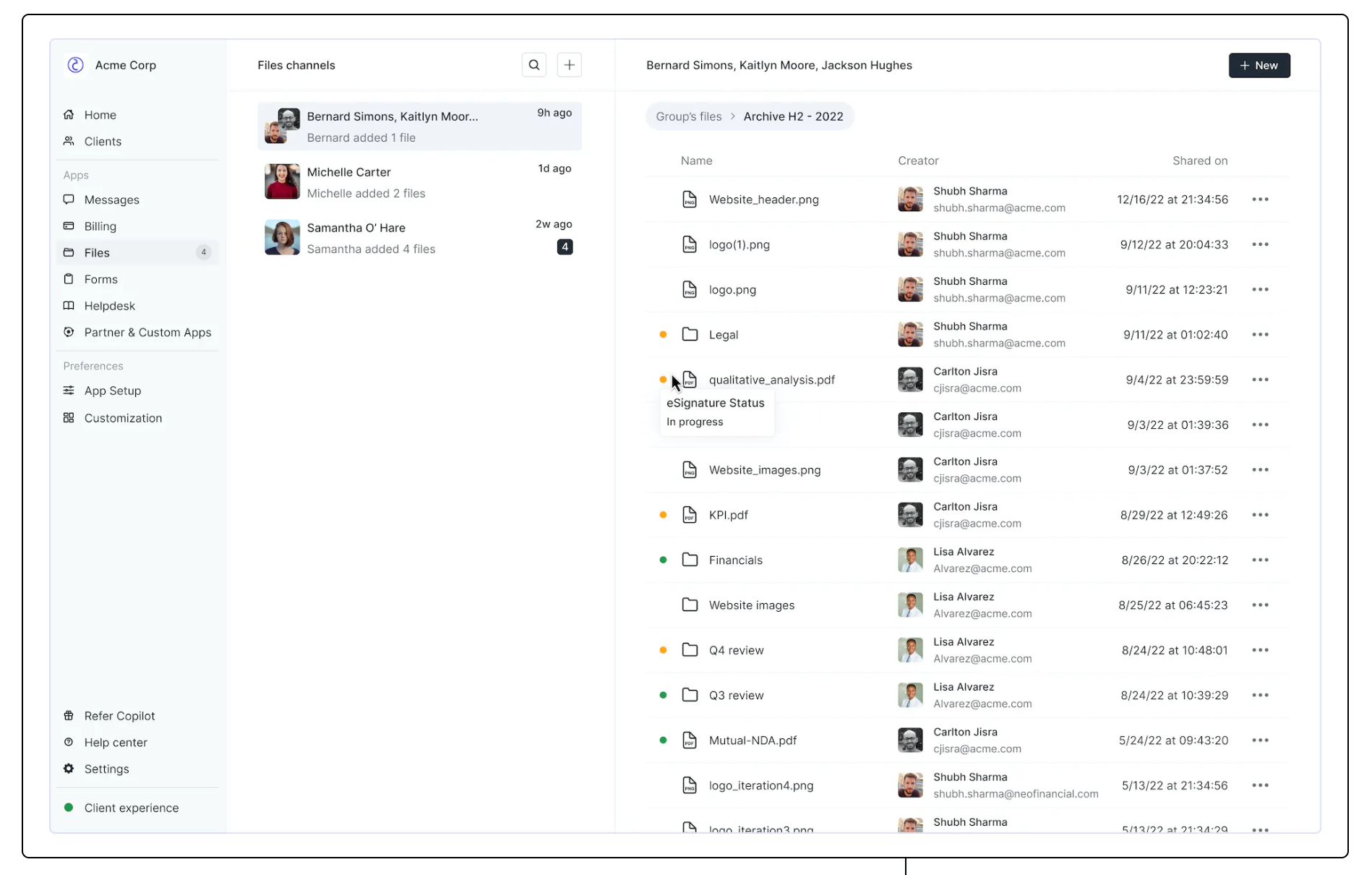 Copilot makes data sharing between professionals and their clients easy and efficient through its Files app and get contracts signed with eSignature requests. You can organize files in folders and have the ability to upload regular files or add links (so that you can point to Dropbox, Google Drive, etc.). Copilot helps deliver a uniform and consistent experience for your clients with on-brand design, combined in-product notifications, and comprehensive email notifications.
For more information, please continue reading about the Files module here.
Conclusion
Modern Client Portal software can help any professional services business transition to be a modern tech-enabled firm with just a single app. The modular approach that Copilot employs lets you decide exactly what features to turn on. What isn't needed can simply be turned off, so that the user experience for clients is not harmed.
What makes Copilot stand out is the degree to which it allows for customization. With the added ability to connect your custom domain, Copilot is a fully white-label solution that can set your business apart. In addition, modern product design and a focus on mobile usability make this a tool that most of your clients will actually want to use. Start your free trial of Copilot today!
Sign up for our newsletter
Subscribe below to receive our newsletter. We'll email you about important announcements, product updates, and guides relevant to your industry