7 Best Clinked Alternatives You Need to Try in 2023
Aug 08, 2023
9 min read
Omid G
Are you looking for an alternative platform that offers more capabilities than Clinked? In this blog post, we'll review the best 7 competitors to it. All of these solutions provide project management features as well as enhanced client portals and billing tools specifically tailored to modern businesses with various demands. Let's get ready to discover better collaboration options!
What to Look For in a Clinked Alternative
For an efficient workflow, the right cloud-based collaboration platform is essential. Alternatives to Clinked offer numerous advantages such as user-friendly interfaces and customization options plus integration with tools like Google Drive or project management capabilities for businesses that are in need of extra features. A secure solution allows access to all the necessary tools from anywhere anytime. So what should you search for when considering alternative platforms? Analyzing their customizability options, assigning tasks ability, and document managing facets can help decide which one fits best within your business needs better than Clinked itself did.
Client Portal and File Sharing
Client portals are essential for businesses to stay connected with their clients. Such a platform allows safe access to digital services, files and information related to the project being undertaken by them. When searching for an alternative tool similar in function to what Clinked offers, make sure it provides a robust white-label client portal that includes document storage and archiving capacities, as well as secure file-sharing capability. All of these features will allow efficient collaboration between teams and customers alike.
Look out for cloud-based software programs offering functionalities such as PDF editing tools along with content management capabilities while also integrating popular sources like Google Drive. Facilitating easier exchange of documents making your customer management process simple yet effective through streamlined workflows.
Project management
When looking to advance their collaboration and reach desired objectives, businesses must invest in effective project management. Project management tools can aid organizations in saving resources while increasing communication and performance. An appropriate Clinked alternative should supply users with a tool that enables job distribution, progress monitoring as well as easy dialogue between personnel members.
The correct task-handling program should also provide options such as a version control system, document archiving capacity for preserving records of past activities, knowledge administration features plus workflow automation choices. With these attributes available, the teams are able to retain an organized set-up, supervise tasks proficiently, and ensure successful cooperation among peers effectively using this particular software option over any other alternative that may be present within the marketplaces. Making good use of solutions regarding collaborative projects is important for achieving excellent results by prioritizing required skills for those needs before settling on one specific Clinked substitute choice suited best to your specifications perfectly.
Billing and Invoicing
Businesses need tools to effectively manage their finances, making billing and invoicing features essential for them. When choosing an alternative to Clinked, it is important that businesses focus on solutions that give them the ability to keep track of payments, create invoices quickly and monitor accounts receivable with ease.
This can help streamline financial management processes so companies have more time available for other operations at hand. By opting in for such a system, they ensure sound money handling as well as overall growth prospects within their business structure!
Top 7 Clinked Alternatives for Client Portals
Here are our top picks for the best Clinked alternatives in 2023:
Okay, let's dive deeper into each one.
1. Copilot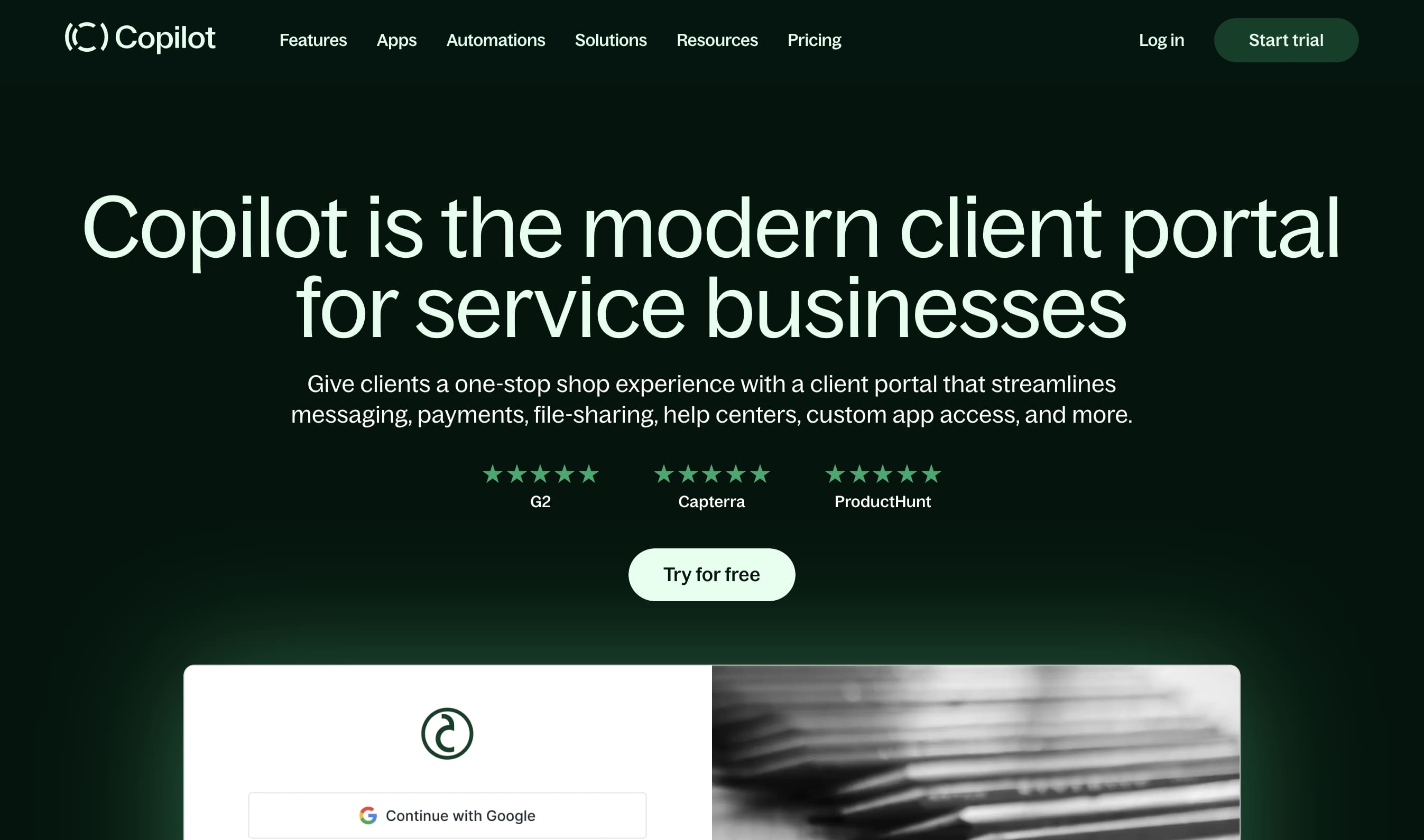 Best for: Creating custom, modern-looking client portals
Pricing: Starts at $29 per month (paid annually)
For businesses searching for an alternative to Clinked, Copilot is a great option with its emphasis on user experience. It comes equipped with project management capabilities, billing features, and file-sharing capabilities, all of which are presented in an intuitive interface that rivals other solutions out there.
The automation features that let you build unique client experiences also makes it stand apart from competitors. With competitive pricing and a comprehensive range of third-party integrations tailored to modern business needs, Copilot delivers a feature-rich platform. To sum up, Copilot may just be the perfect choice if you're looking for flexible yet powerful alternatives.
2. Notion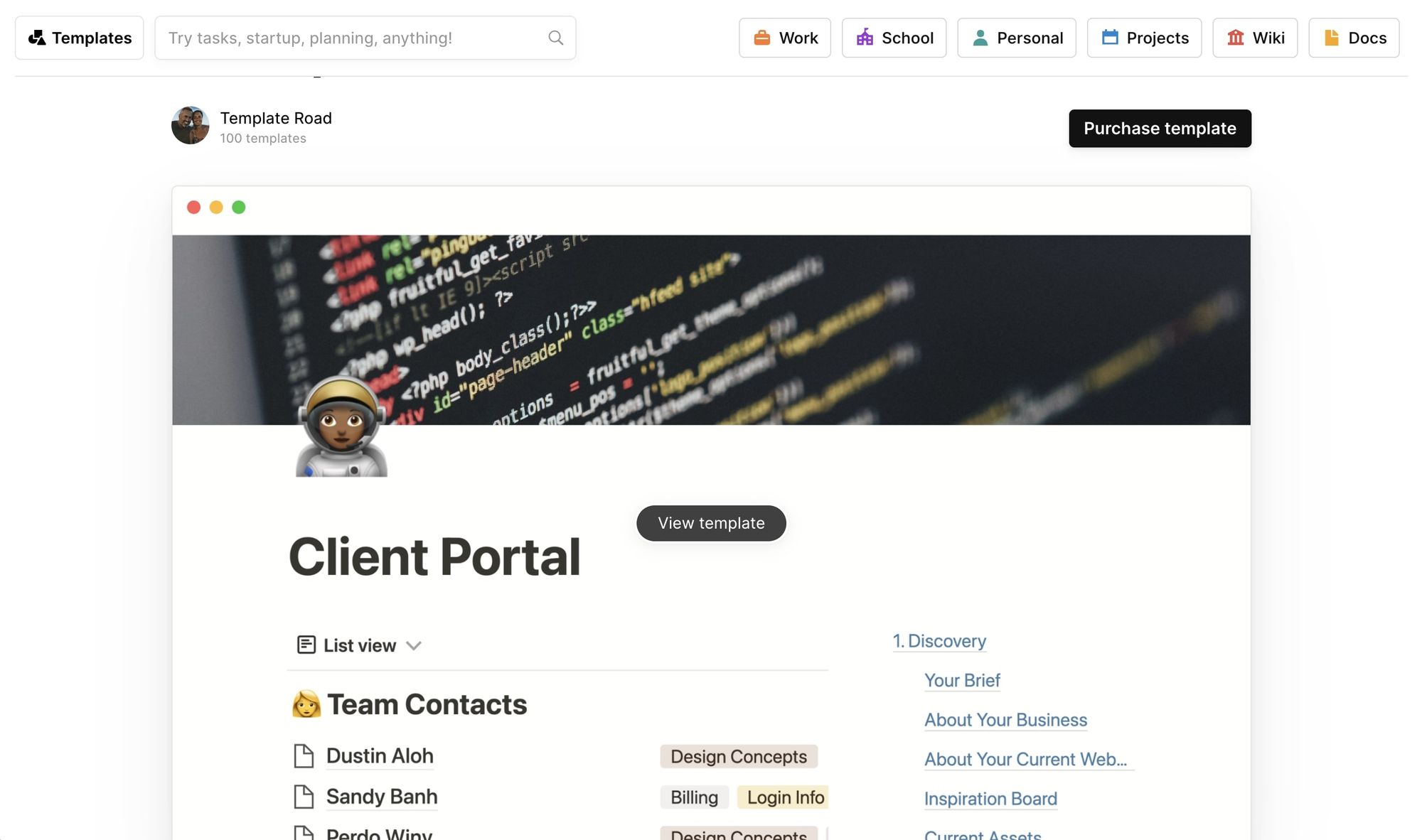 Best for: Freelancers on a budget
Pricing: Includes a free plan, then $8 per user per month
For businesses looking for a simple integrated collaboration platform, Notion may be the ideal Clinked alternative. It is a highly versatile productivity tool that integrates note-taking, project management, and file sharing into one single user-friendly interface, which has become well-loved by millions of users worldwide. All its features come with affordable pricing plans starting from just $4 per month, so it's accessible to all sizes of businesses.
Notion also provides additional capabilities, such as task management. Integrations between other services, including Slack, Google Drive, and Dropbox — making it perfect if versatility and connection functions are top considerations when selecting a suitable replacement for Clinked.
3. Moxo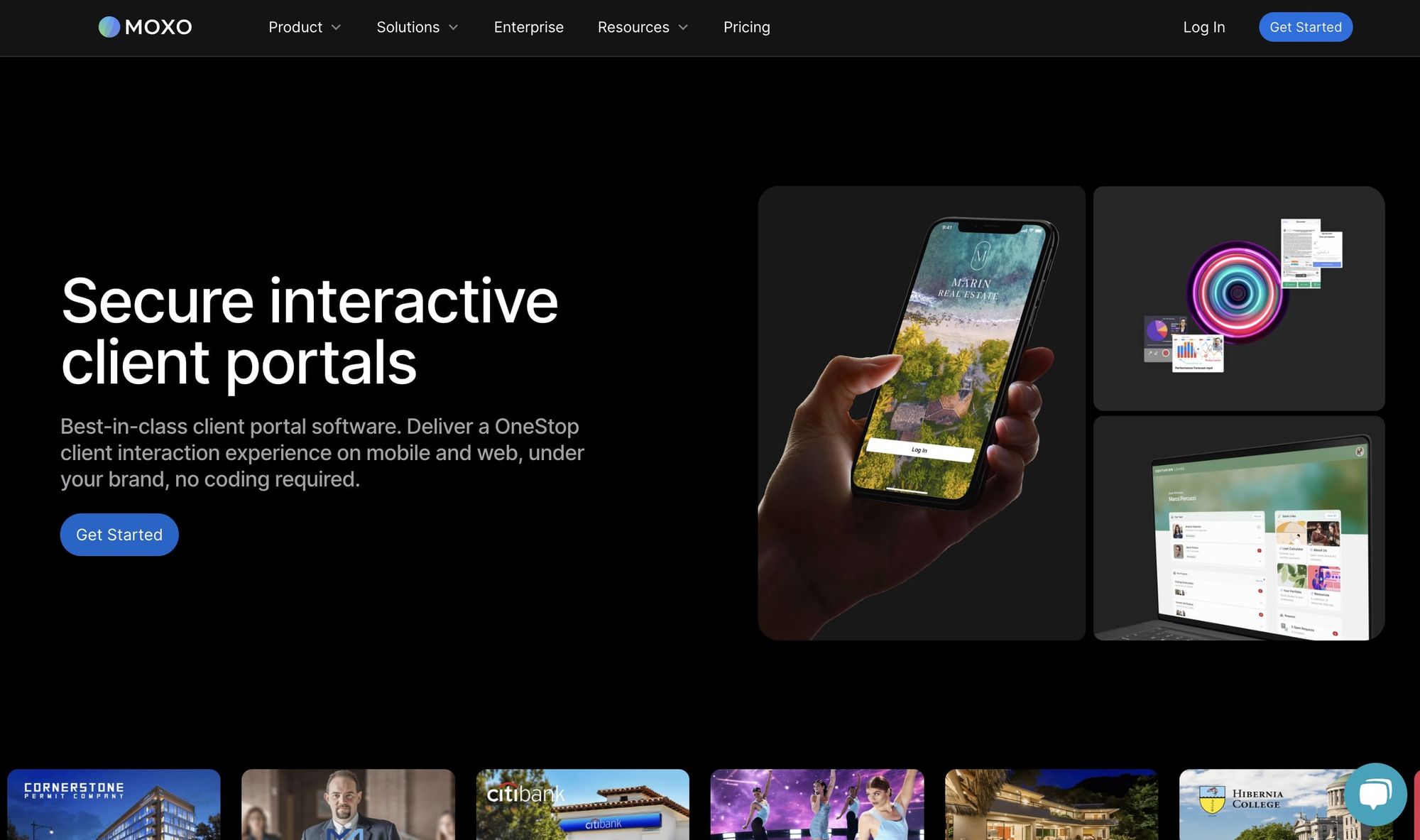 Best for: Enterprise businesses
Pricing: Starts at $100 per month
For businesses searching for a Clinked alternative to help streamline client interaction, Moxo offers an affordable and user-friendly platform. With pricing plans starting at $100 per month, this client management tool provides custom solutions and integrations for different types of businesses, like consulting firms, healthcare businesses, or legal firms.
The appealing digital automation options offered by Moxo make it an attractive option if you prioritize simplicity as well as customization within your business tools. Thanks to its straightforward interface that can be tailored to the team's needs, Moxo may be an ideal choice when looking for alternatives over Clinked.
Choosing between available software solutions will depend on what kind of features are most important. If accessibility is a top priority, consider checking out all that Moxo has to offer.
4. Bonsai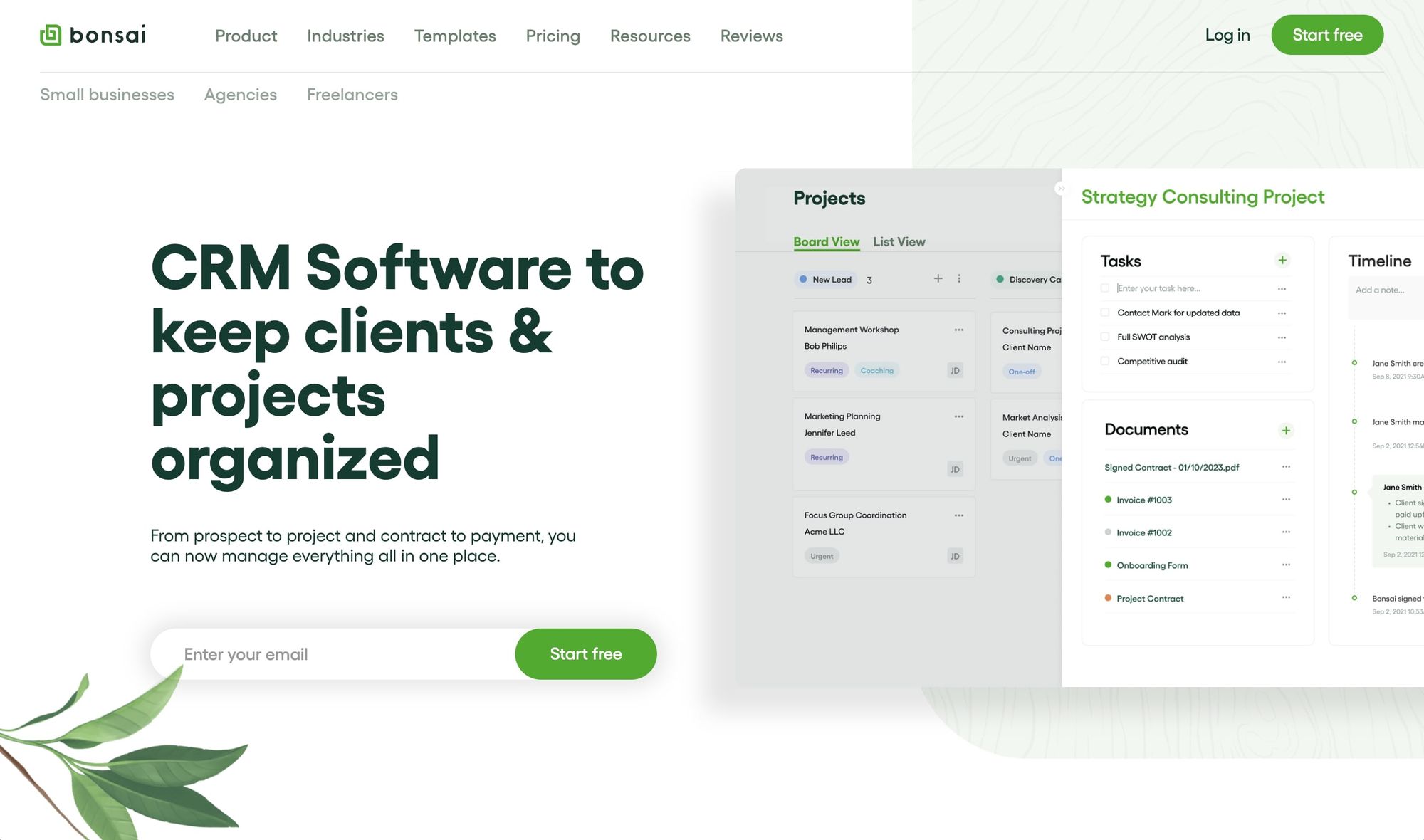 Best for: Freelancers just starting out
Pricing: Starts at $24 per month
For freelancers and small business owners looking for a Clinked alternative, Bonsai is an ideal platform that provides project management, client portal functions, as well as invoicing capabilities. With its user-friendly interface and cost-efficient plans starting at just $24 per month, it's no wonder why so many choose this resourceful option over others. It's the platform I personally used when I started my freelancing business.
However, despite the advantages of simplicity and affordability, there are some limitations to be aware of, such as restricted integrations with other systems or customization options available within the platform itself. All these factors remain secondary when discussing what makes Bonsai stand out among alternatives. Being highly intuitive yet also incredibly pocket friendly for those needing basic services on their journey through managing projects online, whether private or professional in nature.
5. Dubsado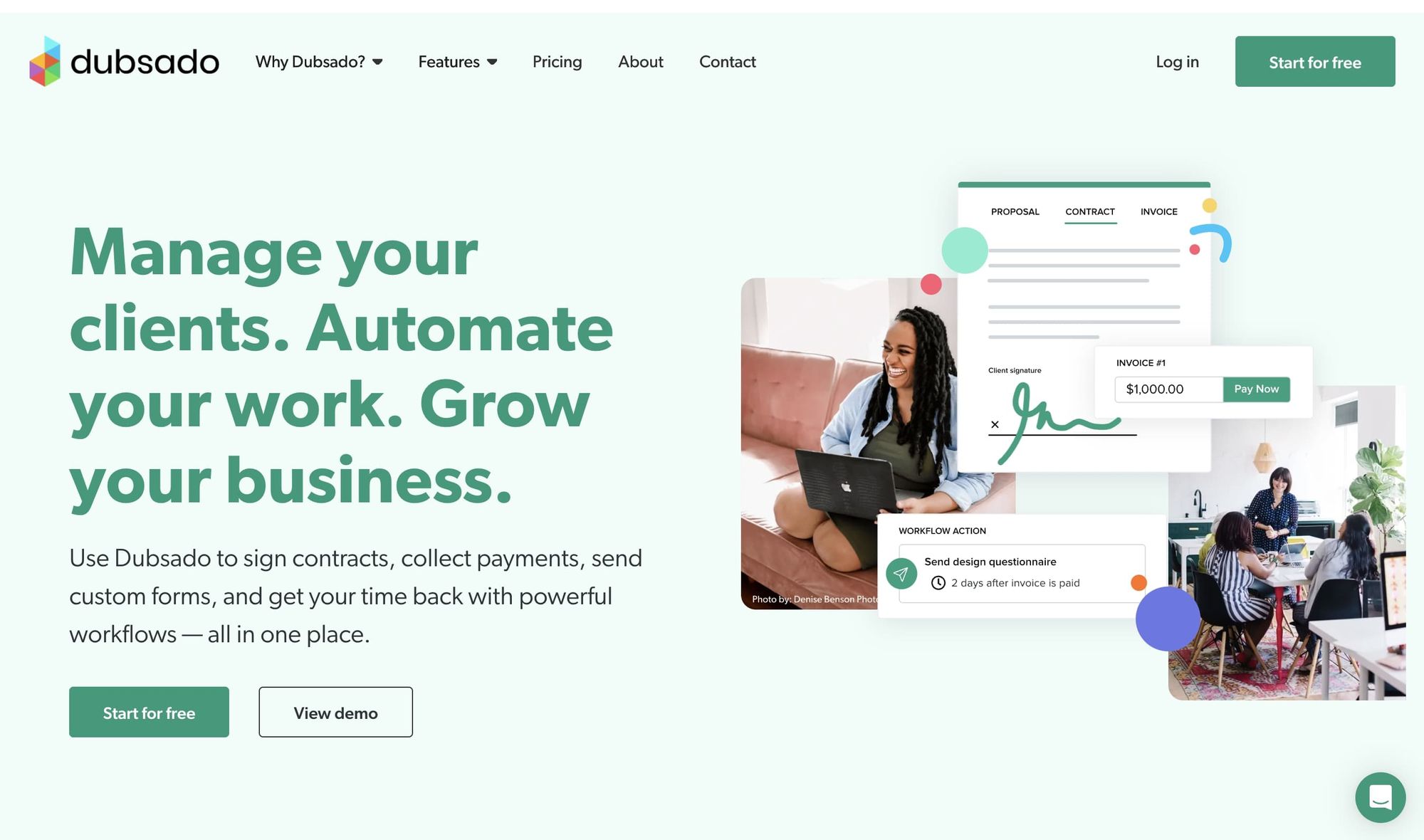 Best for: Solopreneurs
Pricing: Starts at $20 per month
Dubsado is a client management platform that offers tools such as project management, customer portal, invoicing, and payment tracking for businesses to easily manage their customers and streamline operations. The platform provides two different pricing plans (Starter and Premier) suitable for different business sizes. Its range of features makes it an attractive option over Clinked in terms of functionality with respect to managing projects and finances efficiently.
The user-friendly interface ensures team members can adopt the system quickly, which helps companies organize workflows effectively through various processes. This can include time tracking/scheduling along with customizable forms/contracts within the provided environment — facilitating collaboration between clients, while also providing them communication support simultaneously. This makes Dubsado an ideal choice when looking out for comprehensive client management solutions tailored according to the individual needs of any given business.
6. SuiteDash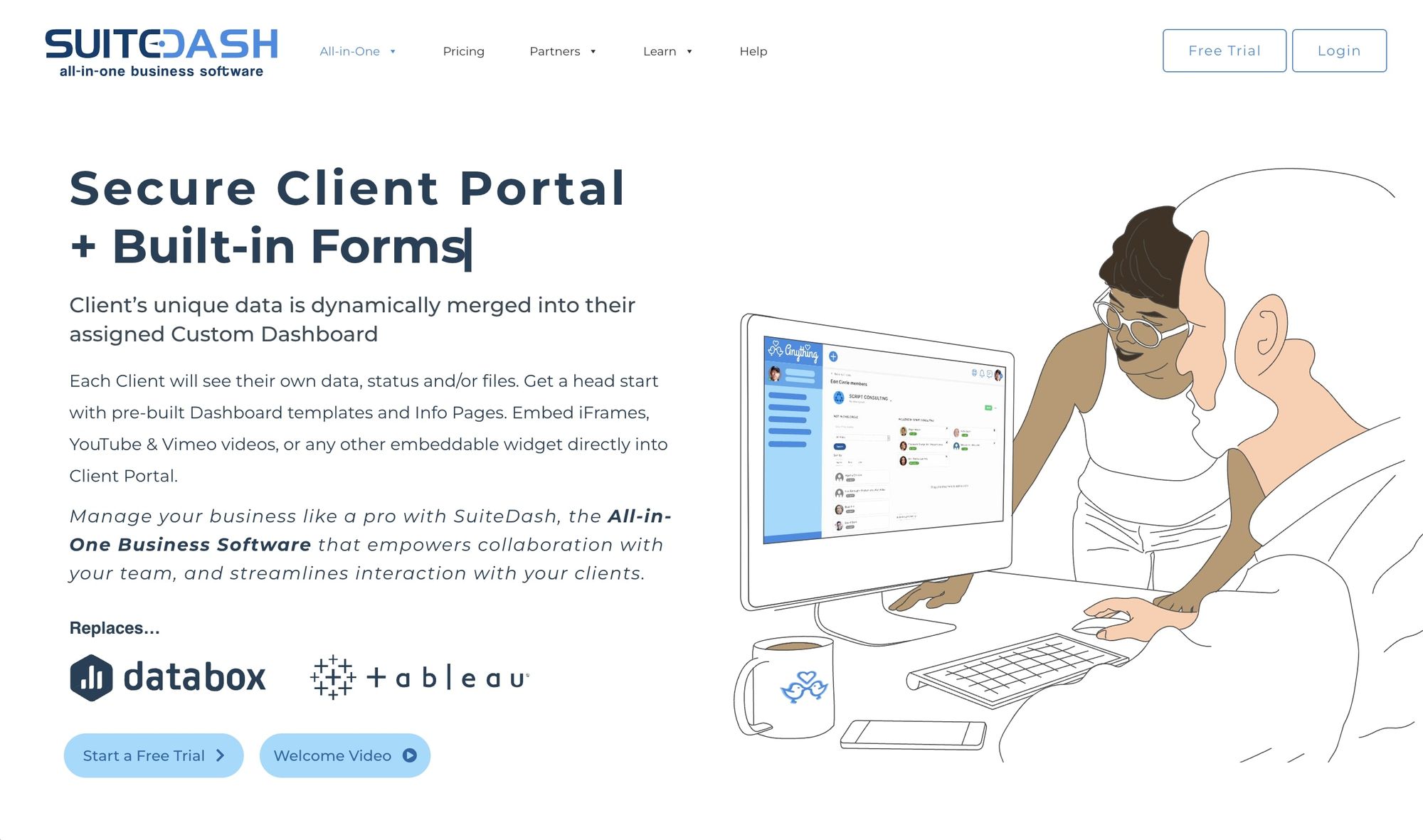 Best for: Local client businesses
Pricing: Starts at $19 per month
SuiteDash is a one-stop platform that features a client portal, project management platform, and billing capabilities. What makes it stand out from other alternatives to Clinked is its focus on personalization and integration options for businesses. Companies are given the opportunity to alter SuiteDash in order to make sure it meets their individual requirements as closely as possible.
This feature-rich option comes with integrations of popular business tools, making it an excellent choice for those who depend upon numerous software solutions when running their company operations smoothly. If you're looking at bettering what Clinked can offer your enterprise through customization capacities along with the availability of various applications, then selecting SuiteDash might be just right!
7. Client Portal
Best for: A simple client portal
Pricing: Starts at $199 for a single website license
Client Portal is a secure and user-friendly platform that allows businesses to create tailored options for access control, data security, file sharing, client communication, and collaboration tools. With its simple interface and customizability that suits any brand or needs, it has become the preferred choice among many looking to communicate effectively with their clients. The features of Client Portal are geared towards making internal collaborations easier while ensuring high levels of data safety. It offers users an unparalleled level of accessibility as well as efficient payment processing all in one place!
Comparing Clinked Alternatives: Key Factors to Consider
When evaluating Clinked's options, it is important to take into consideration components such as cost, usability, compatibility, and security. Each alternative boasts its own unique attributes and advantages, so you must determine which solution best fits the requirements of your business.
To ensure selecting the right collaboration tool for your firm, one should focus on these crucial variables, including pricing structure, ease of use, and integrations offered. And safety measures applied.
By concentrating on these factors when assessing alternatives, you can make sure that they are adequate for an organization's needs.
Pricing
When selecting a Clinked substitute, pricing is an essential factor to consider since firms need to find something that meets their budget. Alternative prices are subject to change depending on the choice made — some have free options or offer starting rates from as little as $24 monthly.
It's highly recommended for users looking into these alternatives to visit each website and examine all relevant details related to cost in order to make sure they opt for a solution suited both financially and technologically for them.
Ease of use
Finding a user-friendly platform that encourages collaboration and file sharing is an important aspect for businesses seeking out alternatives to Clinked. Many of these options feature simplified interfaces and intuitive functionalities, which make it easier for team members to adopt the system quickly. By prioritizing ease of use, companies can be assured their staff will have no trouble making the transition between platforms while still taking advantage of all features available in them.
Integrations
Having the ability to integrate with other software tools and platforms is vital for companies who wish to simplify their processes while increasing performance. Alternatives of Clinked provide integrations with many well-known third-party applications such as Slack, Trello, Asana, etc., so that you can build a seamless collaboration experience and improve results by opting for an integrated platform that your team already uses. Through integrating with these popular programs, manual labor time required will be decreased resulting in an increased focus on completing workflows successfully.
Security
When selecting an alternative to Clinked, businesses need to ensure that security is of utmost importance. The proposed alternatives boast a range of security features such as two-factor authentication, encryption, and access control, measures essential for protecting sensitive files and data while ensuring smooth collaboration between members.
Prioritizing these safety protocols allows companies the peace of mind knowing their confidential documents are secure without sacrificing functionality or efficiency in communication and projects among teams.
Copilot: Built For Modern Firms
When researching alternatives to Clinked, Copilot stands out as a modern and user-friendly platform with great features for contemporary businesses. Thanks to its automation features, simple and modern client portal interface, and wide range of billing and subscription options, it is an attractive choice if you're seeking ways to keep up with the times.
If your firm needs a reliable substitute that focuses on enhancing user experience through advanced capabilities such as collaboration and improved workflows then look no further than Copilot — perfect for meeting the demands of today's businesses. Start your free trial here!
Sign up for our newsletter
Subscribe below to receive our newsletter. We'll email you about important announcements, product updates, and guides relevant to your industry