10 Best Dubsado Alternatives You Need To Check Out in 2023
Sep 06, 2023
11 min read
Omid G
Starting a service-based business can be very exciting — you get to do what you love and get paid for it.
But one thing that might catch you off guard is how many moving parts this type of business has. You need to be extremely organized.
And not just organized for your own sake, but also to give your clients an amazing experience when working with you.
If you're a freelancer or a small-business owner running a service-based business, it's critical that you have the right software tools in place to make your life easier and be able to operate your business more efficiently.
The one area you probably don't want to skimp on is the tools that help you manage your business — whether it's a customer relationship management software or invoicing and time-tracking tools.
The challenge, of course, is finding the right platform that covers all of your needs without you having to purchase or use multiple apps from different locations. If you've been researching customer management and business management tools, you might feel overwhelmed by all of the options.
You may have also come across Dubsado as a well-known platform used by many freelancers and small-business owners — after all, it's got over 25,000 users and counting.
However, you should know that Dubsado is not the only option out there, nor is it the best for every situation. If you're looking for Dubsado alternatives, you've come to the right place.
How to Choose a Dubsado Alternative
When searching for Dubsado alternatives, first take a step back and clarify your pain points as a service-based business.
Oftentimes, service providers have multiple clients and projects they're working on simultaneously, so it's critical to be able to manage the workflow without anything getting lost in the business process — which can cost you clients, new opportunities, tax savings, and even your reputation. These are some of the top concerns to consider:
Do you need a client portal? How about client portal software?
Do you require a tool to handle contracts?
Do you need a tool to send proposals and estimates?
Do you need a tool to send invoices and accept payments?
What kind of task management and project management tools do you need?
What client management platforms do you need, such as client communication features, appointment scheduling, and client-facing project tracking tools?
What are the tasks that tend to take up most of your time? Are there any redundancies or manual processes you'd like to automate?
What kind of reporting features do you need?
While Dubsado offers many of the key features above, it also has some limitations worth noting.
For example, the starter plan ($20 per month or $200 annually) does not offer bookkeeping integration, scheduling, automated workflows, public proposals, or Zapier integration.
If you upgrade to the pricier Premier plan ($40 per month or $400 annually), you'll get more features — but one of the options below may prove to offer more of the features you need at a lower cost.
10 Dubsado Alternatives Worth Checking Out
With your answers to the questions above in hand, you should have a good idea of which features are most important to you in running your service business.
Here are our top picks for the best Dubsado alternatives:
Okay, let's dive into each one.
1. Copilot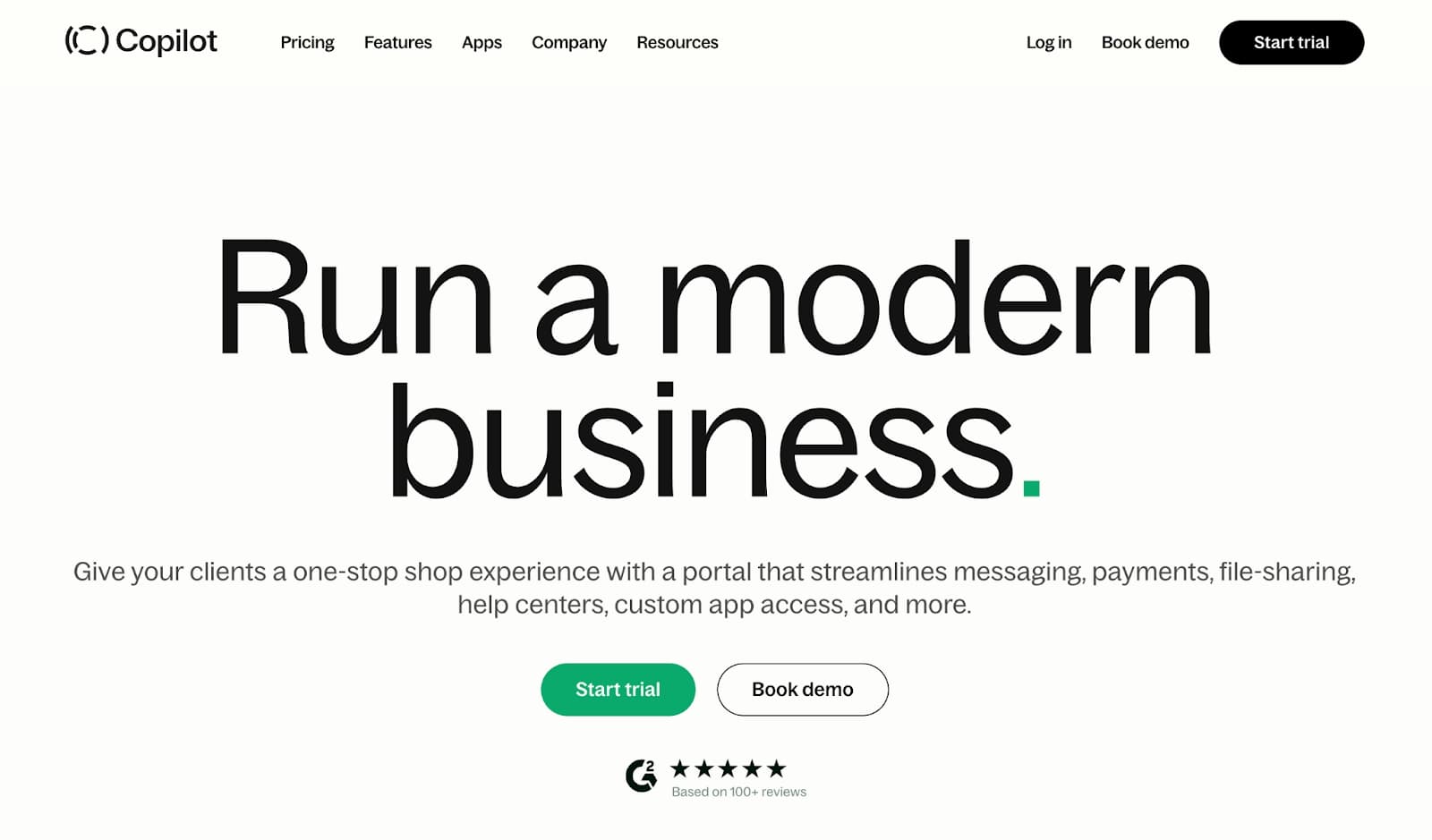 Best for: Creating custom client portals and integrating all of your tools in one place
Pricing: Free trial, then $29/month paid annually
If you want a client-facing portal with a modern and user-friendly interface, you can't go wrong with Copilot. This no-code tool allows you to create a stunning client portal that streamlines messaging, payment processing, file-sharing, help centers, custom app access, and much more.
Give your clients a memorable experience with a one-stop branded shop that unifies the client experience in one dashboard, while presenting your brand professionally on both web and mobile.
Benefits of Copilot

Ability to integrate all of your tools and create a positive client experience: Easily integrate everything from Google Sheets and Airtable to Calendly, YouTube, Zapier, custom apps, and more, all in one central location that you and your clients can manage.
Messaging: Communicate with your clients securely and seamlessly, and activate email notifications so you never miss a message.
Billing: Create branded invoices and subscriptions, and make it easy for clients to pay you securely, access invoices, and manage their online payment credentials.
File management: Easily share files with clients, collect e-signatures, and stay organized with file folders.
Forms: Gather client information with customizable and shareable forms.
Helpdesk: Improve client support by creating a custom help desk or knowledge base with text, images, videos, and embeds. Easily share the right content with the right clients with custom visibility rules.
Copilot Reviews
G2: 4.8/5 from +111 reviews
Capterra: 4.9/5 from +19 reviews
2. Notion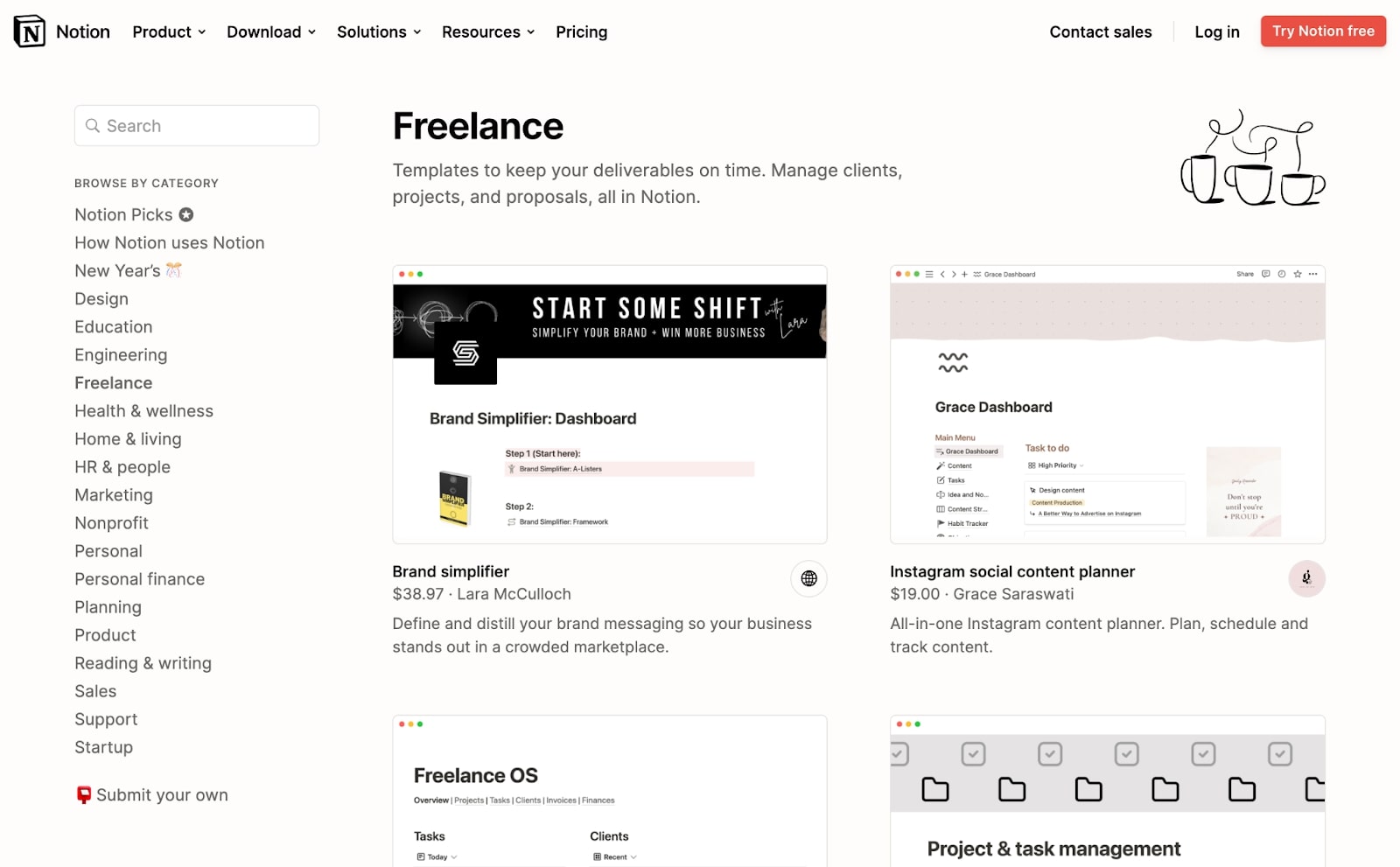 Best for: Personal task management
Pricing: Free, $8/month paid annually for business features
Notion is another no-code tool that freelancers can use to manage clients, projects, and finances. Notion has tons of templates for freelancers and agencies, so you can easily customize all of your tasks.
While Notion is great for task management and organization, the only downside is that there is no built-in messaging or billing system that allows you to streamline all of your business operations.
Benefits of Notion
Templates: Keep your deliverables on time with beautiful, industry-specific templates that help you manage clients, projects, and proposals.
Project management solution: Manage project tasks, meetings, deadlines, and more, with easy visuals of each project's progress
Client CRM: Manage your pipeline according to your desired process, and sync your client page to relevant projects and meetings.
Affordability: Notion is free to use, but you will have to pay $10/month to get access to more features.
Task management: Create checklists for specific tasks, and check them off as you go — very satisfying for anyone who likes a good to-do list.
One dashboard: Pull everything into one place, from your calendar and invoices to expense tracking.
Notion Reviews
G2: 4.7/5 from +4,700 reviews
Capterra: 4.7/5 from +1,800 reviews
3. Bonsai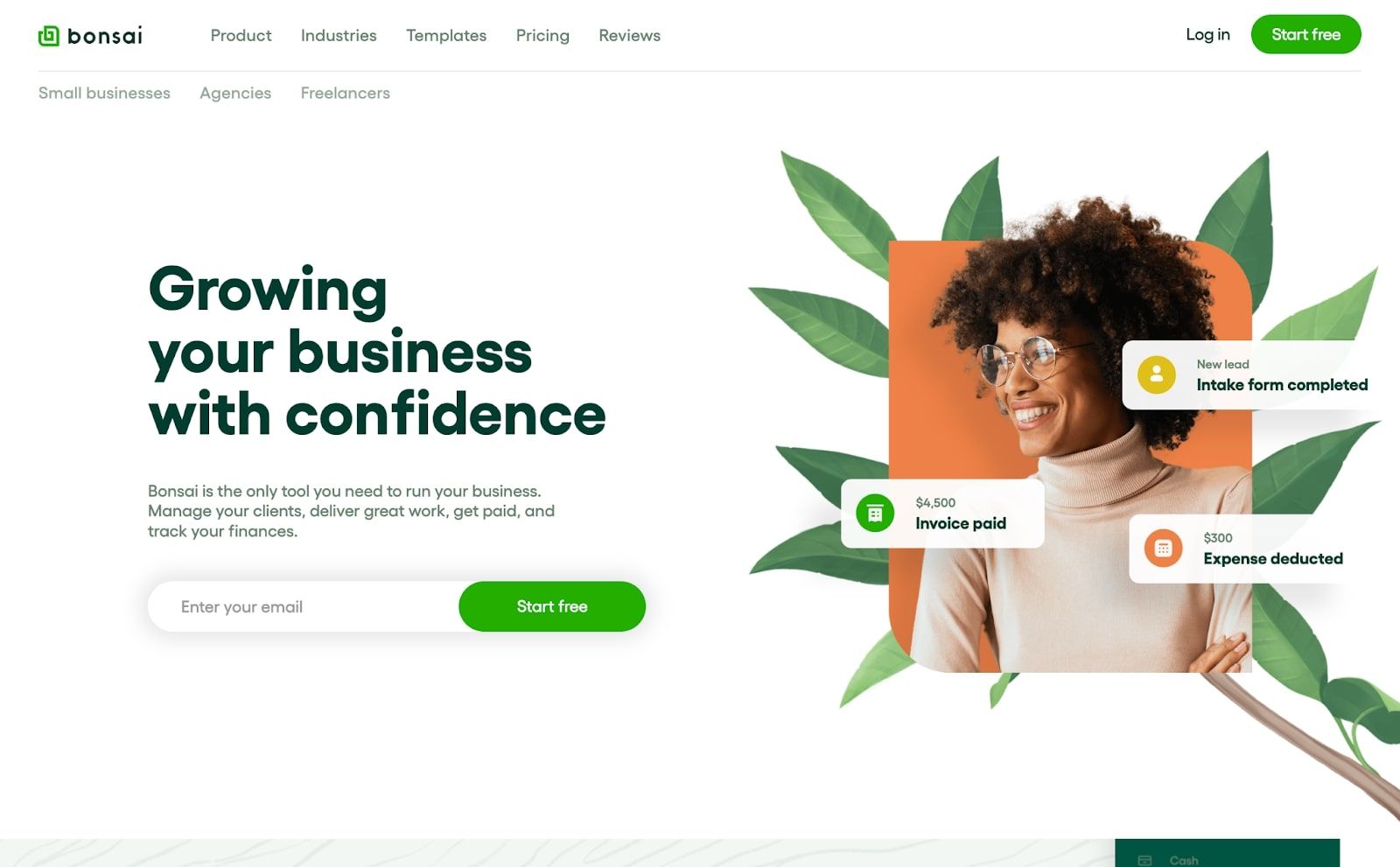 Best for: Freelance and creative businesses just starting out
Pricing: $17/month paid annually
Bonsai is one of the Dubsado alternatives that's ideal for freelancers, agencies, and creatives. Easy to use and set up, Bonsai provides a variety of client management system and business tools in one unified dashboard.
Benefits of Bonsai
Client management tools: Create and send forms, schedule appointments, generate contracts and quotes, and manage your sales pipeline.
Project management: Track your time, invoice clients, and keep your clients and projects organized in one place.
Financial management: Easily track and manage payments, expenses, taxes, accounting, and banking with Bonsai's finance tools.
Branding: Deliver a positive client experience with branding tools that let you present yourself professionally.
Templates: From proposals to client briefs, you'll find a variety of templates to help you run your business.
Bonsai Reviews
G2: 4.5/5 from +60 reviews
Trustpilot: 4.6/5 from +390 reviews
4. HoneyBook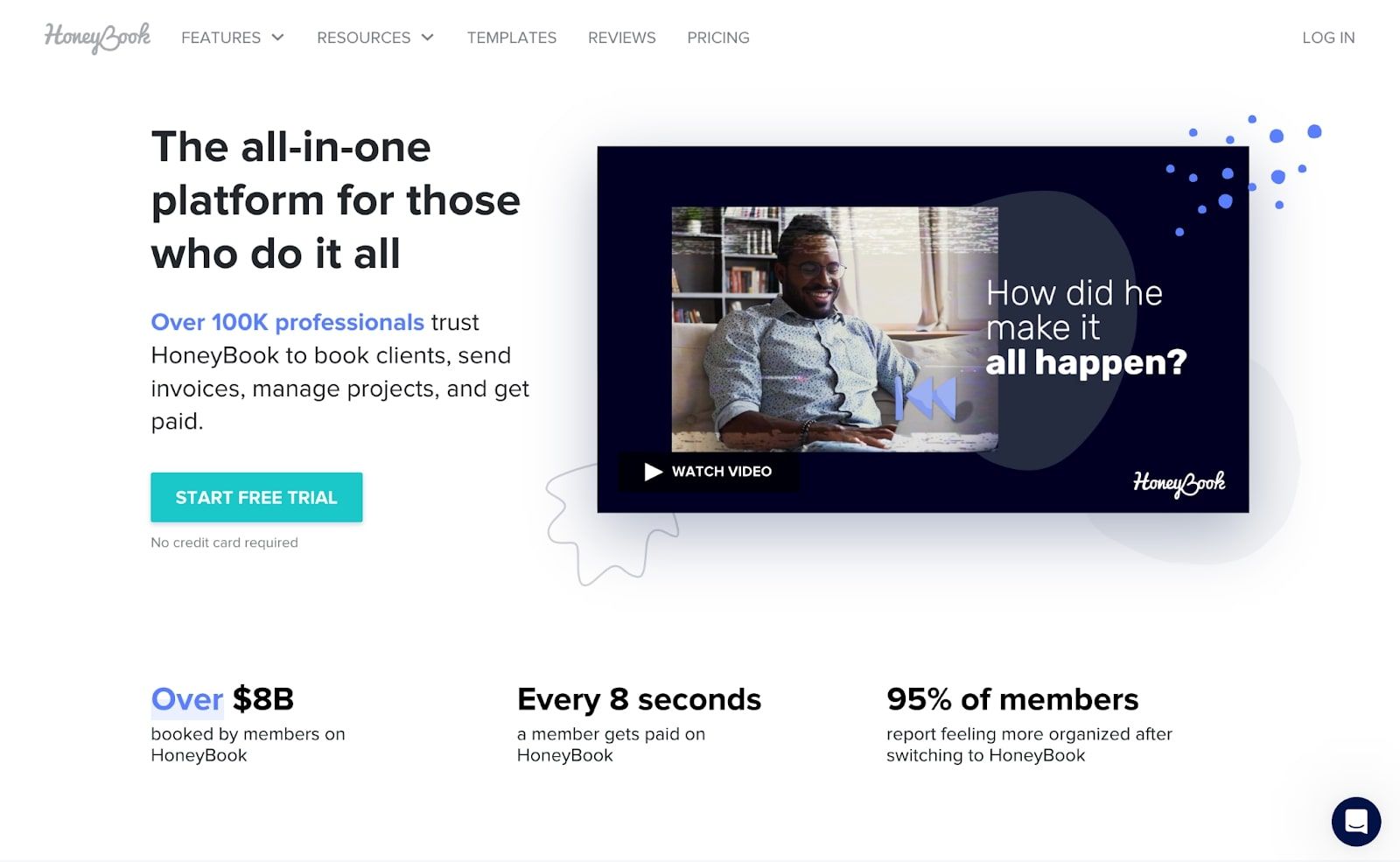 Best for: Automations
Pricing: Free trial, then $39/month
HoneyBook touts itself as an all-in-one platform for simpler, smarter business. End-to-end client management and business management tools enable you to create a great client experience, book more appointments, save yourself time, and get paid faster.
Related Reads: Best HoneyBook Alternatives You Need To Try
Benefits of HoneyBook
Invoices: Create and send invoices, set payment schedules and reminders, and get paid fast.
Proposals: Create and send professionally branded proposals that combine your invoices, contracts, and payments in one form.
Scheduling: Send a branded meeting link and book appointments, complete with confirmations and reminders.
Contracts: Collect digital signatures and get notified instantly when a client signs. A smart bar highlights where to sign, making the process simple and quick.
Automation: Be more productive with custom sequences you can set up on autopilot, from emails to tasks.
Integrations: Seamlessly integrate with tools you already use like Zoom and QuickBooks.
HoneyBook Reviews
G2: 4.5/5 from +140 reviews
Capterra: 4.8/5 from +588 reviews
Related reads: Dubsado vs HoneyBook: The Ultimate Showdown
5. 17hats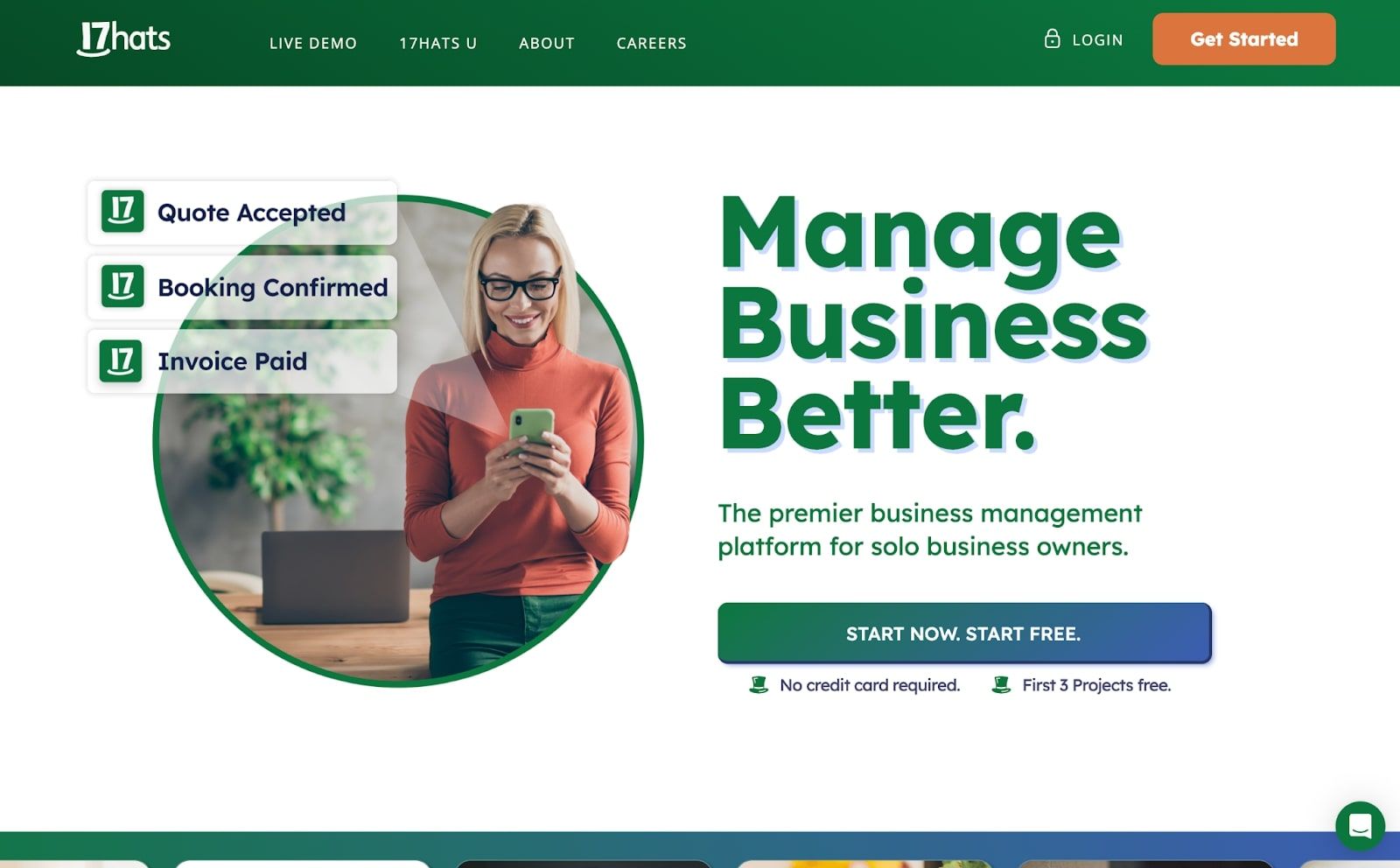 Best for: Solopreneurs
Pricing: $13/month paid annually
Like the name implies, 17hats is made for solopreneurs like you who wear all the hats in the business. Consolidate all the tools you need in one platform with 17hats, and you might feel like you've got one less hat to wear.
Benefits of 17hats
Free CRM: Get lifetime access to customer management tools.
Lead capture and response: Create lead capture forms, and follow up with automated response tools.
Online scheduling: Book appointments with your highly qualified leads.
Quotes: Generate estimates for prospects.
Email templates: Build emails that encourage your prospects to take the next step.
Payment tools: Create invoices and payment plans, and get paid faster.
17hats Reviews
G2: 4.4/5 from +70 reviews
Capterra: 4.4/5 from +116 reviews
6. ClickUp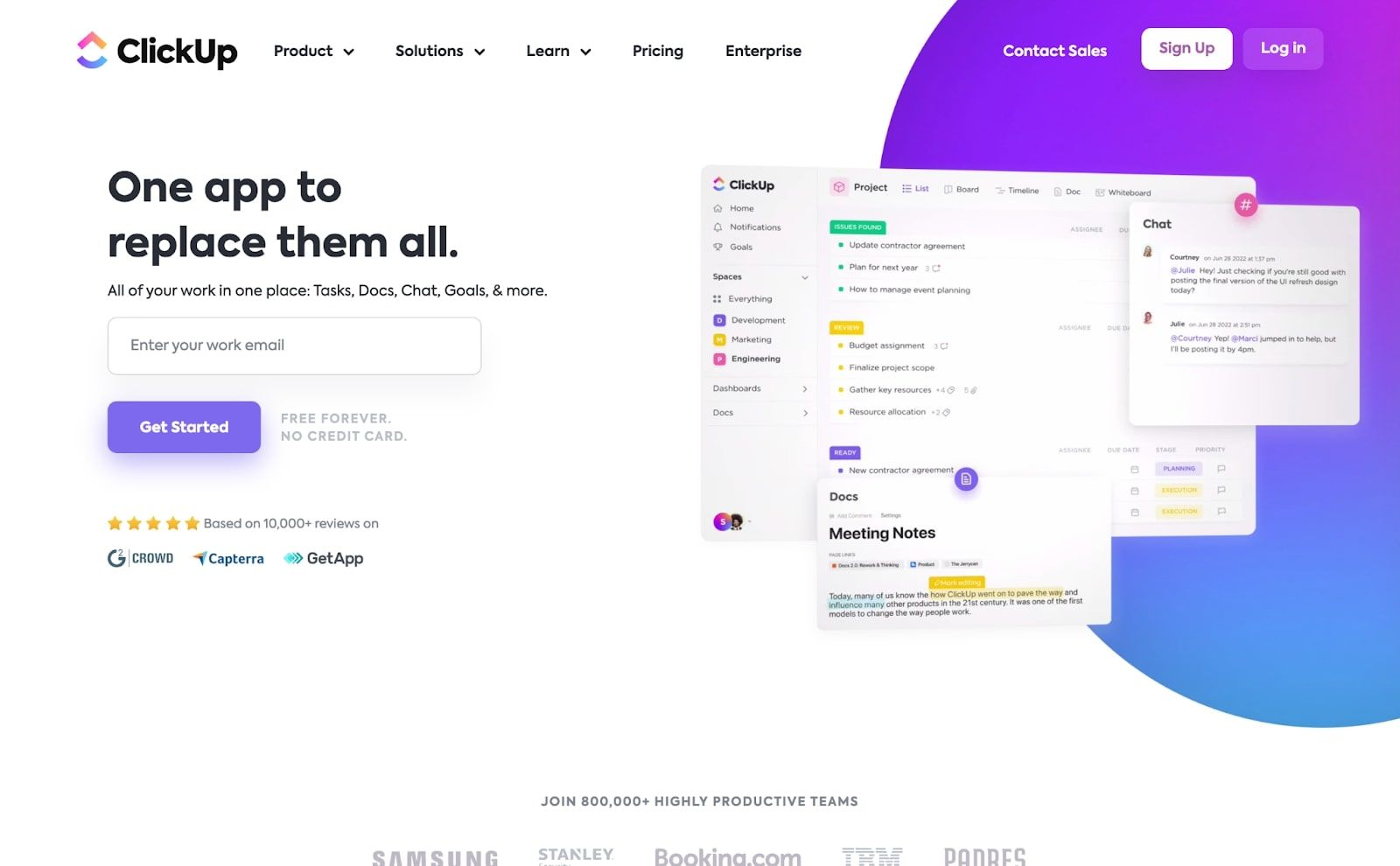 Best for: Collaborative task management
Pricing: Free, $5/month paid annually for business features
ClickUp makes it easy to organize all of your work in one central location, from documents to tasks. The platform's superpower is project management, with features that enable streamlined collaboration, organization, and project tracking.
If you're deciding among Dubsado alternatives that assist with a variety of project management functions, add ClickUp to your list of options to consider.
Benefits of ClickUp
Many features: The platform includes hundreds of features that are included free, such as a unique Everything view that makes it easy to find exactly what you're looking for without digging around.
Customizable tasks: Choose from over 35 ClickApps to tailor your task management to your needs, from assigning sprint points to creating workflow automations. Tidy subtasks and checklists break down projects into bite-size chunks.
No coding: Customize your dashboard however you want it without having to code.
Templates: Save time with hundreds of templates for use cases, views, tasks, and more.
ClickUp Reviews
G2: 4.7/5 from +8,600 reviews
Capterra: 4.7/5 from +3,700 reviews
7. HubSpot CRM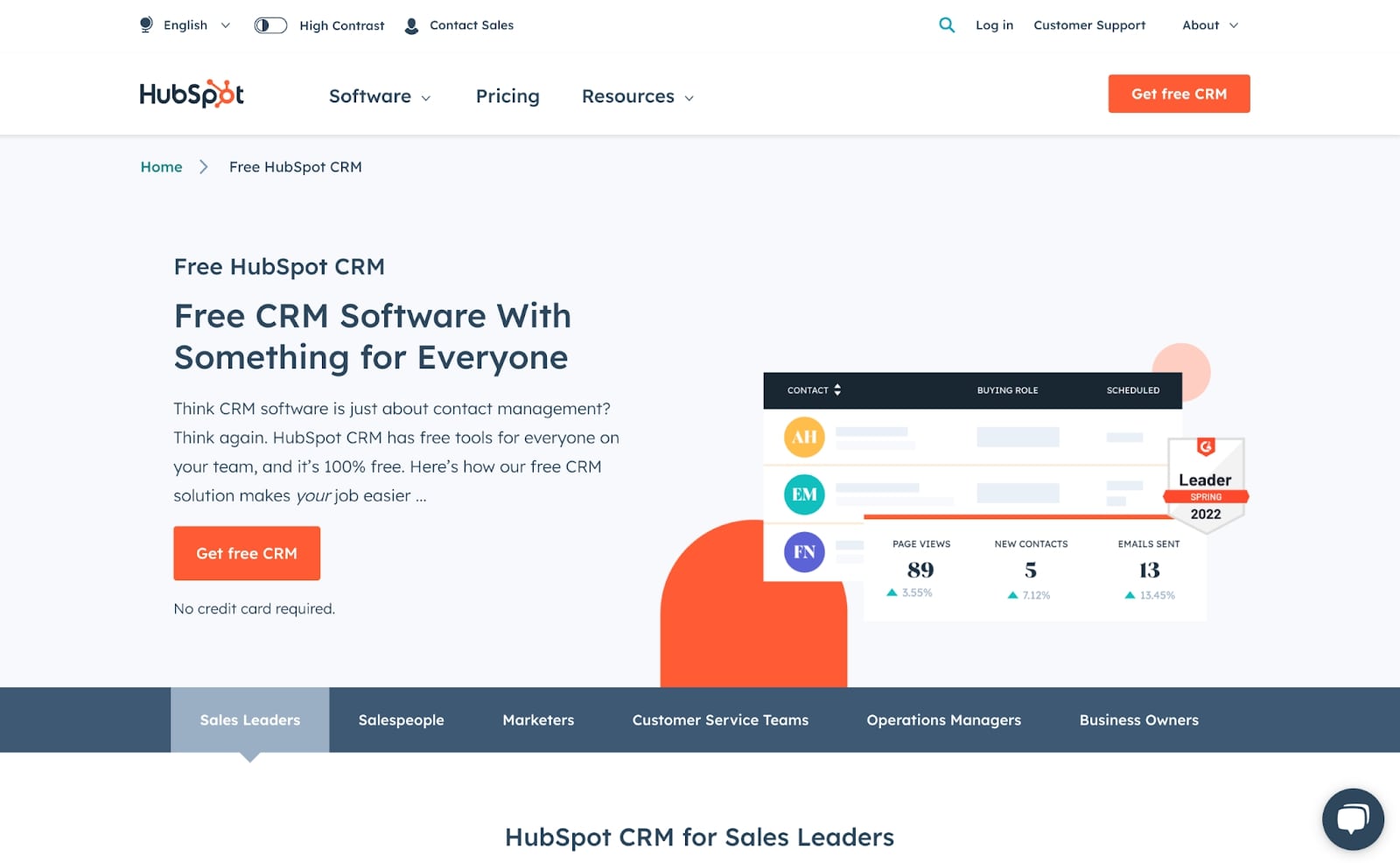 Best for: CRM software for agencies
Pricing: Free version available, then $30/month paid annually for CRM features
No discussion of Dubsaldo alternatives would be complete without mention of HubSpot CRM. This free tool lets you track and manage customer relationships from end to end, all while automating administrative tasks, sending emails in bulk, and more from one platform.
Benefits of HubSpot
Powerful CRM: Forget about stacks of business cards, random spreadsheets, and disorganized LinkedIn connections. Pull together all of your contacts in one spot for easy customer relationship management from a unified dashboard.
Lead management and tracking: Never miss an opportunity to connect with the people who are interested in working with you.
Bulk email tools: Pull all of your contacts into personalized nurture sequences that help encourage action.
Ads management: Add landing pages and forms to your website for better conversions of your visitors, without any coding required.
Reporting: Find out where you're doing well, and tweak any areas that need improvement.
HubSpot CRM Reviews
G2: 4.4/5 from +10K reviews
Capterra: 4.5/5 from +3,700 reviews
8. Bloom.io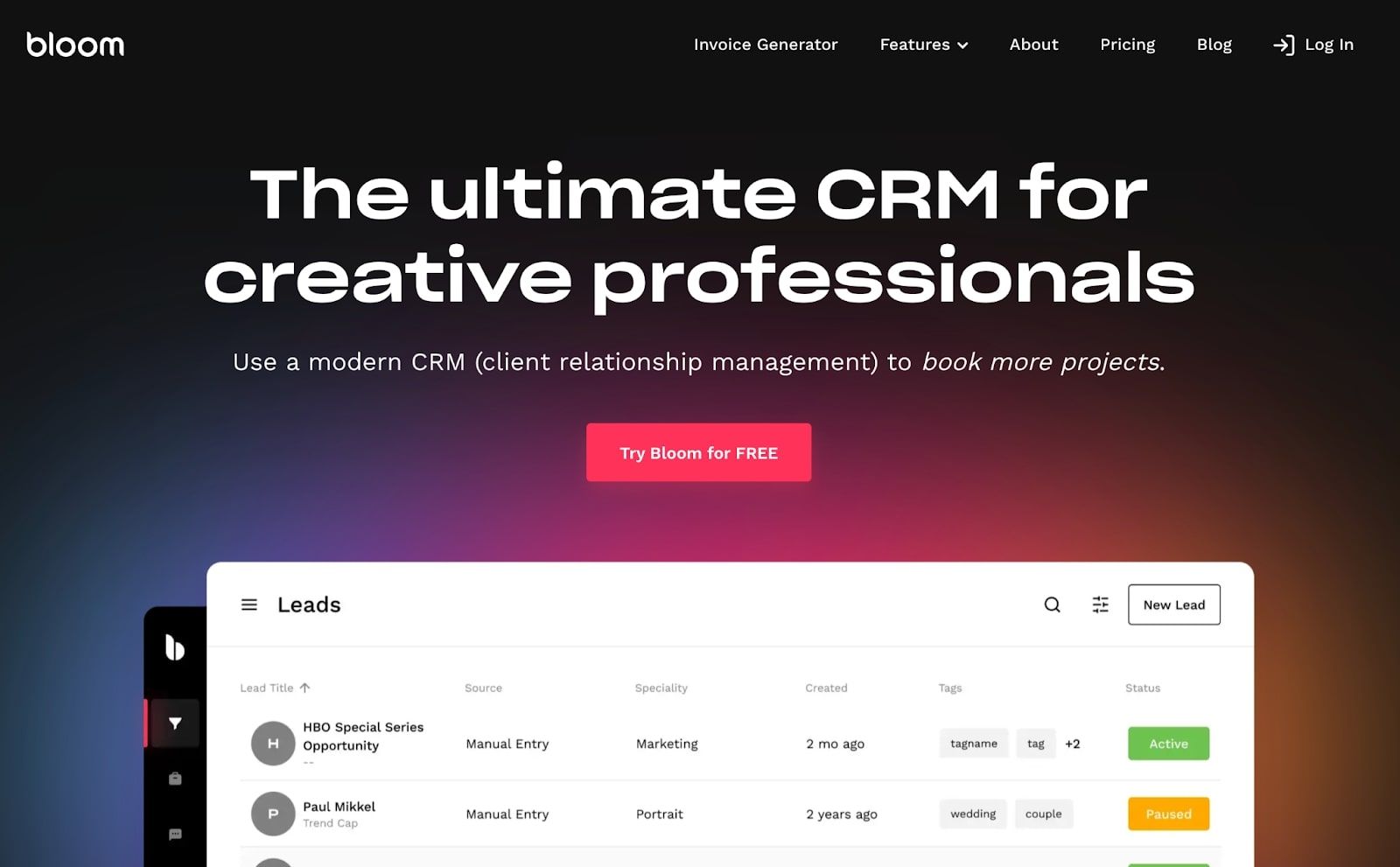 Best for: CRM for freelancers
Pricing: Free plan, then $33/month paid annually for extra features
Ideal for creatives, Bloom.io is designed to help you book more projects and better manage your customer relationships. Take the frustration out of administrative work, and run your business efficiently so you can focus on doing more of the creative work you love.
Benefits of Bloom
Invoicing: Create and send branded invoices for quick payments via Stripe, PayPay, Venmo, and other payment platforms. Create payment schedules and get contracts signed from one place.
Project management: Create and manage your workflows with a built-in task-tracking system that keeps you organized and deadline-driven.
Legal contracts: Generate legally binding digital signatures, and send them with a single click. You can also attach them to invoices or booking packages.
Portfolios: Showcase your best work in galleries that let you control the layout, gather feedback, and track activity — a great feature for freelancers with visual or text-based work.
Self-booking: Give clients control over booking packages with different package options, add-ons, contract signatures, and payment collection.
Bloom Reviews
G2: 4.5/5 from +82 reviews
Capterra: 4.5/5 from +11 reviews
9. Plutio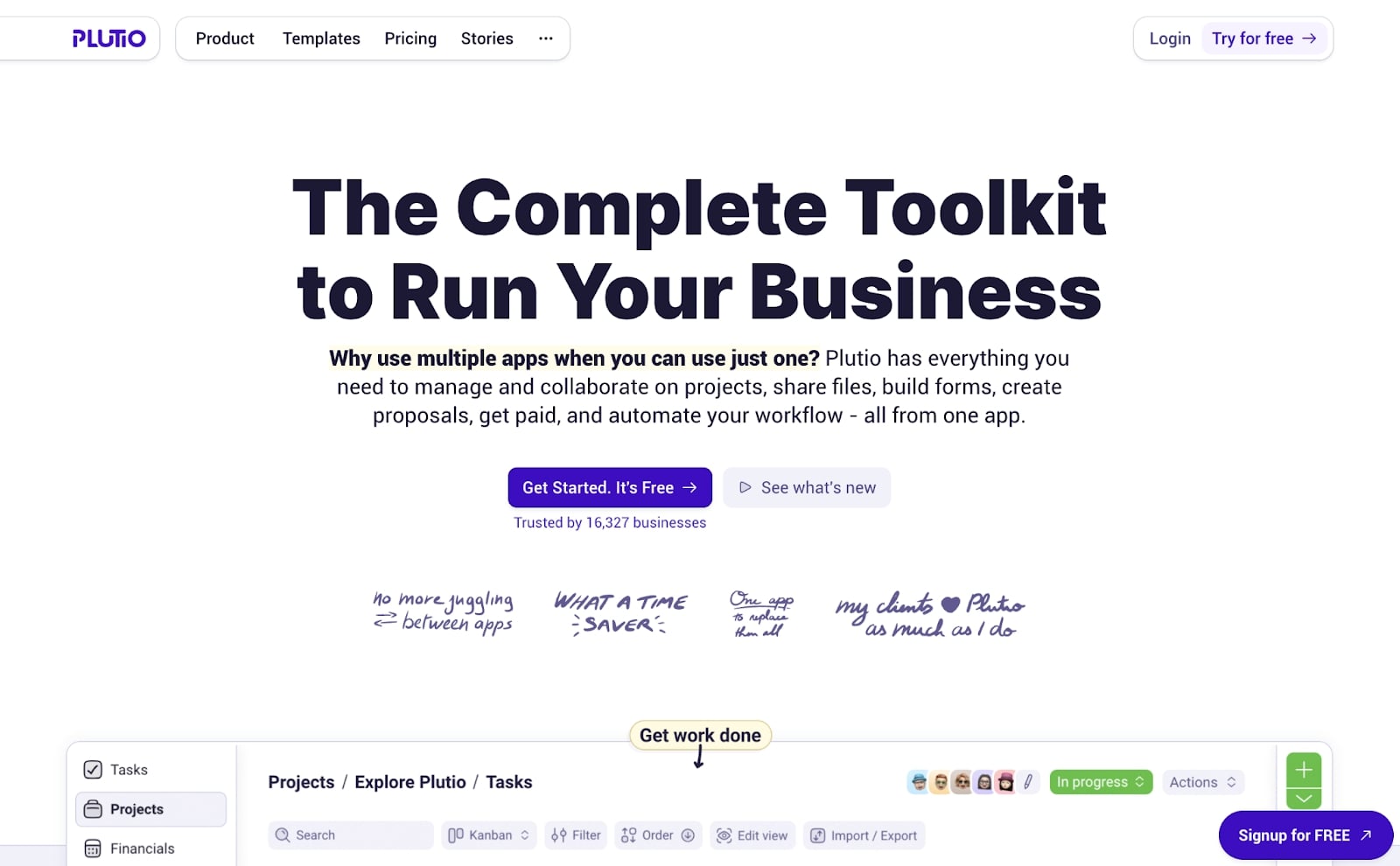 Best for: Freelancers just starting out
Pricing: $19/month
Dubbed a "complete toolkit to run your business," Plutio enables easy project management, automated workflows, and centralized communications with all of your clients. The platform was born out of frustration with having to use multiple apps, meaning you'll be able to pull together everything you need in one location.
Benefits of Plutio
Templates: Ready-to-use templates are fully customizable to help you present proposals, contracts, invoices, and other documents professionally.
Project management: Complete projects of all sizes with powerful planning and collaboration tools.
Scheduling: Book out appointments with ease, and manage your schedule from one spot.
Inbox and messaging: Stay in touch with clients with built-in messaging tools that streamline communications.
Files management: Keep your important documents stored safely, securely, and conveniently in your dashboard.
Plutio Reviews
G2: 4.4/5 from +52 reviews
Capterra: 4.6/5 from +159 reviews
10. Bitrix24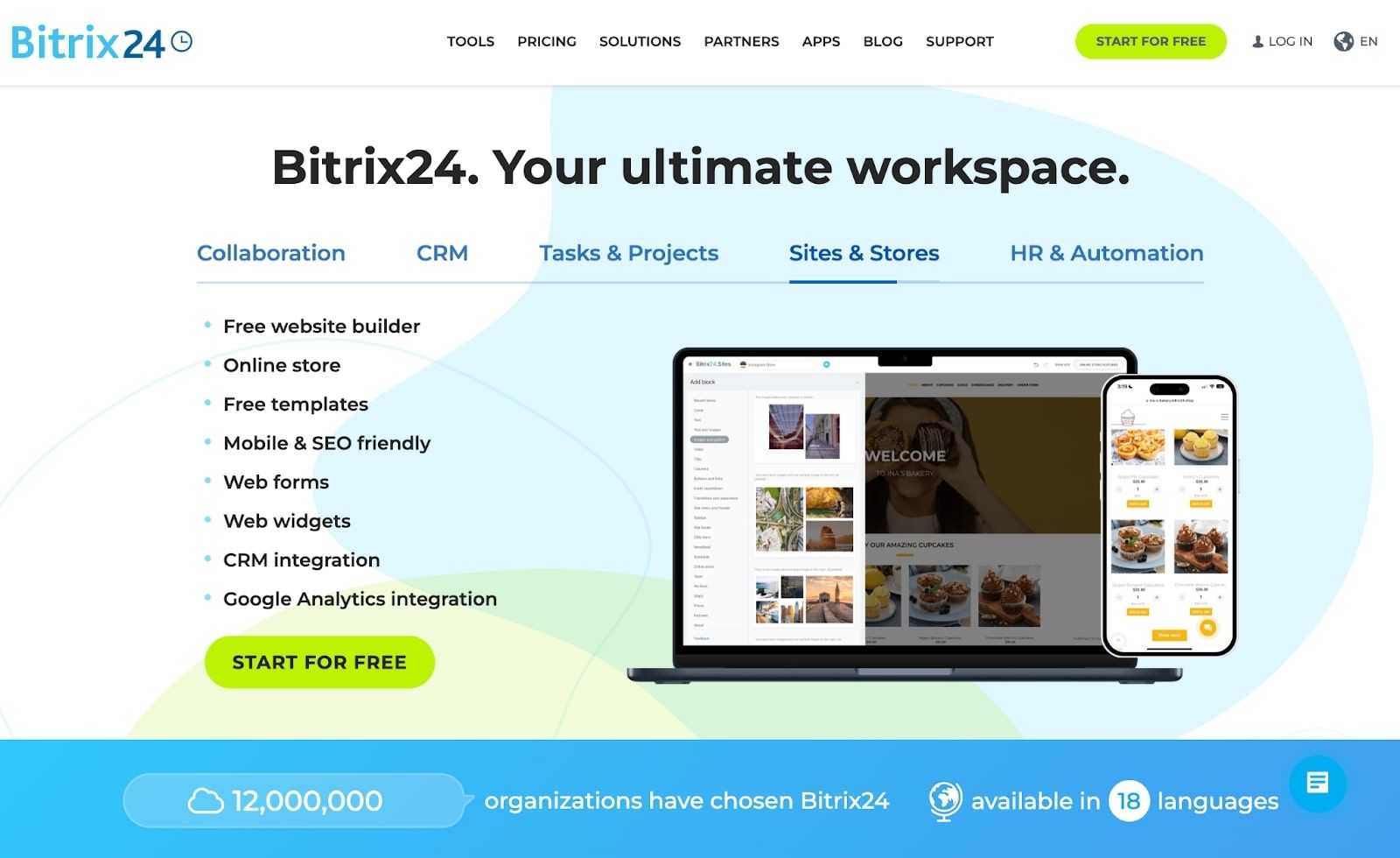 Best for: Larger agencies with HR needs
Pricing: Free option, then $49/month paid annually for extra features
Last but not least, Bitrix24 gives you a convenient workspace for tasks, projects, CRM platform, HR tools, and more. Pay particular attention to the site-building and store-building tools mentioned below; this is often a big hurdle for small businesses, so this is a great feature to take advantage of.
Benefits of Bitrix
Built-in HR tools: Whether you have one employee or many, Bitrix24 makes it easy to manage and collaborate with employees.
CRM: Track your leads, deals, quotes, invoices, and more. Set up marketing automations based on certain triggers so you can take advantage of opportunities.
Project and task management: If Gantt charts, Kanban boards, project templates, and time tracking are your thing. Bitrix has you covered.
Site and store builders: Build your website, set up an online store, and make sure it's mobile- and SEO-friendly.
Collaboration: Use video calls and chats to connect with your clients. Book online meetings from one spot.
Bitrix Reviews
G2: 4.1/5 from +500 reviews
Capterra: 4.1/5 from +750 reviews
Conclusion
While the options above are great Dubsado alternatives — particularly Notion and Bonsai — Copilot may be the top all-around solution you need to create a seamless client experience.
With tons of apps and integrations, you can continue using the tools you love and bring them into one unified place to stay organized and enhance visibility for your clients.
To learn more and get started with your free trial, click here.
Sign up for our newsletter
Subscribe below to receive our newsletter. We'll email you about important announcements, product updates, and guides relevant to your industry