10 Best Client Management Tools to Try in 2023
Sep 07, 2023
13 min read
Omid G
Just when you think you're caught up on client work as a freelancer or an agency, another project comes across your desk. In reality, there's no end to the workload when you're busy servicing client needs, juggling multiple projects, and making sure your clients are happy.
However, there are client management tools that can make everyone's lives easier. From facilitating communications and invoicing to keeping projects organized and on track, these tools can handle a high volume of work. That should be music to your ears if you feel like you're spending more time on administrative tasks and less time doing the work that matters most: connecting with clients.
If you're searching for client management tools to automate daily tasks and ensure timely fulfillment on all of your deliverables, you've come to the right place. The following guide provides a roundup of 10 best client management tools to consider in 2023 — including our clear winner, Copilot. Let's get into it.
What Is Client Management Software?
Also known as customer relationship management (CRM) software, client management tools serve as extensions of sales, marketing, and support teams. From initial engagement to ongoing support, these tools enable a range of services across the customer lifecycle.
With client management tools, you can store and manage contact details, communication histories, project statuses, purchase histories, client preferences, and more. Rather than having client information get lost in emails, everything gets organized in one spot, providing a single source of truth across teams. The end result is greater organization and the ability to provide personalized experiences to clients, fostering loyal, long-term relationships.
Although features vary from one software to the next, typically such client management tools include the following capabilities:
Automation of billing, marketing, data collection, onboarding, and other tasks
Lead tracking and follow-up
Contact management
Project management
Secure document storage
Reminders and notifications for important dates, tasks, and events
Client messaging and histories of interactions between teams
Client portals with easy access to project management tools and account information
Reporting and analytics with deeper insights into project results
10 Best Client Management Tools of 2023
You're busy — so much so that even taking the time to read this article is pushing your limits for the day. So we've made it easy to skim this list of client management tools and find a solution that works best for your agency or freelancer needs.
Here are our top picks for the best client management tools:
Let's dive deeper into each one.
1. Copilot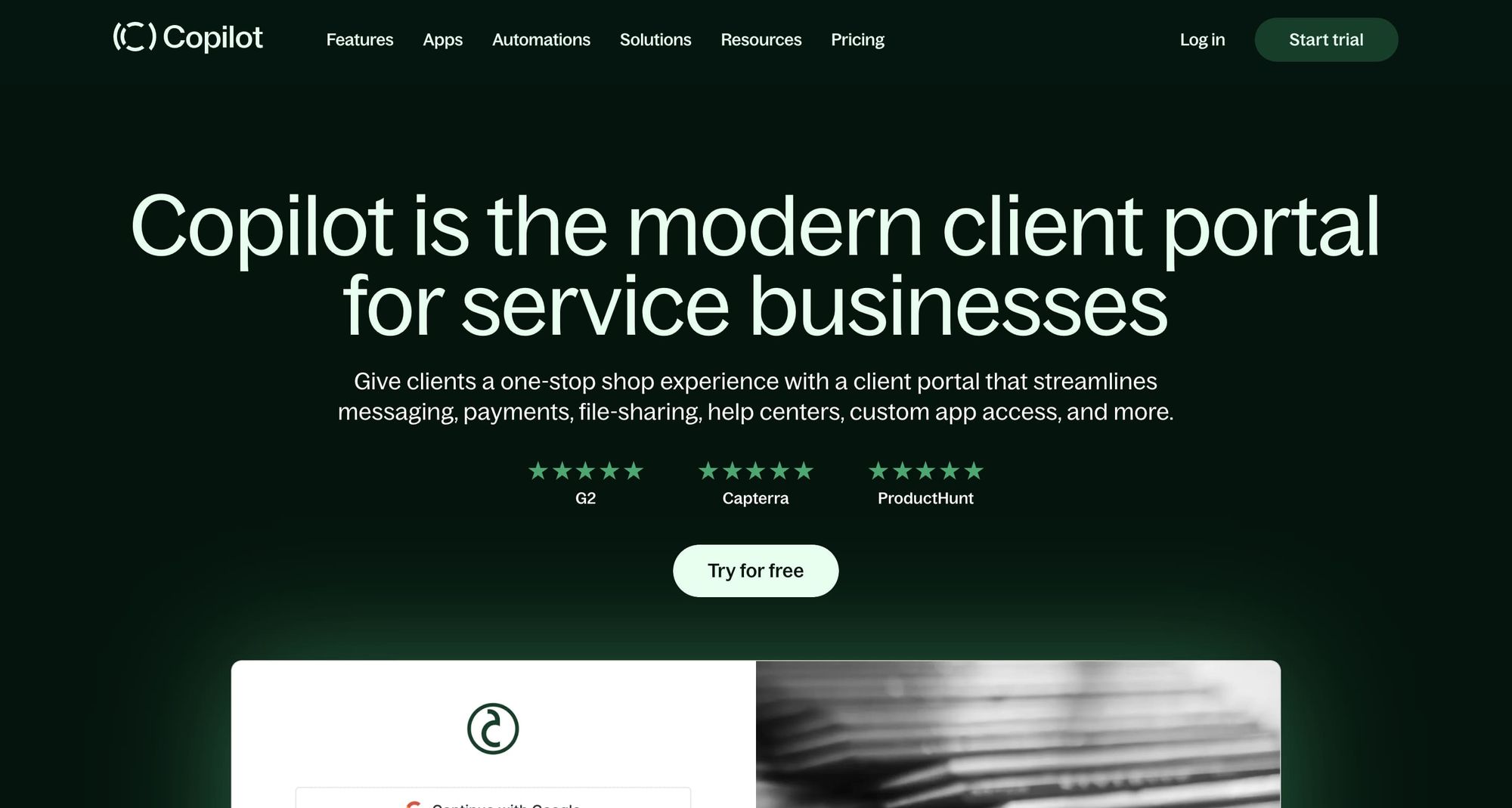 At the top of our list is Copilot, an all-in-one client management tool and client portal built to delight and engage your clients. The platform features branded, dedicated client portals that include messaging, document sharing, e-signature collection, client intake forms, billing, and help desk functions.
Think of Copilot as a one-stop shop for running the daily operations of your service-based business. Copilot is also extensible, meaning you can extend its functionality using 3rd-party tools in the Copilot app store.
With Copilot, clients feel less like a number and more like a critical part of your business. With the help of automation features that respond to various triggers, clients enjoy personalized communications, efficient onboarding, and welcome messages — all without any extra effort on your part.
Copilot Features
The billing app makes it easy to get paid while creating an exceptional client experience. Create branded invoices and subscriptions, facilitate easy payments, send reminders and notifications, and more. Charge clients directly or prompt them to pay.
Powerful automations save time, encourage self sign-ups, reduce human errors, and allow you to spend more time on impactful work rather than administrative tasks. The onboarding experience reinforces clients' decision to work with you, increasing retention from the start.
Integrations with third-party apps like Jotform, ClickUp, Airtable, Calendly, and others enable you to keep using the apps you love. From accounting to scheduling, everything works together in your Copilot dashboard.
Secure storage of documents and sensitive data keeps client information safe while building trust in your brand.
Powerful Help Desk features provide access to the answers and information clients need, when they need it.
Copilot Pricing
Access a free trial of Copilot to test out the features. Paid plans start at $29 monthly per user when paid annually or $39 monthly.
Copilot Reviews
Users rave about ease of use, customer service, and seamless integrations, along with an outstanding client portal experience. Others say there is room for improvement when setting up automations and mention a lag time between updates in records.
G2: 4.8/5 rating from +112 reviews
Capterra: 4.9/5 rating from +19 reviews
Read complete reviews at Capterra and G2.
2. Notion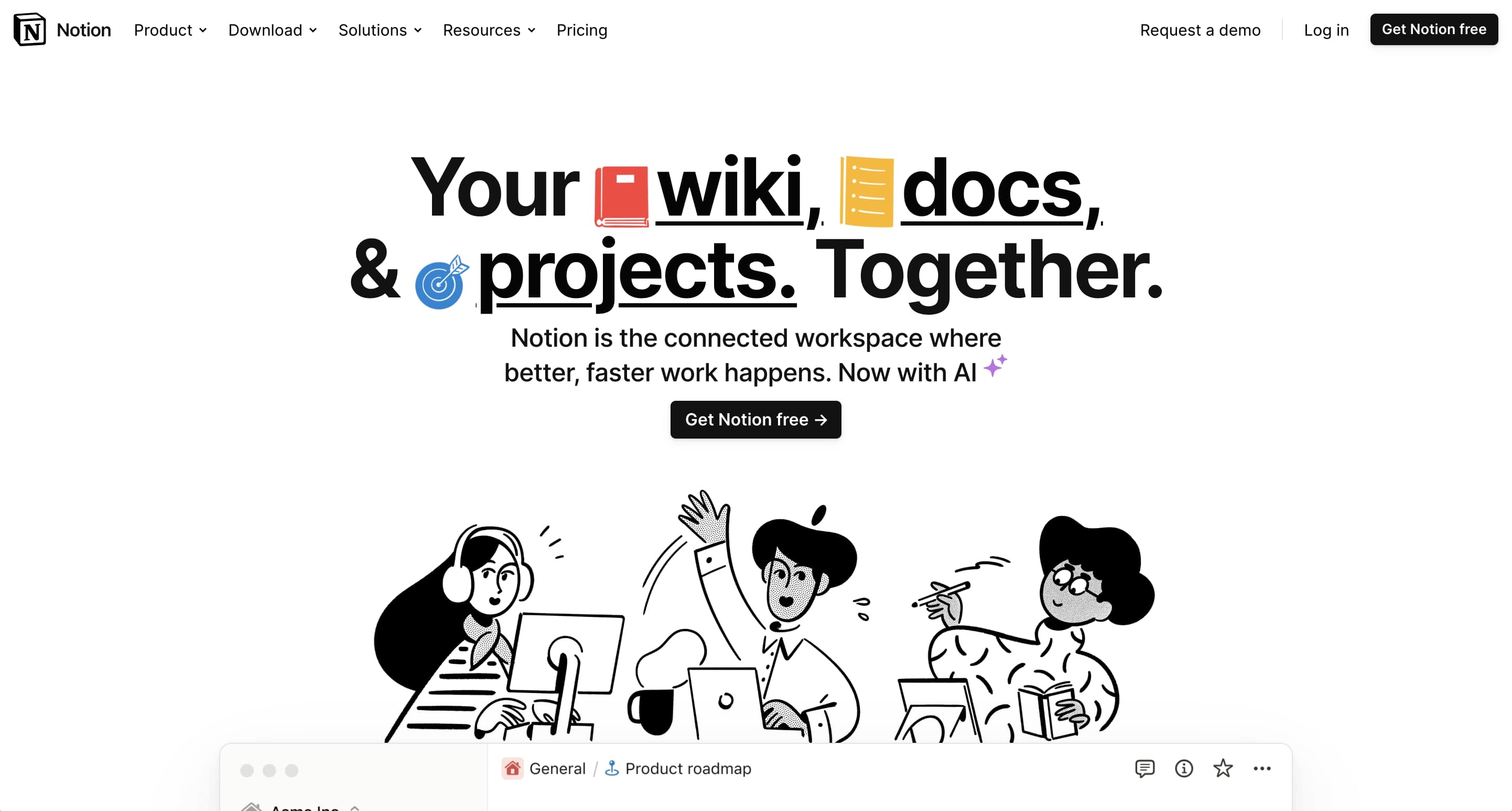 As a no-code tool, Notion is a popular option among freelancers and agencies looking to manage their clients, projects, and finances from a centralized dashboard. Whether you want to send beautiful proposals using Notion's templates, visualize projects, or manage your pipeline, Notion provides a variety of tools in a visually engaging and easy-to-use format.
Notion excels in providing a variety of tools to let teams work the way they want to work; for instance, teams can manage projects and tasks with custom Gantt and Kanban views. It features a fun-to-use interface where teams can collaborate, take notes, manage tasks, and organize their work.
Notion Features
Notion AI, built into Notion, helps you work faster as you automate tasks, analyze meeting notes, summarize takeaways from sales calls, and more.
Industry-specific templates facilitate quick, seamless management of clients, projects, and proposals.
Project management tools assist with meeting deadlines and keeping an eye on project progress.
CRM tools help you manage your pipeline and sync with relevant meetings and projects so you never miss an opportunity.
Notion's affordability makes it an attractive option for anyone on a budget or just starting out. Pricing ranges from a free plan to enterprise solutions.
Task management tools allow you to create checklists, map out to-dos for any project, and check off items as you go.
Notion Pricing
The free version of Notion includes a collaborative workspace, Slack and GitHub integrations, basic page analytics, and more. Paid plans start at $8 per user per month.
Notion Reviews
Custom workflows, collaborative workspaces, and calendar tools are some of the features that users love about Notion. Others say the collaborative tools, task reminders, and notifications don't work as expected.
G2: 4.7/5 rating from +4,700 reviews
Capterra: 4.7/5 rating from +1,800 reviews
Read complete reviews at Capterra and G2.
3. Airtable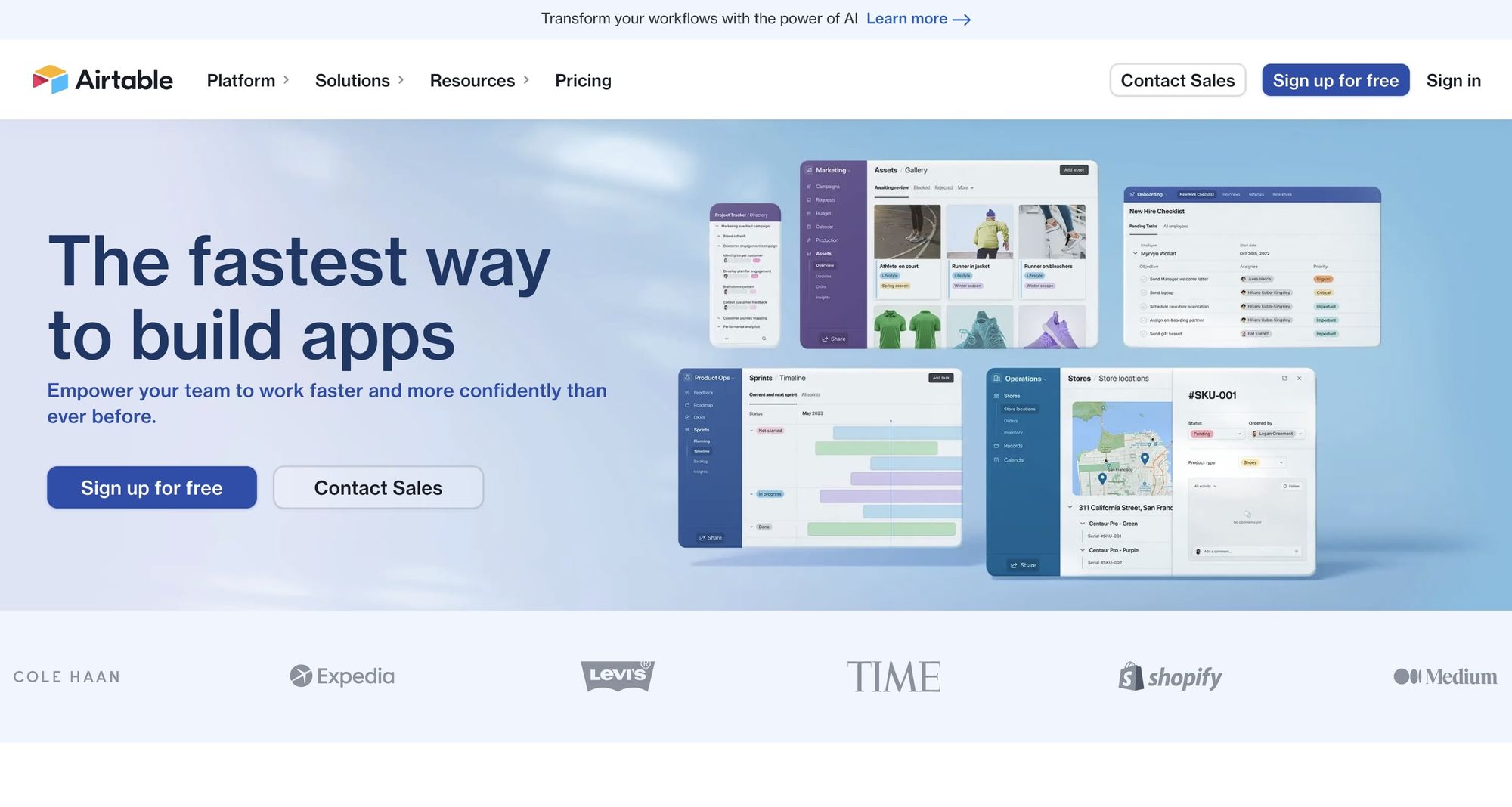 As a low-code collaboration platform, Airtable allows teams to create apps that power their workflows. The platform combines spreadsheet capabilities with powerful features like Kanban card stacks, calendars, file attachments, and reporting.
If you're looking to build out custom workflows, Airtable may be the solution you need. The platform helps you connect across teams, whether you're a marketing team looking to run campaigns and track successes or an operations team that needs to pull together data and processes in one spot. As your needs or goals change, Airtable is adaptable, allowing you to adjust your workflows without stressing your IT resources.
Airtable features
Automations help to streamline your processes and get more work done with fewer resources. Get as complex as you like; Airtable is up for the task.
With Interface Designer, custom interfaces allow anyone to build and share custom interfaces — no coding required.
Actionable views of your data make it easy to stay organized, structure your work, and accomplish your goals faster.
Reporting tools allow you to measure, share, and analyze insights with the people who need them most.
Timelines and production tools help you go beyond project management to manage deliverables, handoffs, and production.
Airtable Pricing
Sign up for free; paid plans start at $20 per user per month.
Airtable Reviews
Users tout Airtable's project management, workflow, collaboration, and client reporting tools. Others lament its lack of design features, complicated user interface, and steep learning curve.
G2: 4.6/5 rating from +2,100 reviews
Capterra: 4.7/5 rating from +1,800 reviews
Read complete reviews at Capterra and G2.
4. Monday.com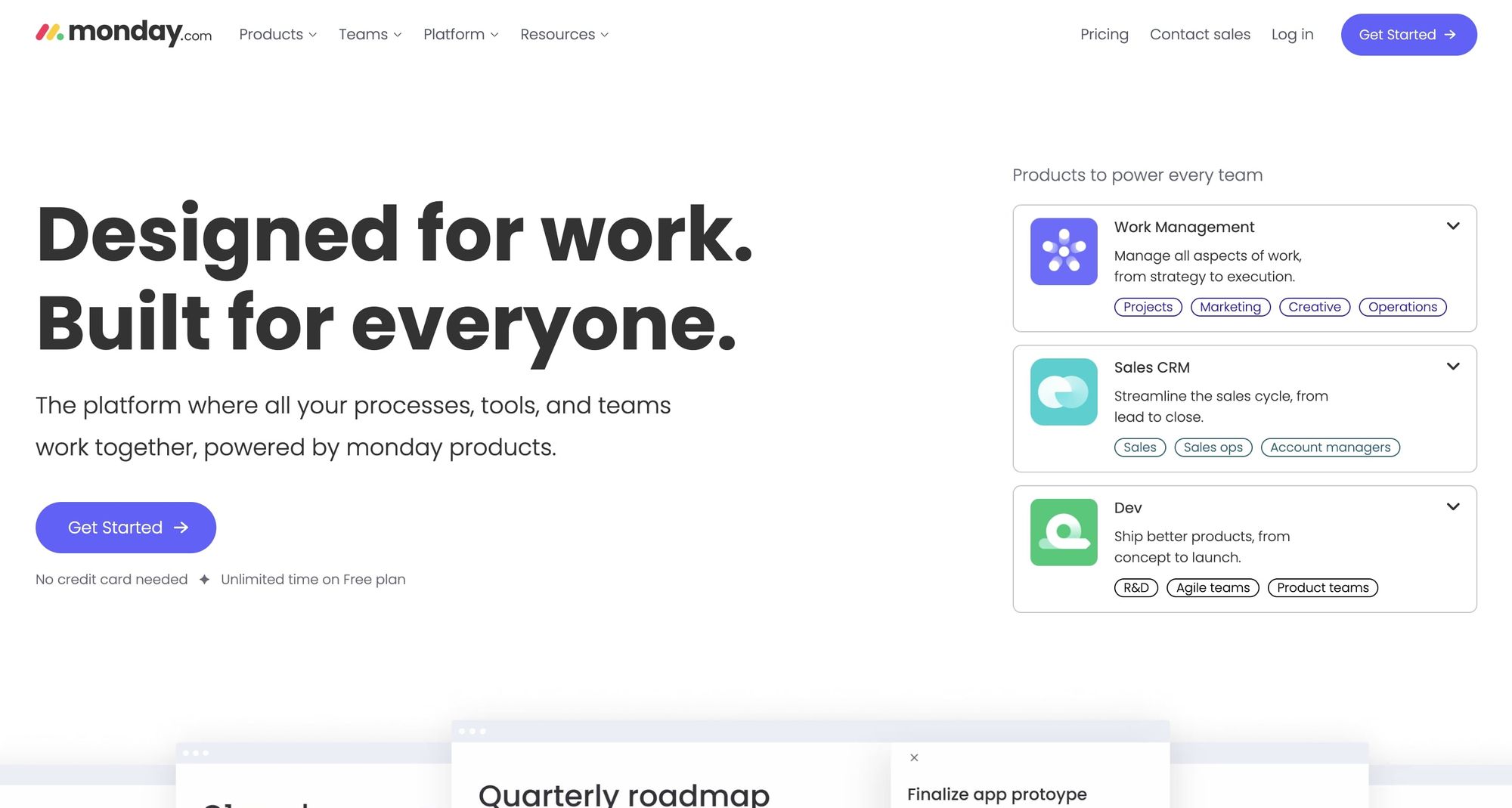 With premade, customizable templates, Monday.com makes it easy to tailor your workflows for your precise needs. From project management to sales and marketing campaigns, the platform enables a variety of functions across teams — helping everyone cut down on meeting time and save their energy for high-impact tasks.
Automations, dashboards, and integrations are some of Monday.com's strong suits. The platform is flexible to meet a variety of business needs and allows you to scale as your organization grows. Of particular note for client management, the Monday Sales CRM is a powerful tool to manage your pipeline and convert more leads.
Monday.com features
Lead and contact management ensure you don't miss any opportunities.
Email sync and tracking keeps prospect data organized in one central location.
Seamless customer onboarding tools ensure clients feel confident working with you.
Sales analytics tools help you view results and areas for improvement.
Monday.com Pricing
Monday.com is free for up to two seats, with paid plans starting at $8 per seat per month.
Monday.com Reviews
Users love the task management and lead management tools, template library, and customer support. Others say the automations are limiting and report negative customer support experiences.
G2: 4.7/5 rating from +8,600 reviews
Capterra: 4.6 rating from +4,100 reviews
See complete reviews on Capterra and G2.
5. Keap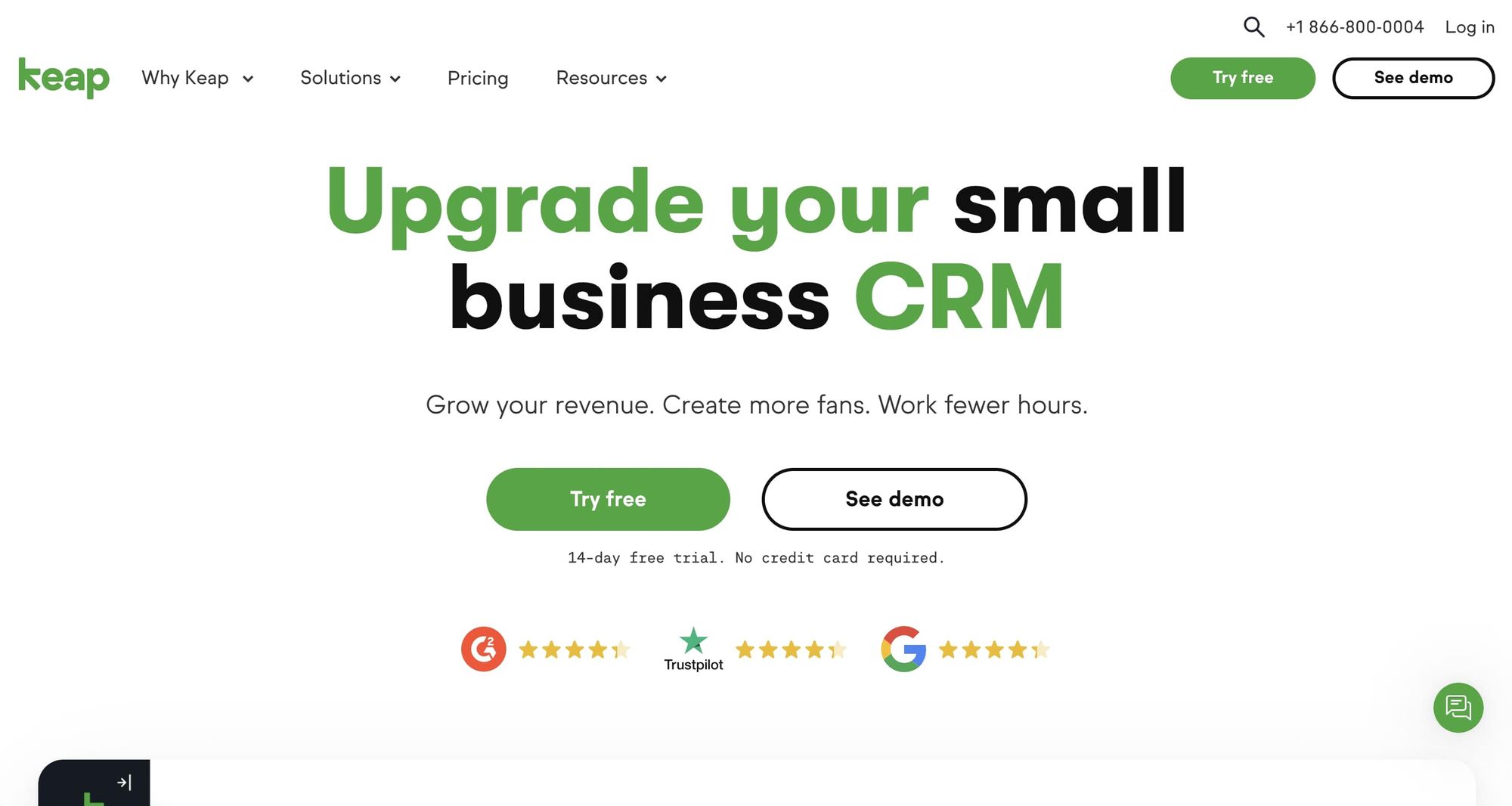 Dubbed an all-in-one CRM and sales and marketing tool, Keap does what the name implies: keep your customer information and daily tasks in one central location. Whether you're a freelancer, an agency, a small business, or a large enterprise, Keap offers powerful tools for sales and marketing, automation, and CRM.
On that note, Keap is renowned for its email marketing automations, enabling seamless outreach to engage customers and prospects. Simple, consistent, repeatable efforts add up over time to build a robust pipeline and keep them moving through the sale process.
Keap Features
Lead capture is simple with landing pages and forms, while lead management tools help you stay on top of opportunities.
In addition to email marketing automations, you can set up text marketing on autopilot.
Integrations let you connect your favorite apps.
CRM tools help you manage and grow your customer list, while sales automations help you get the revenue you need.
Easy appointment bookings and automated invoicing make it easy to connect with customers, get paid, and keep doing impactful work.
Keap Pricing
Try Keap for free; paid plans start at $159 per month when paid annually or $199 monthly.
Keap Reviews
Opt-ins, segmentation, and powerful email automations are, of course, favorites among users. Others complain of feature overwhelm.
G2: 4.2/5 rating from +1,400 reviews
Capterra: 4.1/5 rating from +1,200 reviews
See complete reviews at Capterra and G2.
6. Moxo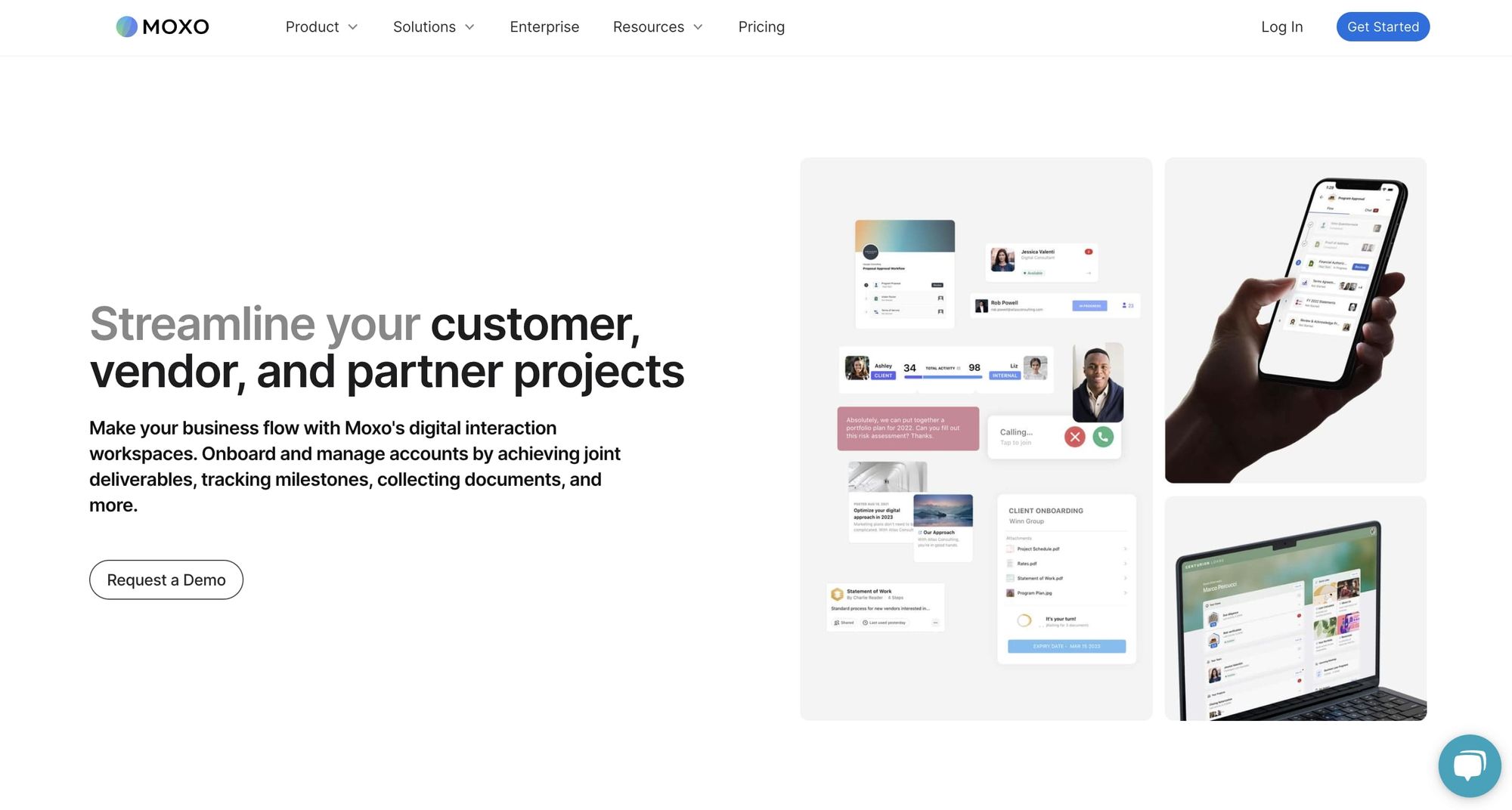 Whether you have customer, vendor, or partner projects, Moxo keeps your business on track via digital workspaces. Easily onboard and manage accounts as you achieve joint deliverables, track milestones, gather documents, and more.
From client acquisition to onboarding and ongoing support, Moxo facilitates streamlined workflows via modern client portals. Meanwhile, a robust template library and digital forms help you automate processes and speed up your work.
Moxo Features
Configurable workflows can be tailored to your needs and processes.
White labeling allows you to present a professional, branded face to clients.
Secure client portals safeguard important data, messages, and documents.
Interactive capabilities include messaging, video conferencing, virtual data rooms, and more.
Roles and permissions let you delegate access to those who need it.
Moxo Pricing
Plans start at $900 yearly or $100 monthly.
Moxo Reviews
Users like the white labeling, communication features, automations, and custom configurations. Others mention a lack of features.
G2: 4.5/5 rating from +100 reviews
Capterra: 4.1/5 rating from +15 reviews
See complete reviews at Capterra and G2.
7. HoneyBook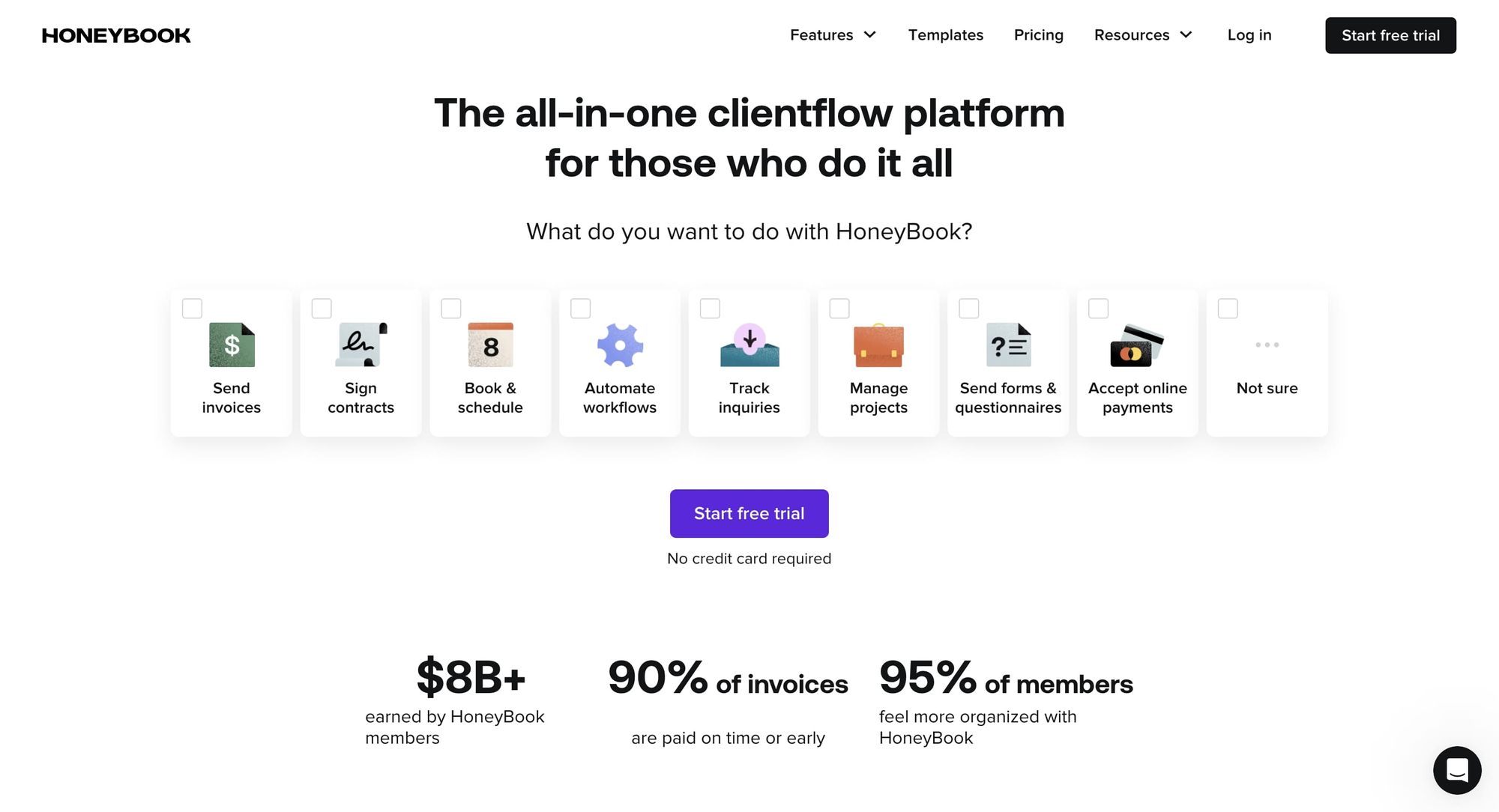 As an all-in-one platform for client and business management, HoneyBook enables a stellar client experience from sign-up to support. The platform enables appointment bookings, saves time, and helps you get paid faster for doing great work.
Whether you need to manage projects, automate daily tasks, or stay on top of your to-do list, HoneyBook offers a range of features to take time-consuming work off your plate. Focus on doing the work you love and growing your business while HoneyBook handles the rest.
Related Reads: Best HoneyBook Alternatives You Need To Try
HoneyBook Features
Invoicing features allow you to create invoices, set payment schedules, and send reminders so you can get paid quickly.
Branded proposals combine invoices, contracts, and payments in a single form.
Likewise, branded meeting links encourage appointment bookings, and follow-up confirmations and reminders discourage no-shows.
The platform enables e-signatures with instant notifications when clients sign on the dotted line.
Automations and custom workflows allow for greater productivity.
Integrations with Zoom, QuickBooks, and other favorite apps make setup seamless.
HoneyBook Pricing
Sign up for free; paid plans start at $8 per month when paid yearly, or $19 monthly.
HoneyBook Reviews
Users love the user-friendliness, CRM tools, and professionalism of HoneyBook. Others say the learning curve is confusing.
G2: 4.5/5 rating from +140 reviews
Capterra: 4.8/5 rating from +580 reviews
See complete reviews on Capterra and G2.
8. Asana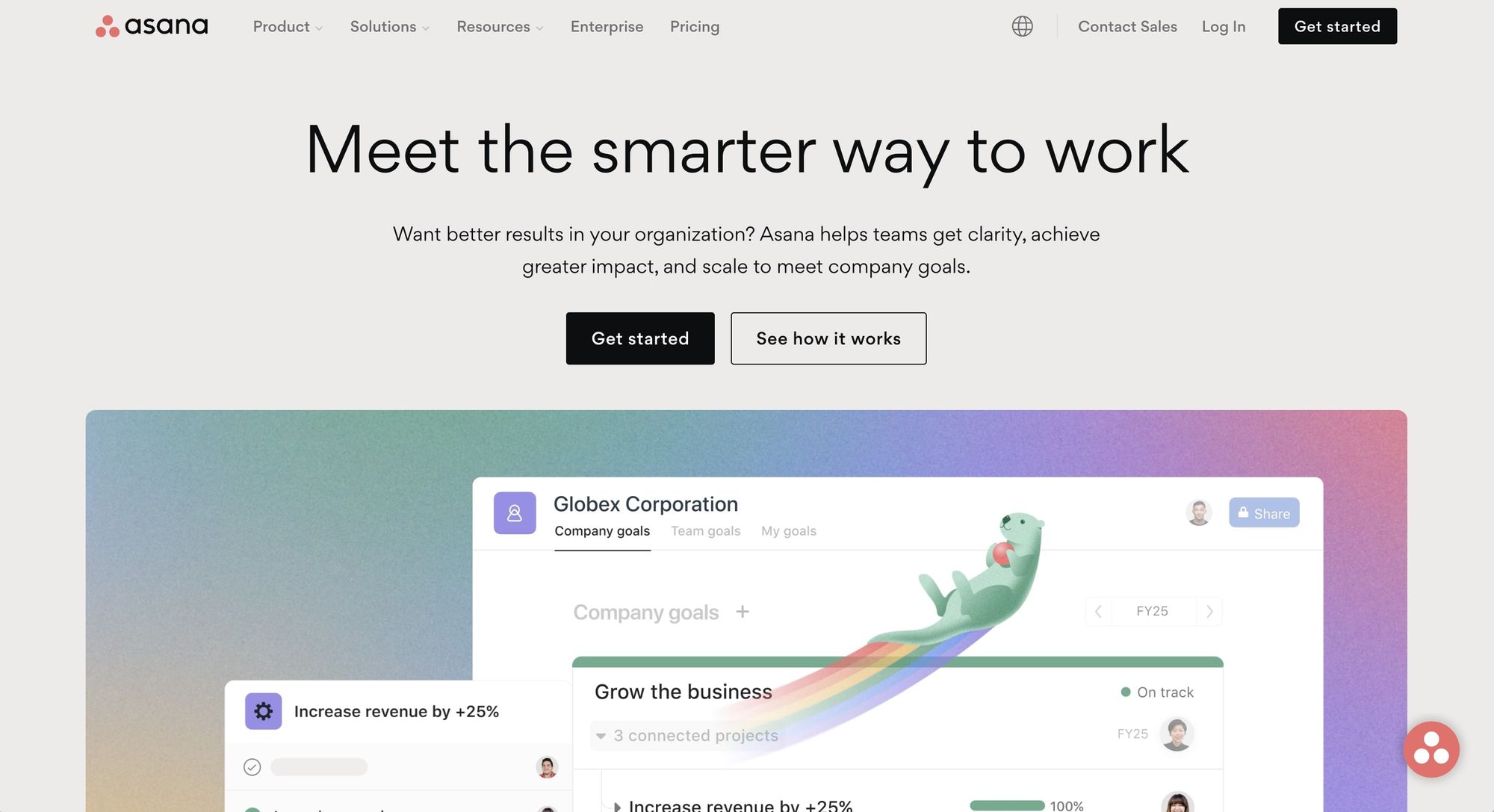 For anyone who does cross-functional work, Asana can be a game-changing project management tool. Project boards, task management, approvals, and workflows are Asana's superpower, helping you manage even the most complex projects with ease.
Asana also enables client interfacing, so you can easily assign tasks to clients, set deadlines, and manage a portfolio of projects for different clients. When you invite clients to use Asana — just assign them a task to send an invitation — they can easily manage approvals from their email inboxes or log into the platform themselves for a client view.
Asana Features
List views provide at-a-glance views of the work that needs to get done, from planning to execution. Board views make it easy for teams to stay on task.
Timelines show how work maps out over time, allowing you to manage dependent, overlapping, and unscheduled tasks.
Automated, customizable workflows help you put tasks on autopilot, designate assignees, set due dates, and more.
Integrations with Google Sheets, Zoom, Microsoft Teams, and other tools let you keep using the apps you know and love.
Templates help you get started and scale up your workflows as you grow.
Asana Pricing
Basic Asana plans are free. Paid plans start at $10.99 per user per month, billed annually.
Asana Reviews
Daily task and project management are favorite features of Asana users. Others say it's easy for notifications to get lost.
G2: 4.3/5 rating from +9,400 reviews
Capterra: 4.5/5 rating from +12,100 reviews
See complete reviews at Capterra and G2.
9. Dubsado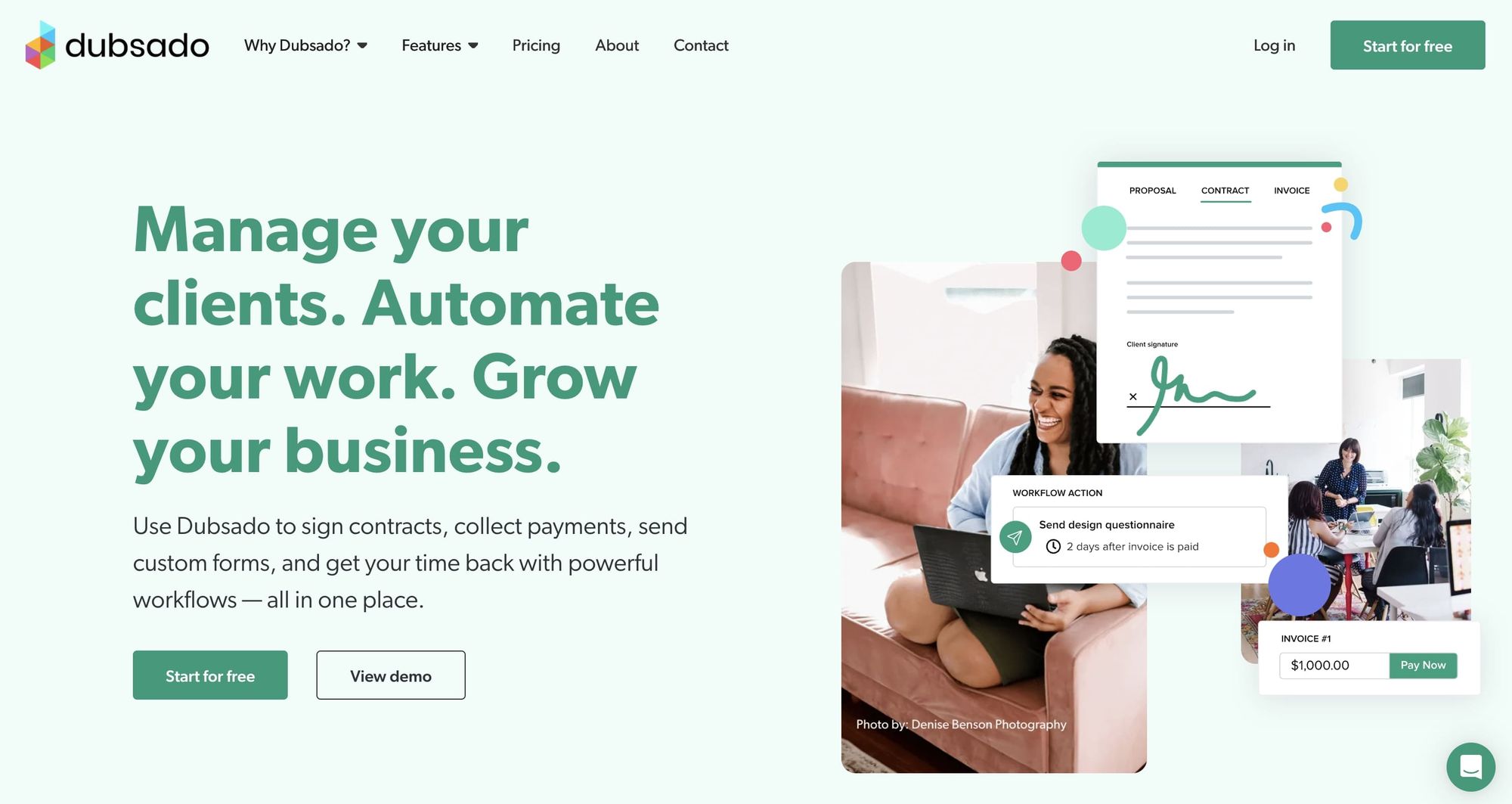 With its range of client management tools, Dubsado is a powerful platform that includes CRM, forms, contracts, invoicing, and more. Client portals offer project access, payments, and a one-stop-shop client experience.
Automation is one of Dubsado's standout features, taking care of everyday tasks so you can focus on high-value activities. No matter your business's size, Dubsado gives you the client management tools to run your business efficiently.
Dubsado Features
Customizable form templates help you collect important data with ease, from questionnaires to lead capture forms.
Automation helps with onboarding clients seamlessly and building strong client relationships.
Online invoicing and reminders ensure timely payments.
Scheduling tools integrate with your website to increase appointment bookings and shorten the time from lead to conversion.
Interactive client portals give your clients one central hub for paying invoice, accessing project details, and accessing documents.
Dubsado Pricing
Dubsado offers a free trial; paid plans start at $200 per year or $20 per month.
Dubsado Reviews
Easy payments and comprehensive CRM tools are some of users' favorite Dubsado features. Some say Dubsado is best suited for freelancers or solo entrepreneurs, while others say setup is too complicated.
G2: 4.3/5 rating from +60 reviews
Capterra: 4.3/5 rating from +40 reviews
See complete reviews at Capterra and G2.
10. Zendesk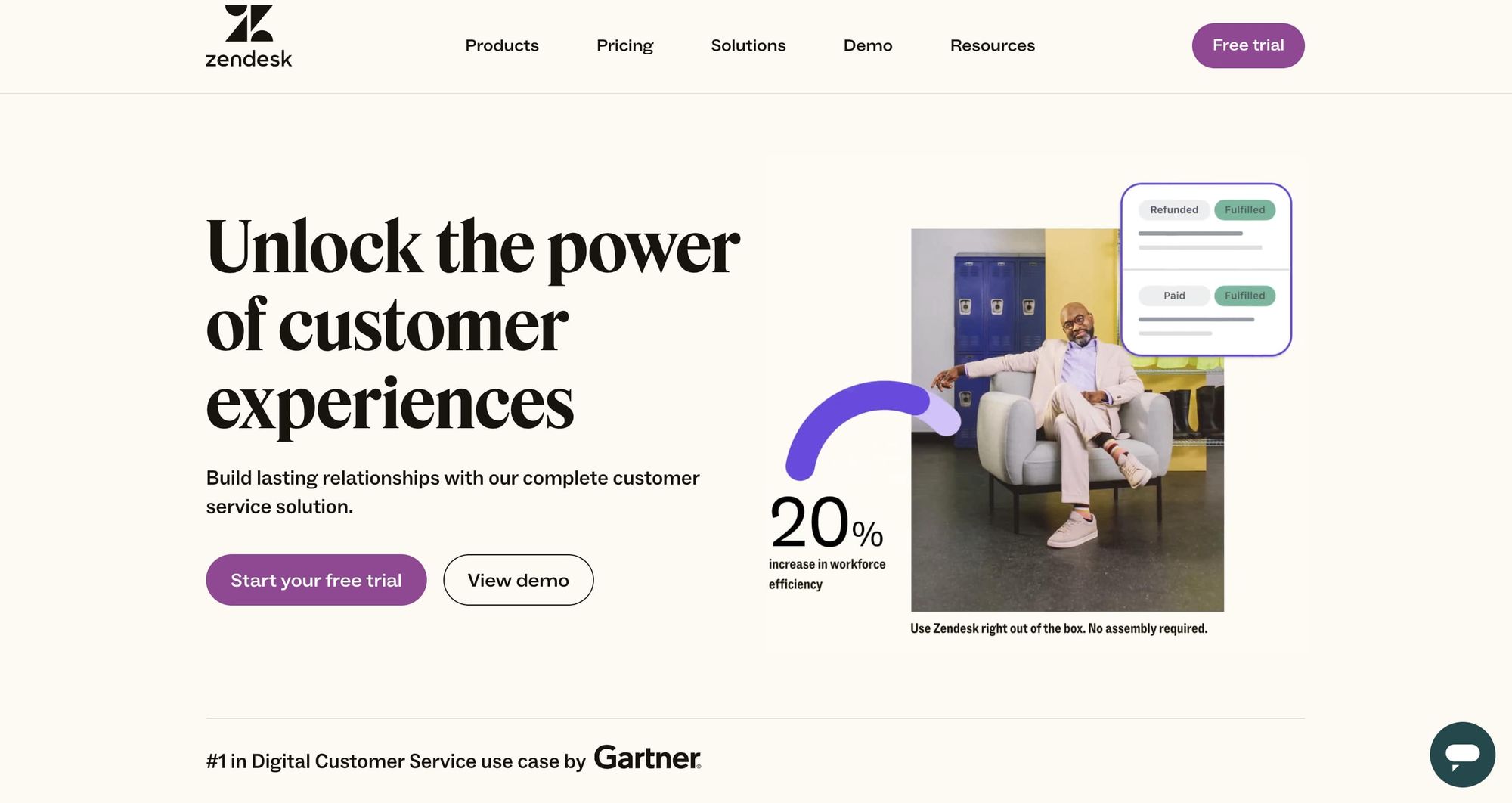 Although Zendesk is known for its customer support capabilities, the platform also offers modern CRM tools. Gain greater visibility into your pipeline, boost productivity, and grow revenue with a suite of features.
Email integration, sales engagement, and automation are just a few of the powerful Zendesk features. The Power Dialer is a nice touch for automatically cycling through prospects and customers.
Zendesk Features
Because Zendesk is also a customer support powerhouse, the platform makes conversation tracking and automated support a breeze. Clients can often find answers on their own, increasing retention and customer happiness.
A range of productivity tools take tasks off your plate, with email integrations, automated lead follow-up, and trigger-based automations.
Managing leads and accounts in one place keeps information organized and reduces the odds of opportunities slipping through the cracks.
One-click integrations open the door to connecting with your favorite apps seamlessly.
Pipeline forecasting, analysis, and analytics help you generate growth predictably.
Zendesk Pricing
Zendesk offers a free trial. Paid Zendesk for Sales plans start at $19 per user per month when paid annually, or $25 monthly.
Zendesk Reviews
Users like Zendesk's affordability, intuitive interface, and mobile capabilities. Others mention crashes or lag time.
G2: 4.3/5 rating from +5,700 reviews
Capterra: 4.4/5 rating from +3,600 reviews
See complete reviews at Capterra and G2.
Run Your Client Business on Copilot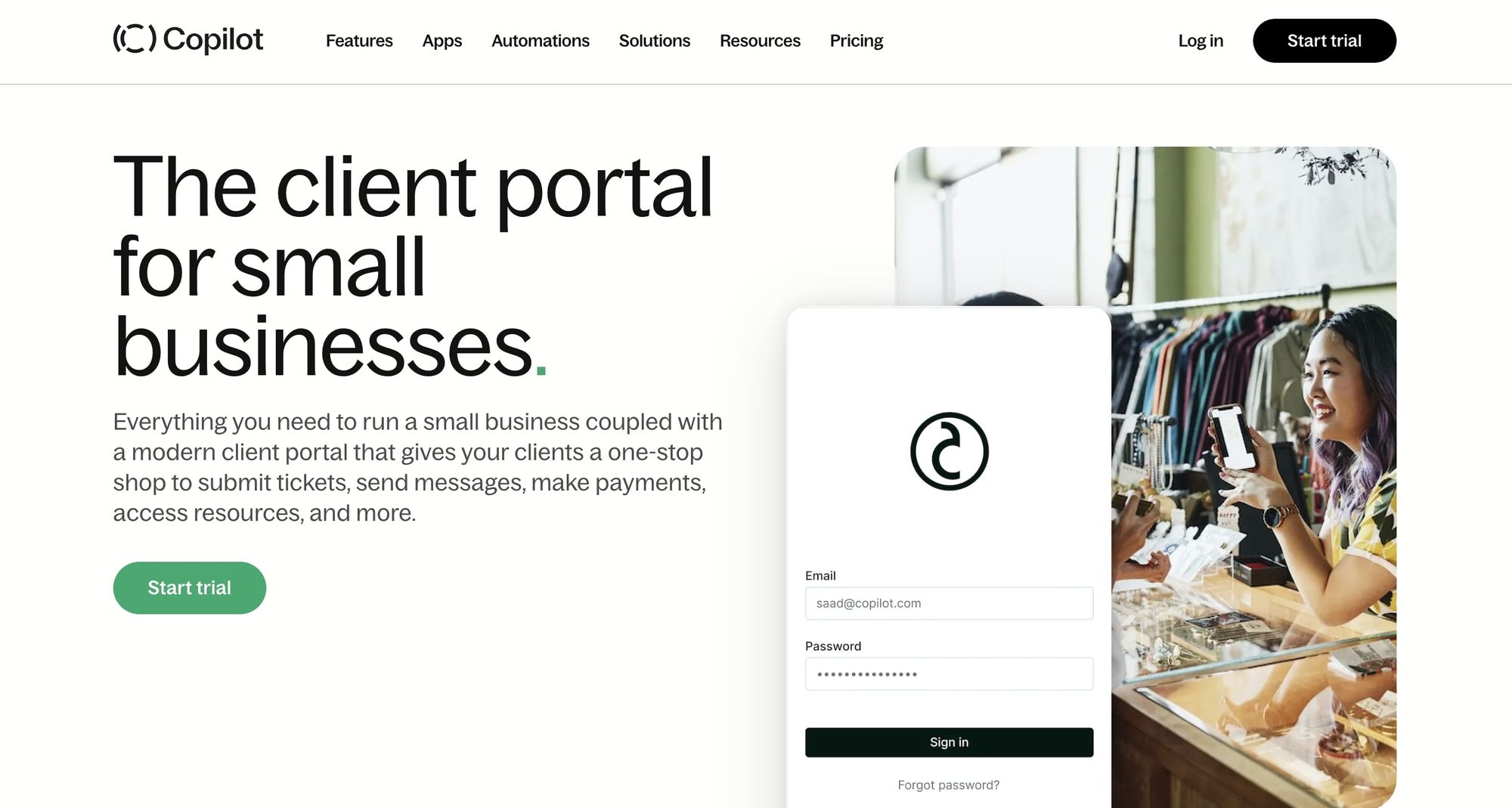 You clearly have many options when it comes to client management tools. As you explore the platforms on this list, your best bet is to consider the specific features and use cases for your situation. Take advantage of free trials before committing to anything, and be sure to consider not only current but future needs.
Ultimately, we've named Copilot as the best client management tool because it offers the most robust features at an affordable price. The platform can scale with you and help you push work off your plate, creating time and space for growth-oriented work.
If you're ready to run your business on Copilot, check out our demo portal to see how it works. We think you'll agree: Copilot offers the best of all worlds when it comes to client management tools.
Sign up for our newsletter
Subscribe below to receive our newsletter. We'll email you about important announcements, product updates, and guides relevant to your industry