7 best HoneyBook alternatives to check out in 2023
Sep 18, 2023
8 min read
Omid G
Running a service-based business takes excellent time management, organization, and a healthy dose of patience — especially when dealing with support issues, deadlines, invoicing, subscription payments, marketing, and more.
To manage the workload, many freelancers and small businesses use a SaaS platform like HoneyBook to manage onboarding, client information, deliverables, payments, and communications. However, HoneyBook has limitations that might cause you to look at other options.
Below, we've compiled a quick guide to HoneyBook alternatives to help you choose the best client management platform for your needs. Now, let's get organized and help you streamline your service business's operations — so you can focus on growing your business instead of dealing with administrative tasks.
What to look for in a HoneyBook alternative
As you consider HoneyBook alternatives, it's essential to evaluate which features are most important to you and what you may need in the future. Although startups will have fewer demands than established businesses, it's best to have a platform that will grow as you scale your business.
Some of the key features you'll want in a client management platform may include:
Invoicing and subscription capabilities
Task management
Client messaging tools and notifications
Branded client portals
Third-party integrations with apps you already use
Your feature wishlist might look slightly different than this one, and you may require different tools depending on your specific use case. Often, smaller or solo businesses with just a handful of clients will have different needs than a large enterprise with thousands of accounts.
Top 7 HoneyBook alternatives in 2023
As you browse our list of HoneyBook alternatives, take note of any features that are must-haves for you and any that you can do without. By the time you're done reading, you should have a clear idea of which platform will work best for you.
Here are seven alternatives to using HoneyBook:
Let's take a closer look at each solution.
1. Copilot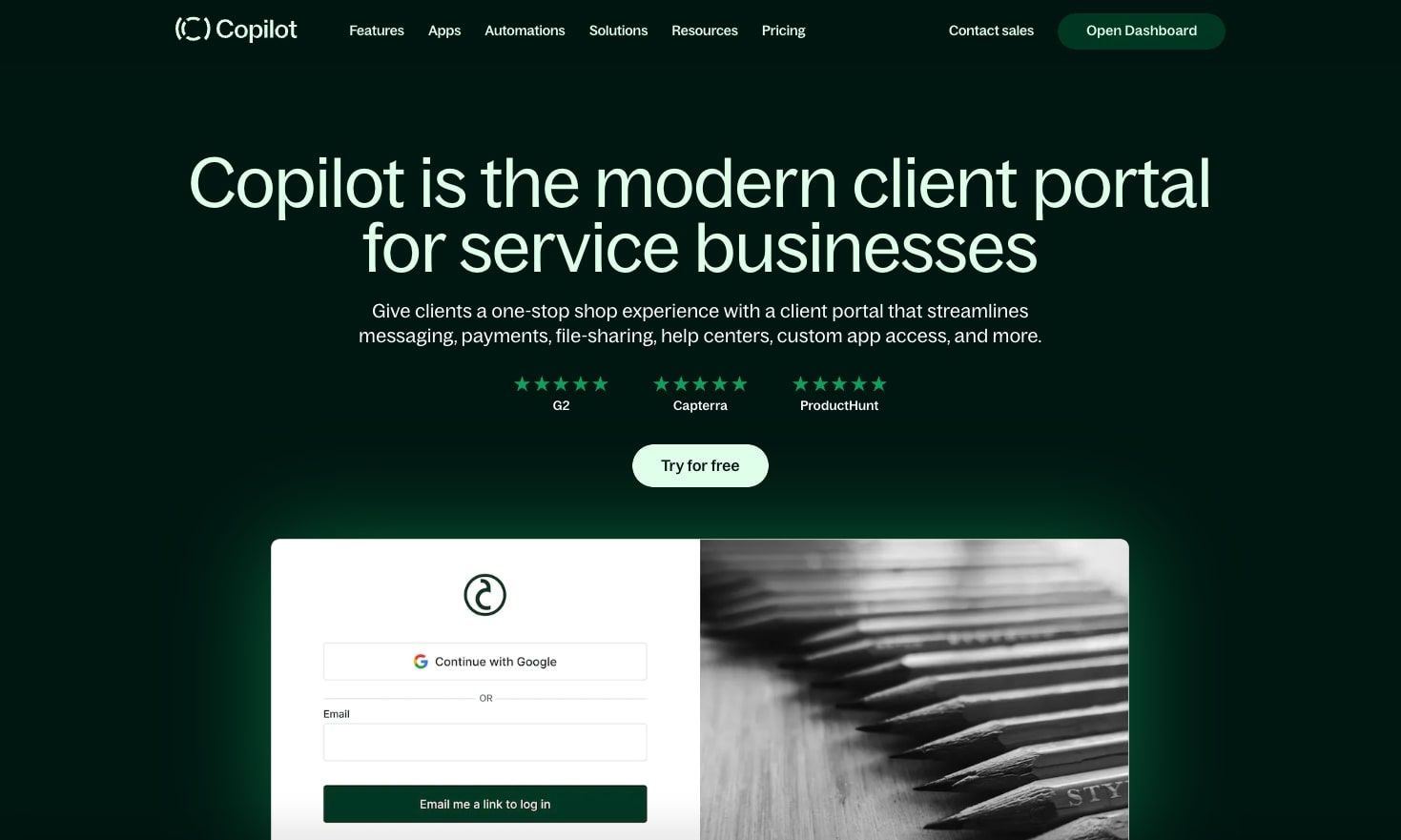 Best for: Custom client portals
Pricing: Start with a 14-day free trial; paid plans start at $29 per month, paid annually.
A client portal and virtual office platform in one, Copilot provides an all-in-one solution for freelancers, agencies, and large firms alike. With backing from investors who put their money on Airbnb, Instacart, and Reddit, Copilot was founded in 2017 and has been making waves ever since.
Copilot helps modern firms create customized client portals for their customers and clients — with one central place for messaging, help desk support, third-party app integrations, invoicing, subscriptions, document management, e-signatures, and client intake forms.
With Copilot, you can create white-label client portals with your branding, custom logins, and integrations with your favorite apps. Quickly onboard and bill clients via Stripe, or connect with various third-party tools in the app marketplace, including Google Docs, Calendly, ClickUp, and more. You can even embed reporting dashboards to seamlessly track your efforts and communicate the value you bring to clients.
Benefits of Copilot
User-friendly design provides a clean, minimalist interface that users and customers will enjoy logging into.
Client messaging tools and notifications provide a secure environment to communicate back and forth with clients about projects or questions.
White-label portals and branding tools enable a positive experience for your clients. Clients will see your business name and information on invoices, subscriptions, and dashboards, building trust in your brand.
Secure portals provide a safe environment for gathering sensitive client data, sharing files, completing intake forms, collecting e-signatures, processing payments, and storing documents.
Custom helpdesk and knowledge base assets allow you to provide personalized support to clients when they need it most.
2. Bonsai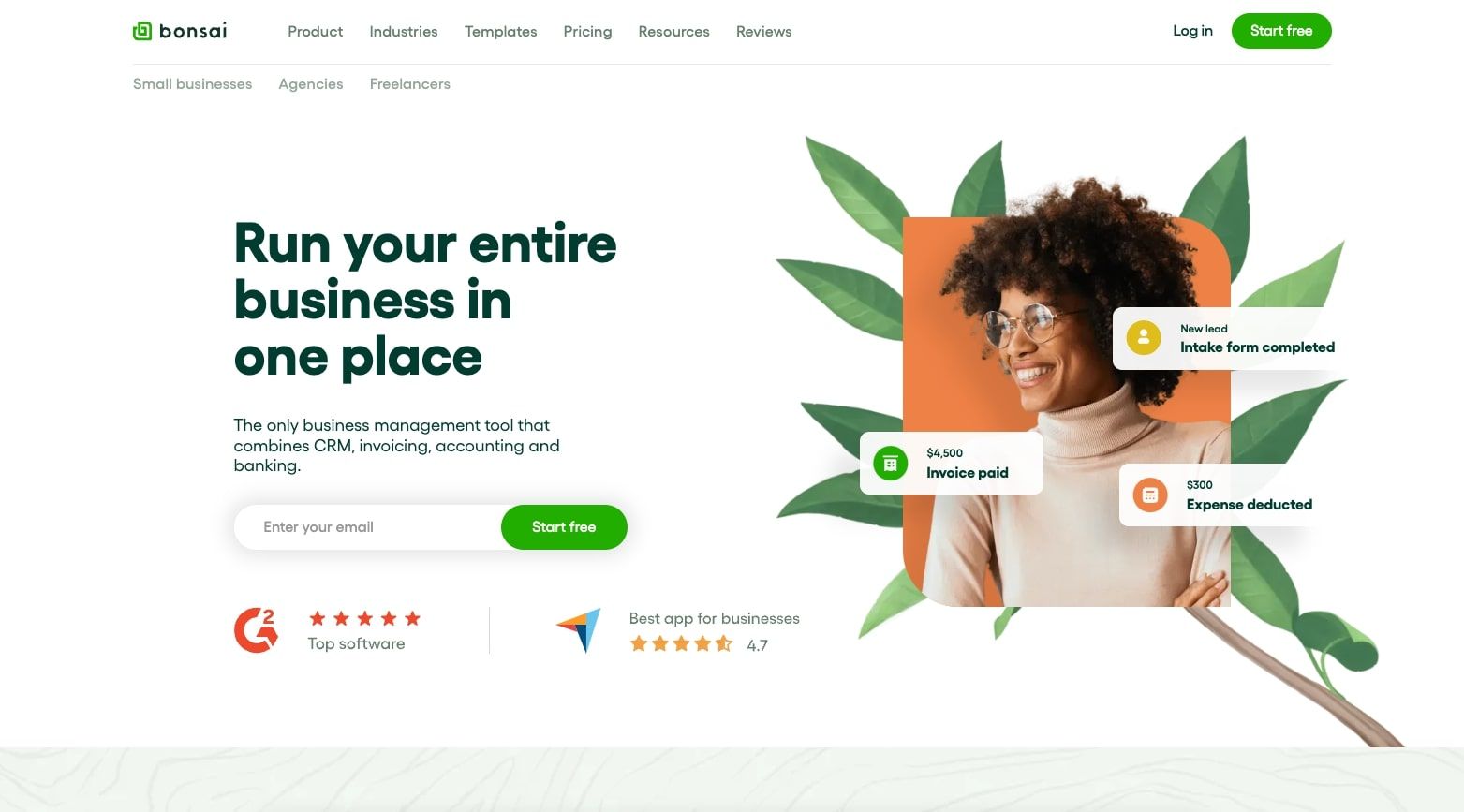 Best for: Creating, sending, and tracking proposals online
Pricing: Start for free; paid plans start at $17 per month, paid annually.
With its variety of client management, project management, and financial management capabilities, Bonsai is a popular option for freelancers, agencies, and small businesses.
Organization tools and a one-stop-shop experience are key benefits of the platform, which incorporates time-tracking and task management — making it easier to meet deadlines and execute deliverables.
If you tend to create a lot of contracts, you may like Bonsai's variety of proposal templates. Simply select a contract for your use case, edit it with your branding and terms, and send it to your client within the platform.
Related Reads: Best Hello Bonsai Alternatives You Need To Try
Benefits of Hello Bonsai
CRM tools and client portals make it easy to manage leads and keep clients and projects organized in one central location.
Project collaboration tools facilitate invoicing, task management, time tracking, and more, making it easy to work with subcontractors, coworkers, and clients.
Automatically track and categorize expenses, create income reports, get quarterly and annual tax reminders, and take control of your finances with built-in financial management tools.
Integrated scheduling allows clients to book appointments. Charge upfront for sessions as needed, and eliminate the need for a third-party scheduler.
Automation takes reminders off your plate, helping you get paid faster and freeing you up to focus on your business.
3. Moxo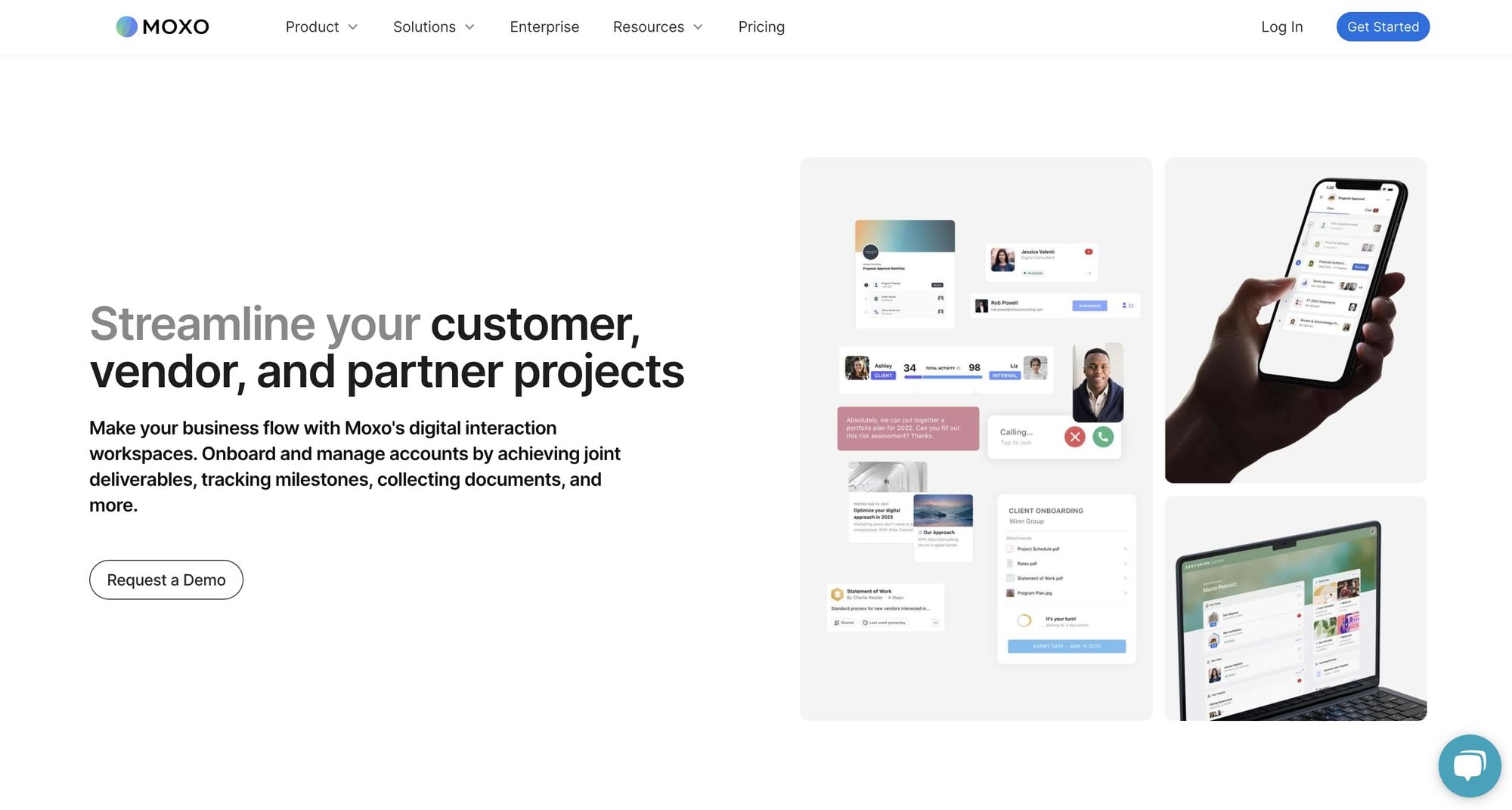 Best for: Client portals
Pricing: $100 monthly or $900 annually, with a $250 one-time setup fee
Among the pricier HoneyBook alternatives, Moxo offers a range of client management tools that enable project management, document collection, custom workflows, and more. From client work to vendor or partner projects, Moxo allows you to maintain smooth, seamless communications and stay on track with deliverables.
A robust template library, digital forms, and automations save time while you focus on doing what you do best. Centralized communication, document sharing, and phone or video calls keep you connected to the stakeholders who are integral to your success.
Related Reads: Best Moxo Alternatives You Need to Check Out
Benefits of Moxo
Customized workflows save time and drive efficiency by incorporating repeatable, sequenceable steps.
White-label capabilities provide a personalized, branded experience to clients, vendors, and partners.
Secure client portals safeguard sensitive client data, messages, and documents.
Interactive features like messaging, screen sharing, virtual data rooms, and videoconferencing provide an engaging client portal experience.
Tailored permissions ensure that only authorized individuals gain access.
4. Dubsado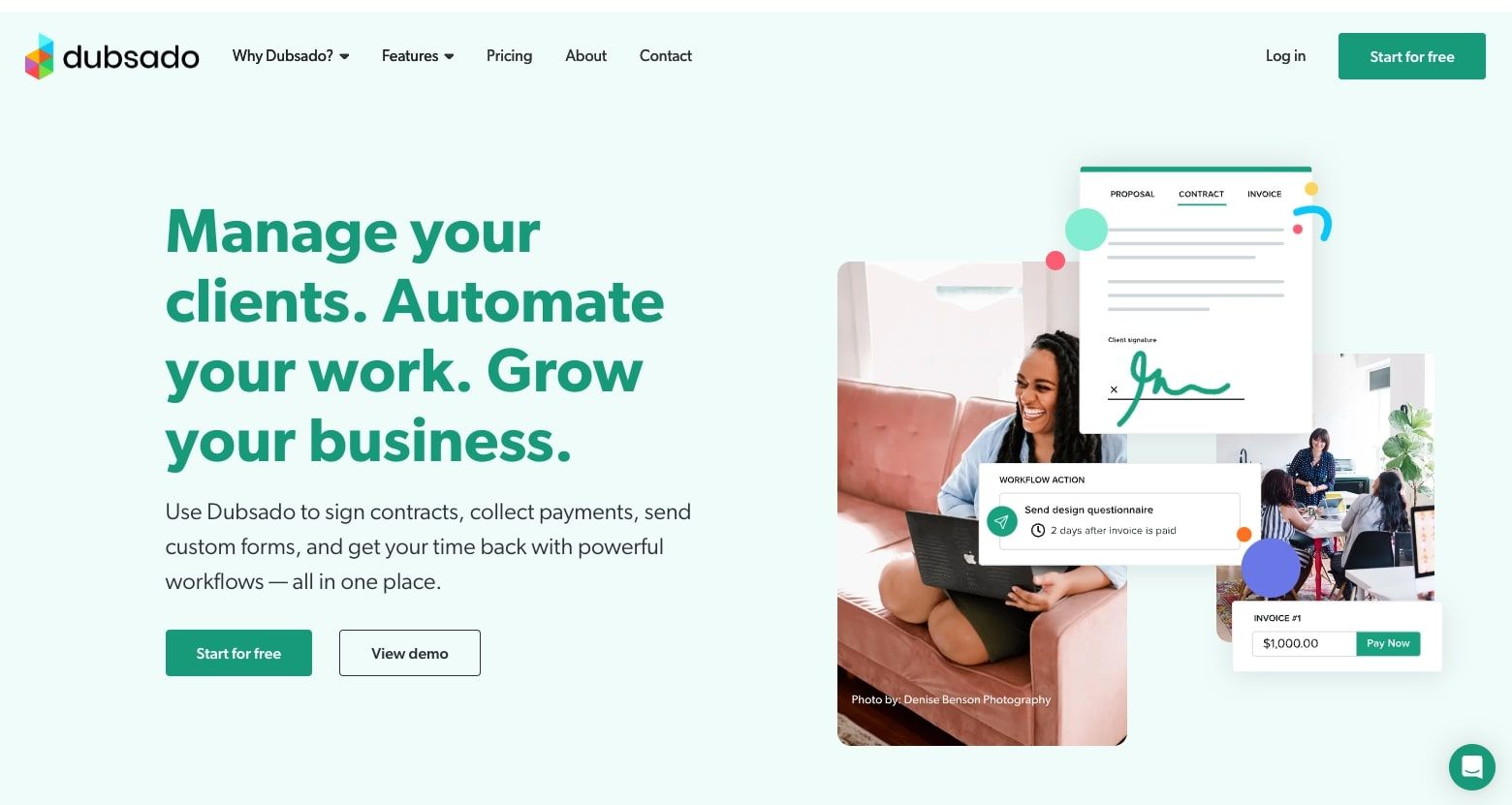 Best for: Project management
Pricing: Start for free; paid plans start at $200 per year or $20 per month
Since 2016, freelancers have turned to Dubsado to manage their service-based businesses. The platform serves various professions, from florists and DJs to accountants and legal professionals.
Some of the Dubsado users' favorite features are templates, invoices, and reporting. Freelancers just getting started may find the invoicing tools, reporting, forms, templates, and automations useful.
While Dubsado has an affordable price point, it may lack certain features that an agency or a small business might need, such as project management tools for teams and third-party integrations. However, you might not need every feature under the sun if you're a solo business owner.
Related Reads: Best Dubsado Alternatives You Need To Check Out
Benefits of Dubsado
Customizable, reusable forms look like an extension of your website, allowing you to embed lead capture forms and proposals, collect e-signatures, and gather intake information.
The clean user interface provides a seamless customer experience, whether you're sending invoices and submitting proposals.
Workflow automations handle administrative tasks and speed up onboarding and intake.
Scheduling tools let you connect your calendar for easy appointment booking.
Invoicing and reporting tools help you get paid faster, set up recurring payments, tracking down outstanding invoices, and view your progress over time.
5. SuiteDash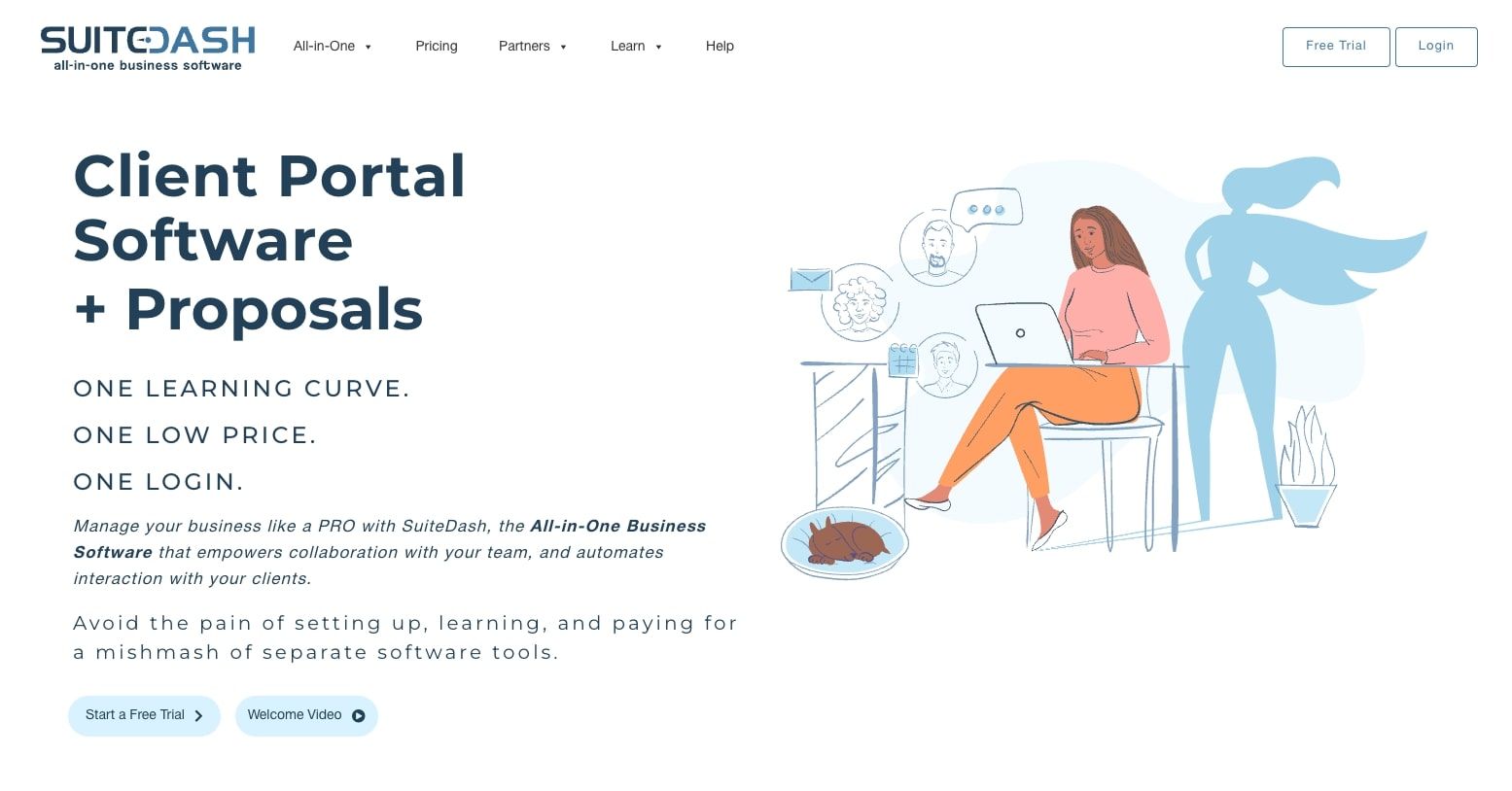 Best for: Client portals
Pricing: Start with a free 14-day trial; paid plans start at $19 monthly or $180 per year.
SuiteDash boasts a user-friendly interface and a comprehensive array of features suitable for businesses across industries. Team collaboration, project management, deadline tracking, and other tools keep you and your team organized and on track with client work.
Notably, SuiteDash excels with its branded client portal, providing a central hub for client interactions, updates, file sharing, and other client-oriented tools. Additionally, SuiteDash includes a CRM system, automation capabilities, appointment scheduling, marketing tools, and more.
Related Reads: Best SuiteDash Alternatives For Service Businesses
Benefits of SuiteDash
With its array of features — from CRM and funnels to white labeling capabilities, SuiteDash meets the needs of small businesses and agencies.
Client portals enable branded, tailored customer experiences and communications on personalized dashboards.
Form completions trigger automations and integrations, saving you time and improving the client experience.
Integrated time tracking, proposals, estimates, billing, and subscriptions encourage new repeat business.
Marketing tools like email and drip sequences help you reach the right decision-makers with targeted messaging.
6. Clinked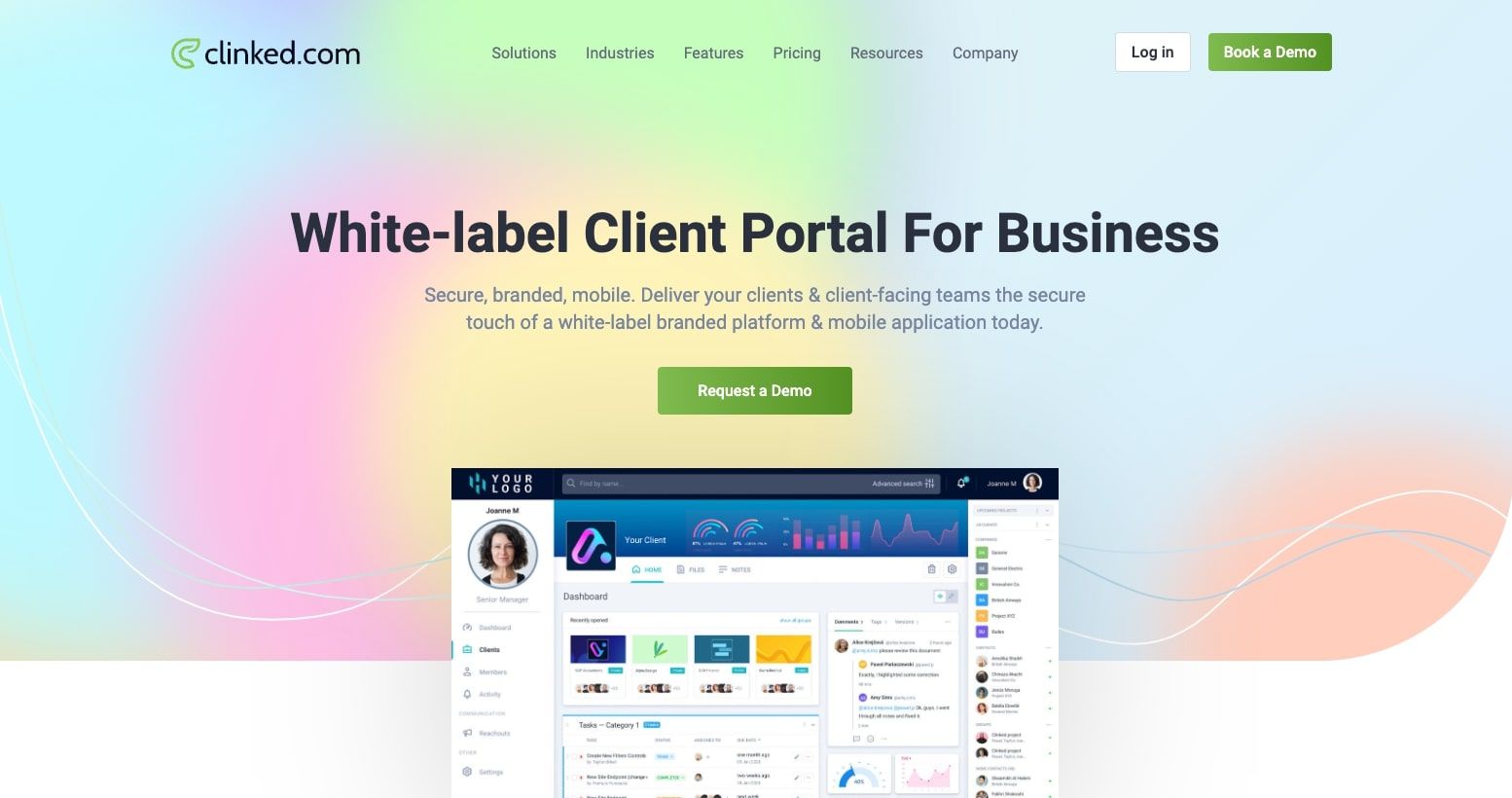 Best for: Client portals
Pricing: Plans start at $95 per month when paid annually or $119 monthly.
Project managers, teams, and clients come together on Clinked for its client portals and collaboration tools. Clinked makes it easy to create a branded client experience, whether you're looking for off-the-shelf or bespoke client portals.
Popular Clinked features include group chat, white labeling, integrations, and document storage. Project management tools and real-time activity streams ensure everyone stays on task, while bank-grade security protects sensitive client information.
Related Reads: Best Clinked Alternatives You Need to Try
Benefits of Clinked
Client portals allow you and clients to collaborate on tasks, files, discussions, and more. Push notifications alert parties to @mentions, chats, and other updates.
Virtual data rooms allow for secure document storage.
Secure data collection portals are well-loved by health and safety, accounting, and financial firms.
The onboarding portal includes tasks for new clients, e-signature collection, and restricted access to training documents.
The sales management portal allows you to set up access to paid learning materials.
7. FreshBooks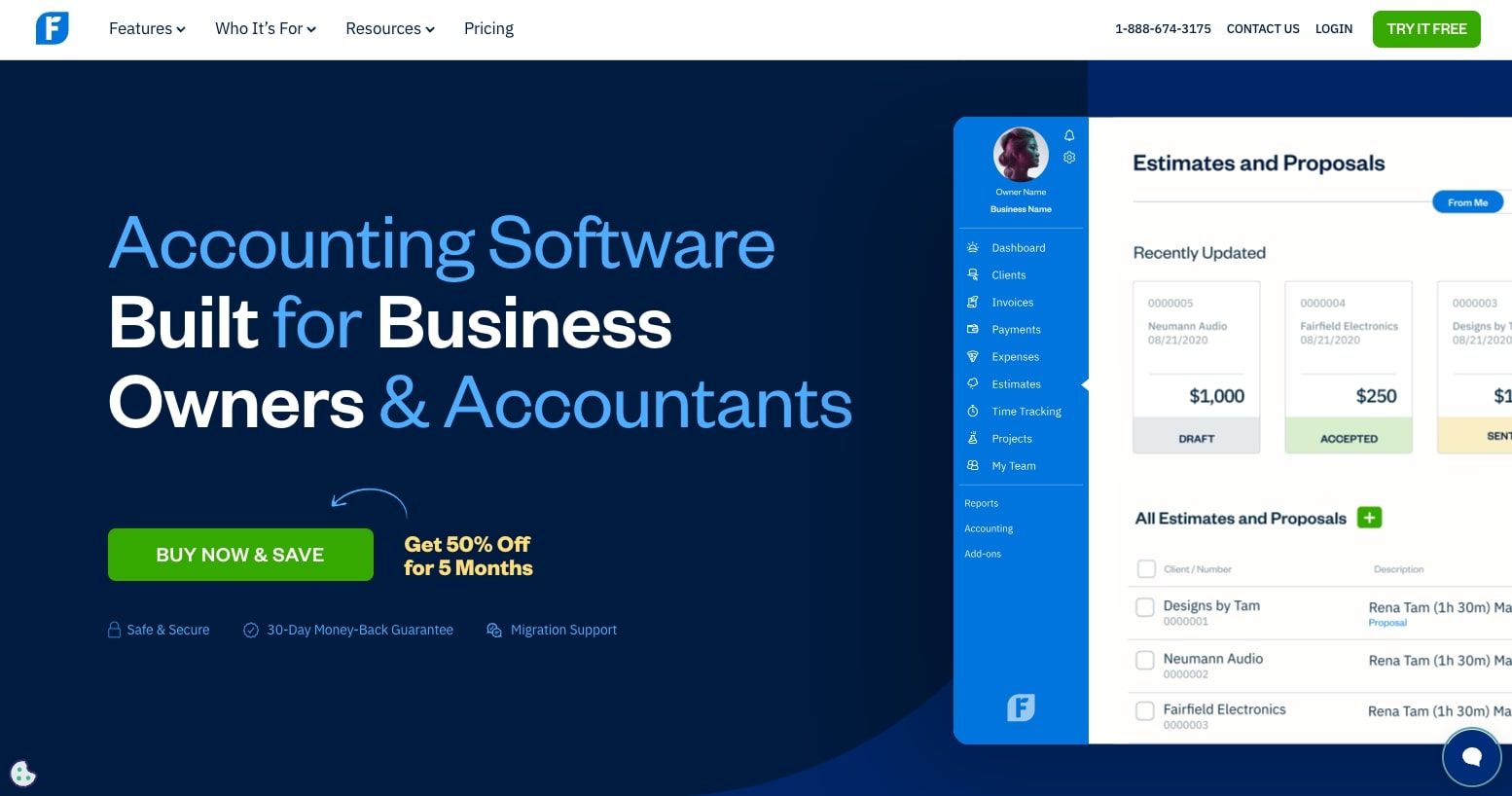 Best for: Accounting and invoicing
Pricing: Try FreshBooks for free; paid plans start at $141.10 per year or $17 per month.
FreshBooks is an accounting software primarily serving freelancers, solo entrepreneurs, and small businesses. Invoices, time tracking, and general accounting features are some of the key features of this popular cloud-based platform.
While FreshBooks excels in accounting and bookkeeping functions, it doesn't provide the same client portal and business management experience as Copilot or some of the other HoneyBook alternatives on our list. If you're looking for financial management tools, however, FreshBooks has a lot to offer.
Benefits of FreshBooks
Invoicing, payment, and time-tracking tools help you bill clients and get paid quickly.
The included mileage tracking app is useful for freelancers or businesses that need to travel to and from meetings.
Bookkeeping tools ensure accuracy, security, and compliance. Easily prepare financial reports and make informed business decisions.
Project management and client communication tools help you stay organized and collaborate seamlessly with clients.
Payroll integration with Gusto provides an all-in-one payroll solution with automatic tax filings and payments, direct deposits, and more.
Copilot is your best HoneyBook alternative
You have many different options when it comes to managing your service business, each with unique features, benefits, and pricing. As you consider HoneyBook alternatives, assess your current needs while planning for future growth to ensure you don't outgrow your client management platform. Even if you're a freelancer with no employees, it's essential to evaluate your growth plans so that as you add more clients, you'll have a way to manage them all.
Among all of the HoneyBook alternatives in our list, Copilot provides the best solution for a wide range of use cases, allowing you to start small and grow with the platform. We consistently earn five-star reviews on G2, Capterra, and Product Hunt, with high marks for ease of use, customer service, user interface, and overall client management capabilities.
To learn more about Copilot and how it can transform your service-based business operations, be sure to try out the demo portal and sign up for a 14-day trial — both are totally free and worth your consideration in the search for the best all-in-one client and business management platform.
Sign up for our newsletter
Subscribe below to receive our newsletter. We'll email you about important announcements, product updates, and guides relevant to your industry