7 Best Moxo Alternatives You Need to Check Out in 2023
May 17, 2023
10 min read
Omid G
If you're running a service business, you wear a lot of hats, from managing client relations to invoicing and everything in between. It gets even trickier as you grow and add more and more clients. And while that's a good problem to have, you need a way to manage your operations that keeps client information, deliverables, payments, and other items organized and right at your fingertips.
Among the available software options, you'll find Moxo, a Software as a Service (SaaS) platform that provides businesses and solo entrepreneurs with a branded client portal combining internal and external client management tools. However, Moxo isn't the only available option, and there are quite a few Moxo alternatives to investigate if you're searching for a way to manage your service-based business. In this article, we'll discuss seven of the best Moxo substitutes to consider that'll help you get organized, put on a professional face, and scale your business to the next level.
What to Look for in Moxo Alternatives
Before you search for Moxo alternatives, take time to assess which features are the most important to you and how much of a budget you have. From platforms with all the bells and whistles to minimalist apps, there's a wide range of possible features and benefits — some more useful than others. Here are some questions to ask as you explore Moxo alternatives:
Do I need to create estimates, proposals, invoices, and subscription payments?
Do I need to process payments?
What kind of project management tools are included?
Can I interface with clients via messages and notifications?
Will I need to book and manage appointments?
Do I need dedicated client portals?
What kind of third-party integrations do I need?
Is there a free trial available? What are the monthly or annual costs after that?
Do I need any reporting features?
Answering these questions will help you determine which features are a must and how much you're willing and able to spend monthly or annually. Get clear on your specific use case and the types of clients you need to support, whether you're a large firm with a huge client roster or a freelancer working with a handful of clients. You'll also want to make a list of the typical pain points you deal with and any redundancies in your day-to-day work that eat up your time. In the end, your ultimate choice of a platform will come down to your needs and budget.
That said, here are our top picks for Moxo alternatives:
Let's dive in for a closer look at these seven platforms.
Top 7 Moxo Alternatives for 2023
At $100 per month for the Starter plan with a $250 setup fee, Moxo is one of the pricier client management solutions available. A large company with boundless resources might not blink at the price, but a startup business or sole proprietor could have a harder time justifying the investment. Some users report that the software is clunky and hard to navigate; others mention unreliability, lag time, bugginess, and a lack of features and integrations. With one of the following Moxo alternatives, you may be able to find everything you need at a price that doesn't cause an eye twitch.
1. Copilot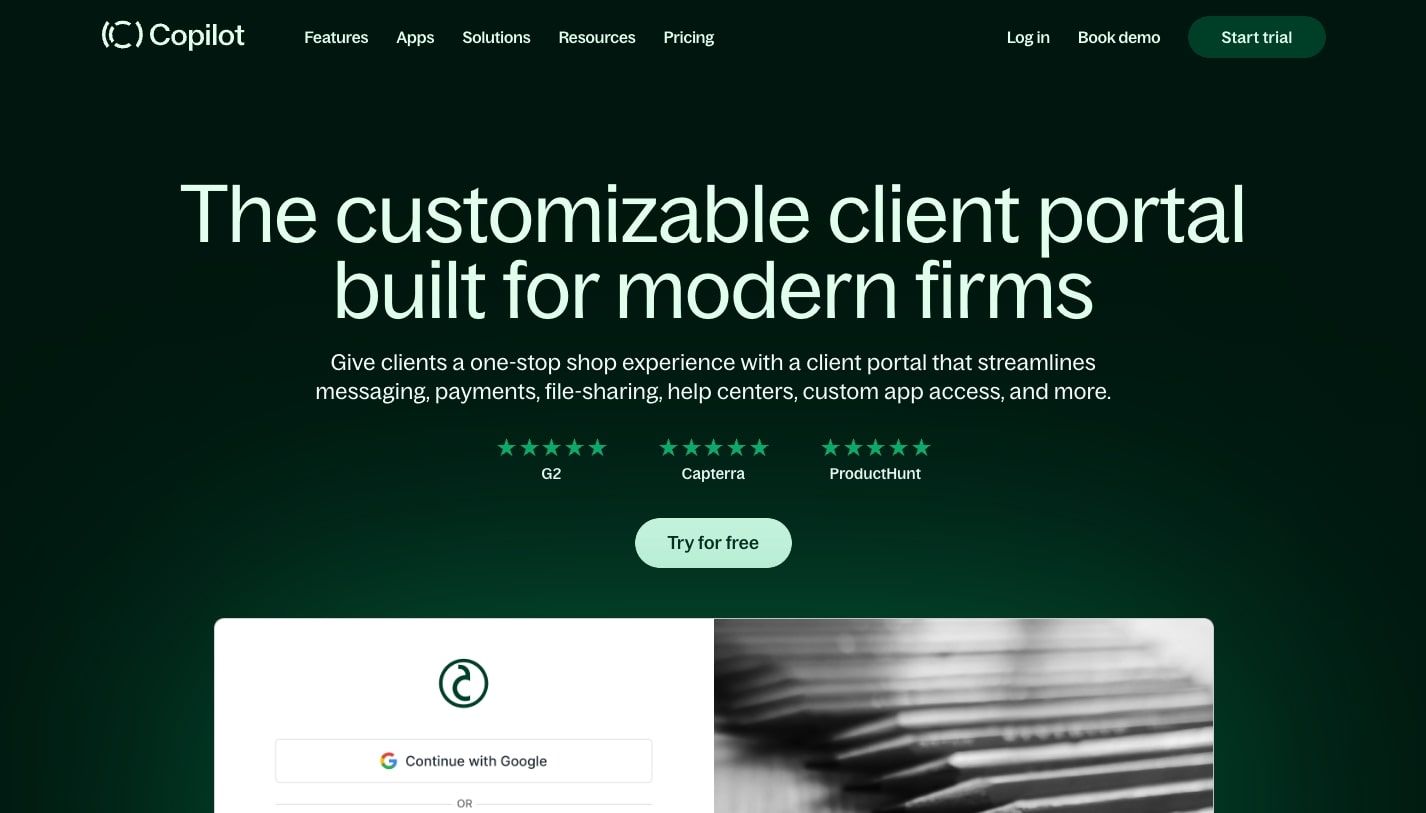 Copilot is a no-code Moxo alternative that streamlines client messaging, payments and billing, file-sharing and e-signatures, data collection, help centers, and more. One of the slickest features is the ability to create custom white-label client portals with custom logins that integrate with tools you're already using. You get a branded, one-stop shop with a unified dashboard, providing an excellent client experience and helping you put your best professional face forward. Whether clients access their portal from the web or from mobile, they can easily find and navigate where they need to go. Behind the scenes, you can sit back and know your client management is 100% handled.
Benefits of Copilot
Minimalist UI delights clients with simplicity and ease of use. Its mobile-first design provides a modernist approach to client management that won't bog down you or your users.
In-app features give you everything you need to onboard and bill clients through Stripe. However, easy integrations also allow you to pull together all the apps you know and love and create a great client experience. From Zapier and Google Docs to Calendly, ClickUp, and Airtable, everything works together the way you need them to.
Secure, seamless client messaging and notifications keep you and your clients on the same page.
Branding tools allow you to create custom invoices and subscriptions. Clients can pay securely, access their invoices, and manage their payment credentials, all from one dashboard.
File management and data collection tools enable easy file and form sharing, e-signatures, and file organization between you and your clients.
Custom helpdesk features improve client support, allowing you to share knowledge base assets and other content with clients.
Copilot Pricing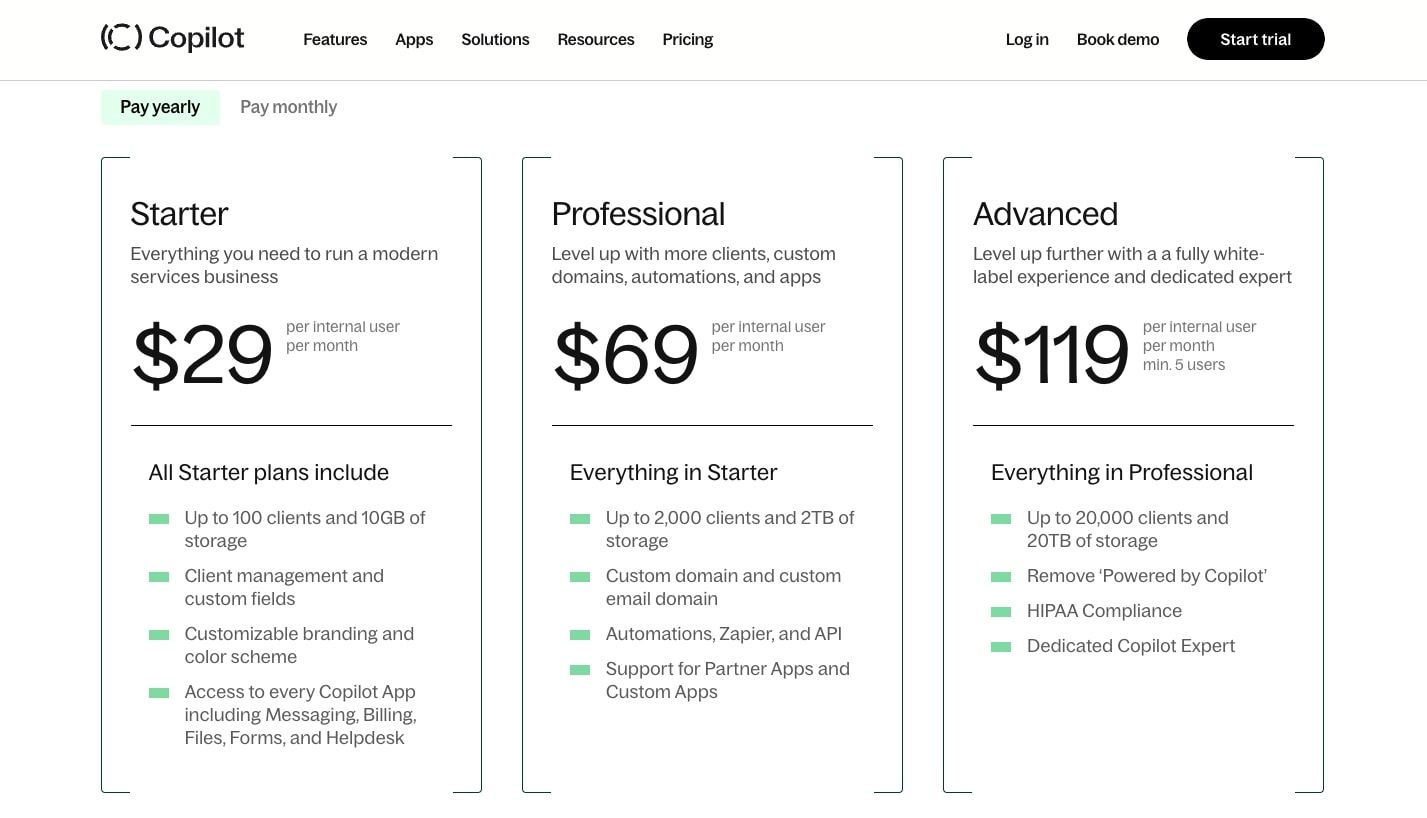 Free, 14-day trial available; paid plans start at $29 per user, per month.
2. SuiteDash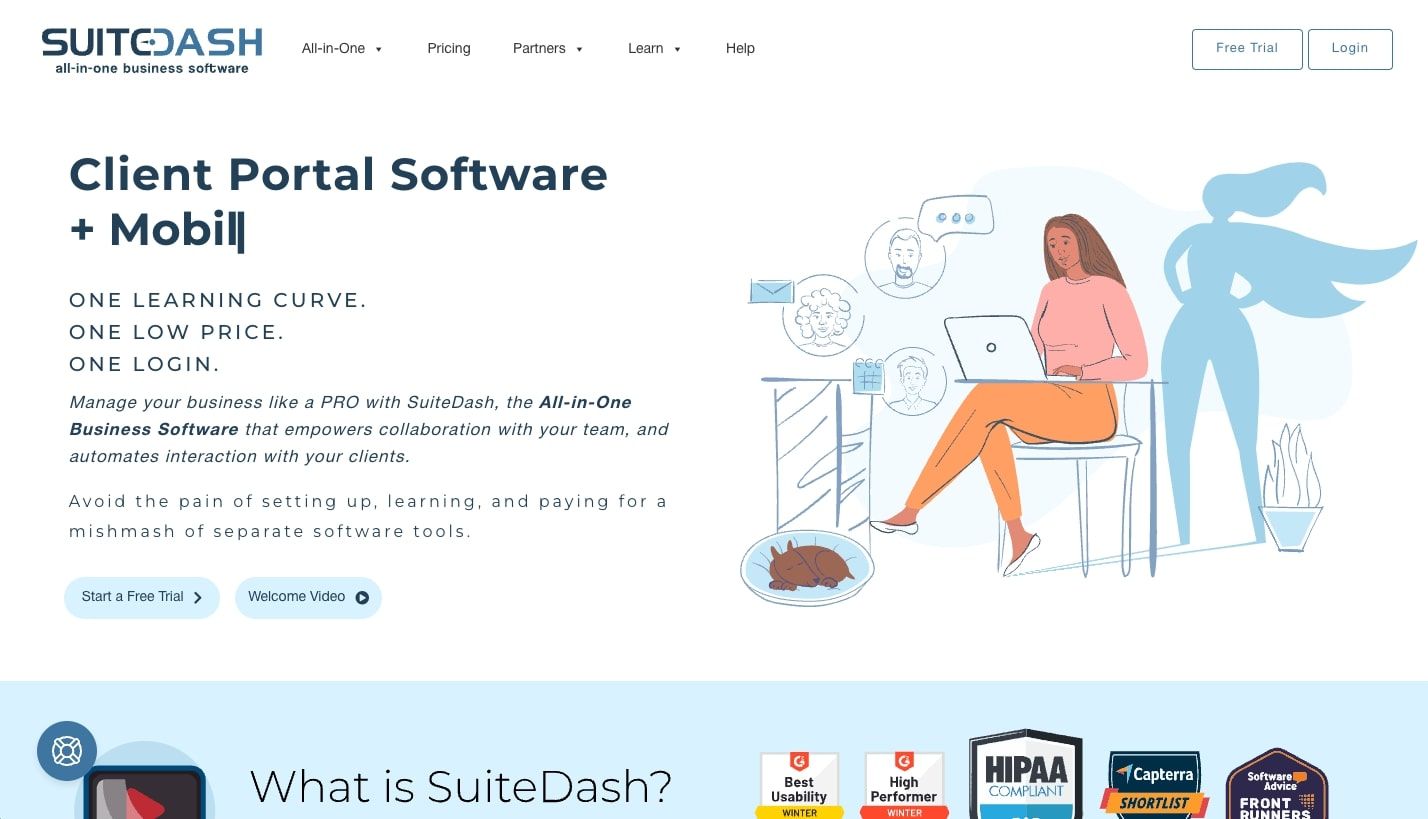 With its user-friendly interface and comprehensive features, SuiteDash offers a powerful solution for businesses of all sizes and industries. As a strong Moxo competitor, The platform provides a centralized hub where you can track and manage client projects, collaborate with team members, assign tasks, set deadlines, and monitor progress. One of SuiteDash's standout features is its branded client portal, which gives you and your clients one sandbox for message exchanges, updates, file sharing, and other client-facing tools. SuiteDash also offers a customer relationship management (CRM) system, marketing automations, appointment scheduling, marketing tools, and a range of other features that admittedly can get overwhelming if you're just getting started.
Benefits of SuiteDash
Automated lead generation and CRM tools allow you to create and configure client acquisition and onboarding funnels designed to convert leads into clients.
No-code automation builders save time and improve the client experience.
Email and drip marketing get your business in front of the right people at the right time.
Time tracking, billing, estimates, proposals, and subscriptions help you get and keep more business while putting payments on autopilot.
Collaboration tools keep you and your team on the same page.
SuiteDash Pricing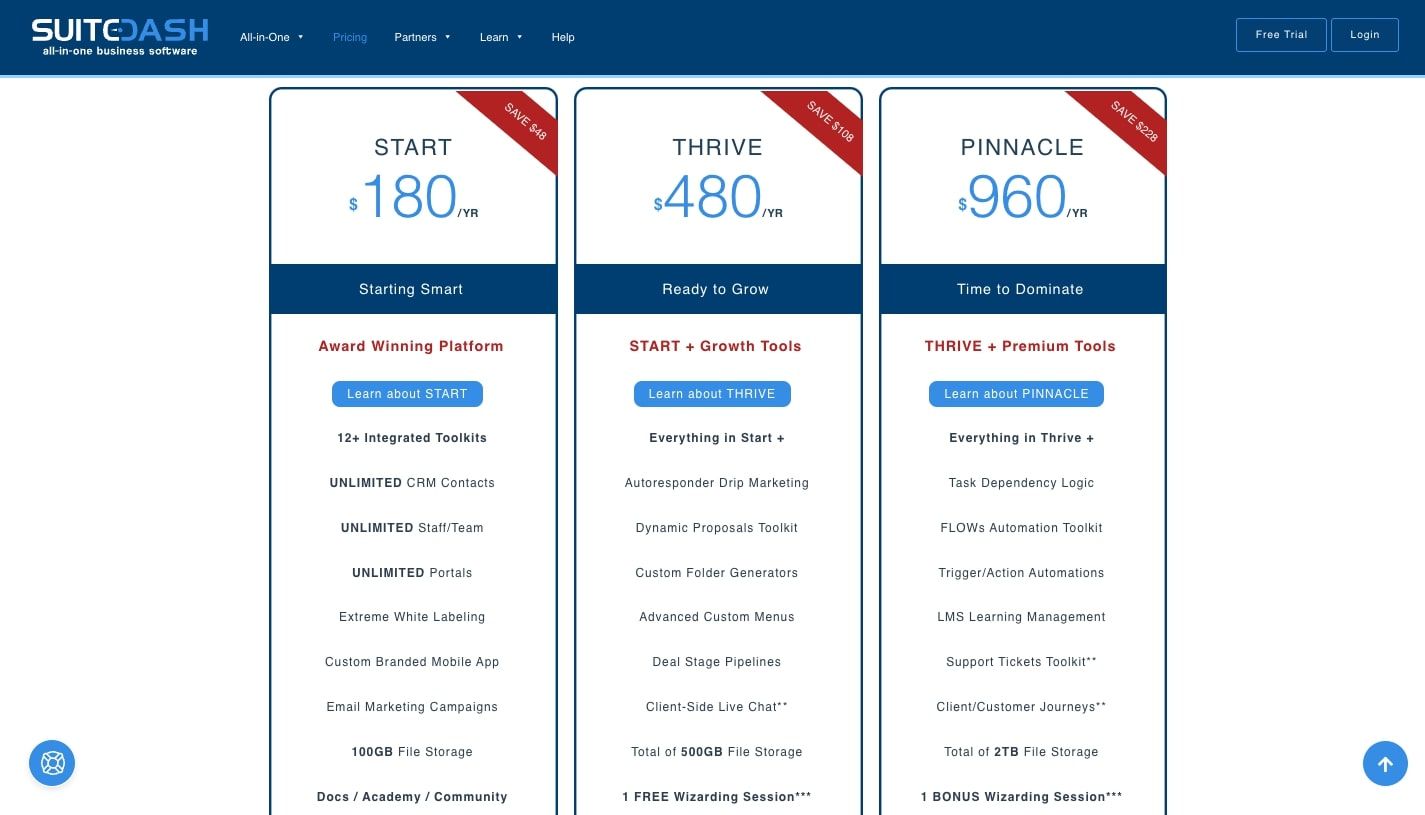 Start with a free 14-day trial; paid plans start at $180 per year, with monthly options available.
3. HoneyBook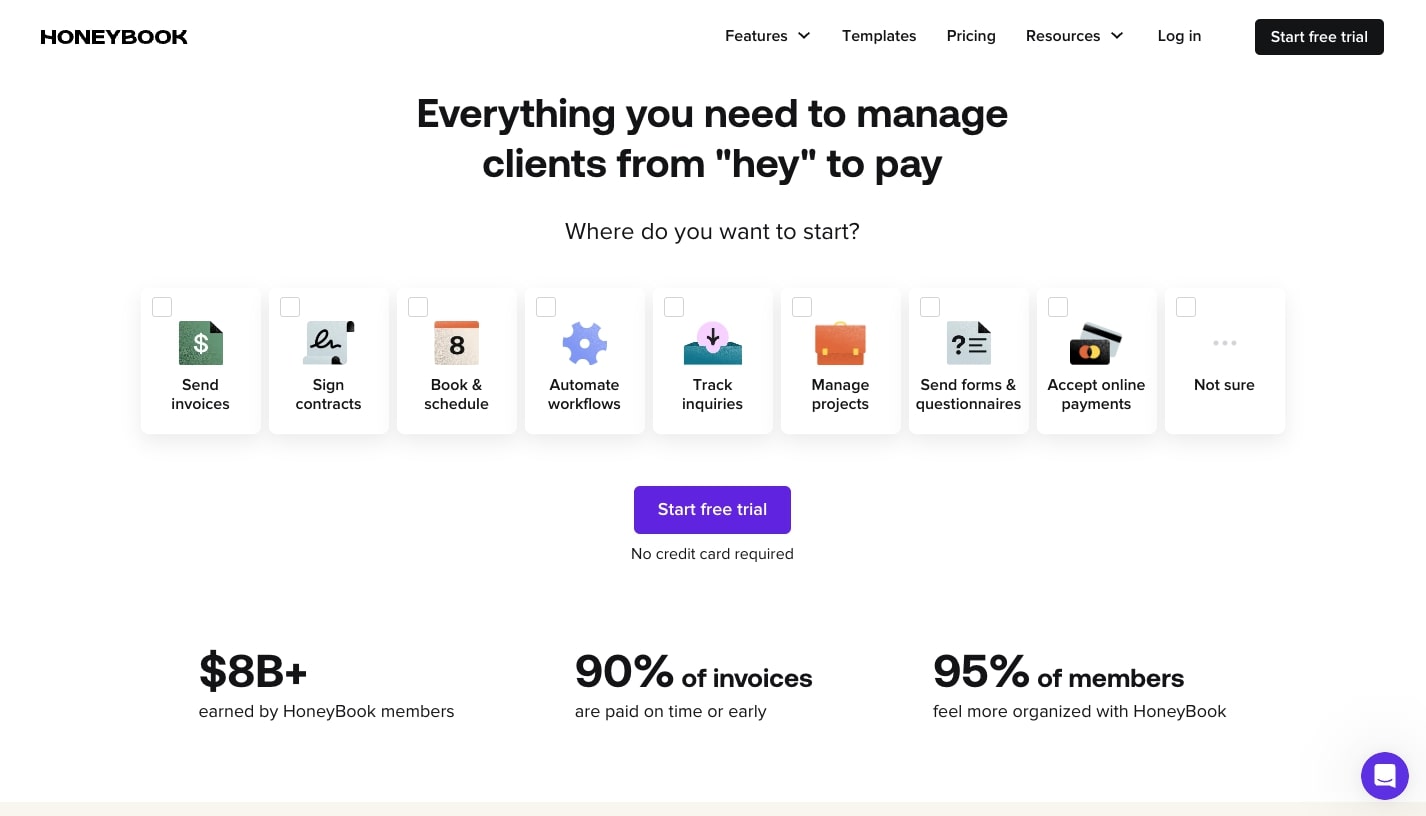 If you're a freelancer just getting started with a service-based business, HoneyBook can be a solid Moxo alternative. Streamlined client management systems and business management tools allow for a positive client experience, with simple appointment booking, payments, task management, time tracking, reporting, and expense tracking. You can also access a range of industry-specific templates to create branded contracts, proposals, questionnaires, pricing and service guides, and marketing materials. While HoneyBook is a great solution for startup solo owners, it won't necessarily be a precise fit as you scale in comparison to Copilot and other options.
Related Reads: Best HoneyBook Alternatives You Need To Try
Benefits of HoneyBook
Easy invoice creation, payment reminders, and payment tracking let you get paid more quickly and reliably.
Integration with QuickBooks and easy expense tracking keep your finances organized.
Branded proposals combine your invoices, contracts, and payment options, making it easy for clients to submit digital signatures and payments to get started.
Simplified appointment booking includes a branded meeting link and automatic confirmations and reminders.
Automations and custom marketing sequences enable improved productivity and client outreach.
HoneyBook Pricing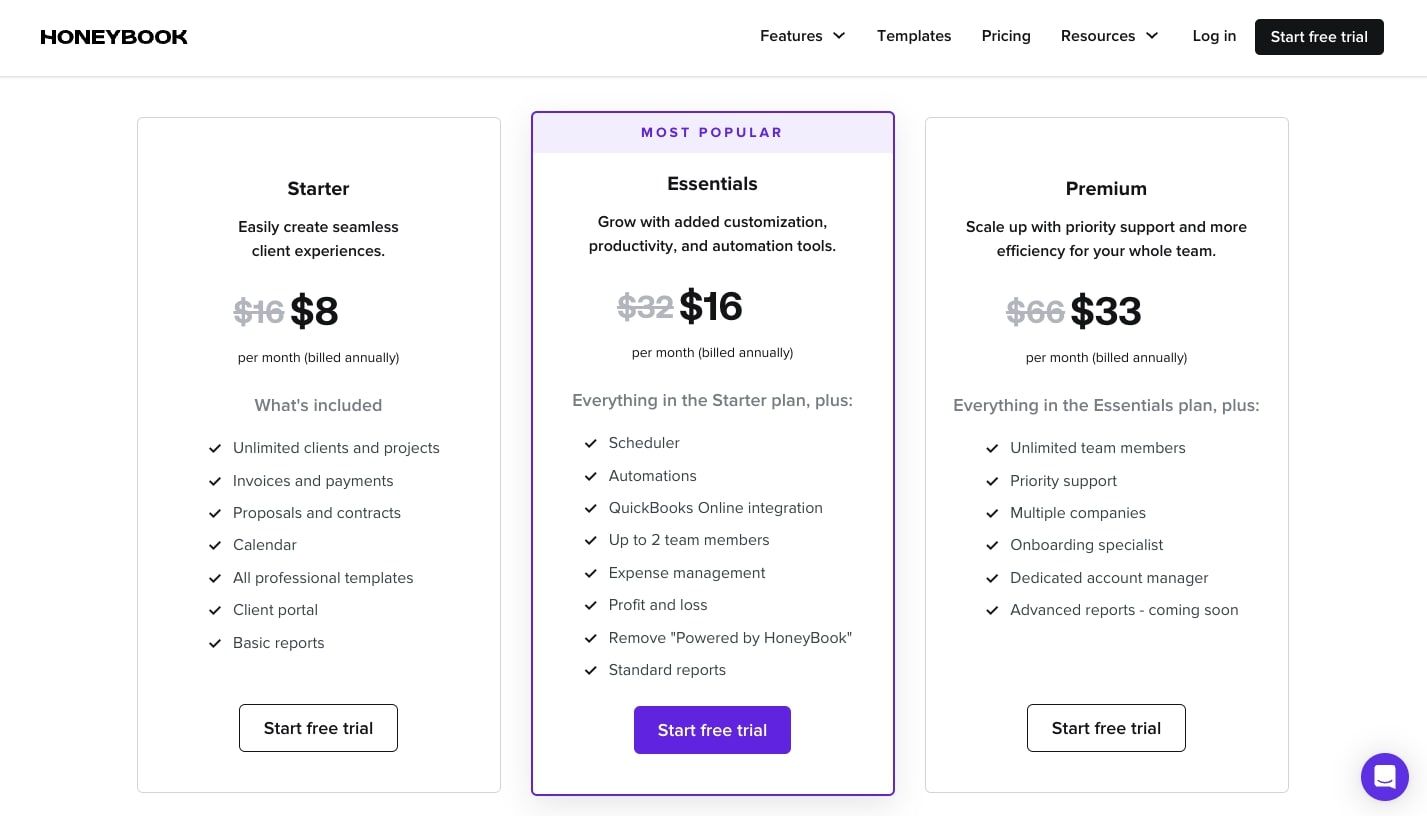 Start for free; paid plans start at $16 per month, paid annually.
4. Dubsado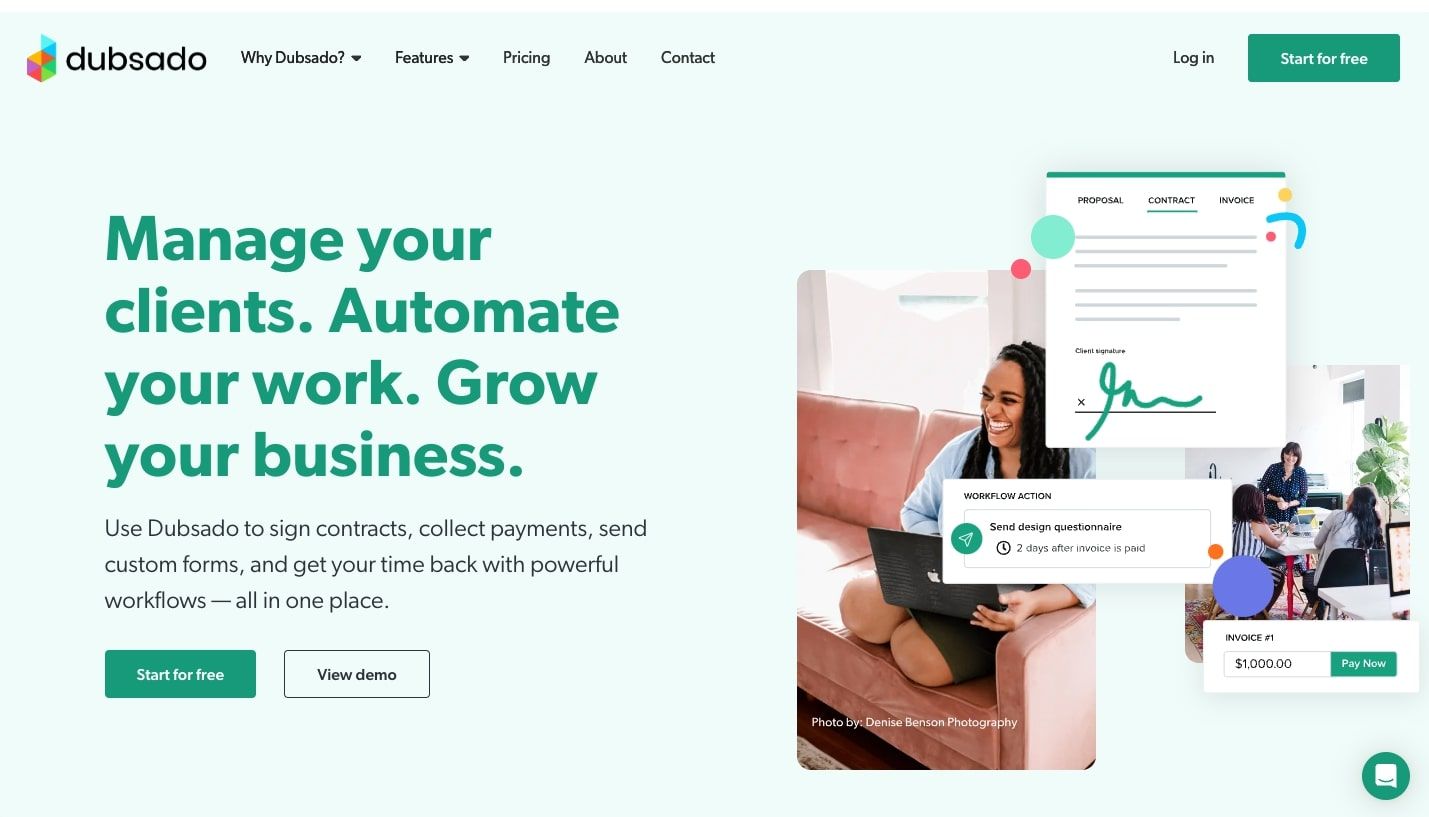 Dubsado provides one platform with a variety of client management tools, including contracts, invoices, forms, CRM, and interactive client portals where clients can access project details and submit payments. Built-in automation tools enable workflows, appointment scheduling, recurring payments, payment reminders, and confirmation emails, taking repetitive tasks off your plate. Some users say the setup is not intuitive, workflows and other features are clunky and confusing, and the software can be buggy. So if you're looking for quick and easy, this Moxo alternative might not be your best bet.
Benefits of Dubsado
CRM tools enable easy management of leads and opportunities.
Customizable form templates are dressed to impress clients and prospects, with lead capture forms, questionnaires, and branded proposals that look like an extension of your website.
Online invoicing and automated reminders ensure you get paid and let you avoid awkward conversations about payments.
Scheduling tools integrate with your website so you can seamlessly get more appointment bookings.
Automated onboarding lets you more easily convert leads into customers.
Dubsado Pricing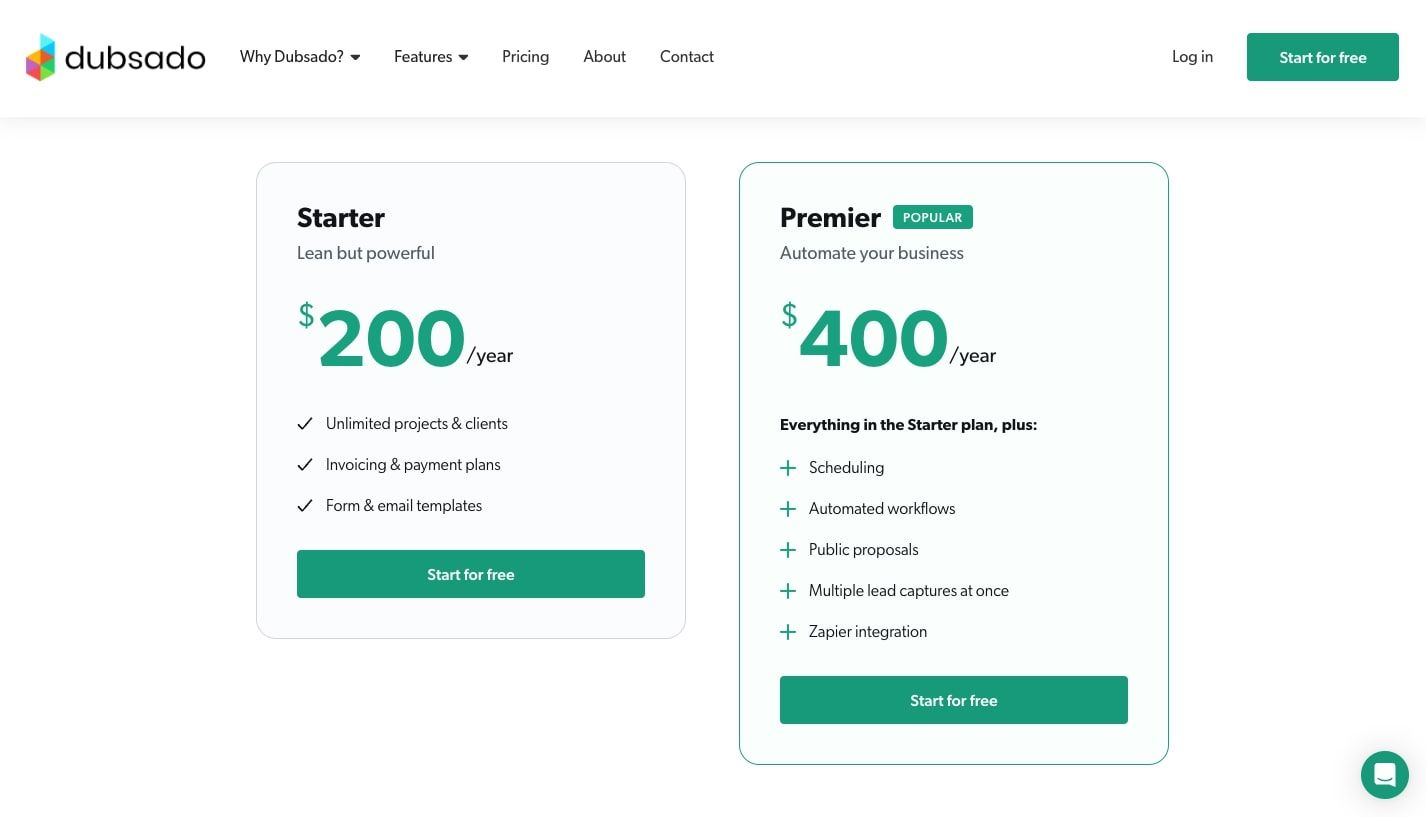 Start with a free trial; paid plans start at $200 per year, with monthly options available.
5. Hello Bonsai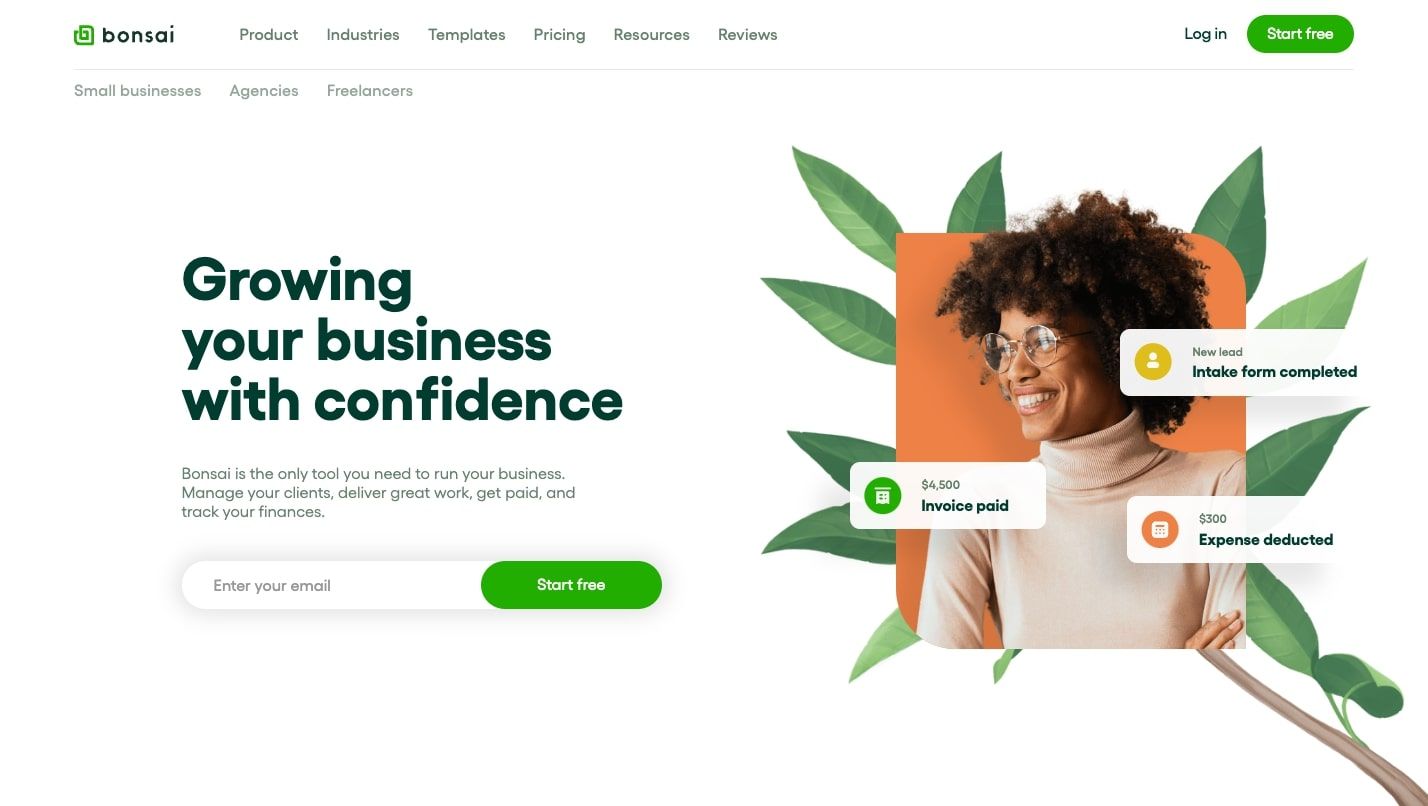 Freelancers, agencies, and creatives may already be familiar with Hello Bonsai as one of the Moxo alternatives with a variety of client management and business tools in one central dashboard. Users mention the ease of use, range of features, and value for the money as key benefits of the platform, which includes CRM, scheduling, invoicing, time tracking, client portals, and other tools. Others say they dislike the accounting features, slow payouts, and lackluster support.
Related Reads: 5 Best Hello Bonsai Alternatives To Try
Benefits of Hello Bonsai
Client management tools let you create and send forms, book appointments, create contracts and proposals, and manage leads.
Project management tools enable time tracking, invoicing, and project organization from one centralized location.
Financial management tools let you manage invoices and payments, keep track of expenses, and navigate taxes and accounting.
Editable templates let you create branded proposals, contracts, briefs, forms, and more.
Free collaboration tools allow you to invite other team members or contractors to work together and track time.
Hello Bonsai Pricing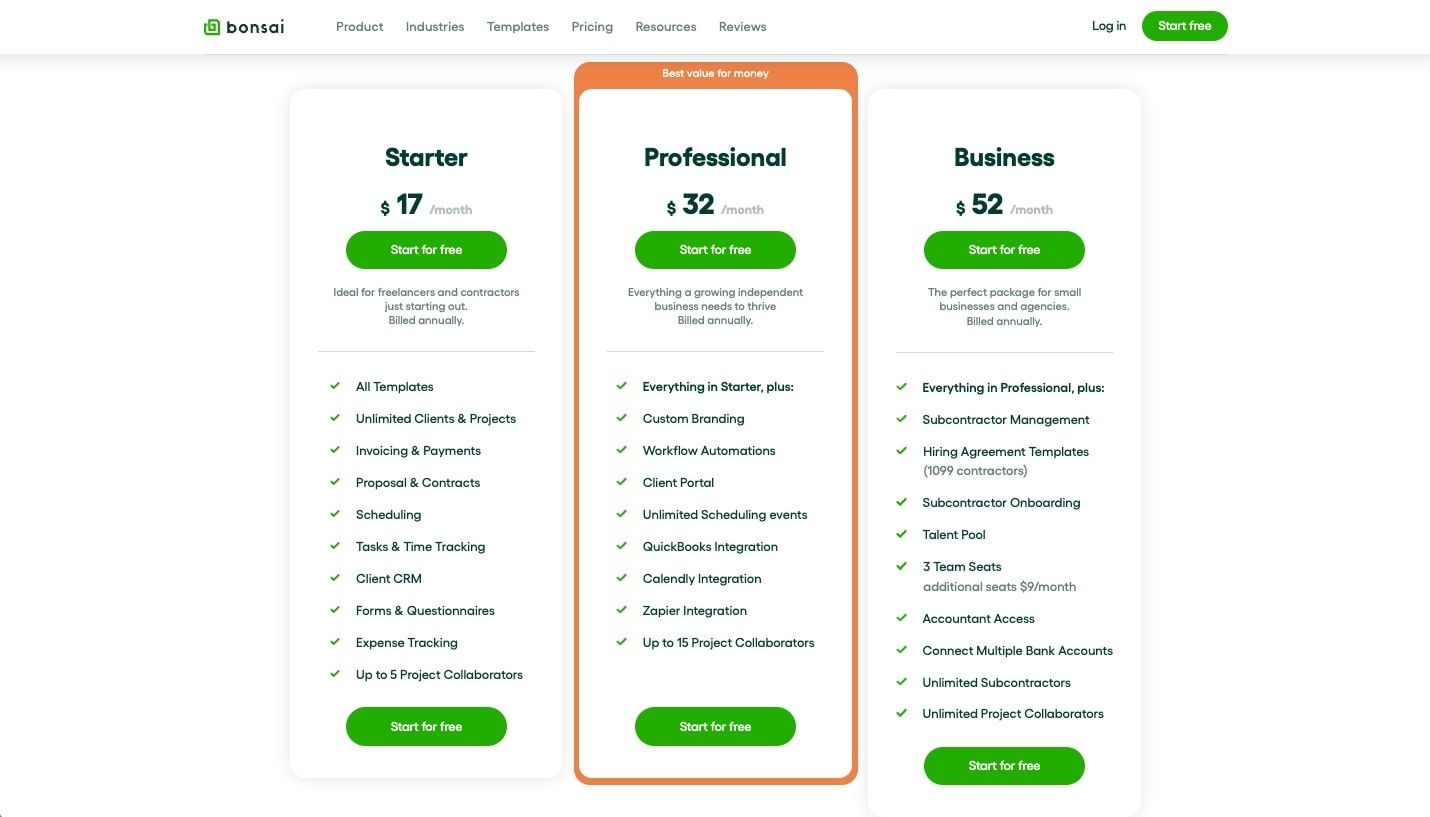 Start for free; paid plans start at $17 per month, paid annually.
6. Zoho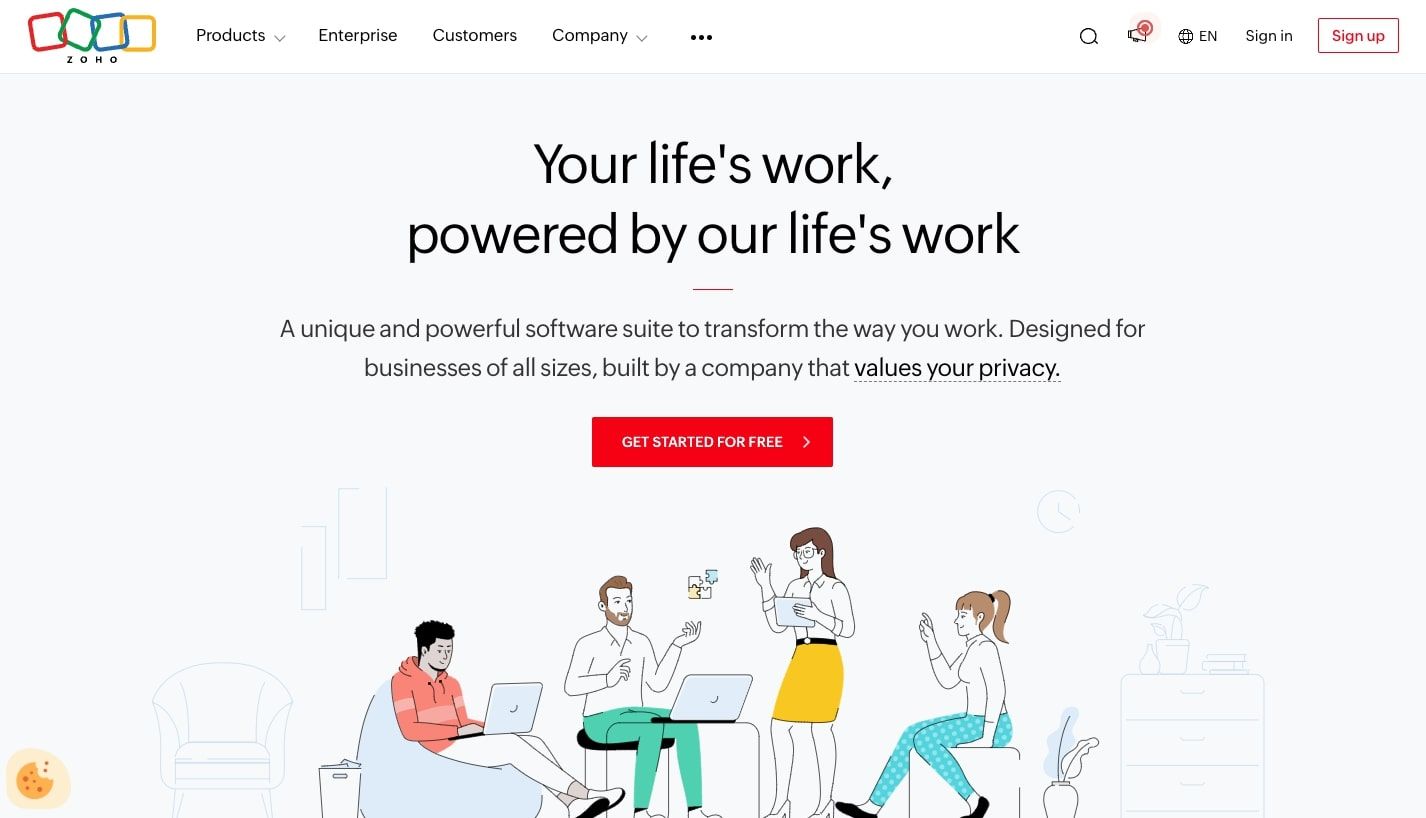 From CRM and project management to human resources, recruitment, appointment bookings, and pipeline management, Zoho provides a diverse set of tools under one cloud-based dashboard. The platform's user-friendly interface and robust features make it an ideal choice for larger businesses looking to enhance productivity, efficiency, and collaboration. Zoho CRM serves as the foundation of the suite, helping businesses manage their customer interactions, track leads, and streamline sales processes. It enables organizations to gain valuable insights into customer behavior, improve customer relationships, and drive sales growth. While comprehensive, Zoho may be overkill for freelancers or small businesses; however, its scalability makes it an attractive Moxo alternative for those expecting to scale.
Benefits of Zoho
Zoho One operating system lets you connect departments and run your entire business with cloud-based software that acts like a Google Drive for easy file management and sharing.
Various interconnected Zoho suites provide a unified ecosystem for various business functions, including accounting and finance management, project planning and collaboration, client support and communications, human resources management, and more.
Zoho Marketplace connects you with over 1,500 ready-to-use extensions in 40 categories, letting you integrate with the business tools you're already using.
Extensive workflows and customization capabilities improve client experiences and allow you to scale up as you grow.
Zoho Pricing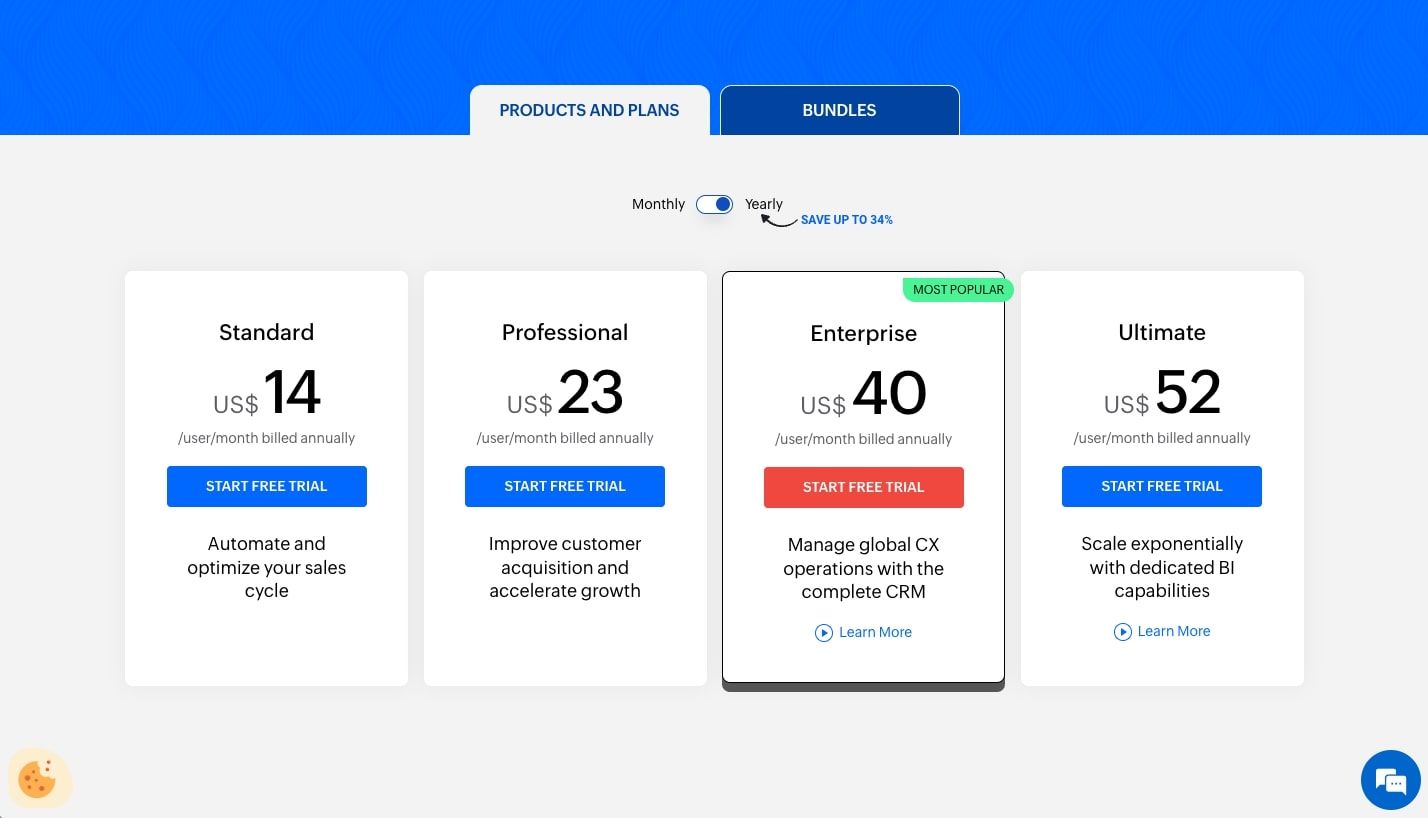 Start with a free trial; paid plans start at $14 per user per month, billed annually.
7. PandaDoc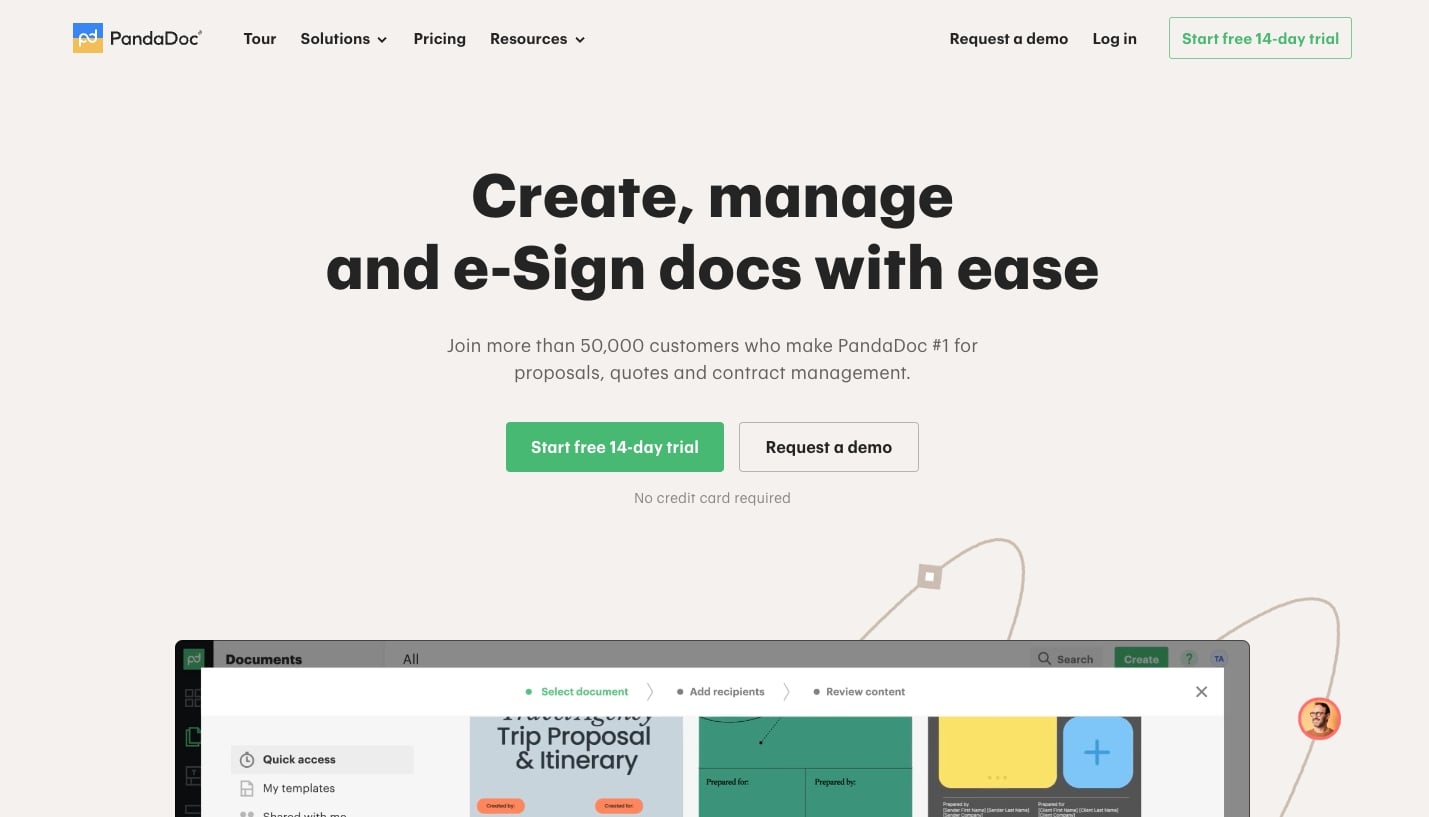 PandaDoc is among the Moxo alternatives that are ideal for freelancers and small businesses. PandaDoc lets you create, approve, and track proposals, invoices, forms, and contracts, with simple tools that help you fast-track the process of getting important digital signatures. One thing we love about PandaDoc is that you can integrate it with Copilot, DocuSign, or similar tools to help with the process of managing e-signatures within your client portals. If you need a contract management tool, we recommend checking out this simple yet powerful platform.
Benefits of PandaDoc
In addition to e-signature capabilities, PandaDoc also provides document sharing, CRM integrations, and payment options via Stripe and PayPal.
Easily manage the legal side of your service-based and make sure your bases are covered with customizable contract templates in different industries.
PandaDoc pairs with Copilot and similar client portals to create a unified client experience with a modern edge.
The platform offers secure, legally binding notary services, allowing you to create, edit, e-sign, and notarize documents within minutes — a huge plus for real estate professionals and other service providers that need a notarized seal of approval.
PandaDoc Pricing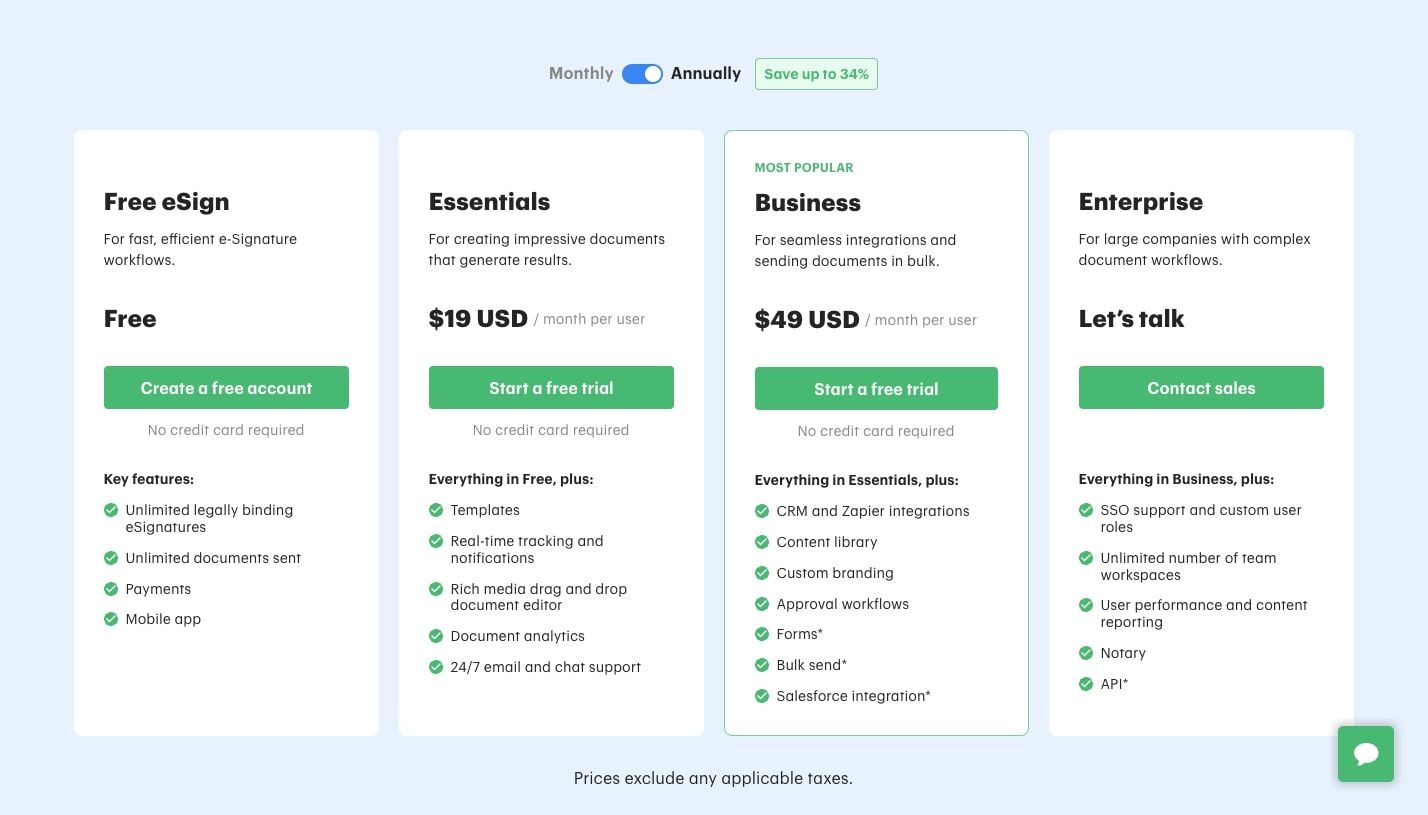 Create a free account for unlimited legally binding signatures. If you require templates and more advanced features, start with an Essentials plan at $19 per user per month, paid annually.
Conclusion
As a service provider, you have many Moxo alternatives available, and each one has its own features, benefits, and pricing plans. To find the best option for your business, you'll want to assess your current business needs as well as plans for future growth. What works today won't necessarily work in the future if you plan to add clients and team members.
In addition, if your business is large and rapidly growing, you don't want to limit yourself to a platform that's more well-suited to independent owners. As you review the seven platforms above, consider each option in the context of your specific use case. However, if you're looking for a platform that lets you easily start small and grow, Copilot is definitely worth trying out, especially considering you can start with a free trial. To learn more and get started, sign up for your 14-day Copilot trial today.
Sign up for our newsletter
Subscribe to our newsletter to receive emails about important announcements, product updates, and guides relevant to your industry.