What Are Customer Billing Portals and Why You Need Them
Nov 17, 2021
6 min read
Neil Raina
Professional service companies who frequently invoice customers or provide subscription services have much to gain by adding billing customer portals. There are a few options out there, with the best ones offering an easy setup. We're going to discuss the challenges of not having a billing customer portal, the benefits of setting one up, and why you should choose Copilot.
Do your customers want an easy way to update their credit cards? Would they pay you faster if you supported all the popular payment methods? Do customers ask you to send them past invoices? These are just some of the problems we hear from companies that don't have a billing customer portal setup.
Why Companies Need Billing Customer Portals
What makes a good billing customer portal? Let's take a look at the top 4 benefits of setting up a billing customer portal for your company.
1. Support All Common Payment Methods and Get Paid Faster
Far too many companies we speak with don't have a simple way of getting paid. For example, sending a client a PDF with wire transfer instructions or having an online payments link on your website that doesn't work on mobile makes this an overly complicated process. In the worst case, a client may not pay you at all. And in the best case, you waste a lot of time communicating back and forth and wait a lot longer for the money to hit your bank account.
The best payment portals support all popular forms of payment, including Automated Clearing House (ACH) and credit cards. Along with supporting various payment methods, the best payment portals give clients the ability to choose the payment method they prefer. From our research, it is fine to pass along payment fees to the client as long as you let them choose the payment method and make it clear how much they are paying in fees. Surprisingly, we are seeing that many clients of professional services firms choose to pay via credit card even if the fees incurred are higher than ACH.
2. Reinforce Your Brand and Build Trust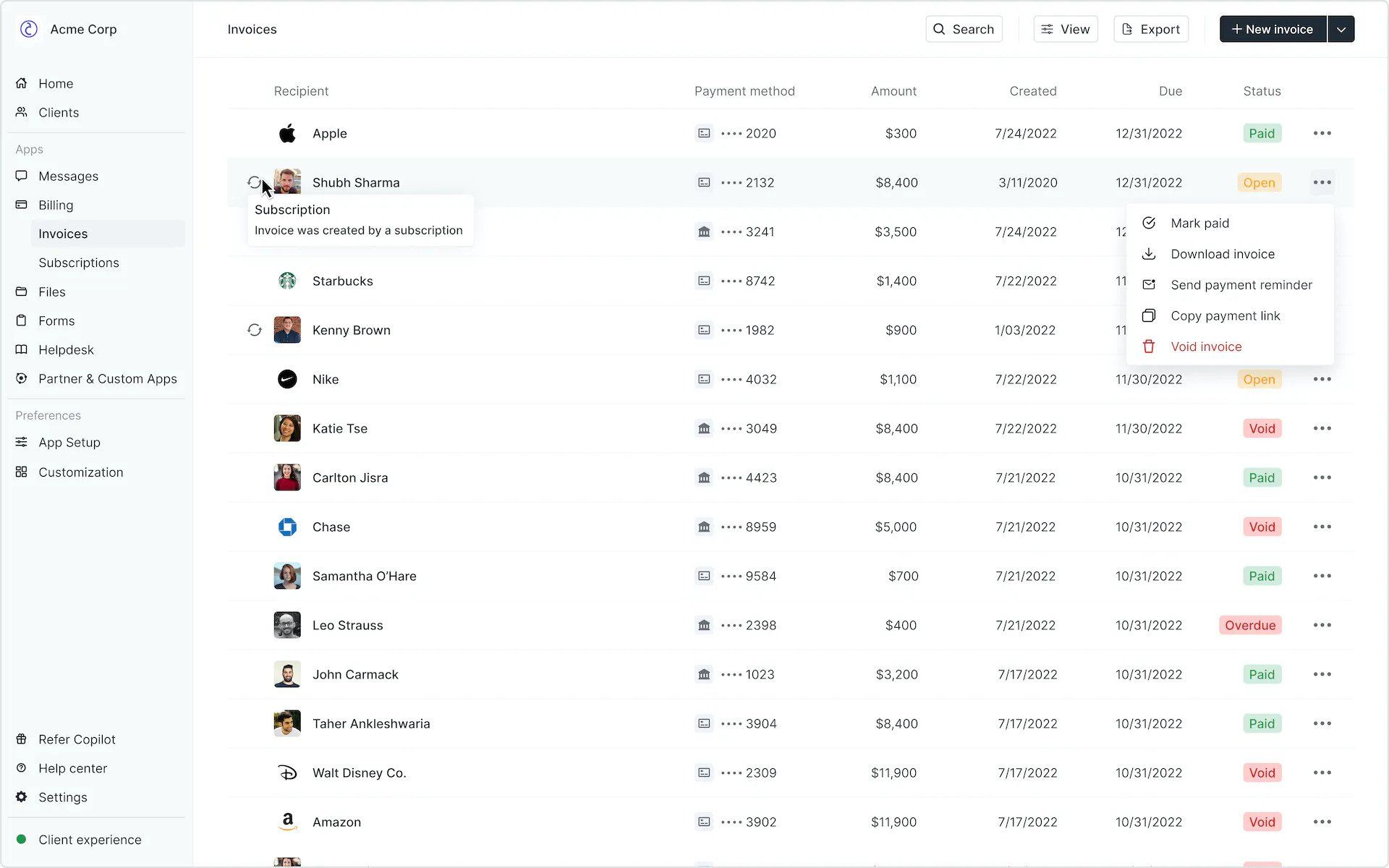 The best client billing portals let you connect a custom domain and give you a lot of control over customization and branding. We have heard from dozens of companies who have told us that adding a billing portal has gotten them positive feedback from clients. How can it be possible that a client portal can increase trust?
Custom Domain Support: If your company domain name is accountingfirm.com, then your payment portal should be accessible on a hosted subdomain like payments.accountingfirm.com or portal.accountingfirm.com. This way, a customer knows they are in familiar territory rather than being redirected to a page that looks sketchy.
Customization and branding: Your white-label payments portal will bolster your brand if it looks like you built it. The best portal solutions let you integrate your logo and add your brand colors. The best customer billing portal solution goes beyond basic customization and even lets you personalize the email notifications that customers get.
3. Give Clients Control and Save Time
Let's say you have a customer with an open invoice. It should be as easy as possible for them to update their method of payment without having to contact your company personally. Some of the common actions a customer may need to make include:
Updating their credit card
Changing their billing address
Updating payment information or billing details
Upgrading to a different tier
Downgrading to a different tier
Canceling their subscription
With a billing portal, you're automating a lot of the back-and-forth work associated with these tasks, making for a more speedy process.
One caveat that is completely understandable, is if you want to make cancellations or downgrades require more than just one step on the client side. Because of that, the best billing portal solutions let you specify the steps in how cancellations and downgrades are done.
4. Give Clients Direct Access to View Their Billing History
At a minimum, all past invoices and the billing history for a service provider should easily be accessible in one place. Clients should simply be able to log in and have an area where they can see all their invoices and subscriptions. Invoices should also be easy to preview in the browser and simple to download as a PDF. There should also be a way to download an Excel document or CSV document of all transactions. Giving clients the power to do this on their own, means less time spent having to do this through customer support.
Choose Copilot for Your Client and Customer Billing Solution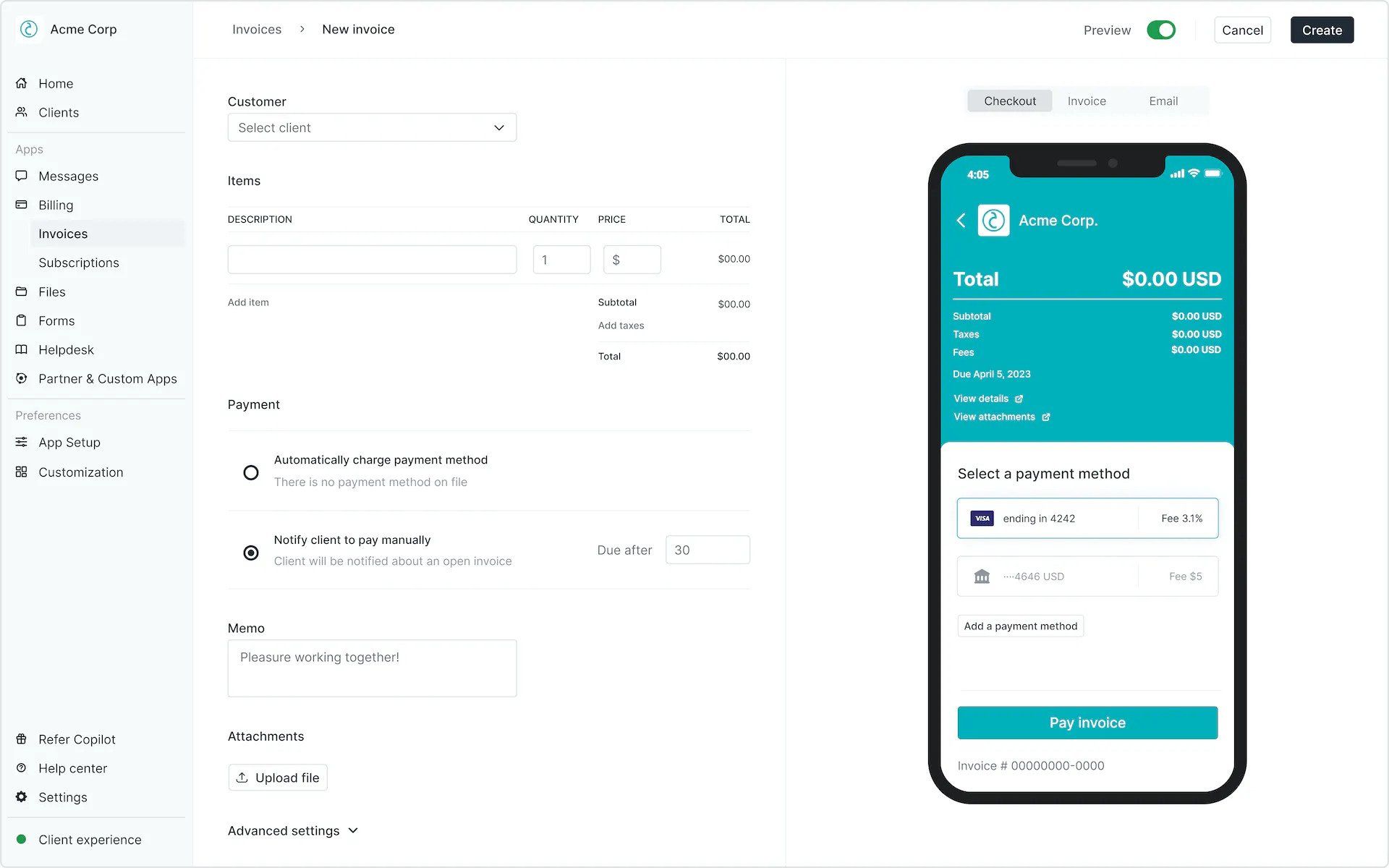 Now that we've covered how customer billing portals can help businesses, we want to show you why Copilot has resonated so positively with our customers.
Copilot Offers Comprehensive Features and Customization
We've talked about why it is so important to accept all popular payment methods. Copilot can provide multiple options due to Stripe serving as our payment gateway. In other words, Stripe infrastructure sits at our foundation enabling support for the various payment methods. We've built features on top of this so that we can give you and your clients a more comprehensive white-label invoicing and subscription solution. Copilot offers several different components to make things easier for you and your clients.
Internal User Features
Offer subscriptions with custom billing intervals and an auto-charge option
Add attachments to invoices and subscriptions
Client User Features
Pay with a credit card or ACH
View billing history
Update payment information
Set the default payment method
Portal Customization
Connect a custom domain
Customize your portal and all email notifications
Integrate Copilot With Your Existing Website
If you have an existing landing page, it only takes about 15 minutes to set up your client portal. In four simple steps, you can get up and running with Copilot.
Step 1: Setup and connect your domain (5 minutes)
Create a payments portal with us and connect your custom domain.
Step 2: Link to the payments portal on your existing website (5 minutes)
Add a button on your existing website called "Payments Portal" or "Client Login" that links to the payments portal.
Step 3: Connect your bank account (2 minutes)
Connect your bank so we can send payouts to you. You can connect an existing Stripe account, create a new one, or connect your bank directly.
Step 4: Customize your portal (3 minutes)
Upload your brand assets (logos, icons, etc.), set your color scheme, and make any additional customizations.
That's it. Your payments portal will be ready to go and fully functional for you and your clients.
A Leading Payments Interface on Desktop and Mobile
It is important to choose a payment portal that is secure and was engineered and designed well. For Copilot, these are some of the things we have prioritized in our development process. In choosing Cop, we recommend you consider some of these factors:
Mobile-friendliness
Each year, more payment transactions happen on phones. For that reason, we have prioritized having a smooth checkout experience on all phone browsers.
Cross-browser support
As part of the testing process, we have ensured that the billing portal and checkout flow works on 99%+ of modern web browsers.
Multiple login options
We give your clients multiple login options. We're working on adding phone number login and social logins which will be going live soon.
A Portal That Goes Beyond Payments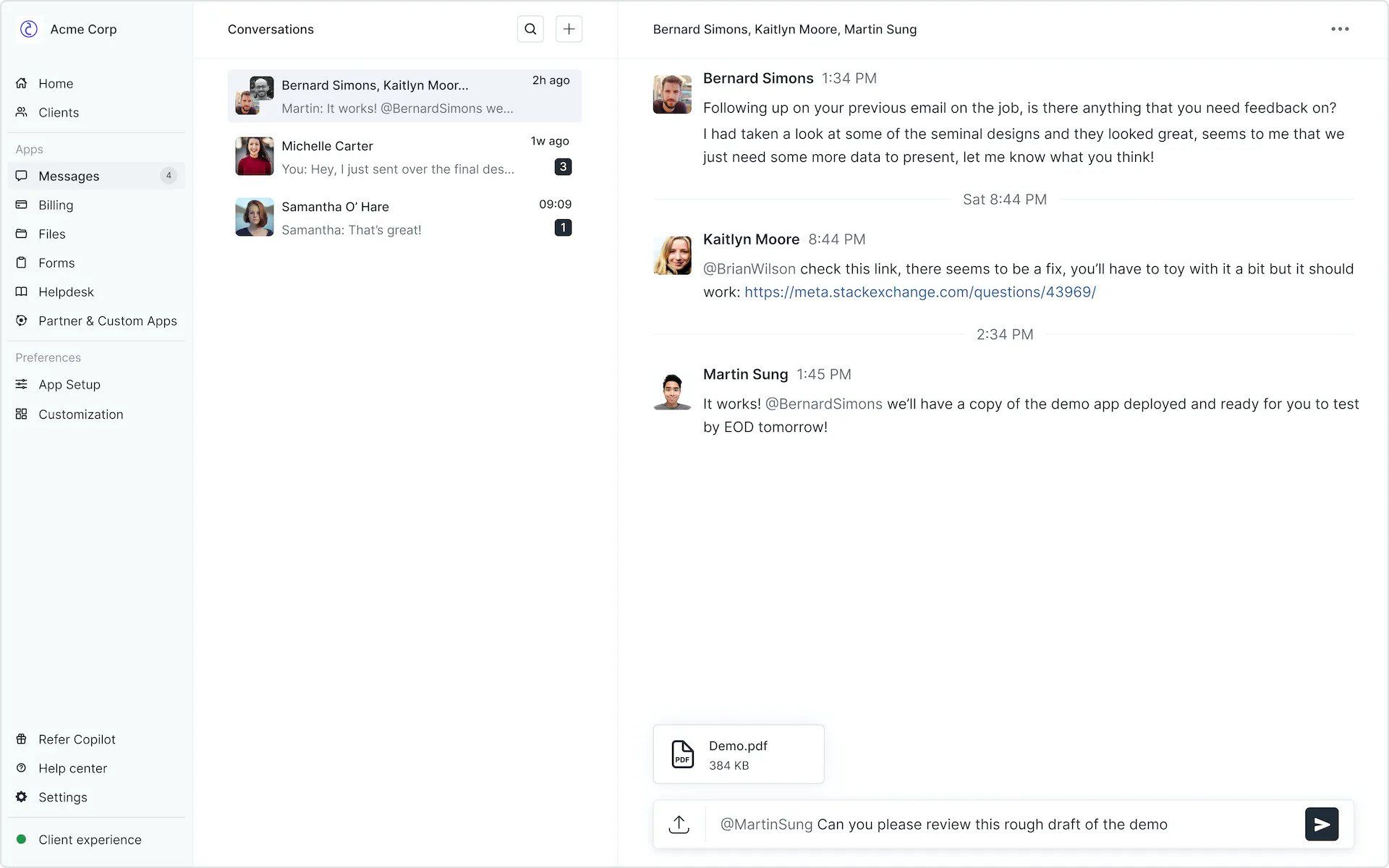 A central value we have at Copilot is that our customers' clients should have just one account to manage. When a customer logs into their payments portal, they also get potential access to Copilot's File Sharing, Messaging, and Knowledge Base features. Since these are modular, you can turn on just the ones that you want and that your customers will benefit from.
We believe that over time, even if you are starting with just the payments module, you might find value in one of the other modules as well. Turning these on only takes a few minutes and your customers will appreciate that they don't have to worry about yet another account to manage.
Copilot will help your customers and your business
Through Copilot's billing customer portal, customers can pay with more payment methods, get access to their billing history, and can change their payment information, all at their convenience. And this all takes place in a space that fits right in with the rest of your web design.
By empowering customers, and giving them a smoother user experience, it not only helps them out, but helps build your brand, and position yourselves as a trusted company.
Sign up for our newsletter
Subscribe below to receive our newsletter. We'll email you about important announcements, product updates, and guides relevant to your industry