How You Can Get Bookkeeping Clients Quickly (12 Ways)
Jul 12, 2023
18 min read
Omid G
Getting started as a bookkeeper can be both an exciting and nerve-wracking venture, especially when it comes to acquiring clients. You may be wondering, "How do I make my first pitch? How do I network effectively?" If you've found yourself in this position, you're in the right place.
This comprehensive guide will navigate you through proven methods on how to get clients for your bookkeeping services and turn your startup dreams into a thriving reality. So, grab a cup of your favorite drink, take a deep breath, and let's dive into this together.
How Do I Get My First Bookkeeping Client?
You've got your skills packed, and you're excited and ready to dive into the numbers... but there's one thing missing. Your first client.
Now, I'm not going to sugarcoat it. This may seem like a daunting task. And yet, I'm here to assure you it's not as scary as it looks. It's all about turning to the people who already know and trust you.
That's right — your existing professional network.
Imagine it this way, you've got a web of connections, each a potential lead. They know who you are, they've seen your dedication, and they trust you. It's almost like being given a secret key to a treasure chest of potential clients.
The first step? Reach out. Let people know that you've embarked on this new venture. Be open about your excitement to provide bookkeeping services. Word-of-mouth referrals? They're the pot of gold at the end of the rainbow. These referrals are more than just leads, they're leads with trust built-in.
So, how do you find your first bookkeeping client? By being proactive, sparking conversations, and embracing the adventure. It's there, within your reach, a conversation away. And with a few of the strategies we are about to go over, you'll be finding new clients in no time.
12 Effective Ways To Get Bookkeeping Clients
Here are 12 ways you can get bookkeeping clients this year:
Okay, let's dive deeper into each one.
1. Leverage Your Existing Network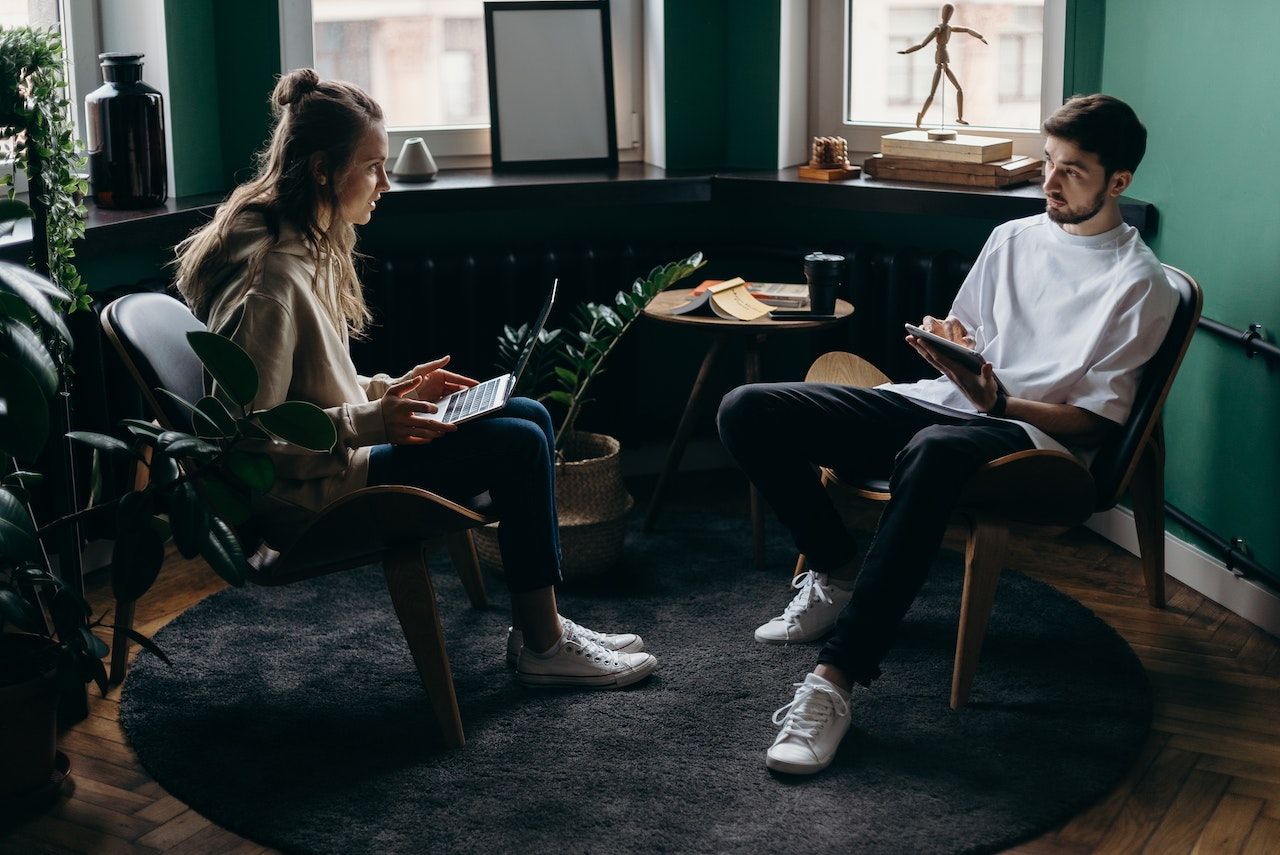 Let's cut to the chase here: your first clients are most likely already within your reach. They're in the connections you've built over your lifetime and career. Now, this isn't to say you should be harassing your old college friends for their business. But you should be aware of the potential that already exists within your own network.
So, how do you leverage your existing network? Here are some steps:
Communicate your new venture: Start by letting people know about your bookkeeping business. It can be as simple as updating your social media profiles or sending out a group email. Be open about your new journey and the services you are offering.
Tap into close relationships: Start conversations with friends and family who might need your services or know someone who does. You're not asking for a handout, you're offering a professional service that can benefit them.
Network professionally: Attend industry events, join relevant groups and associations, both online and offline. These are places where you can meet potential clients and people who can refer you to potential clients.
Ask for referrals: If someone in your network doesn't need your services, they might know someone who does. Don't be afraid to ask for referrals. Most people are more than happy to recommend services they trust to others.
Remember, you're not being pushy. You're providing a service that helps people manage their finances effectively. So, leverage your existing network. It's your first step towards building your client base.
2. Find a Niche (Or Don't)
In the sea of bookkeeping services, how do you stand out? Here's a hint: you don't have to be everything to everyone. In fact, trying to do so can spread you thin and dilute your expertise. Instead, focus on a specific niche. Here's why and how:
Why a niche? When you specialize in a specific industry or type of business, you become an expert in that field's unique challenges and needs. This expertise allows you to provide more value to your clients, which in turn can lead to higher rates and better client retention.
How to choose a niche: Start by considering your interests and experiences. Maybe you have a background in retail, or you're passionate about nonprofits. Alternatively, look at market needs. Is there an industry in your area with a high demand for bookkeeping services and not enough supply?
Making it work: Once you've picked a niche, immerse yourself in it. Learn about the industry's ins and outs, the common problems businesses face, and how your bookkeeping services can solve those problems. Join industry associations, attend events, and follow industry news.
Communicate your niche: Make sure potential clients know about your specialization. Include it in your marketing materials, website, and social media profiles.
Finding a niche doesn't limit your business; it enhances it. By becoming an expert in a specific area, you can provide more value to your clients and set your bookkeeping business apart from the competition.
However, while finding a niche can provide numerous benefits, it's important to mention that if you're starting from scratch with zero clientele, it's perfectly acceptable to buck conventional wisdom and initially offer your services broadly. You might choose to work with a variety of industries and business types. This broad exposure can serve as a practical training ground where you learn about different industries, their unique challenges, and their individual needs.
Over time, as you gain experience, and get to know the kind of work and clients you most enjoy, you can begin to narrow down and specialize. This niche might find you naturally, emerging from an area where you've unwittingly developed expertise and built up a client base. So don't feel rushed into selecting a niche from the start; instead, allow your experiences to guide you towards your specialism at a pace that feels right for you.
3. Use LinkedIn Actively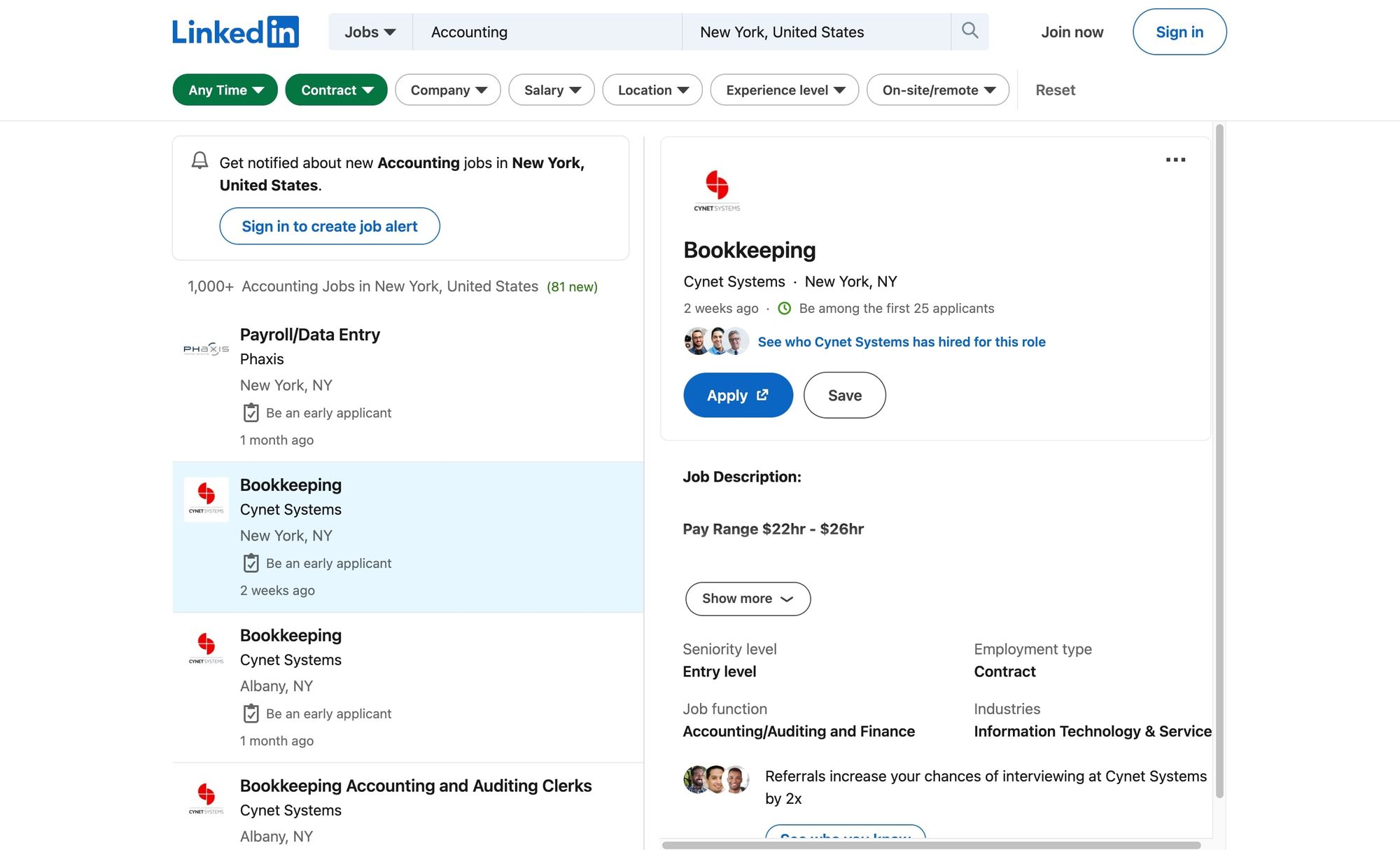 LinkedIn is a fantastic tool to expand your professional network, generate leads, and ultimately attract clients for your accounting firm. With over 700 million users worldwide, LinkedIn offers an ocean of potential clients, specifically business owners and those who run small businesses. However, to maximize LinkedIn's potential, it's not enough to have an account; you must use it actively.
Optimize Your Profile: Start with your profile, as it's the first thing prospective clients will see. Make sure it's complete, professional, and highlights your expertise in the accounting field. Remember to include relevant keywords that potential clients might use when looking for an accountant.
Create and Maintain a Business Page: Having a business page dedicated to your accounting firm allows you to showcase your services, share valuable content, and engage with your followers. This not only builds credibility but also keeps your brand at the top of mind for prospective clients.
Regularly Share and Engage with Content: Regularly sharing useful content and engaging with posts in your feed increases your visibility on the platform. These could be articles related to accounting, tax updates, or tips for small businesses. Engaging with others' content also makes you more noticeable to potential clients and can establish you as a knowledgeable figure in the field.
Connect and Network: LinkedIn's biggest advantage is its networking capabilities. Regularly seek out small business owners who may need your services and send personalized connection requests. Join groups relevant to your industry and participate in discussions.
Use LinkedIn's Advanced Search: This feature allows you to specifically target small business owners. You can refine your search based on industry, location, and company size. This way, you can reach out to the most relevant prospective clients.
In sum, LinkedIn is not a tool to ignore in your quest for clients. It requires a consistent, active approach, but the potential rewards for your accounting firm are immense.
4. Google PPC Ads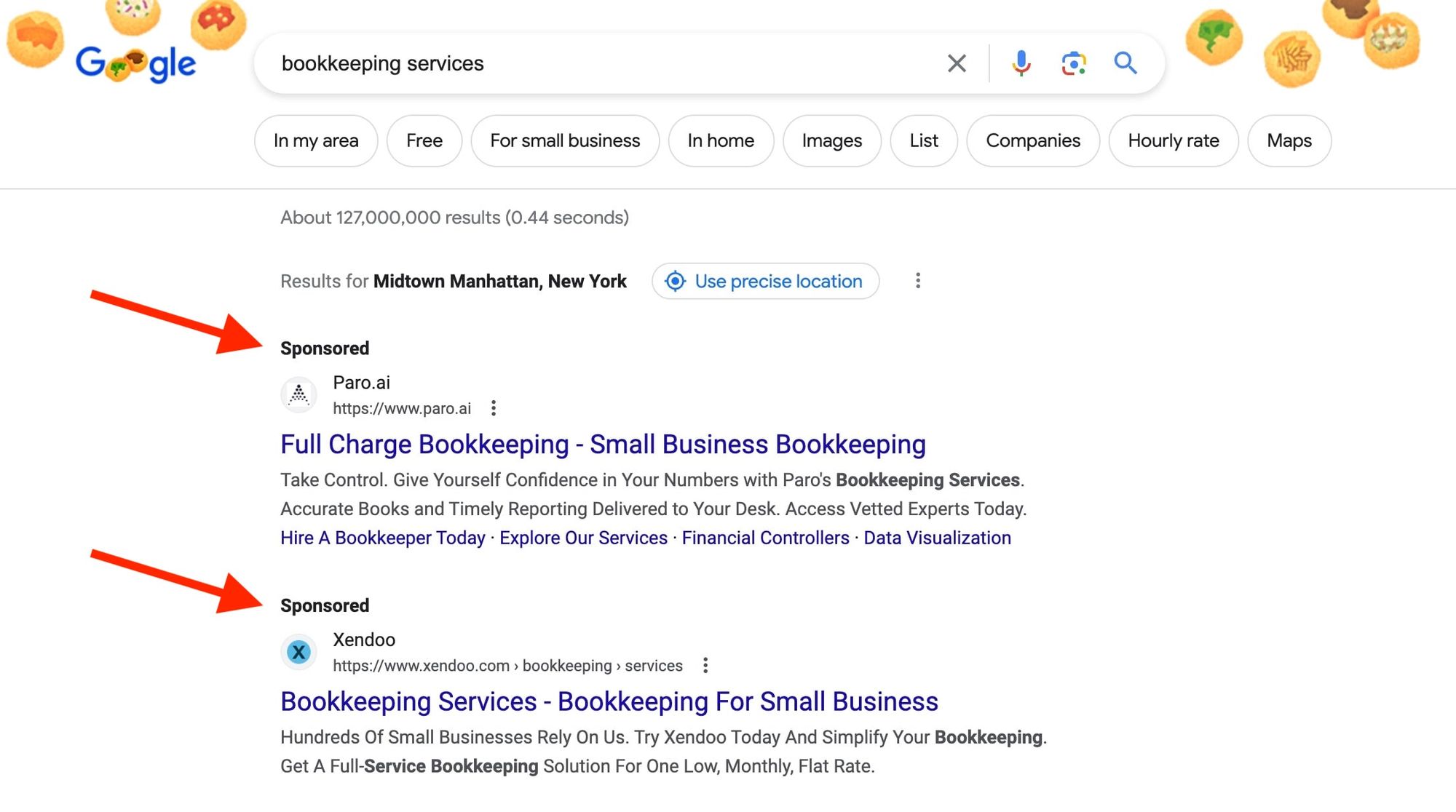 While leveraging organic methods of client acquisition like social media marketing and networking is vital, a new business can accelerate its growth by utilizing Google Pay-Per-Click (PPC) Ads. This advertising model allows you to reach a broad audience that's actively looking for accounting services.
Here's a quick guide on how you can make the most out of Google PPC Ads:
Keyword Research: Your PPC campaign's success heavily relies on the keywords you target. You want to choose keywords that potential clients would use when searching for accounting services. Using tools like Google Keyword Planner can help you discover popular keywords related to your industry.
Create Effective Ads: Now that you have your keywords, it's time to create compelling ads that will appeal to your target audience. Your ad's headline and description should be engaging, clear, and convey the value of your services.
Landing Page Optimization: Once a prospective client clicks on your ad, they will be directed to a landing page. This page should be optimized to convert these visitors into clients. Highlight the benefits of your services, pricing, and include a clear call-to-action (CTA).
Budget and Bidding: Start with a comfortable budget and monitor your campaign's performance closely. Google Ads operates on a bidding system, so you'll need to decide how much you're willing to pay each time a user clicks on your ad.
Track and Adjust: Make use of Google's robust analytics to track the performance of your ads. This will help you understand what's working and what's not, allowing you to make necessary adjustments to improve the effectiveness of your campaign.
Google PPC Ads, when used effectively, can significantly boost your visibility to potential clients actively searching for accounting services. It requires an investment, but the return can be substantial, especially for a new business looking to establish its client base quickly.
5. Become a QuickBooks ProAdvisor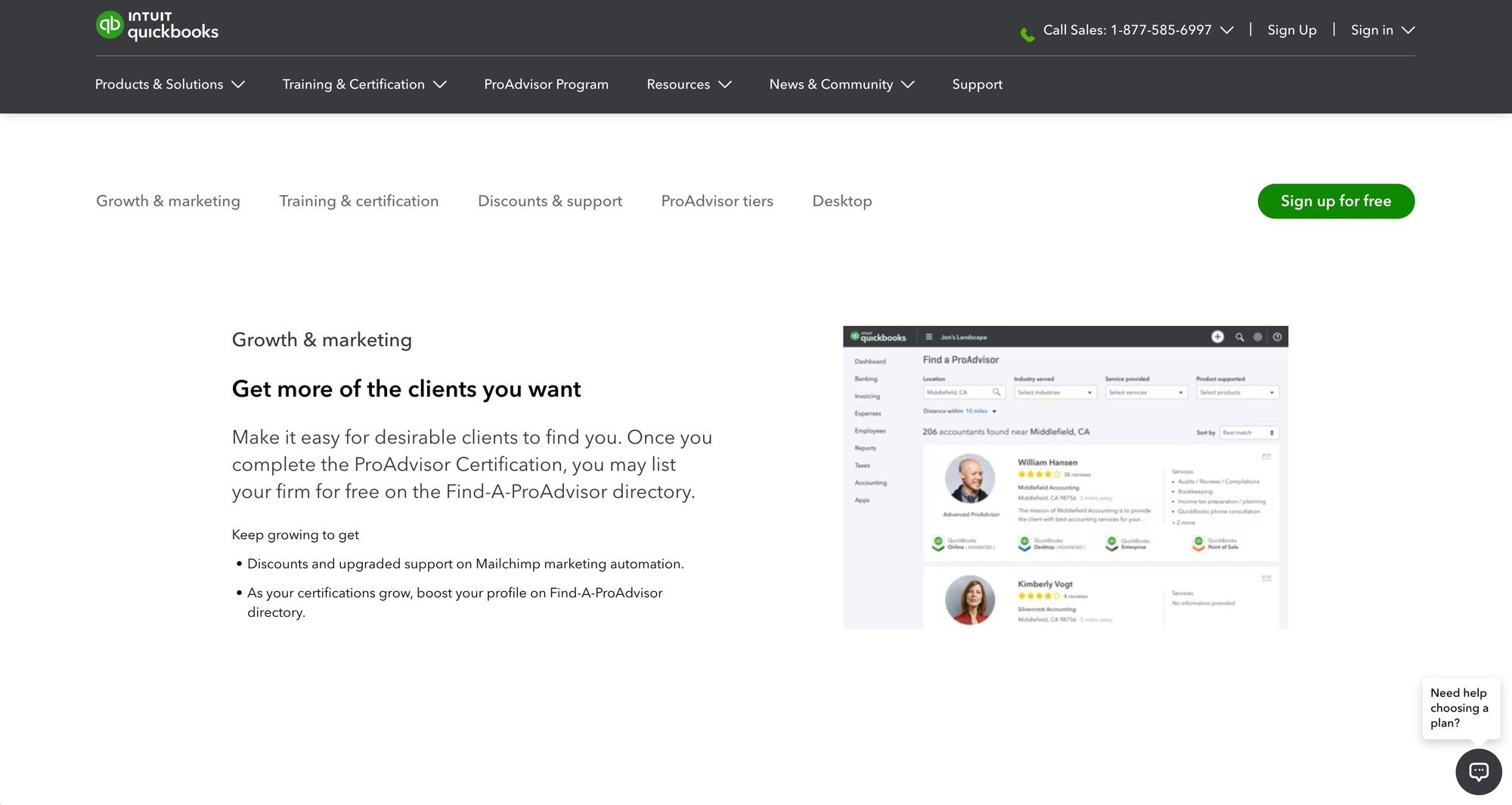 One of the highly recommended ways to get bookkeeping clients is to become a QuickBooks ProAdvisor. QuickBooks, one of the leading accounting software options for small businesses, offers a ProAdvisor Program that provides tools, training, and client leads to accounting professionals.
Here's why and how you should consider becoming a QuickBooks ProAdvisor:
Gain Credibility: Being a QuickBooks ProAdvisor adds a layer of credibility to your practice. It shows potential clients that you have the expertise to help them with their QuickBooks needs, which can be a significant deciding factor for businesses that use or are considering using QuickBooks.
Access Training and Support: As a ProAdvisor, you have access to comprehensive training and certification programs, allowing you to deepen your QuickBooks knowledge. You also have access to priority customer support, so you're never left hanging if you or your clients run into any issues.
Benefit from QuickBooks' Marketing: Once certified, you will be listed on the Find-a-ProAdvisor platform, which is QuickBooks' online directory. This can be a significant source of leads as small businesses often turn to this directory to find certified professionals to help them with their QuickBooks needs.
To become a QuickBooks ProAdvisor, you need to sign up for the ProAdvisor program and pass a certification exam. This requires some investment of time and effort but can yield significant returns in terms of client acquisition and service expansion.
In the world of bookkeeping, aligning with a powerhouse like QuickBooks can set your business up for long-term success. Not only does it provide you with the tools to better serve your clients, but it also opens up a new avenue for potential clients to find and trust your services.
6. Use Thumbtack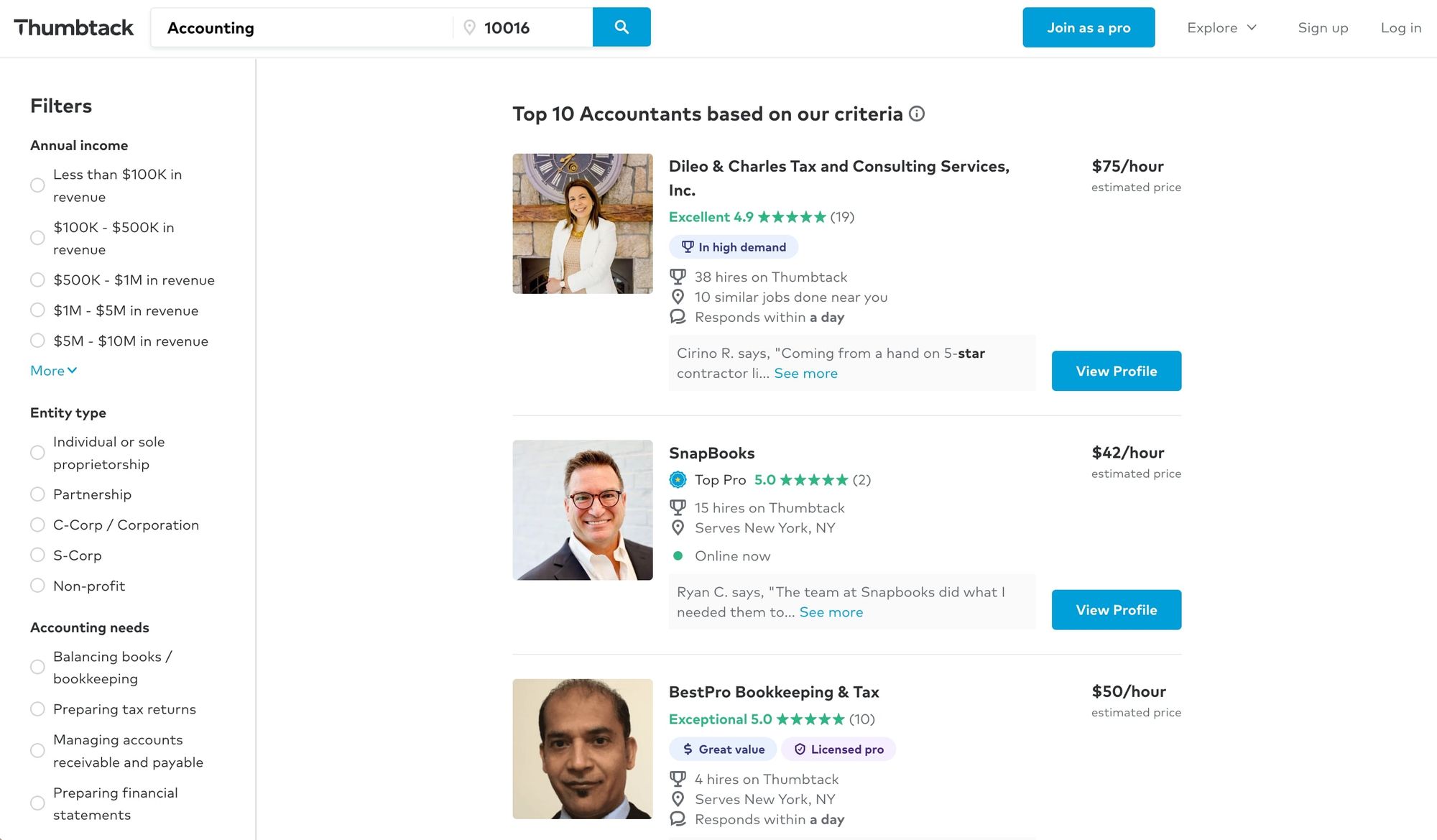 When it comes to getting bookkeeping clients, Thumbtack can be an excellent resource. If you're unfamiliar with it, Thumbtack is an online platform that connects local service professionals, like bookkeepers, with potential customers in need of their services. By creating a profile, you can present your bookkeeping services to a large pool of local businesses actively looking for your expertise.
Here's a quick guide on how to leverage Thumbtack:
Create a Profile: Start by setting up a professional and complete profile. Be sure to include a thorough description of your services, your credentials, and any special areas of expertise. Remember, this is your chance to make a great first impression, so include high-quality images and a professional photo of yourself or your firm's logo.
Set Your Service Area: Thumbtack allows you to define the geographic area you serve. This is particularly helpful if you prefer to work with local businesses or have a niche that is geographically specific.
Respond Quickly: The platform operates largely on a first-come-first-serve basis. When a potential client requests a service, the professionals who respond the fastest often have the best chance of securing the job. Set up notifications to ensure you don't miss out on any opportunities.
Collect and Showcase Reviews: After each job, request your clients to leave reviews on your Thumbtack profile. Positive reviews can significantly increase your credibility and make you more attractive to potential clients.
Bid for Jobs: On Thumbtack, you can view requests from potential clients and bid on jobs that interest you. You'll need to purchase 'credits' to bid on jobs, but the potential return on investment can be substantial if it leads to a long-term client relationship.
By using Thumbtack effectively, you can expose your bookkeeping services to a broader audience and tap into a pool of potential clients who may not have found you otherwise. It's a proactive way to grow your client base, and the site's user-friendly interface makes it a convenient option to add to your client acquisition strategy.
7. Subcontracting
Subcontracting can be an excellent method to land bookkeeping clients promptly, especially when you're just starting out. When you subcontract, you provide your services on behalf of another business. This strategy is typically leveraged when a business has more work than they can handle or when their clients require specific services that they don't offer.
Here are the key steps to take advantage of subcontracting:
Identify Potential Business Partners: Begin by building relationships with other accounting firms, freelancers, or business consultants who may need your services. Use LinkedIn to find accounting firms and reach out directly to the owners or managers to explore the possibility of subcontracting work. Remember to join relevant groups and participate in industry events to increase your visibility.
Present Your Expertise: Clearly articulate your services and demonstrate the value you can provide. This might involve sharing your qualifications, areas of specialization, and past projects. The more compelling your professional profile, the more likely other businesses will consider subcontracting to you.
Negotiate Terms: After identifying a potential partner, negotiate the specifics of your subcontracting arrangement. This includes aspects such as payment terms, scope of work, deadlines, and the protocol for client interactions.
Provide Outstanding Service: Once you've secured a subcontracting opportunity, it's crucial to deliver high-quality work. This will please both your direct clients and the business you're partnering with, potentially leading to more opportunities in the future.
Maintain Clear Communication: Ensure you have open lines of communication with both the business you're subcontracting for and the client. Prompt, transparent responses can significantly enhance the subcontracting relationship.
Subcontracting can fast-track your client acquisition process, offer invaluable experience, and broaden your professional network. It's a win-win situation: the business you subcontract for can offer a wider range of services, and you get access to clients you might not otherwise have reached.
8. Post on Craigslist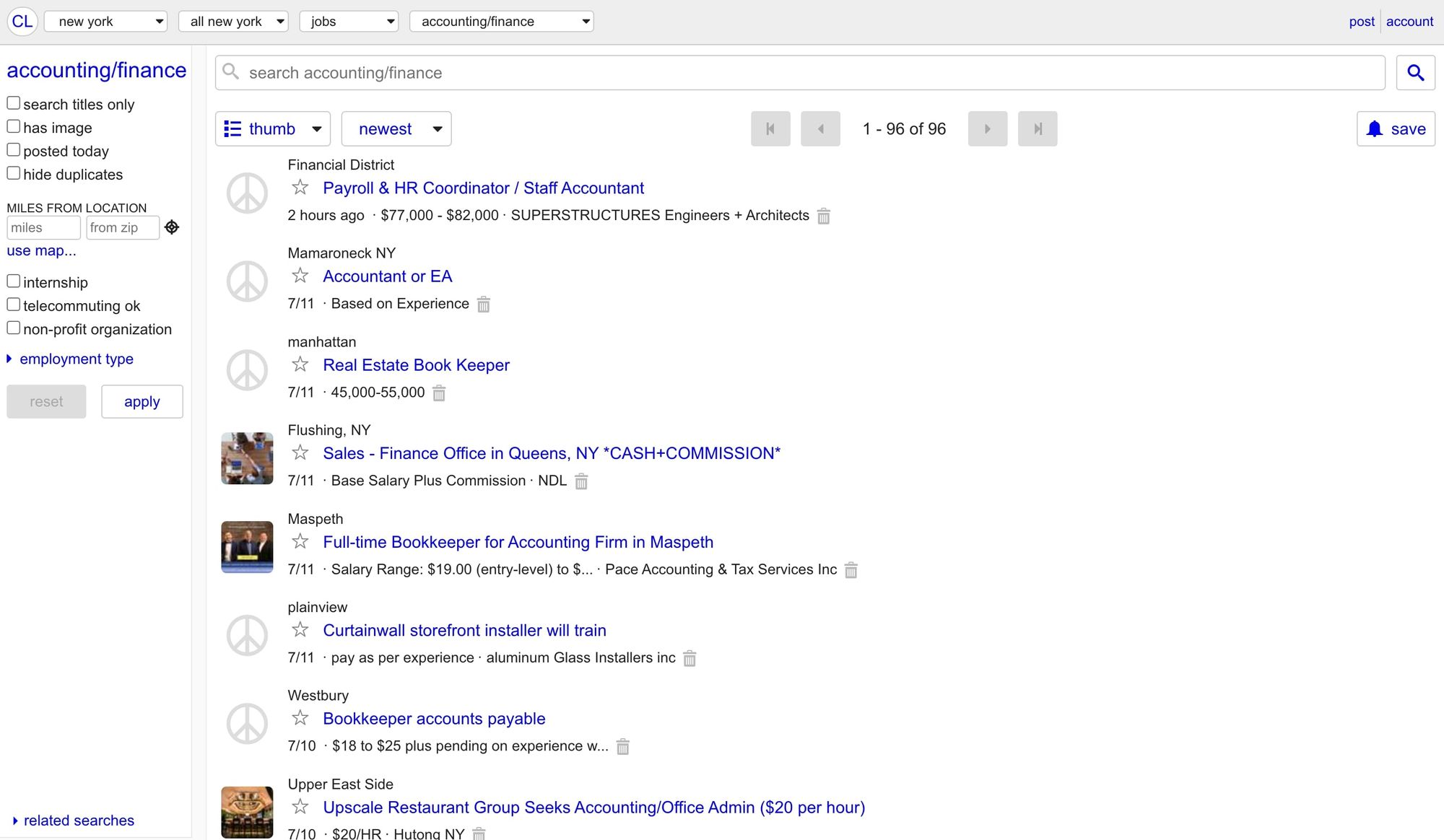 Craigslist, despite being one of the older online platforms, remains a potent resource for finding new clients. It's a platform where people look for a wide array of services, including bookkeeping. Here's how to leverage Craigslist to attract potential bookkeeping clients:
Create a Compelling Ad: The first step is creating a persuasive ad that clearly communicates what you're offering. Detail your bookkeeping services, your experience, and why a small business owner should choose you. Also, be sure to include your contact information, so prospective clients can reach you easily.
Choose the Right Category: Craigslist is divided into different sections, so it's crucial to post in the right category. For bookkeeping services, the "financial services" in the "services" category would be the most suitable.
Use Clear and Specific Headings: Your ad title or heading needs to be precise and engaging. Instead of just saying "Bookkeeping Services," try something more specific and attractive, like "Expert Bookkeeping Services for Small Businesses."
Update Your Ad Regularly: Craigslist ads have a way of getting buried under newer posts over time. To stay visible, you'll need to renew your ad regularly.
Respond Quickly: If a prospective client reaches out to you, ensure to respond as soon as possible. A quick response shows that you're reliable and interested.
Remember, while Craigslist can be a goldmine of opportunities, it also requires vigilance due to the prevalence of scams on the platform. Always verify the legitimacy of the client and avoid sharing sensitive personal information. With the right approach, Craigslist can be an effective, low-cost tool for securing new bookkeeping clients.
9. Advertise on Upwork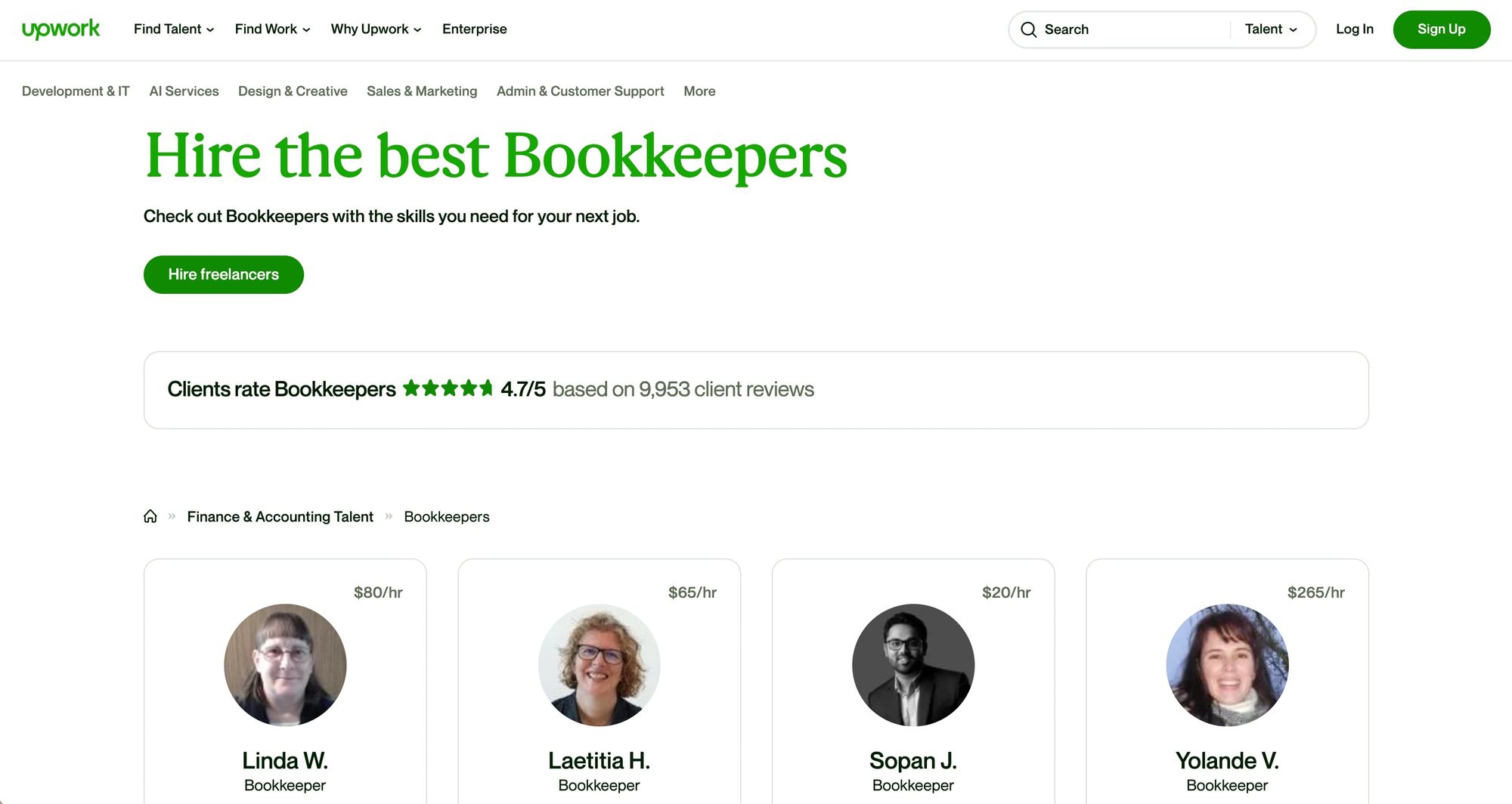 Upwork is a global freelancing platform where businesses and independent professionals connect and collaborate on projects. For bookkeepers, it can be a goldmine of opportunities, especially if you know how to navigate the platform effectively. Here's how you can use Upwork to attract potential clients:
Create an Outstanding Profile: Your profile is essentially your online CV. It should highlight your skills, experience, and unique selling propositions. Include any certifications (like QuickBooks ProAdvisor, if you have it), and don't forget to add a professional-looking profile picture.
Describe Your Services Accurately: Be clear and specific about the bookkeeping services you offer. This will help you attract the right kind of clients—those looking specifically for what you provide.
Set Competitive Rates: Research the market to determine competitive rates for your services. While it can be tempting to set a low rate to attract clients when you're just starting, remember that you don't want to undervalue your work. A balance between affordability and professional worth is key.
Use Client Testimonials: If you've worked with clients before, ask them to leave you reviews and ratings. Testimonials from satisfied customers can significantly enhance your credibility and attract more clients.
Apply for Relevant Jobs: Regularly check the job postings and apply for those that match your skills and services. Make your proposal stand out by customizing it for each job, highlighting how you can meet the client's specific needs.
Communicate Effectively: If a prospective client contacts you, ensure you respond promptly and professionally. Clear, polite communication can go a long way in securing a job.
By using Upwork, you can reach a wide range of potential clients, from small business owners to larger companies, all in need of your bookkeeping skills. Make sure to stay patient and persistent, as it can take some time to build a robust client base on the platform.
10. Ads in Newsletters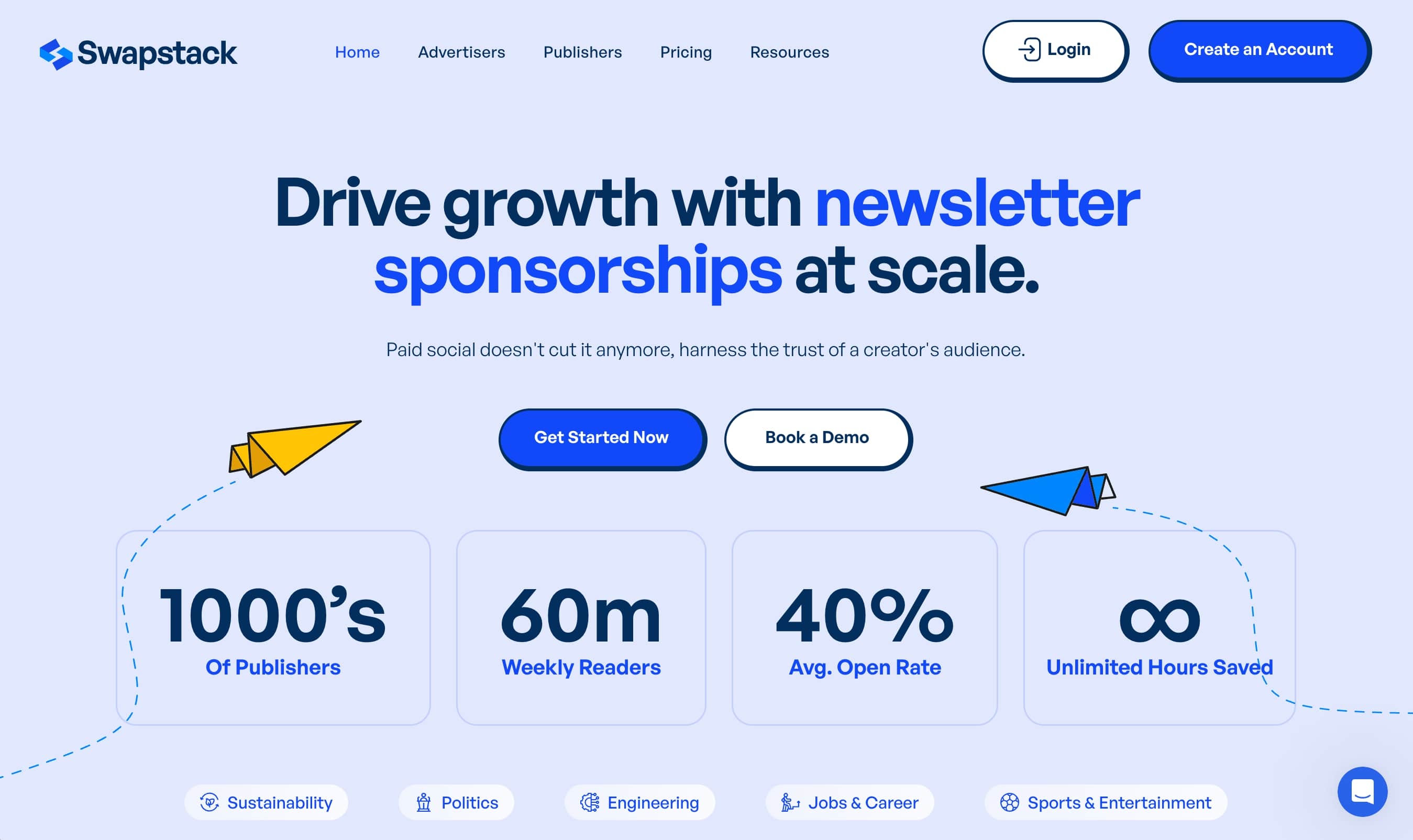 Advertising in newsletters is an often overlooked yet highly effective strategy for growing your bookkeeping business. With the massive growth in email marketing, newsletters have become a mainstay for business owners and professionals who want to stay updated with industry news, trends, and opportunities. Here's how you can utilize this strategy:
Identify Your Ideal Client: Before you begin, have a clear understanding of who your ideal client is. Are they small business owners? Freelancers? Large companies? Your messaging, ad design, and the newsletters you choose to advertise in will largely depend on who you're trying to reach.
Choose Relevant Newsletters: Look for newsletters that are popular within your target audience. This could be newsletters from industry bodies, popular blogs, influencers, or even other businesses that complement your services. Check out Paved or Swapstack if you want to find newsletters to advertise on.
Design Compelling Ads: Design ads that are attention-grabbing and provide a clear message about your services. Consider hiring a professional designer if you're unsure about doing it yourself.
Develop a Strong Call-to-Action: Your ad should guide readers on what they should do next, whether that's visiting your website, scheduling a consultation, or signing up for your own newsletter.
Track Your Results: Use analytics to track the effectiveness of your ads. This will help you understand which newsletters are driving the most traffic and conversions, and which ones might not be worth your investment.
Keep in mind that your online presence extends beyond social media platforms. Email marketing strategies, like advertising in newsletters, can be a potent tool in your marketing arsenal. They enable you to reach your target audience directly in their inbox, which can be much more personal and engaging than other forms of advertising.
Finally, remember that like all marketing strategies, consistency is key. Give your ads some time to work their magic and tweak your approach as necessary based on your results.
11. Host Workshops or Webinars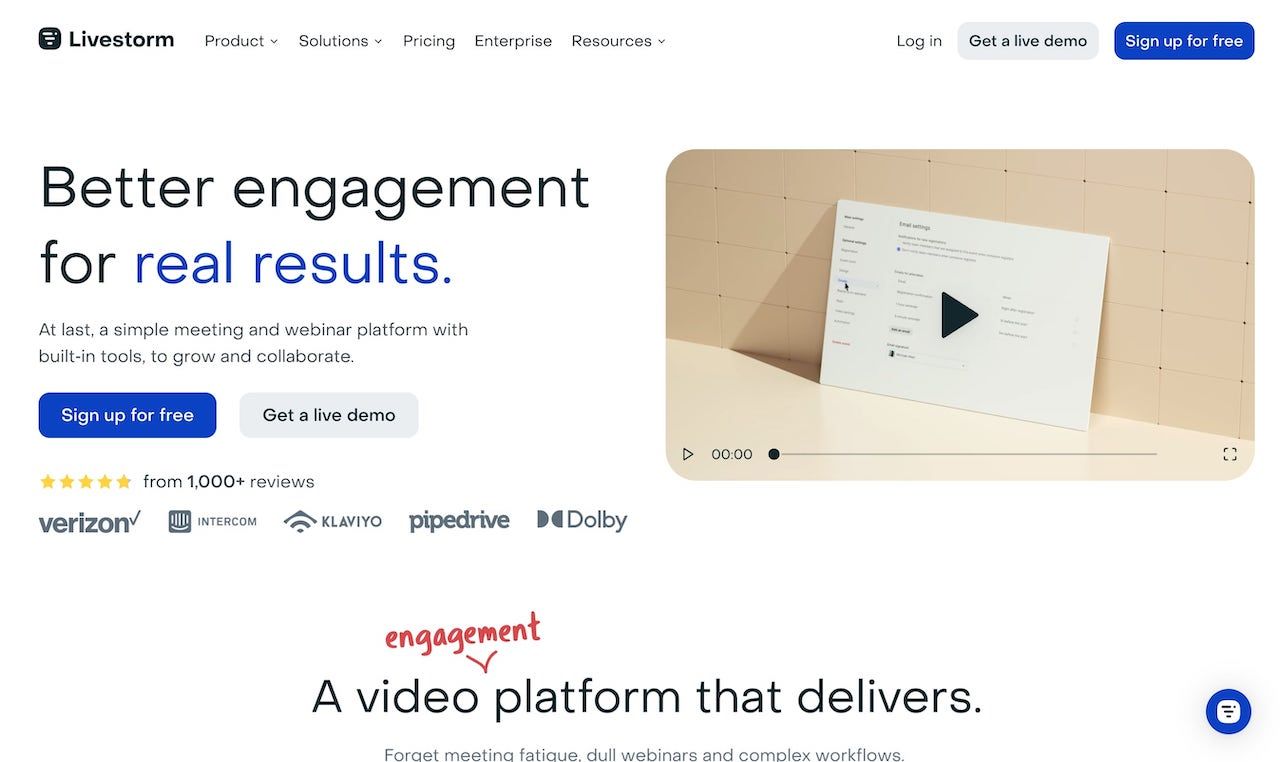 Hosting workshops or webinars is a fantastic way to draw attention to your expertise and services. By providing useful information and demonstrating your proficiency, you can attract potential clients and build trust. Here's how you can make the most out of this strategy:
Choose Relevant Topics: Select topics that resonate with your target audience. For instance, you could cover basic bookkeeping for entrepreneurs, tax tips for small business owners, or how to leverage accounting software for business growth.
Promote Your Event: Use all your available channels to get the word out about your workshop or webinar. This could be through social media, email newsletters, your website, and even networking events. Remember to highlight the benefits attendees will gain from participating, such as learning new skills or gaining insights to help run their own businesses more effectively.
Provide Incentives: To encourage attendance and engagement, consider offering incentives. These could be anything from downloadable resources and templates to discounts on your services.
Engage Your Audience: During the event, be interactive. Encourage questions, hold Q&A sessions, and engage in discussions. This is your opportunity to show your expertise and establish a connection with your audience.
Follow Up: After the event, send out a thank you email to attendees with a recap of the key points or a link to a recording of the event. This is also a great time to offer a free consultation or a special discount on your services.
Hosting workshops or webinars not only helps you to establish authority in your field, but it also offers a platform for potential clients to interact with you and understand how your services can benefit their business. So, get out there, share your knowledge, and watch as your professional network expands and your client base grows.
12. Productize Your Services With a Client Portal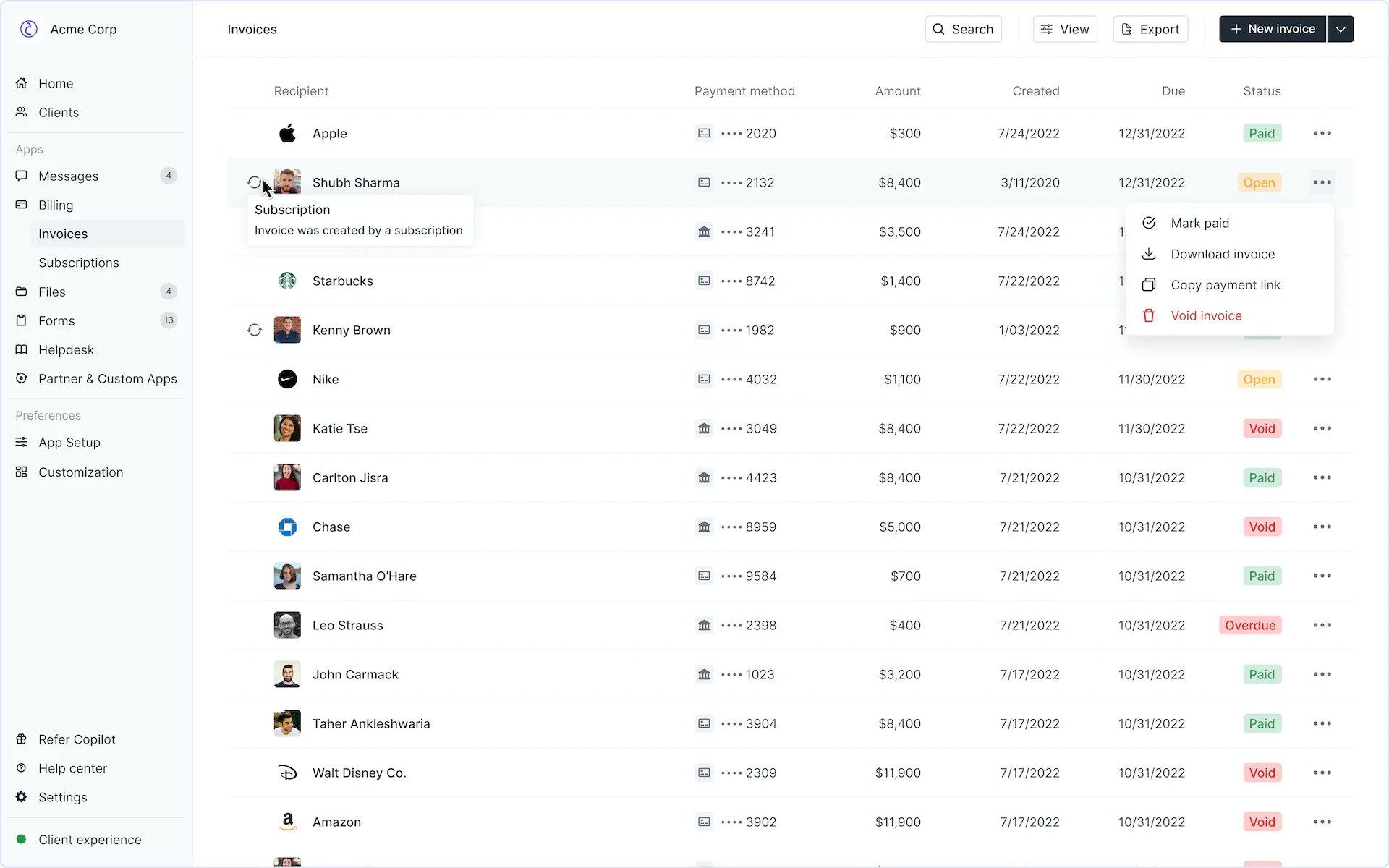 In the age of digital transformation for service businesses, client portals have become an essential tool for providing professional, efficient, and value-added services. A client portal not only streamlines your workflow but also enhances the client experience. One highly recommended client portal is Copilot.
Centralization: With a client portal like Copilot, you can centralize all client communication, document sharing, and collaboration. This way, both you and your client have easy access to relevant information at any time. No more sifting through endless email threads!
Automated Processes: Copilot can automate routine tasks like invoicing, document requests, and scheduling meetings. This allows you to spend less time on administrative tasks and more time delivering quality accounting services.
Security: Copilot provides a secure environment for sharing sensitive financial information. It's peace of mind for both you and your clients.
Transparency: Using a client portal allows you to provide real-time updates on tasks and projects, giving your clients full visibility and enhancing their trust in your services.
Productization: With a portal like Copilot, you can package your services into an easy-to-understand and accessible format. You can clearly outline what's included in each package, the associated costs, and how the process works. This makes it easier for potential clients to understand what they're buying, which can lead to higher conversion rates.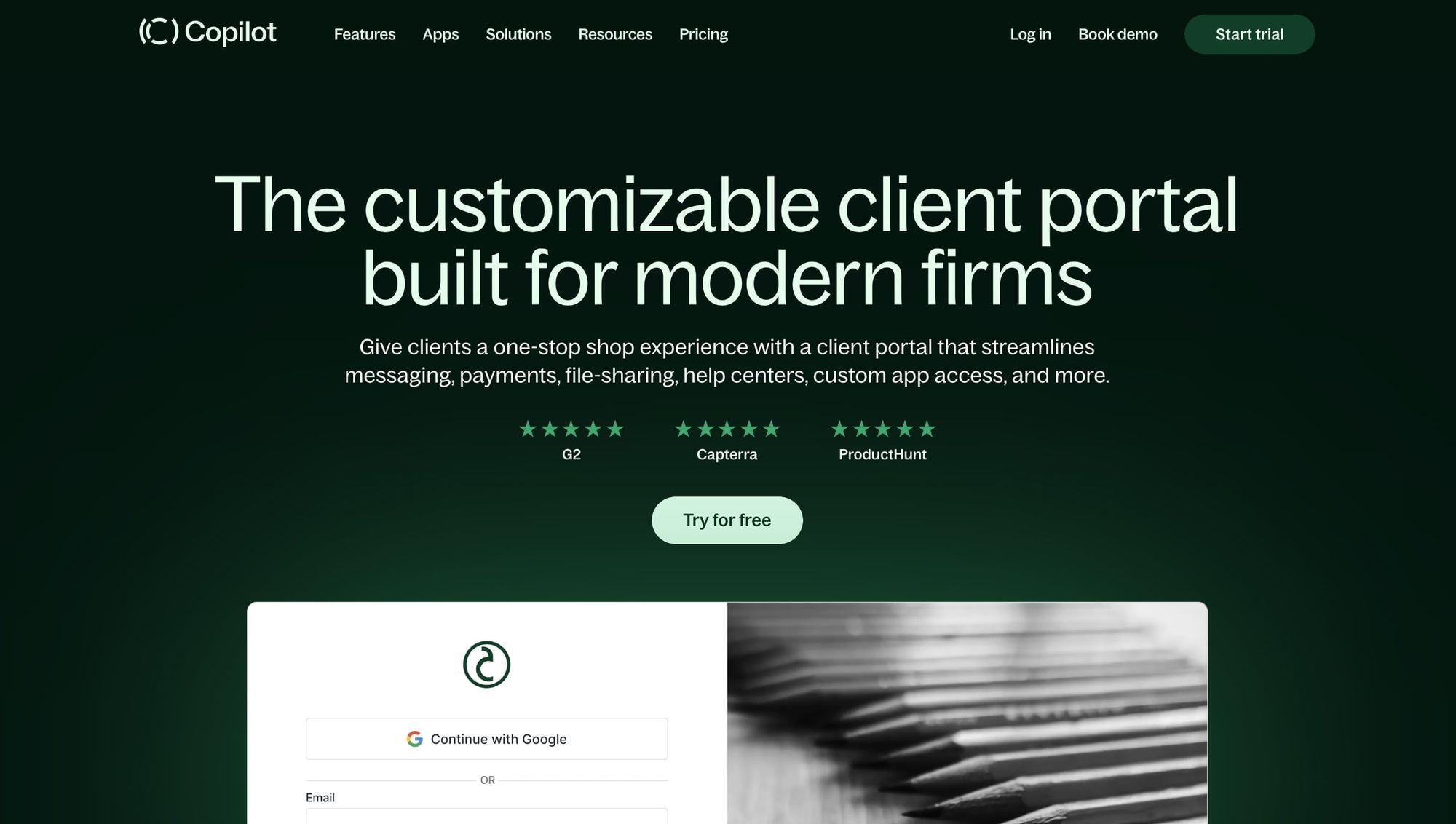 Embracing a client portal like Copilot in your bookkeeping business will not only streamline your operations but also enhance the client experience, which is key to attracting and retaining clients.
How Much Should I Charge a Bookkeeping Client?
Now, let's get into another exciting area — pricing your bookkeeping services. Deciding how to price your bookkeeping service will depend on a number of factors such as the type of service you are providing, the location in which you provide those services, your years of experience, and more.
Here are a few steps you can take to understand how much you should charge for your bookkeeping services:
Understand the Market Rates: Before you set your rates, do some research. Look into what other bookkeepers in your area (and with your level of expertise) are charging. The rates will vary based on geographic location, the complexity of the work, and the level of experience the bookkeeper has. This will give you a ballpark figure to work with.
Evaluate Your Skill Level and Experience: If you're a certified bookkeeper with a ton of experience under your belt, you can probably charge more than a newbie. Don't undersell yourself, but also be realistic about where you stand in terms of expertise and experience.
Consider Your Overhead Costs: As a business owner, you'll have expenses that need to be covered. These might include software subscriptions, marketing costs, your own salary, taxes, and more. You need to factor these into your pricing structure to ensure you're turning a profit.
Determine Your Pricing Model: There are several ways to structure your pricing. Some bookkeepers charge an hourly rate, while others prefer fixed-rate packages based on the client's needs. A value-based pricing model could also be an option, where you price your services based on the value they provide to the client rather than the time they take. Choose a model that aligns with your business goals and preferences.
Be Transparent: Whatever pricing model you choose, be upfront with your clients about it. Clear communication about your pricing helps to establish trust and sets clear expectations from the outset.
Regularly Review Your Pricing: Your prices aren't set in stone. As your business grows and evolves, so should your prices. Regularly review your pricing strategy to make sure it's still working for you and your clients.
Remember, there's no one-size-fits-all answer when it comes to pricing your bookkeeping services. It's about finding a balance between what's fair to your clients and what's sustainable for your business. Start with these guidelines, and over time, you'll find the pricing strategy that works best for you.
Sign up for our newsletter
Subscribe below to receive our newsletter. We'll email you about important announcements, product updates, and guides relevant to your industry