10 best Karbon alternatives you need to check out in 2024
Oct 20, 2023
12 min read
Omid G
With 2023 quickly drawing to an end, you might already be looking for ways to scale your accounting practice in the year ahead. One strategy modern accounting firms leverage is using a client portal tool, and Karbon is a platform you may already be using. But, while Karbon is a strong contender in the space, there are many Karbon alternatives you might also want to consider.
If your 2024 plans include differentiating your firm with technology innovations, you're in luck. Our guide to the best Karbon alternatives will give you plenty of choices for leveling up your accounting practice in the new year. From client management tools to automations and artificial intelligence (AI), there's something for every firm.
What to look for in a Karbon alternative
As you consider Karbon alternatives, keep the following factors in mind to choose the best option for your needs.
Features
Client management tools, dedicated client portals, project management, time tracking, invoicing, and collaboration tools are must-haves for your accounting practice. Ensure the platform you select includes all the features you need for a delightful client experience that works well for your firm's needs.
Ease of use
Both you and your clients should be able to get up and running quickly with any particular software tool. A steep learning curve is frustrating for everyone involved, so make sure the system is easy to use across the board.
Integrations
What third-party apps and accounting software tools can you not live without? Ensure the Karbon alternative integrates with your existing tech stack so you don't have to give up your favorites.
Security
Security is non-negotiable for accounting firms. Ensure any solution you're considering offers top-notch security measures to protect client data and comply with industry requirements.
Scalability
Where do you want your firm to be in a year, five years, 10 years? As you scale, you want your accounting practice management solution to grow with you, so ensure it can accommodate a growing client base and evolving needs.
Top 10 Karbon alternatives you should check out
Here are our top picks for the best Karbon alternatives:
Let's dive deeper into each one.
1. Copilot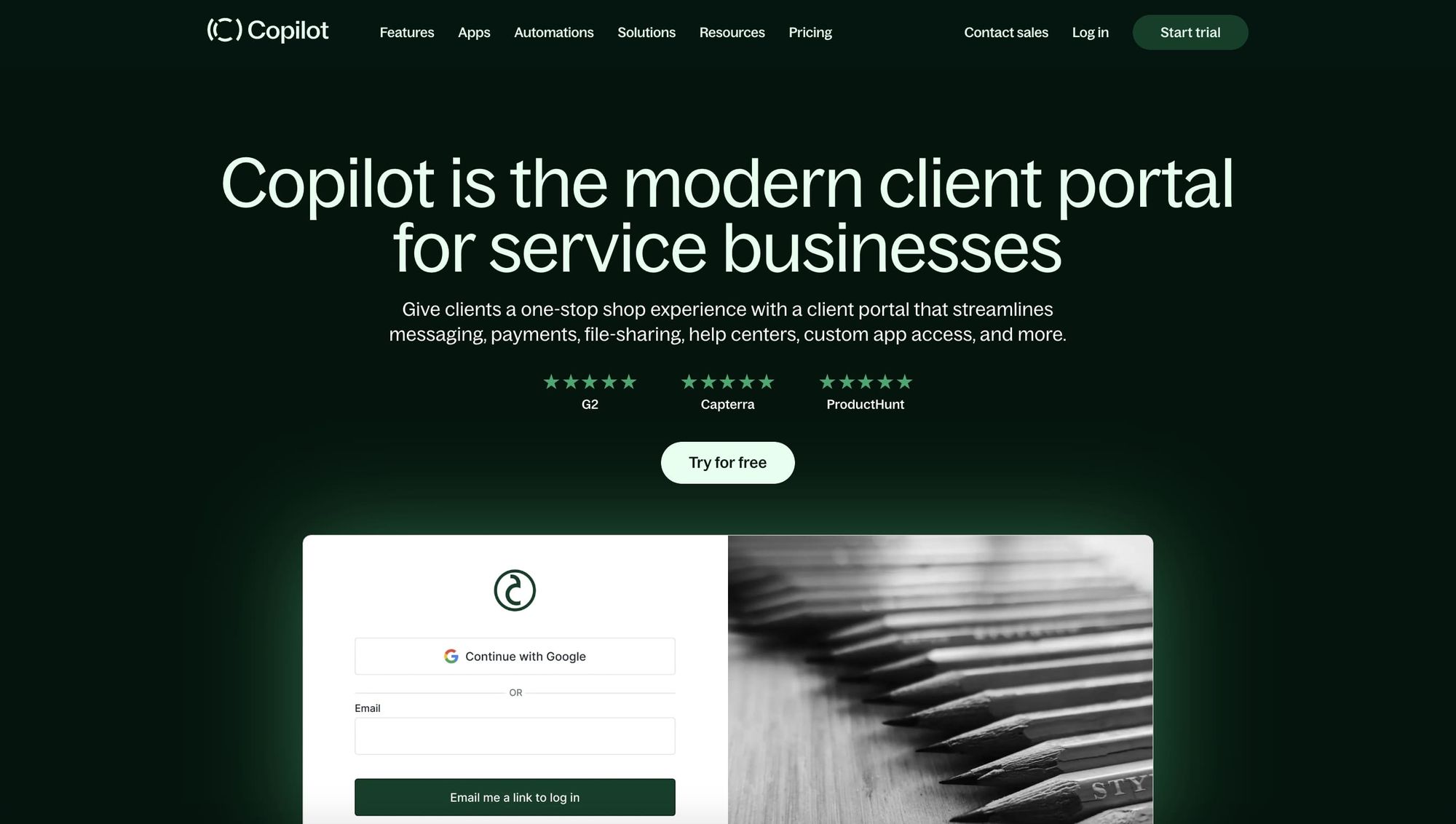 There's a reason so many accounting firms run on Copilot — several reasons, actually. The modern accounting portal has all the features firms need to manage client relationships, automate workflows, and free up their time to focus on high-value client activities.
Accounting firm users love Copilot's client portals, which foster custom client experiences and convenient, organized communication for total transparency. You can easily collaborate with clients, sharing help-desk documentation, files, and messages to create an amazing client experience from the initial onboarding through ongoing client work.
Copilot also enables reliable cash flow, with intuitive invoicing features that make it easy for clients to pay invoices via desktop and mobile and manage payment credentials. With Copilot, the user experience is at the core, encouraging retention and building trust with clients.
Benefits of Copilot
Document uploads and storage are simple and secure with Copilot. Collect e-signatures on client contracts, and keep files organized in one central location.
Copilot allows for endless integrations with popular software platforms, so firms can continue using their favorite apps.
Integrated invoicing enables firms to generate branded invoices, get paid, send reminders, and maintain accurate records. View trends over time, export critical data, and take action on invoices when needed.
Powerful automation features handle repetitive tasks and help your firm grow. Let leads convert themselves through self-serve sign-ups, and guide them through an outstanding onboarding experience that reinforces their decision to work with your firm.
Sync with CRMs, third-party storage solutions, and other apps to integrate your firm with Copilot. Get up and running quickly so you can keep running your business.
Copilot pricing
After a free trial, paid plans start at $29 per user per month, paid annually, or $39 monthly.
Copilot reviews
G2: 4.8/5 star rating (+119 reviews)
Capterra: 4.9/5 star rating (+19 reviews)
2. Canopy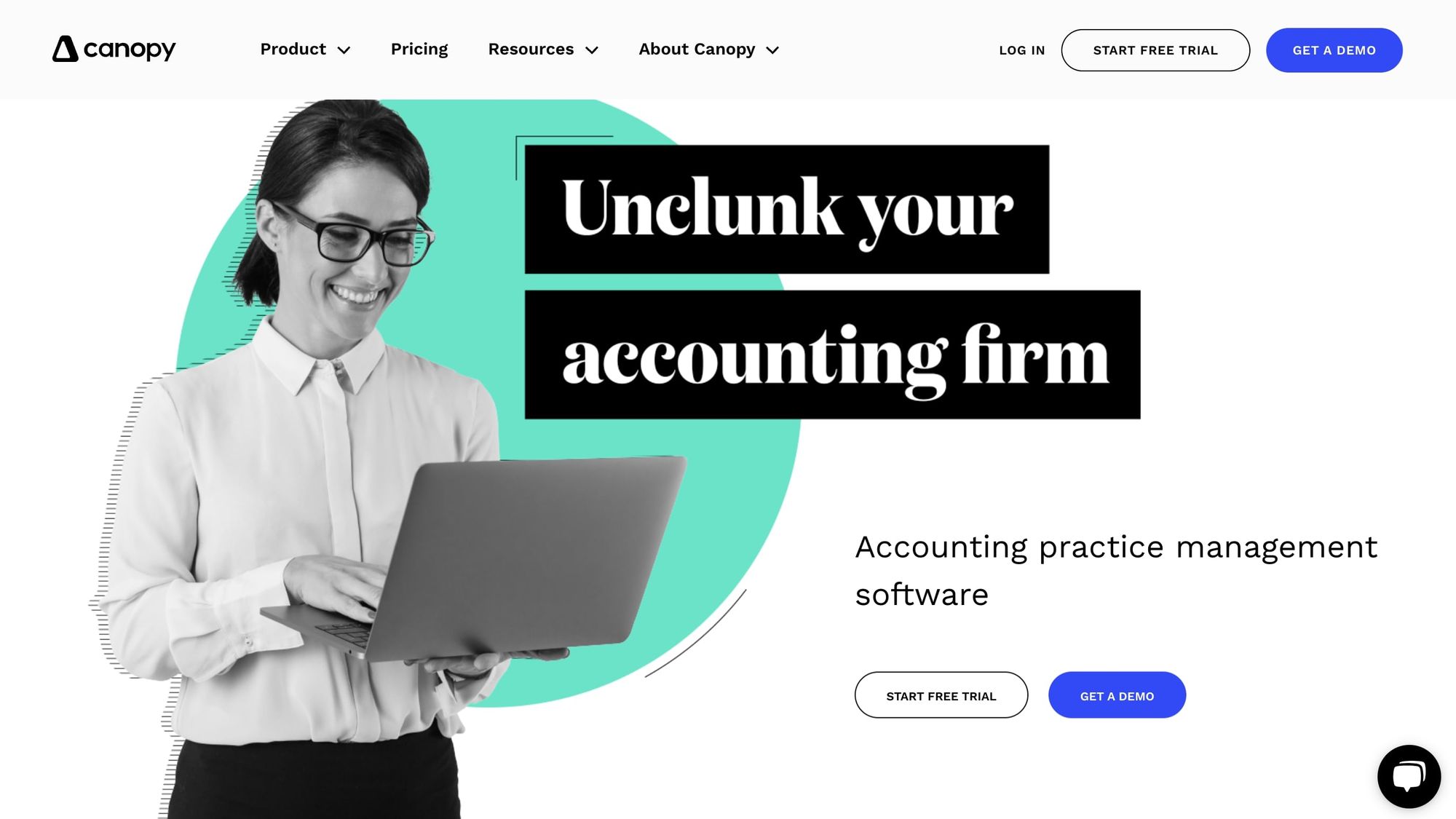 Another solid Karbon alternative is Canopy, a feature-rich platform that streamlines document management, workflows, billing, and more. The platform aims to "unclunk" accounting practice management by centralizing client information, communications, and tasks, allowing for efficient collaboration among team members.
If you, like most accounting firms, have moved beyond a calculator and a Rolodex for client management tools, then you know your practice needs more sophisticated tools. From document management to payments and client communications, Canopy steps in with multiple features and tools for modern-day firms.
Benefits of Canopy
Tax resolution professionals will appreciate Canopy's specialized tools and features for navigating complex tax matters and keeping clients informed.
Workflow automations take repetitive tasks off accounting firms' plates and free up time for higher-value client work and other activities only experts can do.
Time and billing features track billable hours — the lifeblood of accounting firms — while managing client invoicing and streamlining billing processes.
Analytics and reporting tools offer insights into financial performance, helping accounting practices stay on track with big-picture objectives.
Encryption, secure data storage, and other security measures safeguard client information and ensure compliance with critical regulations.
Canopy pricing
Use Canopy's client management tools at no charge for up to 500 contacts. Select add-ons such as document management, workflow tools, and time and billing features to tailor a plan for your firm's needs.
Canopy reviews
G2: 4.6/5 star rating (+314 reviews)
Capterra: 4.5/5 star rating (+220 reviews)
3. TaxDome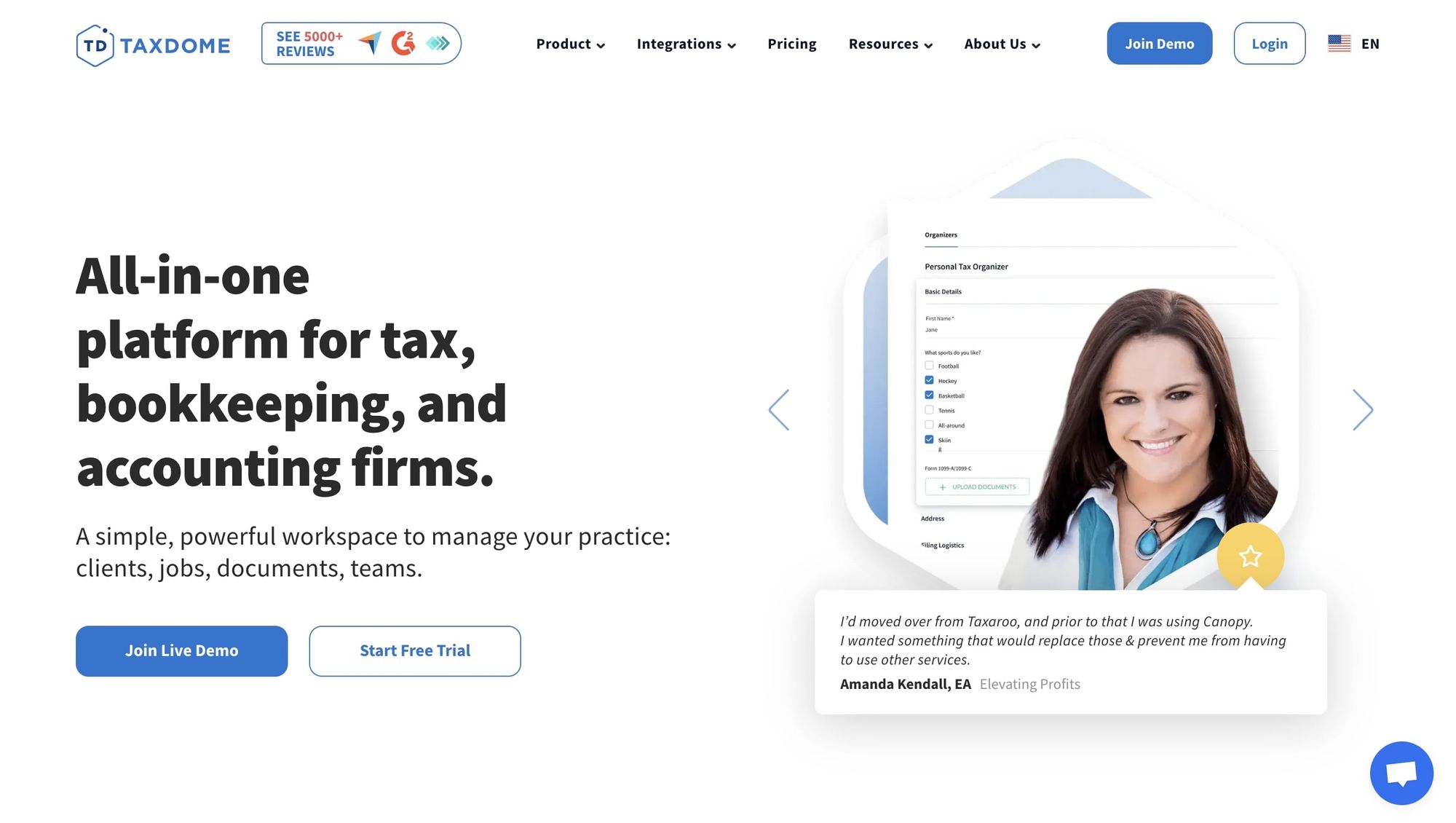 Among the available Karbon alternatives, TaxDome is a popular option for managing accounting clients, jobs, documents, and teams. Customized workflow automations built for the tax and accounting industry set TaxDome apart from competitors. Many users praise its client portal, invoicing tools, and visually pleasing user interface.
TaxDome's pre-designed templates cater to payroll, tax returns, bookkeeping, and other functions. You'll spend less time collecting data from clients and more time catering to specific client needs with TaxDome's robust client management tools.
Benefits of TaxDome
CRM tools facilitate streamlined client communication, enhancing the client experience and building trust.
A branded client portal enables seamless collaboration with clients, so you can easily and securely share documents and other information.
Project management tools ensure timely updates, progress tracking, and assignment of tasks to keep all parties on track.
Encryption and secure data storage keep sensitive client information under lock and key, establishing your firm as a trusted entity.
Mobile functionality allows clients to access documents and information anywhere conveniently.
TaxDome pricing
Start with a free trial; paid plans start at $33 per month, billed annually.
TaxDome reviews
G2: 4.7/5 star rating (+351 reviews)
Capterra: 4.7/5 star rating (+2,900 reviews)
4. Dubsado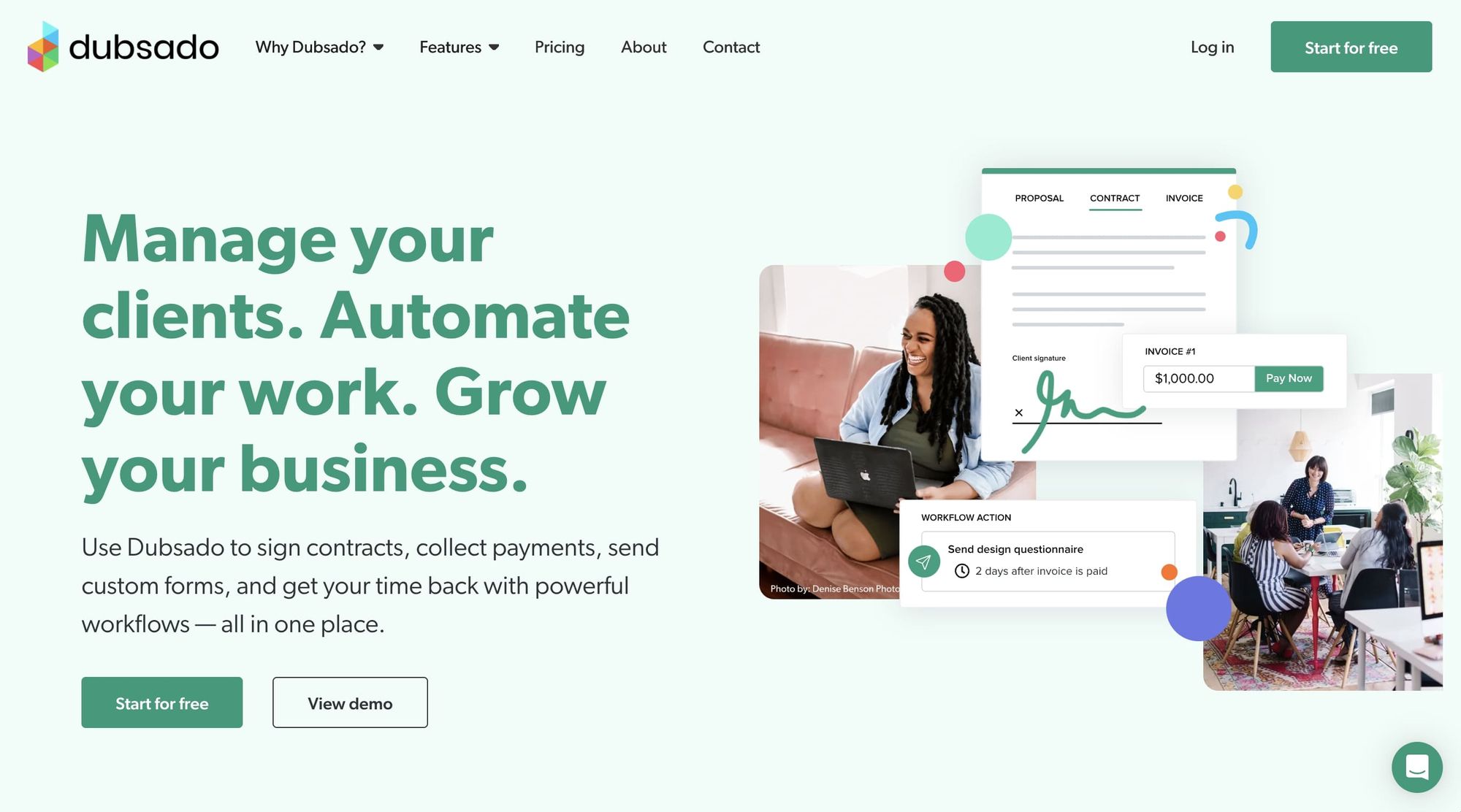 Another popular alternative to Karbon is Dubsado, a robust platform with a range of client management tools. Dubsado's client portals organize client information in one central location for easy e-signatures, payments, form collection, and more.
Dubsado's automation tools are time savers, incorporating appointment scheduling, workflows, payment reminders, recurring payments, and confirmation emails. You'll have more flexibility to handle complex and high-impact client work with Dubsado handling repetitive tasks.
Related reads: The best Dubsado alternatives you need to try
Benefits of Dubsado
Customizable lead capture forms, questionnaires, branded proposals, and other templates blend with your website's design aesthetic.
Integrated CRM tools ensure effortless management of every lead and opportunity.
Invoicing tools and automated reminders ensure timely payments, safeguarding cash flow and your firm's bottom line.
Appointment booking tools integrate with your website to facilitate easy scheduling and fill your calendar with qualified leads.
Automated onboarding gets new clients up and running quickly, reinforcing their decision to come on board with your form.
Dubsado pricing
After a free trial, paid plans start at $200 per year or $20 monthly.
Dubsado reviews
G2: 4.3/5 star rating (+68 reviews)
Capterra: 4.3/5 star rating (+45 reviews)
5. HoneyBook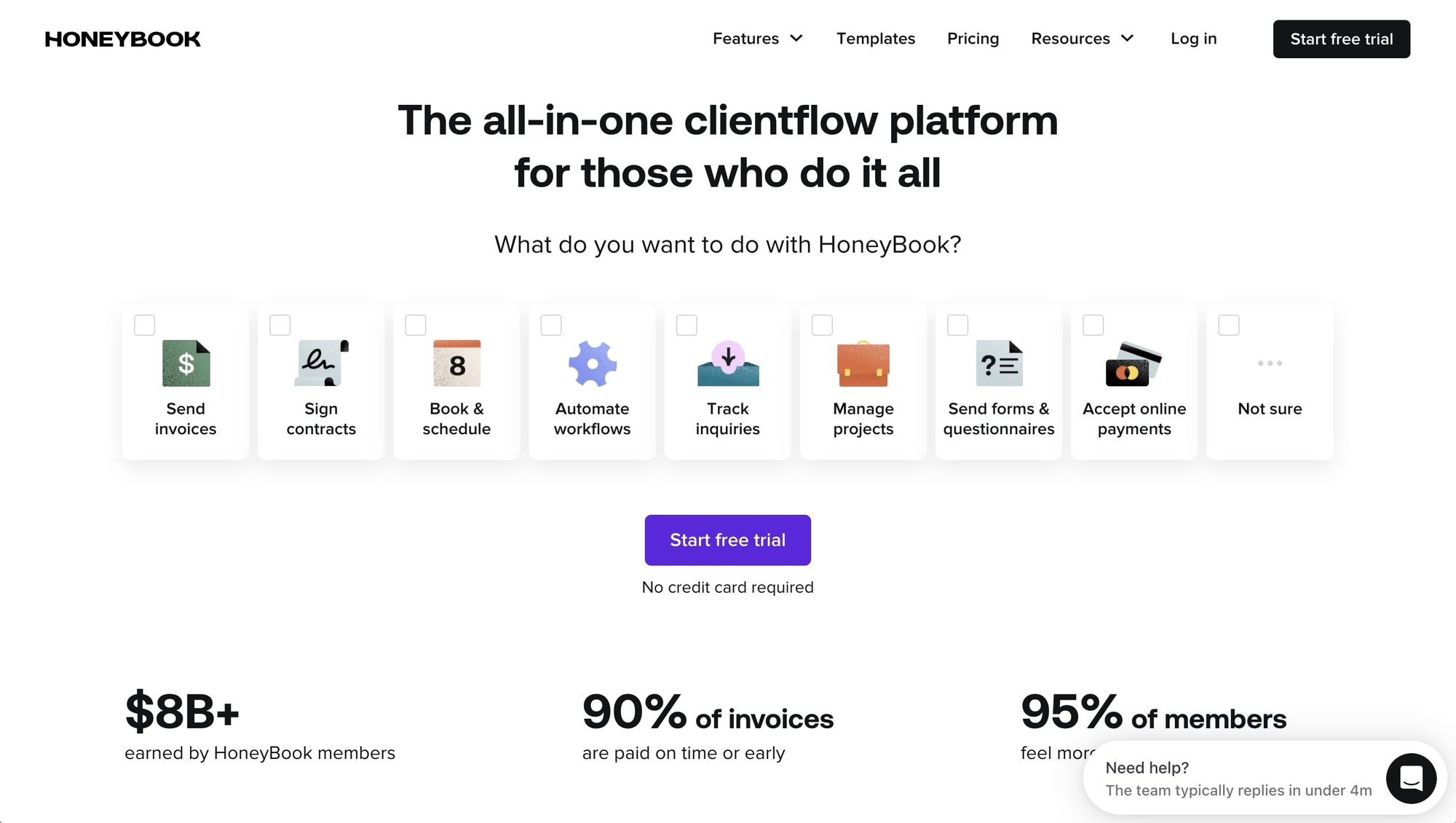 HoneyBook, a magnet for creatives and service-based businesses, has proved to be a strong Karbon alternative for accounting firms. Client management, project management, and communications tools have positioned HoneyBook as a "clientflow" platform that's focused on the client experience.
Notably, HoneyBook claims that 90% of invoices are paid on time or early with its invoicing and payment processing tools. Perhaps there's a correlation with the 95% of members who feel more organized with HoneyBook's tools and features. Because HoneyBooks is aimed at solo entrepreneurs, however, be sure to factor in any plans to scale before signing up.
Benefits of HoneyBook
With HoneyBook's streamlined invoice creation, payment reminders, and tracking tools, fast, reliable payments are standard.
QuickBooks integration and expense tracking ensure accurate bookkeeping.
HoneyBook's AI tools enable client flows, bookings, responses, and lead acquisition.
Branded proposal tools combine invoices, contracts, and payments to remove barriers to entry and get clients on board quickly.
Appointment booking tools ensure no missed opportunities when clients check out your website.
Client outreach tools such as customizable marketing sequences get your messaging to the right people at the right time.
HoneyBook pricing
After a free trial, paid plans start at $16 per month, paid annually (giving you two months free), or $19 monthly.
HoneyBook reviews
G2: 4.5/5 star rating (+150 reviews)
Capterra: 4.8/5 star rating (+588 reviews)
6. Bonsai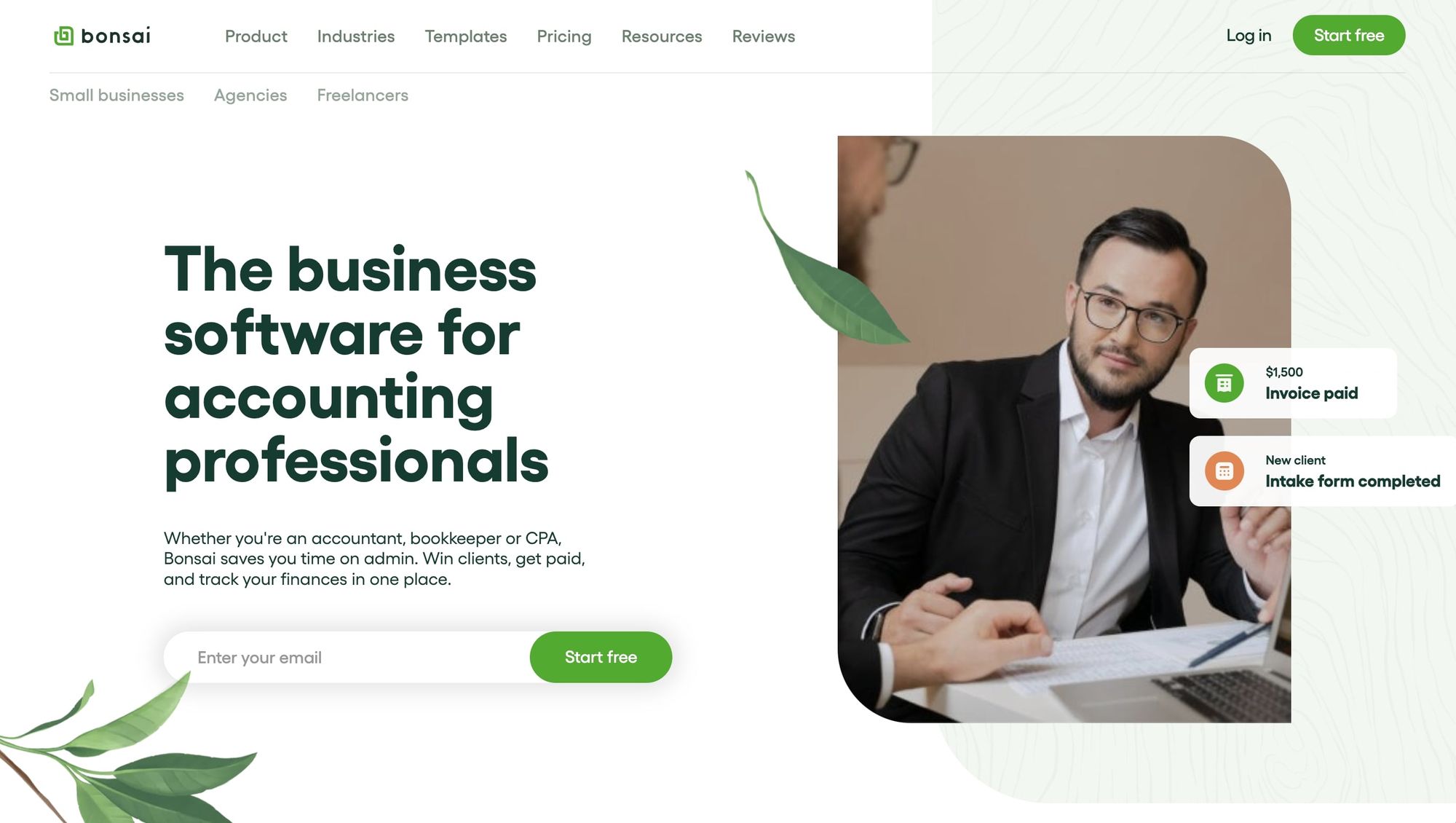 While popular among freelancers and independent professionals, Bonsai is a solid Karbon alternative with a range of features for accounting firms. The platform supports various accounting workflows, from project management and contracts to invoicing and time tracking, saving time and resources.
Bonsai's capabilities include CRM capabilities, scheduling, client portals, and financial management tools. Some users have expressed frustrations with Bonsai's payment processing, payouts, and lack of timeliness to resolve customer issues. Our advice? Take advantage of the free trial to see if the platform will suit your needs.
Related reads: The best Bonsai alternatives you need to try
Benefits of Hello Bonsai
Client management tools enable form creation, appointment bookings, contract generation, and lead management from a centralized location.
Time tracking and project management tools keep projects on track and ensure easy organization of essential documents.
Financial management tools ensure easy invoicing, payments, expense tracking, and management of tax and accounting matters.
Editable templates allow for branded proposals, forms, contracts, and other essential documents.
Collaboration tools encourage teamwork while improving project efficiency and accuracy.
Hello Bonsai Pricing
After a free trial, pay $17 per month for an annual plan or $24 monthly.
Hello Bonsai reviews
G2: 4.3/5 star rating (+63 reviews)
Capterra: 4.7/5 star rating (+65 reviews)
7. QuickBooks Online Accountant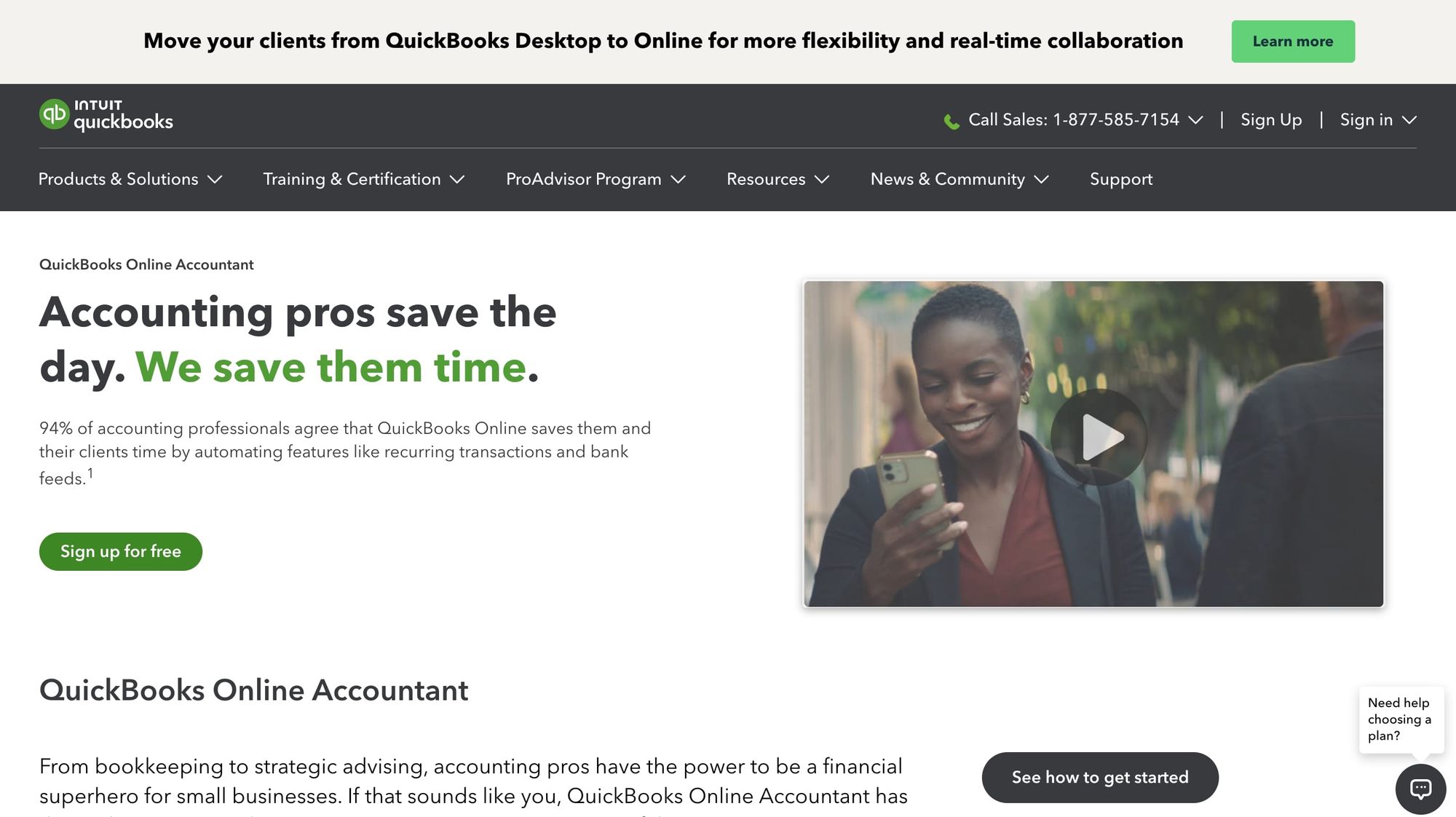 No discussion of Karbon alternatives would be complete without mention of QuickBooks Online Accountant by Intuit. The robust platform is a popular choice among accountants and accounting firms who look to QuickBooks as a go-to software solution.
Manage clients, streamline workflows, and stay organized with one central platform for all accounting activities. QuickBooks Online Accountant helps you easily manage your finances, from income and expense tracking to invoicing, billing, reconciliation of bank accounts, and more.
Benefits of QuickBooks Online Accountant
Integrations with other Intuit products allow you to streamline your workflow and access additional functionalities.
The platform provides access to a network of certified professionals who can offer expert support for accounting matters.
Client management tools enable streamlined client messaging, financial management, and collaboration, preventing miscommunications.
Automations take routine tasks off your plate, such as transaction categorization and recurring invoicing, saving time and reducing manual errors.
Real-time collaboration makes it easy to answer client questions, review their financial data, and provide timely feedback.
Customizable financial reports give insights into your client's financial health, from balance sheets to profit and loss statements.
QuickBooks Online Accountant pricing
Sign up for free to try QuickBooks Online Accountant, and customize a plan based on the features and functionality that suit your accounting practice.
QuickBooks Online Accountant reviews
G2: 4.4/5 star rating (+79 reviews)
Capterra: 4.5/5 star rating (+25 reviews)
8. Financial Cents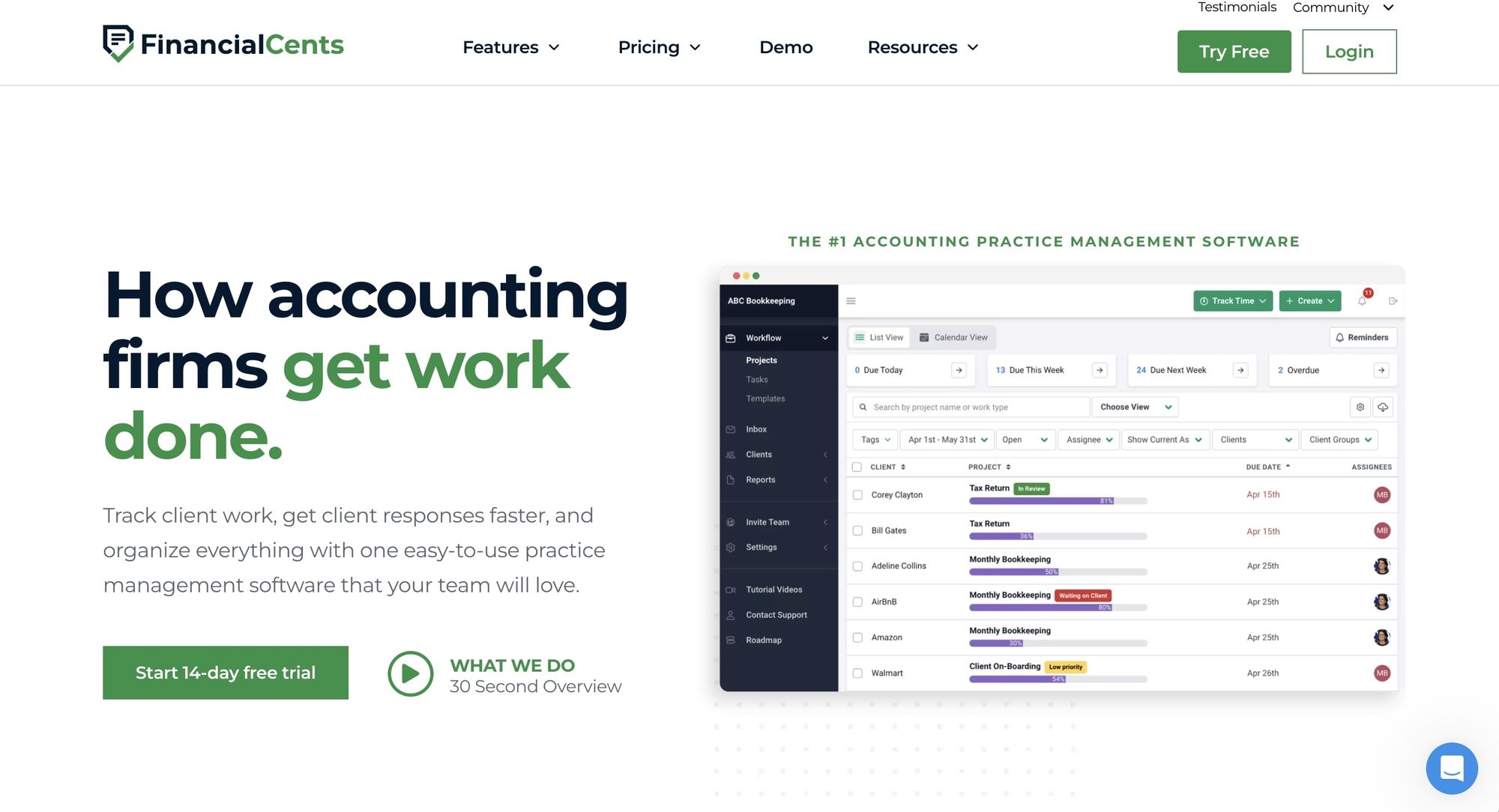 With robust client management and practice management solutions, Financial Cents assists accounting firms looking to streamline their operations. Easily track and manage client relationships, share documents, and stay on track with project goals.
Financial Cents' billing and invoicing tools enable accounting firms to generate professional-looking invoices and track and automate payments. Meanwhile, time-tracking features help accounting firms record billable hours and maximize every moment.
Benefits of Financial Cents
If you have a larger firm with multiple team members, you'll appreciate Financial Cents' capacity management tools. Easily get a big-picture view of your team's workload, manage resources, reassign tasks, and ensure optimal use of everyone's time.
Save 10 hours weekly with automation tools that facilitate secure, encrypted document collection and text and email reminders.
Workflow management tools take repetitive tasks off your plate while keeping you up-to-date on project statuses.
Integrations with Gmail or Outlook ensure nothing important slips through the cracks.
Financial Cents pricing
After a free trial, paid plans start at $39 per user per month when paid annually, or $49 monthly.
Financial Cents reviews
G2: 4.8/5 star rating (+71 reviews)
Capterra: 4.8/5 star rating (+99 reviews)
9. Firm360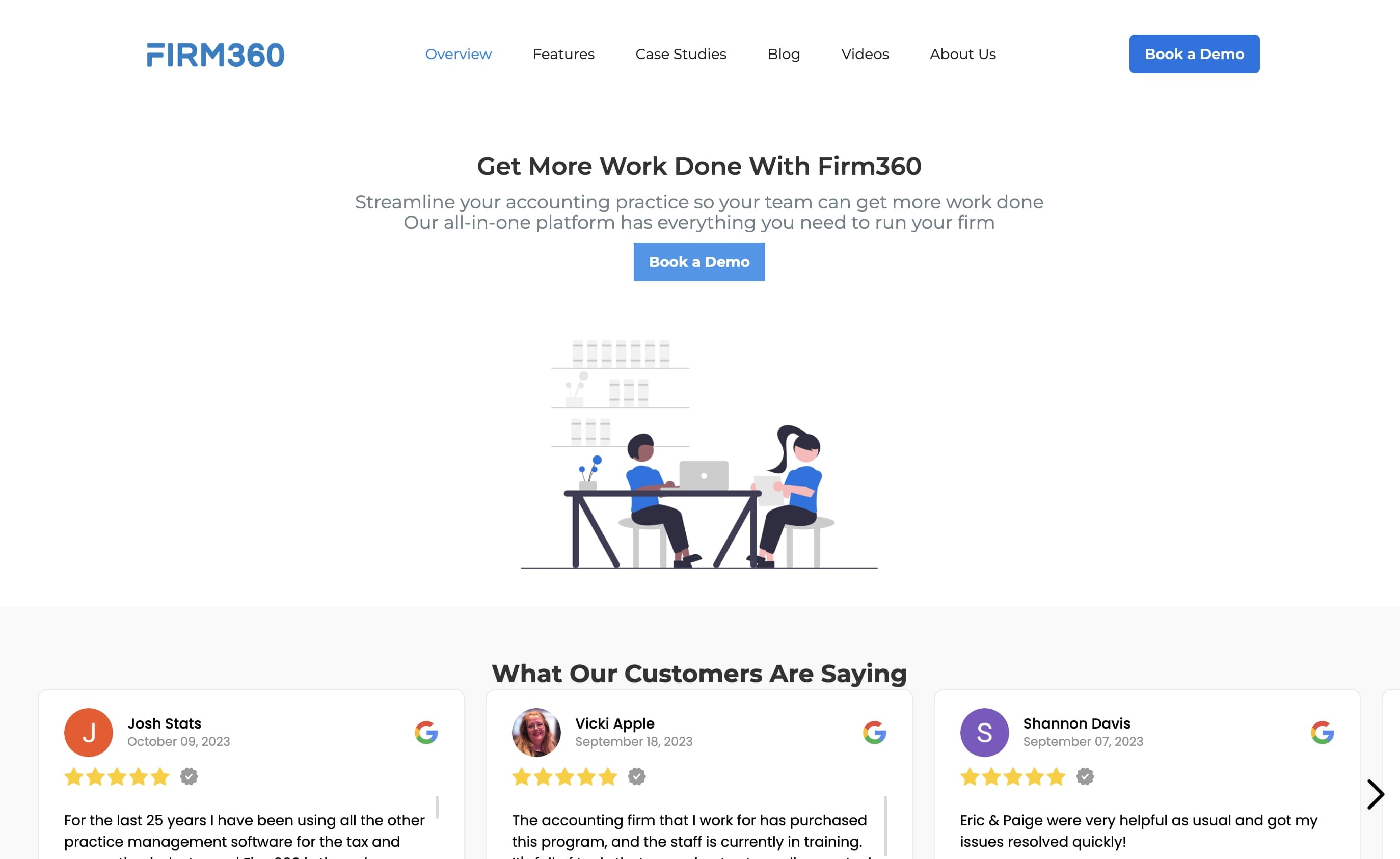 As an all-in-one accounting practice management platform, Firm360 has loads of features to manage projects, collaborate with team members, and interface with clients. From client management to advanced reporting, Firm360 helps streamline processes and complete more work in less time.
Notably, Firm360's CEO, Brandon Gray, launched the platform in response to the growing pains his own firm was experiencing. As such, its team has a unique understanding of what it takes to start, run, and grow an accounting practice.
Benefits of Firm360
Client management tools provide at-a-glance insights on open projects, recent documents, client communications, payment histories, and other information.
Project management tools track productivity and keep all parties accountable. Efficiently hand off tasks to other team members, view what everyone's working on, and never miss a deadline.
Integrated, secure document management keeps files organized and facilitates e-signature collection.
Time and billing tools ensure accurate time-keeping, easy invoice generation, and timely online payments.
Integrations with QuickBooks, Adobe Acrobat, Gmail, MS Office, and other tools enable easy syncing with popular software apps.
Firm360 Pricing
The basic plan starts at $49 per month, including a 20% discount available as of this writing.
Firm360 reviews
G2: 4.5/5 star rating (+3 reviews)
Capterra: 4.7/5 star rating (+120 reviews)
10. Client Hub
Built for cloud accounting firms, Client Hub offers a modern client portal and mobile app designed to run in the cloud. Users mention Client Hub's ease of setup, customization capabilities, and client communication tools, along with powerful workflows that take work out of email and organize it in one central location.
Client Hub's artificial intelligence (AI) tools can prove to be game changers for accounting firms. The platform harnesses the power of GPT by including AI everywhere in the platform, enabling the automation of routine tasks.
Benefits of Client Hub
Powerful AI features save time and resources. Generate email replies, ask questions to search intelligently for answers across emails and other files, obtain meeting notes and summaries, and even gauge client sentiment.
Internal and external workspaces give different views of client work for clients versus team members. Manage deliverables, deadlines, tasks, and client notes internally, and collaborate externally with clients in all the right ways.
File management tools provide convenient, one-click access to recent files and provide secure document storage.
A jobs dashboard provides quick views of all the work in your accounting practice, while a client task dashboard shows everything you're waiting on from clients.
The included mobile app modernizes the client experience and facilitates on-the-go communications.
Client Hub Pricing
Client Hub offers a free plan for a single user to automate resolving uncategorized transactions. Paid plans are $49 per month, paid annually, or $59 monthly.
Client Hub reviews
GetApp: 4.5/5 star rating (+25 reviews)
Capterra: 4.7/5 star rating (+30 reviews)
Conclusion
There is no one-size-fits-all when it comes to accounting practice management. Ultimately, the best solution for your firm comes down to a platform's features, benefits, and pricing. To find the best option, take advantage of free trials, and take note of any pros and cons as you try out various solutions.
We also recommend trying out Copilot's demo portal to get a realistic take on how the platform can work for your firm. With a range of features and an affordable price point, Copilot is our top pick in Karbon alternatives in 2024. To learn more and get started, sign up for your free trial today.
Sign up for our newsletter
Subscribe to our newsletter to receive emails about important announcements, product updates, and guides relevant to your industry.