10 Best Professional Services Automation (PSA) Software
Jun 05, 2023
13 min read
Omid G
If you're in the service-based industry, you understand the importance of digital project management. From creating milestones to tracking progress at the task level, it's essential to optimize resource utilization every step of the way, and this is where professional services automation (PSA) software comes in.
With its ability to streamline workflows, automate repetitive tasks, and provide valuable insights, PSA software has become an essential tool for service-based businesses. In this article, we will highlight 10 of the best PSA software solutions that can revolutionize the way you manage your service-based business, from client onboarding to communication, project management, invoicing, and more. Whether you're a small agency, consultancy, or enterprise-level organization, our list covers a range of options to meet your unique needs. So, let's dive in and explore the top 10 PSA software solutions that will empower your business to thrive in the ever-evolving service industry landscape.
What Does PSA Software Do?
PSA software eliminates the need for multiple platforms and logins by integrating multiple functionalities into one tool to automate and optimize service delivery processes. It provides a comprehensive solution for managing client onboarding, project management, resource allocation, time tracking, invoicing, reporting, and more.
By using PSA software, service-based businesses can improve operational efficiency, enhance client satisfaction, and gain valuable insights into their projects and financials. PSA software acts as a central hub where project managers, team members, and clients can collaborate, ensuring seamless communication and streamlined workflows throughout the project lifecycle. It could be the secret sauce you need to set yourself apart from competitors, and it's to your advantage to explore the PSA software options we've outlined below.
What to Look For in PSA Software?
When evaluating PSA software for your business, it's crucial to consider how the platform works for your specific situation. Here are the top 10 key considerations as you're doing your due diligence:

Client onboarding software: Look for features that streamline the process of bringing new clients into your system, validating their purchases, initiating projects efficiently, and building client loyalty right out of the gate.
Project management: Effective project management capabilities are essential to track project progress, allocate resources, assign tasks, and ensure timely delivery — not to mention keep clients happy.
Resource allocation: PSA software should provide tools to manage and allocate resources effectively, ensuring optimal utilization of talent and preventing overbooking.
Time tracking: Accurate time tracking features enable you to monitor project hours, analyze productivity, and generate accurate invoices based on billable hours.
Invoicing and billing: Look for software that simplifies the invoicing process, allows customization of invoices, and integrates with accounting systems for seamless financial management and fewer headaches in the accounting department.
Reporting and analytics: Robust reporting and analytics capabilities provide valuable insights into project performance, resource utilization, profitability, and overall business health.
Use cases: Consider the problem that the PSA resolves and its intended purpose. Guage whether the software checks every box for features and functionality.
User-friendliness: How much of a learning curve is there? Will you have access to resources, support, and knowledge to get up to speed on the platform?
Integrations: Determine whether the platform will integrate seamlessly with your current tech stack without interruptions to your existing processes.
Return on investment (ROI): All the fancy bells and whistles in the world don't mean much if a platform doesn't deliver value for the money. Take a close look at whether the PSA software meets your needs within budget and delivers an ROI.
10 Best Professional Services Automation Software in 2023
Now that you have a grasp of the importance of PSA software and what to consider when selecting one, let's explore the 10 best PSA software options available in 2023.
Here are our top picks for the best PSA software:
Let's dive deeper into each one.
1. Copilot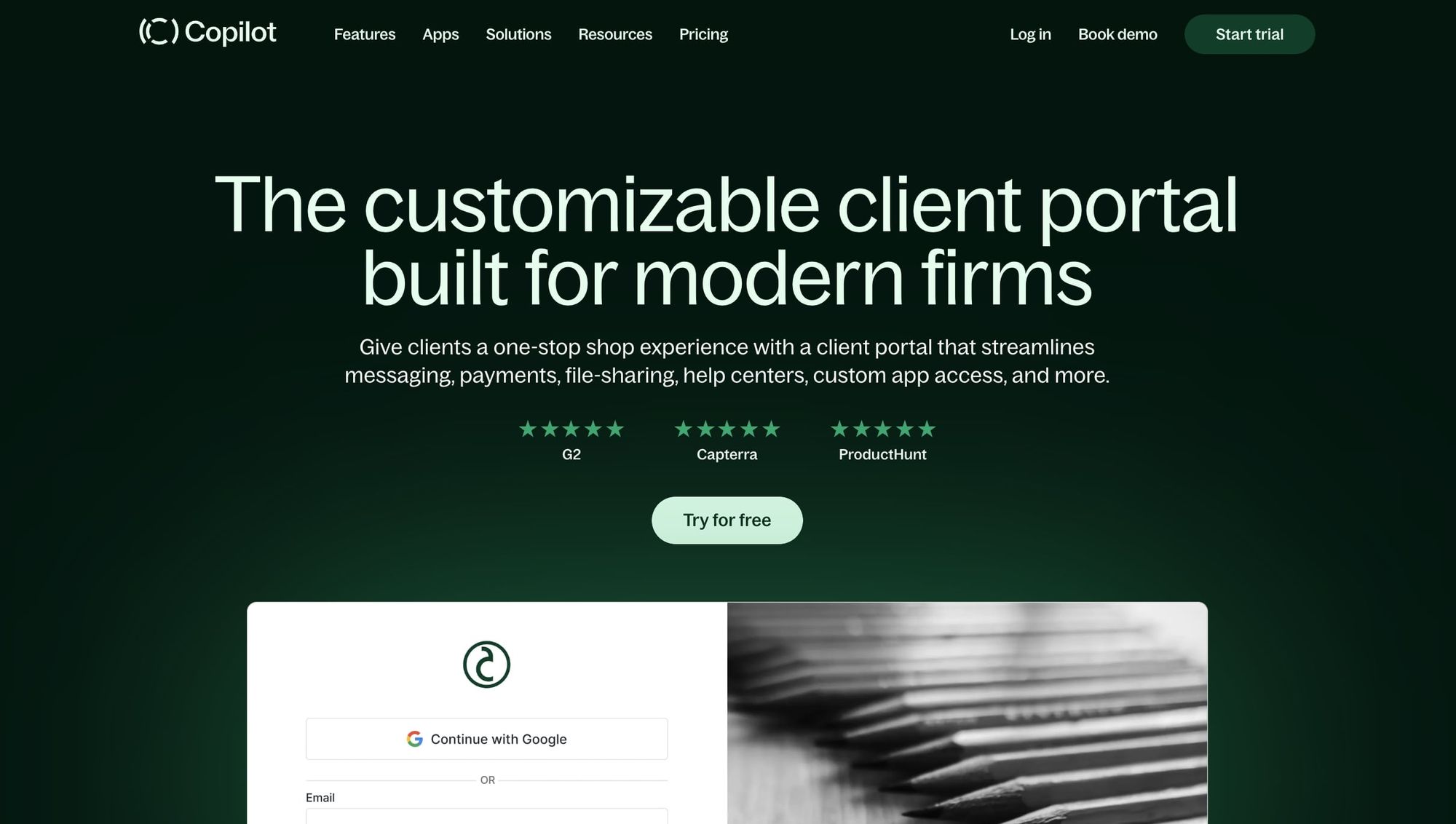 With its integrated client portal, Copilot offers a centralized platform where you can consolidate all your tech tools into a single dashboard, providing a convenient and comprehensive experience for your clients. Integration with Zapier allows seamless synchronization with your existing favorite tools, automating and streamlining the entire onboarding process. This includes automated workflows for self-serve sign-ups, welcome messages, and onboarding forms, freeing up your valuable time for value-added activities. Once the onboarding process is complete, you can facilitate client communications with ease through the centralized platform, leveraging built-in messaging features. Copilot also provides built-in scalability, allowing you to start with a single application and gradually add more as your business expands.
Benefits of Copilot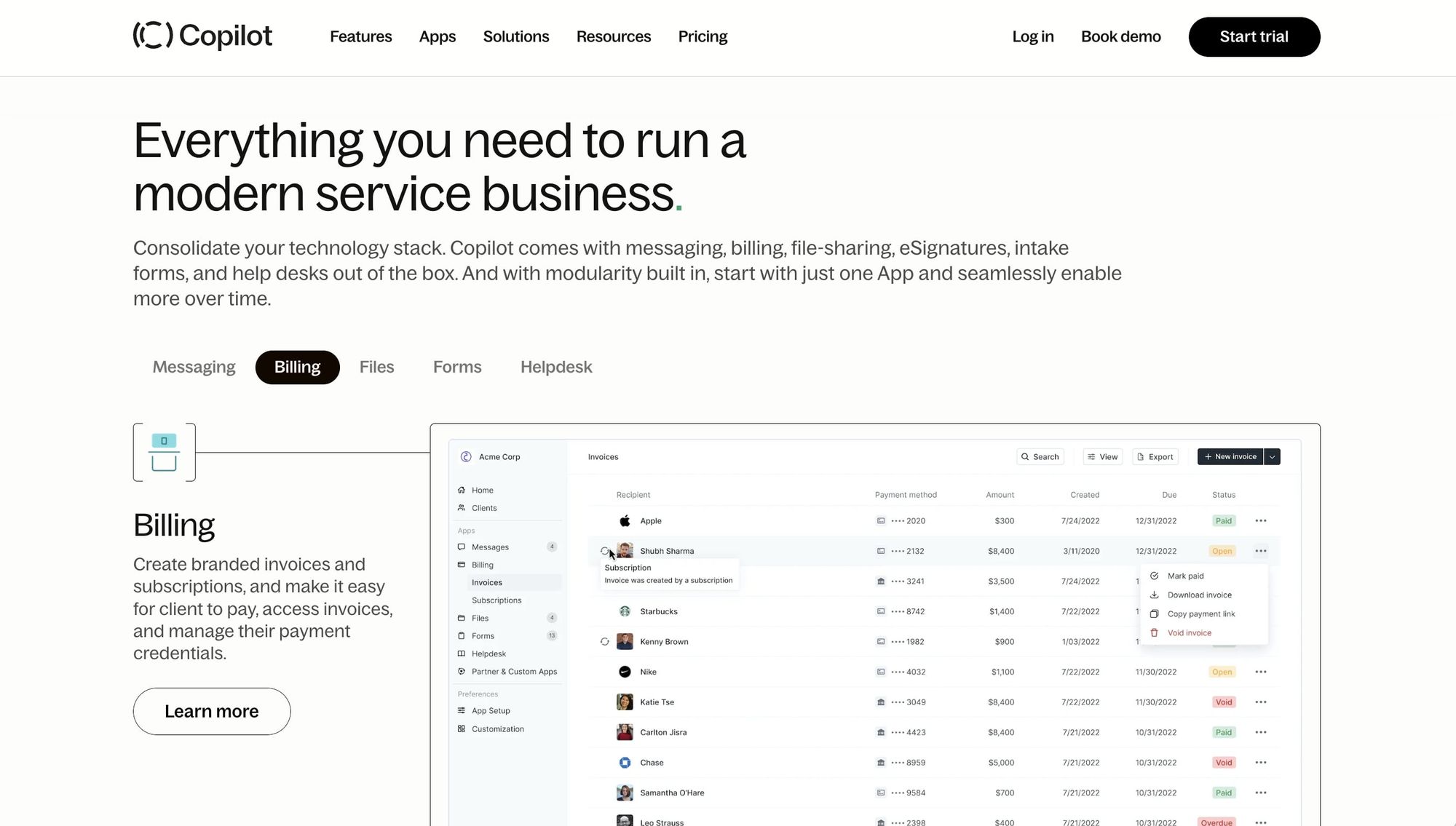 Advanced automations revolutionize client onboarding by eliminating manual tasks, reducing administrative burdens, and guaranteeing a consistent and efficient onboarding experience for each new client.
Tailored interactions transcend mere automation by providing personalized messages and intelligent onboarding sequences, infusing a human touch that strengthens client relationships.
The help-desk functionality empowers clients with knowledge and incorporates customizable visibility rules, ensuring that you share the appropriate content with each client.
Collaborative workflows foster transparent communication among teams and clients, facilitating coordination of efforts and delivering a cohesive onboarding journey.
Customizable branding aligns seamlessly with your brand identity, cultivating a unified onboarding experience that reflects your company's distinctive style and values.
Exceptional support encompasses integrated Slack access, a Copilot University, a comprehensive Help Center, and weekly live demos accompanied by Q&A sessions.
Copilot Pricing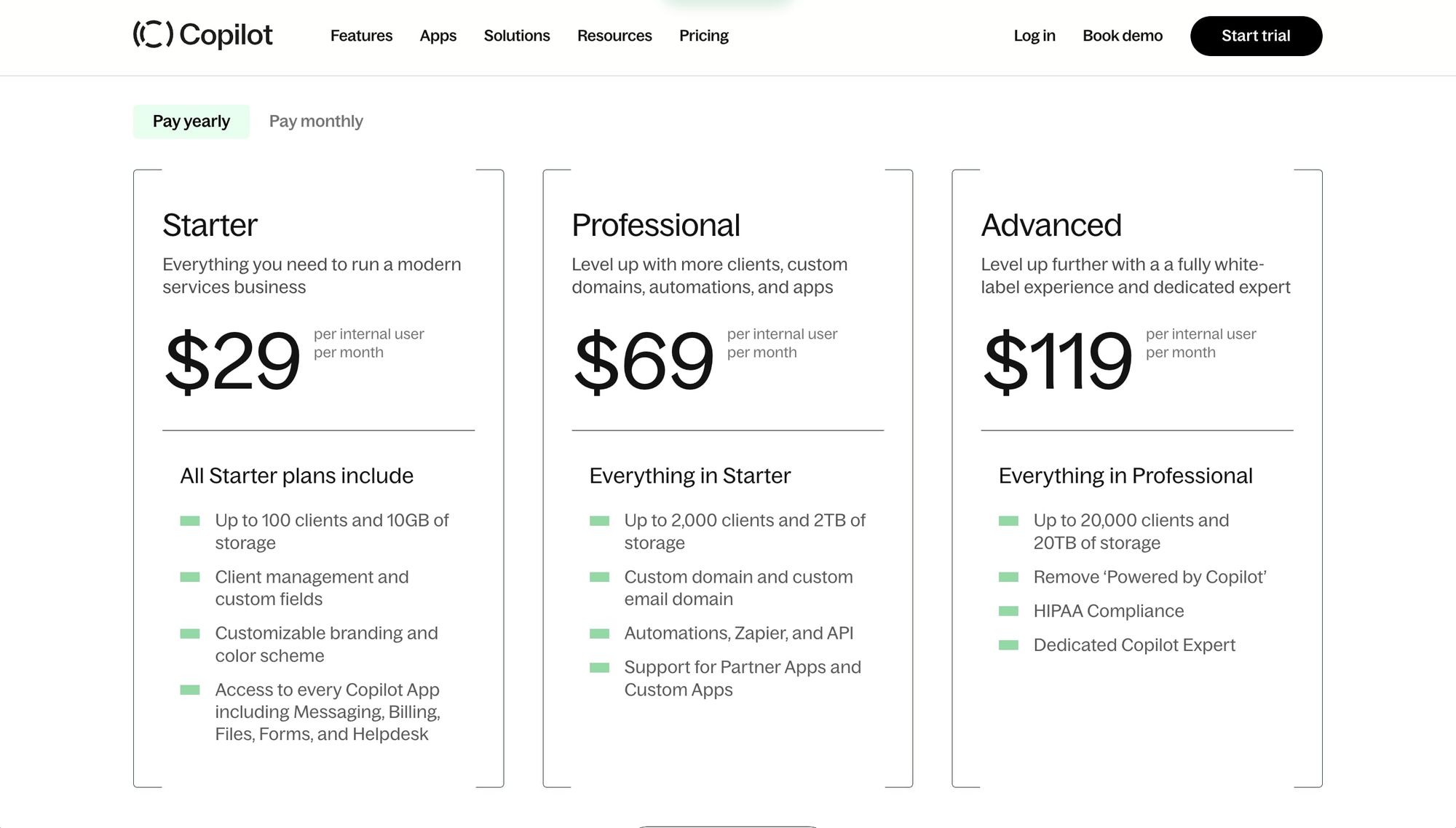 Start with a free trial; paid plans start at $29 per user per month, paid yearly. Monthly plans start at $39.
2. Accelo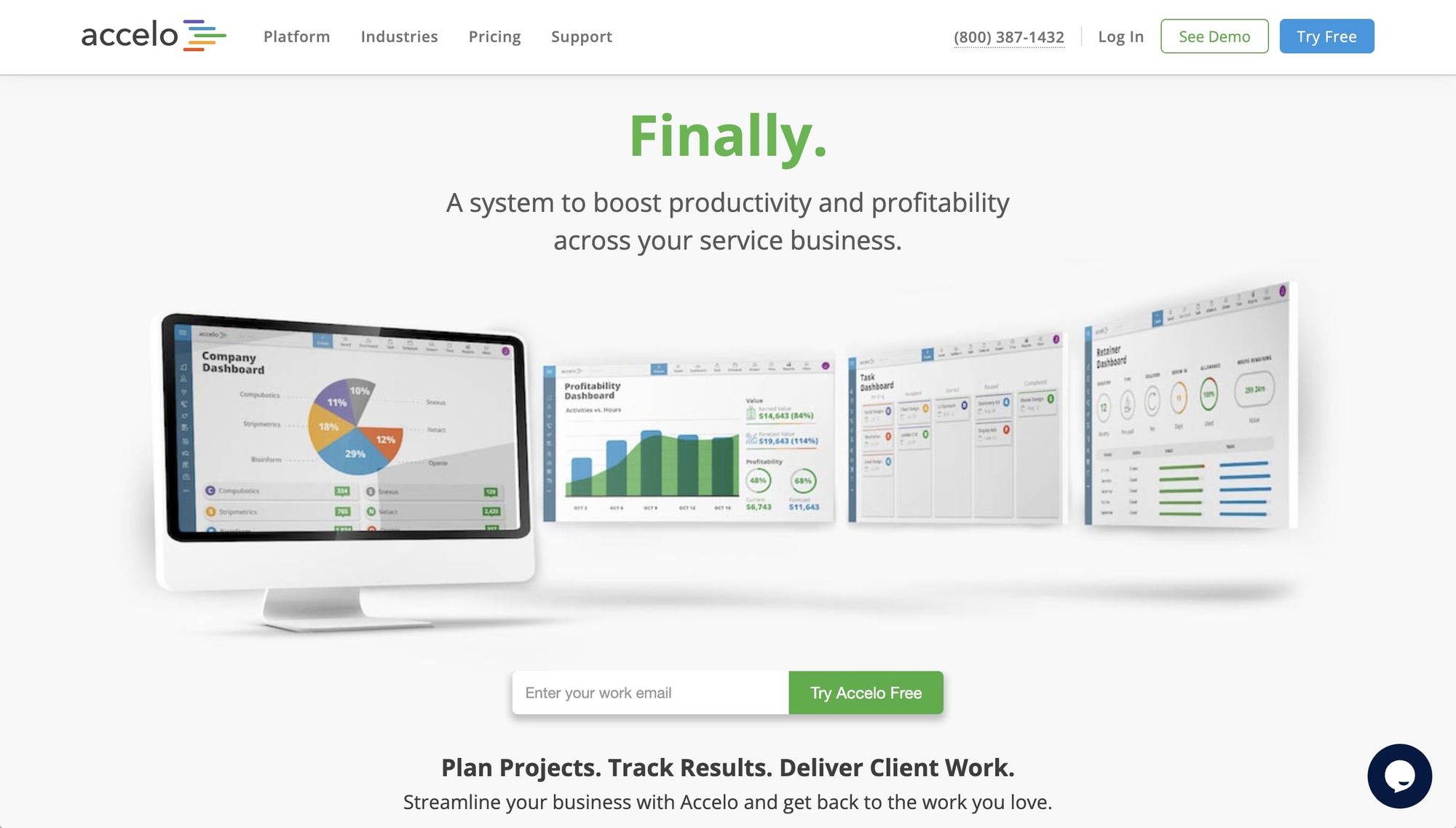 You didn't get into your service-based business to track down projects, tasks, invoices, quotes, and reports. With Accelo, you can systemize your sales and quoting process and get back to doing the things you love about your business. Using automations and advanced notifications, you're able to systemize your sales processes, identify any missed opportunities, and coordinate efforts among your team to deliver on client promises. You'll boost productivity and profitability by centralizing your systems under one roof, helping you boost client happiness and bridging the gap between sales and service.
Benefits of Accelo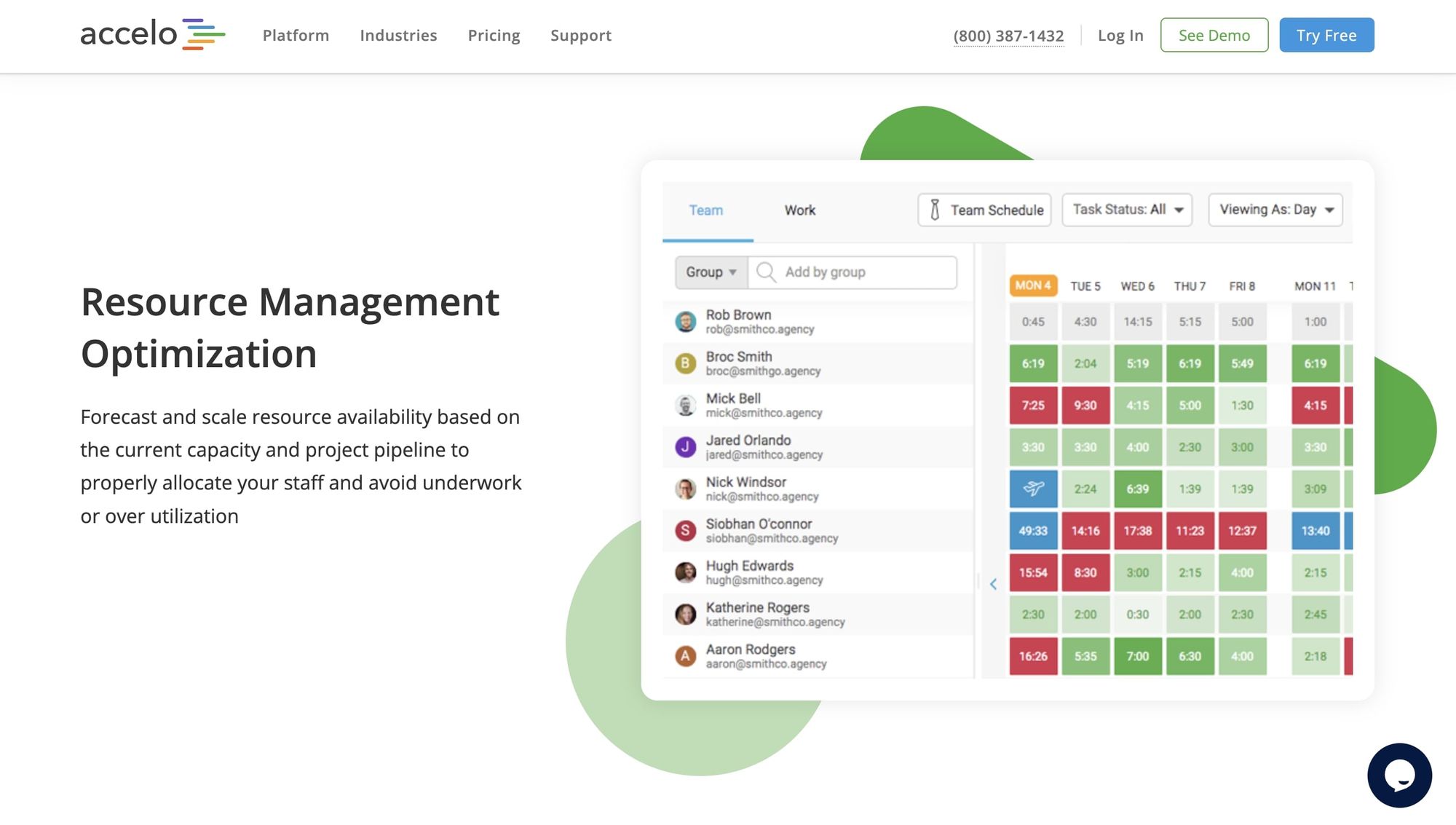 Convert accepted quotes into projects in two clicks. The handoff from sales to service teams is effortless so nothing gets lost in the shuffle.
Real-time project statuses, accurate budget details, and transparent team and client communications allow you to deliver profitable client work on time and within budget.
Streamlined customer success activities optimize your support team's time while building client relationships. Convert email requests into tickets, filter messages into a shared inbox, and empower your team to self-assign and track tickets.
Templatize, manage, and deliver retainer-based work that gives your business predictable recurring revenue and drives business growth.
Capture key client information on invoices and integrate it with your accounting software to ensure accurate billing and expedite payments.
Accelo Pricing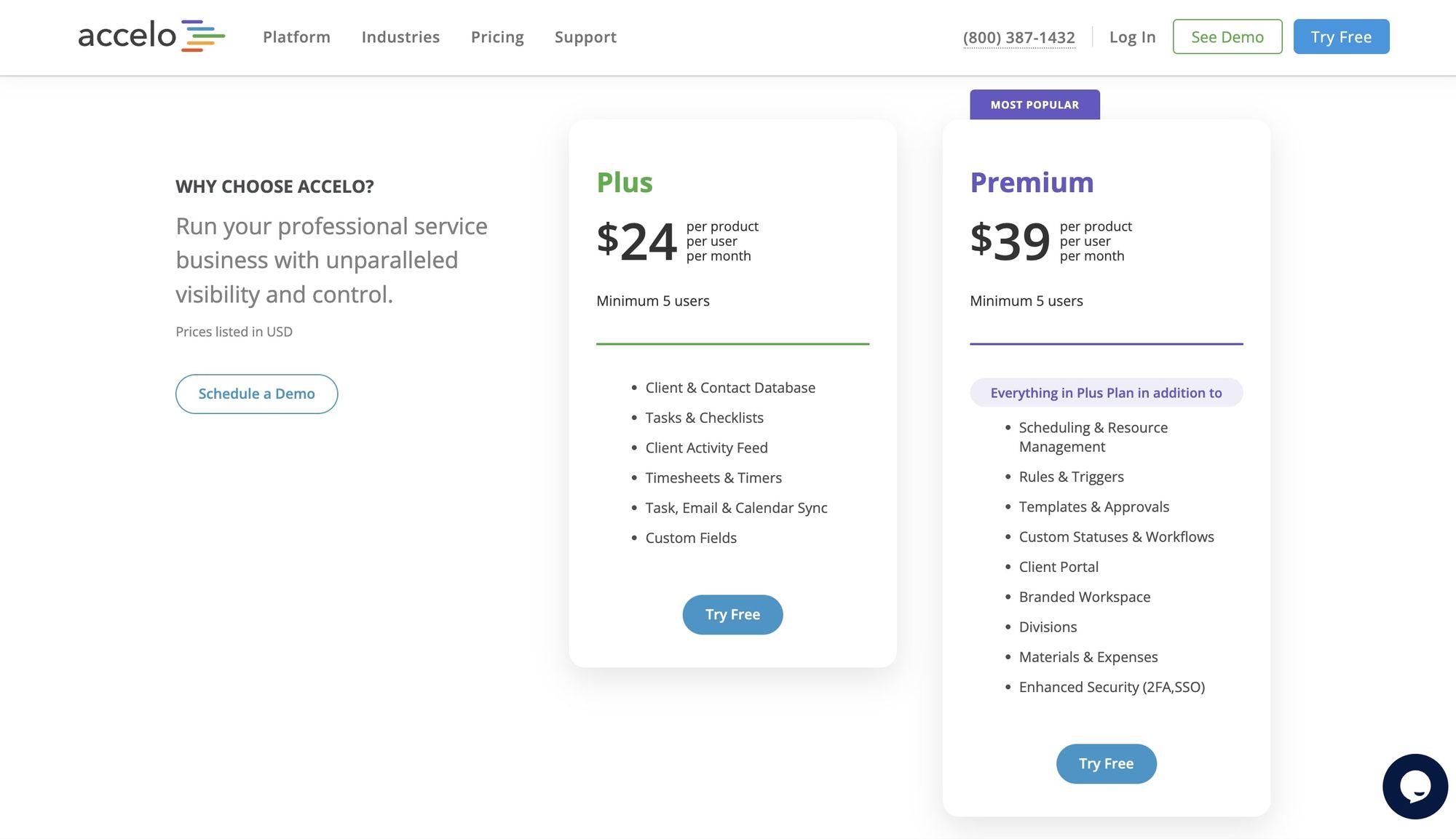 Free trial available; paid plans start at $24 per month when paid annually or $30 monthly.
3. SuperOps.ai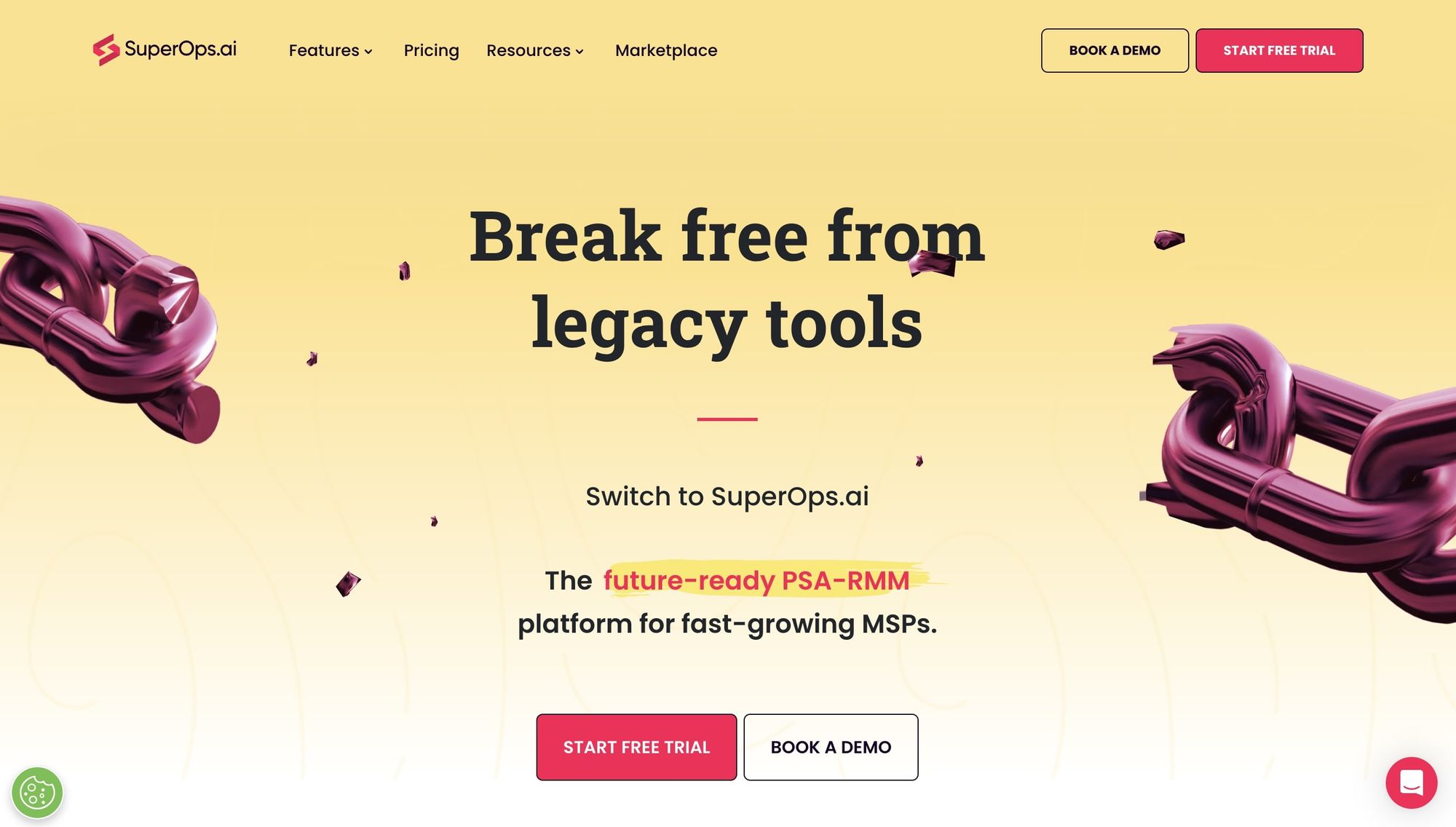 SuperOps.ai injects a fresh dose of energy into managing your service-based business; one user called it "snappy." It's a master multitasker that keeps your projects running smoothly and your team in sync. With powerful project management capabilities, you can easily assign tasks, allocate resources, and monitor progress — all in one place. No more juggling between different tools or drowning in a sea of spreadsheets. SuperOps.ai brings harmony and efficiency to your workflow, allowing you to focus on what you do best: delivering exceptional service.
Benefits of SuperOps.ai
Built-in quote management ensures timely payments while eliminating endless email chains where communications tend to break down.
A lightweight CRM ensures you keep opportunities organized and never miss a chance to connect with people looking for your services.
Intelligent workflow automations use conditional logic to create recurring runbooks that you can reuse over and over again, saving time and ensuring technicians get up to speed quickly.
Conversational messaging, context-based ticketing, and a user-friendly UI deliver the "wow" factor your customers never knew they needed from your service-based business.
SuperOps.ai brings together like-minded professionals who can connect, share insights, and learn from industry experts through active community forums and resources.
SuperOps.ai Pricing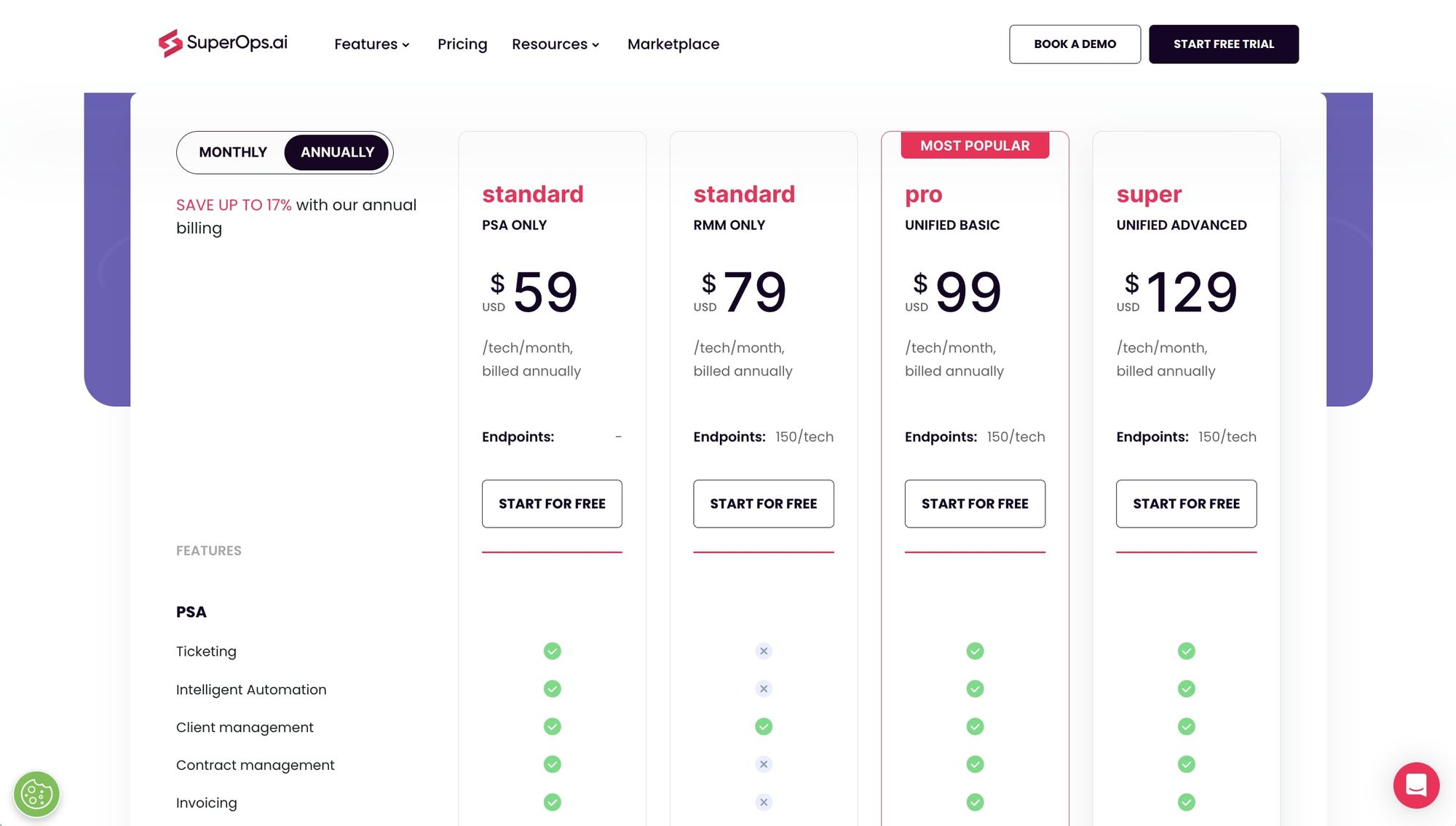 Start with a free trial; paid plans start at $59 per month, paid annually, or $69 monthly.
4. Moxo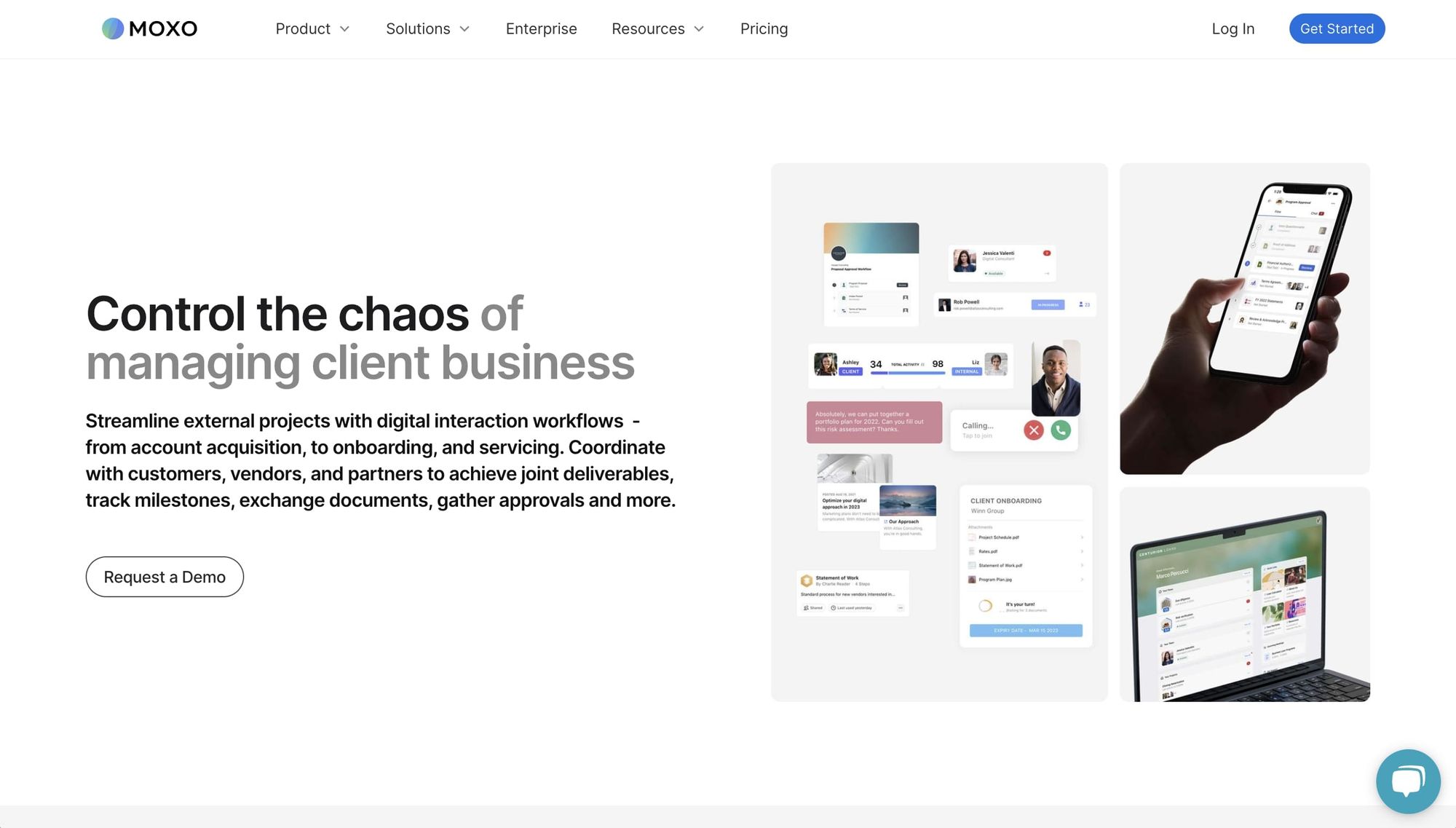 From account acquisition to onboarding and servicing, Moxo is with you every step of the way when you bring on a new client. Easily coordinate with customers, vendors, and partners in a unified dashboard where you can track joint deliverables and milestones, gather approvals, and get more done in less time. The platform provides sophisticated client project portals that blend modern technology with human interaction, providing branded, interactive workspaces that serve as a one-stop shop for the lifecycle of every client. Coordinating external projects becomes more efficient, less cumbersome, and more effective for your business goals.
Benefits of Moxo
Configure workflows with defined roles, and easily assign tasks to customers, vendors, partners, and internal stakeholders.
Drag-and-drop flow builders make it easy to map out key business processes while adding in actions like e-signatures, approvals, file requests, and more.
Save your flows as templates to reuse them later. Your team will thank you.
Form builders allow you to create custom digital forms, collect data, and automate tedious tasks.
Magic links enable customers to access flow actions without logging in, speeding up the process of accomplishing key tasks.
Embeddable technology extends your workflows to your mobile or web app.
Moxo Pricing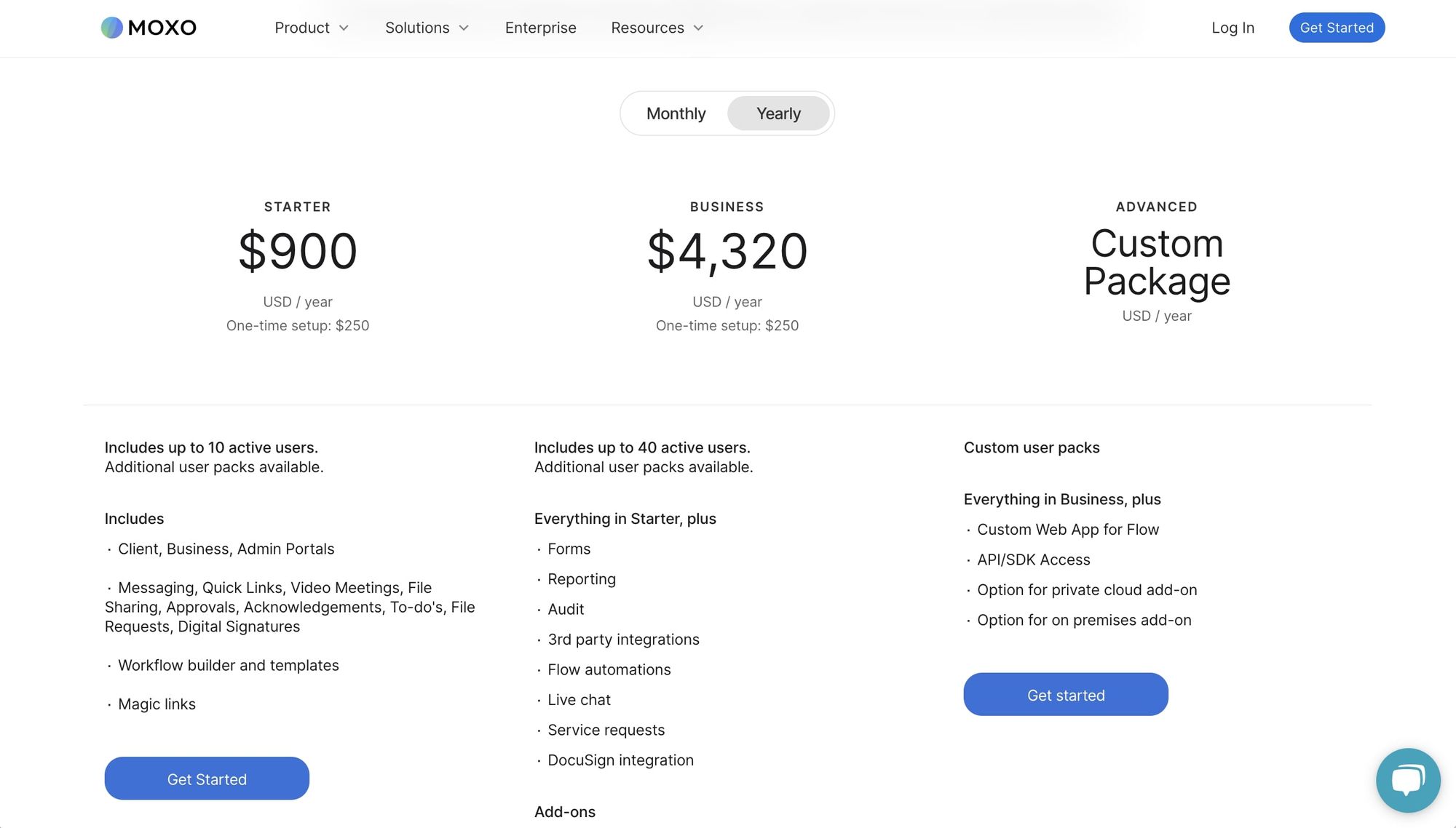 Starts at $100 per month or $900 annually.
5. Kantata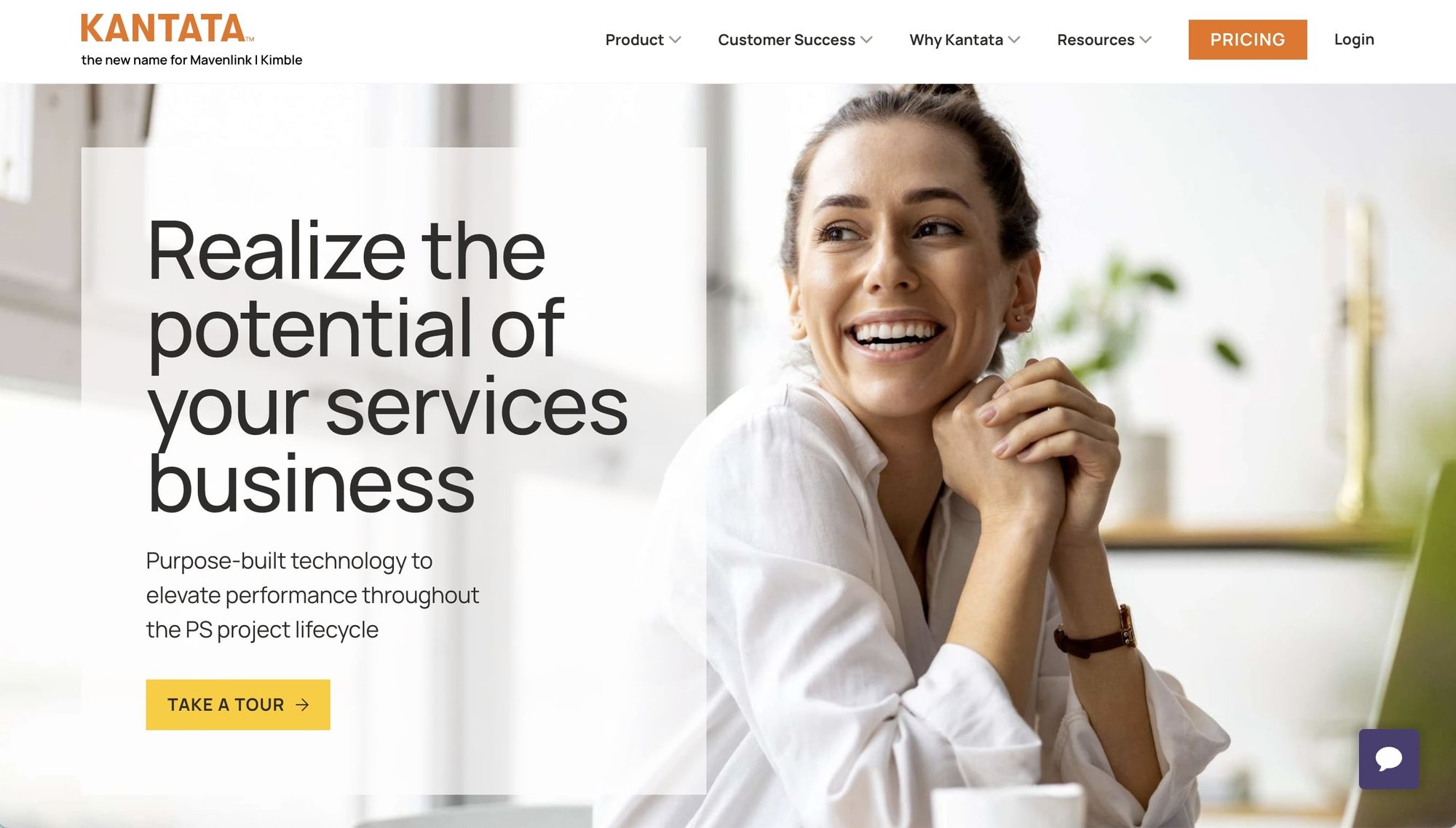 Kantata stands out as a comprehensive PSA tool that puts the power of forecasting at your fingertips. One of its key capabilities is the built-in Gantt tool, with intuitive drag-and-drop functionality that enables easy task management and provides a visual representation of task progress within specific timeframes. Moreover, the software allows you to establish task dependencies, enabling effective management of task relationships. Essentially, the project timeline adjusts automatically as needs change with any given project.
Benefits of Kantata
Resource allocation management is one of Kantata's strong suits, with built-in estimating, planning, executing, analyzing, and optimizing.
In the Estimating stage, the software provides project templates that facilitate the estimation of resource requirements, including hours and budgets.
During the Planning phase, you can effortlessly view active projects and your resource pool, allowing for seamless task assignment planning.
The Executing stage ensures that the project timeline dynamically adjusts based on your resource schedule, simplifying necessary modifications.
The Analyzing and Optimizing stage provides valuable insights into resource trends, simplifying the process of forecasting and meeting future resource needs more efficiently.
Kantata Pricing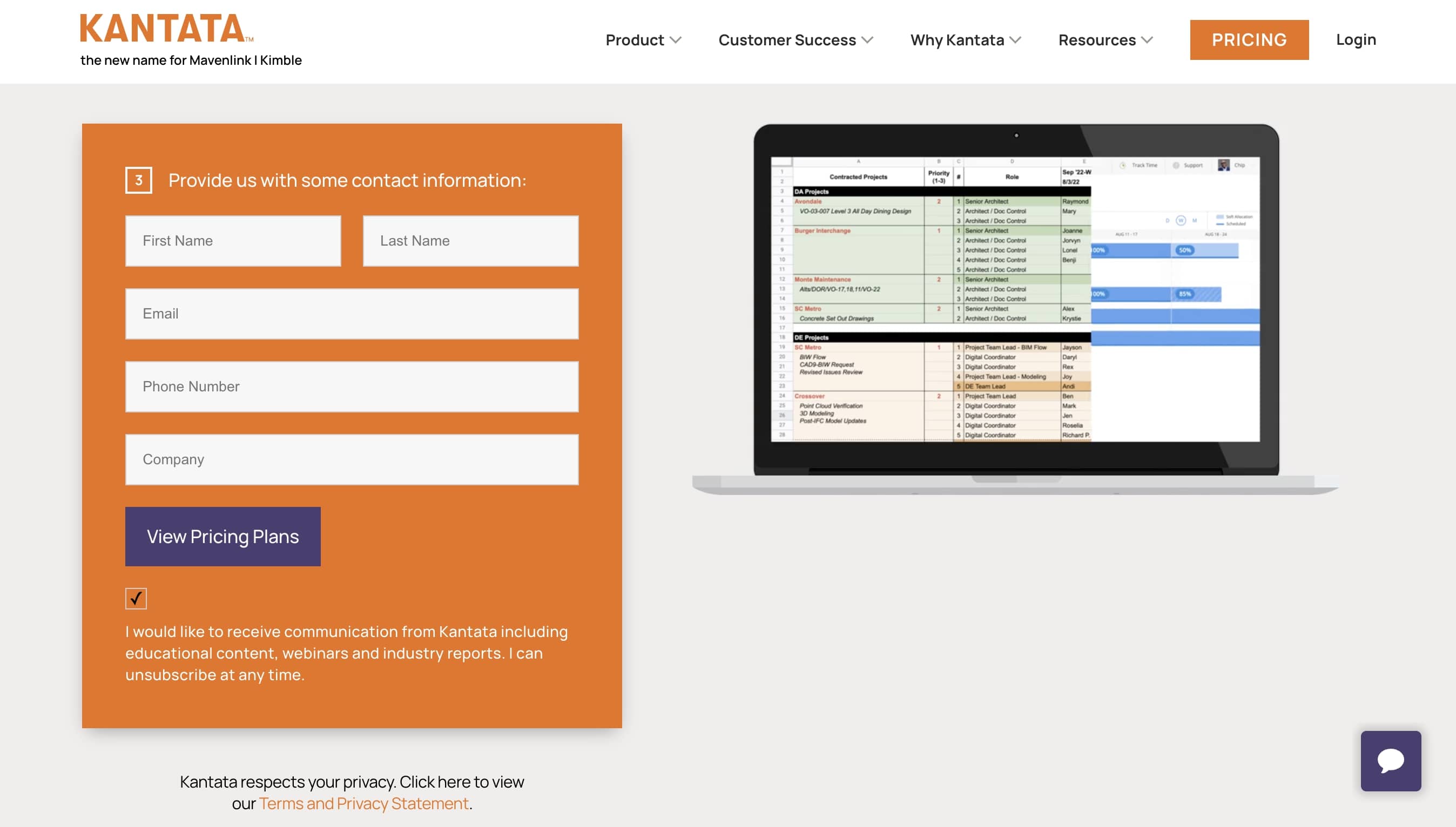 Start with a free trial, and request a demo to find out pricing based on your company's specific needs.
6. Polaris by Replicon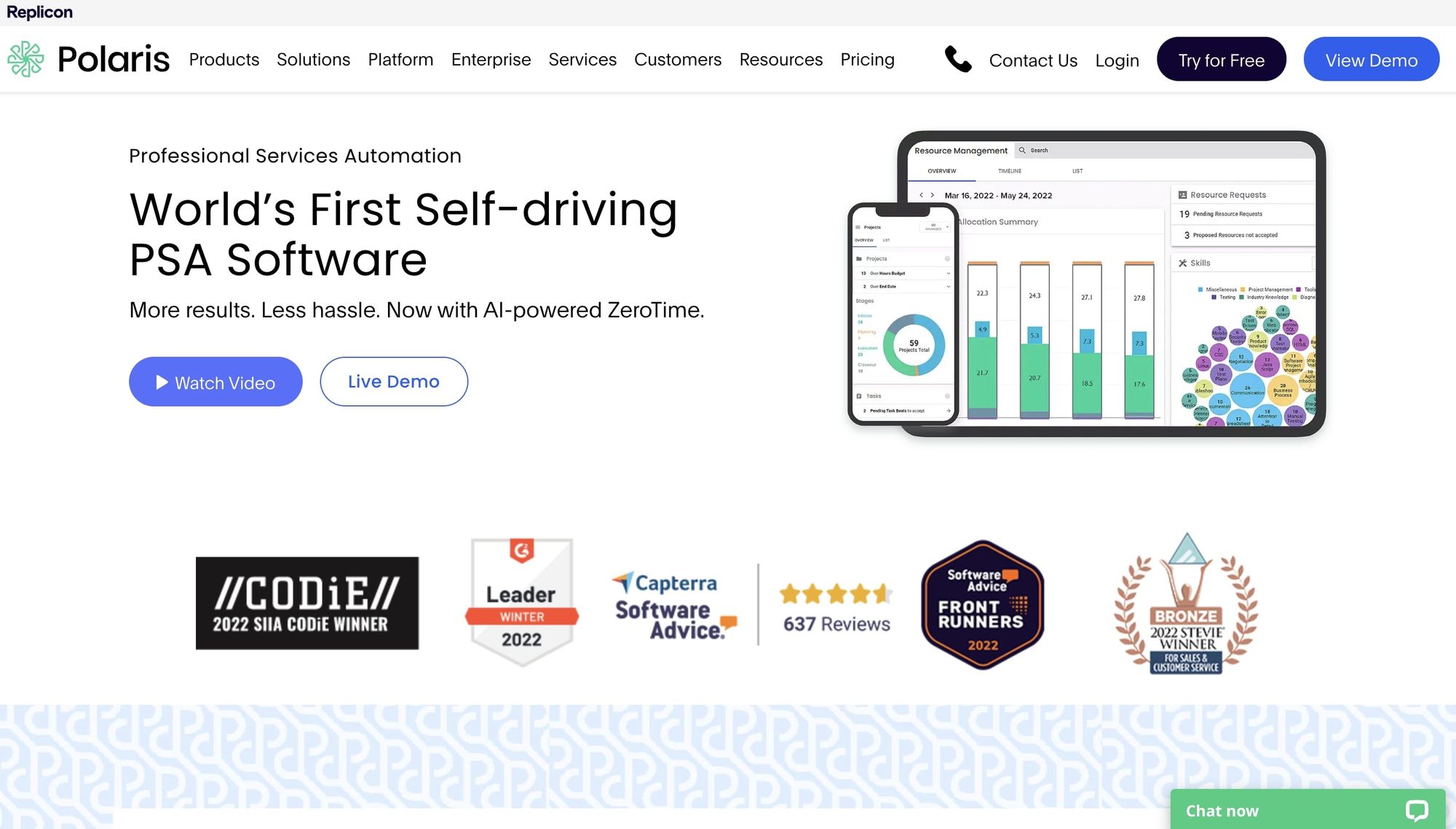 Polaris is an advanced PSA software with robust project management capabilities. The software provides a centralized platform for planning, executing, and tracking projects, allowing teams to collaborate seamlessly and ensure project success. With intuitive tools like task management, milestone tracking, and real-time visibility into project progress, Polaris enables organizations to stay on top of deadlines, identify bottlenecks, and make informed decisions.
Benefits of Polaris
The software offers advanced resource planning and allocation features, allowing businesses to optimize resource management across projects.
With features like resource forecasting, capacity planning, and skills management, organizations can effectively manage resource availability, reduce resource conflicts, and maximize productivity.
Polaris also excels in financial management, providing comprehensive tools for budgeting, billing, and revenue recognition.
The software allows businesses to create accurate project budgets, track expenses, generate invoices, and manage contract billing.
With built-in analytics and reporting capabilities, organizations can gain insights into project profitability, monitor financial performance, and make data-driven decisions.
Polaris Pricing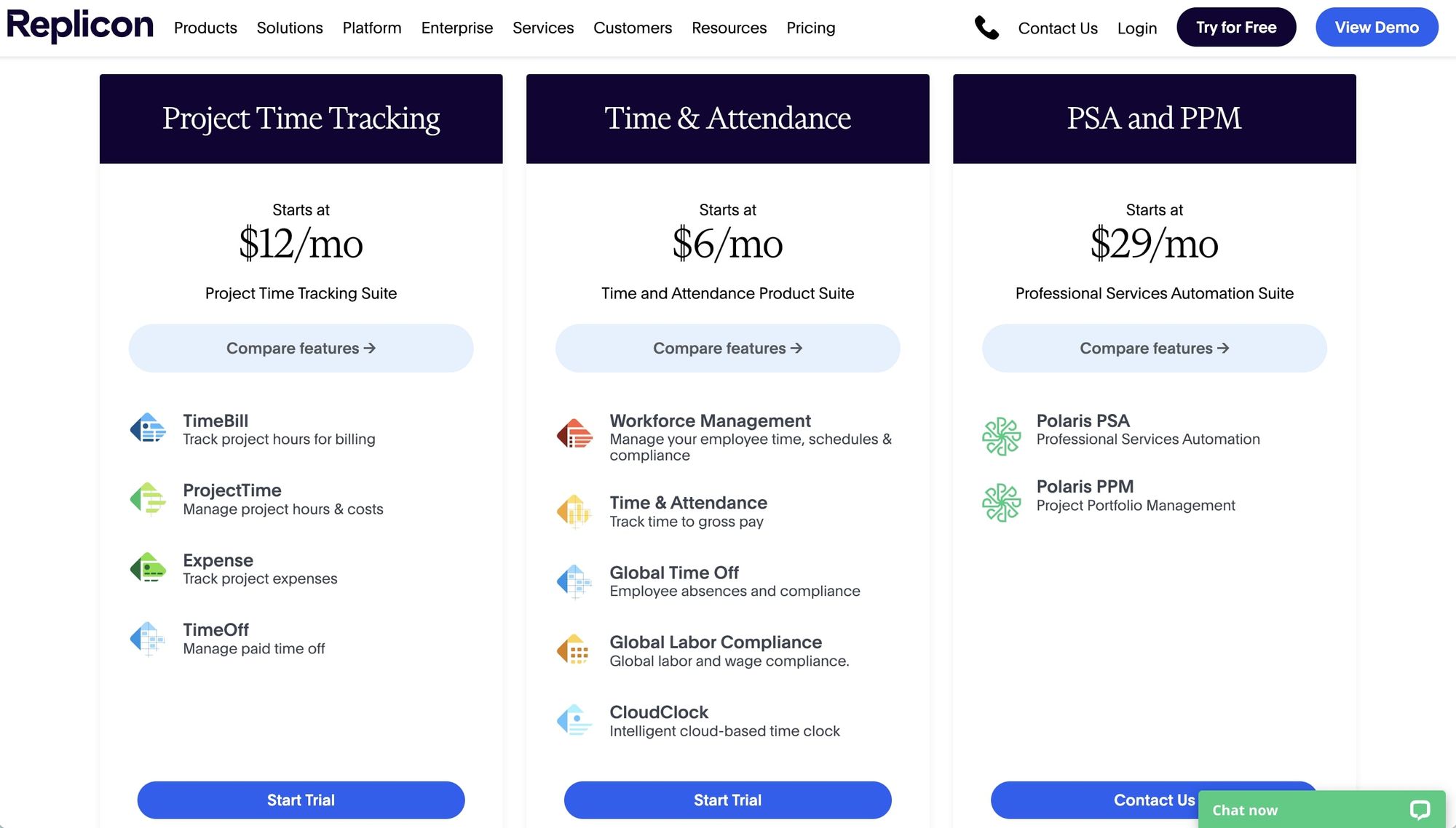 Try Polaris for free; paid plans start at $12 per month.
7. Freshbooks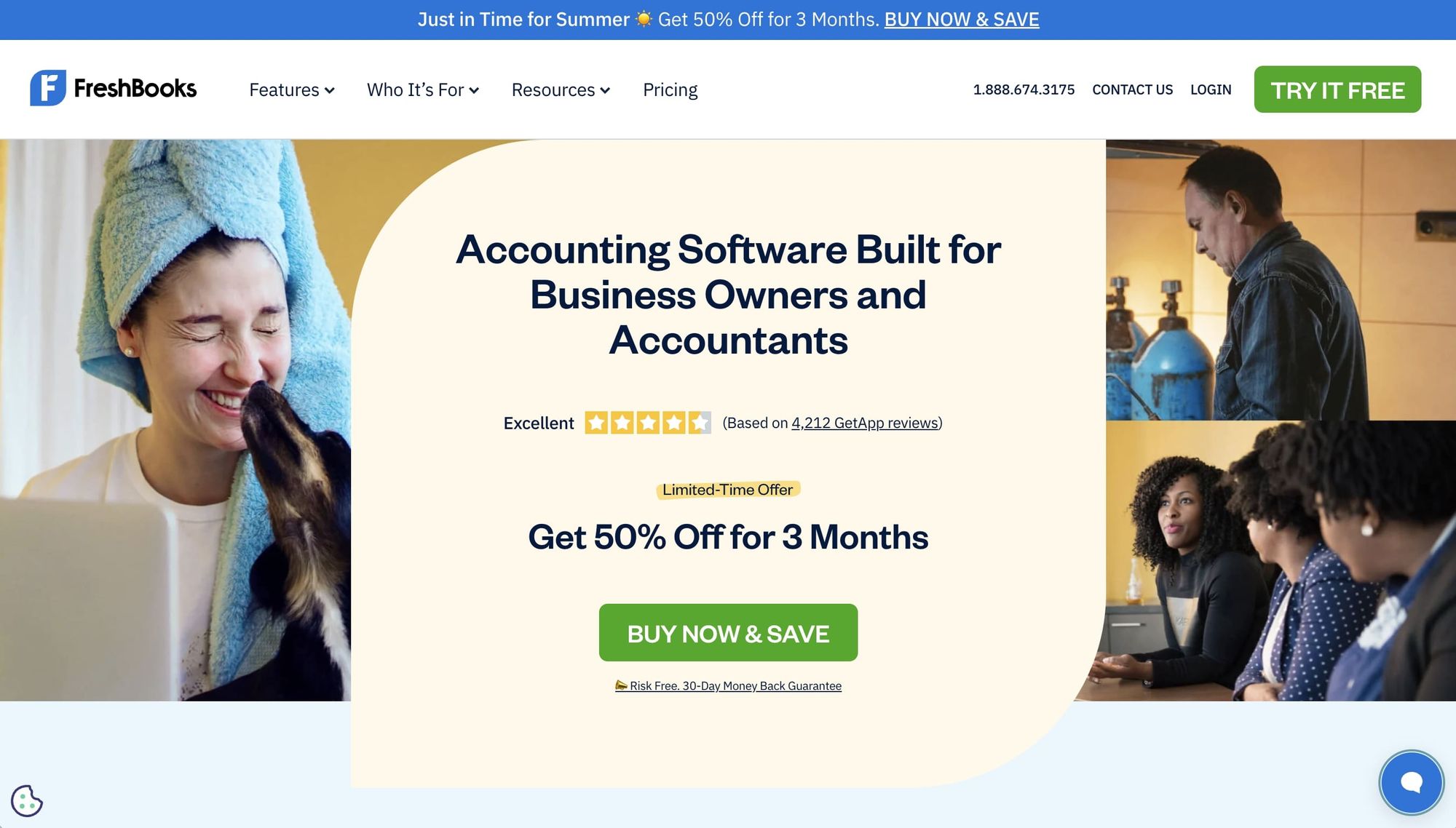 Freshbooks is among the best PSA software options designed specifically for small businesses and freelancers. The intuitive platform offers a comprehensive suite of accounting and financial management tools to streamline business operations and enhance productivity. With Freshbooks, users can easily track time, create and send professional invoices, collaborate with clients and team members, manage expenses, and generate detailed financial reports. Its user-friendly interface and robust features make it a top choice for small enterprises seeking affordable, scalable accounting solutions that grow with their businesses.
Benefits of Freshbooks
Freshbooks automates repetitive tasks such as invoicing, expense tracking, and payment reminders, freeing up valuable time for business owners to focus on core activities.
The software provides professional-looking invoices and estimates that you can customize with branding and personalized messages, leaving a polished and professional impression on clients.
Freshbooks simplifies expense tracking by allowing users to link bank accounts and capture receipts and categorize expenses on the go using the mobile app.
Reliable payment processing ensures businesses can securely accept online payments from clients using popular payment gateways. The software also offers robust reporting features that provide companies with a clear overview of their financial health.
Freshbooks enables businesses to collaborate directly with clients through the client portal, where clients can view and pay invoices, track project progress, and communicate securely.
Freshbooks Pricing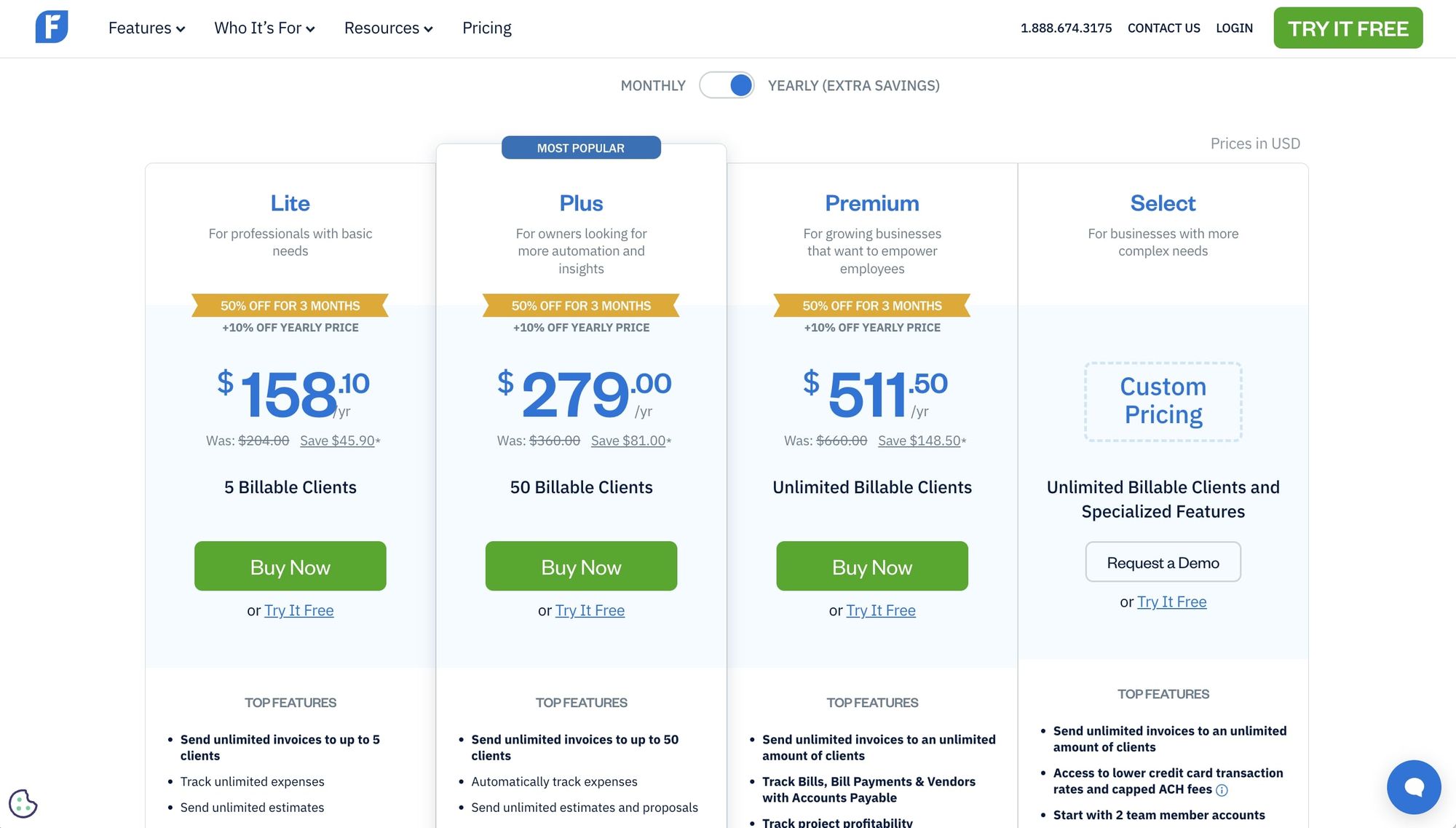 Try Freshbooks free; paid plans start at $204, paid annually, or $17 monthly. As of this writing, the site was offering 50% off for six months.
8. Dubsado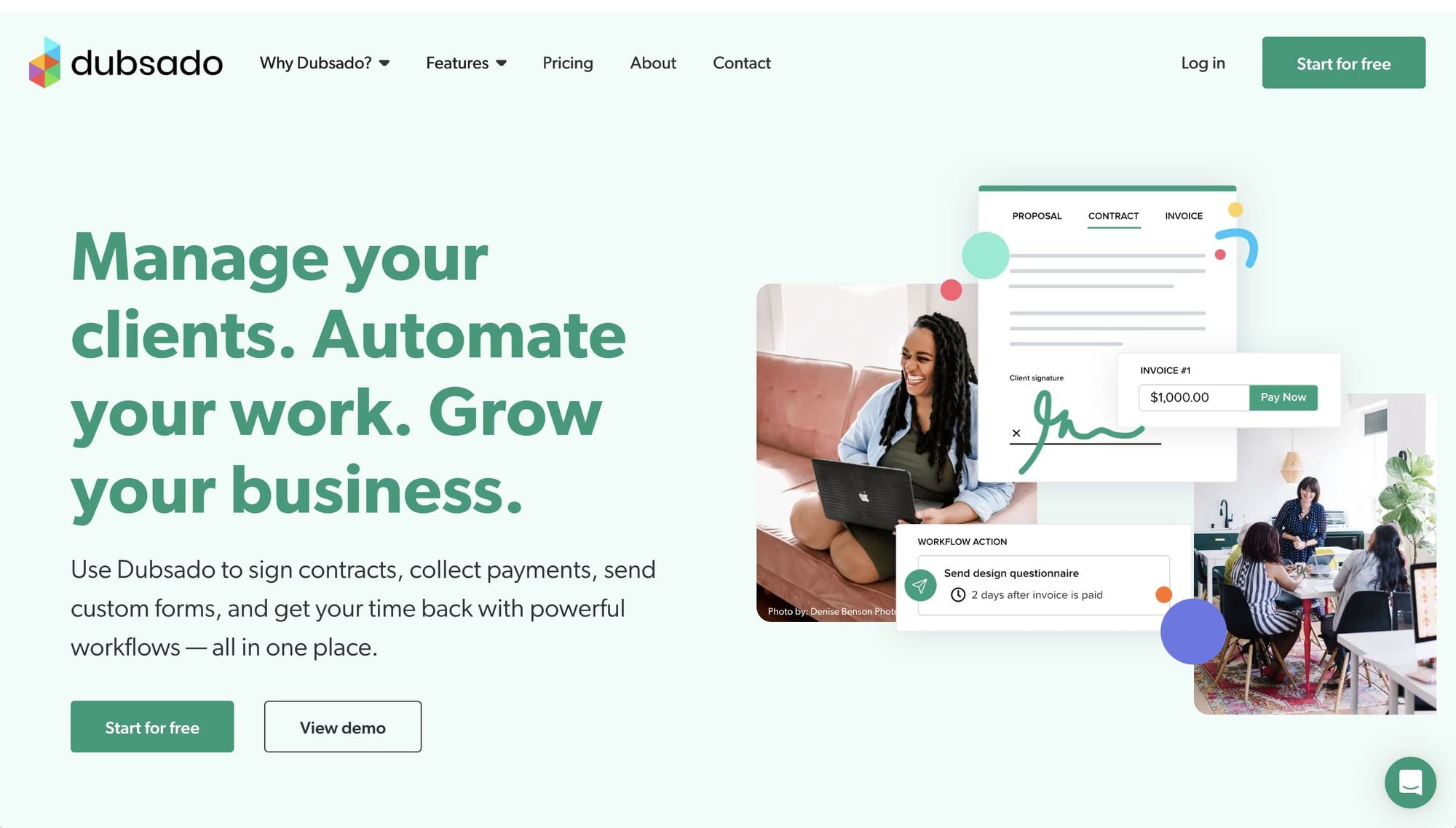 Dubsado offers a comprehensive suite of powerful workflows designed to optimize your time and simplify client management tasks. With a single platform, you can effortlessly handle a range of essential activities. From sending customized forms and invoices to collecting e-signatures and payments, Dubsado provides a centralized solution that streamlines your client interactions. One of its standout features is the humanized onboarding process, where automation takes care of repetitive tasks like payment reminders and confirmation emails while still maintaining a personal touch. With Dubsado, you can regain control of your time while delivering a personalized experience to your clients.
Related Reads: 10 Dubsado Alternatives You Need To Try
Benefits of Dubsado
Utilize Dubsado's CRM tools to track and organize leads, ensuring a streamlined sales process.
Impress clients with a wide selection of customizable form templates that align with your brand, including lead capture forms, questionnaires, and branded proposals.
Ensure smooth and timely payments with automated reminders and customizable invoice templates, allowing you to maintain a professional image.
Dubsado integrates seamlessly with popular scheduling tools, enabling you to manage appointment bookings directly from your website and eliminate manual communications.
Convert leads into satisfied customers with automated onboarding capabilities that provide a guided experience, enhancing the overall customer journey.
Dubsado Pricing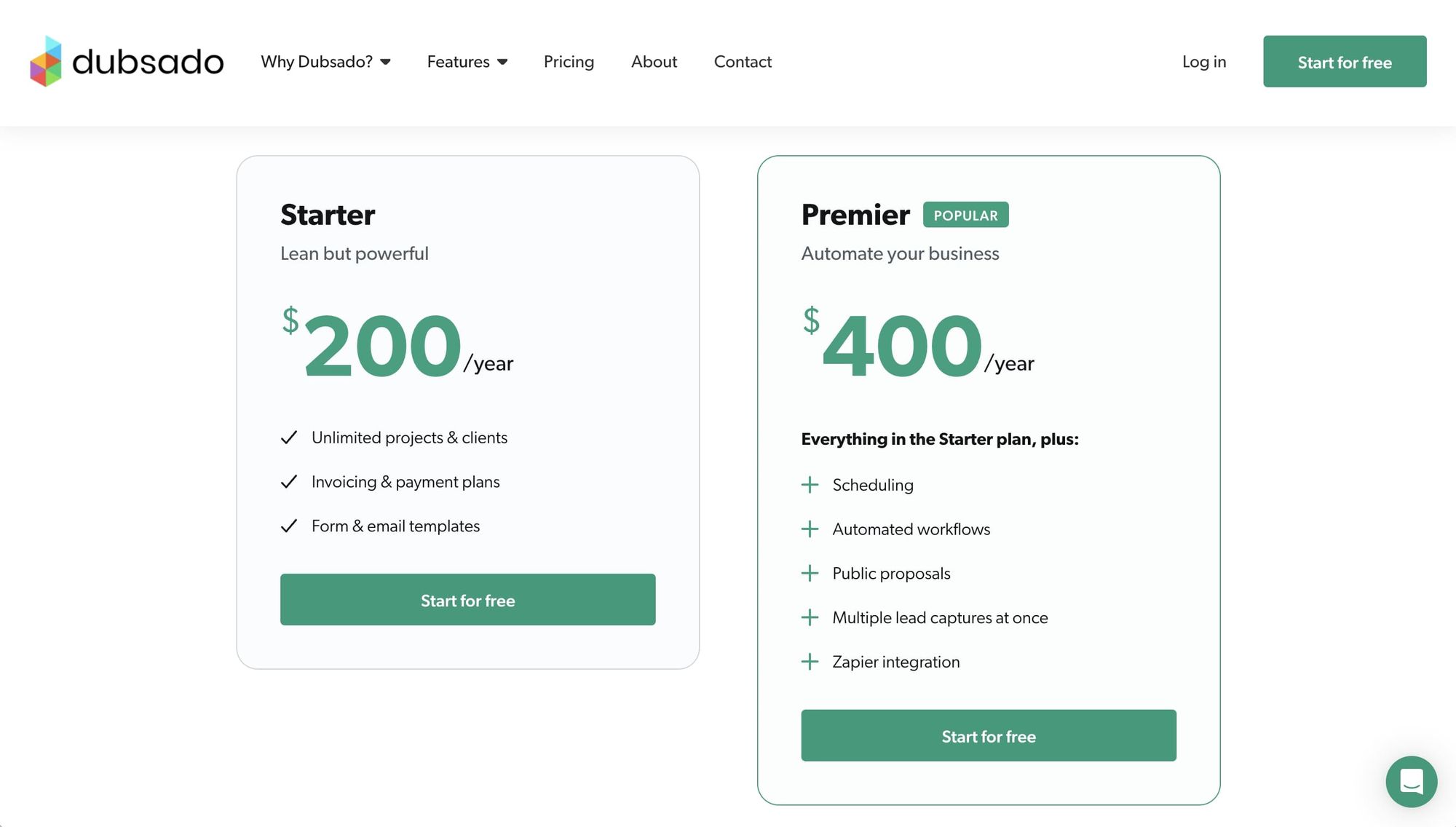 Start with a free trial; paid plans start at $200 per year or $20 per month.
9. BigTime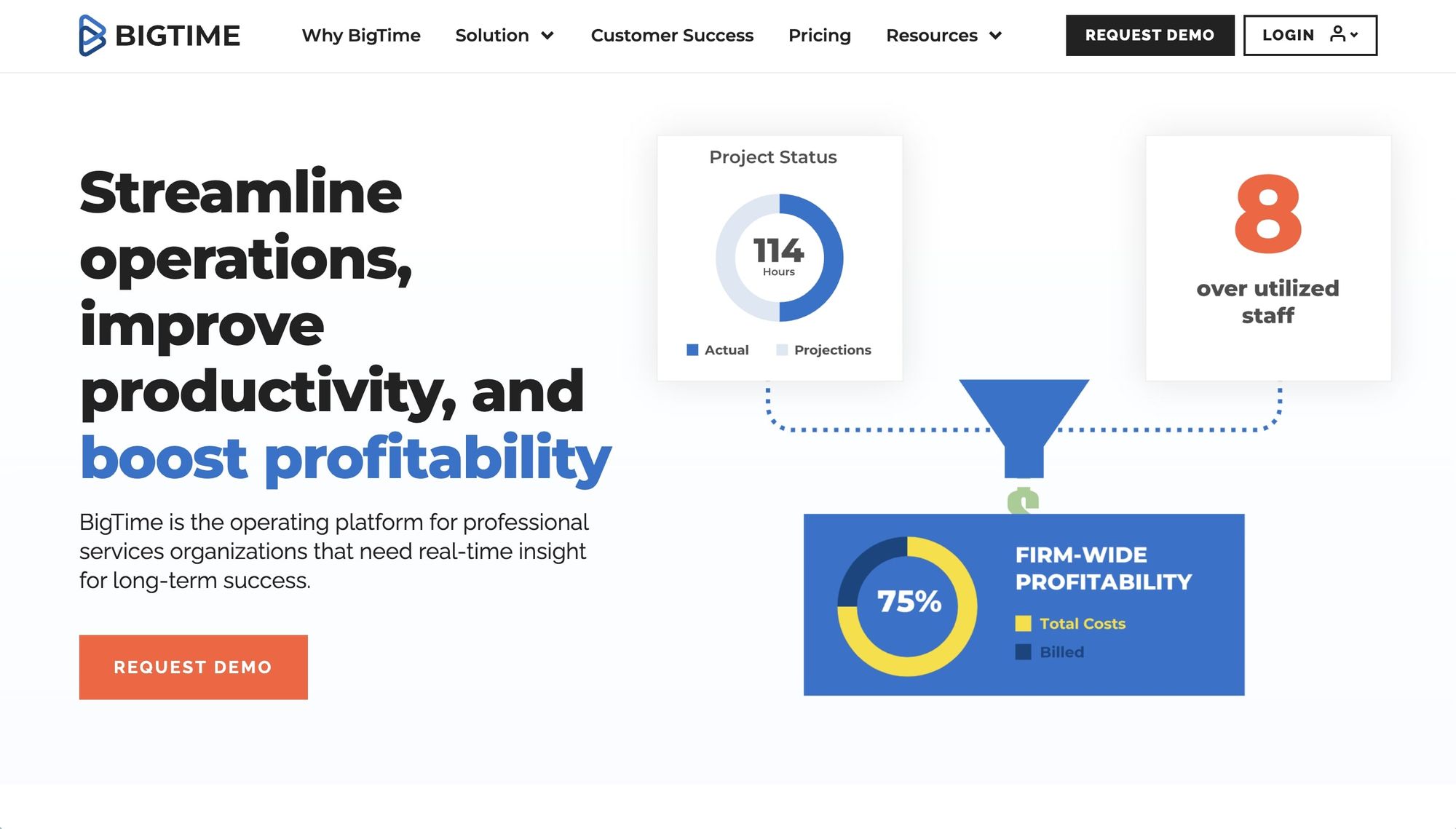 With its comprehensive suite of features, BigTime empowers users to effectively manage time, projects, resources, and finances, all in one centralized platform. Enjoy real-time project tracking, streamlined time and expense management, resource allocation optimization, seamless integration with popular accounting systems, and mobile accessibility for on-the-go productivity. With BigTime, service-based businesses can effectively manage their projects, resources, and finances to deliver exceptional client services while maximizing profitability and growth.
Benefits of BigTime
Stay up-to-date with the progress of your projects, monitor milestones, and track time and expenses in real-time, ensuring transparency and accountability.
Easily record and manage time entries and expenses, automate approval processes, and generate accurate invoices, saving time and eliminating errors.
Efficiently allocate and schedule resources based on project needs, ensuring optimal utilization and maximizing productivity.
Create customized invoices and billing schedules tailored to your business needs, improving accuracy and professionalism in client billing.
Integrate BigTime seamlessly with popular accounting systems, ensuring smooth and accurate financial data transfer, eliminating duplicate entries, and simplifying the overall financial management process.
BigTime Pricing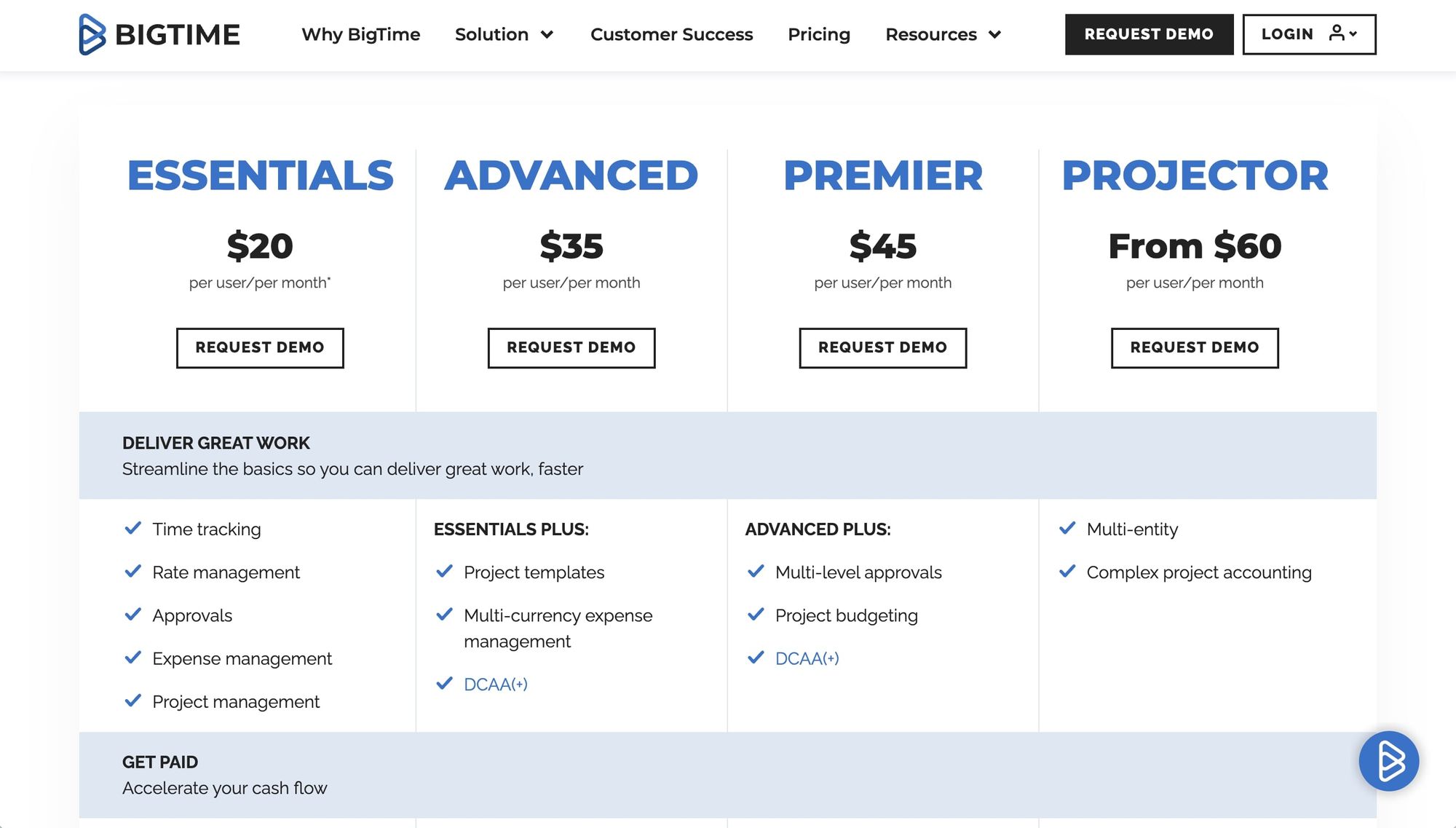 Pricing for the Essentials plan starts at $20 per month.
10. Ruddr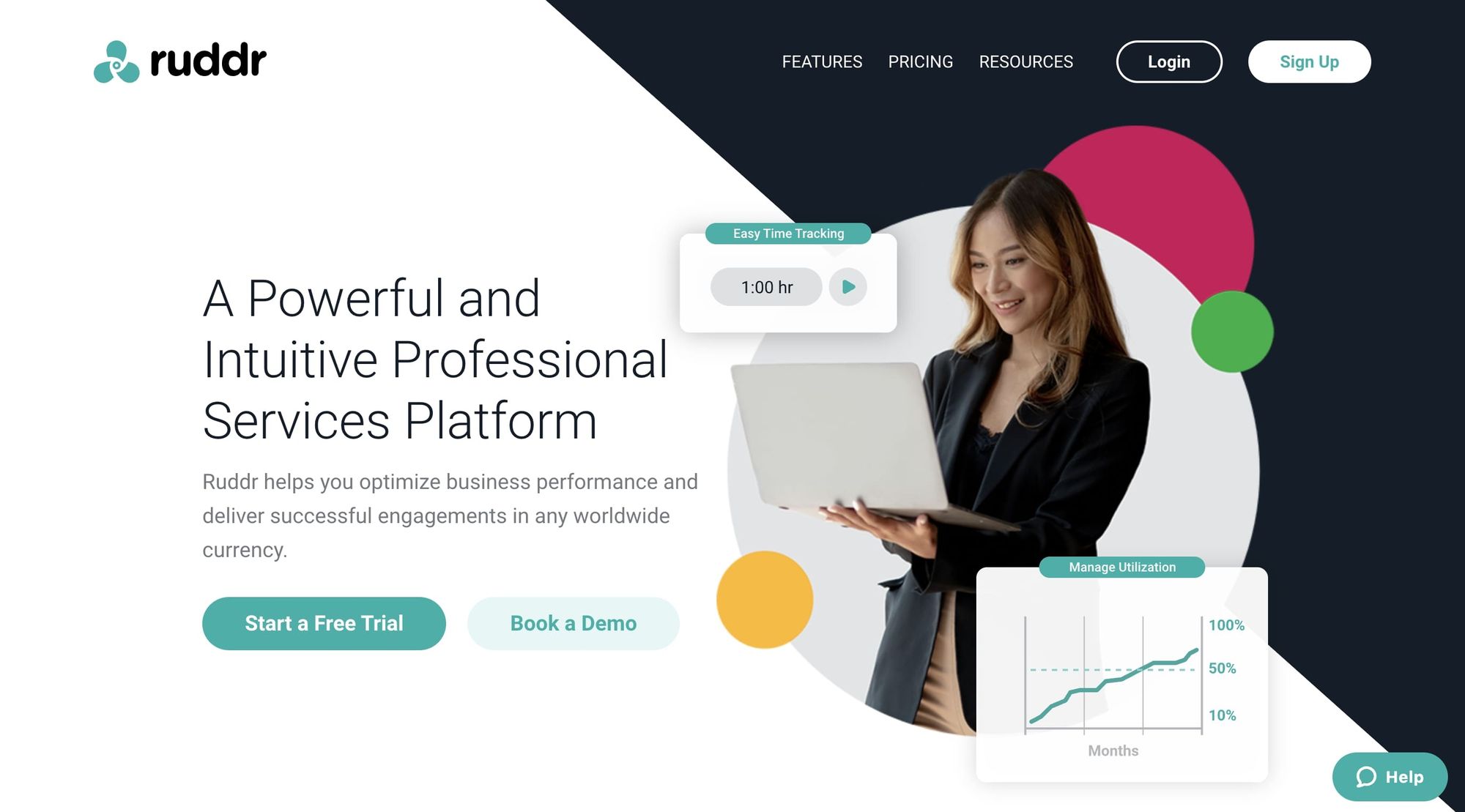 With its intuitive interface and comprehensive feature set, Ruddr simplifies project management and budgeting, invoicing, reporting, KPIs, and time and expense tracking, ensuring efficient project delivery. The software's centralized collaboration tools facilitate seamless communication, file sharing, and client engagement through dedicated project dashboards. Whether you are a small team or a growing enterprise, Ruddr offers scalability, flexibility, and integration capabilities to adapt to your unique business needs.
Benefits of Ruddr
Ruddr offers comprehensive tools to streamline project management processes, enabling efficient planning, task assignment, and progress tracking, resulting in improved project delivery.
Multiple views of utilization enable team members to track progress toward goals and deliver successful outcomes.
The software includes dashboards for every project, enabling you to provide clients with access to project updates, reports, and communication channels.
Ruddr provides real-time analytics and reporting capabilities, offering valuable insights into project performance, resource utilization, and financial metrics, enabling data-driven decision-making.
Multicurrency capabilities allow you to configure projects for over 180 local currencies and evaluate success in your home currency.
Ruddr Pricing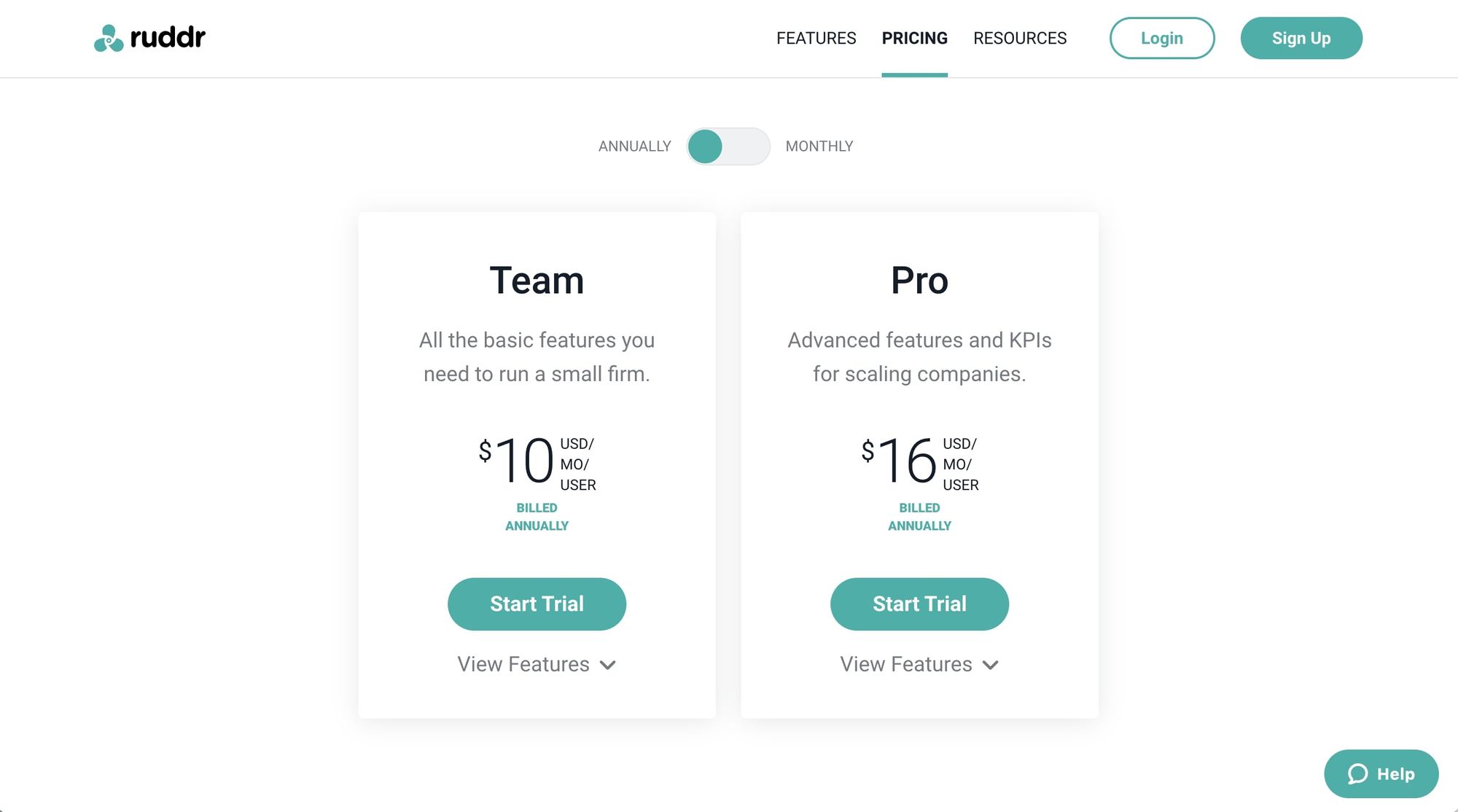 Start with a free trial; paid plans start at $10 per month, paid annually, or $12 monthly.
Conclusion
When it comes to professional services automation software, Copilot stands out as a top choice for businesses seeking an all-in-one solution. With its integrated client portals, seamless automation, and extensive features, Copilot offers a comprehensive platform to simplify and optimize various aspects of your service-based business.
From client onboarding and communication to project management, invoicing, and reporting, Copilot has you covered. Its user-friendly interface and customizable workflows make it a powerful tool for enhancing productivity and delivering exceptional client experiences. To see the benefits firsthand, start a free trial and unlock the full potential of Copilot for your business.
Sign up for our newsletter
Subscribe below to receive our newsletter. We'll email you about important announcements, product updates, and guides relevant to your industry