The Top 5 Software Picks for Effectively Managing Your Clients
Jan 12, 2022
6 min read
Marlon Misra
Running a small business or managing your customer data as a freelancer is difficult. Often you are trying to save customer profiles in a basic database or within a spreadsheet, both of which aren't ideal interfaces. The same can be said for contact management software, which can help organize client information but doesn't always have the email marketing and sales process integration that you may need.
Having the right tools to help improve client relationships and be ready for any client engagement is crucial, especially if you want to be a successful client manager. Many companies use customer relationship management tools (also called CRM software). These platforms help organize your prospects and current clients so that you and your sales team have better access to analytics, more visibility, and access to powerful tools like automation for repetitive tasks.
What is client management software?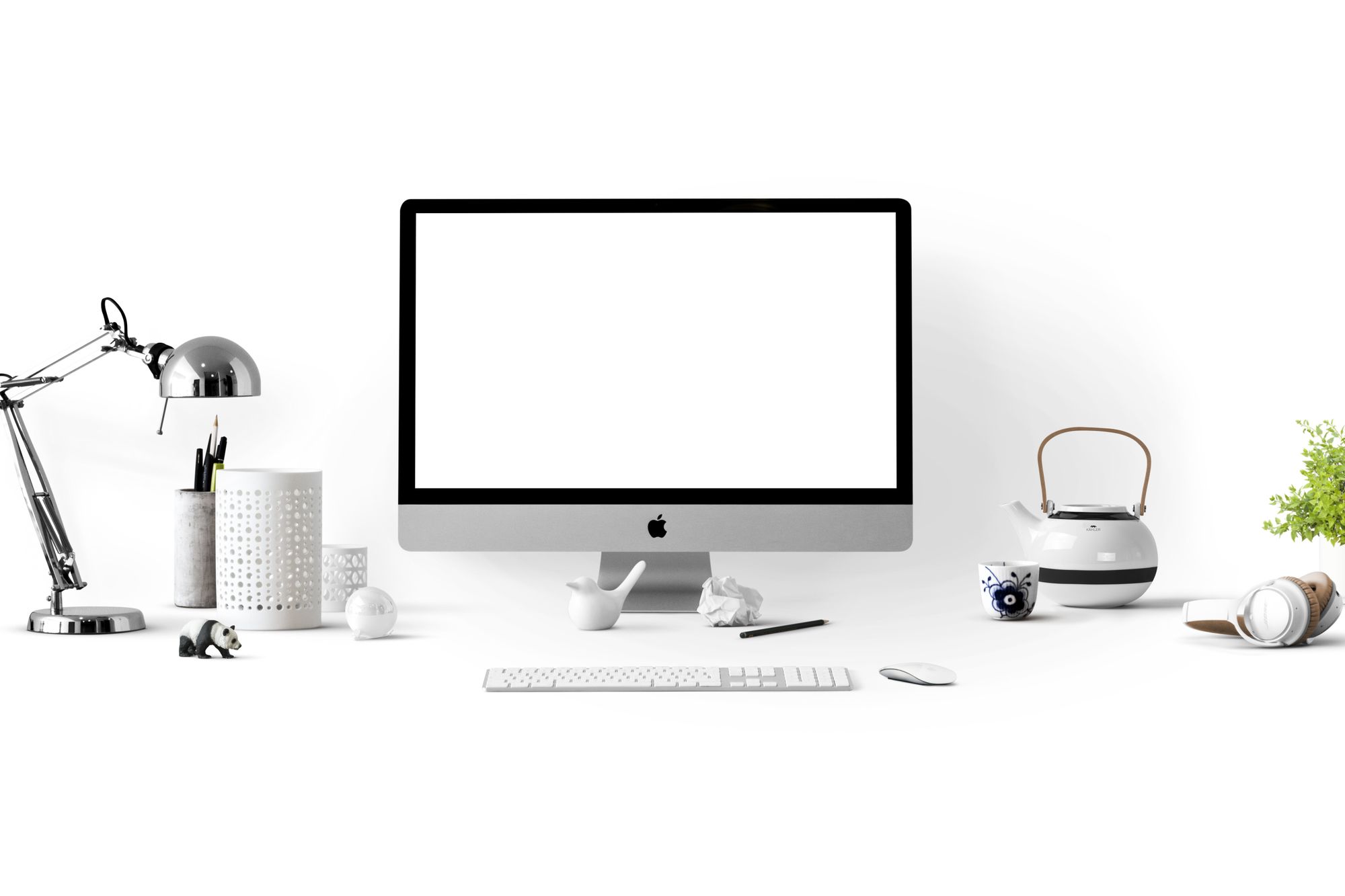 A client management system is a platform that allows you to track and manage your client base and potential leads. Often this includes information such as addresses, phone numbers, emails, sales history information, and other client management tools. These programs are often fundamental in their functions and interfaces, acting specifically to track customer information.
What is a CRM?
A CRM or customer relationship management software goes a step further than a client management software, often having more advanced tools to help manage relationships between clients, marketing teams, and sales teams. Often CRMs help streamline the entire sales workflow, providing tools such as workflow automation, AI, social media and third-party integrations, and customizable dashboards and interfaces that support every step along the way. These tools are enormous benefits to your sales and marketing teams, from notifications for communications and real-time analytics.
Our top 5 CRM picks for businesses of all sizes
To help you see if a CRM system is right for you, we have compiled a list of what we consider the best client management software for businesses of all sizes. Whether you want to improve your sales reps' workflows or use marketing automation for those drip email templates, one of these programs will have you covered! Here are our top five best CRM software picks for managing clients:
1. HubSpot: full-featured for marketing forward teams
HubSpot CRM is unique in that many of its features can be accessed for free. The free package includes a reporting dashboard, deal tracking, company insights, and pipeline management features. Their Enterprise CRM is much more robust and consists of five products: The Marketing Hub, the Sales Hub, the Service Hub, the CMS Hub, and the Operations Hub. These products can be bought in a bundle or separately based on your needs, with the starting package starting at $45 per month and the professional package costing $1,600 a month.
HubSpot CRM is great for marketing forward teams, allowing for features such as lead generation, marketing automation, and multi-touch revenue attribution. Sales teams will benefit from improved efficiency through sales automation and engagement tools. Additional features such as a knowledge base, help desk automation, customer feedback surveys, and website content tools make this an extremely robust option.
2. Freshsales: lightweight option for SMBs
If you are looking for a user-friendly, simple option? Freshsales provides an all-in-one solution that is very easy to implement and use. With features like AI-powered chatbots, page visit tracking, personalized email journeys, and even an AI personal assistant, Freshsales has many helpful features without the complexity and learning curve.
Freshsales has a free option that lets you organize 100 contacts. For 1,000 contacts, it costs $15/user/month, pro is $39, and enterprise is $69. The platform also is working on add-ons to address special needs, such as additional marketing contacts, a tool to generate branded documents such as invoices and contracts, and a conversion rate optimization tool. For small to mid-level businesses, Freshsales is a great, easy-to-use option.
3. Less Annoying CRM: affordable for budget-conscious startups
Appropriately named, Less Annoying CRM aims to simplify CRMs into something less complicated and, frankly, less annoying. LACRM lets you see all of your contact information on one screen in one place so that you can quickly take notes, see related files and tasks, and even see upcoming events and pipeline information about a contact without flipping through tabs or pages. Searching is simplified, and calendars are cohesive, showing all your team's tasks and upcoming meetings.
LACRM is an excellent option for any team looking for something straightforward that will cause frustration for your users. Empower your team with easy collaboration tools and lead report tracking so that your leads don't get missed. This platform is also affordable, only $15 per user per month. If you have ten or more users, you can contact their sales team directly to create a custom plan for your team.
4. Portal: accessible customization for small agencies and firms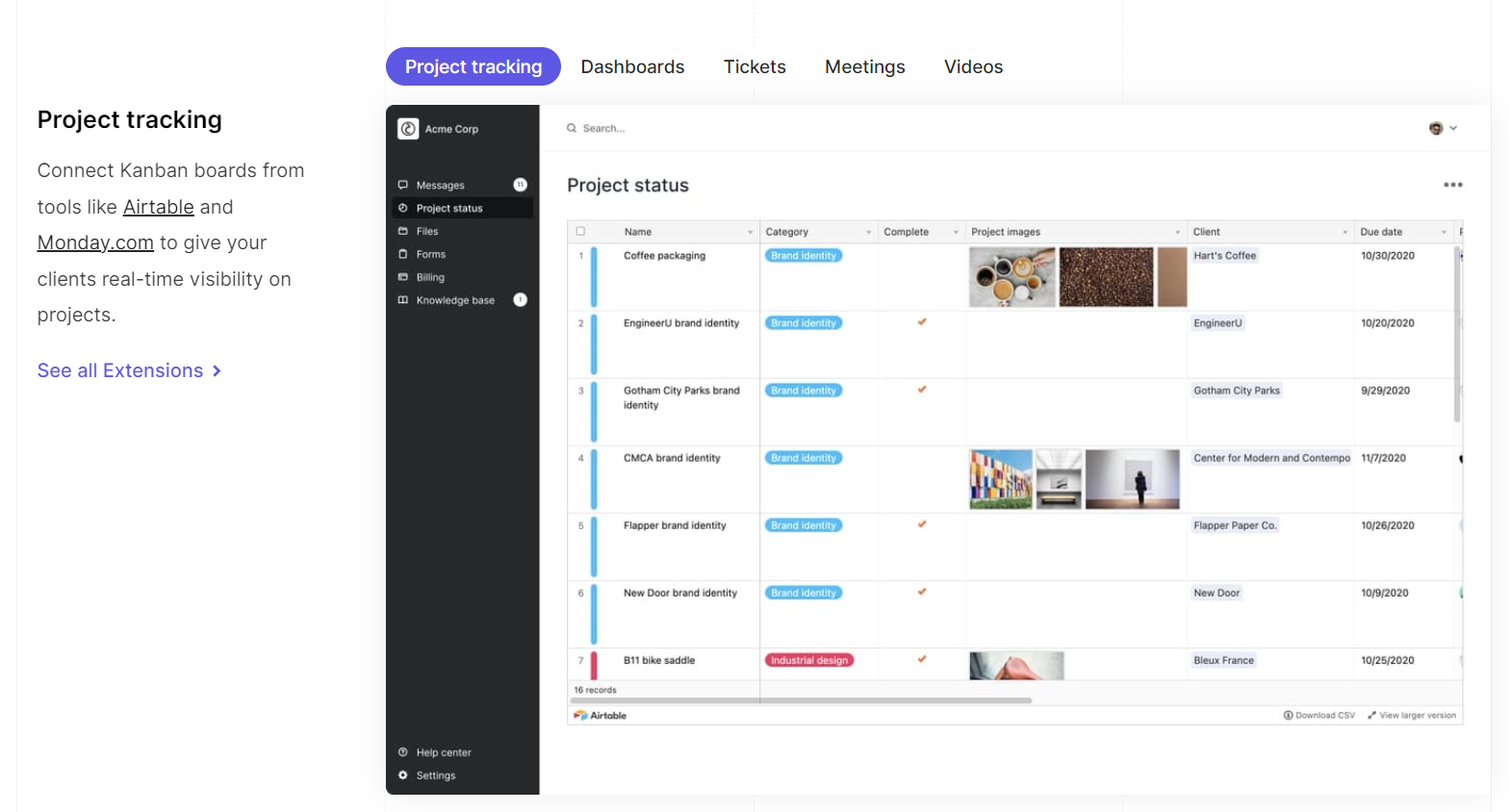 Portal is the perfect option if you are looking for a highly customizable, all-in-one solution. Portal is a client management solution that combines billing, eSignature collection, client messaging, a knowledge base, file-sharing, and traditional CRM tools all into one convenient package. Having everything in one place makes onboarding easy and creates a streamlined process for new clients.
Portal lets you create a completely custom customer portal with custom domains and branding that brings customers over smoothly from your website. Portal is an excellent way to overhaul your client experience entirely, from customer service to your sales pipeline with its host of unique features. Keeping all of these features in one place helps your brand feel more approachable and can help build customer loyalty through consistent interactions.
If you are a small agency or firm looking to replace your tech stack, Portal can help you streamline functions and replace extra programs like DocuSign, Dropbox, Box.com, Google Drive, and Bill.com. Not looking to replace anything? Portal has extensions that help you connect with existing programs ingrained in your workflow. You can get most features in the standard package of just $49/internal user/month, but you can also upgrade to a professional package for $79/internal user/month.
5. Bigin by Zoho: best for managing sales pipelines
If you are sales-focused, take a look at Bigin by Zoho. This platform focuses on your sales pipeline specifically, allowing you to engage prospects, manage your sales pipeline, and close deals. Tools such as a complete timeline view of all of your prospect interactions and phone applications for iOS and Android to seal the deal even when remote, Bigin provides great sales utility. One great feature that can help your sales teams is the ability to implement multiple different pipelines for your various operations, allowing you to track independent customer operations inside of one CRM, such as an inbound and outbound pipeline.

Bigin is targeted explicitly for sales teams, cutting down on features they don't need, and the pricing reflects that. You can start out trying Bigin for free with one user having access to 500 records, a single pipeline, and three workflows. If you want to pay, the price is relatively low at $7/user/month. You gain significantly more capabilities such as access to 50,000 records, and premier at $12/user/month expands that even further.
CRM: Not to be confused with CMS
If CRM stands for customer relationship management, then CMS must mean client management system, right? You would think so, but CMS is more commonly used when referring to content management systems, an entirely different concept! CMS shouldn't be used when referring to client management systems (or CRMs) to help avoid confusion between these topics.
Conclusion
By utilizing robust customer relationship management software, you can help grow your sales or marketing agency to make a profound impact. Through advanced analytics, careful pipeline tracking, and information organization, you can save your team a ton of headaches from sifting through piles of old emails and correspondence and avoid missed leads and late responses to clients. Finding the right customer relationship management tool for you and your team is crucial. Consider what extra functionality you will need for your team's workflows if you want to include marketing and sales functionality, and what other tools could help grow your customer relationships best.
Build meaningful relationships with clients
Portal is a no-code customer portal solution that lets you offer clients a unified hub for messaging, file-sharing, eSignatures, payments, forms, and self-serve support. Portal enables you to design a customized client experience that elevates your brand in all customer interactions. Try Portal for free.
Sign up for our newsletter
Subscribe below to receive our newsletter. We'll email you about important announcements, product updates, and guides relevant to your industry