10 best Accelo alternatives you need to try in 2023
Sep 14, 2023
11 min read
Omid G
When you have piles of client work on your virtual desk, you might start thinking about software tools that can help you manage your service-based business. One option that may come to mind is Accelo, a client management tool that handles everything from lead conversions to reporting of key business metrics.
However, Accelo is not the only option in this space. With the following 10 Accelo alternatives, you have plenty of tools to explore — and you're likely to find a solution that matches your use case and budget.
We'd like to throw Copilot's hat in the ring as the best Accelo alternative in 2023, but don't let that stop you from exploring this list in its entirety. Here's what you need to know.
What to look for in an Accelo alternative?
While users say Accelo offers comprehensive client management tools alongside business management capabilities, it might not be a precise fit for your needs. Here are some factors to consider as you digest our list of Accelo alternatives:
User-friendliness. You shouldn't need a doctoral degree to get up and running on a client management platform. It should be simple, intuitive, and easy to use.
Customization. Look for an Accelo alternative that you can tailor to your workflow, branding, and client needs.
Collaboration tools. If you ever hope to get out of your email inbox and get organized, your client management tool should have robust communication and messaging features that facilitate collaboration.
Integrations. All those apps you're already using? You want to be able to use them alongside your client management suite, so make sure it's got the integrations you need.
Scalability. Ensure any Accelo alternative you consider will scale with you so you don't have to switch platforms when your business outgrows your current solution.
Automation. You'll want your client management platform to take tasks off your plate like reminders, email sequences, client intakes, and billing.
Mobile access. Most clients are on the go as much as you are, so make sure your client management solution has mobile functionality.
White-glove support. If you run into a snag, you'll want your platform's support team to be within easy reach.
Security. Prioritize Accelo alternatives that safeguard client data and other sensitive information.
Affordability. Many platforms offer a free trial and tiered pricing that scales with you; make sure the platform you choose won't empty your wallet when you're just getting started.
Positive reviews. We've included user feedback and links to Capterra and G2 reviews in our list; read them thoroughly.
Proper fit. Some Accelo alternatives could be a better fit than others in terms of your industry or business size. Choose the option that suits your niche and needs.
10 best Accelo alternatives in 2023
Every client management tool has its unique strengths and weaknesses, and finding the right fit for you might take some trial and error. Fortunately, we think the following list of Accelo alternatives is an excellent starting point in narrowing down your choices.
1. Copilot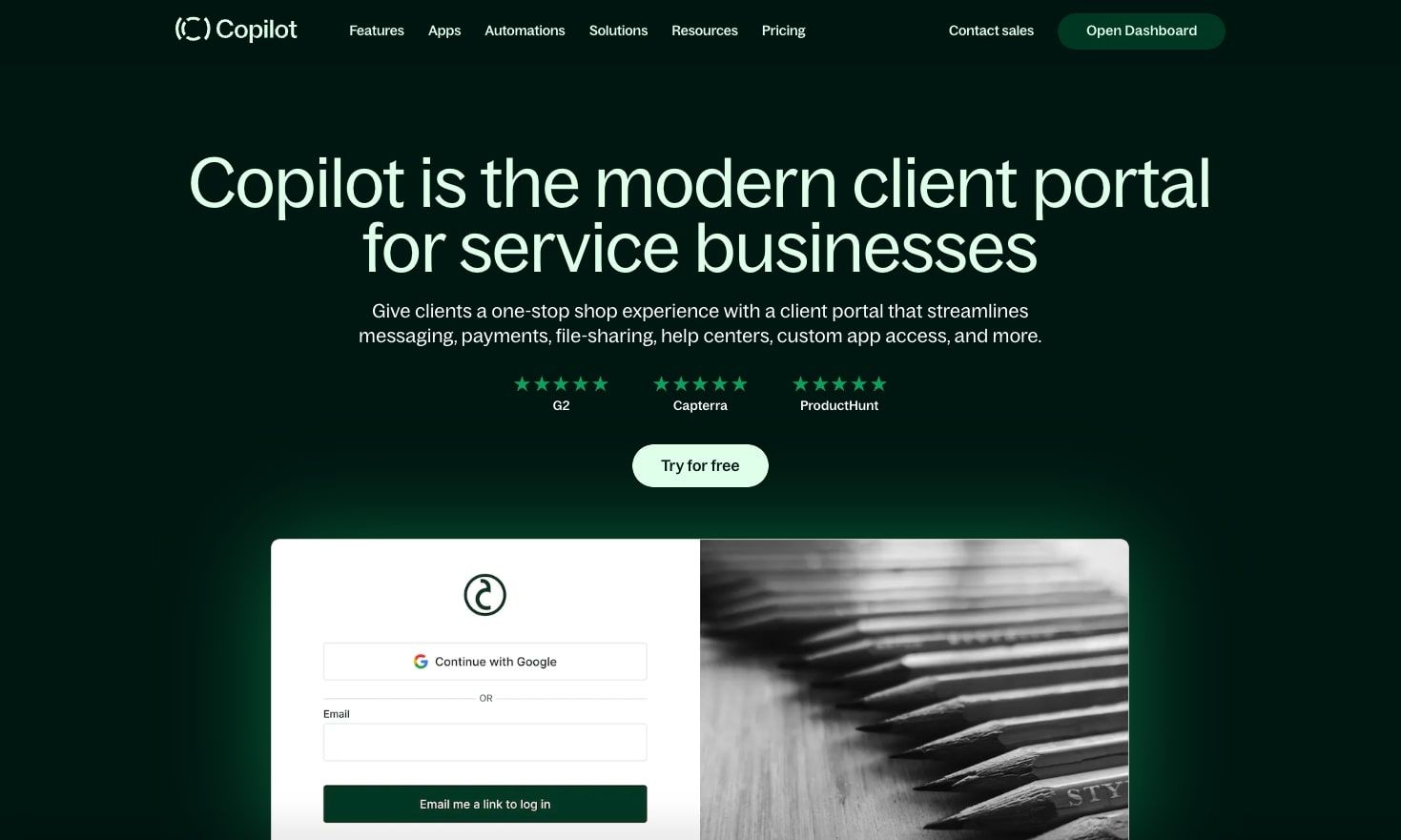 Copilot is an all-in-one client portal and management tool for modern service businesses. Branded client portals with feature-rich functionality set Copilot apart as the client management tool of choice.
Whether you're running a small consulting business or a large firm, Copilot is built to scale — allowing you to integrate with a suite of 3rd-party apps to run your entire service business.
Top features of Copilot
Copilot's client portals include automated client intake forms, invoicing & subscriptions, helpdesk features, messaging, document sharing, e-signature collection, and more.
Automations respond to triggers, delivering personalized communications and onboarding experiences while encouraging self-sign-ups, reducing human errors, and freeing up your time for high-impact work.
Billing is seamless with the billing app, helping you get paid faster with branded invoices and subscriptions, quick payments, reminders, and notifications.
Integrations with third-party apps like Jotform and Calendly allow you to keep using the apps you know and love.
Client data stays securely stored, helping to build clients' trust in your brand.
Knowledge base features help users find answers and lighten the burden on your support staff.
Copilot pricing
Start with a free trial of Copilot; paid plans start at $29 monthly per user when paid annually or $39 monthly.
Copilot reviews
Pros:
Great value
Modern user experience
Comprehensive API and platform
Cons:
Requires external project management tool
Read complete reviews at Capterra and G2.
2. Hello Bonsai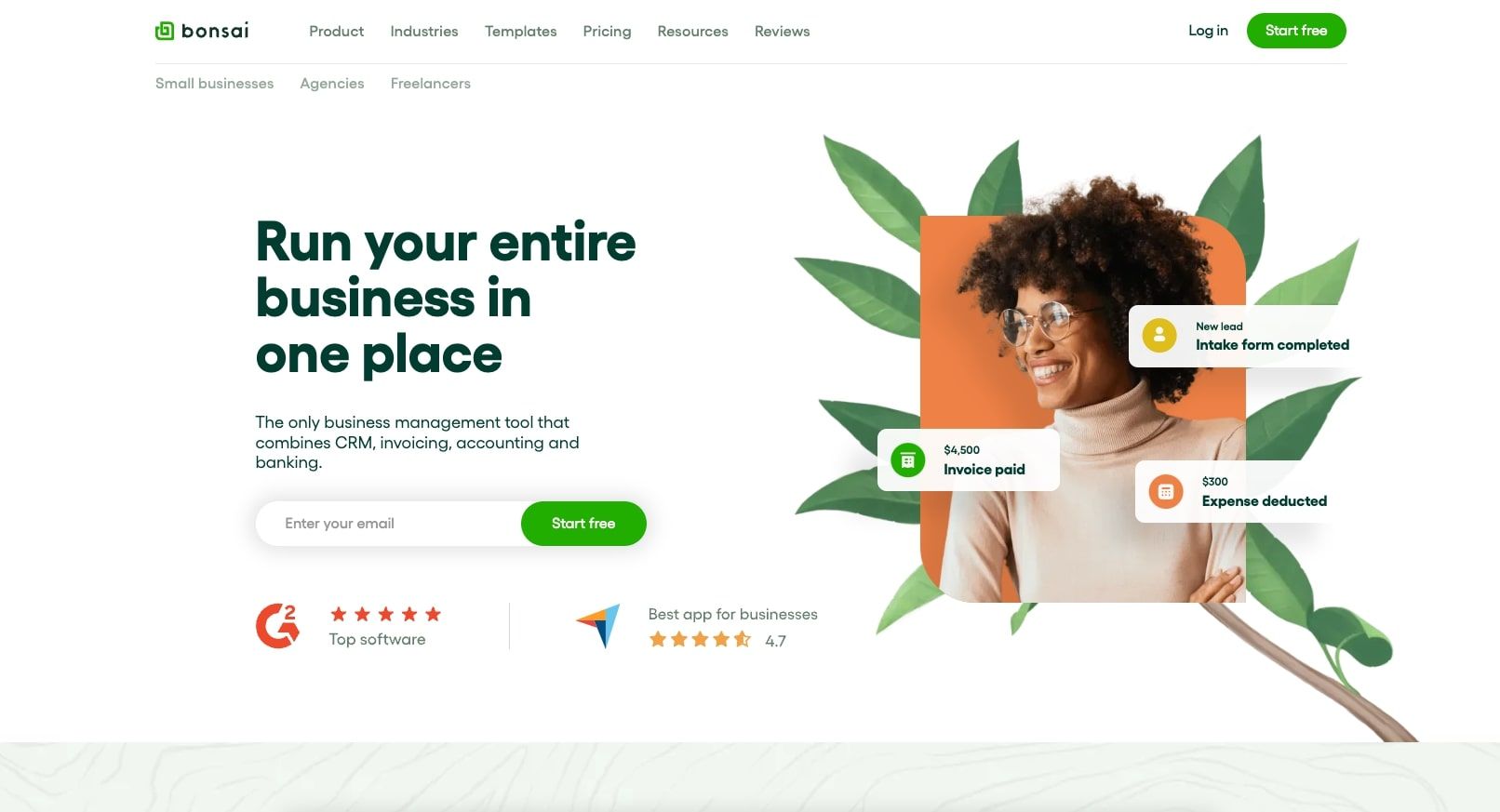 Another top Accelo alternative is Hello Bonsai, aka Bonsai, popular among freelancers, agencies, and solo entrepreneurs. Project management, invoicing, and contract generation are among the platform's strong suits, all at an affordable price tag starting at $17 per month.
CRM capabilities include scheduling, invoicing, time tracking, and client portals. The platform also offers rich collaboration tools that boost project efficiency.
Top features of Hello Bonsai
Appointment bookings and lead management are simply with Hello Bonsai, enabling more conversions.
The platform makes it easy to generate professional-quality contracts and proposals using editable templates.
Project management tools let you centralize project details in one location, all while simplifying and time-tracking, streamlining the invoicing process, and optimizing efficiency.
Financial management tools keep you on track with easy invoicing, payments, expense tracking, and accounting.
Hello Bonsai pricing
Hello Bonsai offers a free trial. Paid plans start at $17 per month when paid annually or $24 monthly.
Hello Bonsai reviews
Pros:
One-stop shop
Organization and time management
Customer support
Cons:
Learning curve
Doesn't look as professional
Not a great solution once you scale the team
Read complete reviews at Capterra and G2.
3. Moxo
Modern client portals are also included with Moxo, a robust client management tool that helps you achieve joint deliverables, track project progress, collect documents, and more. Digital workspaces facilitate smooth customer, vendor, or partner projects from start to finish.
With its template library, digital forms, and automations, Moxo is a favorite among small and large companies. Spend more time doing the work you love — and less time on administrative tasks.
Related Reads: 10 Best Moxo Alternatives to Check Out
Top features of Moxo
Tailored workflows are customizable to your specific needs and processes.
White-label solutions let you present your business with your branding.
Client information, messages, and documents stay safe in secured client portals.
Messaging, videoconferencing, screen sharing, and other interactive capabilities bring client portals to life.
Customizable permissions grant access only to those who should have it.
Moxo pricing
Plans start at $900 yearly or $100 monthly.
Moxo reviews
Pros:
White labeling
Collaborative tools
Automations
Cons:
Lack of features
Can be glitchy
No ability to try before you buy
Read complete reviews at Capterra and G2.
4. Dubsado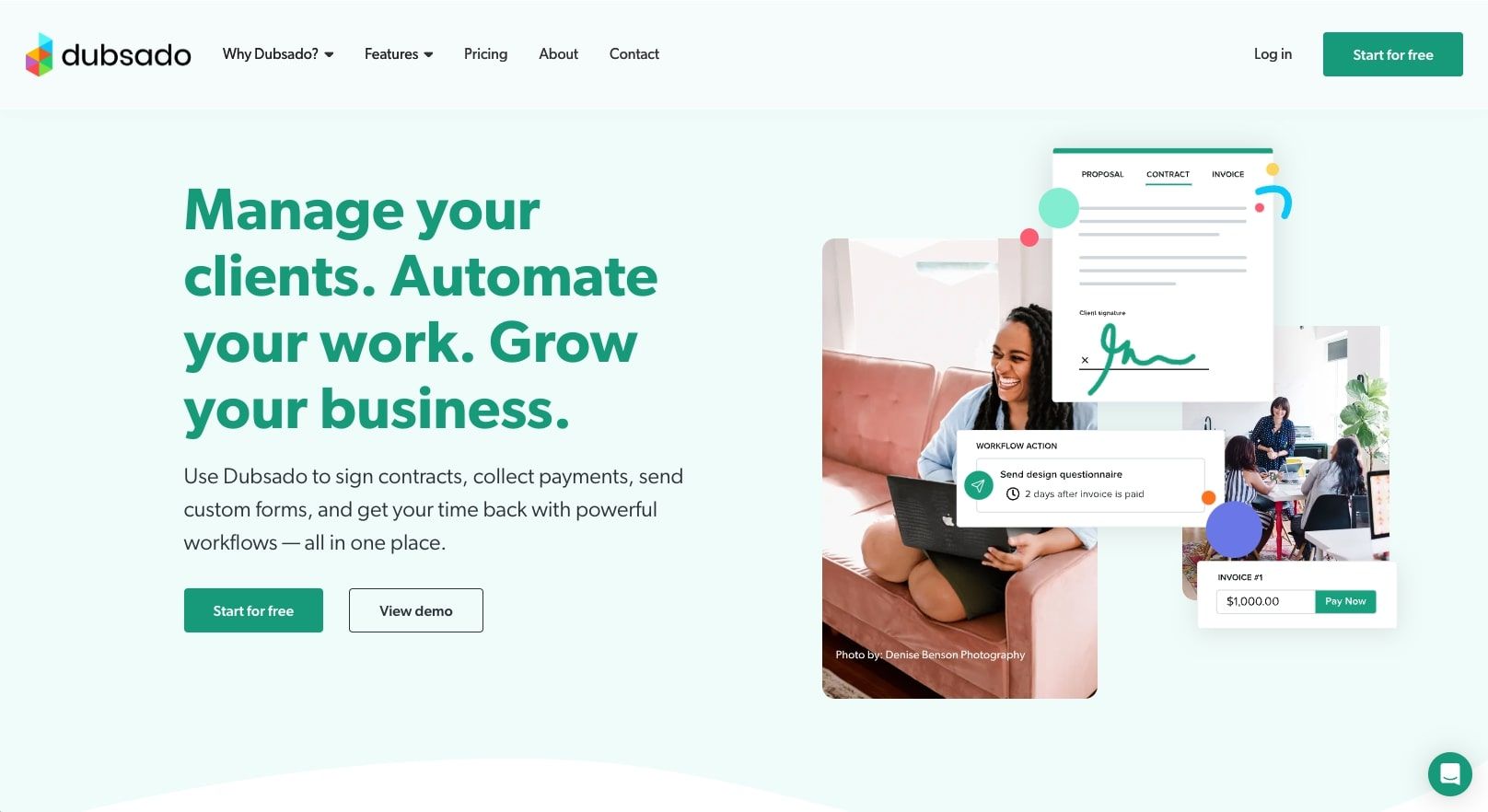 We have to include Dubsado on our list of client management tools, given its range of features — from CRM and forms to contracts and invoicing. The one-stop-shop client portals enable easy project access, payments, messaging, and more — keeping everybody on track and on board.
Dubsado excels in automation, helping to manage daily tasks while you shift your focus to the activities that matter most.
Related Reads: 10 Best Dubsado Alternatives to Check Out
Top features of Dubsado
Data collection is simple with customizable form templates, from questionnaires to lead capture forms.
Onboarding is seamless and quick with the help of automation, helping to build a loyal clientele.
Online invoicing, payment processing, and reminders help you get paid quickly.
Website integrations enable seamless appointment bookings, facilitating more leads and conversions.
Client portals provide a central location for payments, project tracking, and document uploads.
Dubsado pricing
Dubsado offers a free trial; paid plans start at $200 per year or $20 per month.
Dubsado reviews
Pros:
Easy payments
Comprehensive CRM tools
Great for freelancers or solo entrepreneurs
Cons:
Might not work for larger enterprises
Complicated setup
Workflow features are limited
Read complete reviews at Capterra and G2.
5. SuiteDash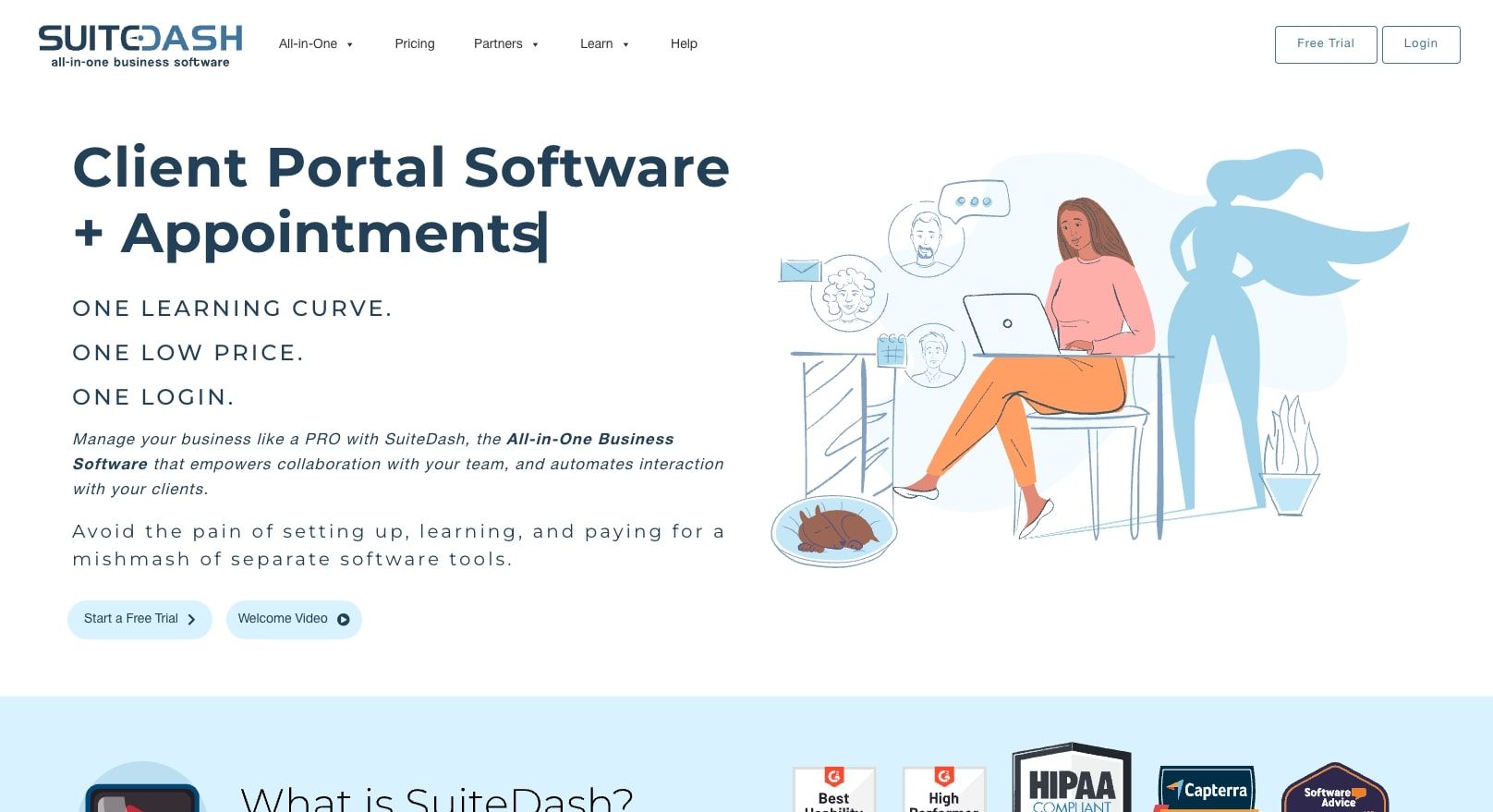 Add SuiteDash to your list of Accelo alternatives that have branded client portals — something that more and more clients have come to expect. Easily collaborate with team members and clients, assign tasks and due dates, and track project progress.
Within the client portal, it's easy to exchange messages, share files, and post updates. Meanwhile, CRM tools enable no-code automations, appointment bookings, drip marketing, and more.
Related Reads: 10 Best SuiteDash Alternatives to Check Out
SuiteDash features
Embeddable website forms, appointment scheduling, onboarding funnels, and marketing automations improve client acquisition efforts.
Built-in billing, estimates, proposals, subscriptions, and membership capabilities help you get paid quickly and create recurring revenue.
Collaboration tools ensure seamless communication.
White labeling allows you to create a professional, branded experience and includes a mobile app.
Learning monetization tools create opportunities to turn your knowledge into drag-and-drop courses and staff training.
SuiteDash pricing
After a free 14-day trial, paid plans start at $180 per year or $19 monthly.
SuiteDash reviews
Pros:
Unified experience
Great value
Highly configurable
Cons:
Learning curve
Features can be overwhelming
Confusing user experience
Read complete reviews at Capterra and G2.
6. Notion
Notion is a popular no-code Accelo alternative that provides freelancers and agencies with a centralized dashboard for client management. Known for its beautiful templates and visually pleasing aesthetic, Notion is easy to use for most use cases.
With Notion, teams can set up custom Gantt and Kanban views to view project progress. The user interface is inviting, encouraging teams to collaborate, manage tasks, and organize their work.
Top features of Notion
The relatively new Notion AI capitalizes on the current gold rush in AI, helping teams work faster and automate basic tasks like analyzing meeting notes.
Industry-specific templates enable client management and streamline projects and proposals.
CRM tools optimize opportunities by managing your pipelines and syncing with meetings and projects.
The budget-friendly platform is ideal for startups and solo entrepreneurs.
Easy task management helps you create a roadmap for projects and stay on track.
Notion pricing
It's free to use the basic version of Notion. Paid plans start at $8 per user per month.
Notion reviews
Pros:
Custom workflows
Easy collaboration
Calendar tools
Cons:
Inaccurate notifications
Lack of recurring tasks
Features can be overwhelming
Read complete reviews at Capterra and G2.
7. Clinked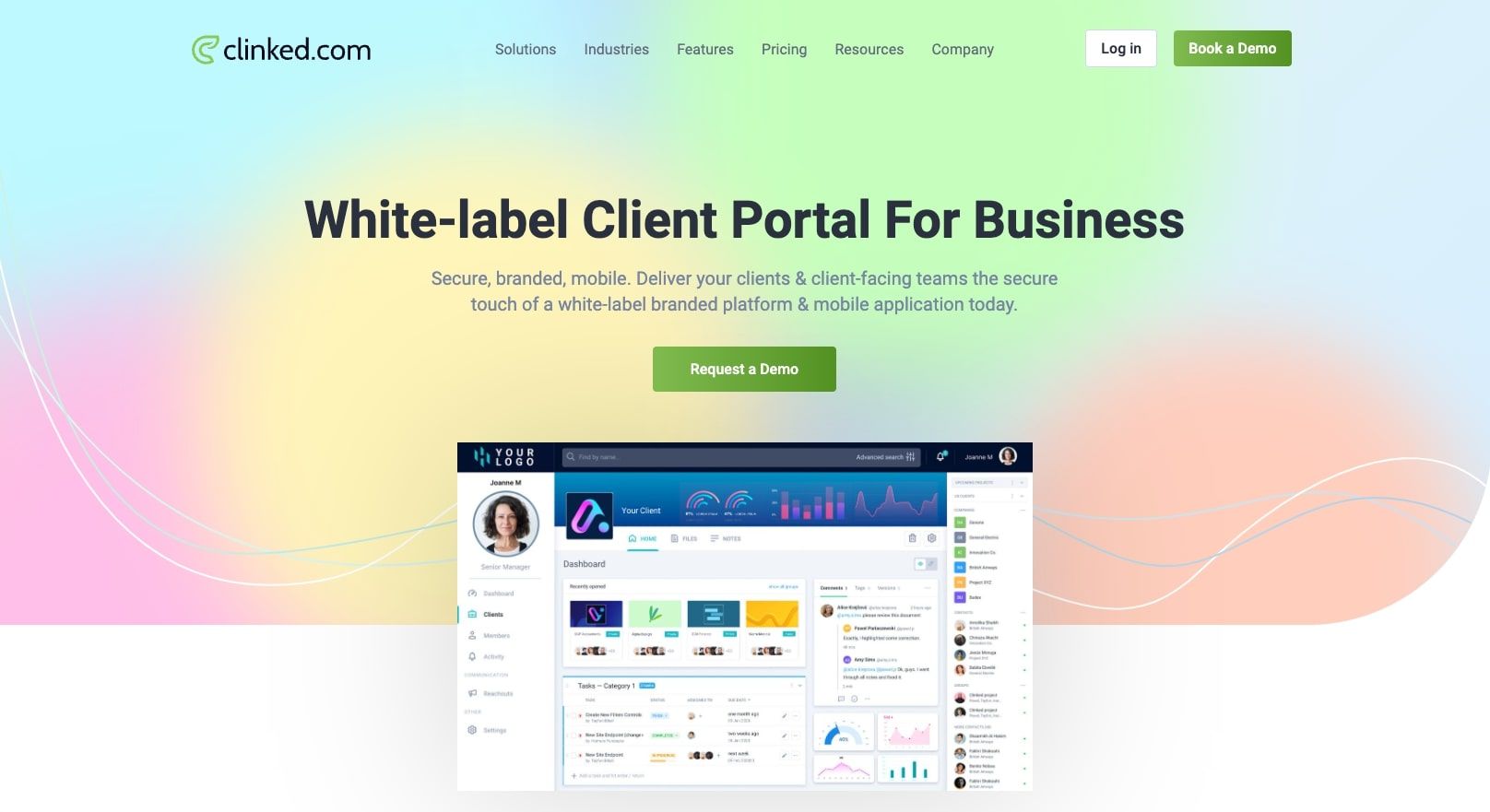 Client portal and collaboration tool Clinked brings together teams, project managers, and clients in one unified space in the cloud. With options ranging from off-the-shelf portals to custom portals built to your requirements, the platform offers a range of robust features.
White labeling and branding give you the professional look and feel you need to impress clients. Meanwhile, real-time activity streams and project management tools keep everyone in the loop.
Top features of Clinked
Easy messaging tools include group chat and microblogging capabilities.
Secure client portals include 256-bit SSL in transit, AES encryption at rest, and two-factor authentication.
Integrations with Google Workspace, DocuSign, Jotform, and over 3,000 other apps ensure no interruptions to your workflow as you get up and running.
Custom user interface fits your use case and workflow.
Add new features as your business grows and client needs evolve.
Clinked pricing
Plans start at $95 per month when paid annually or $119 monthly.
Clinked reviews
Pros:
User-friendly
Great support
Time saver
Cons:
Learning curve
Technical issues
Costly
Read complete reviews at Capterra and G2.
8. Zendesk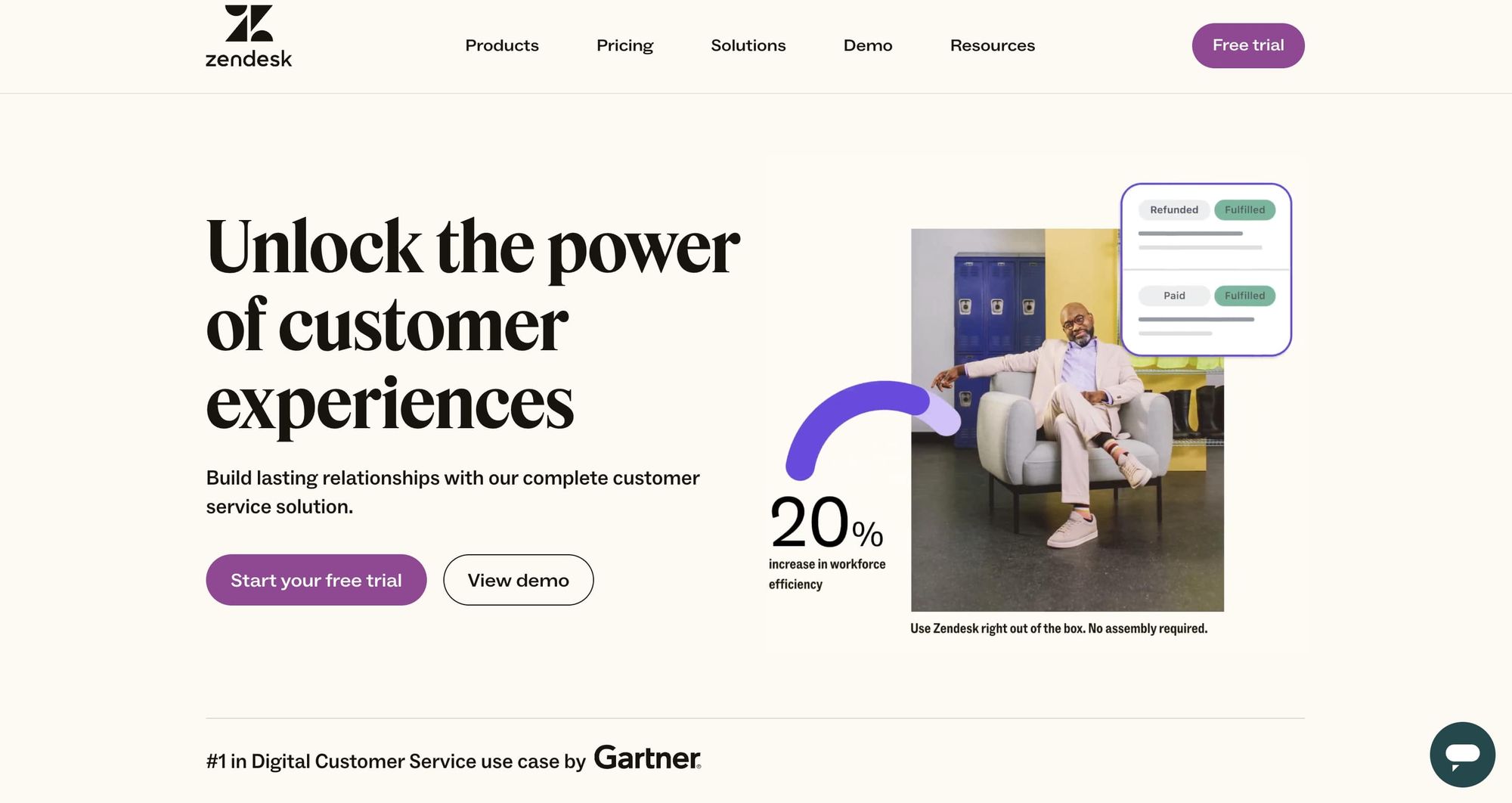 With its combination of CRM and customer support tools, Zendesk gives you 360-degree views of your pipeline. Boost productivity, grow revenue, and keep clients engaged across the customer lifecycle.
The platform is built for closing sales, with powerful tools for contact and deal management, activity tracking, and lead generation built into the platform.
Top features of Zendesk
Set up triggers that initiate automation of tasks that keep sales reps on target.
Power Dialer automatically cycles through prospects and customers.
Customer support tools help clients find answers on their own.
Productivity tools such as email integrations, automated lead follow-up, and other automations free up your time for high-impact activities.
Robust integrations let you connect the platform with all your favorite apps.
Pipeline tools provide a deeper look at forecasts and analytics to encourage predictable growth.
Zendesk pricing
Zendesk offers a free trial. Paid Zendesk for Sales plans start at $19 per user per month when paid annually or $25 monthly.
Zendesk reviews
Pros:
Affordable
Intuitive interface
Mobile capabilities
Cons:
Takes time to set up
Expensive for small businesses
See complete reviews at Capterra and G2.
9. Client Portal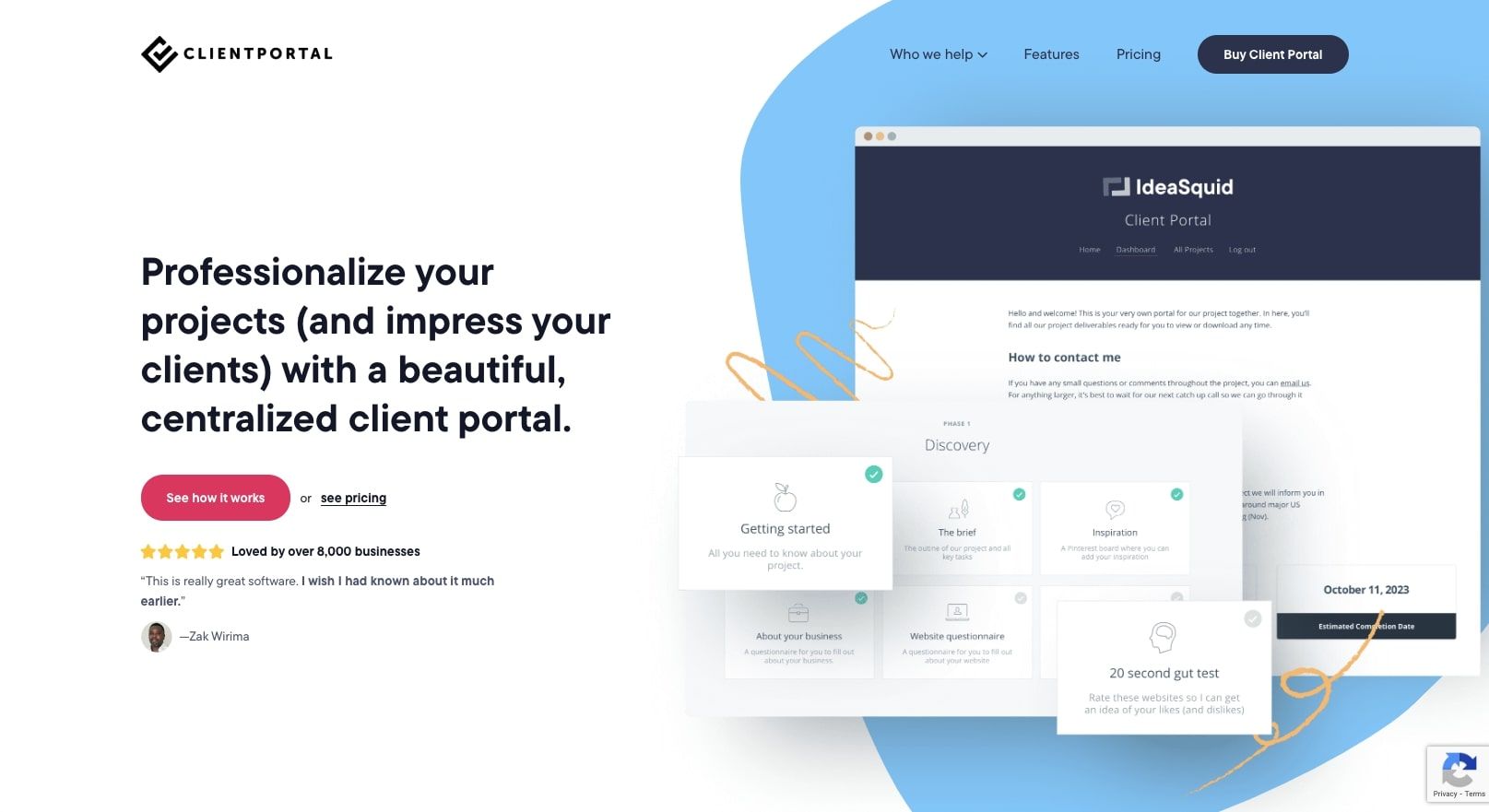 Professional, organized client portals are what you would expect with a name like Client Portal. The platform operates as a lightweight WordPress plugin you can set up on your own website, with no developer required.
Getting set up on Client Portal is simple: Create your client portal using a template or your own design, add your deliverables, grant your clients access, and enjoy the serenity of an emptier inbox.
Top Client Portal features
The platform is easy to set up without the need for coding.
Branded, white-labeled client portals give you a professional look and feel.
Notifications keep clients engaged and ensure deadlines get met.
Integrations with tools and apps you already use are simple and seamless.
Security features work to safeguard sensitive data under lock and key.
Client Portal pricing
Client Portal starts at $199 per year for a single-site license and $399 per year for a multi-site license.
Client Portal reviews
Pros:
Easy to use
Range of features
Unified dashboard
Cons:
Limited customization
Not the best UI
Won't replace a project management tool
See more reviews on SourceForge and Offsprout.
10. Onehub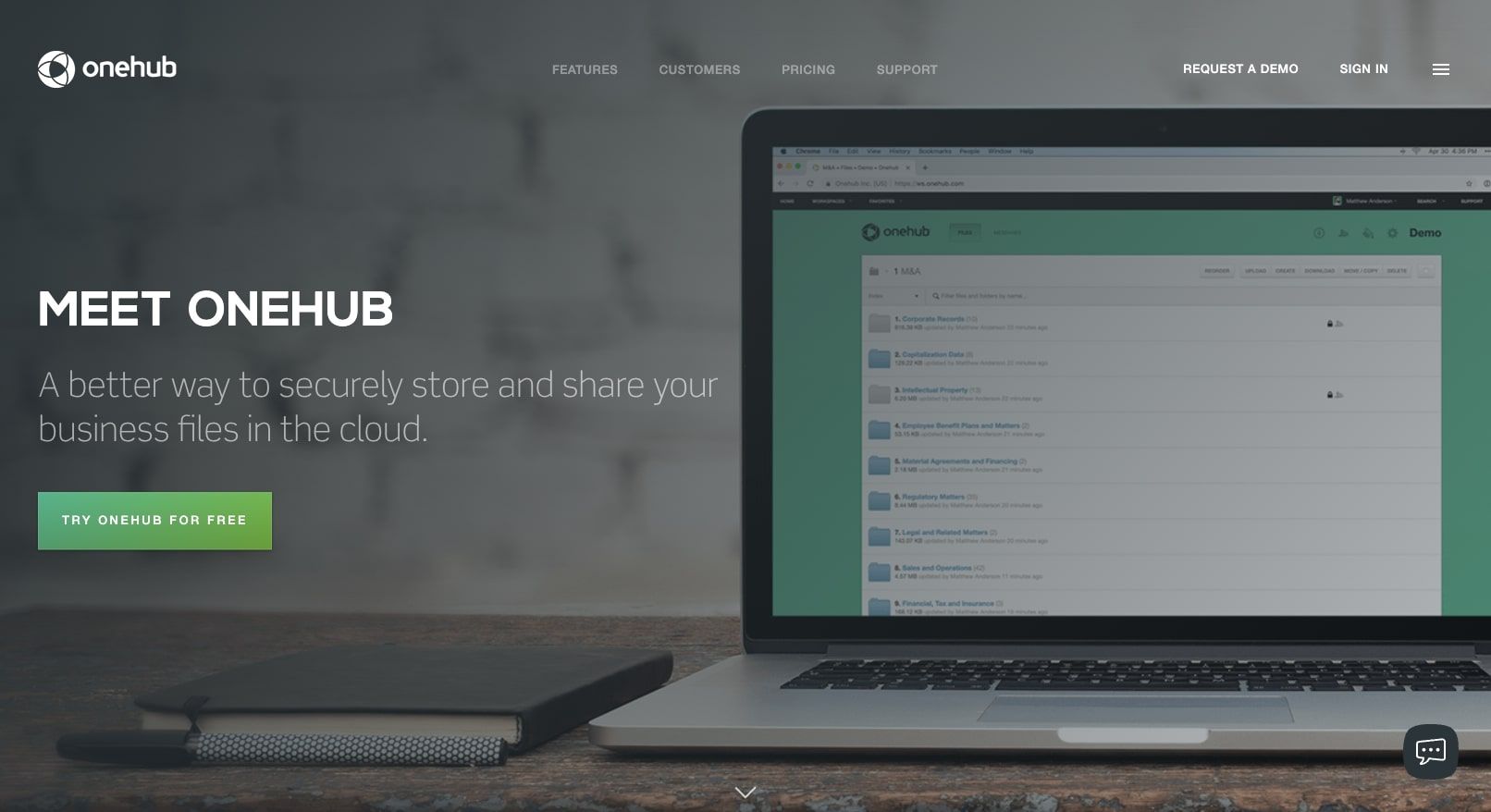 As a secure file storage and sharing platform, Onehub excels in keeping sensitive data safe from prying eyes. Bank-level encryption, virtual data rooms, and role-based permissions ensure you can control access to your content and share files confidently.
Client portals and branded workspaces help you present yourself professionally. You'll appreciate the document tracking tools and a handy vanishing-document feature that causes documents to self-destruct, prohibiting future use.
Top features of Onehub
Drag-and-drop folder uploads, folder organization, automatic versioning, and a secure FTP gateway help you upload content quickly and easily.
Branded solutions allow you to add your logo, colors, and other elements that set your business apart.
Easy previews of most major file types let your clients view or interact with your content without having to download additional software.
Comments, tasks, and other collaboration tools keep everyone on the same page.
Access permissions and secure links to content ensure you always have control over your assets.
Onehub pricing
Onehub offers a free trial; paid plans start at $12.50 per user per month when billed annually or $15 monthly.
Onehub reviews
Pros:
User-friendly
Easy to access anywhere
Simple setup
Cons:
Access issues for external users
Dated UI
Lack of customization
Read complete reviews on Capterra and G2.
Copilot: The best Accelo alternative
Copilot is our top pick for Accelo alternatives, and here's why: It's highly customizable, affordable, and loaded with features to make client management simpler and more engaging. Your customers will love its modern UI and range of tools to collaborate, connect, and get work done.
To learn more and get started, begin your free trial, and be sure to try out the demo portal to experience Copilot firsthand.
Sign up for our newsletter
Subscribe below to receive our newsletter. We'll email you about important announcements, product updates, and guides relevant to your industry