10 best Plutio alternatives to run your service business
Oct 17, 2023
11 min read
Omid G
Running a service business has a lot of moving parts. From teams to manage, services to launch, clients to support, and suppliers to negotiate with. Resources are tight, and deadlines have a tendency to creep up on you.
That's why platforms like Plutio exist — a complete toolkit for overseeing the day-to-day running of a business from project management to document handling to billings. Small professional service businesses including account firms and legal practices swear by these tools because they increase efficiency, reduce human error, and enable scalable growth.
But Plutio isn't the only game in town. A host of other providers are putting their own unique twist on business management software. In this article, we'll run through ten of the very best alternatives to Plutio, including the standout features of each platform, pricing, and customer reviews.
What should you look for in a Plutio alternative?
First, let's break down the qualities a good business management platform should have.
Workflow automation: The ability to automate mundane tasks that eat up time and money.
Collaboration spaces: Somewhere to share documents, comments, emails, and links with clients and your team.
Readymade templates: For commonly required documents and emails.
A calendar, reminders, and notifications: So you never miss a deadline.
Project tracking facility: To make sure progress is being made on all fronts, and assign responsibilities.
An in-house messaging function: So you can have private conversations, with pop-up notifications, chat, and other useful communication features.
An invoicing, billings, and payments system: Letting you handle those simple but vital financial transactions that keep the lights on for your business.
Client Portals: Allowing you to offer secure and bespoke access to your services.
Integrations: With all the common third-party apps you might use to support your workflow.
Affordability: Tiers for businesses of different sizes and growth stages.
Scalability: The ability to upgrade or customize your platform as your business grows.
Great UX: An intuitive platform that is easy to navigate and learn.
Excellent Support: Whether with video tutorials, live support, or a user community (or all three).
This may sound like a fearsome wish list, and it is, but you'll be surprised how many platforms offer most of these functions. Let's dig into our top 10.
The 10 best alternatives to Plutio
Here are the best Plutio alternatives for managing a small to medium-sized, service-orientated business:
Okay, let's look a bit deeper into each platform.
1. Copilot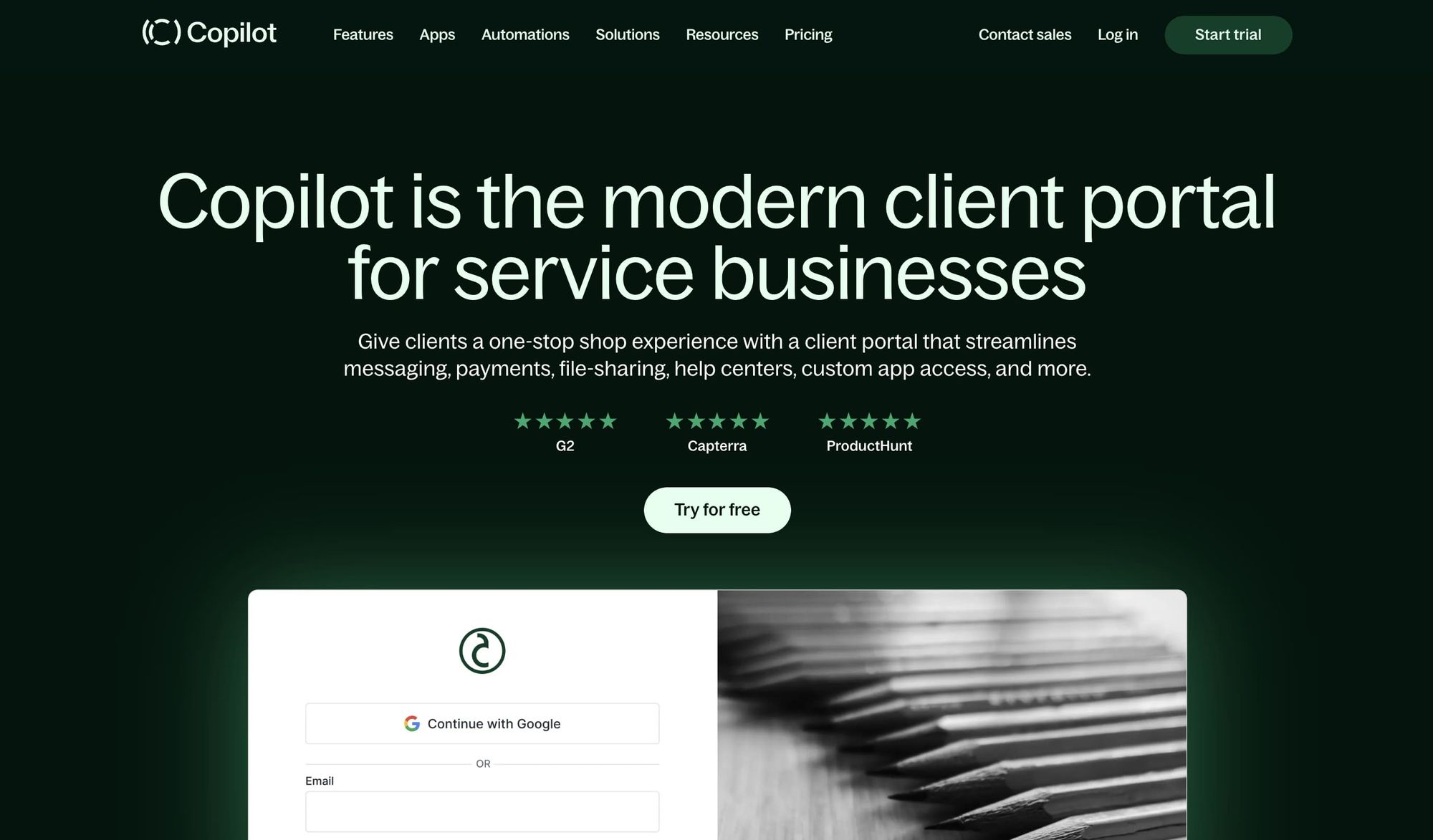 As an "all-in-one client portal and management tool for modern service businesses," Copilot offers a wide range of features to help your business thrive. It aims to bring all your favorite tools into one place.
It's a great platform to create white-label client portals, manage client relationships, create subscriptions, productize your services, and make sure your entire day-to-day workflow is optimized.
Top features of Copilot
Secure client messaging and centralized communication, with teams easily able to collaborate and organize.
A host of automations, to improve workflow, save time, and free up team members to concentrate on more demanding, less repetitive tasks.
Intake forms to onboard clients, gather client data, and improve communication.
Seamless billing, including reminders and notifications, improving cash flow.
Secure data client storage, which helps build client trust and preserve privacy and security.
Great support via a knowledge base, freeing up your support team for complex queries.
Copilot pricing
Copilot has four pricing plans:
Starter: $29 per month
Professional: $69 per month
Advanced: $119 per month
Supersonic: $1,500 per month (includes 20 internal users)
Consultants, freelancers, and smaller agencies can do well on a Starter or Professional plan. But, most growing businesses will require the enhanced storage and features of a Professional or Advanced subscription. Enterprise-level firms will want the full bells and whistles of the Advanced or Supersonic package.
Copilot reviews
Pros:
Great UX, and easy to navigate
Easy and efficient billing facilities
Fantastic time-saving automations
Cons:
Self-checkout capabilities (coming soon)
Limited native app integrations (can be solved using Zapier)
Overall, Copilot boasts a 4.8/5 star rating on G2 — uncommon for most SaaS companies. This makes it a popular choice as a Plutio alternative. Check out all Copilot reviews on Capterra and G2.
2. Moxo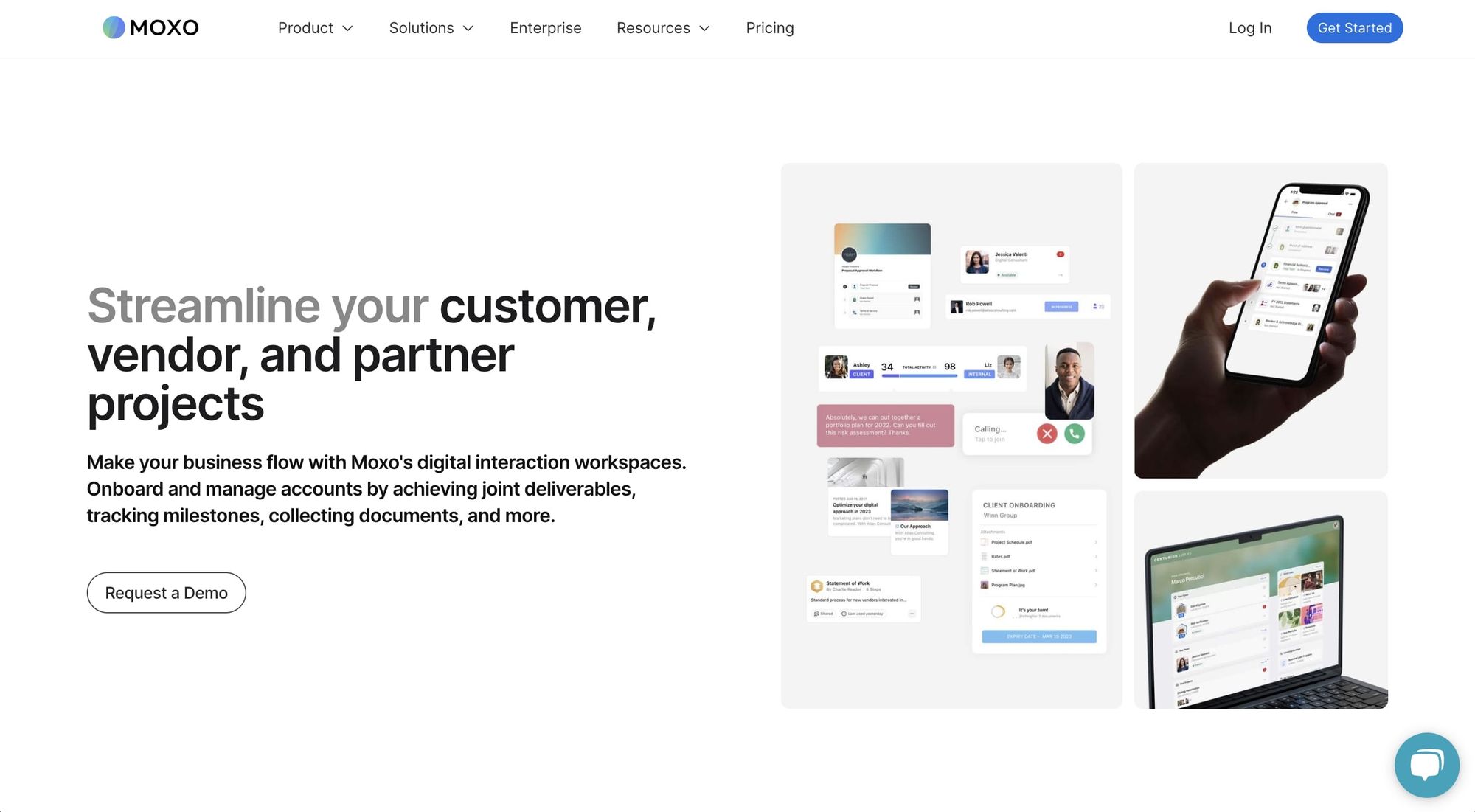 Moxo is designed to create what they call "digital interaction workspaces." Everything is shaped around "flows," which are automated client journeys and associated workflows. The platform allows for a high degree of client portal customization, with a lot of functions for sharing, signing, and storing.
Top features of Moxo
Customizable workflows with built-in automation.
A large library of data studies, guides, and other business education tools.
Ability to assign and track tasks within a specified project.
Well-designed client portals, with bank-grade security built-in.
Moxo pricing
Moxo pricing is delivered in three tiers, each allowing for multiple users. There's a $250 set-up fee, in addition to the monthly charge.
Starter: $100 for 10 users per month
Business: $480 for 40 users per month
Enterprise-level firms are advised to request a quote.
Moxo reviews
Pros:
Customizable workflows work well, saving time and minimizing errors.
Good project management tools including task assignments.
Easy and secure file-sharing
Cons:
Some users report the platform slowing their computers.
Conversations are only stored for 90 days.
Pricing is inflexible and comparatively expensive.
If some of these cons are a deal breaker, you might want to consider a Moxo alternative. Check out all Moxo reviews on Capterra and G2.
3. Bonsai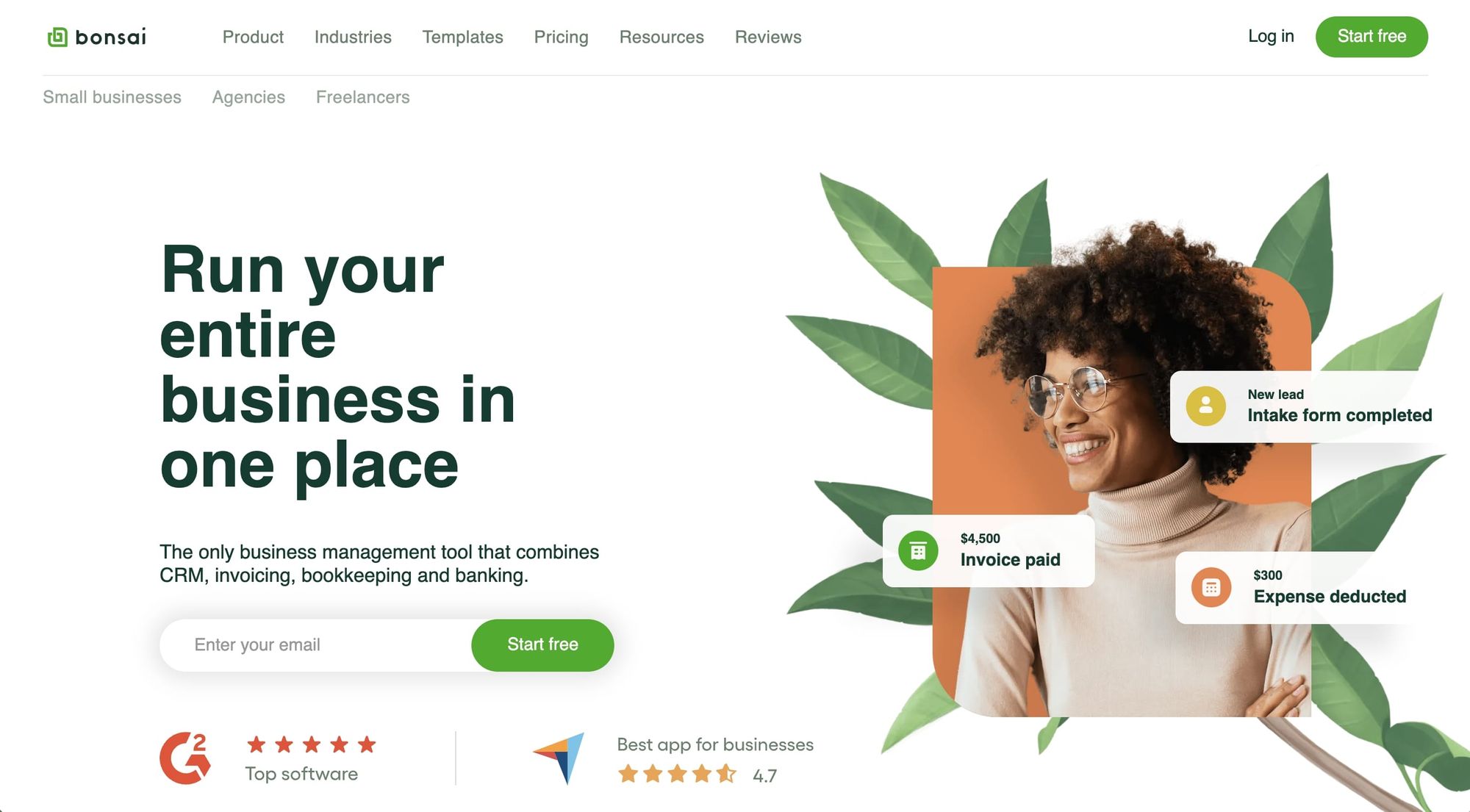 Like many of the platforms here, Bonsai is nothing if not ambitious. They claim to combine a CRM, invoicing, accounting, and banking system in one place. They must be doing something right, however, with almost 5 stars from reviews on both Capterra and G2.
The system combines client, project, and financial management tools, with a host of templates, project tracking, and task scheduling facilities.
Top features of Bonsai
Well-designed project views, with tasks, timelines, and document spaces laid out.
Good client database facilities.
Comprehensive time tracking for tasks and projects.
Lead generation automation and qualification included.
Bonsai pricing
There are three basic pricing tiers and several add-ons:
Starter: $21 per month
Professional: $32 per month
Business: $66 per month
Add-ons include tools for collaborators, partners, and a tax assistance feature, for an additional $10 per month. All tiers have free trials available.
Bonsai reviews
Pros:
CRM facilities on top of project management and financial tools.
Seamless integration and workflow streamlining.
Readily customizable templates and forms.
Cons:
Pricing can be expensive if you don't need all the features.
Accountancy features are somewhat limited.
No visualization tools for task timelines.
Check out all Bonsai reviews on Capterra and G2.
4. Notion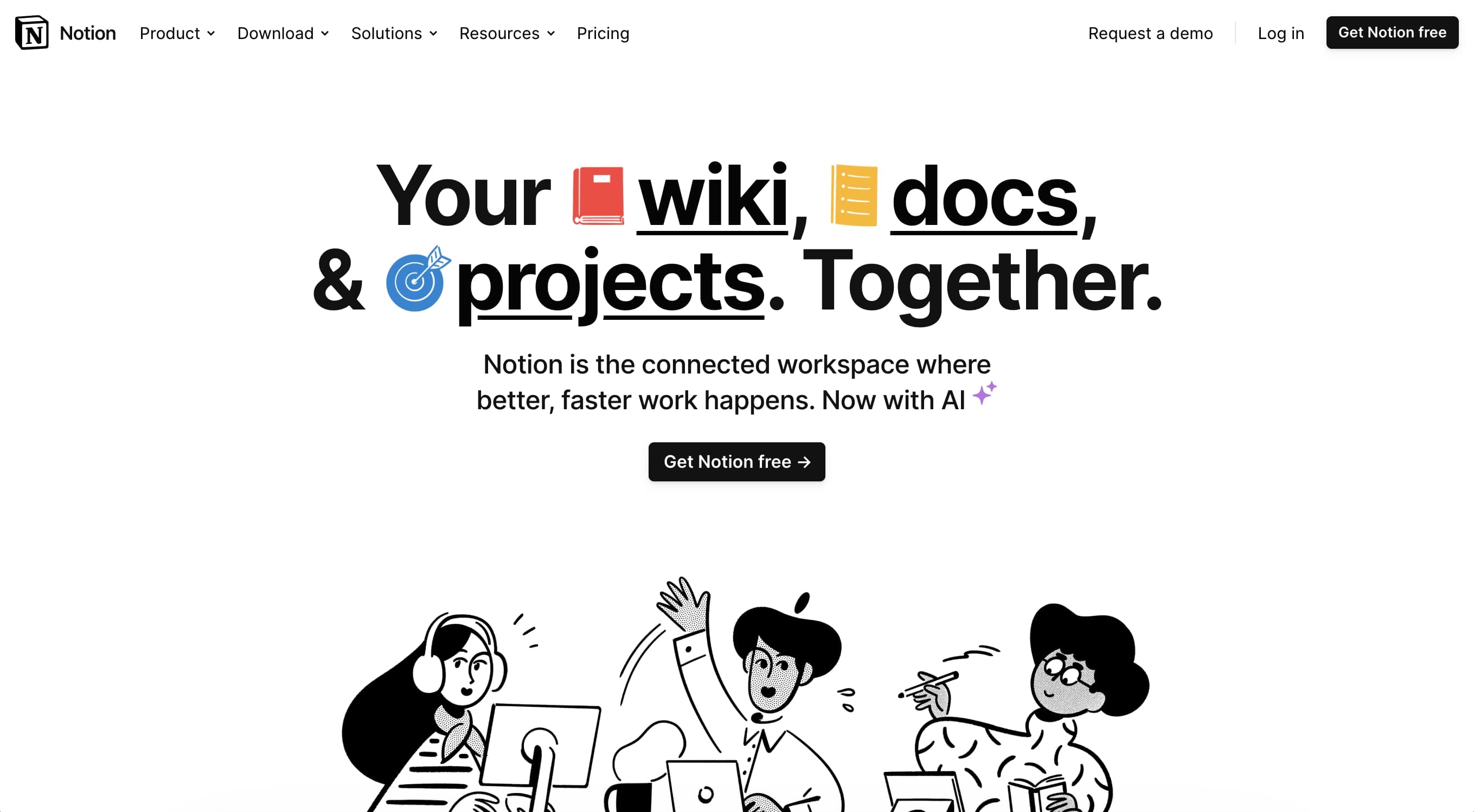 Notion describes itself as a "connected workspace where better, faster work happens." They have recently integrated AI-powered tools for further efficiency gains. Unique features include "wikis" which are subject-specific information resources, and a host of applicable filters, allowing you to view ongoing workstreams in different ways.
The built-in AI provides an easy way to virtually brainstorm ideas, or quickly produce discussion documents and there are team-based resources too.
Top features of Notion
Trackable project management tools, with a timeline view, checklists, a calendar, and filterable tasks.
An AI-powered personal assistant tool.
A host of integrations, including Slack, GitHub, Jira, and more.
A sophisticated document creation tool that includes embeddable task assignations, tables of contents, toggles, and more.
Notion pricing
Notion has a basic free version, two paid tiers, and a bespoke Enterprise version, for which you'll need to request a quote.
Plus: $8/ user per month.
Business: $15/ user per month.
The Notion AI tool is an optional extra for $8/ user per month.
Notion reviews
Pros:
The sophisticated project management tools.
A wide range of views and ways to arrange information.
Highly customizable.
Cons:
Limited fonts and style options for documents.
Less intuitive than less complex systems with fewer features.
Fewer task-orientated features than other platforms.
Check out all Notion reviews on Capterra and G2.
5. SuiteDash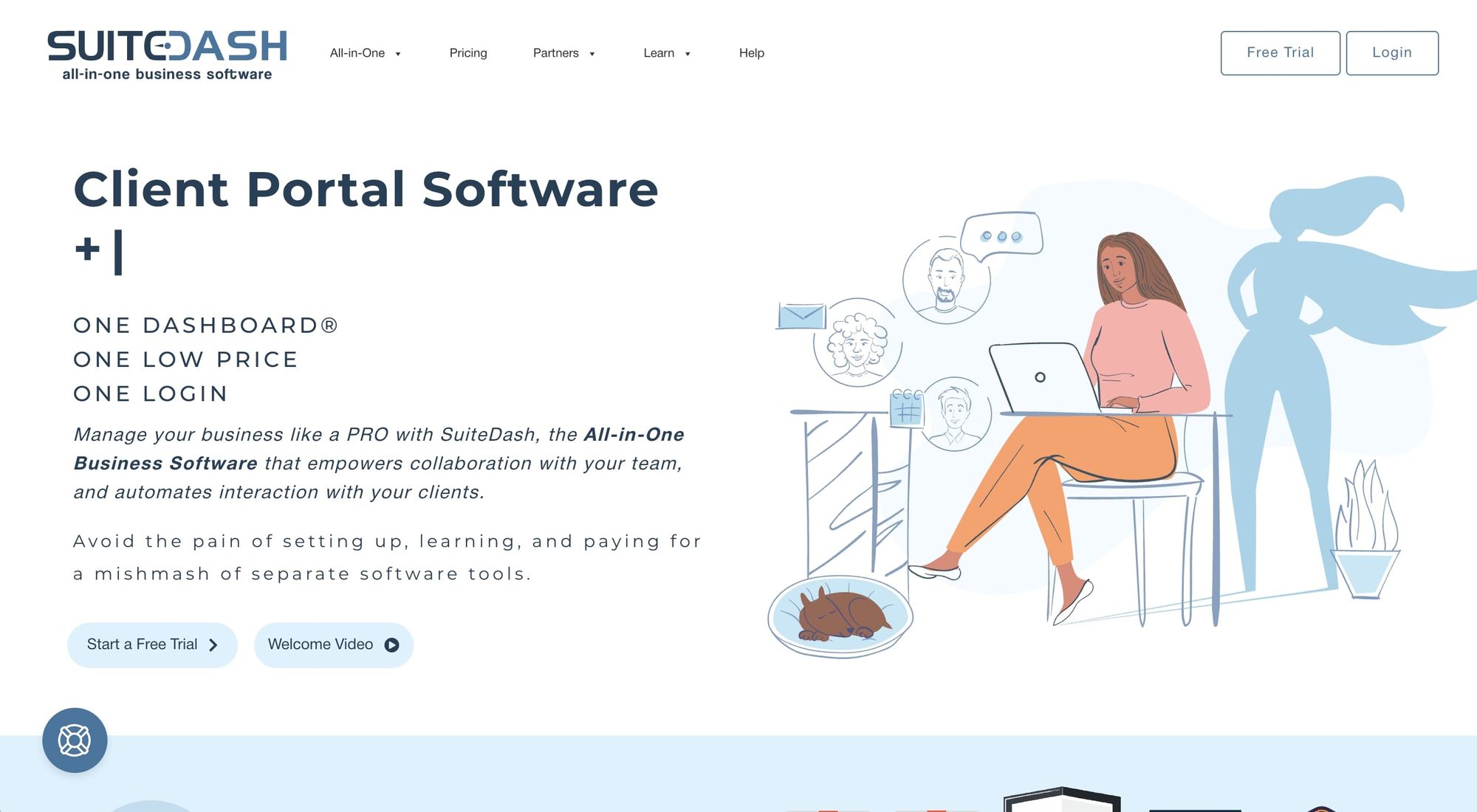 SuiteDash describes itself as client portal software that's designed to integrate CRM, project management, invoicing, and document functions as well. Similar to Copilot, each client can have a branded portal that they can use to manage their relationship with you.
Behind the scenes, users manage all their interactions with each client, from onboarding to file exchange, billing, and support. There are also project and task-orientated features and marketing functions like the ability to create and schedule email drip campaigns.
Top features of SuiteDash
Good CRM and marketing funnel features, allowing you to sustain and grow client relationships.
Specialist support for LMS learning businesses including the creation and sale of digital courses.
Support ticketing system, to improve response times, and systematize support.
White-label client portal creator, which is highly flexible and works across a range of business models.
SuiteDash pricing
Unusually for business management software, SuiteDash is priced per license not per user, across three tiers:
Start: $19 per month
Thrive: $49 per month
Pinnacle: $99 per month
There are additional tool bundles available including security, payment, sales, and chat features, from $20 to $40 per month.
SuiteDash reviews
Pros:
Highly configurable and customizable, with a wide breadth of functionality.
Exceptional customer support, plus a dedicated YouTube channel for demos.
A simple UI, which makes onboarding quicker and easier.
Cons:
A lack of financial reporting tools.
Form builder is somewhat inflexible.
Can lag on page loading, some users report.
Check out all SuiteDash reviews on Capterra and G2.
6. Dubsado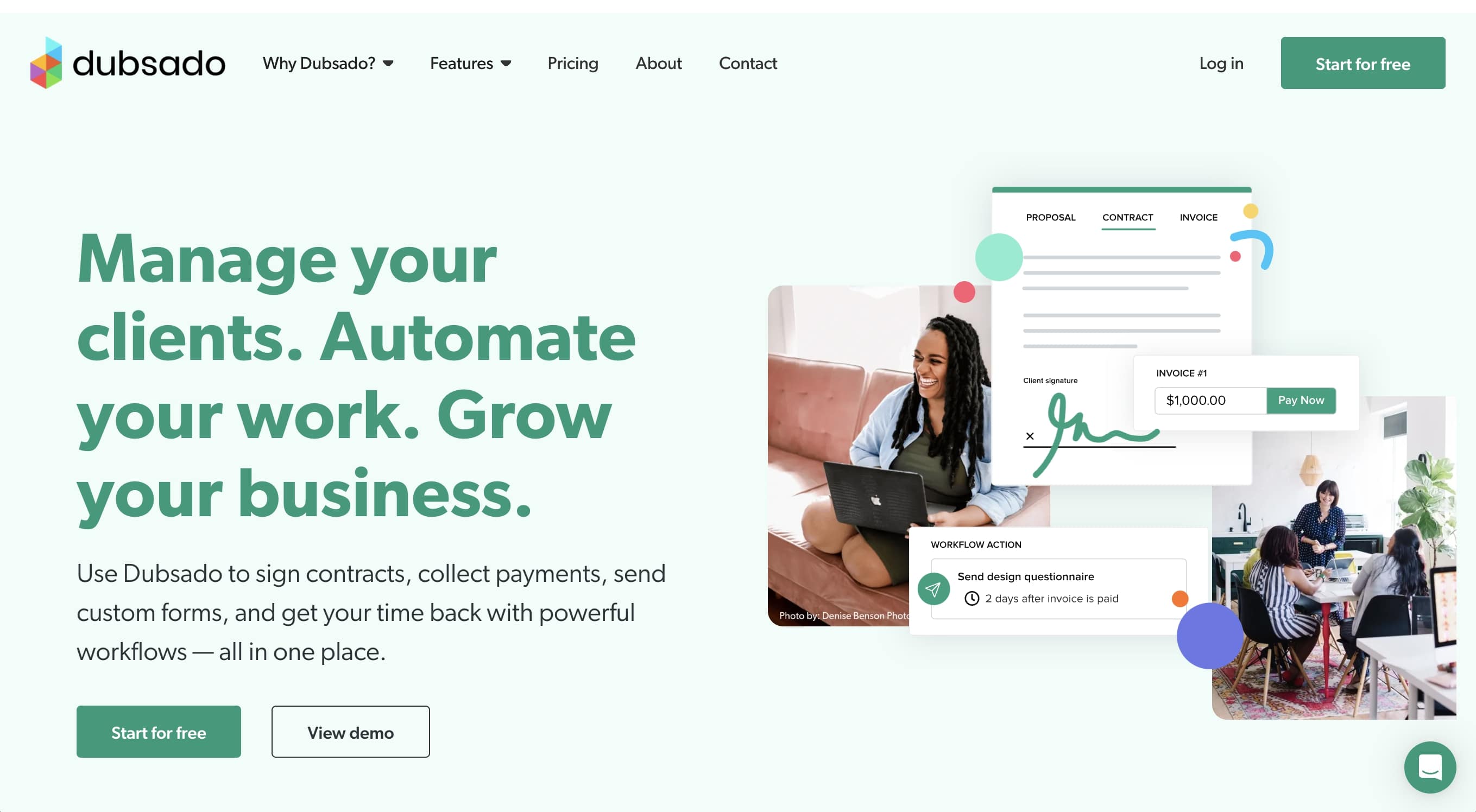 Dubsado describes itself as a "business management platform for everyone," and gives examples of existing clients ranging from photographers to accountants to doulas. They offer enough features to satisfy most small businesses without baffling potential customers with too many functions.
If you're running a personal brand and want to simplify the bureaucratic aspects of business, Dubsado might suit you well.
Top features of Dubsado
A good library of forms, from lead capture to contracts and questionnaires.
Invoicing and financial reporting, to ensure you keep on top of your billings.
Straightforward scheduling systems, perfect for an appointment-based business.
Automated workflows to send pre-prepared emails or prompt you to make a call.
Dubsado pricing
There's a free trial available, and then two paid tiers for up to three users:
Starter: $200 per year
Premier: $400 per year
Adding additional users costs $25 for 4-10 users/month, $45 for 11-20 users/month, or $60 for 21-30 users/month. There's also a $10 charge to add additional brands.
Dubsado reviews
Pros:
Good automations, helping solo businesspeople manage client interactions.
Proposals, contacts, and invoicing are well-integrated to optimize the client lifecycle.
Time-saving template library and lots of helpful training videos.
Cons:
Dubsado isn't primarily set up for small teams, with limited multi-user access.
Initial set-up can be challenging, some users report.
Compared to rival platforms, it's a little light on features.
Check out all Dubsado reviews on Capterra and G2.
7. Freshbooks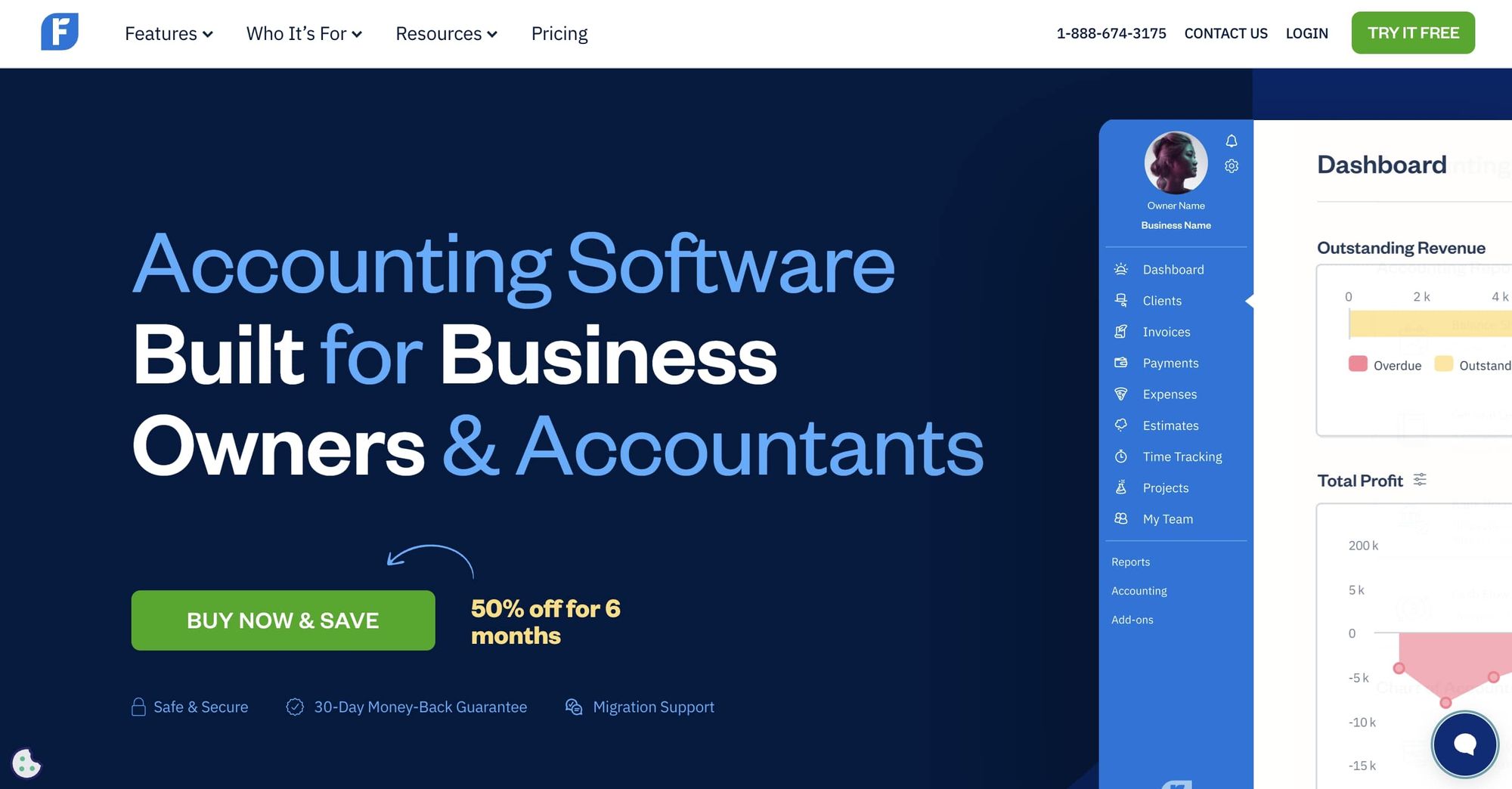 Freshbooks is an accessible accountancy-led platform for small businesses, designed as an affordable alternative to Xero or Quickbooks, while adding enough CRM and business management features to help coordinate your client interactions. Its focus on invoicing and financial reporting will help protect the bottom line while you scale.
Top features of Freshbooks
Proposal and contract creation features, to help secure clients.
Payroll features, ideal for small businesses.
A wide range of financial tools including expenses, tax returns, and mileage tracking.
Basic project and document sharing features, including team conversations.
Freshbooks pricing
As well as bespoke enterprise pricing, there are three paid tiers:
Lite: $11.50/ user per month
Plus: $17.50/ user per month
Premium: $25/ user per month
Freshbooks Reviews
Pros:
Excellent range of accountancy tools, including expenses, invoicing, tax, and more.
Designed to be accessible for small businesses, saving time and minimizing error.
Good value for money, with straightforward pricing.
Cons:
It's primarily a financial management tool, with minimal collaborative features.
Some users have reported bugs and errors in the software.
Requires some basic accountancy knowledge to use.
Check out all Freshbooks reviews on Capterra and G2.
8. Accelo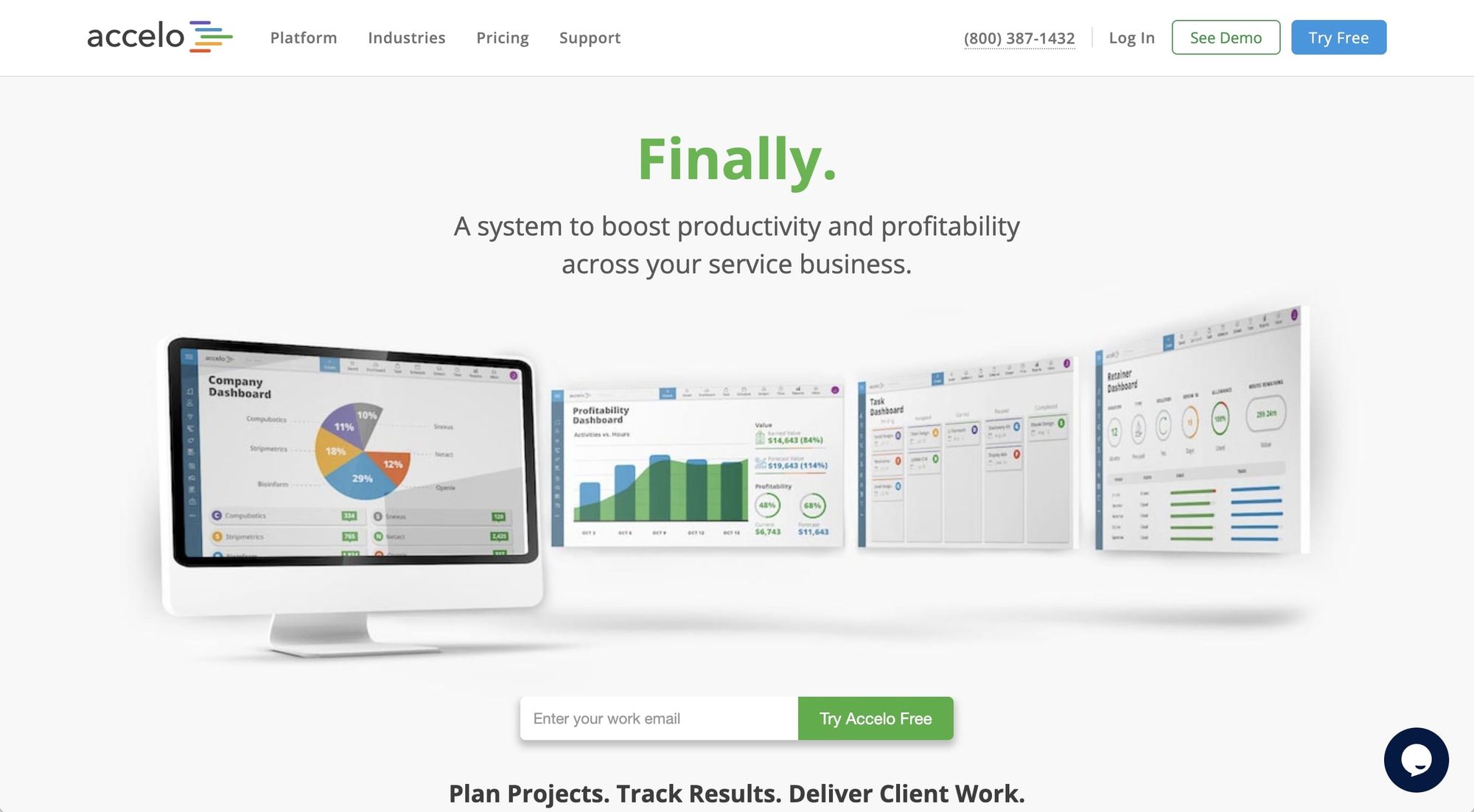 The Accelo platform promotes itself as a "tool to enhance efficiency and profitability in your service-oriented business." It concentrates on both project and sales aspects and is ideal for businesses aiming to expand.
The platform offers a variety of instruments to refine your sales process and provides insights into the performance of specific campaigns and projects.
Top features of Accelo
Emphasis on sales and projects, with tools for marketing channels and project oversight.
An integrated ticketing feature, enabling clients to easily place job requests.
A "retainers" function, good for nurturing strong ties with recurring, valuable customers, especially in the accounting field.
Vibrant visual summaries, incorporating profit predictions, deadlines, and client data.
Accelo pricing
Accelo is divided into six modules, with mix-and-match pricing. Modules include sales, projects, tickets, retainers, billing, and reports.
Plus: $24/user per month/module
Premium: $39/user per month/module
Bundle: $89/user per month for all six modules.
Accelo reviews
Pros:
A range of modules including sales, marketing, project, billing, and ticketing tools.
Allows for customization, so you can opt out of certain modules.
Strong reporting and project work capabilities.
Cons:
Might be more sales and marketing-focused than necessary for some.
Not as many integrations as other CRMs.
Support has received some negative feedback.
Check out all Accelo reviews on Capterra and G2.
9. Clinked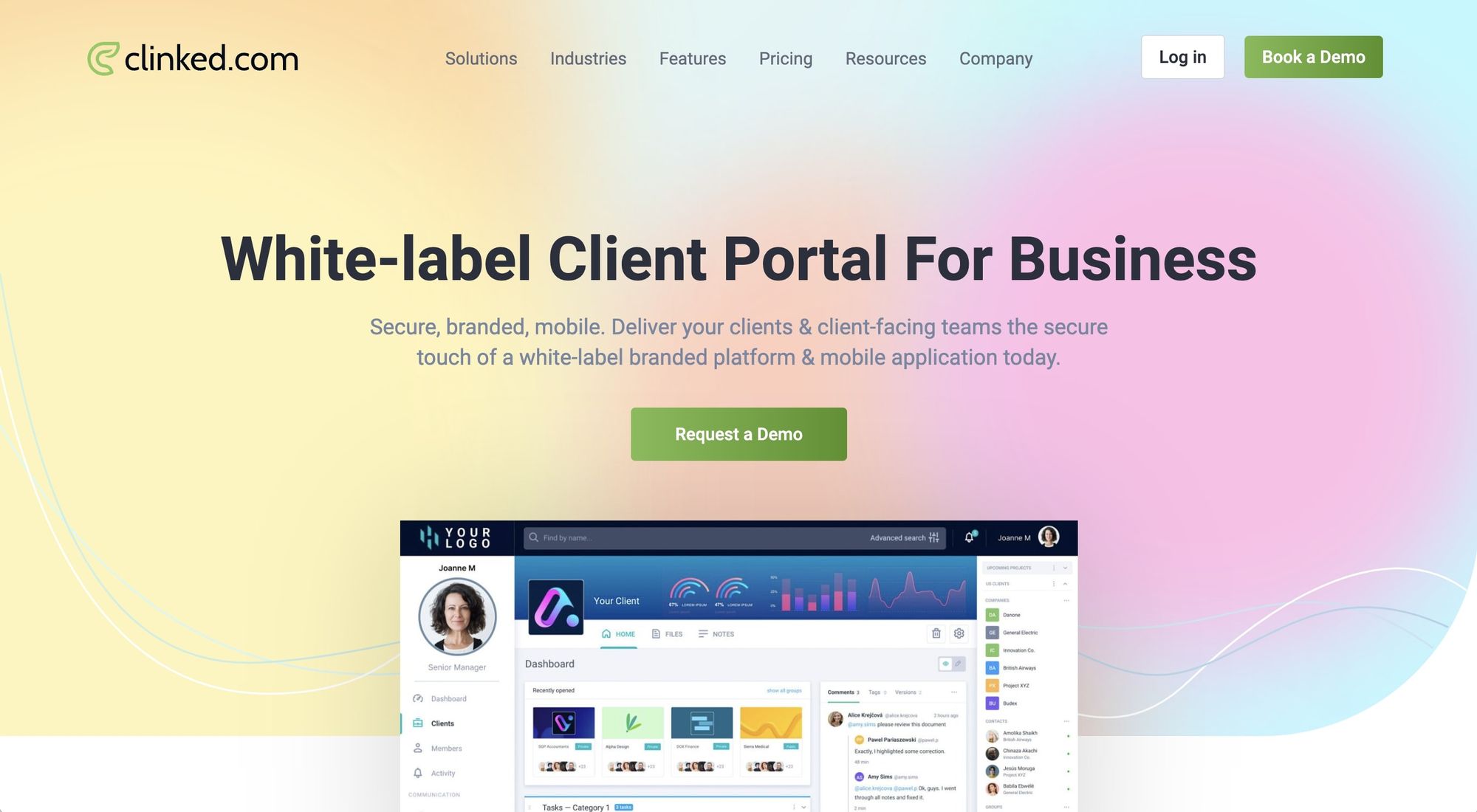 Clinked is a Plutio alternative tailored for service-oriented, data-centric businesses. It labels itself as a "Custom-branded Business Client Portal." Clients receive a uniquely branded gateway, making essential features readily accessible.
Key functions include an integrated intranet feature and a digital data vault that ensures secure and monitored data access.
Top features of Clinked
Tailored client gateways, allowing for a personalized management approach.
Protected Data Vault, designed to deter unauthorized access and fraud.
Collaborator portals with access rights tailored for your clients.
Team chat function, promoting collaboration and prompt decision-making.
Clinked pricing
Clinked is offered in three tiers, with bespoke pricing for the Enterprise edition.
Lite: $79/user per month
Standard: $199/user per month
Premium: $399/user per month
Lower tiers are limited by members, storage, and add-on features.
Clinked reviews
Pros:
Clean and straightforward user interface.
Secure document sharing and access functions.
Popular inter-team communication features.
Cons:
Absence of a built-in spell checker.
Task allocation is not a default feature.
Higher cost of the premium tiers.
Check out all Clinked reviews on Capterra and G2.
10. Client Portal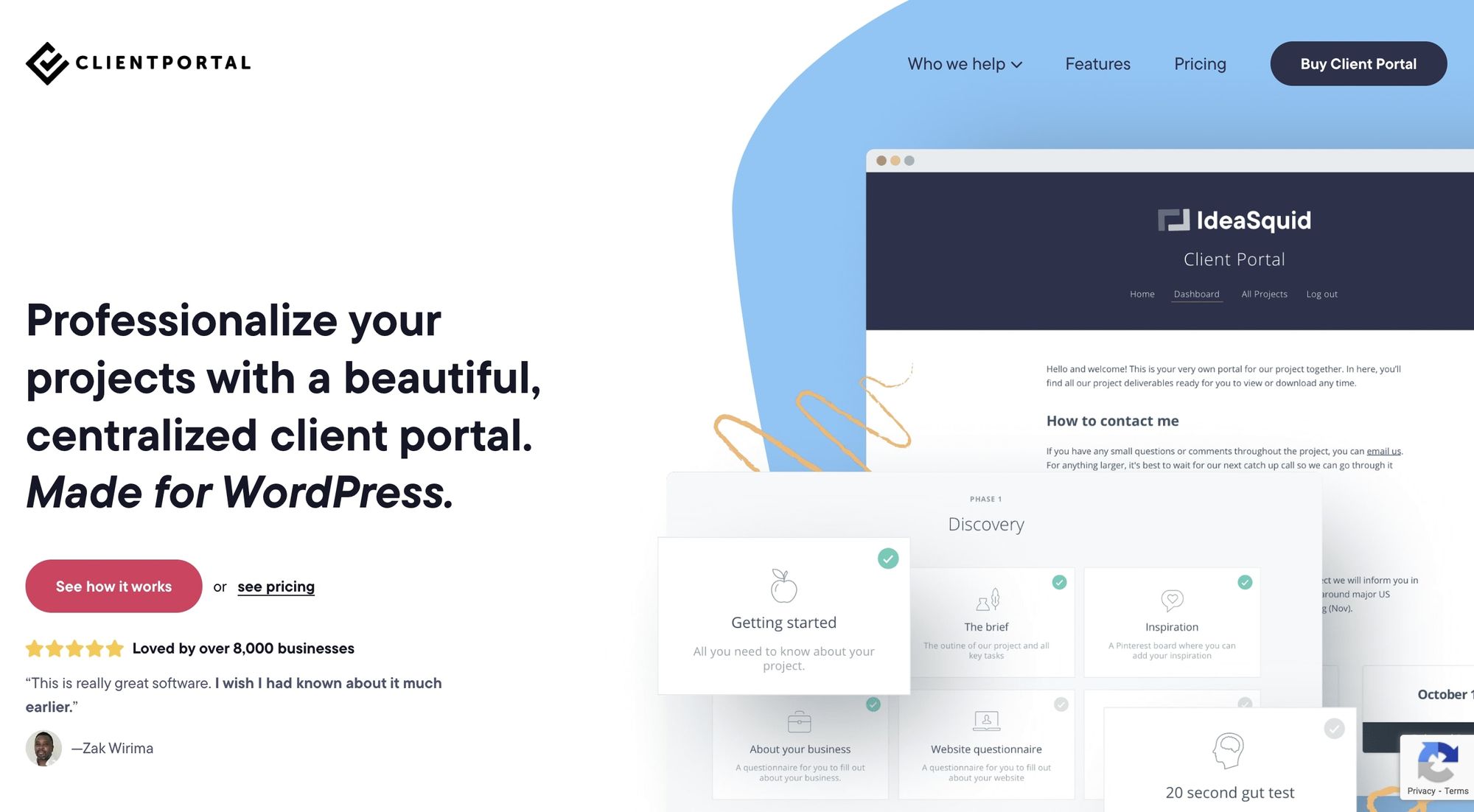 Small enterprises that run on WordPress might appreciate this "unified client gateway." It offers a straightforwardness and ease of use that some pricier options miss.
Designed specifically for small firms like legal practices and accounts, Client Portal cuts out high-tier features that such businesses might never use. If you need a quick start, measured in days instead of weeks, this is an easy-to-use option.
Top features of Client Portal
Intuitive Client Gateway, simple to understand and navigate.
Seamless compatibility with popular form and document formats.
Effortlessly incorporate tools such as Trello boards and calendars.
Safe file submission and hassle-free document distribution.
Client Portal pricing
ClientPortal's simplicity extends to its pricing. There's a single annual license fee, available in two tiers:
Single Site License: $199 annual subscription
Multi-Site License: $399 annual subscription
Client Portal reviews
Pros:
Perfect for emerging businesses.
One-time license fee for basic CRM features.
Built on the familiar WordPress platform.
Cons:
Mainly functions as a document-sharing and communication platform.
Not a comprehensive CRM system.
Missing billing tools, task tracking, and reporting features.
See more reviews on SourceForge and Offsprout.
Why Copilot beats the competition
The challenge with choosing an all-in-one business management platform is striking the right balance between features and accessibility. Whether you're a solopreneur or are running a small but growing business, Copilot gives you everything you need to nurture those client relationships, optimize workflow, manage your teams, and seek out new business.
For a platform that empowers small businesses, without baffling with its complexity, Copilot performs the perfect balancing act. But don't take our word for it. Check it out for yourself via our demo client portal!
Sign up for our newsletter
Subscribe to our newsletter to receive emails about important announcements, product updates, and guides relevant to your industry.