16 best productized service examples you need to check out
Oct 17, 2023
12 min read
Omid G
Knowing how to price and package your services is everything when it comes to starting a service-based business.
How you describe and portray your services helps you differentiate them from other agencies and firms. Good product offerings catch the eye, protect revenue, and inspire buyer confidence.
This is why many service businesses today, especially ones that run fully online, are moving towards productizing their services.
So, in this article, we'll go over 16 inspiring examples of how to take something as abstract as a skill, service, or expertise and turn it into concrete, sellable "products."
But first, let's define what it means to create a productized service.
What are productized services?
A service-based business, particularly one that hires out the abilities of individual professionals, has several inherent risks.
First, there's scope creep, where the scope of a project changes or expands during the process (based on the client's demands). Secondly, there are possible gaps between expectation and reality when a service isn't well-defined. Lastly, there can be disputes over invoicing and billing. Suddenly, what seemed like a lucrative service offering becomes a bureaucratic or interpersonal nightmare.
This is where productized services come in. These are finite, clearly delineated service packages or individual actions sold as products. It's a model that lends itself very well to professional consultancy, creative skills, and other specialist services. Think of it like an ecommerce product, but in this case, it's a service you provide.
For a longer exploration of the topic, we've created an in-depth article on productized services. For some encouraging examples of how well it can work as a business model, read on.
Why should you productize your services?
There are many reasons to turn your service offering into product units. This approach helps you:
Define and limit the scope of a task.
Allows clients to purchase exactly what they need, when they need it.
Clarifies expectations and prevents miscommunication.
Makes deadlines more achievable and improves scheduling.
Differentiates your offering from your rivals'.
Allows you to grow and scale your business.
Permits service expansion and profitability.
Makes support and query handling easier.
Let's look at some good practice examples, and you'll soon see what we mean.
16 unique productized services to learn from
Here are 16 great examples of productized service businesses:
Let's go over each example.
1. Designjoy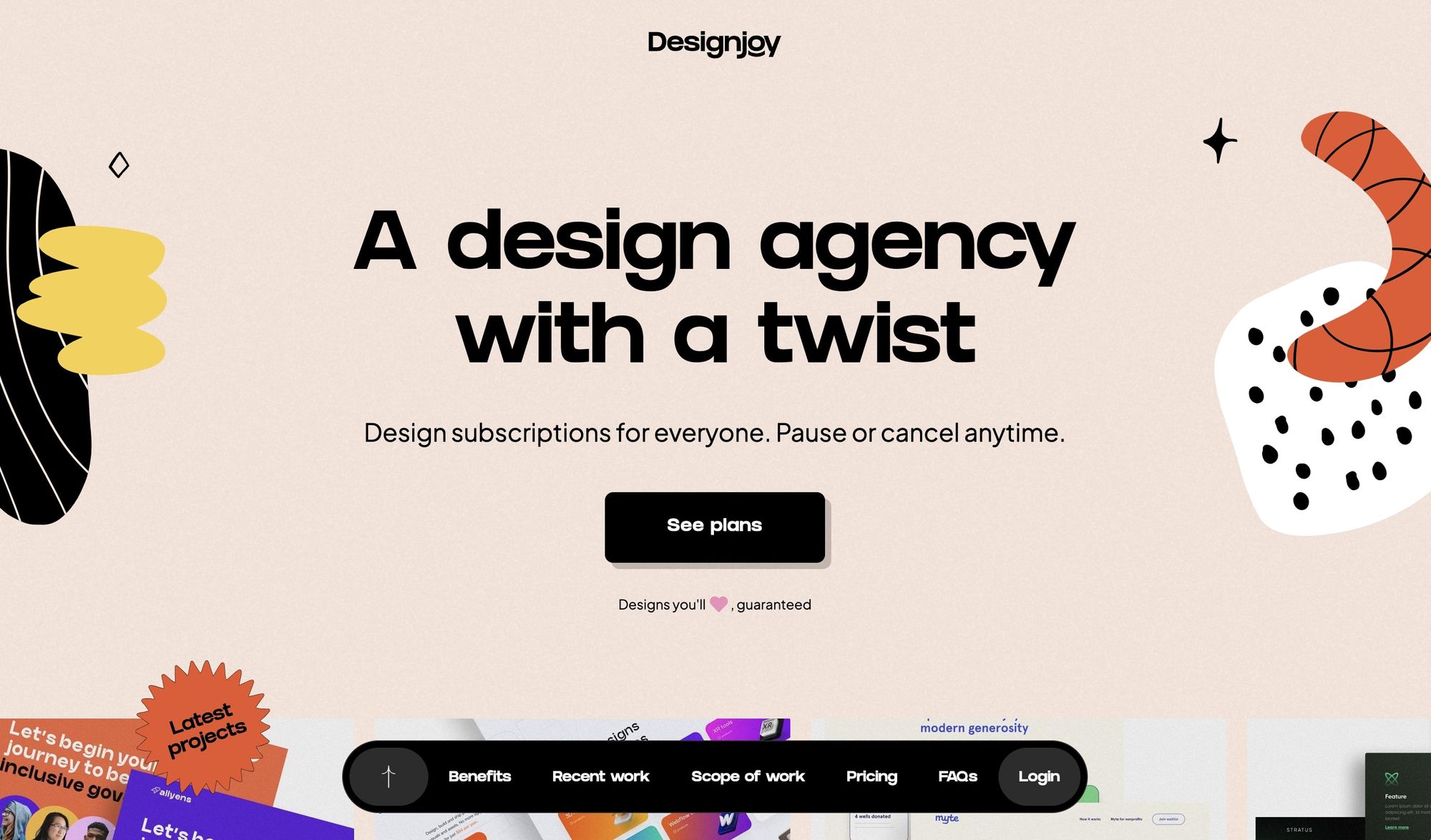 Designjoy is a creative agency specializing in online content and design. They offer tiered design subscriptions with clear boundaries for each service offering. Their subscriptions allow for a generous suite of benefits including unlimited brands and photos (courtesy of Shutterstock) and a 48-hour delivery schedule.
They have expanded their basic offering (at the time of writing just under $5000 per month for one request, or just under $8000 for two simultaneous requests) to include an add-on for "Webflow development" to optimize the functionality and UX of existing websites.
The benefit of this model for customers is that they only pay for finite jobs, know exactly how much they'll pay, and know when it will be delivered. Designjoy can schedule work with confidence and maximize revenue by taking on more clients or offering additional services to existing customers.
2. Viralcuts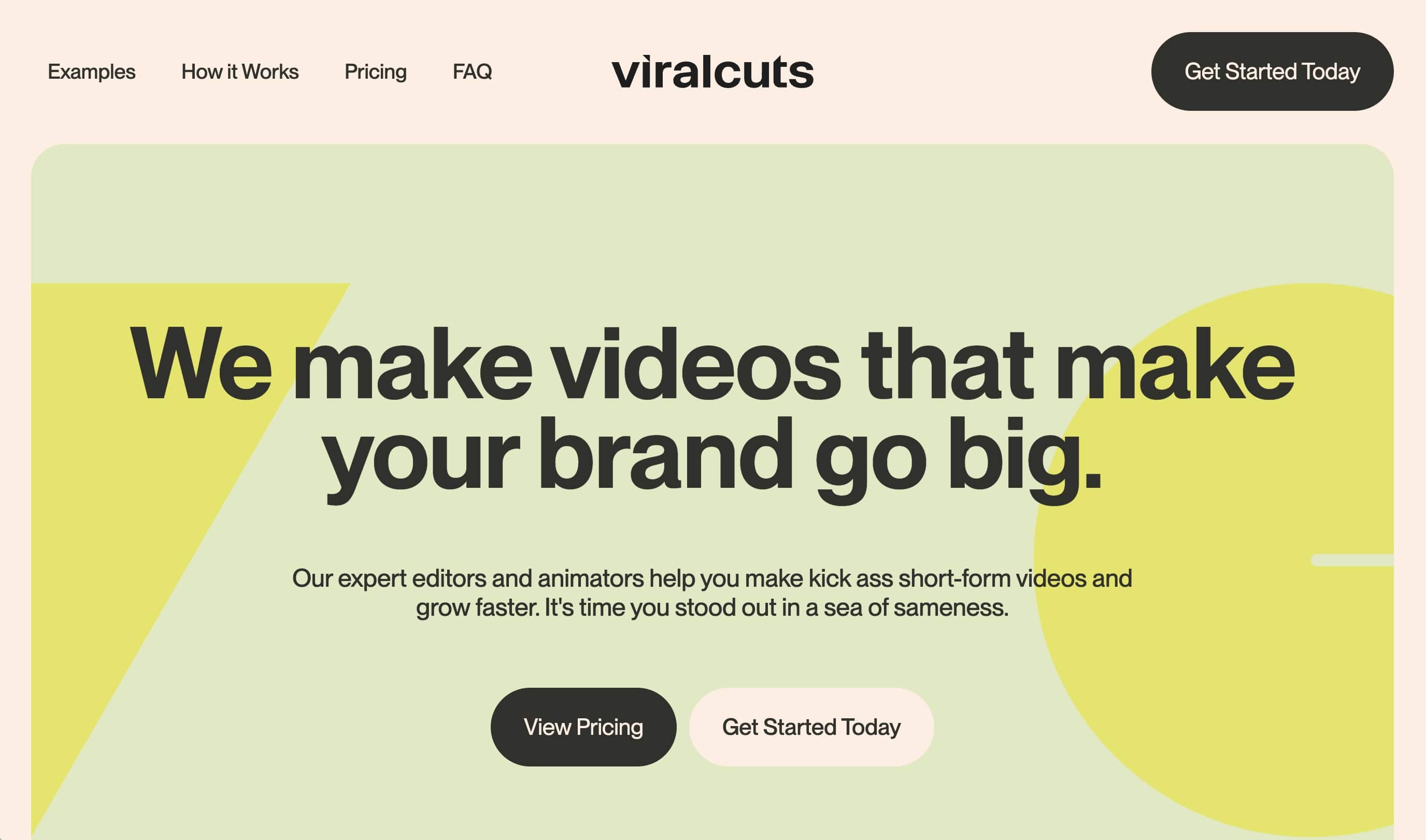 Another invaluable creative offering is made by Viralcuts, who create bespoke video content including editing, animation, titling, and music. What they don't do (protecting their work scope) is shoot anything. Instead, the client delivers raw footage (potentially filmed on a phone or simple camera) and Viralcuts turbocharges it with glitzy editing, graphics, and music.
Viralcuts produces everything from TikTok videos and Instagram Reels to product demos and video explainers. Like Designjoy, they offer monthly subscription packages, which means that if the job overruns, due to additional client requests, the company doesn't lose out.
Concrete limits are set on the number of videos, or editing hours per month, and this is balanced by clear delivery schedules. With more than 100 million views for their creations, it's clearly a business model that delivers!
3. MassCampaigns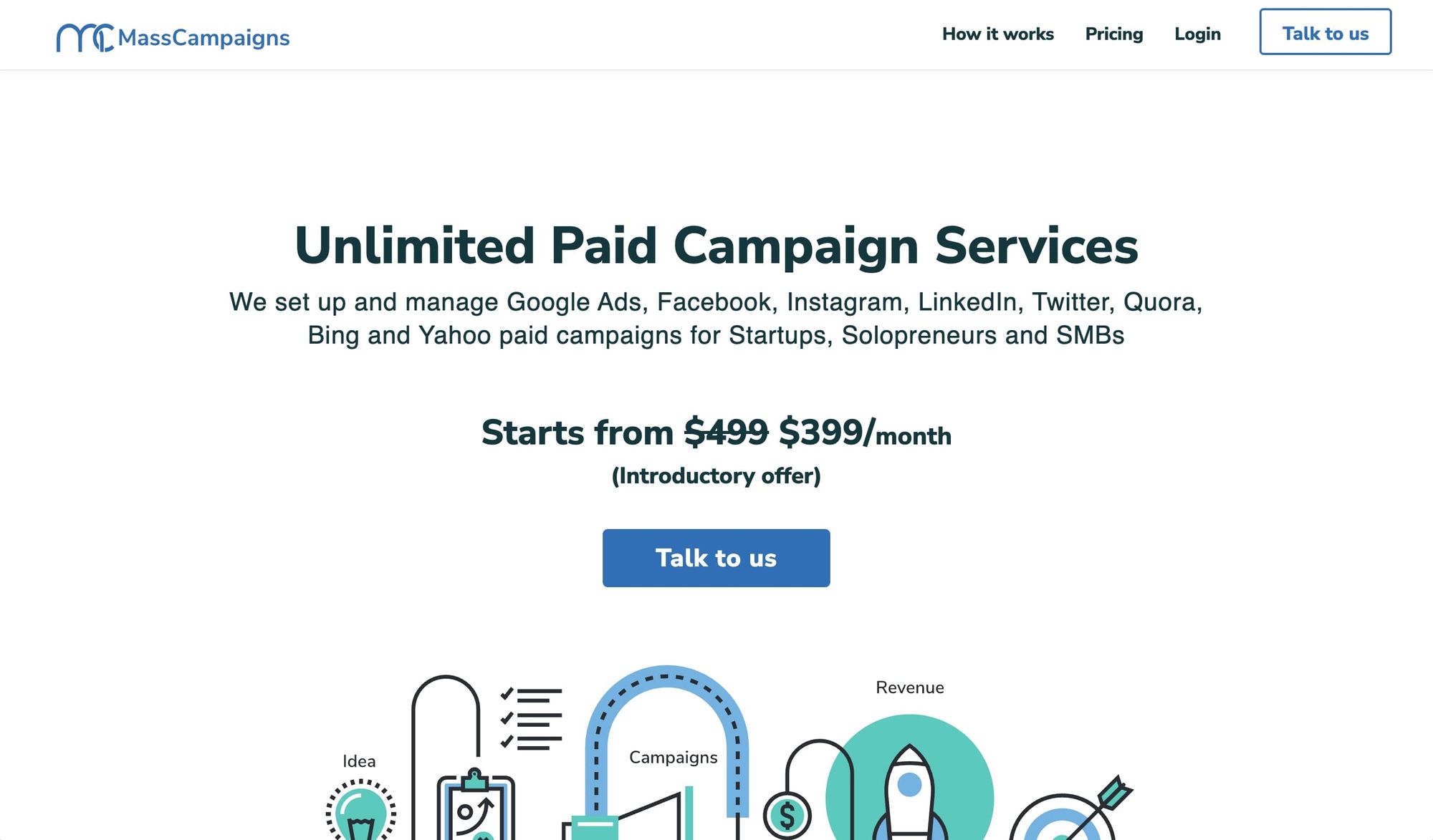 Advertising companies aren't known for their affordability. Traditionally, premium campaigns have been delivered at a premium cost. The explosion of social media over the last 15 years has shaken things up, however. Now, a relatively low-cost production can achieve virality and launch a brand or creator into the stratosphere.
Recognizing such opportunities, MassCampaigns offers social media ad creation and management services for as little as $399 per month. They monetize their expertise in placing, optimizing, and managing successful ad placements across eight different platforms.
MassCampaigns limit their product offering with a clearly specified revision and approval process. There are two subscription tiers with specified personnel, timeframes, and number of ad placements. Clients know exactly what they are getting for their money, without the provider making unrealistic promises.
4. Draftss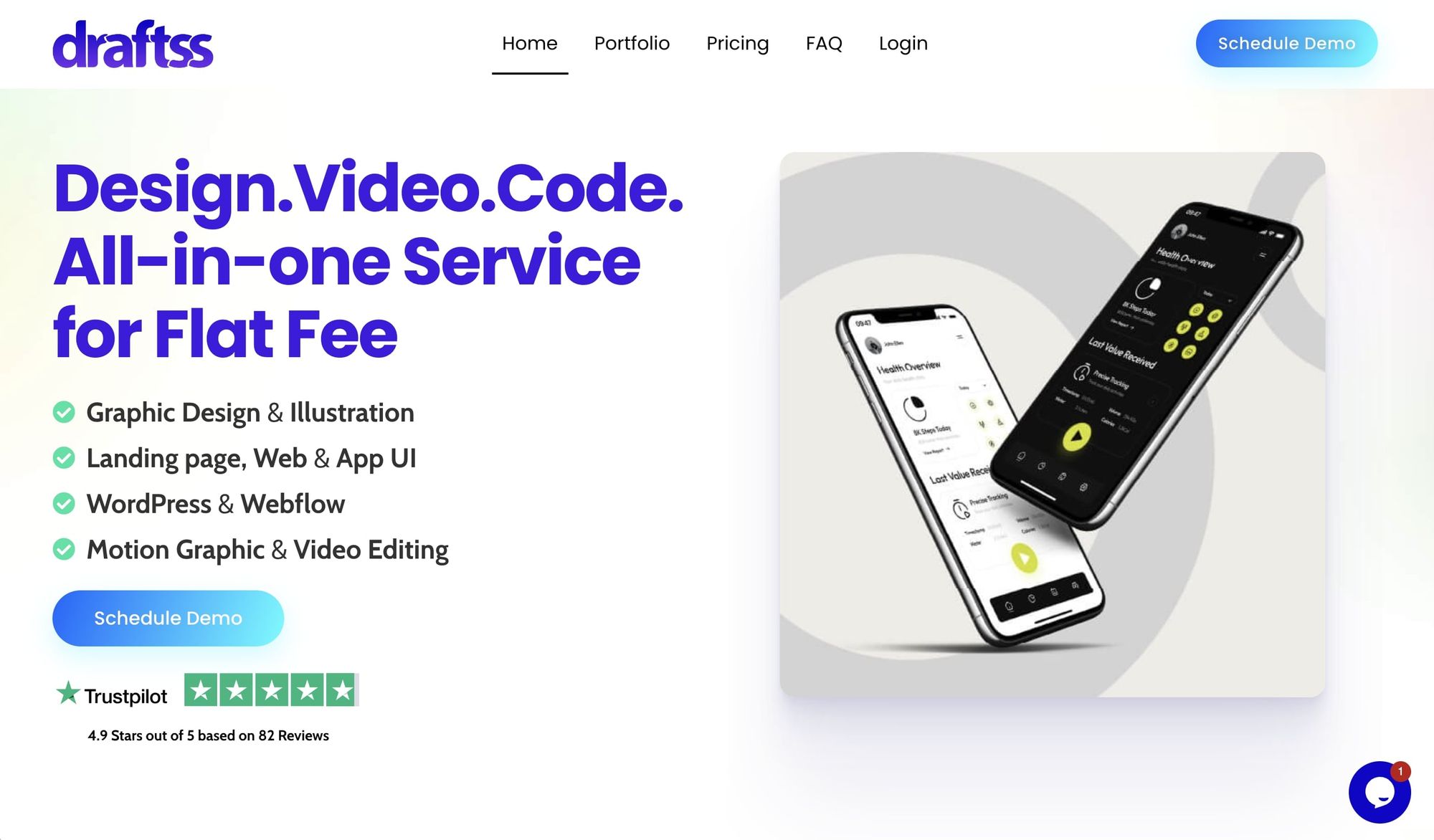 Providing branding, websites, animation, and app creation, graphic design agency Draftss may at first seem to have an unlimited service offering. However, their three subscription tiers make it very clear what's being offered for their reasonable monthly rates. Their site explains that designers are shared between clients and that tasks are fulfilled one at a time.
What differentiates tiers is the type of work included. The branding package provides illustrations and design elements only. The experience package adds web and app UI design, motion graphics, and video editing. All tiers provide a one-to-three-day turnaround.
Each client receives an initial consultation with a project manager, to set scope and expectations, and clarify the brief. Multiple possible designs are submitted for client approval to maximize satisfaction (and minimize repeat work). It's an impressive and highly scalable offering.
5. Scribly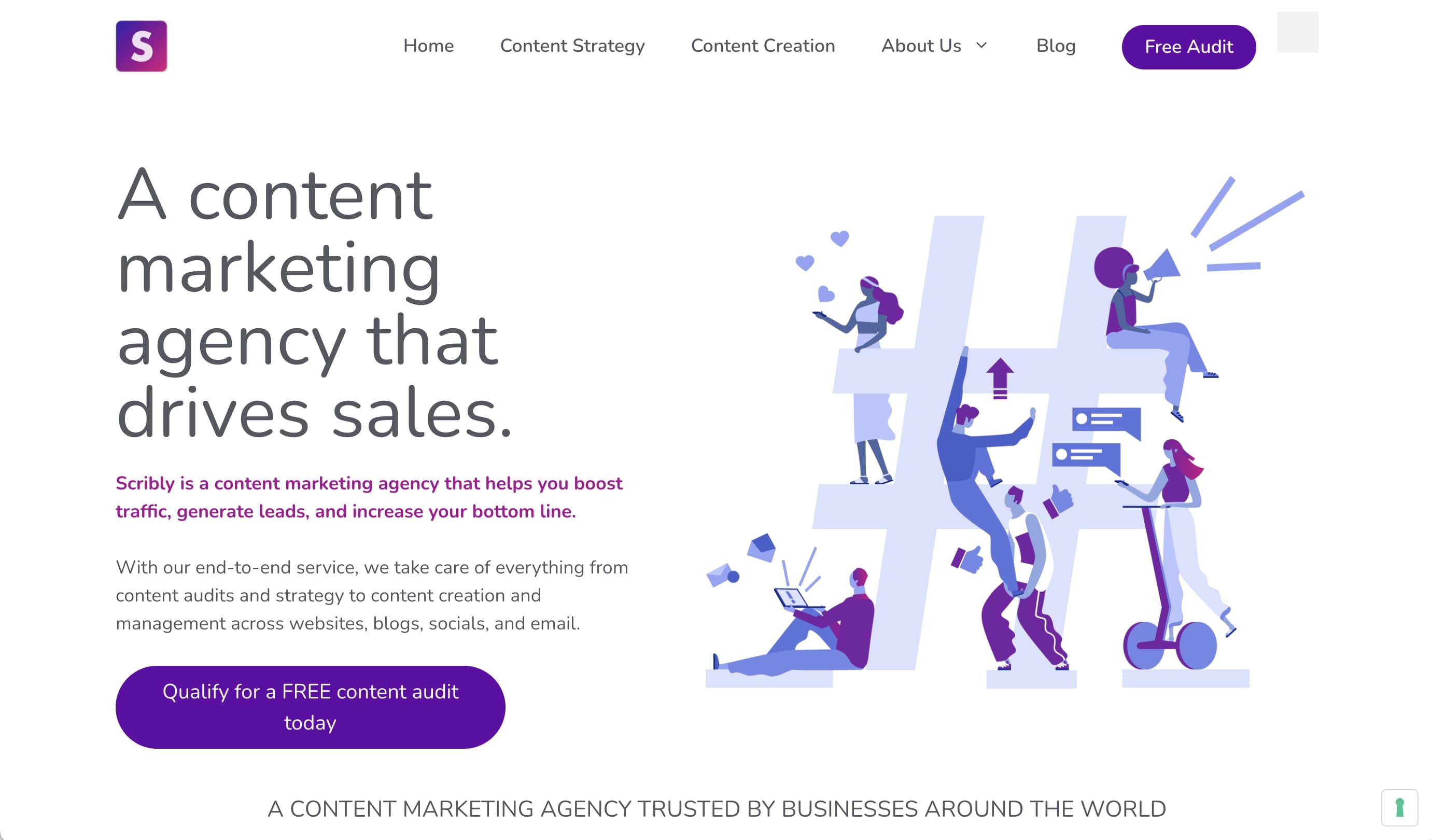 Content marketing is a fine art whose success depends on both the quality of the copy and the strategy for its placement.
Scribly handles both tasks, with the aim of raising all their client's profiles, improving awareness, and establishing authority. They don't take a subscription-based approach, but instead break down their services into finite packages such as SEO-led content generation, social media strategies, and email marketing.
To attract new clients, Scribly offers a free "content audit." They'll assess potential clients' existing assets across all platforms and make recommendations for how these might be improved.
This process leads to an offer being made for Scribly's creative intervention. This proactive approach helps them define the scope of what they'll do to help each client and deliver a realistic quotation.
6. DesignBro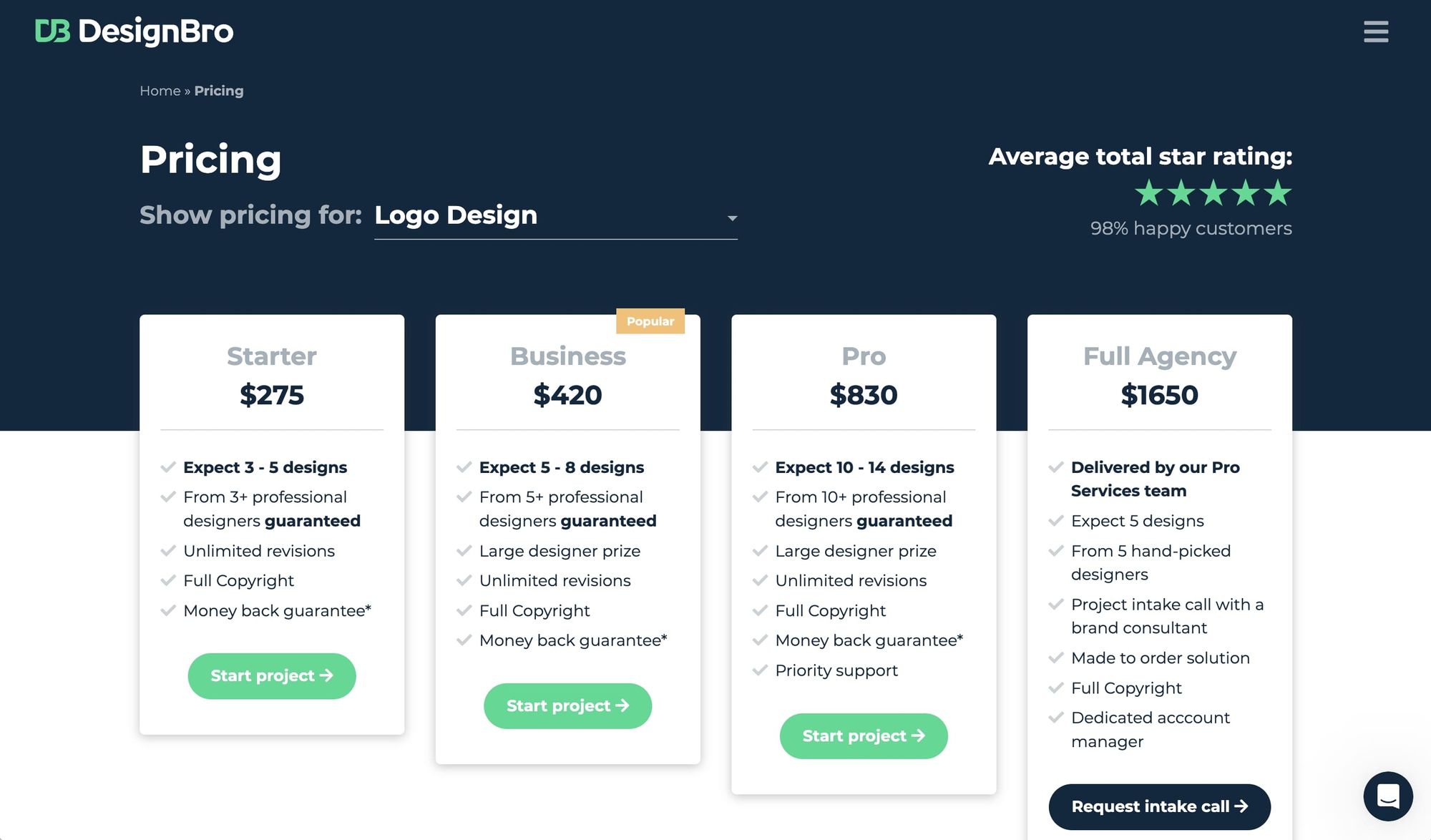 DesignBro is an online agency that proudly claims to hire only the top 5% of designers who apply to offer their services through the platform. What they are selling with this offer is range and excellence, maximizing their potential client base.
DesignBro has pre-priced a host of different potential projects, ranging from logo creation to book covers or website design. Each project is offered in multiple tiers, and clients can choose a favored designer after browsing individual portfolios. Alternatively, clients can launch a "contest," which allows designers to competitively pitch for projects.
The variety of productized services and range of design talent (over 280 at the time of writing) make this an enticing option for brands seeking a budget solution to a creative task.
7. Laurel & Wolf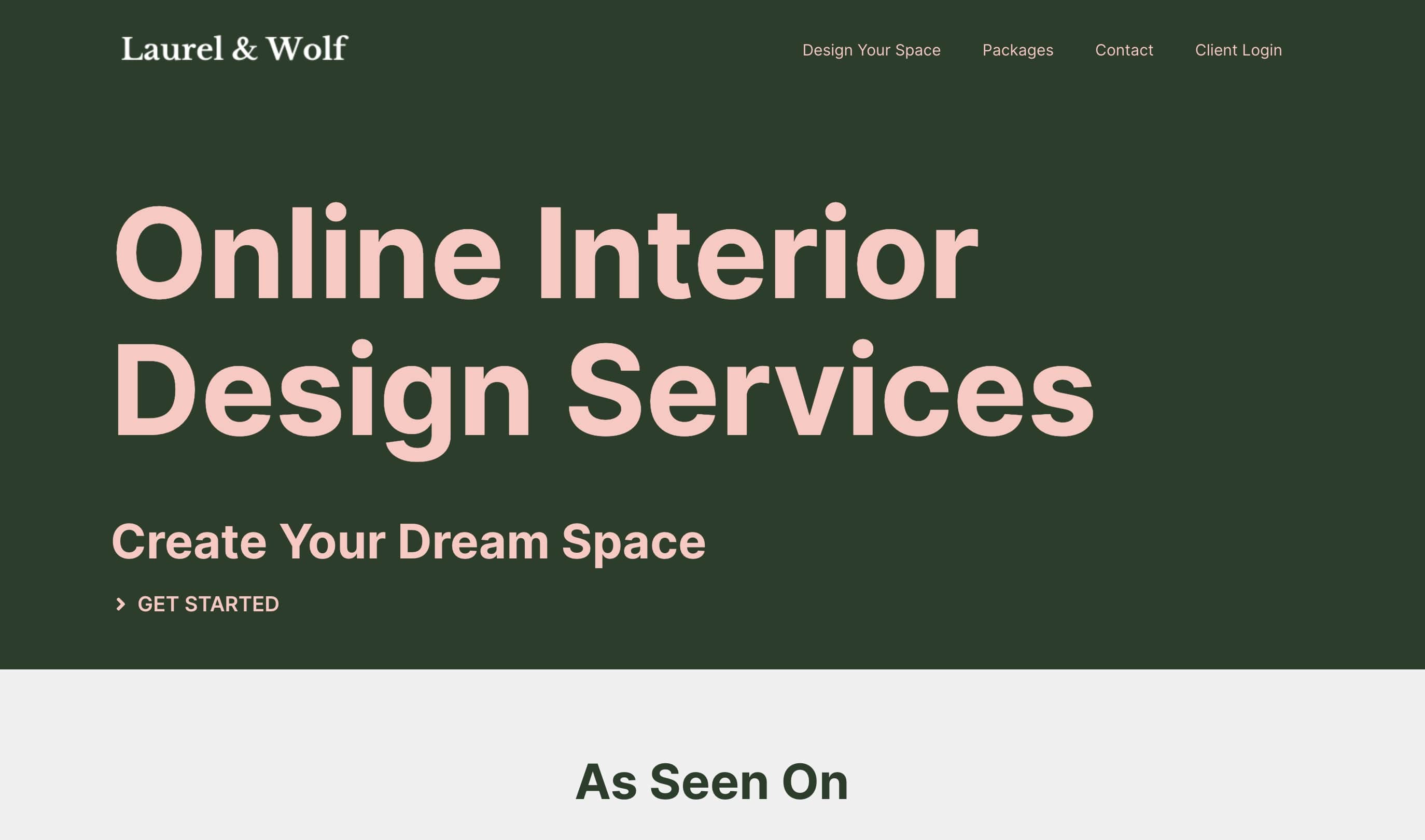 The online design agency approach needn't be limited to print or screen. Interior design can be productized too.
Laurel and Wolf's site utilizes the power of virtual design rendering, in either 2D or 3D formats. This creates tempting prototypes for real-world designs, which the client can then realize.
The product offering is highly systematized, limiting mission creep. There are three basic tiers: classic, premium, and luxe custom design. Prices are not fixed in stone since it's impossible to gauge cost without an initial consultation. However, the project scope is shown, including turnaround time, number of revisions, and the provision of a custom floor plan.
Prices become fixed when the client selects a package and completes a "design quiz." This answers key questions that limit the scope of the task. Laurel and Wolf provide an astute blend of bespoke service with finite delivery and pricing.
8. Podcasting Pros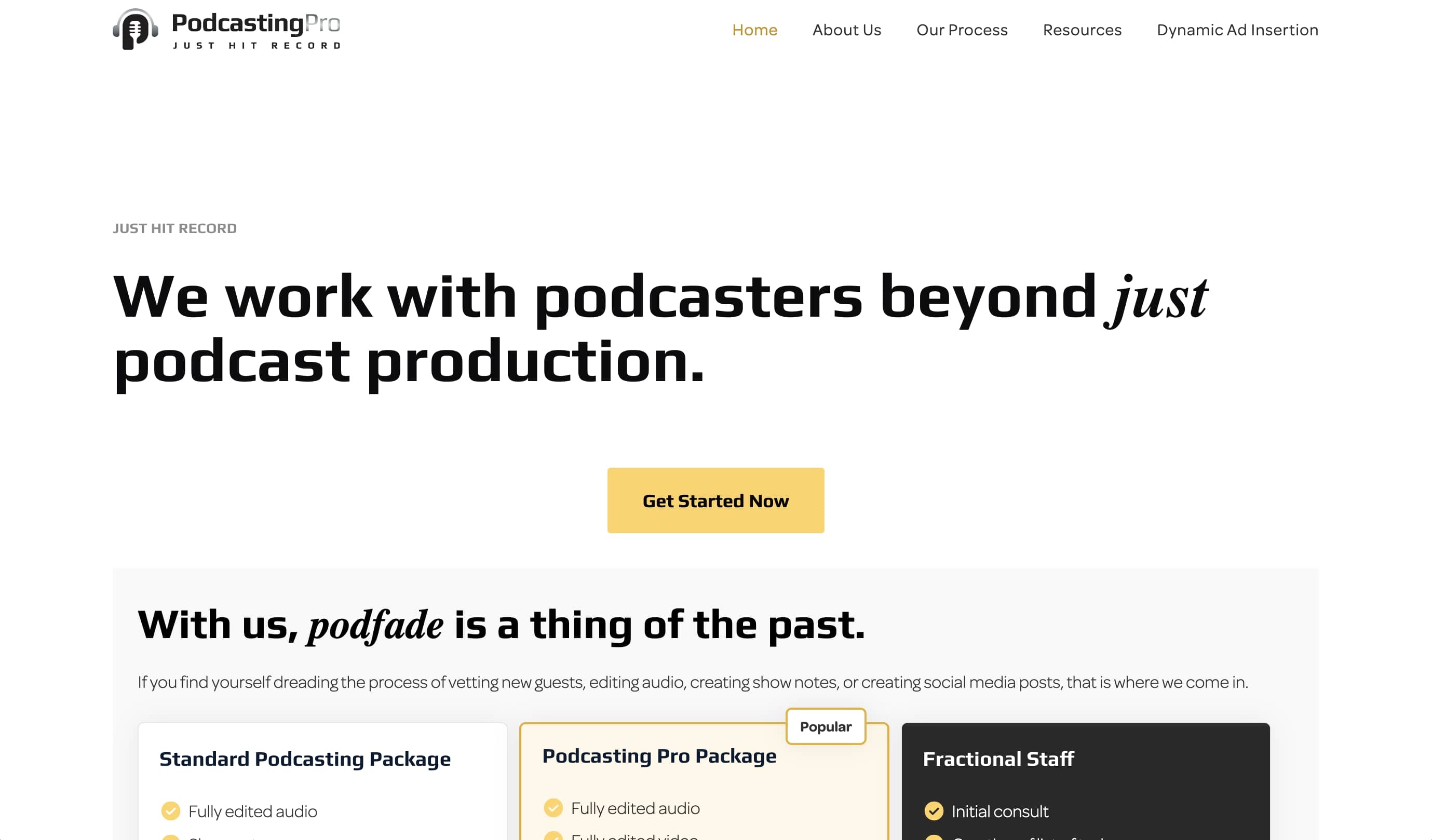 The increasingly popular world of podcasting has shifted from back-bedroom audio to slick, studio-based video content. This range of creative choices is reflected in Podcasting Pros' product offerings, which range from audio or video editing to show note writing and transcription, plus excerpt harvesting for social media.
Two main packages are offered on a per-episode basis, and there's a handy "fractional staff" add-on charged per hour if clients want someone to work on marketing or production-based tasks for their podcast without having to hire permanent staff.
Cleverly, PostcastingPro provides a demonstration of what a sample piece of audio sounds like before and after they clean it up, reinforcing the excellence clients should expect. The per-episode costing limits mission creep, and underlines project scope.
9. Thankbox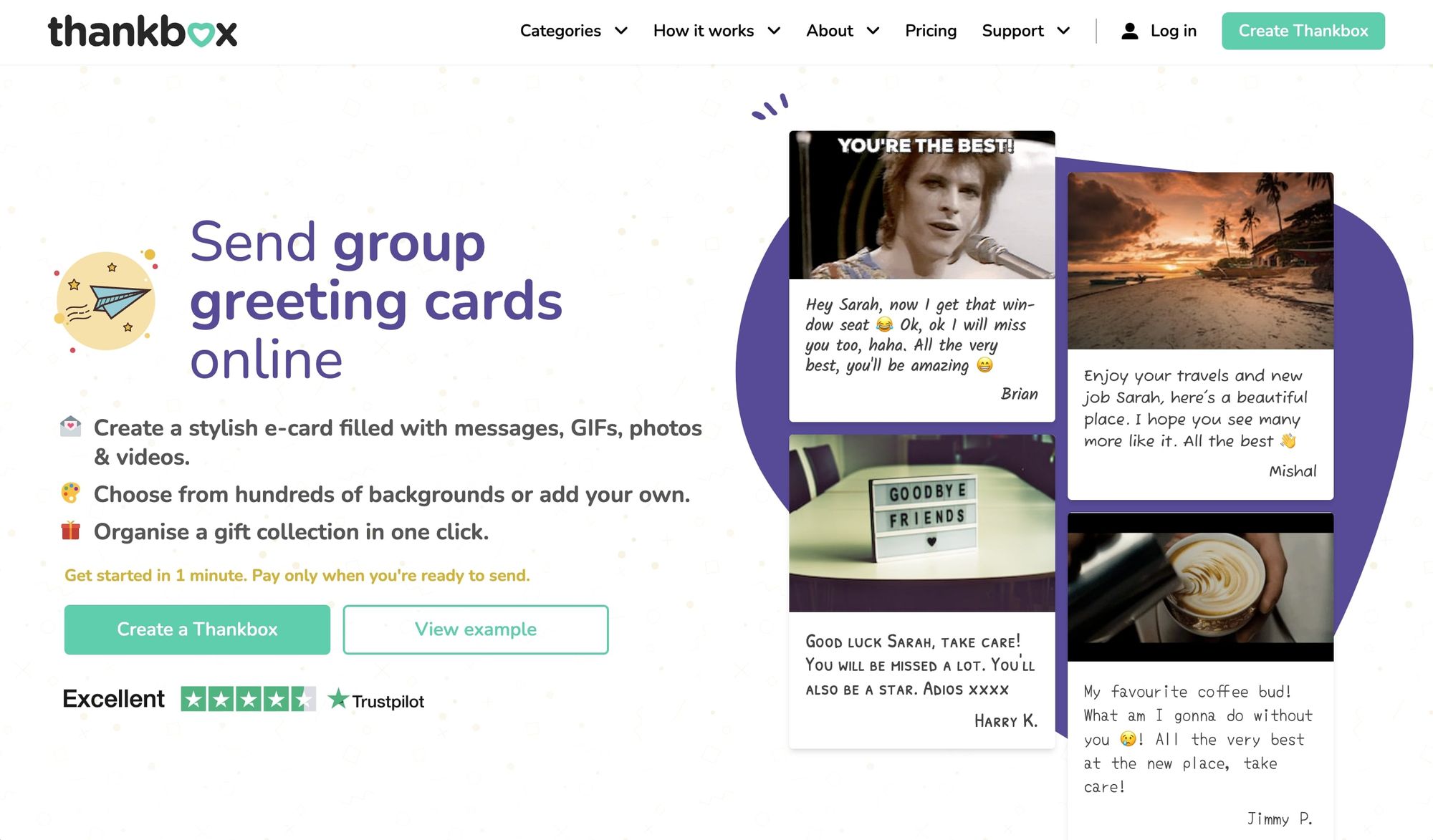 Can you monetize gratitude as a product or service? Of course, you can — greeting card companies, gift brands, and florists have been doing so for decades. Where Thankbox innovates is by offering an aggregated "box" of messages that teams can collaborate in creating. The product is designed for special occasions that require more than an individual thank-you card.
The whole process of creating and personalizing a thank box is automated, meaning that the site generates a type of passive income, so long as the company markets its portal well. In addition to the basic product, the company has also partnered with a network of virtual gift card providers, so that users can donate to a voucher redeemable by the recipient.
The service cost is low ($6 to $12) but since the whole process is automated, it can generate real revenue, and all Thankbox needs to do is update their design library and market their product.
10. Design Pickle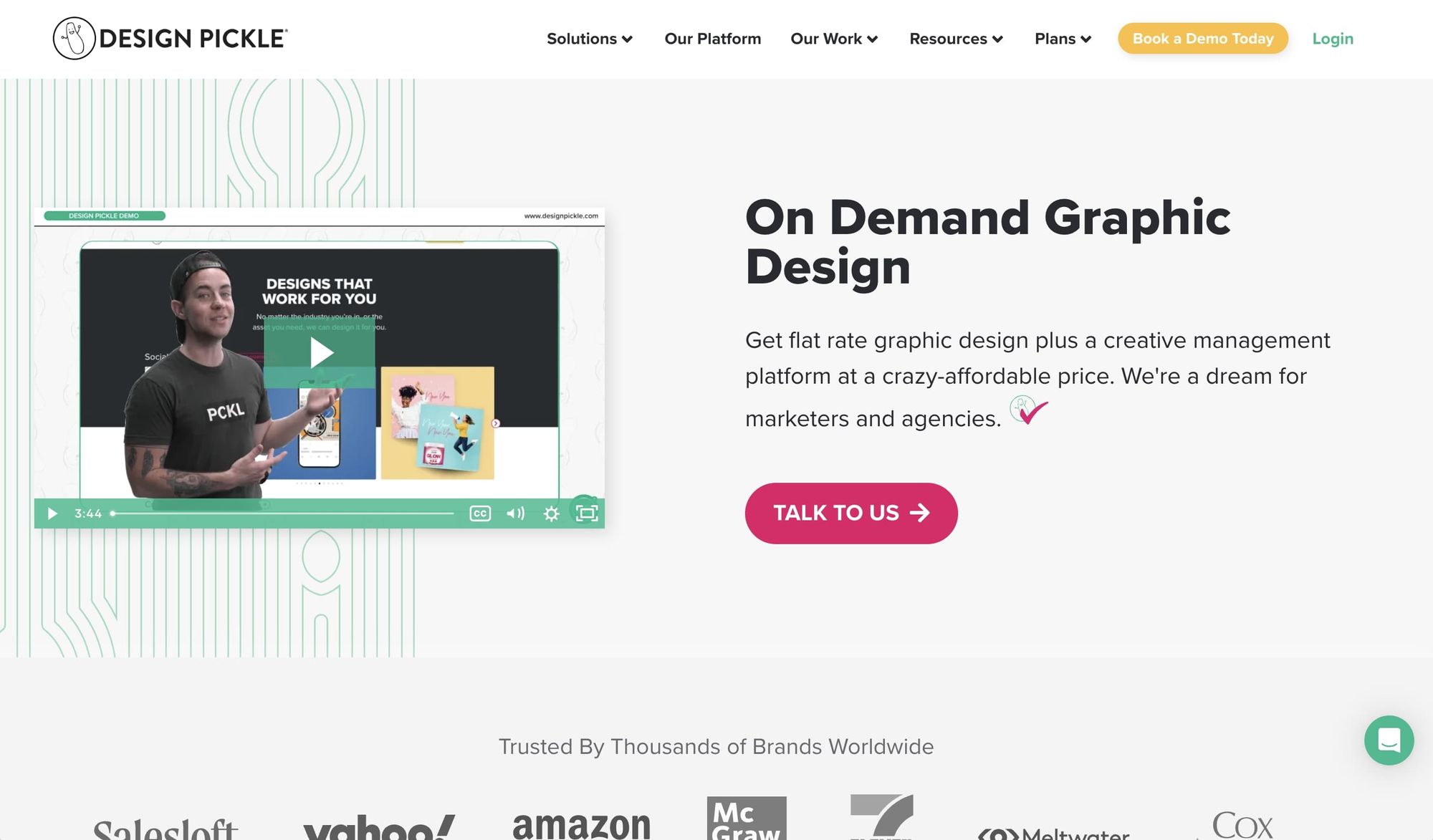 AI and the automations AI enables are changing the creative industries (sometimes for better, sometimes for worse). When cleverly used, such as in Design Pickle's productized services, the blend of human creativity and AI power can create genuinely unique offerings.
Like Design Bro they are an online agency pooling creative talent. Unlike Design Bro, they guide design selection by using AI to turn a brief into a pre-selected set of creative elements. The designer can then use these to generate samples the client is likely to appreciate.
The design tasks offered range from motion graphics to social media posts to video production. Project scope is limited by offering finite subscription plans from $499 per month for simple graphics to motion graphics and presentation design with delivery as Canva files for $1,695. Power Plans are provided for high-volume jobs such as regular social media posts or advertising content.
11. Draft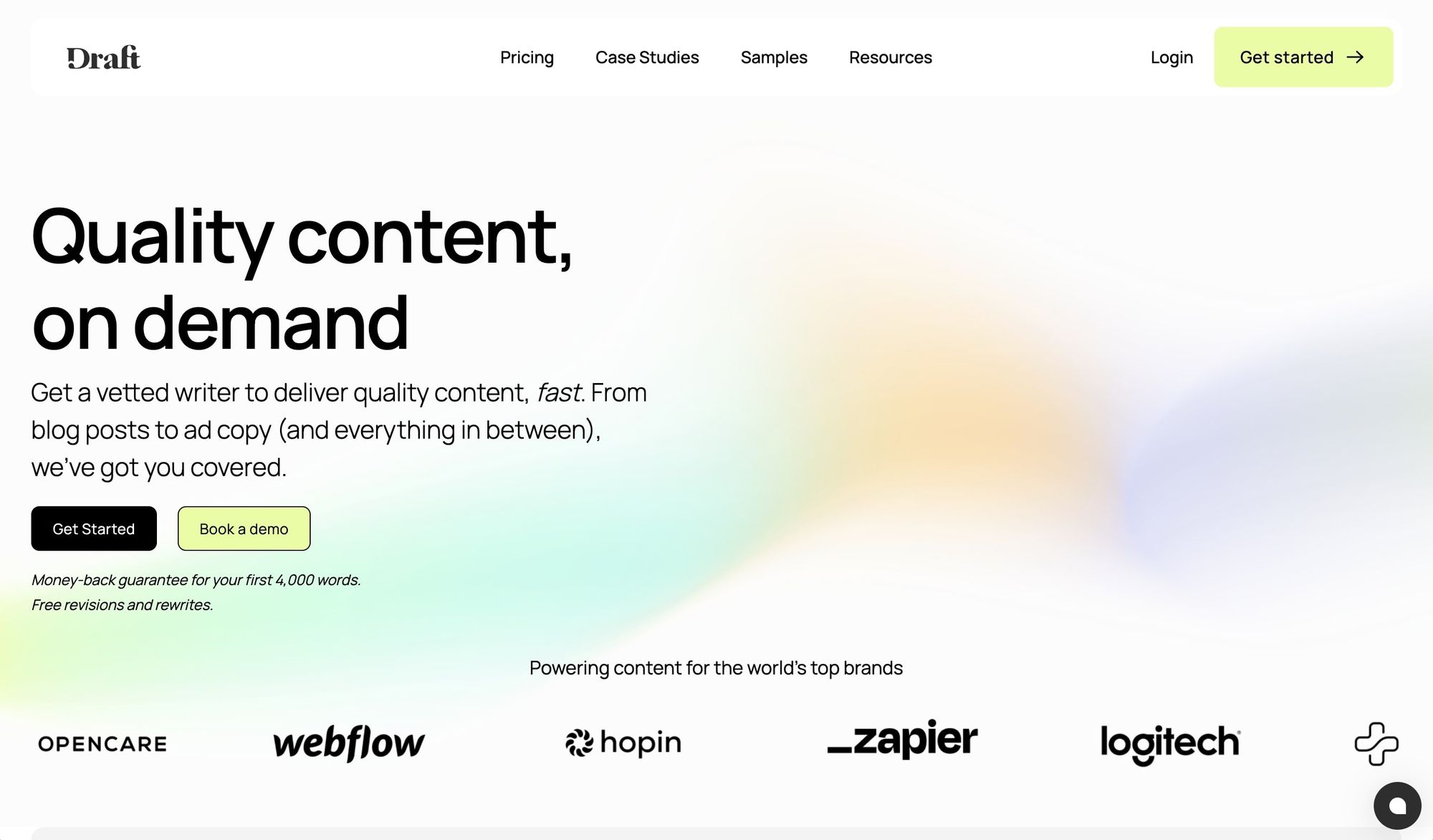 Content is king, they say. However, content marketing requires a way of commissioning articles to order, and then delivering on schedule and with a guarantee of quality. Draft provides this for clients by pooling writing talent and offering pay-per-use pricing on a per-word basis ($0.10 per word as standard).
Writers must apply to join the platform and are vetted by Draft, ensuring quality. This provides reassurance of quality for this ghostwriting agency, given that clients won't know the identity of the writers they employ. Clients can, however, place writers on "preferred" lists, and request repeat content from writers who have delivered consistently.
Writers are notified of the rate they'll receive, the word count, and the exact deadline, and a single revision is built-in to each task. It's a convenient and straightforward way to commission copy and for Draft to leverage the professionalism of an army of talented writers.
12. FATJOE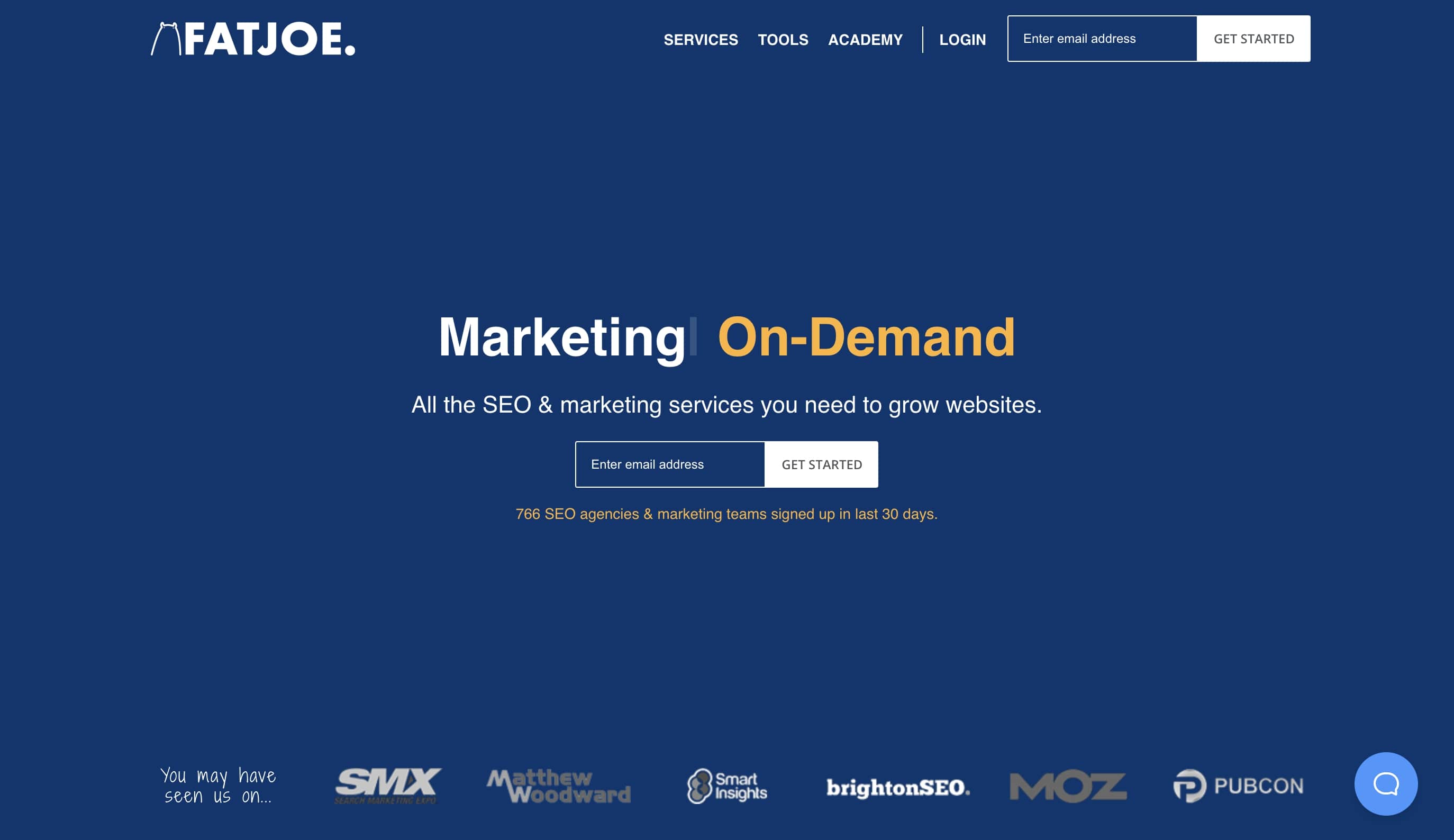 You can create the slickest website, but if your SEO and marketing efforts are non-exsistance, you're going to find a hard time attracting potential customers. That's where FATJOE steps in. They offer a suite of site-optimizing services including content writing, SEO, link-building, and site design.
FATJOE's model is to help marketing agencies build their brands by offering creative services on a white-label basis, with clients reselling pre-packaged creative services as their own products. It's the design equivalent of ghostwriting and, as FATJOE put it, "your clients will never know FATJOE built your links or created your content."
All individual services are priced transparently (copy for £10 per 250 words or blogger outreach for £100 per placement) allowing agency clients to select only what they need when they need it.
13. Filmbaker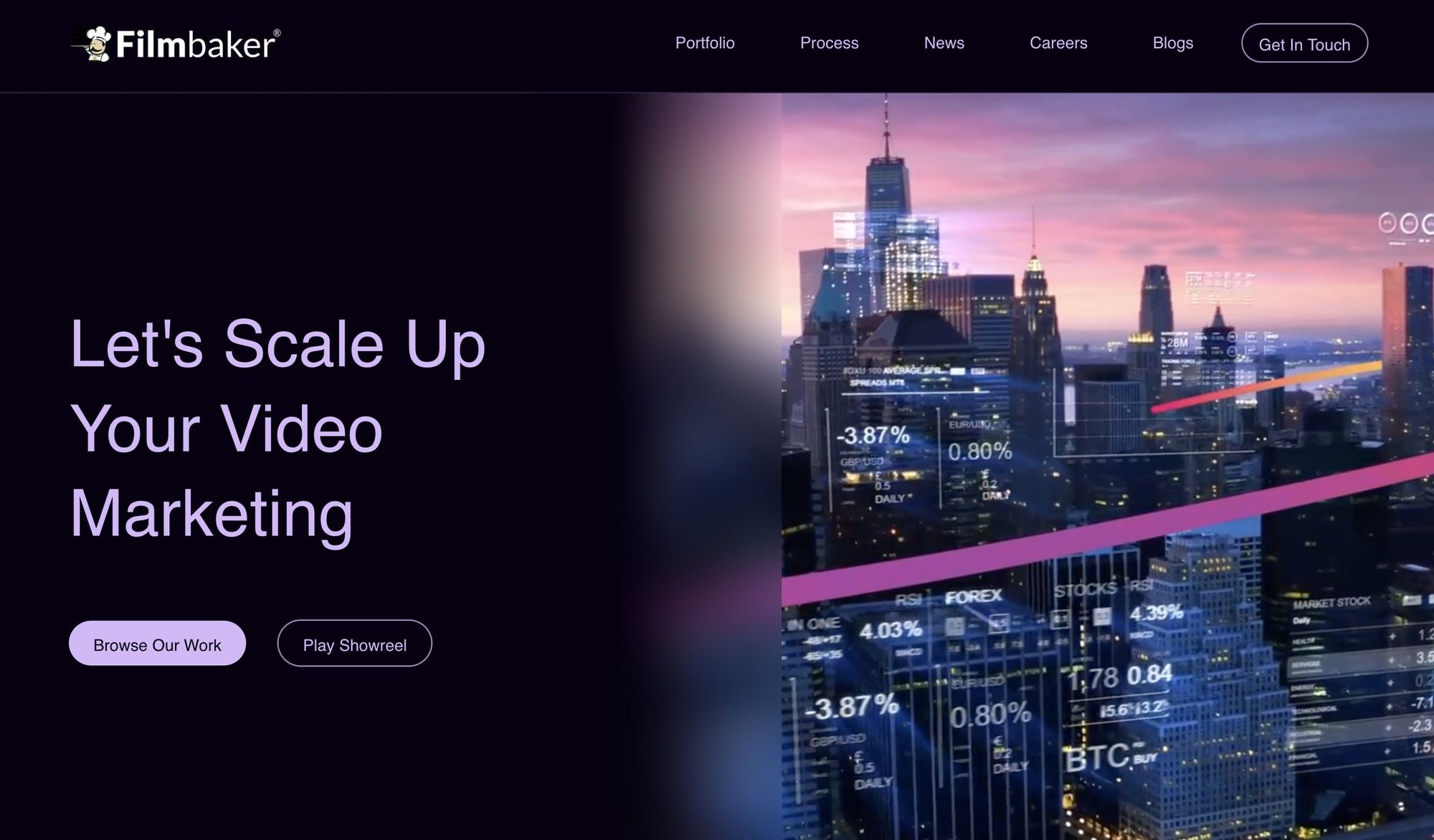 Video marketing is now everywhere — on mobile devices, on landing pages, even on bus stop displays and in train stations. Partnering with an expert video content agency can make the difference between slick or slipshod content.
The Filmbaker site lays out the production process explicitly, letting clients know exactly what to expect. Of course, it is impossible to offer fixed pricing for something as complex as a video shoot, since much depends on locations, talent, duration, ambition, and other variables.
However, this agency's slick, detailed site offers a level of expertise and professionalism that builds client confidence. There are plenty of high-profile examples on their site to back this up, including work for Hilton Hotels and Google.
14. Roast My Landing Page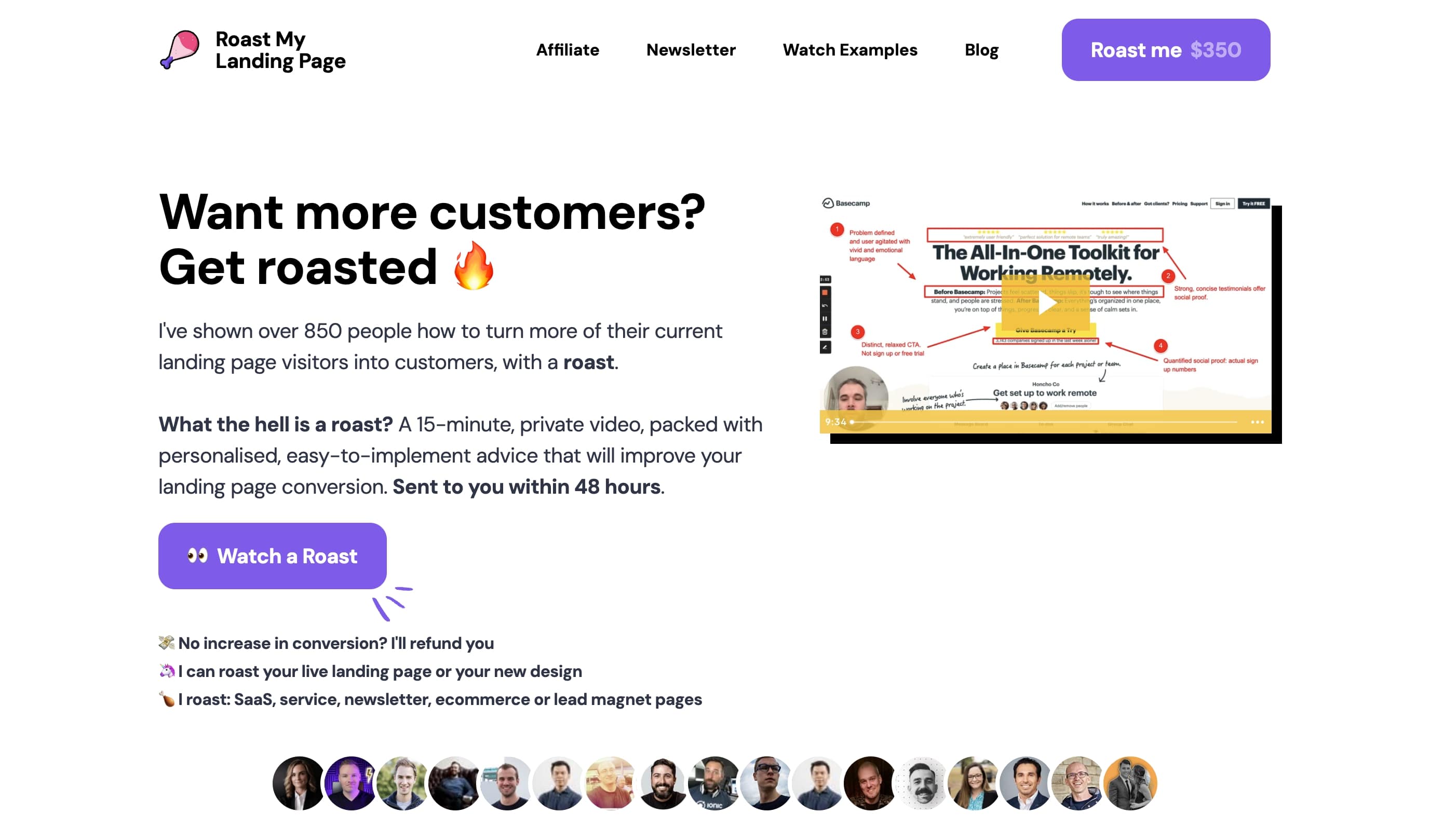 Something as intangible as personal consultancy might seem challenging to concretize into a product. Olly's site, Roast My Landing Page, has done just that, by offering an in-depth "roast" of customer's landing pages. In his 15-minute explainer videos, he provides annotated breakdowns of exactly what each client could improve about their site, from image choice and placement to color scheme to copy, SEO, and UX.
Olly promises to turn round such videos within 48 hours and charges a flat fee of $350 per roast. If you want to check out some of his analyses before you commit, his sales-optimized site offers a free download of 100 leading SaaS sites, all audited by Olly.
The affordability of Olly's offer makes it accessible to everyone from medium-sized businesses to solo entrepreneurs. There's a demo video on site too, although it's probably more positive than most "roasts," since it's for leading SaaS brand Basecamp. Nevertheless, it emphasizes Olly's knowledge and expertise, reassuring clients that they'll gain from the roasting process, however painful!
15. uSERP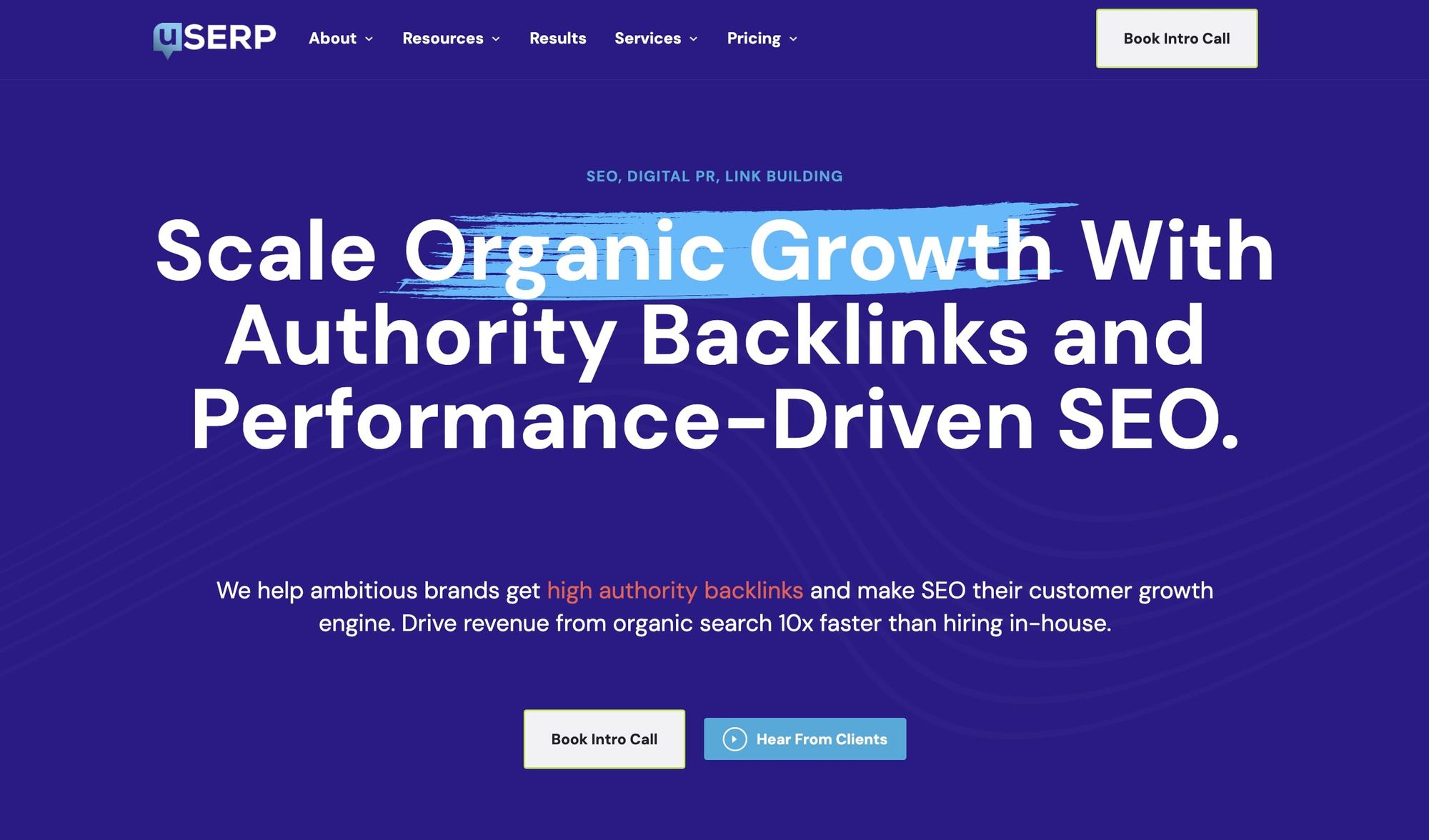 Backlinks and SEO are two of the best strategies for helping your website propagate and remain at the top of search engine listings. uSERP cleverly specializes in optimizing these vital aspects of any corporate landing page.
Their tiered pricing positions this agency as high-end, with the Startup price at $10K per month. However, for this fee, they guarantee a minimum site traffic level of 25,000 visitors per month, nine editorial mentions, and a deep audit of every aspect of your site to increase its visibility and conversion rate.
If clients want to add SEO-optimized content creation to their package, there are tiers for that too, building to the deluxe "combo authority" package at $40K per month.
If fast growth and brand primacy are vital to your start-up or SMB, then uSERP offer concrete guarantees and fixed rates to tempt the ambitious, and it appears to be working.
16. Hilvy
Webflow has become one of the leading platforms for creating professional-looking, beautifully designed sites. However, using Webflow to its full potential requires expertise. Hilvy offers to provide that expertise, by offering a design, maintenance, and SEO optimization of your Webflow site.
With reasonably priced subscription tiers, Hilvy offers a money-back guarantee, plenty of 5-star testimonials, and lots of samples to build client confidence, while remaining very specific about the scope of each project. For instance, their Webflow and Figma package specifies a 1 to 3-day turnaround, bi-weekly consultation calls, and up to two simultaneous requests for £2500 per month.
There's also an hourly product, for 5, 10, or 20 hour work, allowing Hilvy to secure update or revision jobs as well as offer full design packages. Their subscription model promotes repeat business and improves client retention.
Run your productized business on Copilot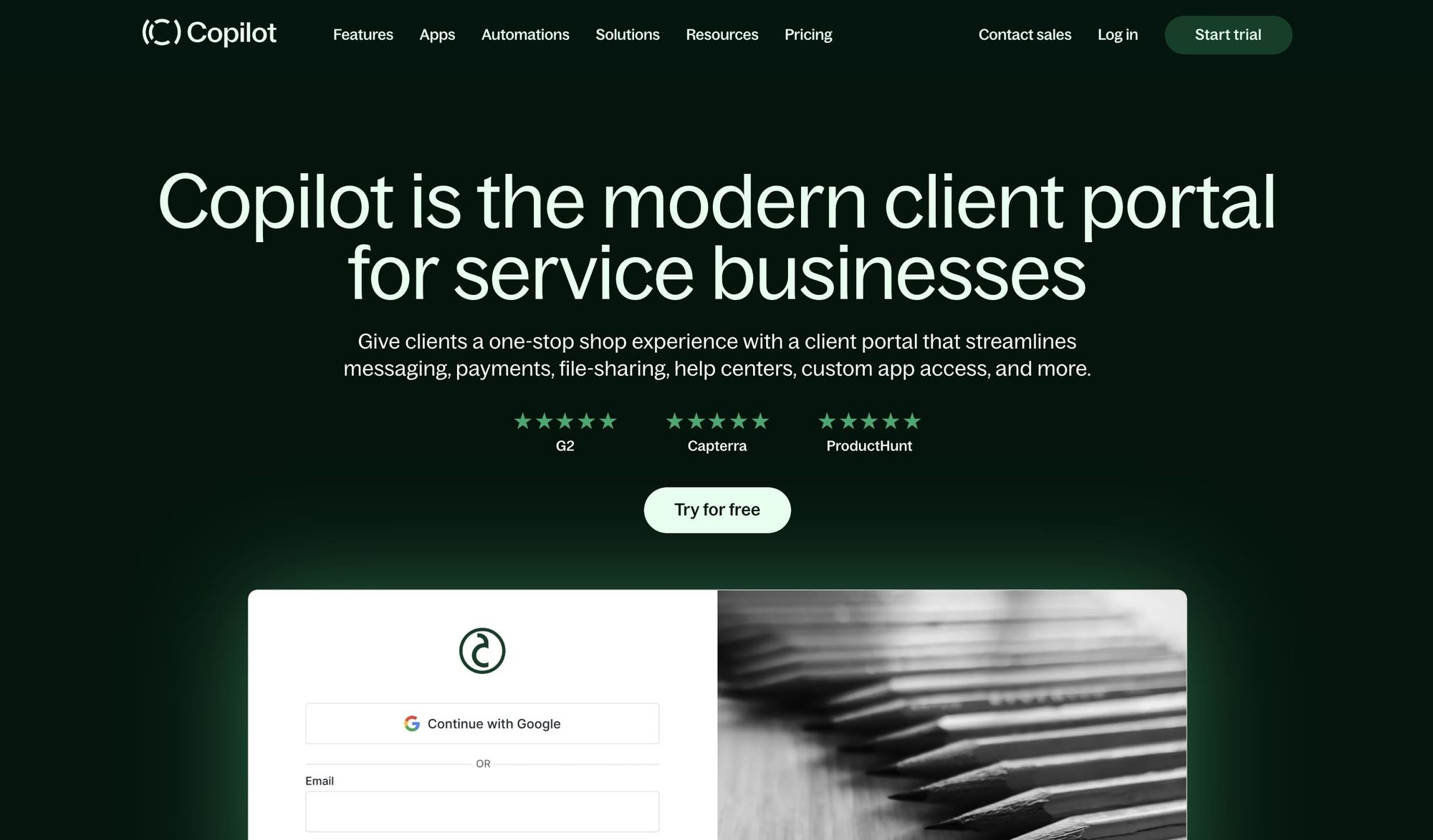 As we've seen with the above examples, there are many ways to leverage unique services or individual talent to fashion finite products. So how should you offer such productized services?
We believe Copilot provides the perfect platform to run your service business and productized your services via subscriptions. Copilot provides everything you'll need from secure, branded client portals to payment systems, workflow automation, and collaboration spaces.
If you're ready to take your service business to the next level, be sure to try out Copilot for free!
Sign up for our newsletter
Subscribe to our newsletter to receive emails about important announcements, product updates, and guides relevant to your industry.