The 7 best CRMs for Accounting Firms in 2023
Jul 10, 2023
12 min read
Omid G
As an accountant, you're a master at complex calculations, problem-solving, and data analysis. But amid the computations and spreadsheets, there's a crucial aspect that may often take a backseat: customer relationship management (CRM).
While your first instinct might be to prioritize number-crunching all day, every day, nurturing strong client relationships should be at the forefront of your mind if you envision growing your firm. Success hinges not only on your expertise but also on how well you understand and cater to your clients' needs.
This is where a robust CRM software for accounting firms can become an invaluable resource, empowering you to manage client interactions, streamline workflows, and fuel the growth of your firm. We've got seven great options to explore in the article below, so let's dive right in.
Do Accountants Need a CRM?
The short answer is yes, accountants need a CRM system, whether they're solo professionals or part of a larger accounting firm. As accountants expand their client base, it becomes increasingly important to have a centralized system to manage client relationships. A CRM system is an indispensable tool for accounting firms of all sizes, as it helps streamline client communication, improve workflow efficiency, enhance client service, and effectively manage leads. Consider the benefits of an effective CRM tool outlined below.
Streamline Client Communication
A CRM system enables accountants to centralize client communication, store important client information, and track interactions. This ensures that all team members have access to up-to-date client data and can provide consistent, personalized service.
Improve Workflow Efficiency
By automating repetitive tasks and streamlining workflows, a CRM system allows accountants to focus on higher-value activities. It eliminates manual data entry, automates document collection, and enables efficient collaboration within the team.
Enhance Client Service
With a CRM system, accountants can provide better client service by having all client information and communication history readily available. This allows for faster response times, personalized interactions, and a more seamless client experience.
Track and Manage Leads
A CRM system helps accountants capture and manage leads effectively. It allows firms to track lead progress and nurture relationships, leading to increased client acquisition and business growth.
How Do Accounting Firms Use a CRM?
Accounting firms use CRM systems in various ways to optimize their operations and provide exceptional client service. Oftentimes, a good CRM is the difference between maintaining long-term client relationships and losing clients to the competition. Rather than having only occasional contact with clients when tax time rolls around, accountants can maintain ongoing communications and stay top of mind throughout the year. Here are some common use cases.
Client Management
A CRM system serves as a centralized database for all client information, including contact details, communication history, and project details. Accountants can easily access and update client information, ensuring that all team members have real-time visibility into client interactions.
Document Management
Many CRM systems offer document management capabilities, allowing accountants to securely store, organize, and share important client files. This eliminates the need for manual document management and ensures that all team members have access to the latest versions of documents.
Task and Project Management
CRM systems often include task and project management features that enable accountants to assign tasks, set deadlines, and track project progress. This helps teams stay organized, meet deadlines, and deliver projects efficiently.
Invoicing and Billing
Some CRM systems offer integrated invoicing and billing features, allowing accountants to generate professional invoices, track payments, and send automated payment reminders. This simplifies the billing process and ensures timely payments.
Lead and Opportunity Tracking
CRM systems enable accountants to track leads and opportunities throughout the sales process. They can capture lead information, assign follow-up tasks, and track the progress of leads, increasing the chances of converting leads into clients.
Analytics and Reporting
CRM systems often provide analytics and reporting capabilities that allow accountants to track key metrics, measure performance, and gain insights into their business. This helps firms make data-driven decisions and identify areas for improvement.
By leveraging the features of a CRM system, accounting firms can streamline their operations, improve client service, and drive business growth. Now let's take a magnifying glass to our top seven picks for the best CRM for accounting firms.
7 Best CRMs for Accountants in 2023
Here are our top picks for the best CRMs for accounting firms available right now:
Okay, let's dive deeper into each one.
1. Copilot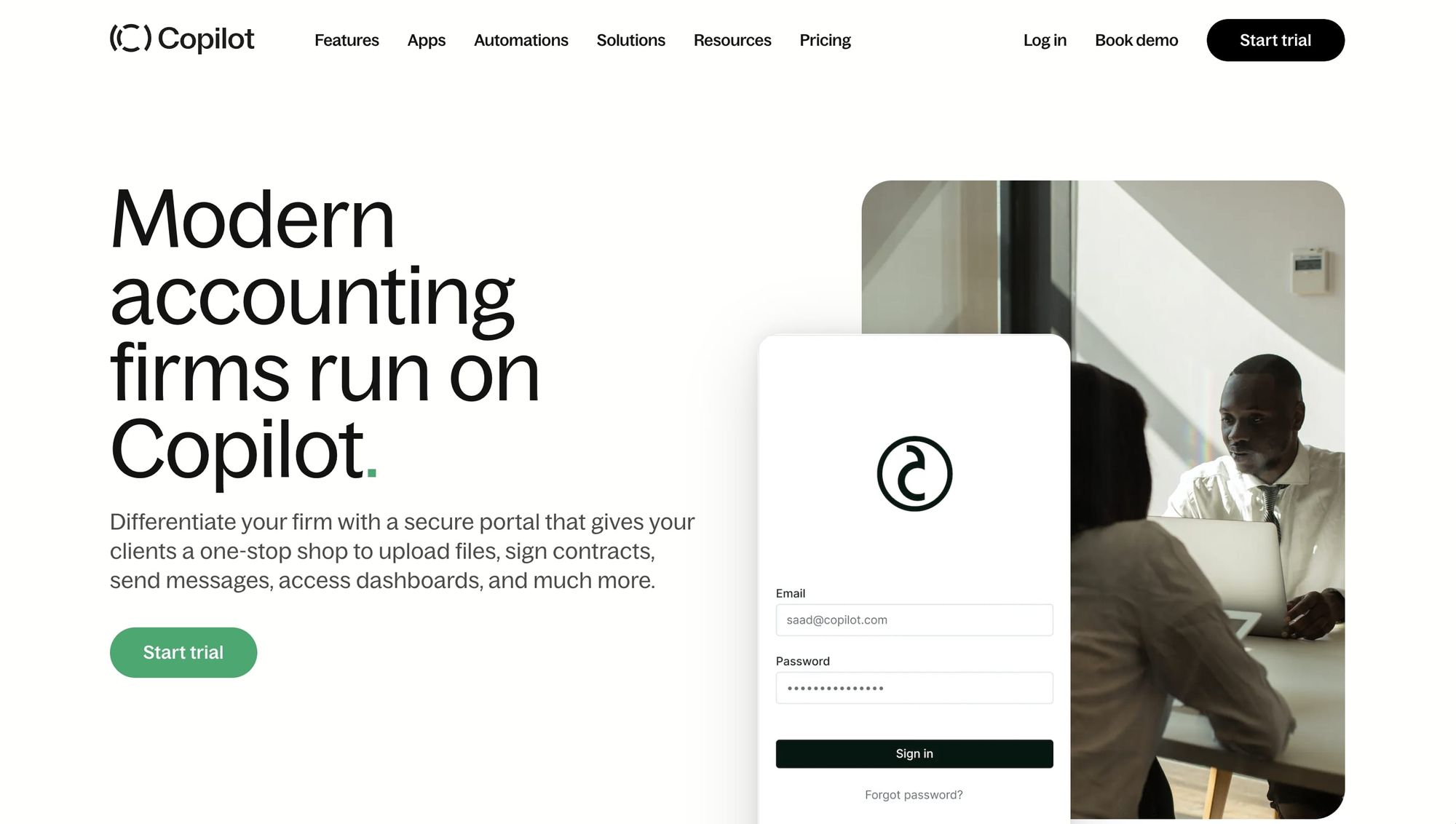 At the top of our list is Copilot, a comprehensive CRM designed specifically for accounting professionals. It combines client management, task automation, collaboration, and analytics in one integrated platform. With its user-friendly interface and accounting-specific features, Copilot empowers accountants to efficiently manage their client relationships, streamline their workflows, and drive success for their accounting firms.
One of the key benefits of Copilot is its ability to centralize and store client information. This allows for quick and easy access to client details, communication history, and important documents. By having all client data in one place, accountants can provide personalized and efficient service to their clients.
In addition, Copilot streamlines communication within accounting firms. The CRM provides a centralized platform where team members can collaborate. Whether it's discussing client matters, seeking input from colleagues, or providing updates on ongoing projects, Copilot facilitates seamless team collaboration.
Benefits of Copilot
Client communication: Copilot provides tools for seamless client communication, including email integration and messaging. You can also create a Help Desk app or knowledge base and share content with clients based on custom visibility rules.
Task management: Copilot offers task and project management features that allow accountants to assign tasks, set deadlines, and track progress. This ensures that work is completed on time and enables efficient collaboration within the accounting team.
Document management: Copilot provides a secure document management system where accountants can store and organize financial documents. This eliminates the need for manual paperwork, reduces the risk of document loss, and allows for easy retrieval when needed.
Automation: Copilot offers automation capabilities, allowing accountants to automate repetitive tasks such as data entry, form completion, and invoice generation. This saves time and improves overall efficiency. The Files App also enables swift document signatures and file sharing.
Scalability: Copilot is modular, allowing accountants to start with one app that meets their needs and adds more as they grow.
Copilot Pricing
Take advantage of the free trial to test out the features and benefits. Paid plans start at $29 per user per month when paid annually or $39 monthly.
2. Karbon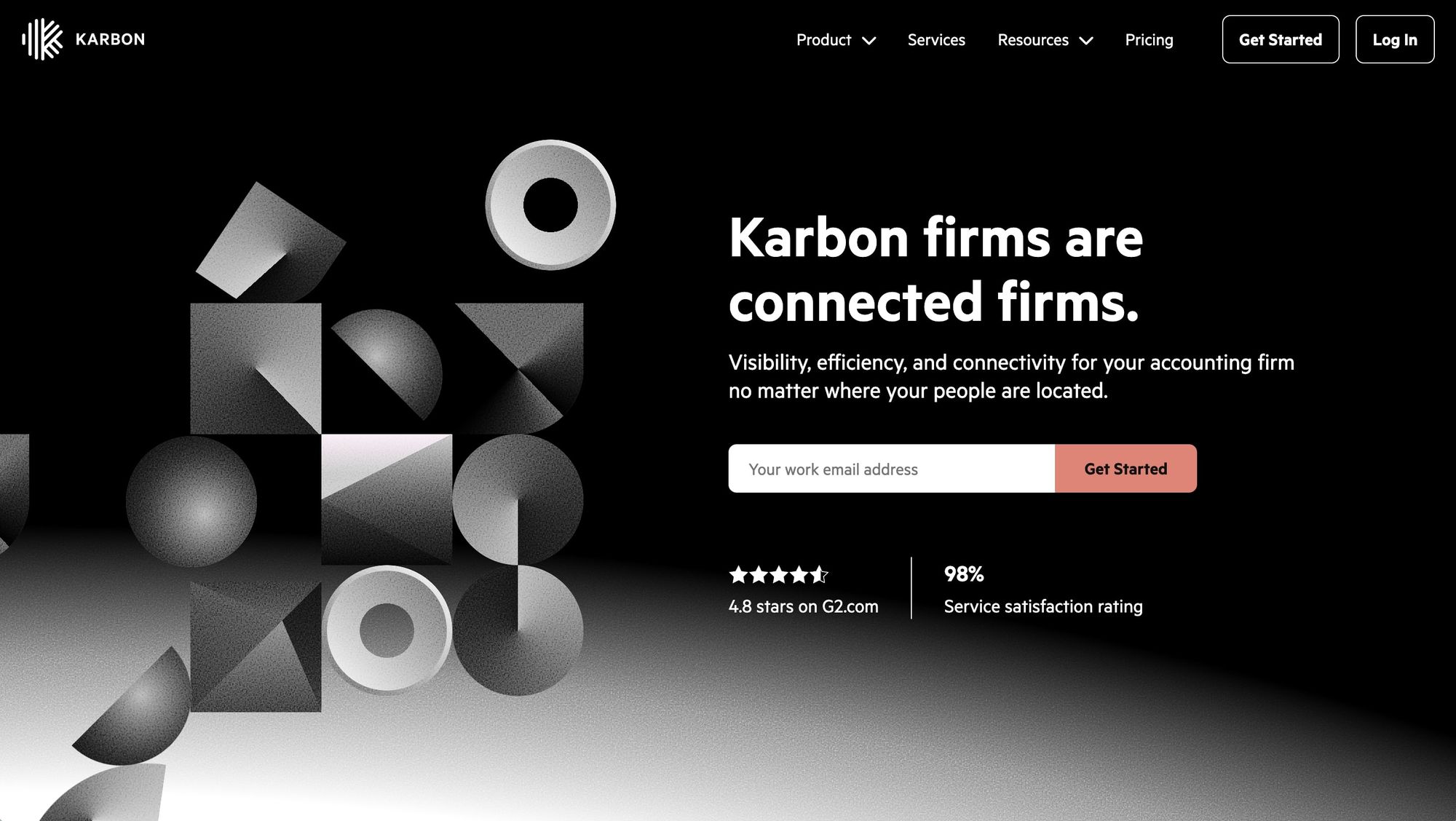 Karbon provides a collaborative practice management solution designed for accounting firms that bring together your team, clients, systems, and data into one consolidated platform. With its integration with popular apps like Zapier, Dropbox, Gmail, and QuickBooks, Karbon offers a central hub for all your accounting operations.
One standout feature of Karbon is its practice intelligence, providing data-driven insights that accelerate decision-making. With Karbon, you can analyze trends, monitor performance, and address questions about productivity and other key aspects of your firm. By gaining a deep understanding of your strengths and weaknesses, you can eliminate blind spots and proactively steer your firm in the right direction.
Benefits of Karbon
Client management tools: Karbon offers robust client management tools that securely track key client details and communications. With search functionality, you can easily locate important client information.
Cloud-based centralized knowledge: Karbon provides one reliable source of information for complete visibility into the status of every job across your entire organization.
Analytics tools: Karbon's analytics tools enable you to track and uncover valuable insights that guide critical decisions for your firm.
Workflow automation: Karbon simplifies your workflow by automating time-consuming and repetitive tasks so you can focus on high-value activities. With Karbon AI, the system can summarize emails and comments, draft messages, and prioritize inbox emails.
Email management tools: Karbon pulls together emails and internal notes for each client in one shared location, making it easy to manage client relationships and pick up where conversations last left off.
Karbon Pricing
Pricing starts at $59 per user per month when paid annually, or $75 monthly.
3. HubSpot CRM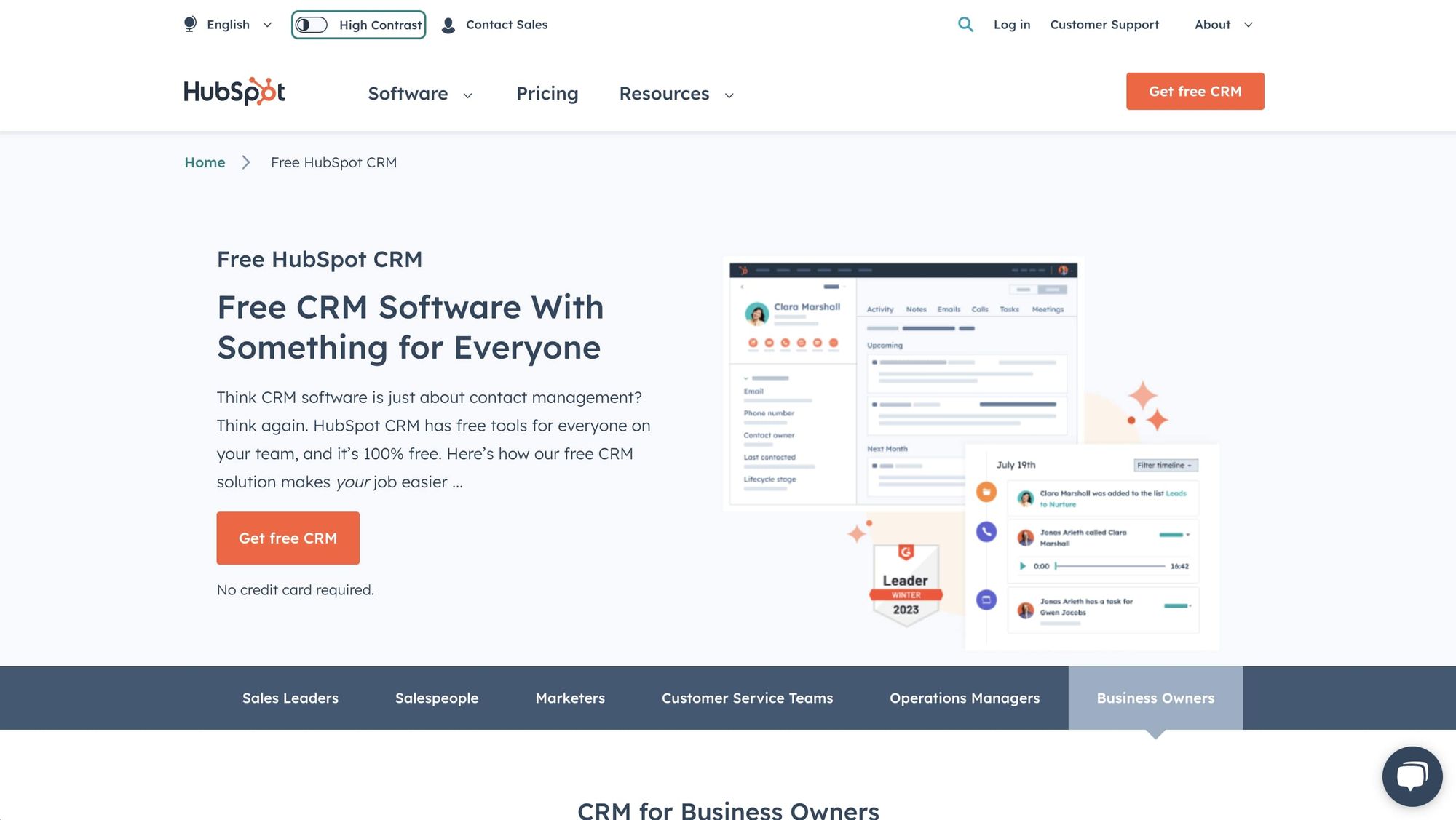 HubSpot CRM is a comprehensive marketing automation tool that provides a wide range of features to streamline your marketing efforts. With HubSpot, you can leverage functionalities such as email marketing, social media scheduling, and lead tracking to enhance your marketing strategy.
One of the key advantages of HubSpot is its free version of CRM tools, allowing you and your sales team to cost-effectively track and analyze your sales pipeline. With the unified dashboard, you can easily monitor individual contributors' performance, conversions, productivity, and other important metrics. These detailed reports empower you to make informed decisions and optimize your sales processes.
With HubSpot, you have the flexibility to choose from different "Hubs" that align with your specific needs. For example, the Marketing Hub provides access to marketing software that aids in driving traffic, converting visitors, and executing successful inbound marketing campaigns. Even with the free version, HubSpot offers robust features that cater to the requirements of most small sales and marketing teams.
Benefits of HubSpot
Unified sales pipeline management: HubSpot's CRM tools provide a unified dashboard where you and your sales team can track and analyze your sales pipeline. Gain valuable insights into individual contributors' performance, conversions, productivity, and other key metrics.
Detailed performance reports: Generate detailed reports that offer a comprehensive view of your sales and marketing efforts. Analyze the performance of your campaigns, track progress toward goals, and measure key performance indicators.
Free version with robust features: HubSpot's free CRM tools are accessible to businesses of all sizes. It's an excellent option for small teams looking to get started without incurring additional costs.
Scalability and customization: As your business grows, HubSpot allows you to scale up and unlock more advanced features and capabilities that align with your evolving needs.
HubSpot Pricing
Aside from its free version, HubSpot offers tiered plans starting at $20 per month that provide additional features for small firms seeking more advanced capabilities.
4. QuickBooks Online Accountant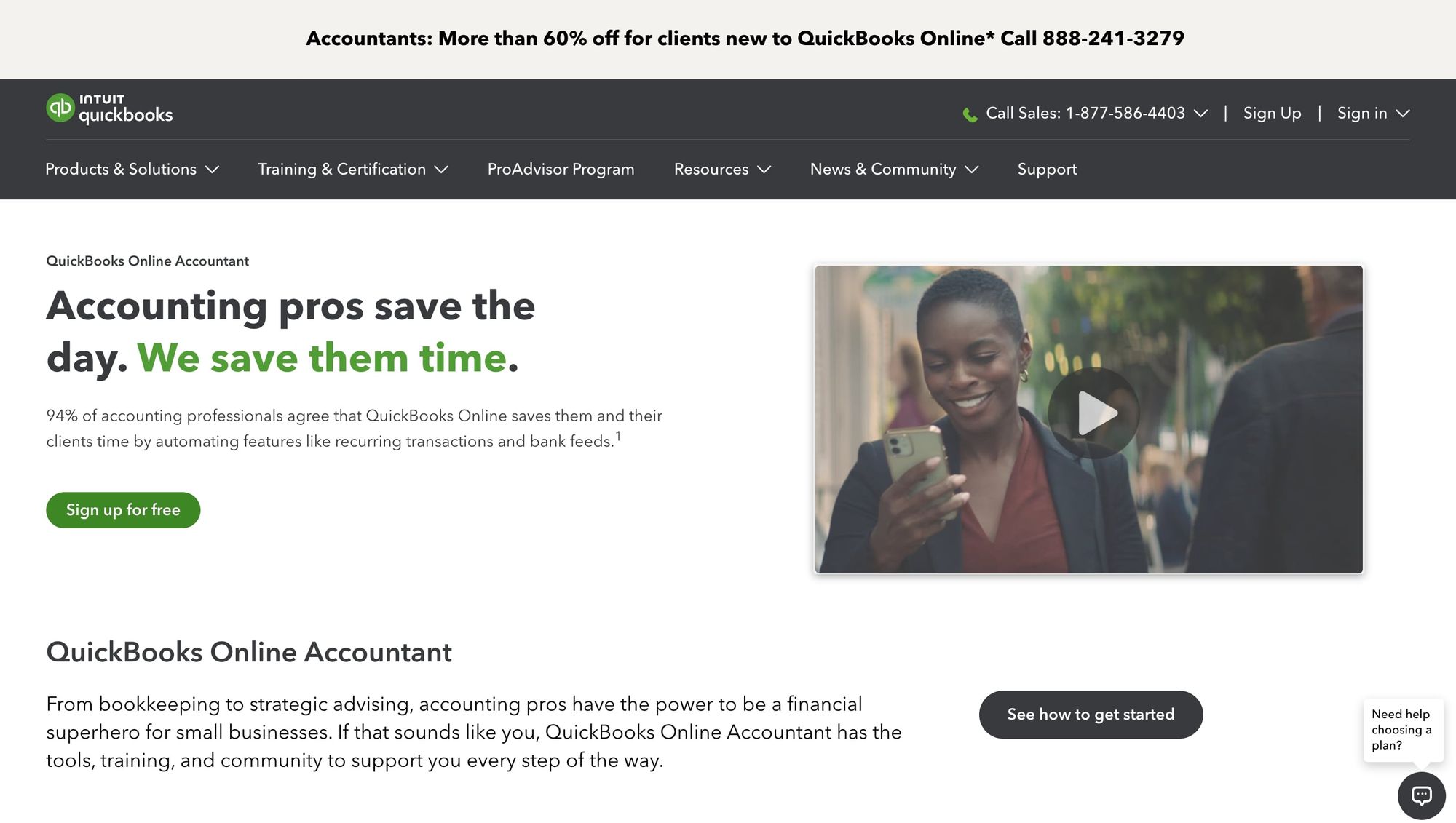 While QuickBooks Online Accountant may not offer the same level of CRM platform functionality as dedicated CRM systems, it does provide tools and features that can assist accountants in managing client relationships and streamlining their accounting processes.
It provides one centralized dashboard for managing clients' financial data, invoices, documents, and contact information. You'll always have a high-level view of clients and projects, ensuring you never miss important deadlines and client communications.
Benefits of QuickBooks Online Accountant
Collaboration and communication: The platform enables accountants to collaborate with their clients by sharing documents, exchanging messages, and requesting information.
Document management: QuickBooks Online Accountant provides a document management feature that allows accountants to securely store and access important client documents.
Accountant Toolbox: The Accountant Toolbox feature provides accountants with quick access to important tools and reports, making it easier to analyze client data and provide valuable insights.
ProAdvisor Program: QuickBooks Online Accountant offers a ProAdvisor program, which allows accountants to gain certification and access additional resources to enhance their accounting services. This can help accountants showcase their expertise and attract new clients.
QuickBooks Online Accountant Pricing
QuickBooks Online Accountant provides a range of pricing plans and subscription bundles tailored to suit your specific needs and desired functionality. You can take advantage of their free sign-up option to explore the accounting software and determine which features are most essential for your accounting requirements.
5. Canopy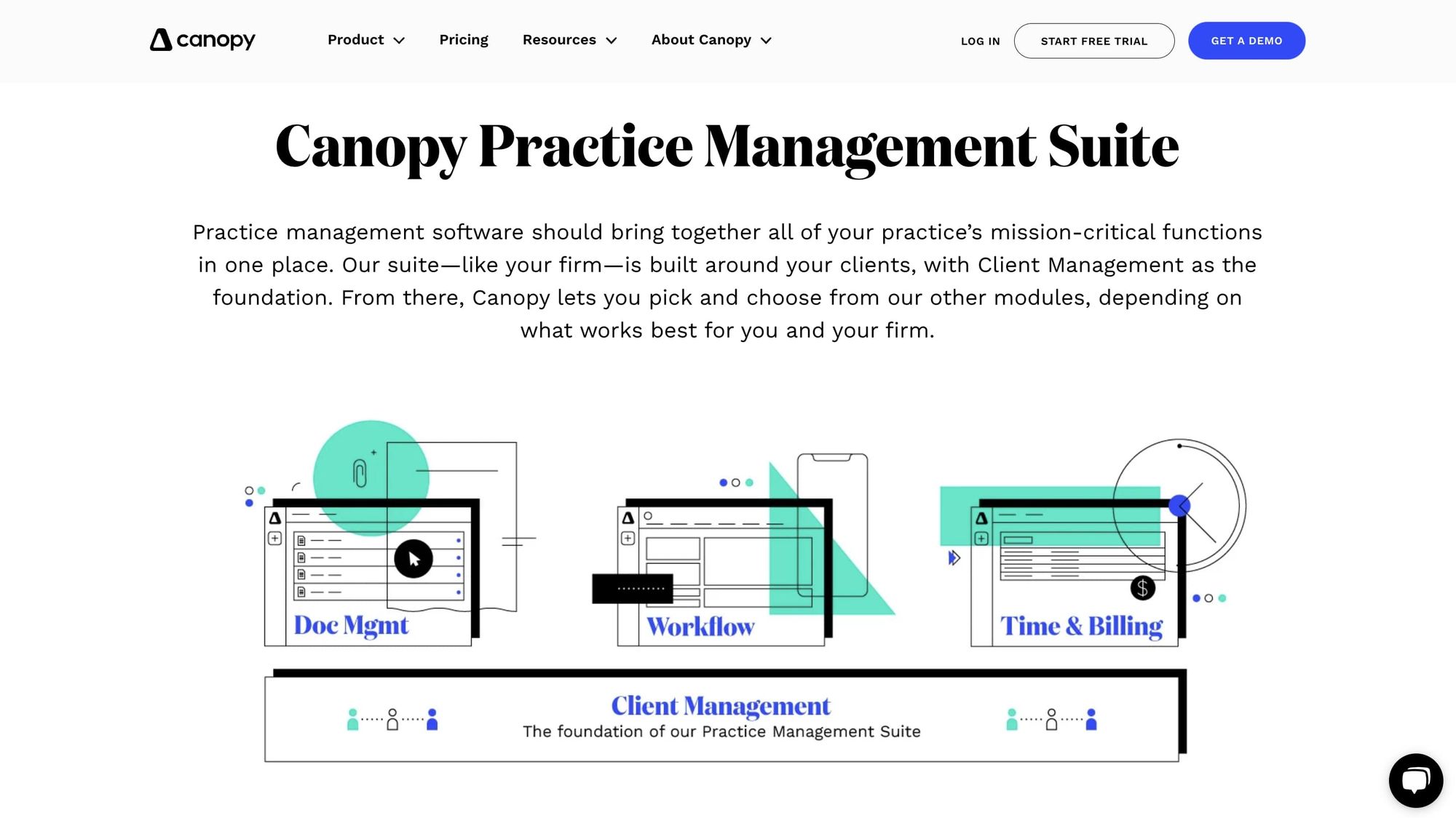 With Canopy, accounting professionals have access to a range of CRM software capabilities and other features, including practice management, client portals, document management, tax resolution support, workflow automation, time and billing, analytics, and security.
By centralizing client information, communication, and tasks, Canopy enables efficient collaboration within the team, ensuring a seamless workflow. The platform's integrated client portals provide a secure and personalized space for clients to access important documents, messages, and information.
Related Reads: 10 Best Canopy Alternatives for Accounting Firms
Benefits of Canopy
AI email generator: Save time and improve email efficiency with Canopy AI, which can draft professional emails in seconds based on prompts or topics.
Seamless email integration: View and manage emails directly within Canopy, with support for multiple inboxes and integration with popular email providers like Google, Outlook, and IMAP/SMTP.
Internal communication inbox: Streamline internal communications by eliminating emails between colleagues. Comment on emails, @mention colleagues, react with thumbs up, set reminders, and mark comments as unread, all within the context of the email conversation.
Automated reminders and forms: Send pre-built forms and automated reminders to clients for gathering project information, eliminating the need for manual follow-ups.
Client interaction management: Consolidate all client interactions, including notes, emails, comments, and requests, in one location. Easily access and track communication history.
Canopy Pricing
You access Canopy's free client management tools for up to 500 contacts. Customize your plan with add-ons such as document management, workflow, and time and billing, based on your specific needs.
6. Zoho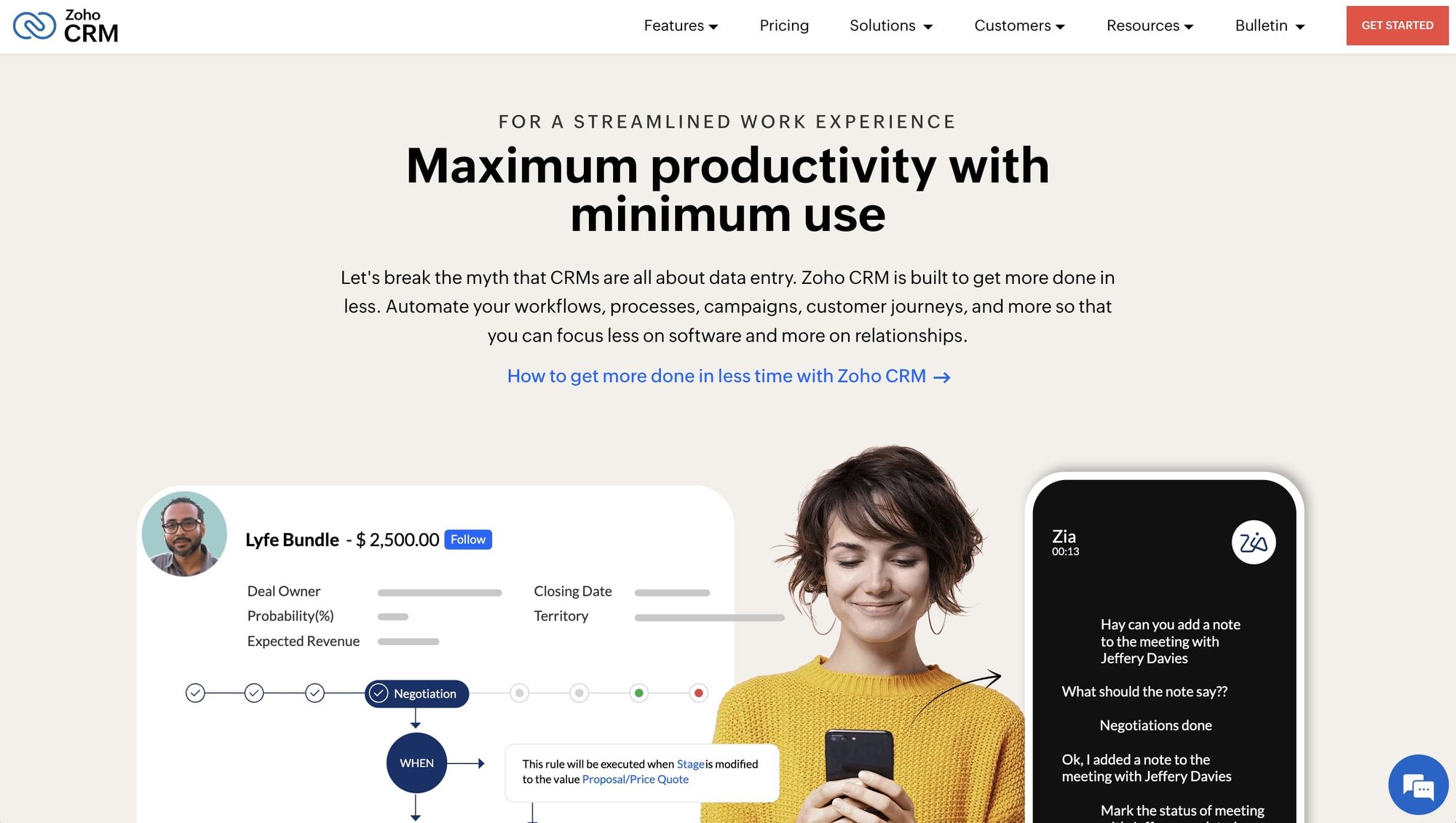 Zoho offers a wide range of cloud-based tools, including CRM, project management, human resources, recruitment, appointment bookings, and pipeline management. Its CRM tools are especially useful for managing customer interactions, tracking leads, streamlining sales processes, gaining insights into customer behaviors, and driving sales growth.
If you're a small accounting firm, you may not need all the bells and whistles that Zoho has to offer. However, if you anticipate growing your firm, you may eventually find it beneficial to have access to Zoho's range of tools for managing the customer journey and various aspects of your firm.
Benefits of Zoho
User-friendly interface: Zoho's interface is designed to be intuitive and user-friendly, making it easy for larger firms to navigate its robust features and collaborate across teams.
Scalability: As your business grows, Zoho can accommodate your evolving needs and provide the necessary tools and resources.
Zoho One Operating System: Zoho One acts as a centralized hub for easy file management and sharing, similar to popular platforms like Google Drive.
Integrations: Zoho Marketplace enables access to over 1,500 ready-to-use extensions across 40 categories so you can integrate Zoho with your existing business tools.
Extensive workflow capabilities: Zoho provides extensive workflow capabilities and customization options, empowering businesses to create personalized experiences for their clients. This flexibility ensures that Zoho can adapt to your unique business requirements and seamlessly scale as your operations expand.
Zoho Pricing
Start with a free trial; paid plans start at $14 per user per month when billed annually.
7. TaxDome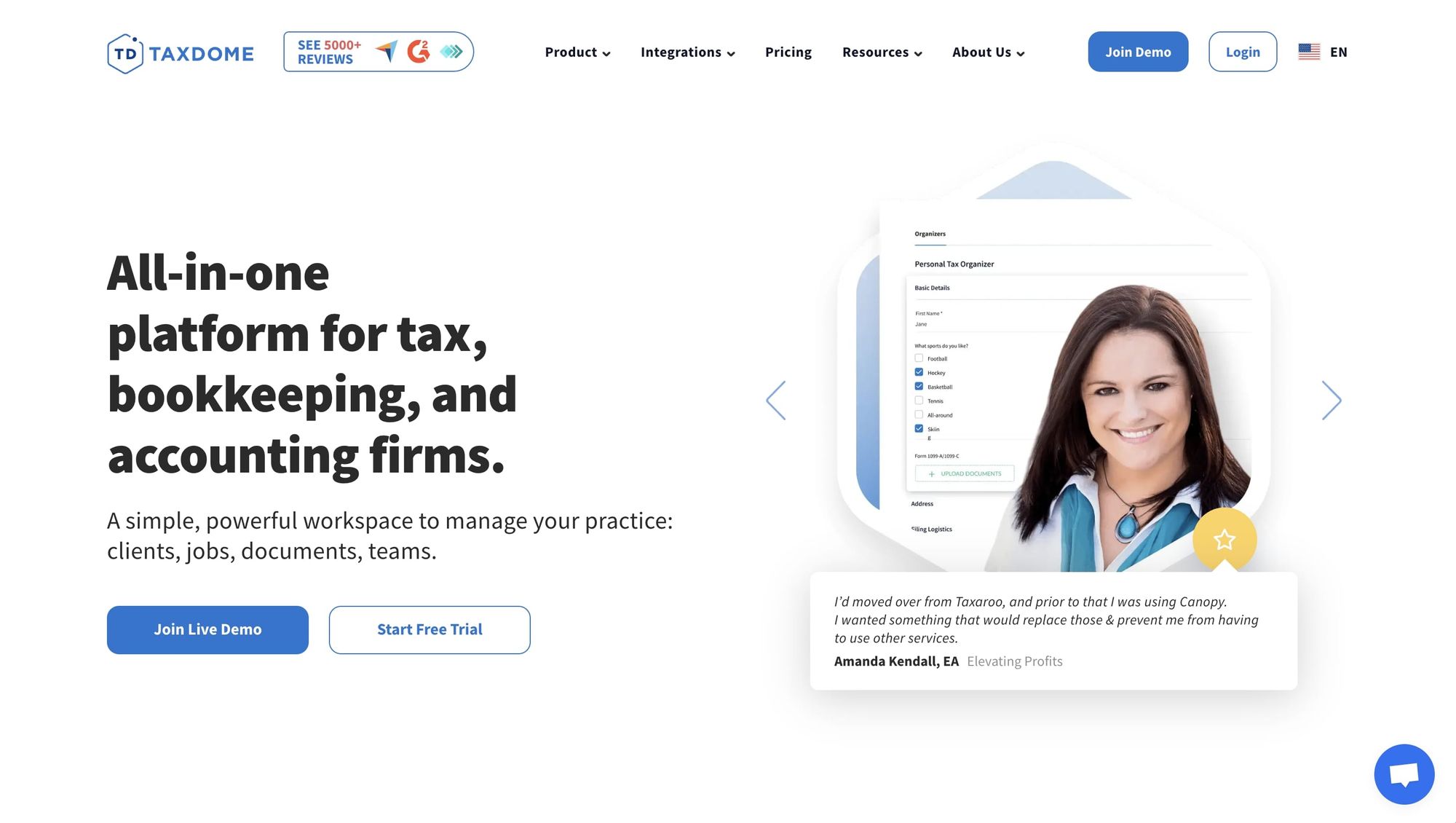 TaxDome offers an all-in-one platform where accounting, bookkeeping, and tax firms can manage clients, jobs, documents, and teams. Its workflow automation tools are tailored for the tax and accounting industry, with a range of ready-made templates covering tax returns, bookkeeping, payroll, and more.
In terms of its accounting CRM solutions, TaxDome offers a dedicated client portal and mobile app that centralizes communication between accounting firms and their clients. Easily share documents, obtain e-signatures, send invoices, and more — no matter where your clients reside.
Related Reads: 10 Best TaxDome Alternatives For Firms in 2023
Benefits of TaxDome
Task management: With TaxDome's client portal, firms can assign tasks to clients, track their progress, and receive updates in real-time.
Secure data sharing: TaxDome prioritizes security and compliance, ensuring that client data is protected and sensitive information remains secure. The platform employs encryption and secure data storage measures to safeguard client information.
Collaboration and engagement: The client portal promotes collaboration and engagement between accounting firms and their clients. Clients can easily interact with their accountants, ask questions, and provide the necessary information.
Customizable branding: Customize the client portal to reflect your firm's branding to create a consistent and professional experience for clients.
Mobile accessibility: TaxDome's client portal is accessible on mobile devices, enabling clients to conveniently access their accounting information and documents on the go.
TaxDome Pricing
Start with a free trial; paid plans start at $33 per month, billed annually.
Conclusion
Using a CRM for accounting firms can significantly enhance the efficiency and productivity of your business. It allows you to streamline client communication, manage projects effectively, automate repetitive tasks, and improve collaboration with clients.
Among the top CRM options for accounting firms in 2023, Copilot stands out as an excellent choice. With its comprehensive suite of tools, Copilot empowers accounting professionals to manage client relationships, streamline workflows, and automate tasks. Copilot's superpowers include its Help Desk app, client communication capabilities, e-signature and document management tools, and invoicing capabilities, as well as automation features that save time and enhance efficiency. Additionally, Copilot offers competitive pricing plans to suit different business needs.
If you're looking for a CRM to help you better manage the customer journey, we encourage you to start a free trial and test out Copilot's features for yourself. We consistently earn five-star reviews from our users, as evidenced on popular review platforms like G2, Capterra, and ProductHunt. To learn more and get started, click here.
Sign up for our newsletter
Subscribe below to receive our newsletter. We'll email you about important announcements, product updates, and guides relevant to your industry