10 Best Client Onboarding Software You Need to Try in 2023
May 31, 2023
13 min read
Omid G
When it comes to running a service-based business, the process of onboarding new clients can either be a seamless journey toward success or a stumbling block that hampers growth. An exceptional onboarding experience not only sets the stage for a strong client relationship but also plays a vital role in customer satisfaction, retention, and long-term prosperity. In contrast, a poor onboarding process can lead to lost business and a ding to your reputation.
To supercharge your onboarding process, it's crucial to leverage the power of innovative client onboarding software. In this article, we reveal the 10 best client onboarding software tools that are revolutionizing the way businesses welcome new clients into their fold. Whether you're a startup venturing into uncharted territories or an established enterprise seeking to refine your onboarding process, these tools offer an array of features tailored to enhance the entire client journey and elevate overall satisfaction.
What Is Client Onboarding Software?
Client onboarding software is a specialized tool designed to streamline and enhance the process of integrating new clients into a service-based business. It serves as a vital bridge between the initial sales or sign-up stage and the utilization of the product or service. Effective client onboarding software ensures that new clients can optimize the use of your product, minimizing the chances of churn while maximizing client happiness.
Traditionally, client onboarding was a time-consuming and manual process that required significant coordination and effort from various teams within a business. However, with the advent of client onboarding software, companies now have access to powerful tools that expedite the onboarding journey. By automating repetitive tasks and providing personalized guidance, these software solutions alleviate the burden on your team, allowing them to focus on more strategic and impactful activities.
What Is a Good Client Onboarding Process?
As HubSpot notes, the top reasons clients churn are that they don't understand your product and/or they don't draw any value from it. As such, client onboarding software plays a pivotal role in creating a positive and impactful first impression on new clients. By automating routine tasks, offering personalized guidance, and providing a wealth of resources, the best client onboarding software delivers a seamless onboarding experience. Leveraging the power of onboarding software, your team can focus on building strong client relationships while ensuring that your clients derive maximum value from your product or service, ultimately leading to long-term satisfaction and success.
A good client onboarding process goes beyond facilitating the initial new-client setup. It serves as an extension of sales conversations, providing new clients with the necessary resources, training materials, and support to smoothly transition into becoming active and successful users of your product or service. By guiding clients through key features, offering tutorials, and delivering proactive assistance, onboarding software ensures that clients feel confident and empowered from day one — and not gaslit into working with you.
Top 10 Best Client Onboarding Software in 2023
As the demand for seamless customer experiences continues to rise, businesses are turning to innovative client onboarding software solutions to streamline their processes and enhance customer satisfaction. To get started with delivering incredible onboarding experiences for your new clients, take a closer look at 10 of the best client onboarding software options below.
Here are our top picks for the best client onboarding software:
Okay, let's dive deeper into each one.
1. Copilot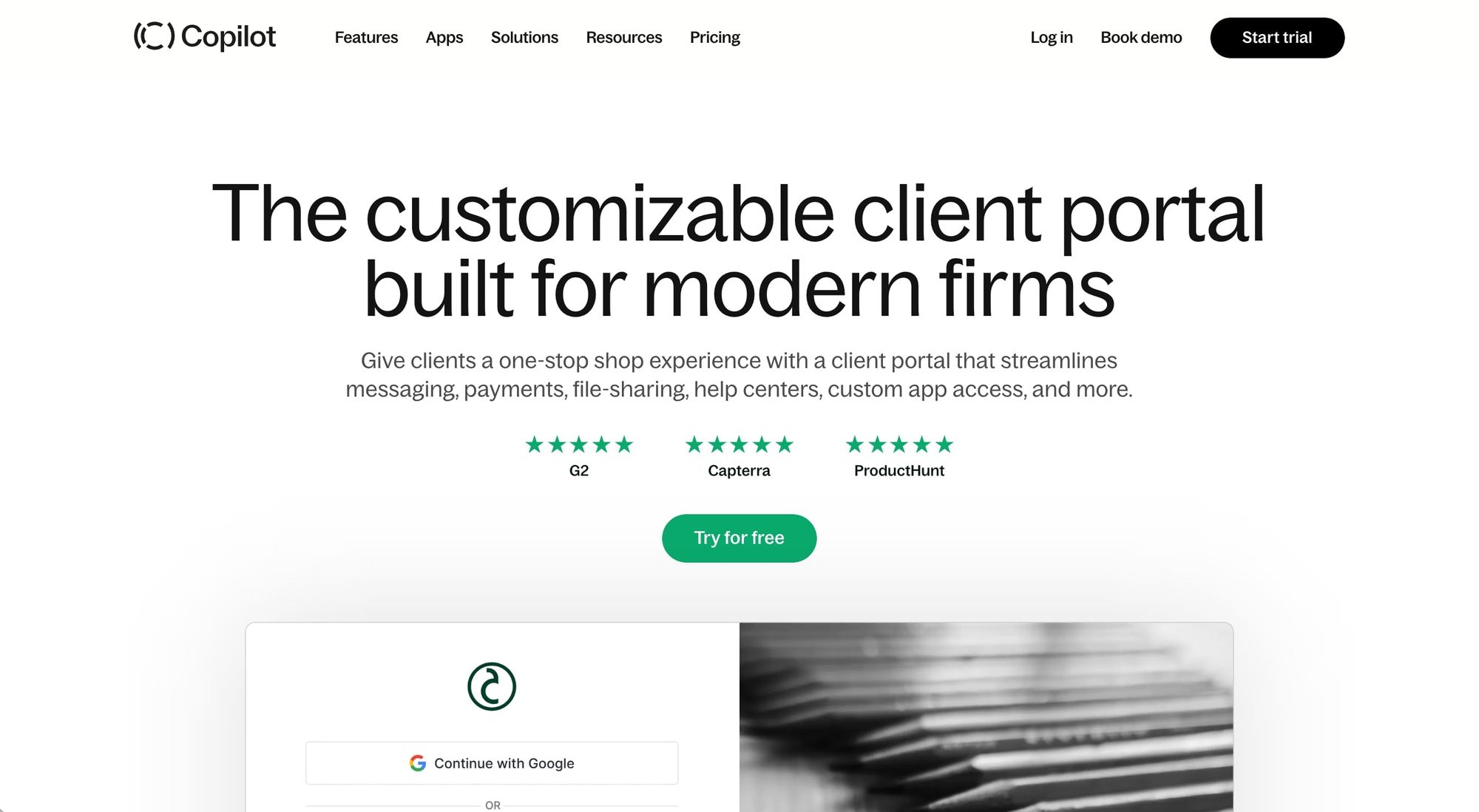 With its integrated client portal, Copilot lets you consolidate your entire technology stack in one dashboard, enabling a one-stop-shop experience that will delight your clients. You're also able to integrate Copilot with Zapier to sync up with all your favorite existing tools to automate and streamline the entire onboarding process — from payments and e-signatures to intake forms and file sharing. Automated workflows such as self-serve sign-ups, welcome messages, and onboarding forms give you back your valuable time. From there, it's smooth sailing for both you and your clients, with centralized client communication, easy messaging features, and built-in scalability that lets you start with just one app and enable more as you grow.
Benefits of Copilot
Advanced automations streamline your client onboarding processes, eliminate manual tasks, reduce administrative burdens, and ensure a consistent and efficient onboarding experience for every new client.
Personalized interactions go beyond automation with tailored messages and intelligent onboarding sequences, adding a human touch that solidifies client relationships.
The help-desk feature empowers clients with knowledge and includes customizable visibility rules that ensure you share the right content with the right clients.
Collaborative workflows promote clear communication among teams and clients, helping you coordinate efforts and deliver a unified onboarding journey.
Customizable branding aligns with your brand identity to create a cohesive onboarding experience that reflects your company's unique style and values.
Exceptional support includes integrated Slack access, a Copilot University, a Help Center, and weekly live demos with Q&A.
Copilot Pricing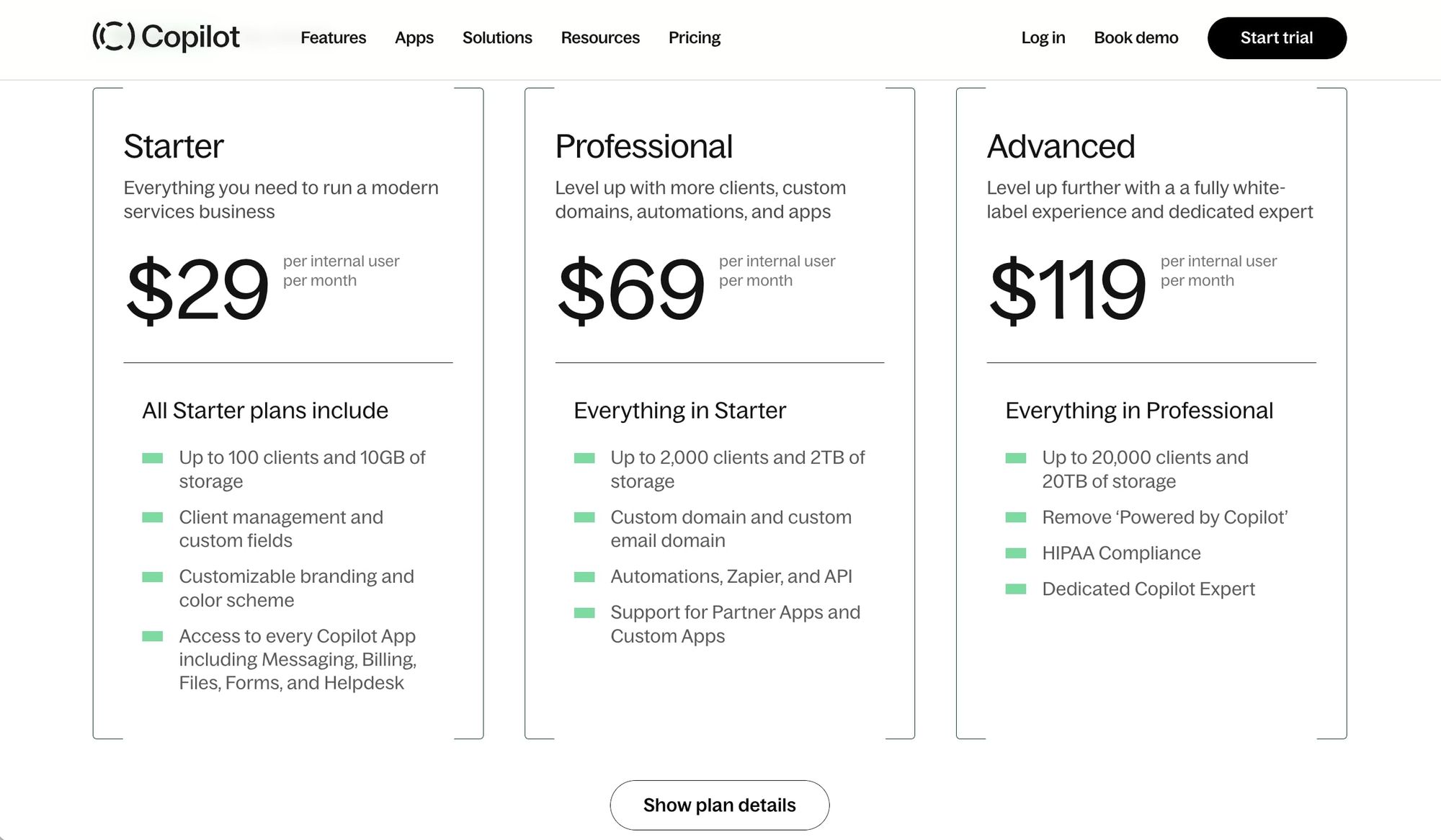 Start with a free trial; paid plans start at $29 per user per month, paid yearly. Monthly plans start at $39.
2. Rocketlane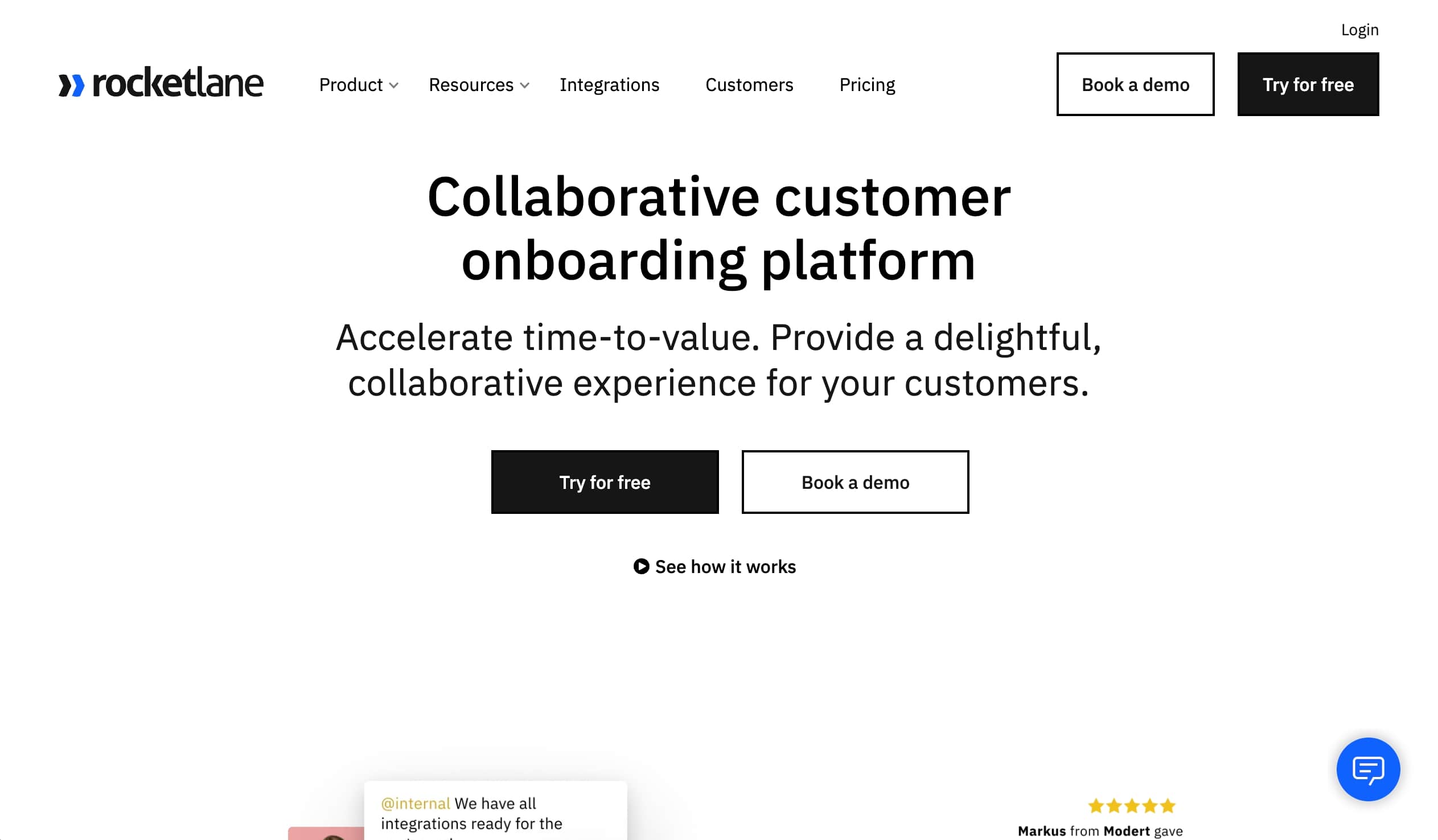 If you've ever had the nagging feeling that you're missing a few steps in the onboarding process, Rocketlane could be the key to putting your mind at ease. With a focus on collaboration and efficiency, Rocket Lane offers a single hub where teams can coordinate and automate their client onboarding processes. The platform provides a holistic view of the onboarding journey, so you know where your onboarding projects stand at all times. This enhanced visibility — paired with collaborative tools that keep you, your team, and your clients on the same page — enable the "wow" factor that keeps clients engaged and happy with their onboarding experience.
Benefits of Rocketlane
Frictionless onboarding includes a customizable and brandable client portal, automations, interactive content, and task management features.
Collaborative tools ensure efficient, cohesive communication among teams and clients throughout the onboarding journey.
Integrations with Zapier, Slack, Jira, and other apps allow you to leverage your existing technology stack.
Extensive support tools include a Help Center, webinars, podcasts, and other resources to help you become a Rocketlane expert and pass along knowledge to your clients.
The scalable, flexible solution accommodates businesses of all sizes, so you can start small and grow as your onboarding needs accelerate.
Rocketlane Pricing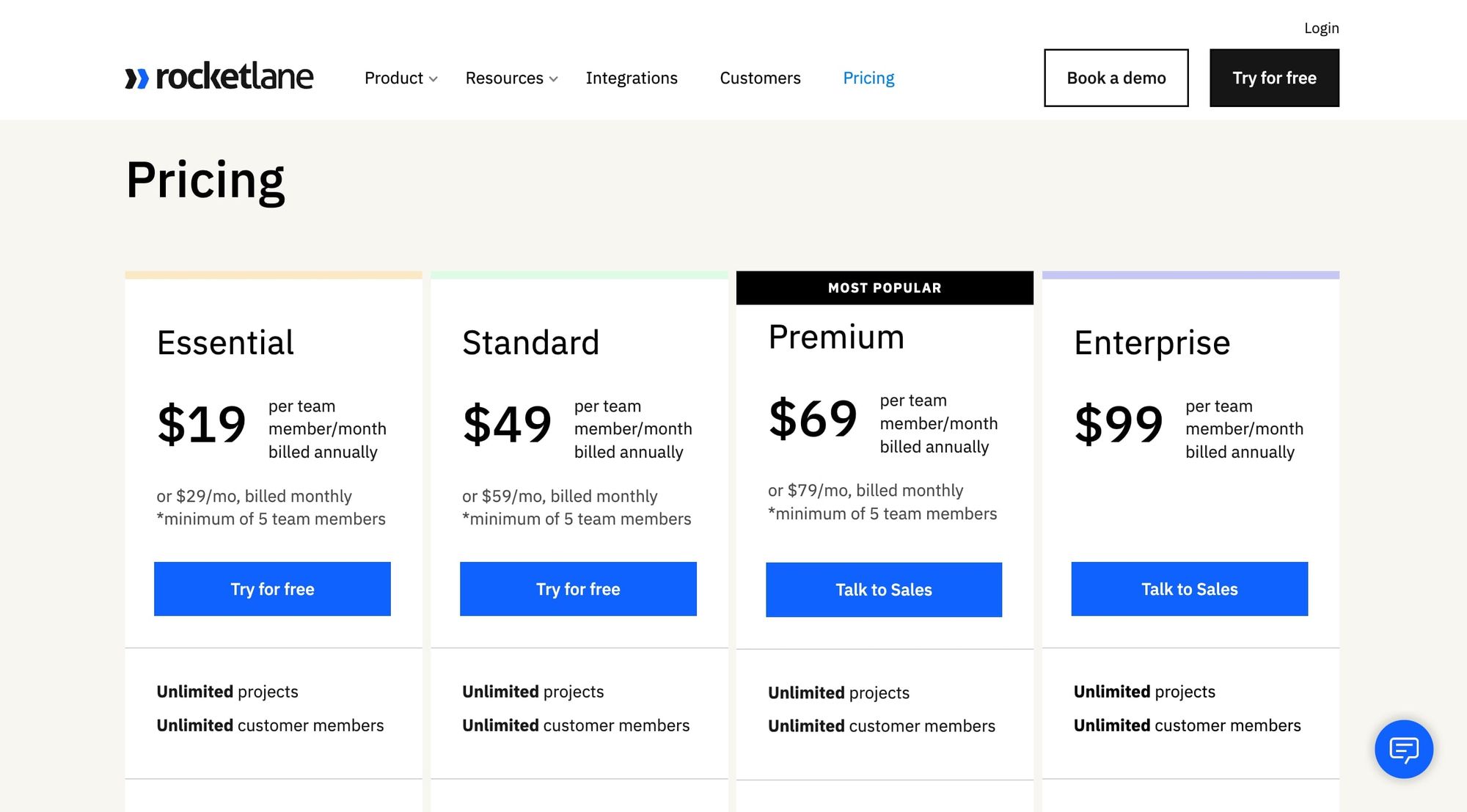 Start with a free trial; paid plans start at $19 per user per month, paid annually, or $29 monthly.
3. Userflow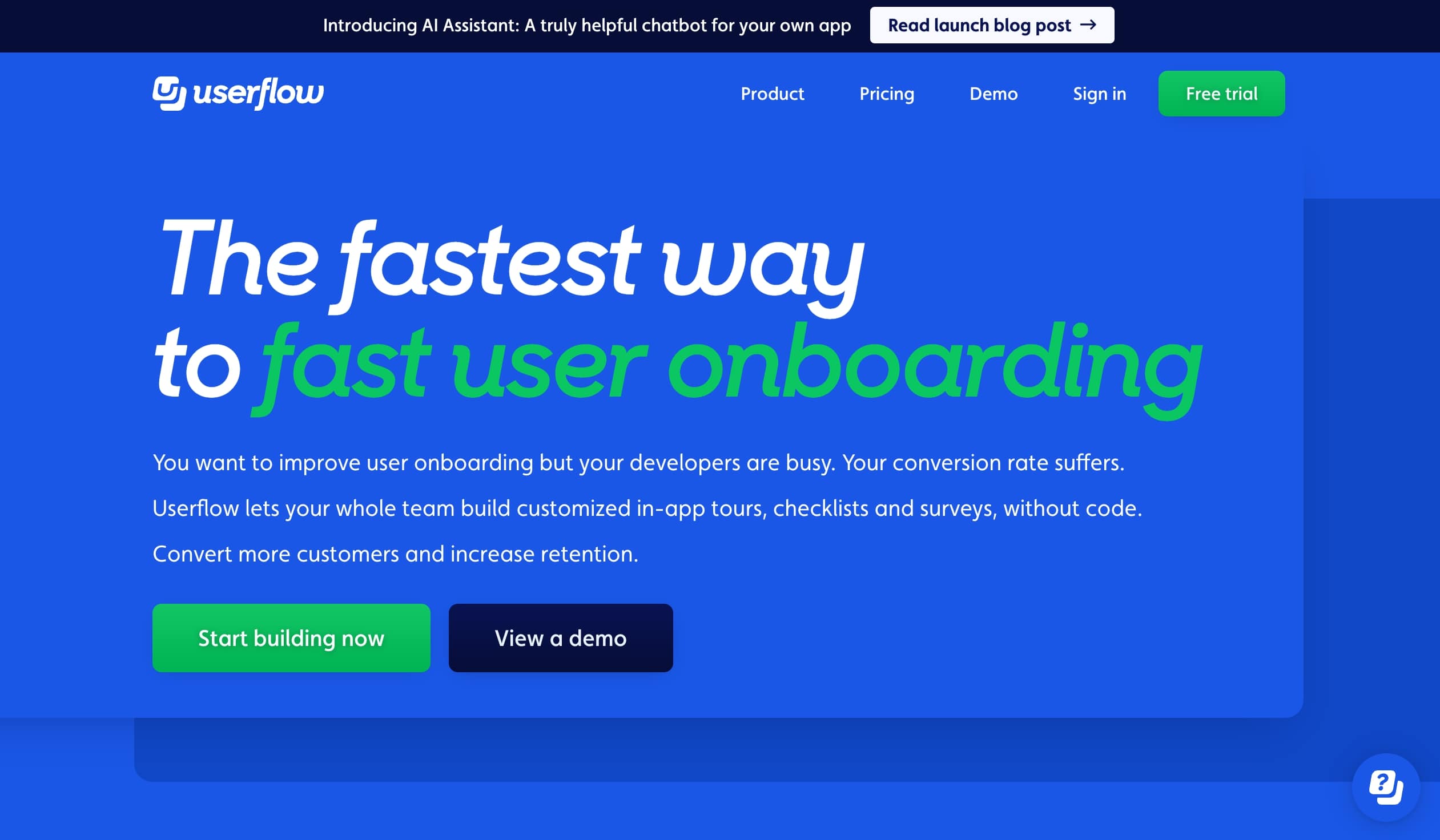 To paraphrase Userflow, new users sign up because they're sold on your value proposition. The onboarding experience is your opportunity to prove your value and keep them as clients. Toward that end, Userflow has gamified onboarding to provide dynamic experiences that go beyond snooze-worthy product tours. The platform guides users through every step with its customizable no-code Flows that you can build in minutes. Get-started checklists tie your workflows together and serve as helpful task trackers throughout the onboarding process.
Benefits of Userflow
Interactive, personalized onboarding and an intuitive user interface let you design engaging new-client tours that guide users through key features.
Beautiful step-based flows include a rich content editor that supports links, images, videos, and user attributes. Set up each step as a modal, tooltip, or speech bubble.
Automagical triggers enable "if this, then that" rules when users click elements or type in a text field.
An always-on, contextual and personalized resource center empowers your clients to find answers directly in your app, search your knowledge base, and find or start tours and flows on demand.
The lightweight platform integrates not only with your tech stack but also your existing web app, allowing for quick, copy-paste code installation.
Userflow Pricing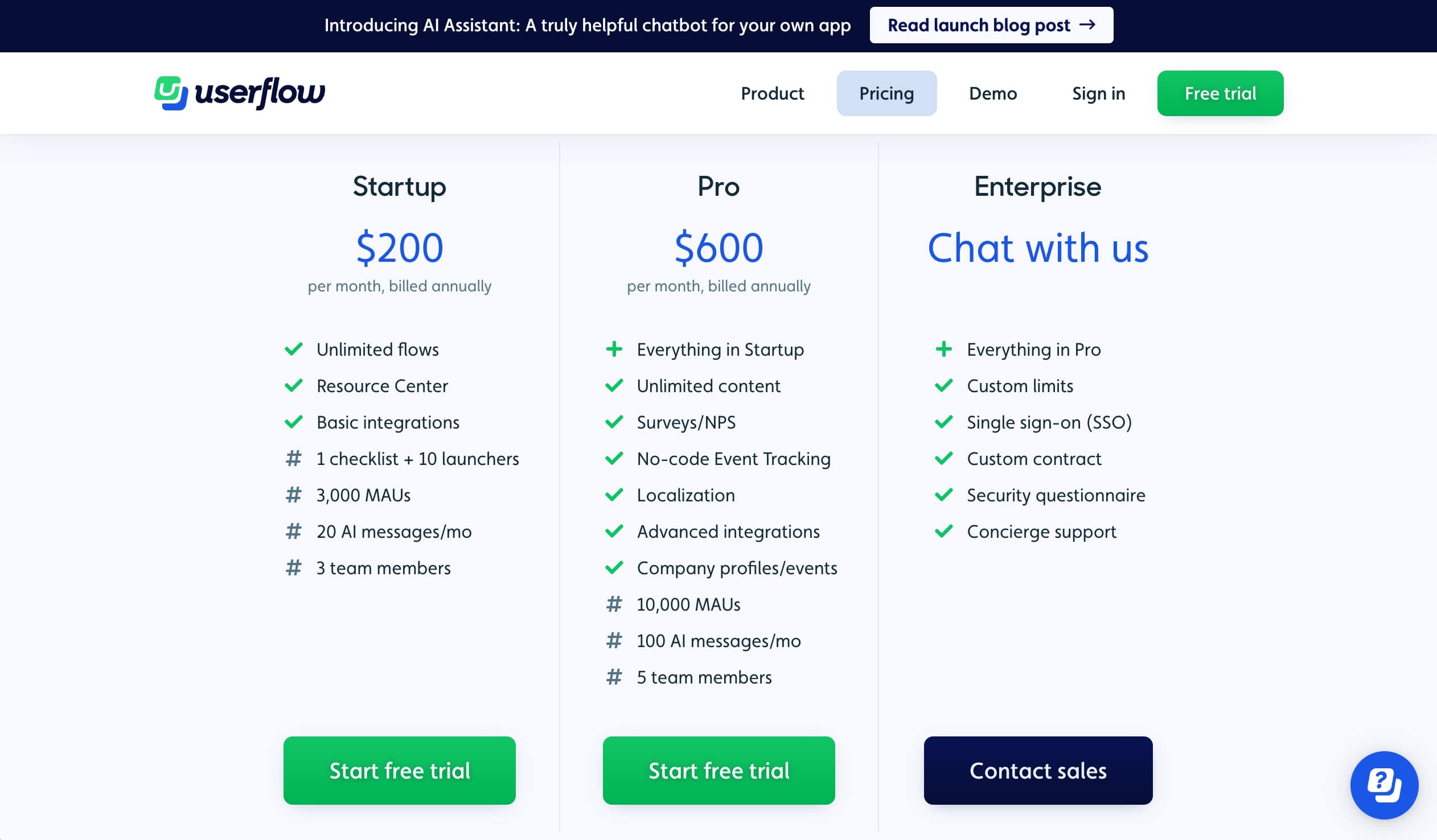 Free trial available; paid plans start at $200 per month, billed annually, or $250 monthly.
4. Appcues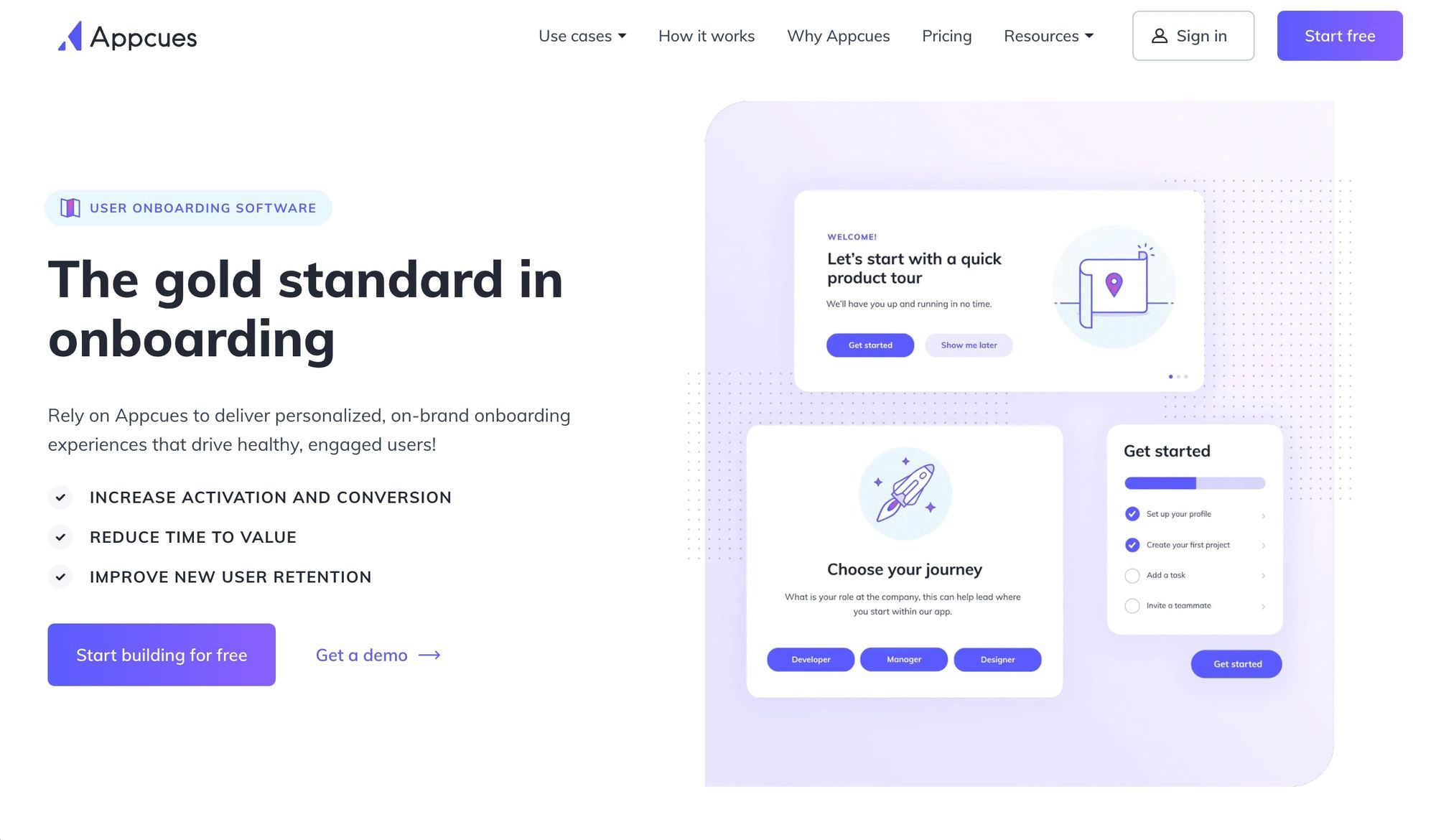 By now, you know that first impressions are everything when it comes to onboarding new clients. With Appcues, you'll nail that first impression every time — with powerful, no-code user onboarding software that makes every user feel like they're receiving a tailored, VIP treatment. With its intuitive visual editor and customization options, Appcues puts you in control of designing and optimizing user onboarding journeys that captivate, engage, and convert your users.
Benefits of Appcues
With a drag-and-drop visual builder that functions as a Google Chrome extension, you can easily design captivating product tours, tooltips, and modals that guide users through key features.
Appcues Studio lets you manage and track your flows and events. Choose who sees what and what actions you want them to take, and create and target user segments based on in-app behaviors.
Measure the effectiveness of your onboarding flows by monitoring user engagement and any drop-off points so you can identify opportunities to improve.
Test mode lets you preview the onboarding experience in context with your team so you can publish every flow with confidence.
Appcues seamlessly integrates with your existing tech stack, making it easy to incorporate user onboarding into your overall user experience strategy.
Appcues Pricing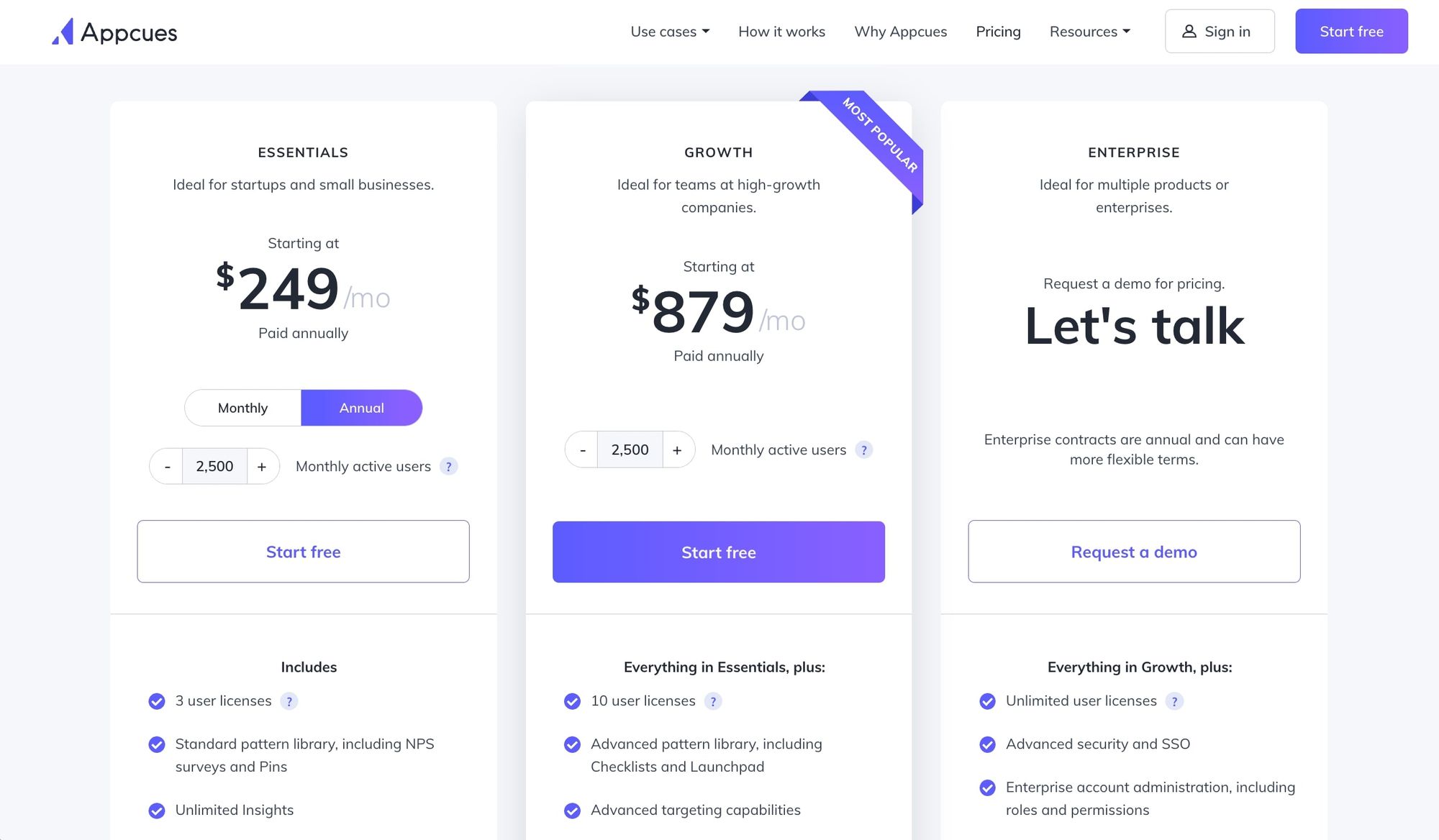 Appcues pricing ranges from $249 and up depending on the number of licenses and the range of features you need.
5. GUIDEcx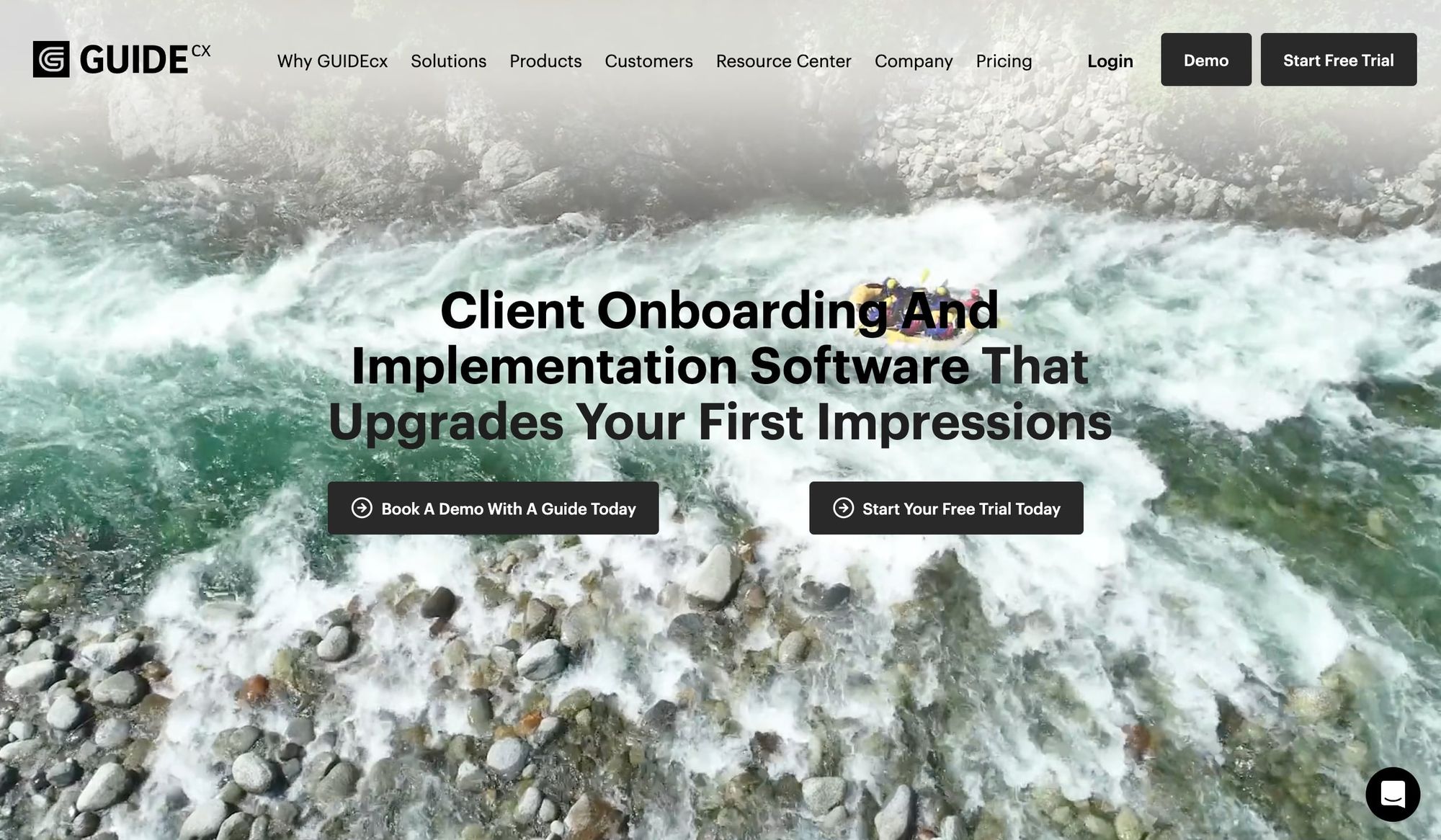 Even if your clients never log in to GUIDEcx, the platform works behind the scenes to keep them informed, engaged, and on task. GUIDEcx resolves the most common inefficiencies related to client onboarding, including labor productivity, operational processes, and return on investment. With GUIDEcx, you have one central location to manage all aspects of onboarding, internal and external communications, reporting, and insights into your processes. One of the platform's superpowers is the ability to not only streamline the customer onboarding process but also project-manage and keep clients on task through automation.
Benefits of GUIDEcx
The platform integrates with your CRM and guides users from sales to implementation while driving engagement, improving efficiency, and increasing capacity without sacrificing quality of service.
GUIDEcx offers custom templates, different user views based on the role, and multiple integrations with your current tech stack.
Transparent project views and easy access to tasks through the portal, email, or mobile app keep everyone on the same page.
The company walks the talk by providing excellent support, ensuring you can always get the answers you need.
GUIDEcx lets you scale without adding headcount. Manage and deliver projects faster by using automation to keep projects moving and reporting tools to expose any bottlenecks.
GUIDEcx Pricing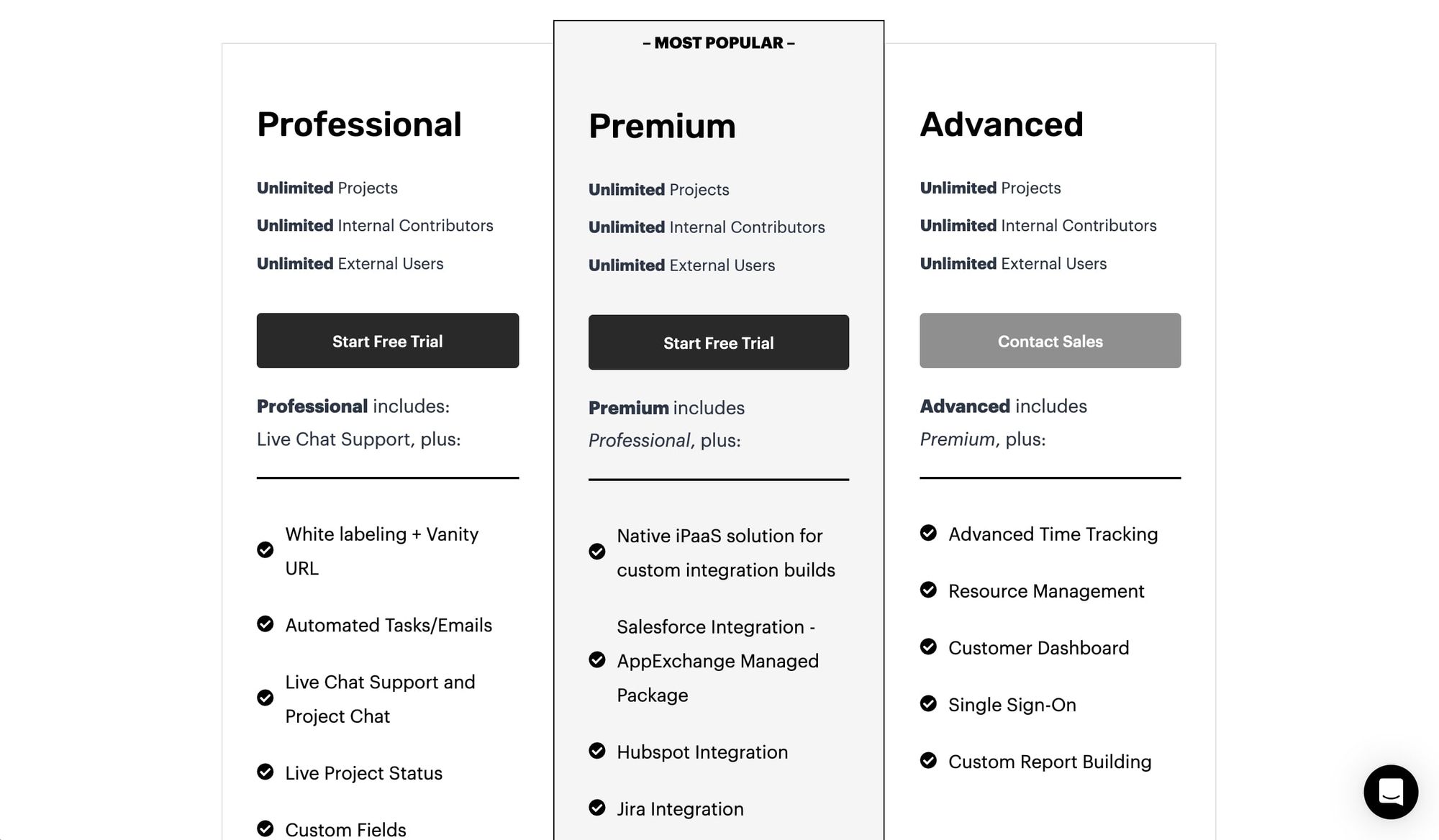 Start with a free trial; schedule a demo to decide between Professional, Premium, and Advanced tiers. However, one license provides unlimited projects, internal contributors, and external users on any tier.
6. OnRamp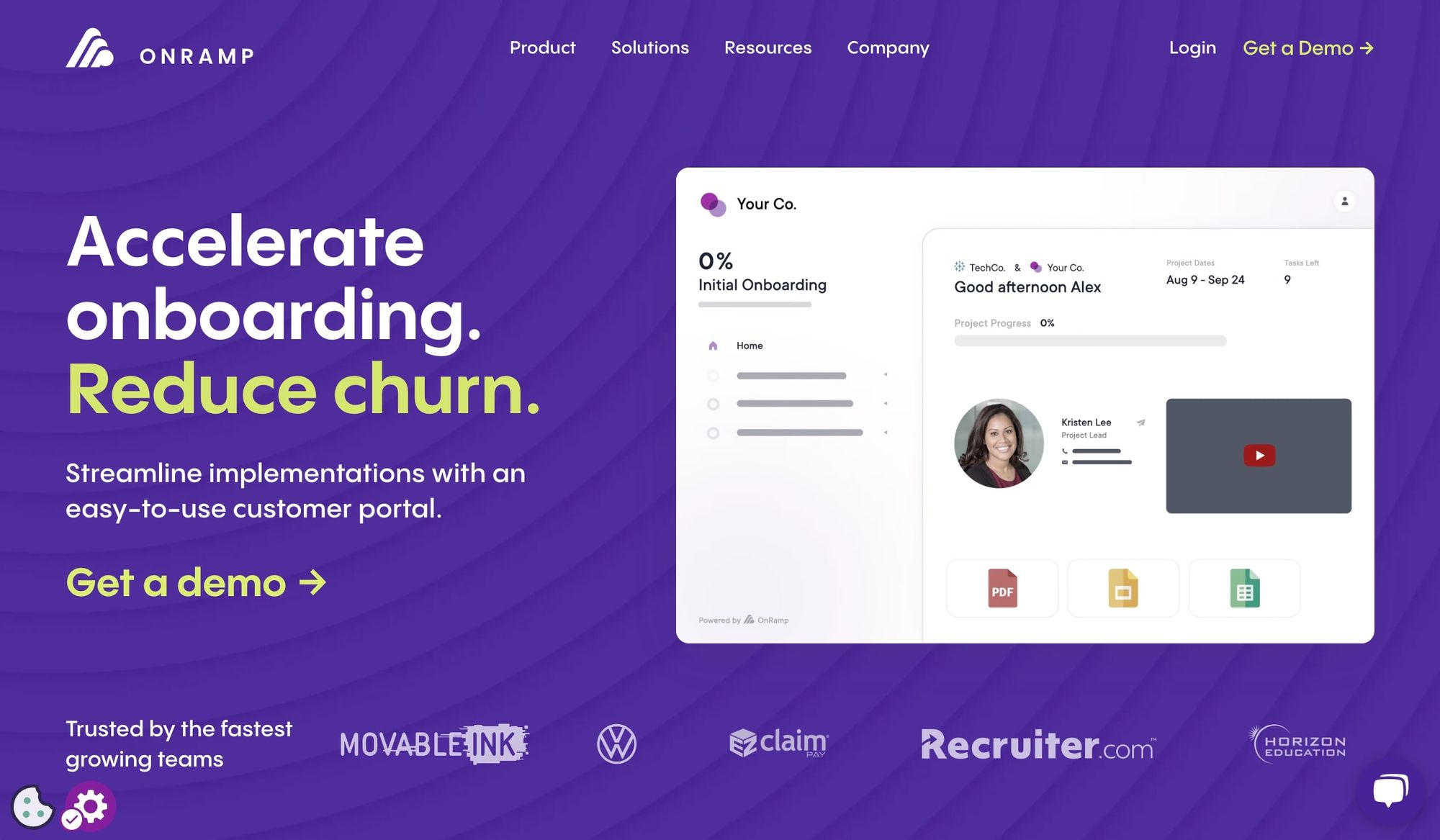 OnRamp claims to be the only project portal backed by behavioral science that's built to drive customer engagement — a powerful flex when it comes to reducing churn and keeping clients engaged and on track from sales to implementation. Dynamic task logic empowers clients to breeze through each step with simple action plans delivered via tasks, videos, forms, surveys, files, and other actions. You'll accelerate the onboarding timeline for everyone involved, all with a simplified design that puts a stop to clunky spreadsheets while letting you carve out time for high-impact activities.
Benefits of OnRamp
With intuitive workflows and automated tasks, OnRamp reduces manual effort and saves valuable time, allowing businesses to reduce onboardings to days, not weeks.
Create personalized customer onboarding experiences tailored to each client's unique needs, from customized welcome messages to interactive tutorials.
Built for SaaS implementation teams, OnRamp allows you to create Playbooks for different customer segments. Start from scratch, or use OnRamp's templates.
Get a complete view of incoming and completed projects at a glance, and measure results for ongoing improvements.
Integrations with HubSpot, Salesforce, and Slack allow you to get up and running seamlessly while using your current tech stack.
OnRamp Pricing
Schedule a demo for a complete walk-through of OnRamp and pricing information based on your needs.
7. Dubsado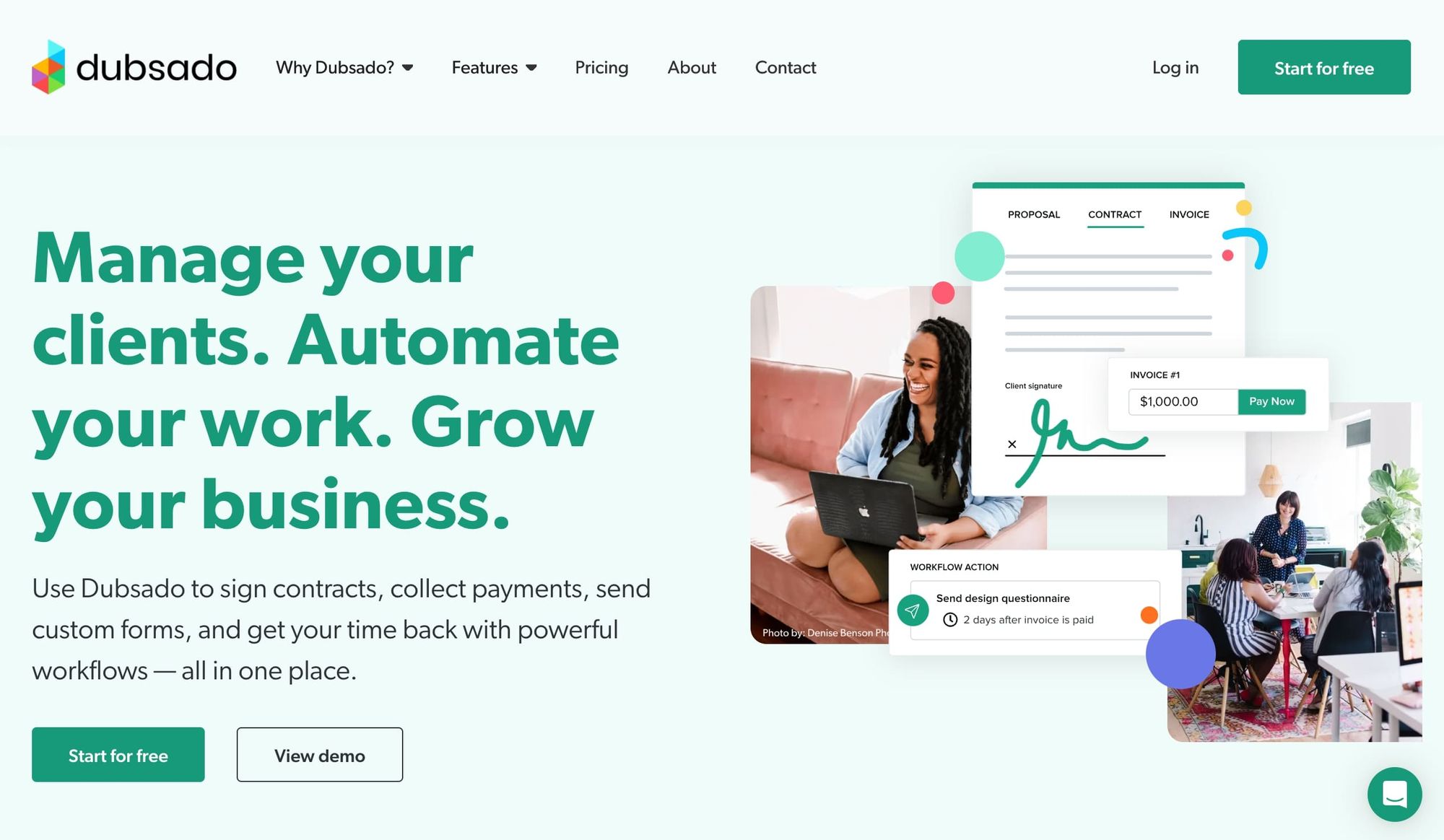 Dubsado provides powerful workflows designed to help you get your time back — with a single platform for a variety of client management tasks. Use the platform to send custom forms and invoices, collect e-signatures and payments, and keep clients engaged through interactive portals. Dubsado also humanizes onboarding, with automation that handles repetitive tasks like payment reminders and confirmation emails without losing a personal touch.
Benefits of Dubsado
Easily track and organize your leads using CRM tools, keeping all relevant information in one place and streamlining your sales process.
Dubsado offers a wide range of customizable form templates that are designed to align with your brand and impress clients, from lead capture forms to questionnaires and branded proposals.
The platform's invoicing features ensure smooth and timely payments, with automated reminders and customizable invoice templates that let you maintain a professional image.
Dubsado integrates with popular scheduling tools, enabling you to manage appointment bookings directly from your website and eliminate manual back-and-forth communication.
Automated onboarding capabilities let you provide a guided experience while converting leads into satisfied customers.
Related Read: 10 Best Dubsado Alternatives For Service Businesses
Dubsado Pricing
Start with a free trial; paid plans start at $200 per year or $20 per month.
8. Userpilot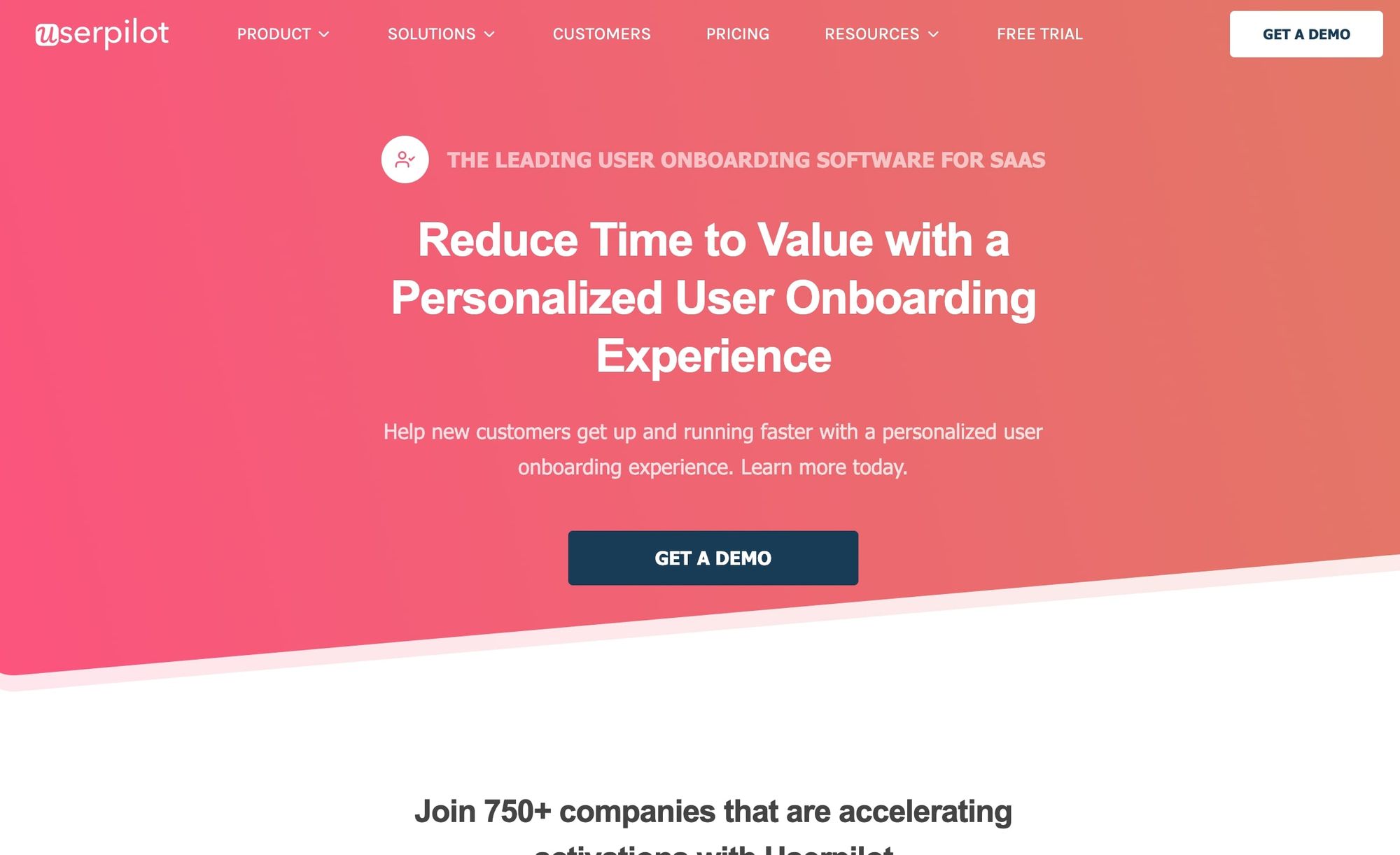 Userpilot is a powerful client onboarding software designed to help businesses create seamless and personalized onboarding journeys for their users. With Userpilot, you can build interactive product tours, in-app messages, and user guides without the need for coding or development resources. By providing a user-centric approach, Userpilot empowers businesses to drive user adoption, increase engagement, and maximize value for new customers.
Benefits of Userpilot
Through segmentation and targeting capabilities, create customized onboarding flows that ensure each buyer persona receives the right information at the right time, resulting in higher engagement and faster time-to-value.
Create interactive product tours and in-app messages that guide users through your app's features and functionalities, eliminating confusion, reducing friction, and accelerating users' understanding and proficiency.
Onboarding checklists help drive adoption by nudging users along with clear, actionable steps that correlate with success and motivate them to complete the activation process.
Robust user behavior metrics and analytics features provide valuable insights into user interactions, drop-off points, bottlenecks, and conversion rates.
Userpilot integrates with popular tools and platforms, making it easy to incorporate it into your existing workflow.
Userpilot Pricing
Pricing starts at $249 per month, paid annually, or $299 monthly, depending on the number of users. Scale up in pricing as you grow for up to 50,000 users, then upgrade to a Growth or Enterprise plan.
9. SuiteDash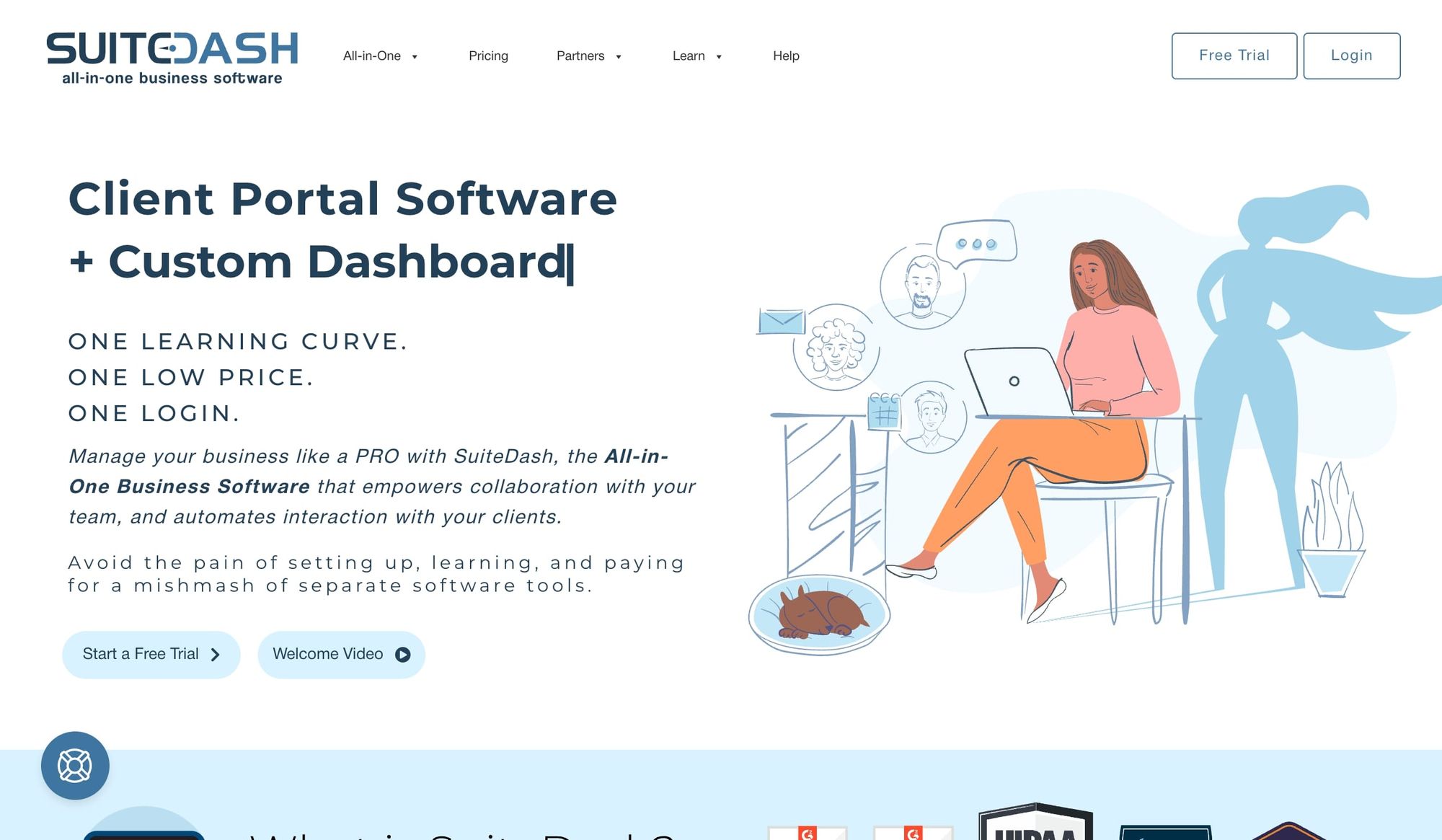 SuiteDash touts itself as an all-in-one tool that equips businesses with a centralized hub for project management, team collaborations, task assignments, and progress tracking. The platform's branded client portal gives you and your customers a unified space for messaging, exchanging files, sending updates, collecting e-signatures, and staying on task. SuiteDash's range of features has you covered for CRM, funnels, automations, appointment scheduling, marketing, billing, and much more; in fact, in some cases, it might feel like feature overload. However, if you're looking for one cost-effective tool with a single login to manage the entire lifecycle of a client, this could be the platform for you.
Benefits of SuiteDash
Use SuiteDash's configurable tools to create personalized and effective workflows that seamlessly convert leads into loyal clients.
No-code automation builders enable businesses to automate repetitive tasks like onboarding and follow-ups and improve the overall client experience.
SuiteDash offers robust email and drip marketing capabilities that enable businesses to reach the right audience at the right time.
SuiteDash provides time tracking, billing, estimates, proposals, and subscription management tools, allowing you to efficiently manage your business's finances.
White-label tools let you brand your business on the website and mobile app using your logo and colors, giving you a professional edge.
Related Read: 10 Best SuiteDash Alternatives For Service Businesses
SuiteDash Pricing
Start with a free 14-day trial; paid plans start at $180 per year or $19 per month.
10. Arrows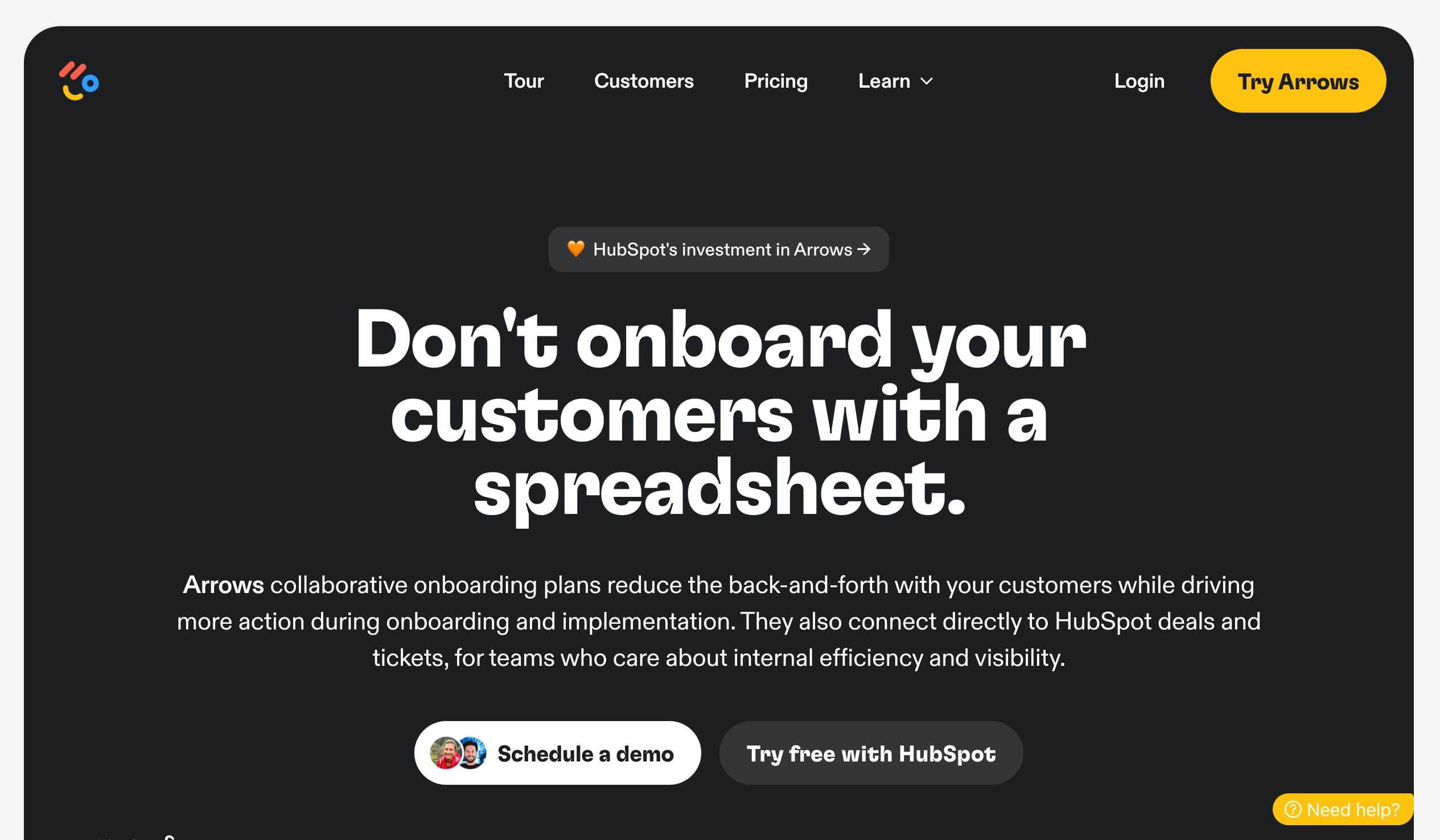 Arrows is a versatile customer onboarding software built for HubSpot that lets you visualize your projects, assign tasks, track progress, and foster seamless communication. With Arrows, you can create interactive project boards that allow you to map out your tasks, set deadlines, and assign responsibilities. The visual interface provides a clear overview of each project's progress, making it easy to identify bottlenecks and ensure timely completion.
Arrows works right inside HubSpot to give detailed views of deal progress and history. Transition new clients into onboarding without leaving the platform.
Track customer progress within HubSpot's pipeline view while syncing over 30 data points that matter most.
Use your Arrows plan data to create workflows, email automations, and custom reports that provide insight into your overall processes.
The user-friendly interface makes it easy for everyone to get up and running and collaborate across teams while keeping users on task toward next steps.
Consolidating into one platform helps you scale without adding headcount so you can grow faster and smarter.
Arrows Pricing
Try Arrows for free; paid plans start at $300 per month.
Unleash Efficiency With Client Onboarding Software
Each platform on this list of the best client onboarding software offers a unique set of features and benefits designed to automate and optimize the onboarding journey, ensuring that new clients immediately see the value of your products or services while reducing the burden on your team. From robust automation capabilities to personalized interactions and comprehensive resource libraries, these tools empower businesses to deliver exceptional onboarding experiences and lay the foundation for long-term client success.
While all of the software solutions we showcase above possess their own unique strengths, there's one standout option: Copilot. If you're looking to unlock new levels of efficiency, boost productivity, and propel your business to greater heights in 2023, there's no substitute for Copilot's exceptional blend of cutting-edge automation, affordability, and personalized interactions. To learn more, start your free trial today and discover what Copilot can do for your business — and your customers.
Sign up for our newsletter
Subscribe below to receive our newsletter. We'll email you about important announcements, product updates, and guides relevant to your industry