Updates
New updates and improvements to Copilot.
October 27, 2022
Improvements & Updates
After you create a client, the snackbar that shows now contains a link to the client details page.
Renamed 'Extensions' to 'Apps' everywhere in the product.
Fixed a bug where in very rare cases there was a $0.01 inconsistency between invoices in your portal and invoices in QuickBooks due to differences in rounding logic.
Fixed a bug where the Knowledge base item on the sidebar previously didn't show as selected when you are on the article editor page.
Fixed a bug that prevented scrolling on the Knowledge base page if you are using Firefox on mobile.
Improved the animations used to open and close items in the sidebar.
October 6, 2022
Improved Client Invites
We improved the experience of adding and inviting new clients. After you create a client you will now see the modal below, which makes copying and manually sharing the client invite link the primary action. We made this changes because we learned that most people prefer to invite clients by sharing the invite link in an existing email or text conversation. If you prefer the old flow, you can still use automatic email invites by clicking on Send email invite.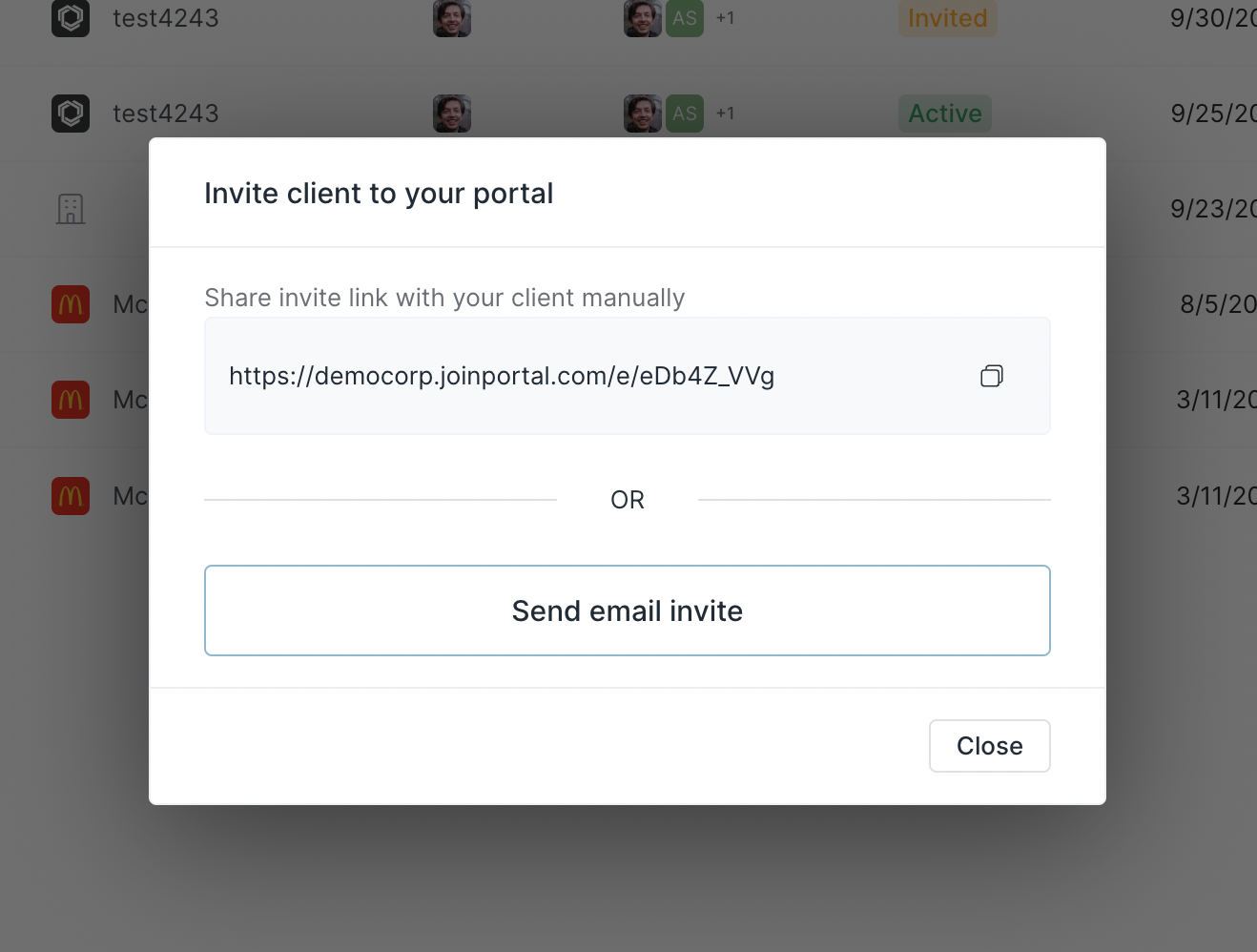 Improvements & Updates
Added an Enterprise feature that makes it possible to automatically backup files to an an AWS S3 bucket.
Fixed a bug where in very rare cases subscriptions continued beyond the number of cycles they were set for.
Fixed 2 bugs that prevented saving notification preferences.
September 21, 2022
Improvements & Updates
Added hourly/minute time stamps in the Files module so it is more clear when precisely files are uploaded.
Updated the formatting of email notifications to further help with email deliverability.
Improved the user experience of connecting a custom domain and custom email domain.
Improved the copy on email notifications to make them sound more natural.
Improved the layout on the new eSignatures experience.
Redesigned the snackbars that are shown for success and error messages.
September 15, 2022
eSignatures 2.0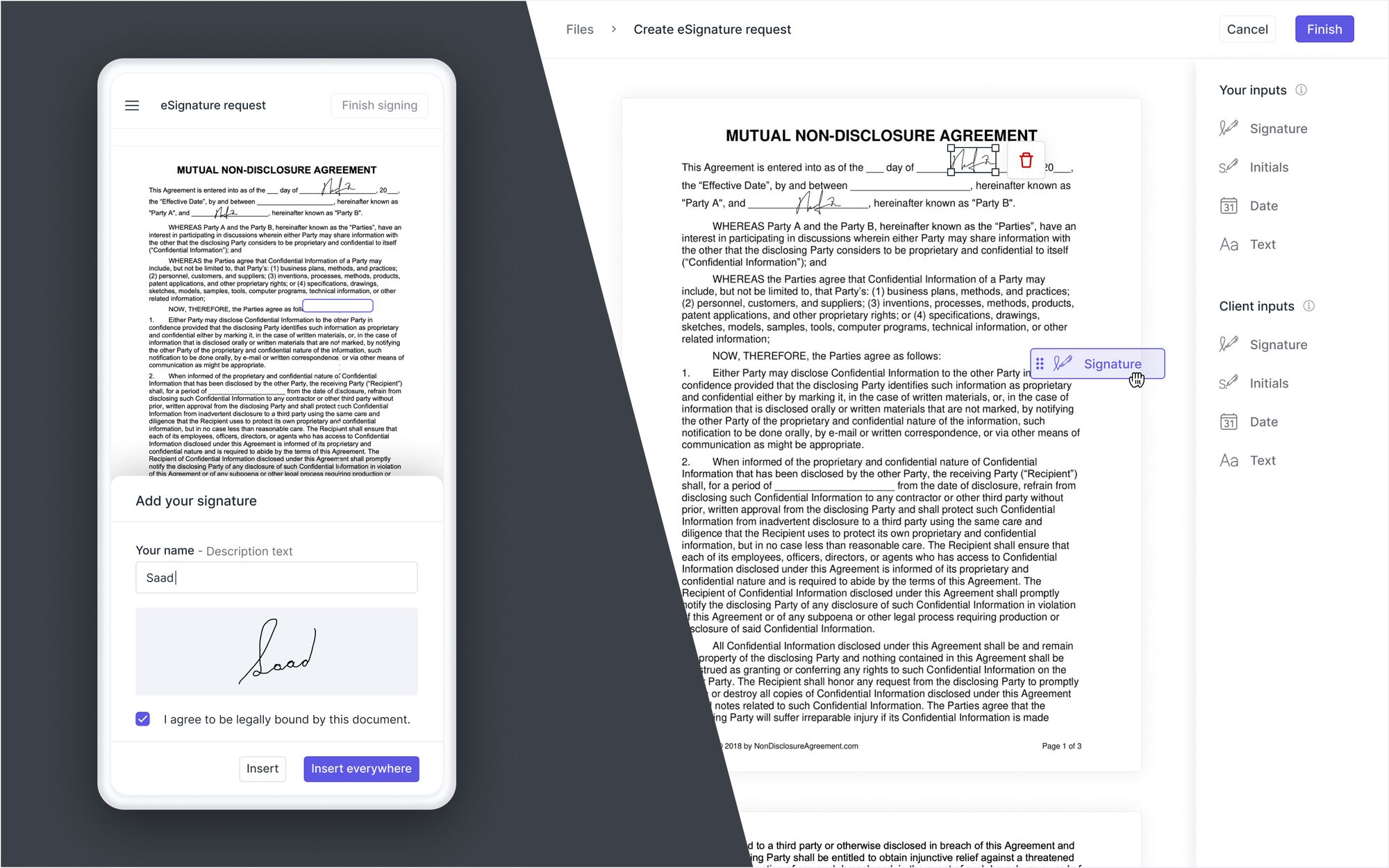 We rebuilt the eSignatures feature from scratch. With the latest release client users can complete eSignature requests from their mobile device. And internal users now have control over the size of blocks that they add. We've also made various other improvements to make the request and signing experience more intuitive and faster.
Improved Email Deliverability
Your clients are primarily notified about new messages, invoices, and other events via email notifications, so it's critical that email notifications are consistently delivered to their inbox and don't go to spam. With this release we made numerous improvements to email deliverability so that email notifications never go to Microsoft/Outlook quarantine and only vary rarely go into the spam folder.
Improvements & Fixes
Added support for invite links for internal users. If you'd like to invite a team member, after you create them on the Settings > Team page you can now use the 'copy invite link' action.
Added support for client import. If you need to import a large number of clients contact support and we'll help you out. Later this year, this feature will be available in-product as well.
Added support for Thailand bank accounts.
Improved and simplified the Modules & Extensions page.
Improved the mass-messaging feature so that it runs asynchronously and works with large numbers of clients.
Fixed a bug where turning on/off in-product notifications for Messaging didn't work in some rare cases.
August 25, 2022
Notification Settings
We know that everyone has different preferences when it comes to notifications. With our new notification settings menu, internal users can control precisely when they are notified. You can turn on/off specific notifications and select whether you want to be notified in-product, via email, or both.
Improvements & Updates
Added validation for folder names so that you can no longer upload a folder with a "/". Previously these folders were automatically hidden.
Subscriptions now generate invoices at 8AM in the internal user's time zone.
Fixed a bug where embed previews in the Messaging module didn't link to the right location in some situations.
August 12, 2022
Folder Automations
You can now set up automations that involve folder creation. For example, you can set up an automation where a default folder structure is automatically set up for each new client. This automation, as well as our other ones, can be set up on Zapier or with our API.
Improvements & Updates
Added support for most popular file types in the Knowledge base. When creating an article, you can now add Word, Excel, CSV, and most other file types.
Improved the performance of using the Forms module. Previously the user experience was laggy when you had a very large number of questions.
Improved the mobile user experience of opening and collapsing sidebar items that have subsections (Billing, Extensions, etc.).
Improved the user experience of interacting with snackbars. Clicking 'X' on them now immediately hides them.
Redesigned the command bar (Command + K) menu.
Renamed various button in the internal user experience to make the primary action more clear.
Fixed a bug that incorrectly showed the custom email domain connection status as "verifying" even though setup was already successful.
Fixed a bug that prevented loading of your portal if your computer time is incorrectly set.
Fixed a bug that prevented new portal from being created if certain special characters were used in the name.
Fixed a bug that prevented some knowledge base articles from being updated if they had a large amount of content.
Fixed a bug that previously made it impossible to update a scheduled subscription so that it instead starts immediately.
Fixed a bug that caused 2 success snackbars to be shown in some circumstances.
Fixed a bug that prevented users from removing some recommended resources cards on the home screen.
July 12, 2022
Form Automations
You can now set up automations that involve forms. You can read about the new form-specific endpoints and webhooks in our API documentation or look at the new triggers in our updated Zapier profile. With the new automations you can:
Automatically assign a form to a client if something happens in your portal or externally. For example, if you have an onboarding form you can set it up so that clients are assigned the form when they log in the first time.
Use form response data in your portal or externally. For example, you can use form response data to update custom field values in your portal or to fill out information in an external CRM.
Client Branding
When your clients are logged in to your portal, previously they would always see your portal name and icon in the sidebar. With our new client branding option, you can customize the client experience so that clients alternatively see their associated company name and icon in the sidebar. This option is only available if you have have companies enabled in your portal.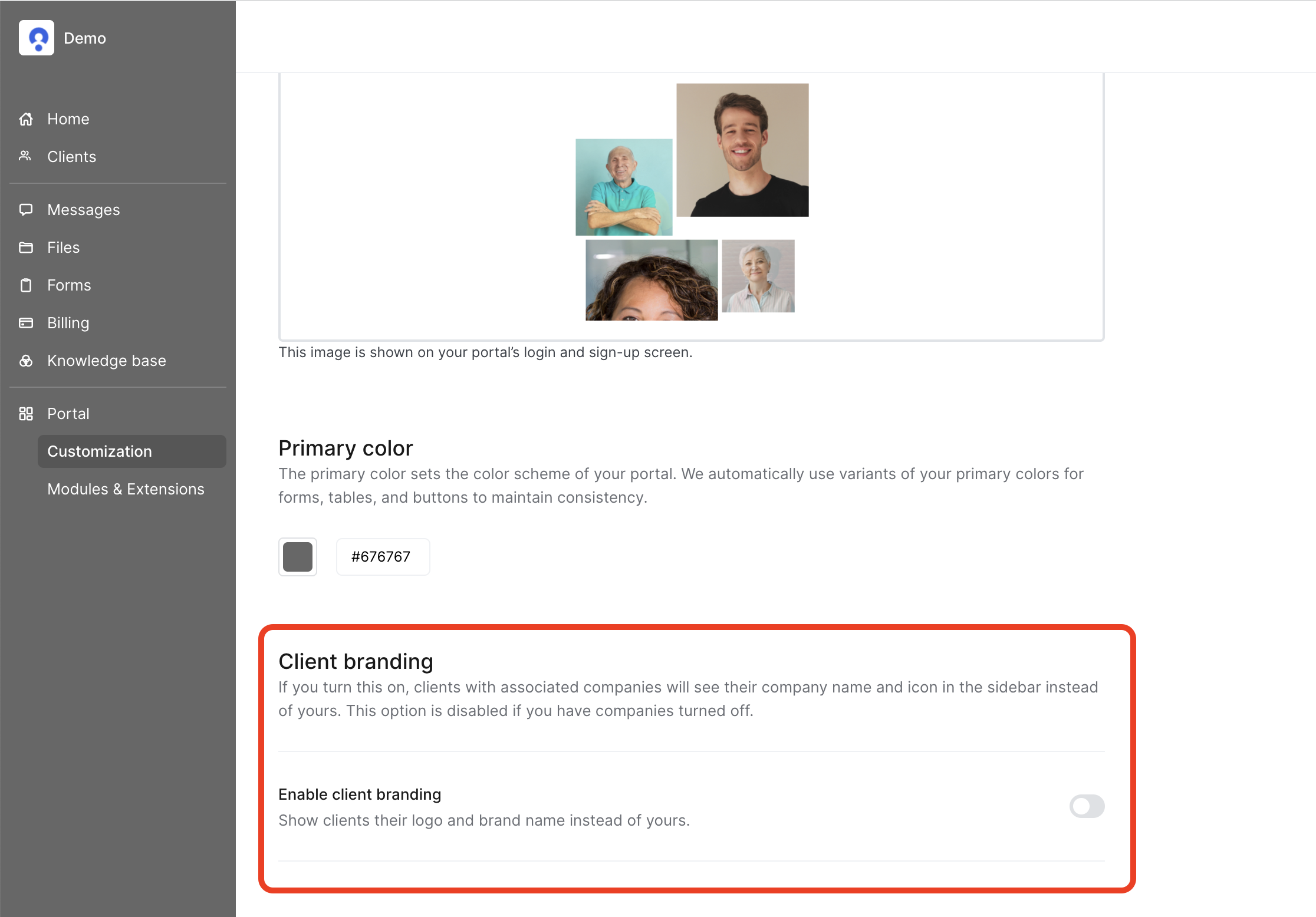 Improvements & Updates
Redesigned the command bar so it stands out more and is easier to navigate.
Improved the experience of using the sidebar and clicking on items with sub-sections on mobile devices.
Improved the design of buttons and fixed a visual bug where after clicking on a button it would sometimes not revert to an unselected state.
Fixed a bug where on the command bar client images were not getting updated.
June 30, 2022
Home Tab
Internal users can now access a new Home page in their portal. The purpose of the page is to act as a command center for your business and surface useful information and tips. The page is split into 3 sections:
Setup guide provides new users a check-list of things to do to get fully set up.
Latest release provides details about the latest update to our software and a link to our changelog.
Recommended resources shows a feed of recommended resources, best practices, and advanced user tips.
The cards you see are based on many factors including your industry, company size, user type (admin or staff), usage trends, and others. If you don't want to see a card, you can click it away by clicking on the X in the top-right of the card. Later this year, we're going to expand on today's release and surface analytics on the home page.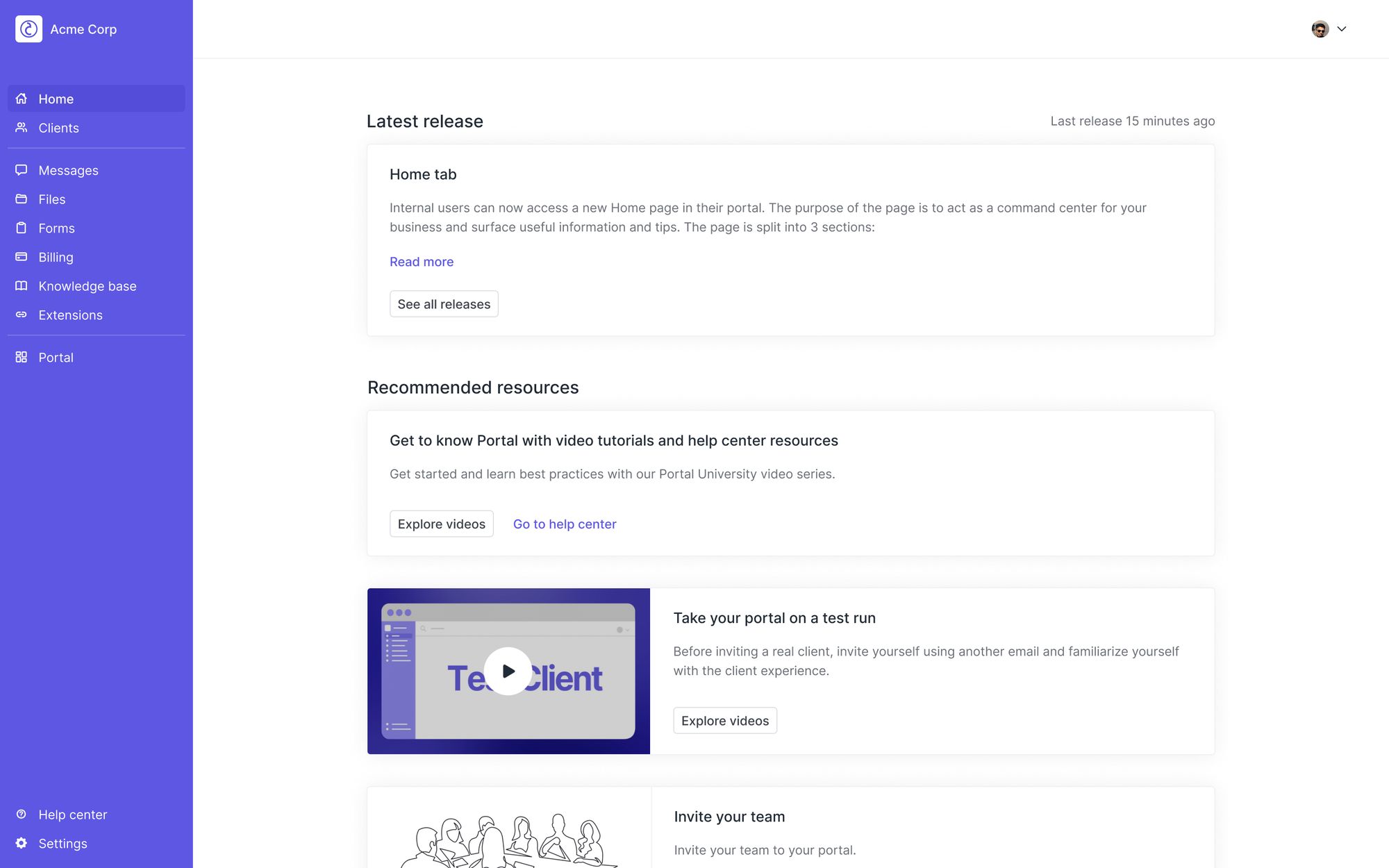 New sidebar
In addition to the Home tab at the top, you'll also see a few other updates to the internal user sidebar. The client experience remains the same.
We've moved some of the items that were previously in your settings and moved them to the main sidebar. If you click on Portal you'll see that this section expands to show you the Customizations and the Modules and Extensions pages.
If you have 1 or more Extensions added, you will now see just a single Extensions item in your sidebar. When you click on it, the section expands and surfaces all the Extensions you have added.
The CRM page is now called Clients.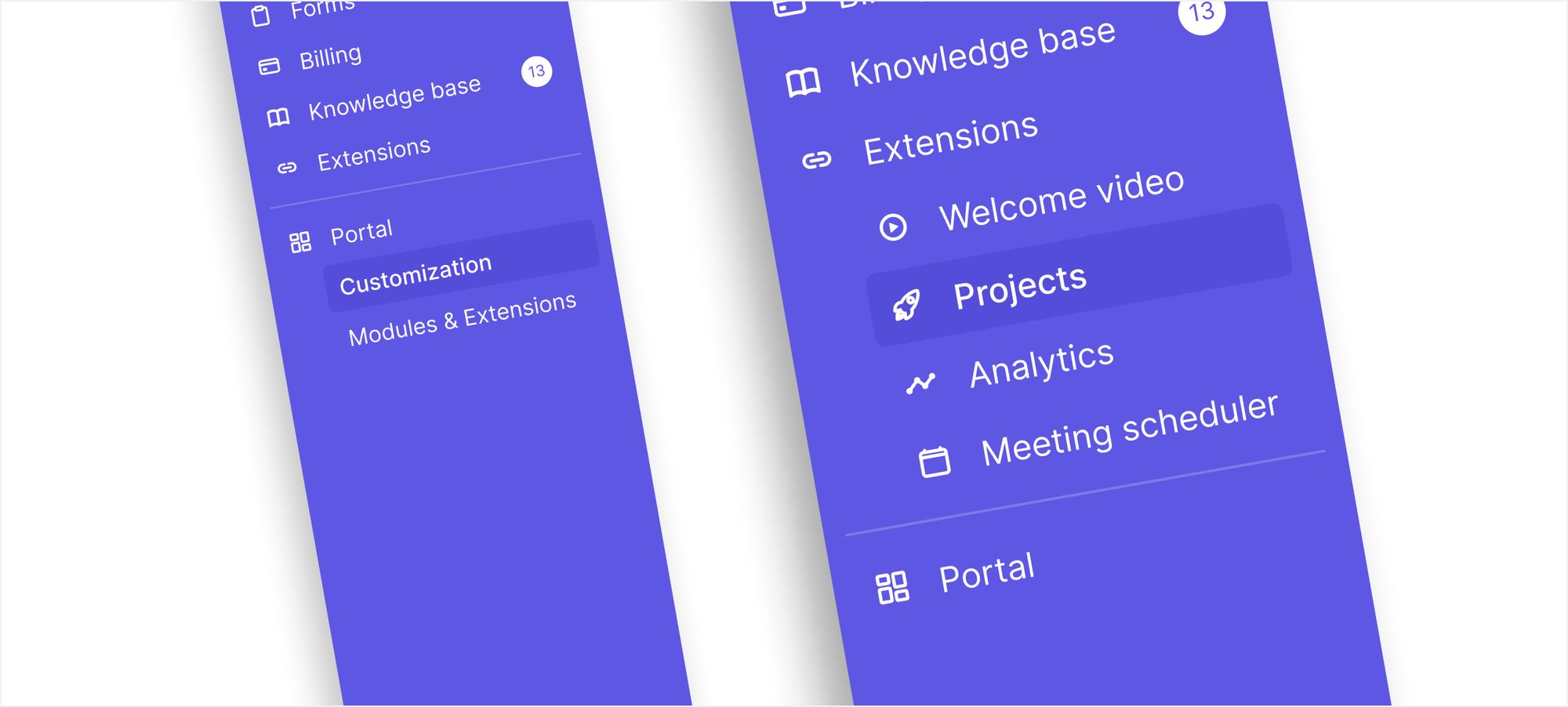 Improvements & Updates
Added a new Zapier trigger for List Companies.
Updated various links to point to our new help center.
Fixed a bug thatd blocked some subscriptions from updates after they started.
June 23, 2022
Improvements & Updates
Updated multiple links in the command bar menu to point to our new help center and video collection.
Improved the process of connecting a custom domain and made it more seamless and real-time.
Fixed a bug that prevented some subscriptions from being updated after they already started.
June 9, 2022
Advanced Subscription Edits
When you edit an active subscription, you can now take 2 additional actions using the right-sidebar. The first lets you prorate changes and the second lets you reset the billing cycle. You can also see a preview of the next invoice, including the amount and date.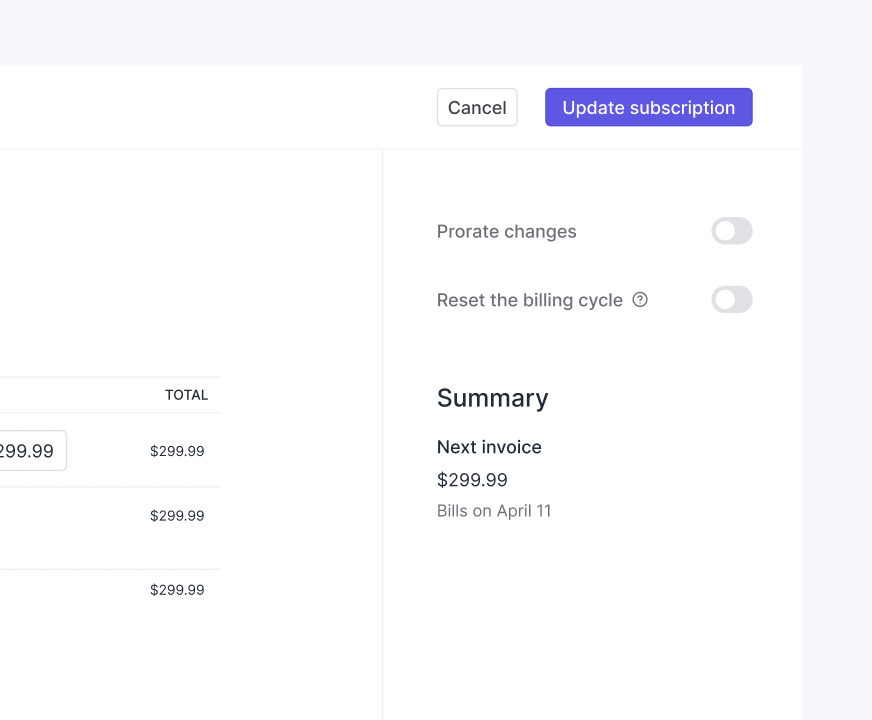 Portal University
Over the last 2 months we've been building a collection of video tutorials to help new users get set up and to help advanced users get the most out of the product. We're working on many new videos, but you can see what we have so far here.
Improvements & Updates
Added the ability to surface invoice numbers directly on the Invoices page. If you don't see them, click on the filter button to show the column.
Fixed an issue that in some situations caused the same invoice numbers to be used more than once.