How to start an accounting firm in 2024 (8 easy steps)
Oct 24, 2023
12 min read
Marlon Misra
With remote work accelerating, CPAs and accounting firms across the world are increasingly looking to become "online-first" or "virtual-first". In this post we cover what it means to be a virtual accounting firm, what the benefits are, and how a firm can adapt or transition to being a virtual firm.
What are virtual accounting firms?
At a high level, virtual accounting firms are accounting firms that embrace new technology, prioritize automation, and deliver service digitally. Below we break down some of the advantages virtual accounting firms can benefit from.
Virtual accounting firms are more secure
Virtual CPA firms tend to use secure client portals or secure file-sharing solutions. These services use technology from tech giants like Amazon AWS or Microsoft Azure, and provide bank-level encryption. Compared to traditional filing cabinets with servers stored in a physical office, information is simply more secure.
Virtual accounting firms can grow faster
Traditional accounting firms usually deploy traditional methods for growth. For example, they may get referrals from existing clients and grow via word-of-mouth in their community. On the other hand, virtual accounting firms prioritize growth via paid acquisition (Facebook Ads and Google ads in particular) and often have landing pages with sign up flows that can convert website visitors to paying clients with little or client interaction.
Virtual accounting firms automate all mindless work
Accountants who embrace technology understand that they need to focus on work that requires high-level thinking and can automate everything else. Automation is something that be deployed everywhere. For example, when it comes to converting leads to customers, virtual accounting firms deploy AI-powered chatbots on their websites and use automatic client intake forms. When it comes to billing, virtual accounting firms use auto-pay subscriptions whenever possible. And finally, when it comes to marketing, virtual accounting firms set up Facebook conversion campaigns with automatic target expansion so that advertisements are always shown to the people that are most likely to convert.
Virtual accounting firms minimize expenses
The coronavirus pandemic has resulted in many accounting firms to close their offices. But now, as some accountants are opening their offices again, many are wondering if it is still necessary. There is no right answer but there is no doubt that each year, more and more accounting firms will be 100% online. The tools get better each year and new accounting firms should seriously consider whether a modern client portal solution can replace some of the benefits that offices have provided in the past. At the very least, going fully digital means that one of the largest monthly expenses (rent) goes to $0.
Virtual accounting firms benefit employees
When you deliver services virtually to clients, it is also easier to run your firm virtually. Working from home provides employees with more flexibility, no commutes, and more location independence. It also gives employers the ability to hire accounting professionals from a wider geographic area.
8 steps to starting an accounting firm in 2024
To start or transition to being a virtual accounting firm, below we listed some of the important decisions you need to make. There are of course many other steps you need to take to start a new business, but for the purpose of this blog post, we're going to focus on the decisions that are most important for virtual accounting firms that aim to differentiate themselves.
Here are eight steps to starting a virtual accounting firm:
Let's go deeper into each step.
1. Find your online niche
Before diving into the world of virtual accounting, you need to pinpoint your target market. For example, as a startup, you could consider focusing on small business owners who might be seeking specialized accounting services tailored to their unique needs. By targeting this demographic, you can cater your services to the specific challenges and opportunities inherent in the small business landscape.
Remember, many business owners are actively looking for reliable virtual solutions, especially in the early stages of their business journey, making this an opportune niche to capitalize on.
After creating a solid foundation with small business accounting, you could also diversify into individual tax services. Many of the same business owners you serve might also be in need of personal tax assistance, especially if they're sole proprietors or run family-owned businesses. By offering bookkeeping and individual tax services, you can position your accounting business as a one-stop-shop for all financial needs. Plus, as a certified public accountant, your expertise will be invaluable to clients navigating the complexities of personal tax, helping you build trust and retain long-term relationships.
These are just some examples, you may already have a solid idea of the types of services you want to offer. And if that's the case, now you want to productize your services.
2. Productize your services
In a world where everyone is looking to do things efficiently, turning your accounting services into standardized packages or "products" can be a game-changer. By productizing, you make it easier for clients to understand, select, and purchase your services, just as they would buy a product off the shelf.
For many accounting firms, these might include bookkeeping, individual tax services, and business financial consultations. Group related services together, and create tiered packages based on the complexity and depth of service.
Productizing not only helps your clients purchase the exact services they need from you, but it also keep things organized from an operational standpoint — reducing scope creep and allowing for a more predictable workflow.
Benefits of productizing your services
Here are some benefits of productizing your services:
Predictable Revenue: With standardized pricing, you can more accurately forecast your revenue.
Efficient Processes: When you know in advance what each service package entails, you can streamline your processes, reducing time and overhead costs.
Clear Marketing and Sales: Productized services can be marketed just like any other product, making it easier for potential clients to understand what they're buying.
If you want to learn more in-depth about this strategy, you can read our guide here.
3. Growth and marketing
As with any venture, the success of your virtual accounting firm doesn't solely rely on the quality of your services. It's about getting the word out, building a brand, and growing a loyal client base. The third step on your journey should focus on the growth and marketing side of the equation, making sure you set up a solid foundation from the very beginning.
Create a business plan
Every CPA practice needs a blueprint — this is where your business plan comes in. It's not just a document to be shelved after your first year. Your plan should be dynamic, outlining your goals, strategies, cash flow projections, and potential challenges. This document is your road map, guiding your steps and helping you navigate through unexpected hurdles.
Leverage social media to drive awareness
Social media isn't just for influencers and lifestyle brands — it's a vital tool for service businesses. Use platforms like LinkedIn, Twitter, and even Instagram to share valuable insights, connect with potential clients, and build your brand's persona.
(Note: LinkedIn will probably be your best place to target business owners, while Instagram will probably be better if you're targeting individuals.)
Legal and Insurance Concerns
Before scaling your business through marketing, make you're operating as the right legal entity and legal structure. Whether you opt for an LLC (Limited Liability Company), sole proprietorship, partnership, or corporation, this decision can impact your liability and tax considerations. Don't forget about business insurance either. Protecting yourself against potential claims, especially in a field like accounting, is very important.
Cash Flow Management
While it might seem ironic, many accounting firms struggle with their own cash flow, especially in the early days. Having a robust system to monitor, predict, and manage your cash flow will be vital to making sure your firm's sustainability and growth.
Expand Your Client Base
You've productized your services and set up your firm — now it's time to get clients through the door. Consider offering special promotions or discounts in the initial stages, or leverage testimonials and case studies from early clients to build trust and attract a larger audience.
4. Create a landing page
For virtual accounting firms, your website, or landing page, is extraordinarily important because it tells the world who you are, what services you offer, and how to get in touch with you.
Today, the vast majority of accounting websites still look like they were made in the the 1990s. To stand out, you need a website that looks modern, works just as well on mobile as it does on desktop, and that represents your brand in an exciting way.
It is also important to choose a landing page builder that ensures the content you create is SEO optimized. You can think of content as one of your growth channels. It doesn't cost anything to make content (except the time cost of writing it) so a well-executed content strategy can help you stand out.
5. Optimize your website for SEO
Simply having a website for your own accounting firm isn't enough. For prospective clients to find you, especially when they're searching for the type of business services you offer, your website needs to rank high on search engines. SEO, or search engine optimization, is the key to achieving that.
Create a content strategy
Content is king in the digital world. Start by creating valuable and relevant content that addresses common questions and concerns your prospective clients might have. Regularly publishing articles, guides, and insights not only establishes your authority but also signals to search engines that your site is a valuable resource.
Local SEO is your best friend
Given that your own business is an accounting firm, local clients are your primary target. Make sure you're listed on Google My Business and other local directories. Encourage satisfied clients to leave positive reviews. Localized content, like articles catering to local tax regulations or financial events, can further enhance your local SEO efforts.
Follow technical SEO best practices
A website's user experience plays a pivotal role in its SEO ranking. Ensure that your site is mobile-friendly, has clear navigation, and loads quickly. A well-structured site with relevant internal linking can enhance both the user experience and your SEO performance.
Consider partnering with an SEO freelancer or agency
If the world of SEO seems too daunting, or if you wish to focus on managing your own accounting firm (which is probably a better use of your time), consider partnering with an SEO agency or freelancer. Agencies that specialize in local SEO for accountants can offer insights, strategies, and execution plans tailored to your business needs.
You can find these experts on platforms like Upwork. Just make sure to vet any person you work with and make sure they have previous experience working with other accounting firms.
In conclusion, SEO is not just about keywords but a combination of quality content, local focus, technical precision, and consistent effort. When done right, it can help you acquire new clients organically from people searching for your services in Google.
6. Use a client portal
Modern client portal software aims to recreate your office online. You can think about your client portal as a place where your clients login once to access everything they need. This includes the ability to communicate with you, securely share files with you, schedule appointments with you, attend virtual meetings, access your knowledge base, pay you, and more.
Today, too many online accounting firms decide to stitch together various B2B services. They might use one service for file-sharing, another service for billing, another for secure messaging, etc. The problem with this is that it's expensive to pay so many SaaS fees and it's a terrible experience for clients who now have to manage multiple logins.
Choose Copilot as your virtual accounting firm technology partner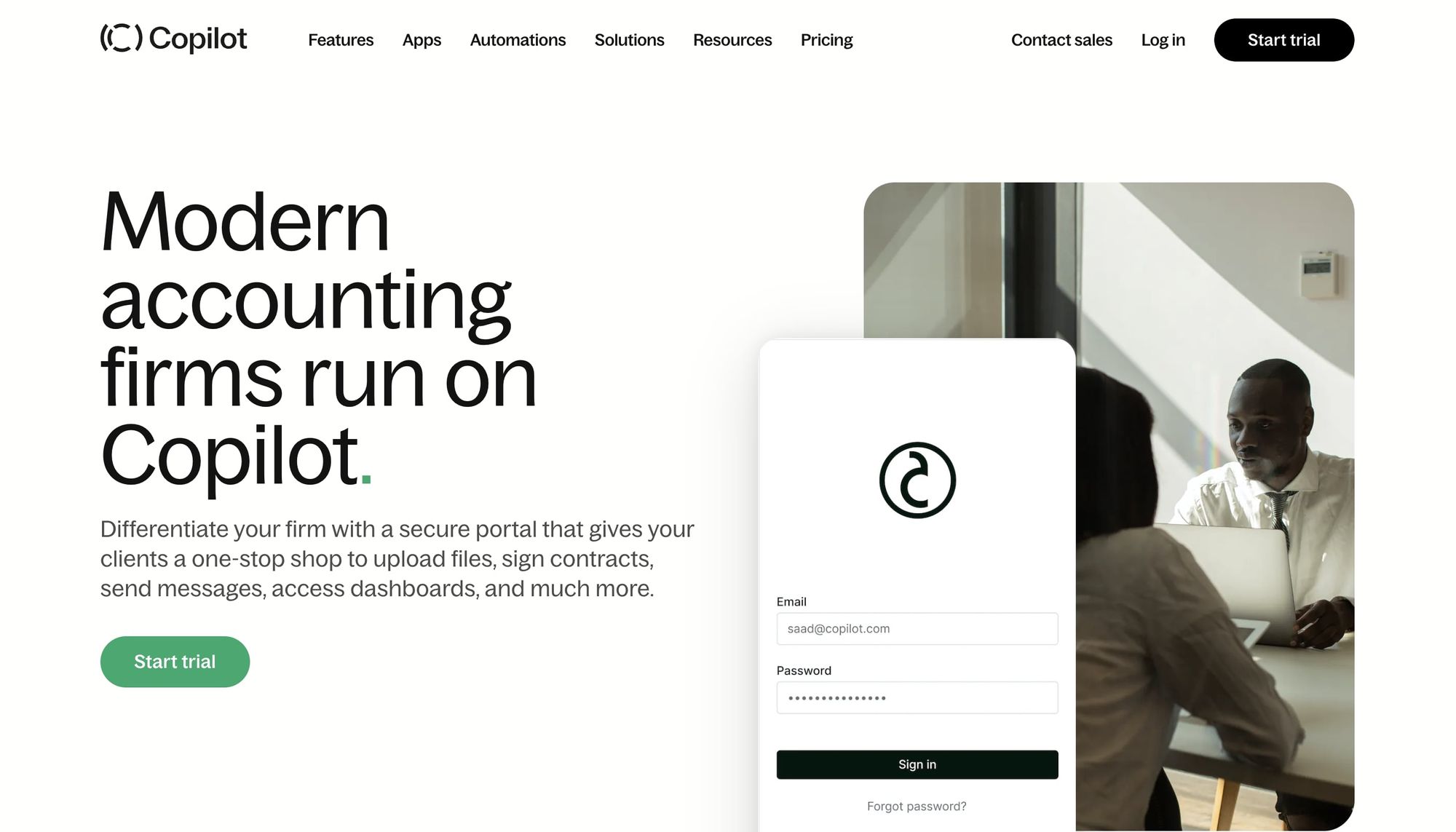 We started Copilot with the belief that working with a professional service firm should be delightful. Clients should have one place to login, and everything they need should be directly accessible to them. With hundreds of firms now choosing Portal as their technology partner, we believe we have the best all-in-one solution.
Copilot employs a modular system which means that you can decide which functionality to turn on and which to turn off.
We have modules for:
Each of these modules work together in concert. For example, if a client send a message via the messaging module, the file is automatically added to their shared folder.
Copilot is also completely white-label. We put our customers front and center and provide the ability to customize everything (logos, colors, workflows, etc.) and host on your own domain. This gives you authority as a service provider and helps reinforce your brand and build trust.
Copilot is made for professional services companies, but has paid extra attention to the needs of accounting firms, which represent our largest customer segment. Because of that, we've made sure that it integrated with accounting software, QuickBooks, Xero, and the other tools you use on a daily basis.
If you want to play around with Copilot, be sure to check out our demo portal designed specifically for accounting firms.
7. Leverage automation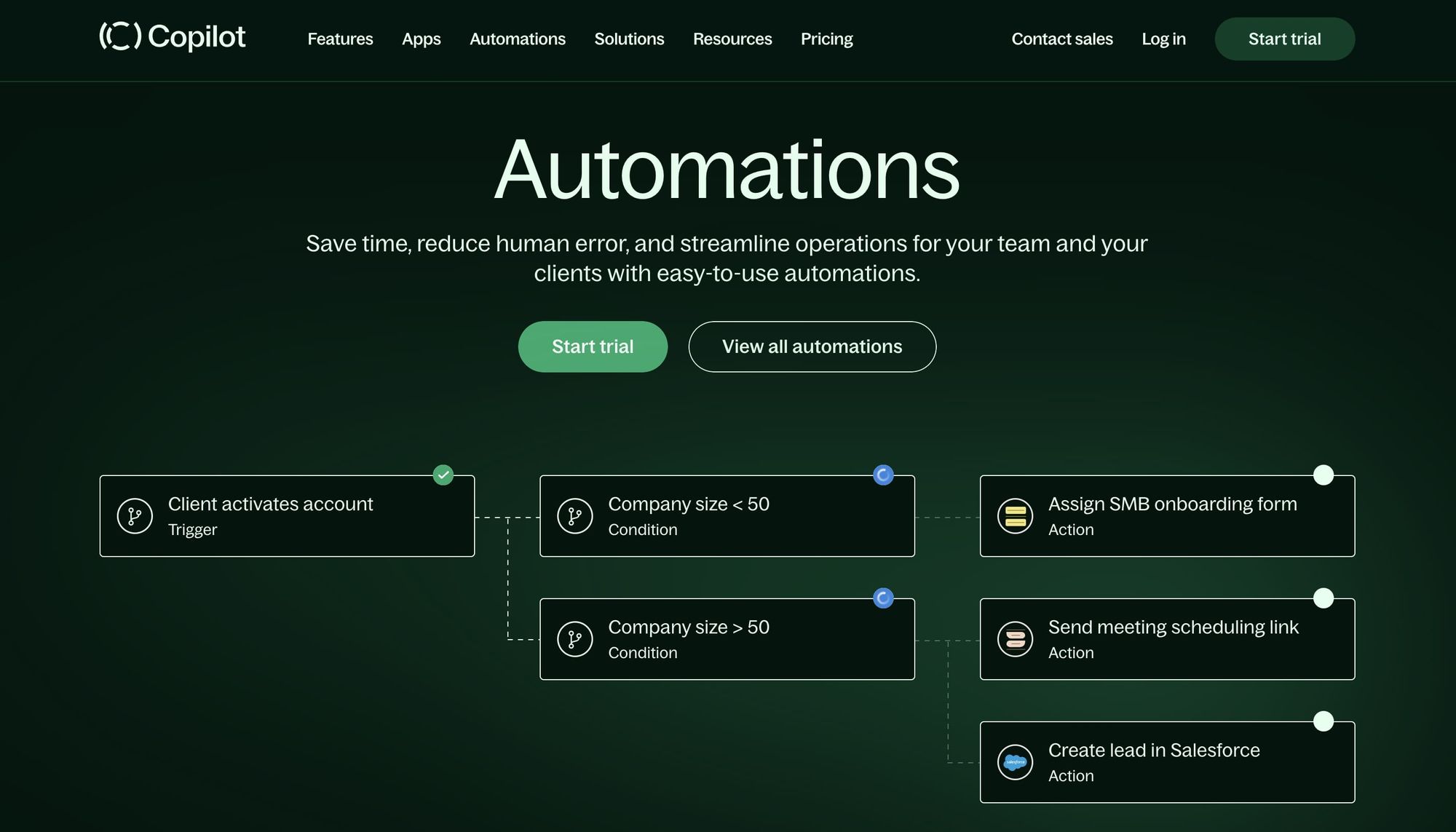 For your accounting firm, leveraging the power of automation not only streamlines your operations but also elevates the client experience. Copilot, with its advanced automation features, can be a game-changer for both your team and your clientele.
With Copilot Automations, you can:
Save time and reduce human error: Manual tasks are not just time-consuming; they're prone to errors. Copilot's automation ensures tasks are carried out swiftly and accurately, allowing your team to focus on more complex, value-added activities.
A warm welcome for clients: First impressions matter. With Copilot, you can craft a custom welcome message that greets clients upon their first portal login. This personal touch introduces your firm, sets professional expectations, and reassures clients about response times.
Effortless client intake: Gone are the days of back-and-forth emails for gathering client details. Automate the process by sending clients an intake form as soon as they sign up, ensuring you receive all the necessary information to serve them efficiently.
Intuitive client management: With the ability to attach attributes to clients, managing your clientele becomes a breeze. Update custom fields based on various conditions, which can further trigger additional automations, streamlining your operations even more.
Standardize client onboarding: Ensure every client receives consistent service by automating the setup of default files, folder structures, and third-party apps based on conditions you establish.
Empower leads to convert themselves: The beauty of automation lies in its ability to facilitate self-service, letting potential clients move through your sales funnel with ease.
Seamless third-party integrations: Copilot isn't just about its native features. Sync your existing storage solutions, CRMs, and other tools to keep all your resources interconnected and working in sync.
Maximize automation with Zapier: To truly leverage the potential of automation, integrate Copilot with Zapier. This powerful combination unlocks countless automation possibilities tailored for your service business.
Overall, Copilot's automation capabilities not only bring about operational efficiency but also enhance the client experience, setting your firm apart in a competitive marketplace.
8. Hire and train talent
Last but not least, we have hiring. As a firm owner, one of the biggest advantages you have, going virtual, is the ability to tap into a vast pool of talent from across the globe. By doing so, you enrich your accounting practice with diverse perspectives and skills.
Some things you should keep in mind when trying to scale your accounting firm with people:
Broaden your horizons: By not limiting yourself to a local talent pool, you bypass the constraints of office space and geography. Whether it's someone with CPA certification from a different state or a specialist in tax preparation from across the country, you can find the best fit for your firm's needs.
Types of Employees: Adaptability is key in today's business structure. Depending on your needs and startup costs, consider hiring full-time employees for consistent workload, part-time for seasonal tasks like tax seasons, or freelance/contractual professionals for specific projects. This flexibility can greatly reduce overhead while maintaining quality.
Sourcing Talent: There are numerous platforms to find remote professionals, from LinkedIn for full-time roles to platforms like Upwork for freelance or contractual positions. These platforms make the hiring process transparent and efficient.
Training for Success: Once you've hired, invest in training your team for remote work. Emphasize the use of communication and collaboration tools that align with the virtual nature of your firm. Proper training ensures that despite the lack of physical office space, your team operates seamlessly, keeping the essence of your accounting practice intact.
In conclusion, embracing remote talent not only optimizes costs but also sets your firm on a path of diverse expertise and growth.
Conclusion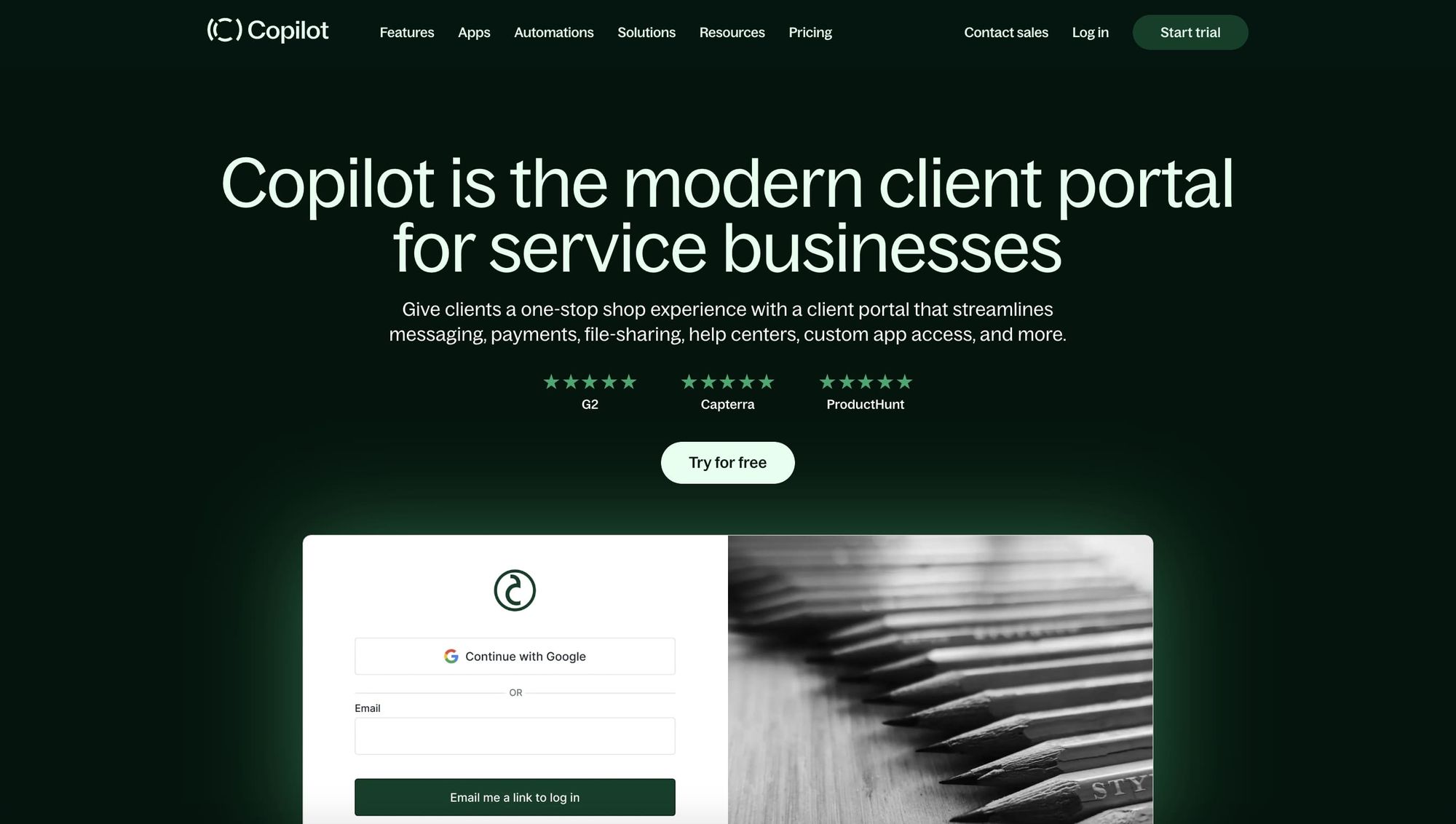 The world of practice management has seen a transformative shift, especially with our physical offices becoming virtual offices. Whether it's refining your marketing strategy, optimizing your pricing structure, or streamlining the process of tax returns, the future of accounting is dynamic and digital. Remember, safeguarding personal assets starts with something as simple as maintaining a separate business bank account and having the right legal structure.
Taking the leap to become your own boss in the accounting world means you're not just self-employed but also at the forefront of change. It's about being proactive, conducting market research, and understanding the evolving needs of your clients. Embrace this journey, for there's nothing quite like the thrill of steering your own ship.
If you're ready to elevate your practice with automation and management tools, be sure to start your free trial of Copilot and experience the future of accounting, firsthand.
Sign up for our newsletter
Subscribe to our newsletter to receive emails about important announcements, product updates, and guides relevant to your industry.